4th.August
Sticking with the seventies vibe and a trailer we produced for the league three years ago - you may not have seen it.
A 70's revival with credence - the senior game is more credible, and more enjoyable in the opinion of many.
A walk in the park with others who are just happy to be there rather than trying to eek out every little advantage. That's the theory anyway.
Truly the most beautiful any ball game can get at times.
No bad moon rising, and let's hope we get to sing 'have you ever seen the rain' more than a few times.
Let the Ed. know if you want to help form a team to face the Over 70's squad in late August or early September.
Aged over 65 please - Denton in the afternoon
Meanwhile check this out : click
3rd.August
THE WAY WE PAY
Please do not bring coins lower in denomination than fifty pence to pay your 'subs' This merely adds to time spent sorting the money out, and is becoming unacceptable.
Give the matter some thought please and don't feel you can unload your loose change on the group. Soon we will revert to hand collection we did for years (not the bucket).
Loose change (coins lower in value than 50p.) will be handed back and a record kept of what you'll owe next time.
There's also too many cases of the money not adding up to what it should be.
With the big rent increase in May meaning some of our sessions are barely breaking even these days it's important that everyone pays their way, so the group can pay our way.
More of this at the A.G.M.'s
and now, Tony's report of today's first session...

6 Whites v 6 Blacks
An opportunity for some of the possible Heywood over 70s to gain experience of playing together with Colin Fielding selecting the Whites. The latter combined well with their two first half goals coming from Lancashire in an effective forward position. Stafford B pull one back for the Blacks with Hayden pulling off a fantastic double save to keep the Blacks in the game.
HT - Whites 2 Blacks 1
- -
7 Whites v 7 Blacks
The pitch size was able to accommodate extra players and Cooper came on adding to the Whites whilst Pearce had a run out with the Blacks. The Heywood possibles continued to play well and were rewarded by a goal from Rob Rowney.
FT Whites 3 : Blacks 1

Thanks to Pete Quinn for the warm up.
Referee - Tony Cravagan.

Great to see Joe Bemrose back having a good game for the Whites.
Also nice to see Dave Partington after his eye operation and we hope to see him playing again soon.
Alan Richards was missing this morning due to illness (not pandemic related) . The penalty competition and those shin pad sales will be sorted when he's feeling well enough to attend or sooner, but not today. Sorry.
Meanwhile the other committee men had access on site to all the gear you need for your session today
It's hoped all will be back to normal by the time the A.G.M.'s come around or hopefully sooner.
Players attendance is requested from 12.30pm. on either Tuesday the 17th. or Thursday the 19th. of August at King Street.
_________________________________
31st.July 2021
Denton Walking Football Group confirm we have entered a Tameside Striders Over 70's team into the third season of the Greater Manchester League.
Entry money of £170 has been paid in advance as required thanks to our various generous session Referees, although this money will be recouped monthly from September to January from the playing squad selected by Team Manager Colin Fielding at £5 each per month.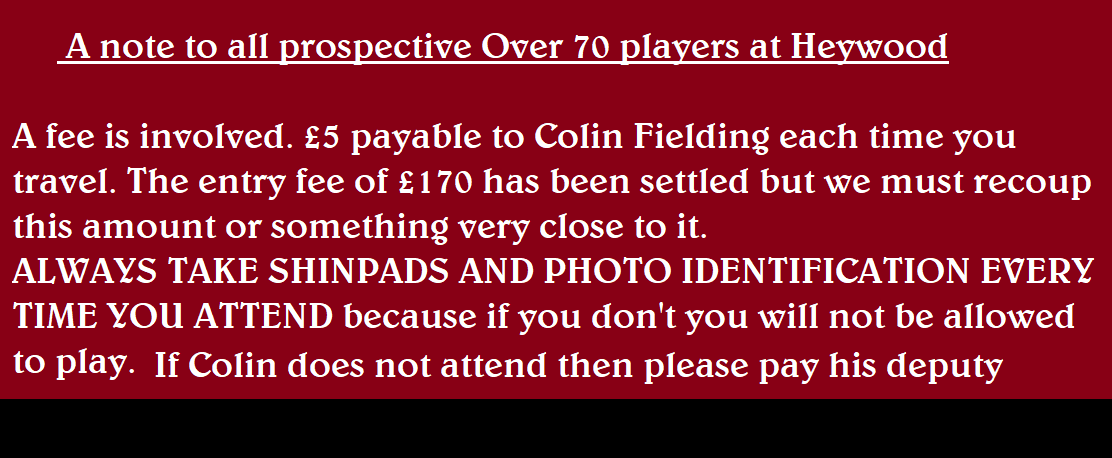 We have more than enough interest to form a squad and it will fall to Colin to select the players he wishes to travel to Heywood Sports Village on the last Thursday of each month.
We will be dedicating a web page to the competition and our progress in it. Good luck to Colin and his players.
29th.July
The skies looked a little ominous as a distant clock struck ten this morning and maybe that reflected the low turnout of just eleven.
Committee members were also thin on the ground today for one reason and another.
One game of walking football 6 .v. 5 was the order of the first hour, Refereed by Tony Cravagan who reports....
6 Blacks v 5 Whites.
The Blacks numerical advantage was evident in the first half despite some heroic saves from Kieran it wasn't enough to stop Markland scoring twice.
HT - Blacks 2 , Whites 0.
5 Blacks v 6 Whites
The numbers were redressed in the second half with Markland changing sides but unable to repeat his first half netting. Eric Thomas relished the opportunity to show his ball skills in this game of multi touch together with a notable defensive performance from Frank Matthew and some very good distribution from Les Gillan.
FT - Blacks 2, Whites 0.


We'll have some film later. Not much but a little. Look on the Thursday session page for a link - it's there NOW
With Round One of the 'Pay the Penalty' competition to complete time was not on our side. Five more players took part and the event is now capped at thirty with all the players making it through to Round Two. We will start on that next week so please if you are competing and have coins left bring them along. The track will have to change as we'll be on 17 metres, and we'll go for the space behind the goal line at the Crown Point End.
Some footage later of this mornings attempts. Vinny O'Brien, Brian Hadfield, Russ Martin, Les Gillan and Alan Richards (for Dave Fielding) in the spotlight today
So after the less than vigorous warm up (AR) the first game was a fairly sedate affair and no less enjoyable for that. Some good goalkeeping on view once again from our two custodians, one of them fresh from his England Over 75's date at Solihull. Mike Kieran is now very much a part of England's plans at that level and is relishing the thought of a trip to Gloucester on a Friday afternoon for another one hours training session, where he'll be able to pick up the rest of the England kit he's bought.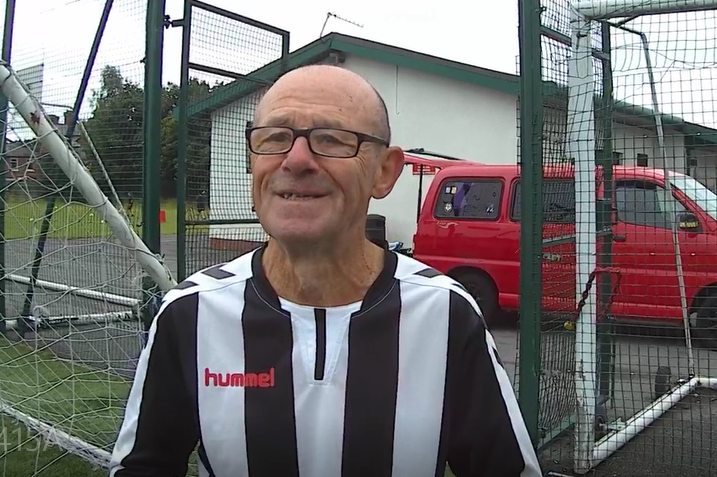 Good luck to Mike and his international ambitions - he's a lovely feller.
The game ended in a two nil win to the team in black bibs thanks to that Gerry Markland brace .
- - - - - -
AS the eleven o'clockers gathered the rain which had been threatening was tangible in the air but didn't amount to very much at all.
WHAT MITRE BEEN...
The recent ADDITIONAL shin pad purchase was fully vindicated as four pairs went 'whoosh off the shelves' at a slighty subsidised four quid apiece thanks to Clem White, Steve Stafford, John Leech and Roger Place. Wear them well gentlemen.
Phil Livesey turned up - unusually on a Thursday - after the green light was given, Phil is tied up for the next couple of Tuesdays and he fitted in well here. As did another Denton Thursday debutant Sally Rustige, a friend of Tracey Blanchard. Sally had an impressive debut, moving well and using the ball intelligently for her team in white bibs. We hope she returns. She took her bib home so that's a good sign.
We had eighteen eager 'Badgers' but having just reconfigured the pitch to one of full size when we thought we were SIXTEEN it was decided NOT to do it all again. Eighteen would usually be a signal for two pitches 5 v 5 Conventional and 4 v 4 Sweeper Keeper but given the organisational shortfall we kept it as it was with Referee Richards imposing three touch - even on this final session of the month - and with a reminder we were here to play WALKING football. So far so good.
Black bibs were quickest out of the blocks and conceded two runs in the first five minutes ! A third came before half time but Mike Caldwell's impeccable one-step effort from the spot was saved by Nigel Metcalfe.
The game was noticeably quicker than the first one, the exuberance shining through in what was in danger of becoming a game of football. The Referee penalised several contact offences but nothing malicious was on show, as you'd expect with our group, merely over enthusiasm in leaps and even a few bounds.
Goalless at half time newcomer Rustige was finding her feet well. Both teams were enjoying the game but there's no doubt there were two pairs of feet too many for the eighty metre long , forty metre wide patch of 3g. One pair departed, as Ken Thomas suffered a groin strain - we hope you recover soon Ken.
White's did not seem unduly affected and indeed began to assert themselves up front where their main striker was penalised for running twice, in short order. This racked up three team runs and Tracey Blanchard faced Mike Kieran with a chance to win the game late in the day for the Black's. A perfect one step technique but the number 44 steered the ball a foot wide of the post.
Black's pressed for a winner in open play with a two run flourish, but thankfully not conceding another spot kick (which would have been cruel) honour was satisfied with yet another goalless draw at King Street, where we have seen several in recent weeks.
We didn't need confirmation that eighteen bodies should translate to two games, but here we had it once again, in different circumstances things would have been er.....different.
Still an enjoyable morning , with Steve Stafford's family turning out in force to watch him play, and Stuart Saint also an observer from outside the wire. Steve took me aside after the game to say how much he always enjoys the sessions.
That's the name of the game at Denton Walking Football Group, long may it remain so.
Again we were light on photography today as the first session filming saw off the battery in the group Lumix. With luck we'll get the things recharged and have a blitz on video next week.
28th.July
We could be looking at an essential piece of kit
A.G.M. . 17th. and 19th. August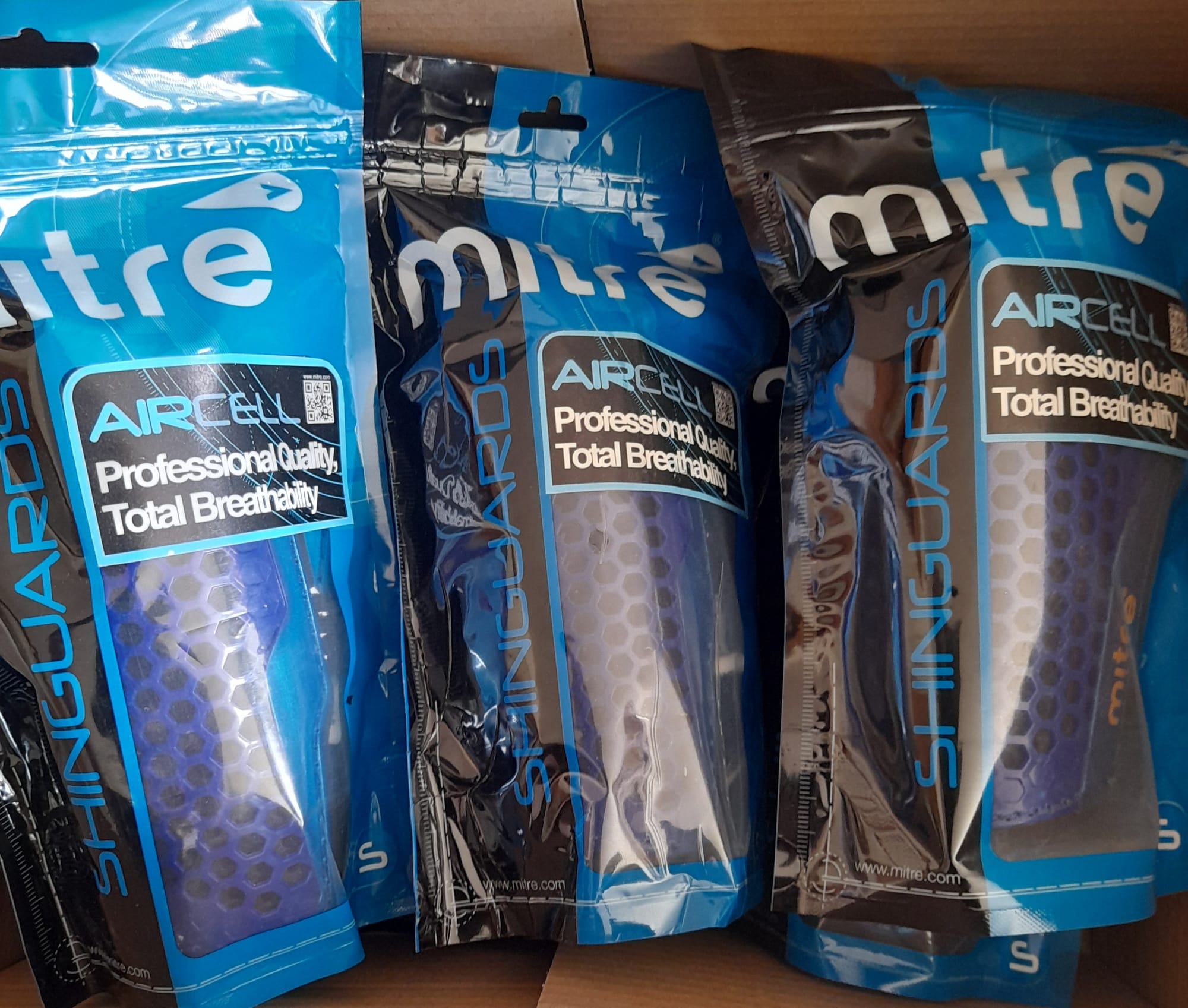 A new batch of ten has arrived costing £46.95
To you ? ~ four quid a pair Yes, the economics of the mad house but that's just the way we are !
27th.July 2021
Back to more normal matters at King Street this morning as two distinct groups united in their monochrome bib type tops gathered for the Tuesday walking football fix. Multi touch walking football this week as the sessions were the final ones in July.
Soon , we will trial FOUR touch walking football. Sweeper keeper is a THREE touch game and will remain so.
The first session saw eighteen players muster so the pre-ordained formula kicked in (the more normal temperatures helped us make up our minds and we went for 5 v. 5 Walking Football match at the Crown Point End , with a 4 v. 4 Sweeper keeper three touch alongside on pitch 2.
We squeezed in a handful more of 'Pay the Penalty' Round 1 - Thursday will be the final opportunity for the initial round.
Pete Quinn warmed everyone up and David Wilson, looking very dapper in black tracksuit took some photographs for us.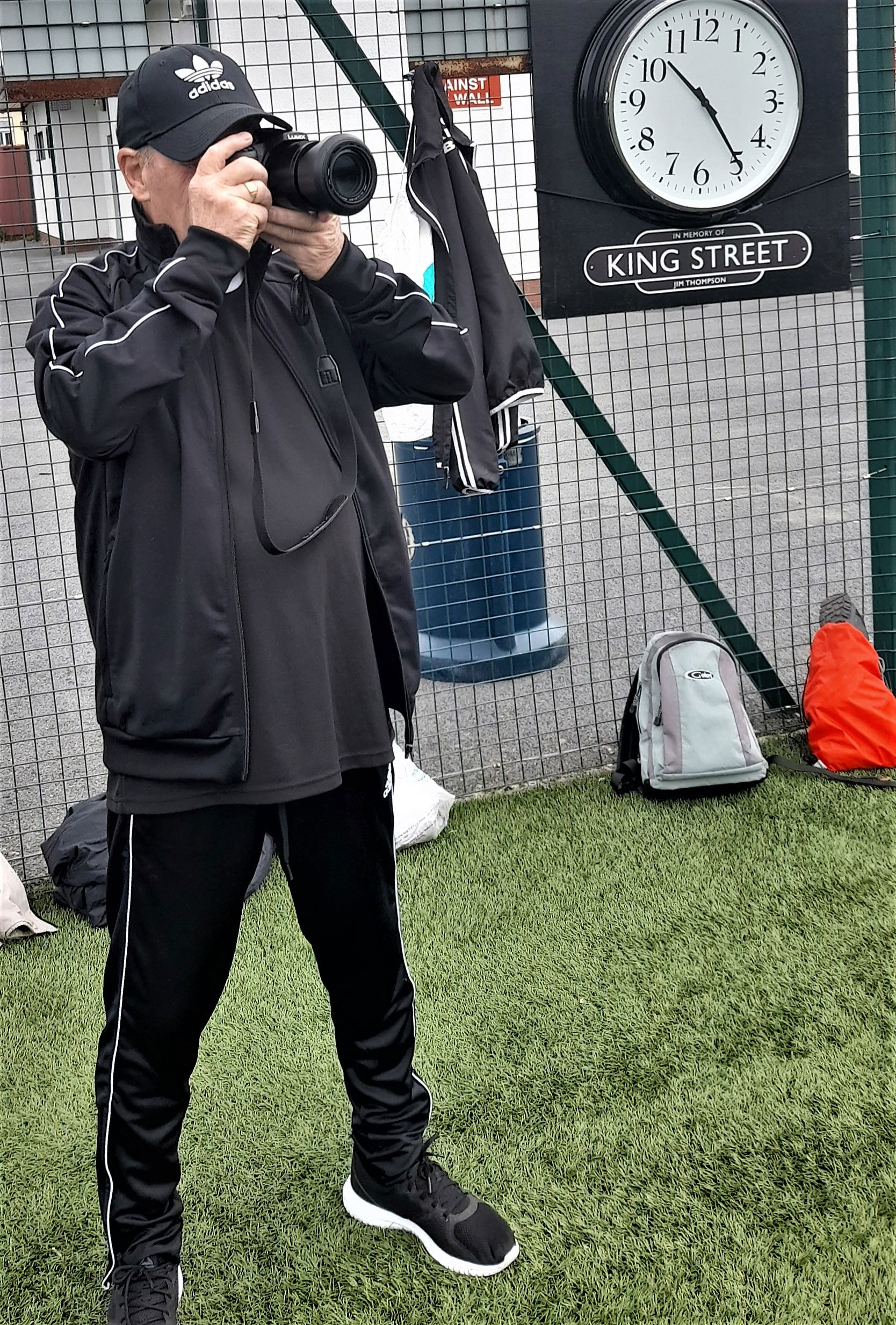 David Wilson - a 'dapper snapper'
With Referee Garry Pearce taking the conventional game where Laurie O'Toole tried his hand at Goalkeeping once again. He has problems kicking the ball at the moment due to a troublesome knee but is keen to stay involved. This is one way. Laurie you will still need your bibs for the time being and you left one behind. Relax, the black's in the back o'Bob. No. 51 - I think that's you !
Ken Dean was on target for the White's at least twice ! I think the game ended in a 3 - 1 to them, as did the second game.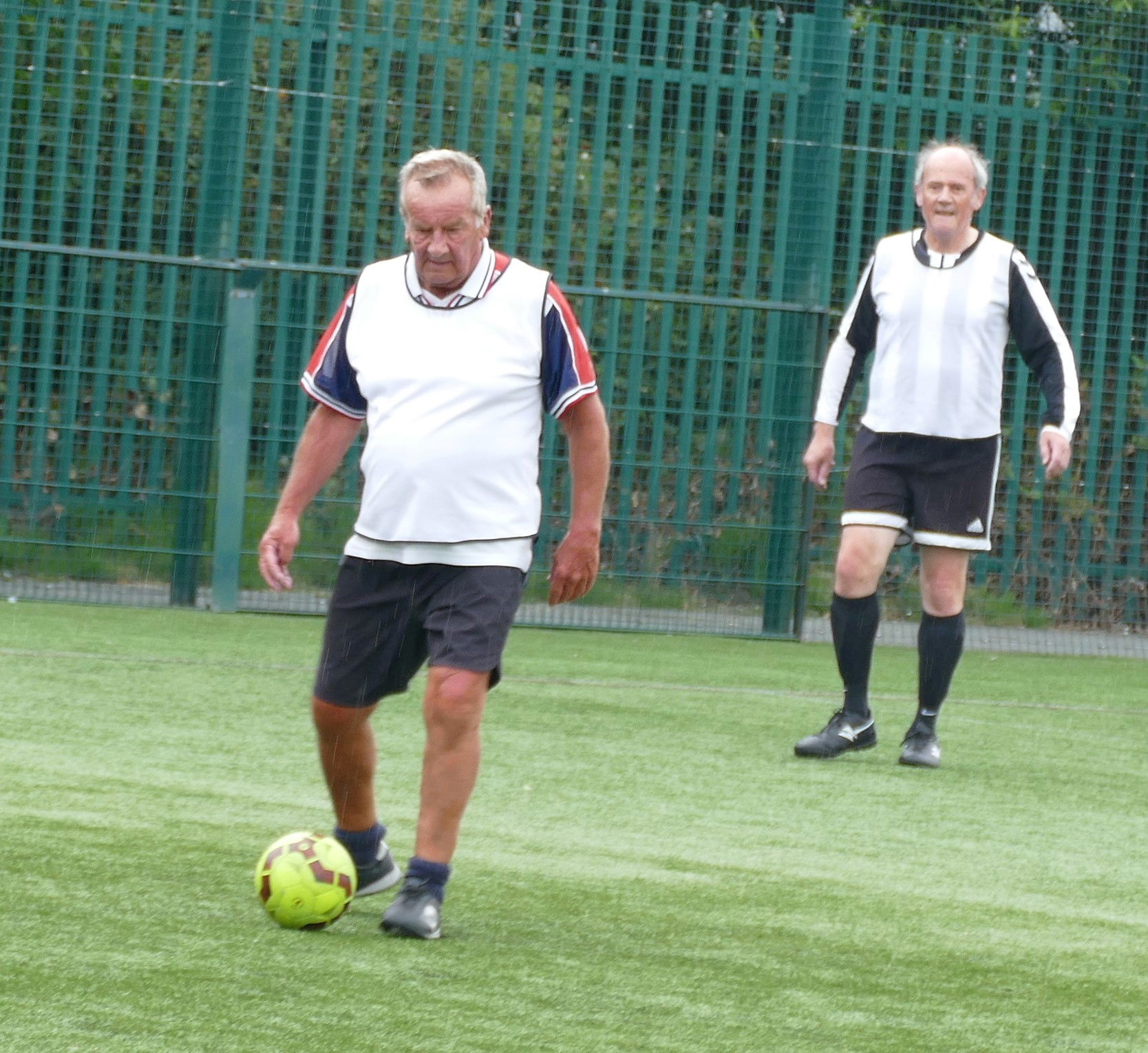 Ken Dean - on target (pic.D.Wilson)
Half-time saw a volte-face with the two teams changing pitches and changing codes. Though the Goalkeepers stayed put. Terry Hayden in particular had performed heroics between the sticks already.
Tony Cravagan who Refereed the sweeper/keeper today said it was 'brilliant' with some 'excellent walking football' played and all in the most convivial atmosphere. The first game ended in a 3 - 2 win for somebody. Either black or white.
A half-time straw poll was taken for potential Over 70's Heywood players. Colin Fielding was absent today but those who volunteered and were keen were Rob Rowney, Bill Lancashire, Alan Brodie, Jim Stewart and Peter Jarvis. With Colin himself eager, we are well on the way to a squad. More enquiries will be made on Thursday. All Heywood players will be required to pay the tournament fee of £20 up front sometime in August. Colin is looking for ten interested names and is likely to name squads of eight each month. Obviously the names will be chosen on what Colin sees as merit in the first instance. If you pay but don't get named in a squad you will be refunded full monies that month. (£5 per month).
The second hour saw sixteen players take up the whole pitch for the 'Unders' game.
We had four volunteer goalkeepers John Gaskin, Stuart Saint, Andy Muir and Paul Smith filled those positions for half a game apiece - thanks. Without you it would have been three touch Sweeper/keeper. Referee Pearce was busy penalising several running offences. Unfortunately David Fielding limped off halfway through the first half after a contact injury.
Alan Richards replaced David to restore the numerical balance to 8 versus 8. .
Both teams passed the ball well but Garry was busy penalising running and controlling contact.
The White bibbed team came back from one-nil down to equalise through a Stuart Saint Penalty deep into the second half.
We wish David well, nobody likes to see injured players limping away and this kind of injury is unusual in our sessions. I've just rang David and it's his Achilles tendon the area around which is somewhat swollen and being treated with a bag of frozen peas ! He's philosophical about the injury and realises it was an accidental contact. What an affable man he is.
Pay the penalty will be updated on the appropriate page soon. Thursday will be the final chance to enter round one. David Fielding has asked your truly to take his kicks by proxy (brave man) because I slipped up and asked him to take his five penalty kicks in a different place to everyone else so far. Dave was excellent and potted FIVE out of FIVE but....
(We need a level playing field so I'll RETAKE David's turn on Thursday - Ed.)
SHIN PADS : Hadge Cooper, John Leech, Graham Oakley and one more who's name escapes me (sorry, please ask again) have reserved a pair when the next batch arrives.
_________________________________________________
26th.July
We'll soon have more of those MITRE 'junior' shinguards available for players at a subsidised price of £4. The agenda for the A.G.M.'s has not yet been drawn up but you can be sure the use of shin pads/guards will be on the agenda. Here's a flashback to Heywood May 2018 and a look at Bernard's....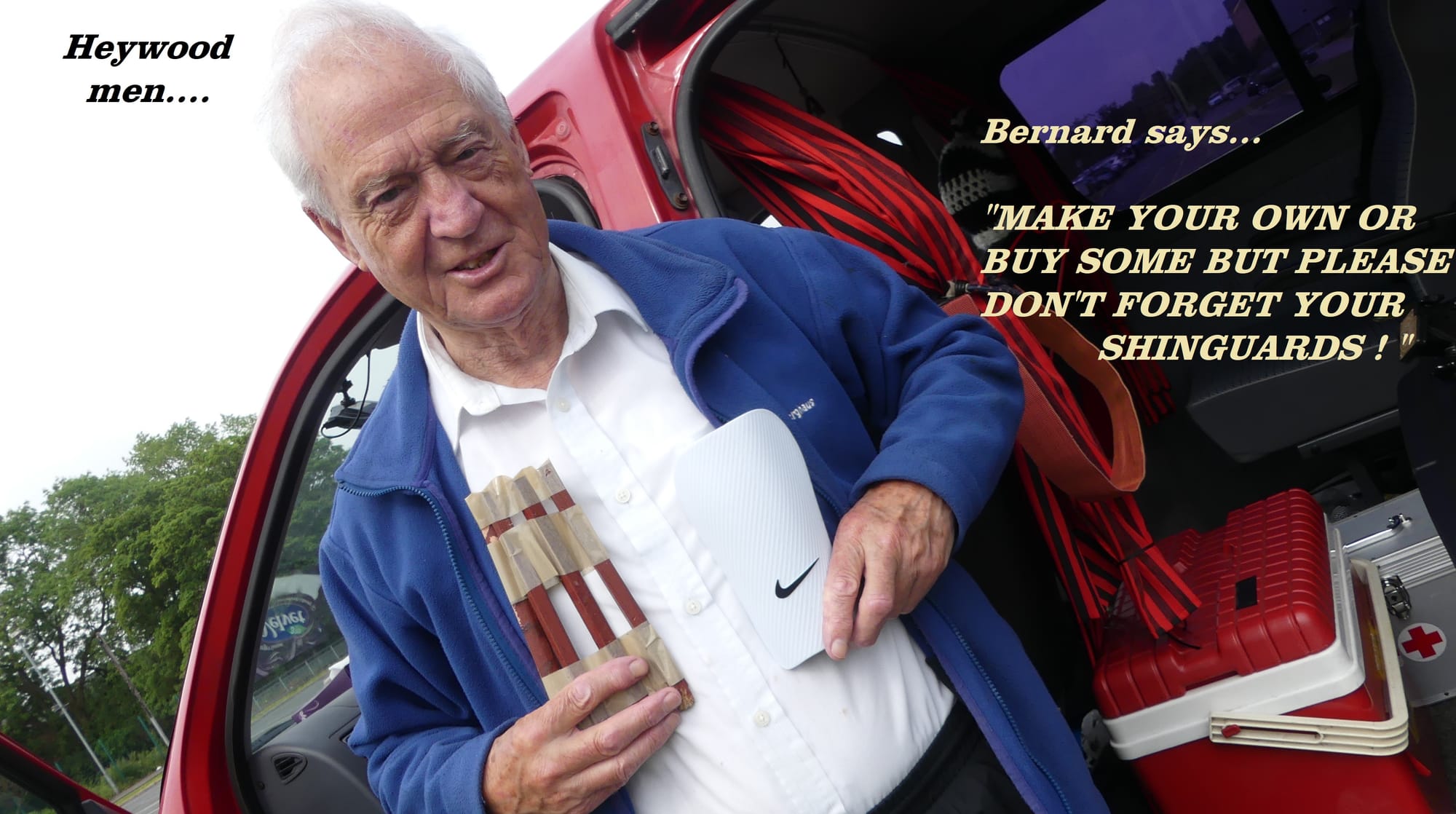 _____________________________
Whatever you made of events at King Street last Sunday where the England walking football team appeared, it's clear that Tameside Striders/ D.W.F.G. don't really have a serious problem with running !
A significant number of Striders , may I call them a 'Sett' ? were there to give their informed appraisal. Some were critical, others were more incredulous.
We'd offered to film proceedings but the conditions imposed by the W.F.A. were unacceptable. Edit out all un-penalised running, and submit the finished product for 'appproval' Not a chance.
I'm pleased we didn't film it though because the spectacle was lost amid the freneticism.
The Ref's did well . Garry and Les were up against it from the start.
There were some good ball players, some very good passing and no shortage of powerful shots. Some of these guys could really hit the ball. Some of the Goalkeeping was tremendous too.
Everyone looked dour, and serious and there were few smiles - a noticeable contrast to our sessions.
Many displayed Impressive fitness levels, and I saw no beer guts. There were almost all competent 'footballers' in their younger days. Mobility was so impressive that five-a-side would have suited the size of the pitch more.
An afternoon well spent for many. I had to get home to paint my garage door so left before the end.
Just a thought or two to conclude: if you take the word 'walking' out of this equation and instead played a 'game of 'non-contact' football' for older chaps nobody would or could have a problem with this style of game. It would certainly make your Referee's job much easier, and three touch play would improve matters still further.
And would you need the 'WALKING' Football Association ? - they might feel able then to concentrate on grassroots instead of international dreams and schemes.
24th.July..
OFF PEAK
(check out the exchanges on the national Facebook forum - such a lack of understanding...and imagination)
Those of us with thinning locks and bald spots know the importance of keeping heads covered in strong sunshine. The kind of thing pictured is fine for goalkeepers, but as most of us know is not allowed outfield at our sessions due to the risk of injury from those stiffened peaks . At the very least turn the cap around please....thank you.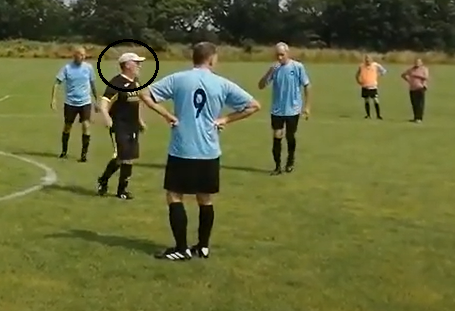 Hope you like the new 'header' for which the term is especially appropriate. We're all familiar with the term 'grey matter' and a slight play on words never did anyone any harm. We do like to change the home page image regularly in an attempt to keep the site's welcome nice and fresh.
Other pages seldom change - such is the nature of the beast.
You have to love the internet. Yes, it has its negatives and all of humanities low points and high points are to be found online but when a simple little homespun video of our 'pay the penalty' competition of balls aimed towards a mini-goal gets well over a hundred 'hits' in the space of 24 hours it has to be conceded that the 'web' is a smashing way of wasting a few minutes !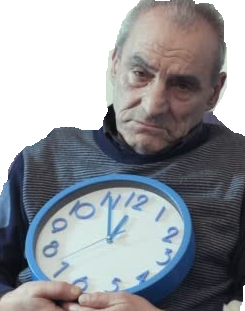 (I've watched it three times already ! - Ed.)
There's a link on the 'Pay the Penalty' page.
INGERLAND, INGERLAND...are we over the disappointment yet ?
23rd.July...
ENGLAND - in our own back yard...
Sunday sees the arrival of the Walking Football Association's ENGLAND teams arriving on our own doorstep to take on the North West of England's regional set up which includes our own Stuart Saint.
Stuart came to play with us at the end of the lockdown period and has fitted in really well. He's a proficient and influential player. Some of us are going along to King Street to wish him well and cheer him on.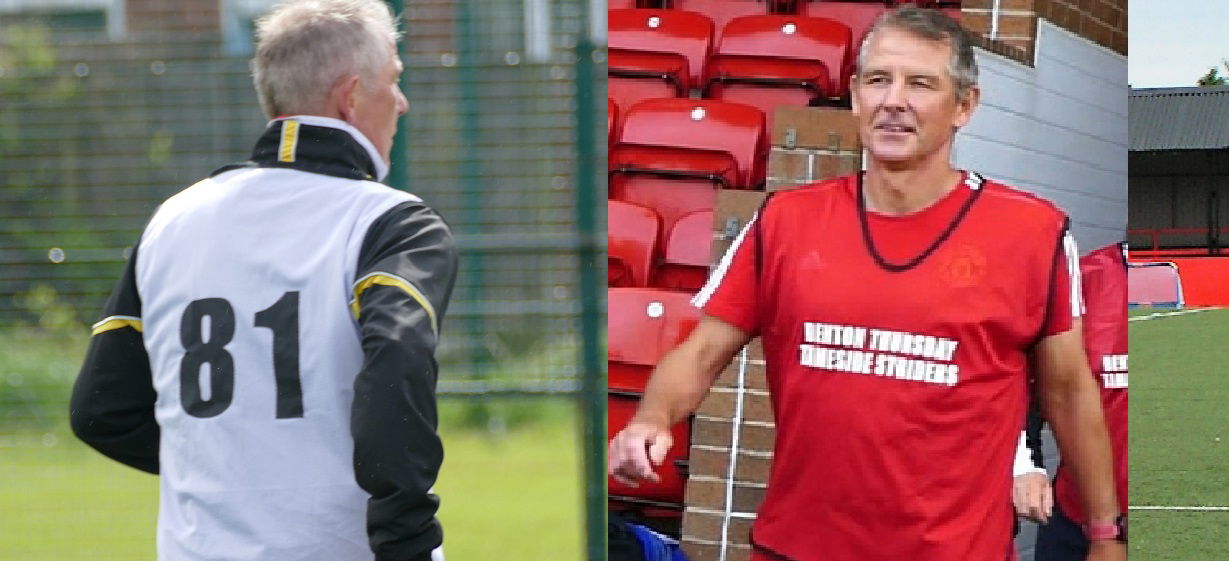 get behind Stuart on Sunday
Also a prime objective will be to see the standard this version of the 'England' team have set for the rest of us. Those who follow the Editorial opinion of D.W.F.G. will know international walking football leaves us cold but why not go along and make up your own mind.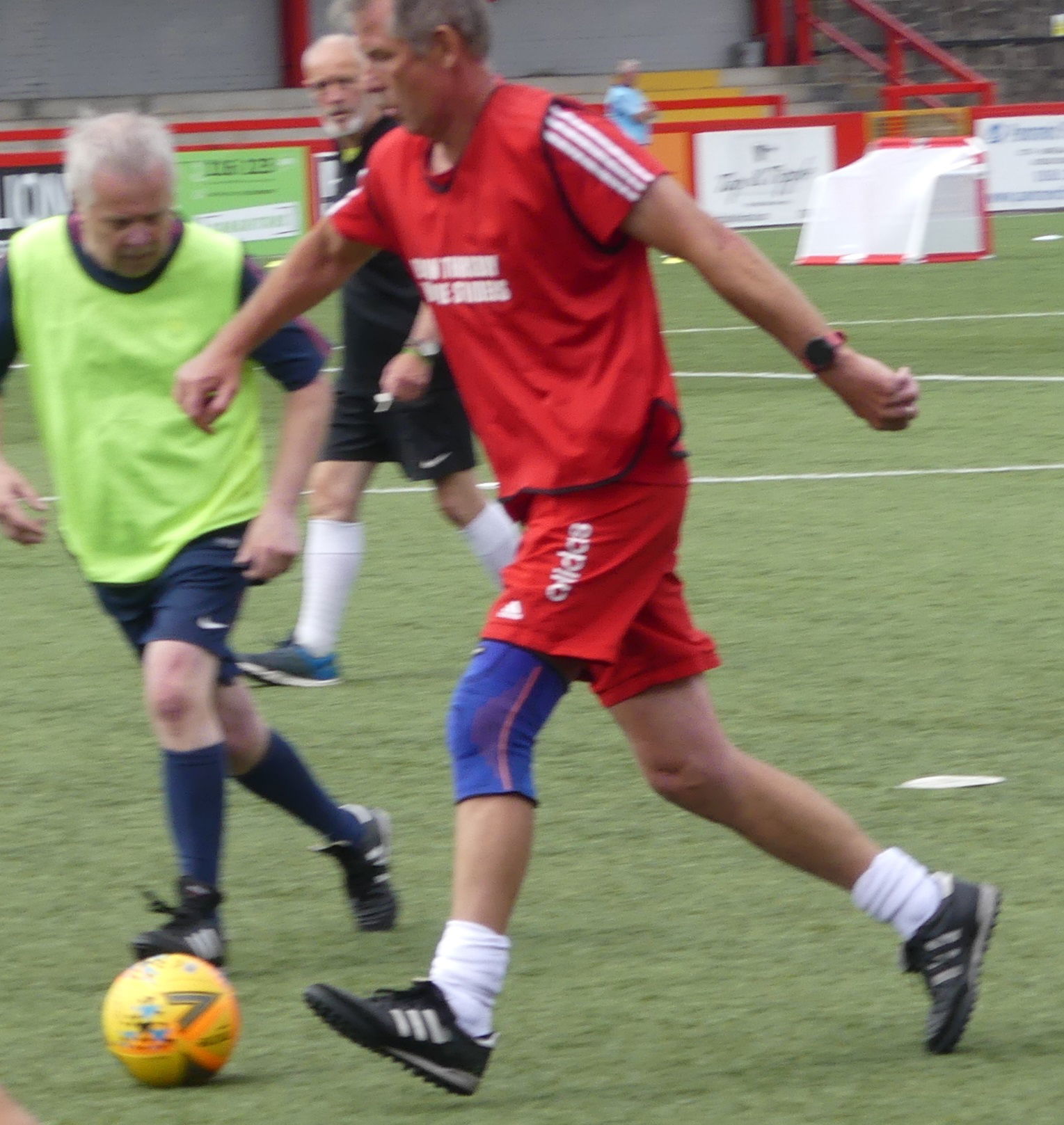 Tamestriders T.V. offered to film the match (like we do) but the conditions set by the W.F.A. were not acceptable. They wanted all non-penalised running edited out of the footage AND ultimate approval as to whether we could publish the final 'product' on our channel.
Point taken, and point rejected. Maybe this is why our homespun t.v. channel has 500 + videos online and W.F.A. T.V. have about a dozen. Too much 'faffin' about ! We will leave our filming equipment at home but hope to see a few of our players at King Street from one o' clock on Sunday afternoon...
...a missed opportunity to showcase what some people believe is an important aspect of the 'walking football' experience...
UP THE NORTH WEST !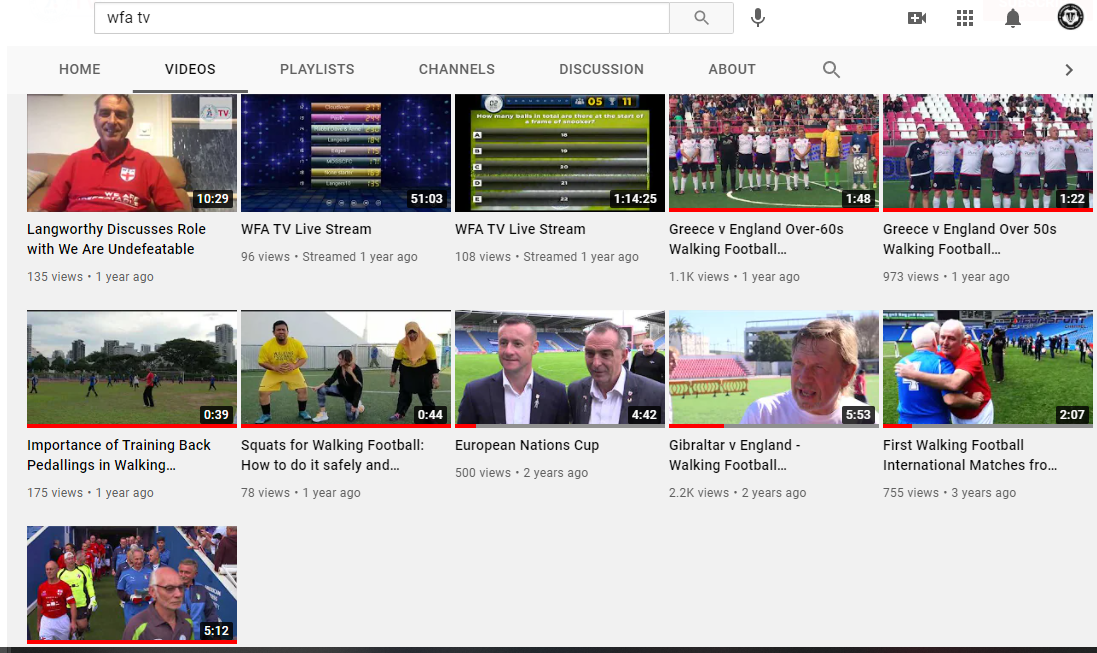 W.F.A. t.v. home page on youtube.com
22nd.July 2021...
"..lay down all thoughts surrender to the void"...
three minute relaxation video - you might nod off....
Still the hot weather continues. Geoff Griffiths rang in to say he's self-isolating as his Grandson has tested positive for Covid. More and more younger people are being infected with the virus and it's far from done with us yet. Originating in China the origins are still a moot point but from wherever it came it's not going away.
Meanwhile do those arriving in rubber boats of ever increasing size have to isolate, or are they bringing their vaccination certificates across with them?
To today's games. Refereeing some of the first one I almost tested positive for heatstroke. Three spells of fifteen minutes. When I'd done my stint Gordon Nixon took over. In that spell there was a winning goal. I'm not sure who scored it.
The second game saw Black bibs return a four goal winning margin with two strikes from Clem White, and with further efforts from John Kenyon and Mike Caldwell on target the divide was more emphatic than it looked.
Some good goalkeeping again today with Mike Kieran excelling.
David Cooper left the field with a shoulder injury caused by an awkward fall and we wish him well, he thought he may have damaged a rib as breathing was a little painful.
Walking football is ruling the roost at the moment with sweeper/keeper sidelined. Numbers are only just seeing enough revenue raised to pay our costs. (I can't remember when we last used two pitches - Ed.)
The A.G.M's in August will see a debate on raising session fees to £4. No Referee's expenses were paid this week - they are usually donated back to the group funds anyway. There may be a proposal to change this too at the A.G.M.
Remember every time we play at King Street the group gets a bill for £75. And that's by no means excessive, it's really rather reasonable !
Garry Pearce is currently looking through our rules and laws with a view to a root and branch study and possible amendments. Watch this space: A.G.M's will be kept abreast of any developments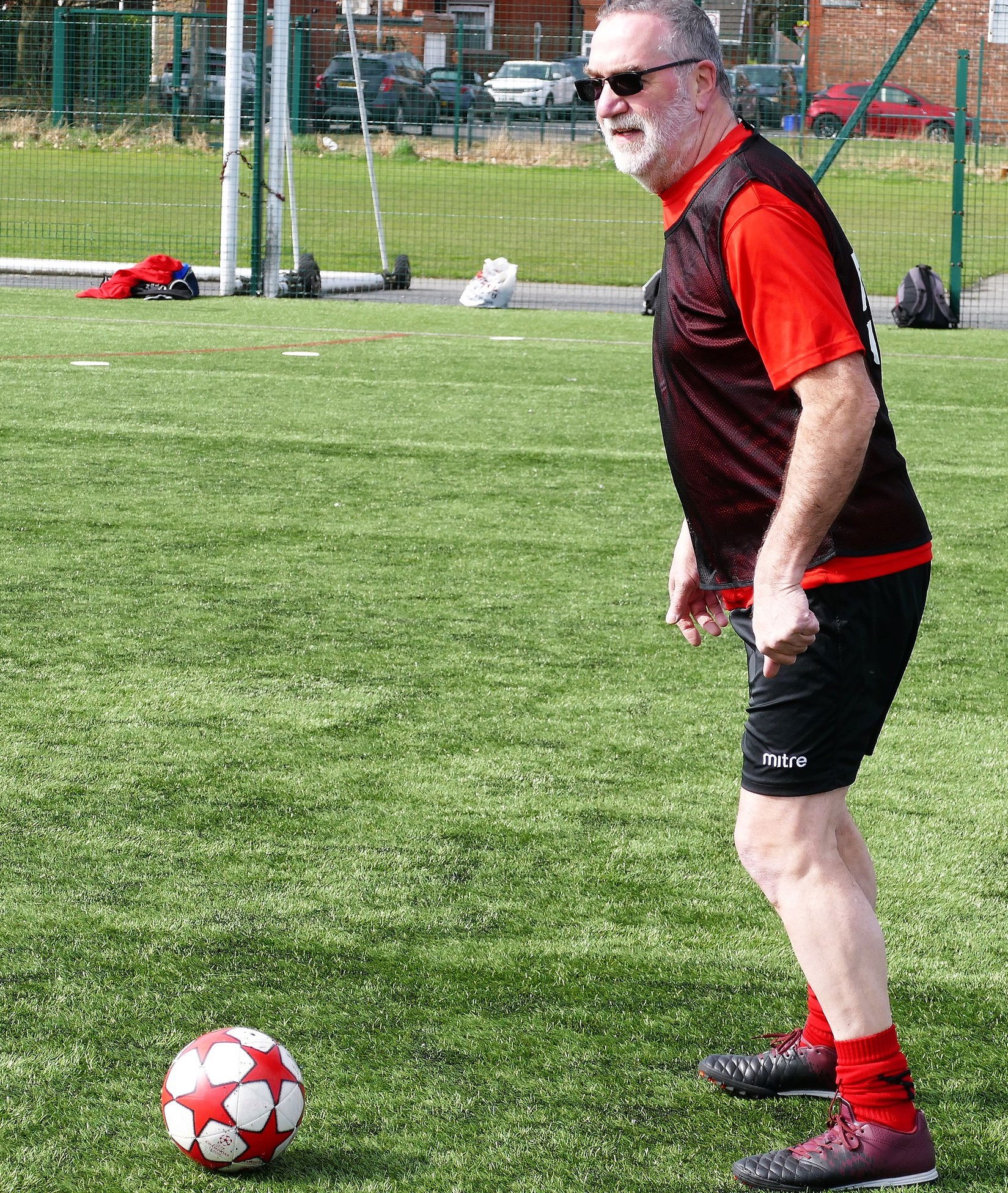 John Leech
John Leech has gone to the top of the leader board in 'PAY THE PENALTY' striking FIVE on target. Peter Collins is second with four potted. We will complete round one next week. It's probably going to be approaching the end of August before we will have a winner. So far there is £45 in the specially designated bucket with £2 owed. This will be split 50-50 between the eventual winner, and the S.C.F.C. Juniors de-fibrillator fund.
Twenty players have had a go so far which means we've already hit Co-Treasurer Alan's target when he had the initial idea, there is still time. Bring a fiver next week please if you want to have a go from Round One. After that Round's finished we increase the 14m. distance and close the book , heading to Round 2.
20.7.21
WENT THE DAY WELL ?
(You decide - still photo's here Clarets | Flickr )
Initial Video: Clarets: first third.film - YouTube
Short bite size clips on Flickr 'Pro' More Claret | Flickr
Third 'half' Clarets continued.clips - YouTube
Oh yes indeedy !
Good to see the Clarets of Burnley arriving in plenty of time at Ewen Fields , which looked magnificent in the strong sunshine. Our own team also met promptly - under the leadership of John Gaskin - as requested and when Garry Pearce arrived, the portable seven-a-side goalposts were in situ and the pitch marked, the stage was set for a walking football feast of three thirds and yours truly could breathe easier , and concentrate on the cameras.
The game consisted of three 'thirds' of fifteen minutes with drinks breaks to replenish the hydration.
A very close game which could have gone either way. Striders edged it two-nil. This was the first time 'Clarets' had played with a size 4 ball...a case of 'when in Rome'
Results matter but they are not important - especially in friendly games
Well Refereed by Garry and the bulk of the game was caught on video. There will be links coming soon to still action shots, the inevitable team groups and those videos.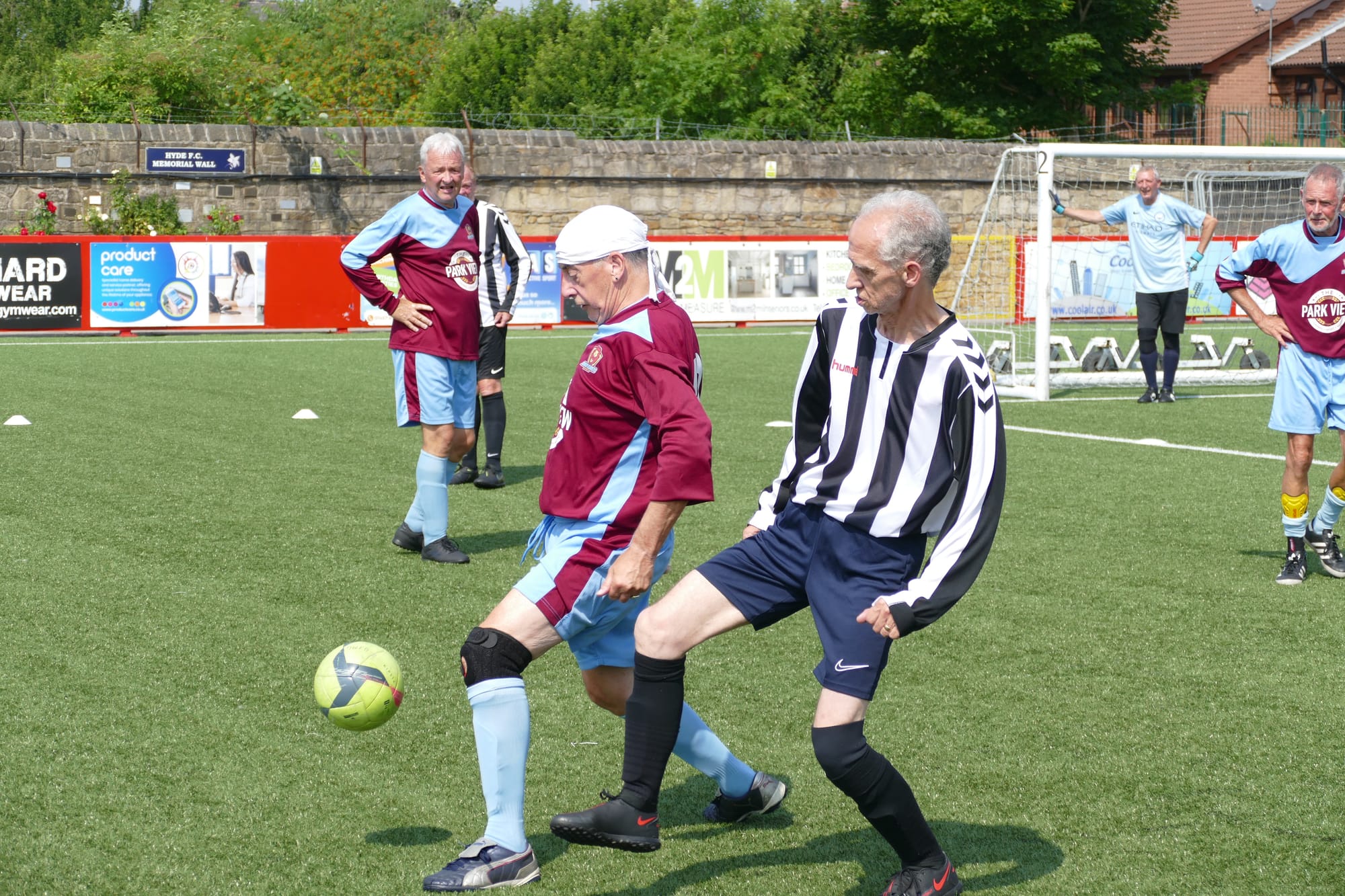 A day like today needs to live in the memory and we endeavour to film more of our matches than anyone else - by some distance.
Thanks to all at Hyde United F.C. for their assistance today. A special place with some splendid people, now forever etched in our long memories and short history,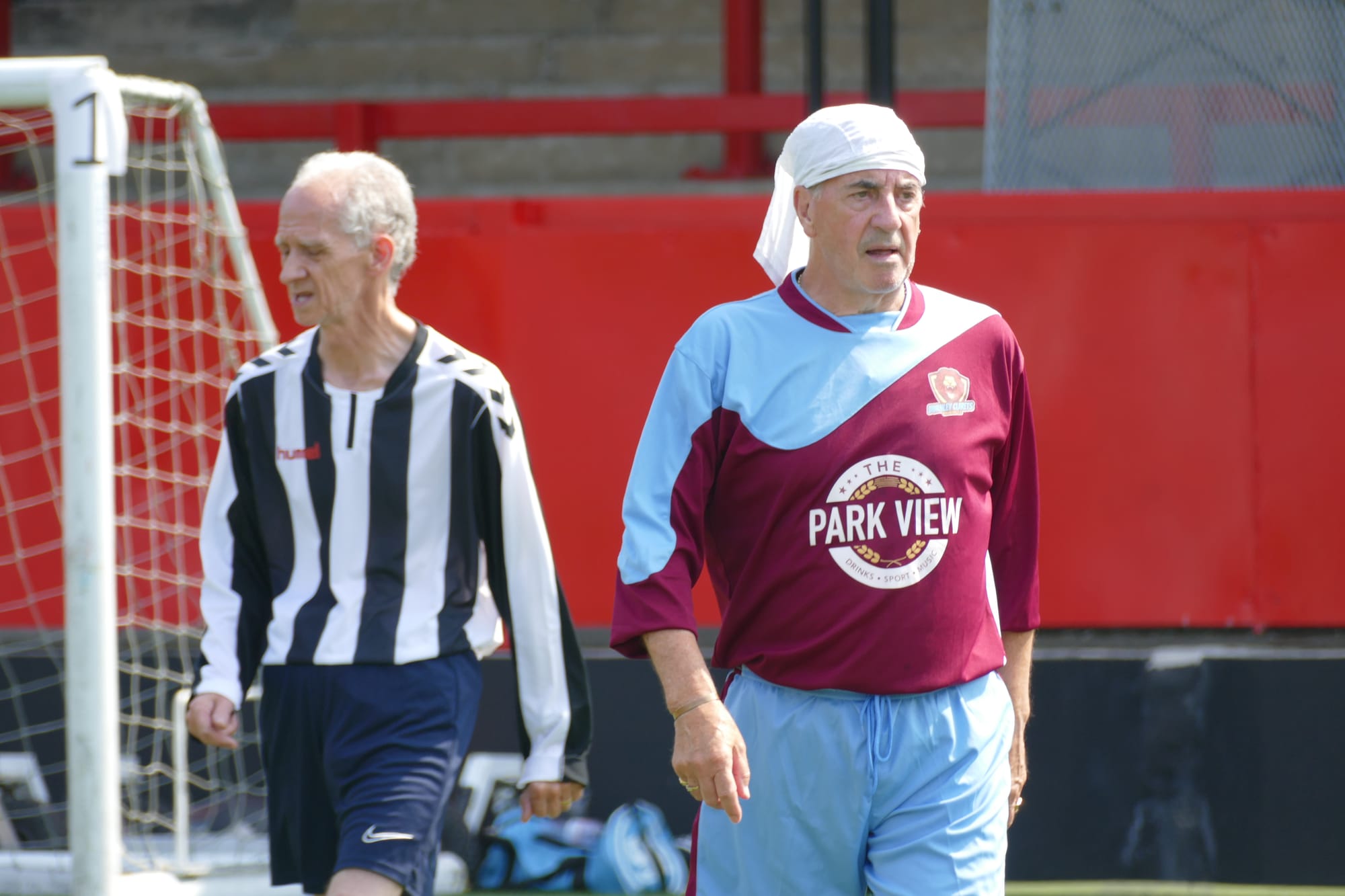 and we hope to return when possible and maintain our good relationship.
The setting for today's friendly could simply not have been bettered.
Look out for those links !
20th.July
Numbers continue to stay low for a variety of reasons. We did not summon up enough Striders today to trigger the modest Referee expenses payment (which goes back into the group at the moment anyway).
First game saw a 7 v. 7 eventually with early 'Under' Dave Fielding taking to the pitch with the 'Overs' . With make shift stand-in keeper Richards in goal for White's the Black's took an early lead through Stafford B, and then a stunner from Dave Flaherty went in off a post after narrowly evading Richard's fingertips. Terry Harrison pulled one back for White's. This was a game of three thirds due to the heat. Black#s were eventual winners 3 - 1 but White's had so many chances in what was a rather one sided third third - if you get my drift- they could easily have won the game. That they didn't, is not important.
Nobody aside from Chairman Nixon was asked to 'linger' for 'Unders' hour. An eight v. eight on a pitch that was really too small (oversight) saw two teams toil in the growing heat of a cracking summers day - if you're Spanish! "A tad too hot for Denton" someone was heard to say. But never mind , we plugged on regardless in a brisk enough manner. The game was quite evenly contested, and deservedly ended 1 - 1 according to one of the protagonists at the final whistle.
Thanks to Garry Pearce for Refereeing both games in the developing heat.
Players tomorrow v. Burnley 'Clarets' will wear Royal Blue bibs only (top 'arf anyway) - given the expected temperatures.
Round One of 'Pay the Penalty' kicked off and seven players took a total of thirty five spot kicks into the unguarded 5 x 3 Samba at a distance of fourteen metres. Seventeen kicks (approx 48%) found the target. We' will have a leader board up on the relevant page (above) soon.
No Round two kicks until everyone has completed Round One - so this may take some time.
(Bring your fiver to the next session to take part in this fun-filled chance to line your own pocket whilst donating to a very good cause at the same time - Ed.)
Note: Wide brimmed hats, soft or otherwise are not ideal for playing walking football in. A bandana is a better bet or even a knotted handkerchief ! ( I appreciate some heads need to be covered in strong sunshine - my own included)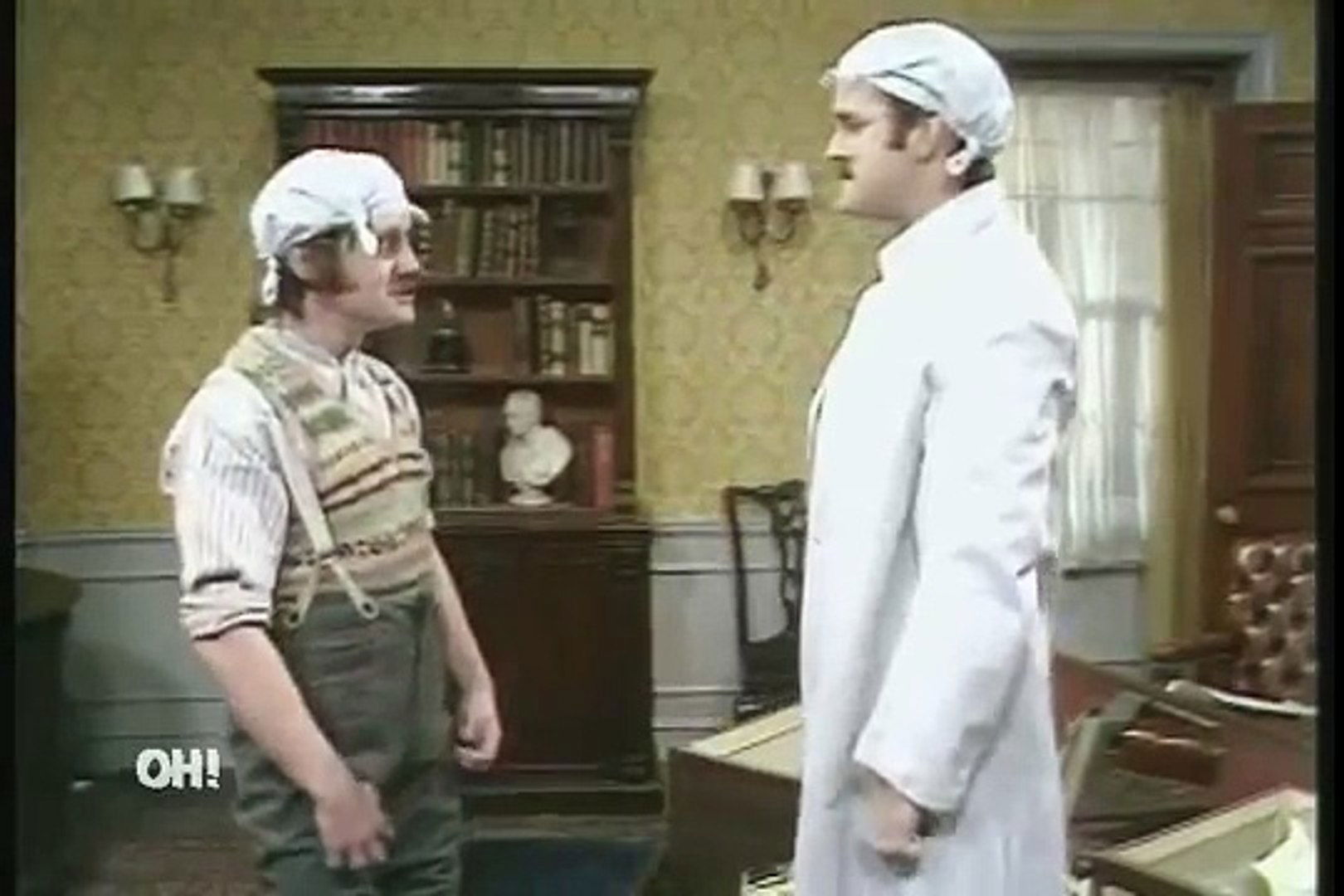 Get knotted ?


19th.July 2021
As we reflect on our friend Bill's sad loss there have been many messages of support on both of our social media sites many of which he may have seen. We all hope to see Bill soon and he has indicated a return before too long. Thinking about you and your family Bill.
______________________________
This week is a busy one for our walking football with the usual two sessions sandwiching a friendly with Burnley 'Clarets' at Ewen Fields on Wednesday kick off 10.45am. or thereabouts.
17th.July...
With much sadness we report news from Bill Lancashire that his dear Wife Pat has died. Condolences and sympathy have been expressed on behalf of all in the group. Bill will return to us when he is good and ready and will be in our thoughts at this very sad time for himself and his family.
16th.July...
With a cracking weekend in store weather wise perhaps walking football will be the last thing on our minds over the next few days. Let's make the most of Summer while it's here. However if you want to catch up with the latest 'Pay the Penalty' news there's an update on the relevant page from the menu above.
Have your fivers handy from next week if you're registered to take part. If you wish to enter send a text with your name to 07387 174934
Don't forget the A.G.M.'s of which there are two and we welcome nominations and seconders for the various Committee posts if you feel motivated to challenge the current incumbents. 17th. (Tues) and 19th. (Thurs) August after the sessions have finished around 12.20pm. Nominations MUST be received with a seconder , in writing by August 10th. please.
Any items you have for the agenda can be notified to the Secretary (Alan) in advance
If the sunshine continues into next week we should have two warm sessions to look forward to. The friendly at Ewen Fields versus Burnley Clarets is going ahead with a 10.45am. kick off on Wednesday 21st. Come along and watch , you'll add a bit of atmosphere. If you're playing remember water and shin pads plus your own kit, including your B & W shirt. With luck, the game will be filmed. No costs incurred for this game.
(Right...I'm off a few miles up the road to Bala for a couple of hours - Ed).
15th.July...
Welcome updates from today's 'Denton Thursday' from Gordon and Tony.
Tight games speak volumes for team selection and another lean day for goals but at least King Street saw a couple...
First session on three quarters of the pitch.
8 Whites v 7 Blacks walking football three touch.
H T 0 - 0
Tony played the first half with no apparent problems with his knee - good to hear....
Second half 7 v 7
F.T .Whites 1 Blacks 0
Thanks to TC for the warm up and Gordon for Refereeing this one.

Second session.
We welcomed new player Barry Wilson, who did well by all accounts. Once again walking football three touch but the pitch was extended to accommodate 9 v. 9
it was thought too warm for smaller sided variants~ understandable.
H.T. 0 - O
F.T. Blacks 1 Whites 0 ( deflected goal off the 'keeper from a Tracey Blanchard shot )
Mike Kieran played in goals first half after which Gordon took over for the second half....(hope Mike's OK - Ed.)

Thanks to Pete Quinn for taking the warm up and to TC himself for Refereeing the second game.
Photo's from yesterday - not the sharpest but...
Trusting today's sessions went well too, and perhaps we may have something to report a little later. In the meantime this fine body of sweeper/keeper exponents gathered at Ewen Fields yesterday...

14th.July ...
The final recreational sweeper/keeper session at Hyde United attracted fourteen and we had a good game Refereed by Alan Richards. Thanks to Tony Cravagan for providing post match refreshments. The game itself was high scoring and Keith Oldham in White hit six in an eight-five win. Other 'goals' from Geoff Griffiths and Steve Stafford. Blacks worked hard and played well but needed an Oldham sized striker to convert the chances they created. Amison, Harrison and Stewart were their scorers. The photo uploader is playing up so we'll return to those shots we took today when time is less tight . In the meantime here's one of the man in form today...Hyde United season ticket holder Keith Oldham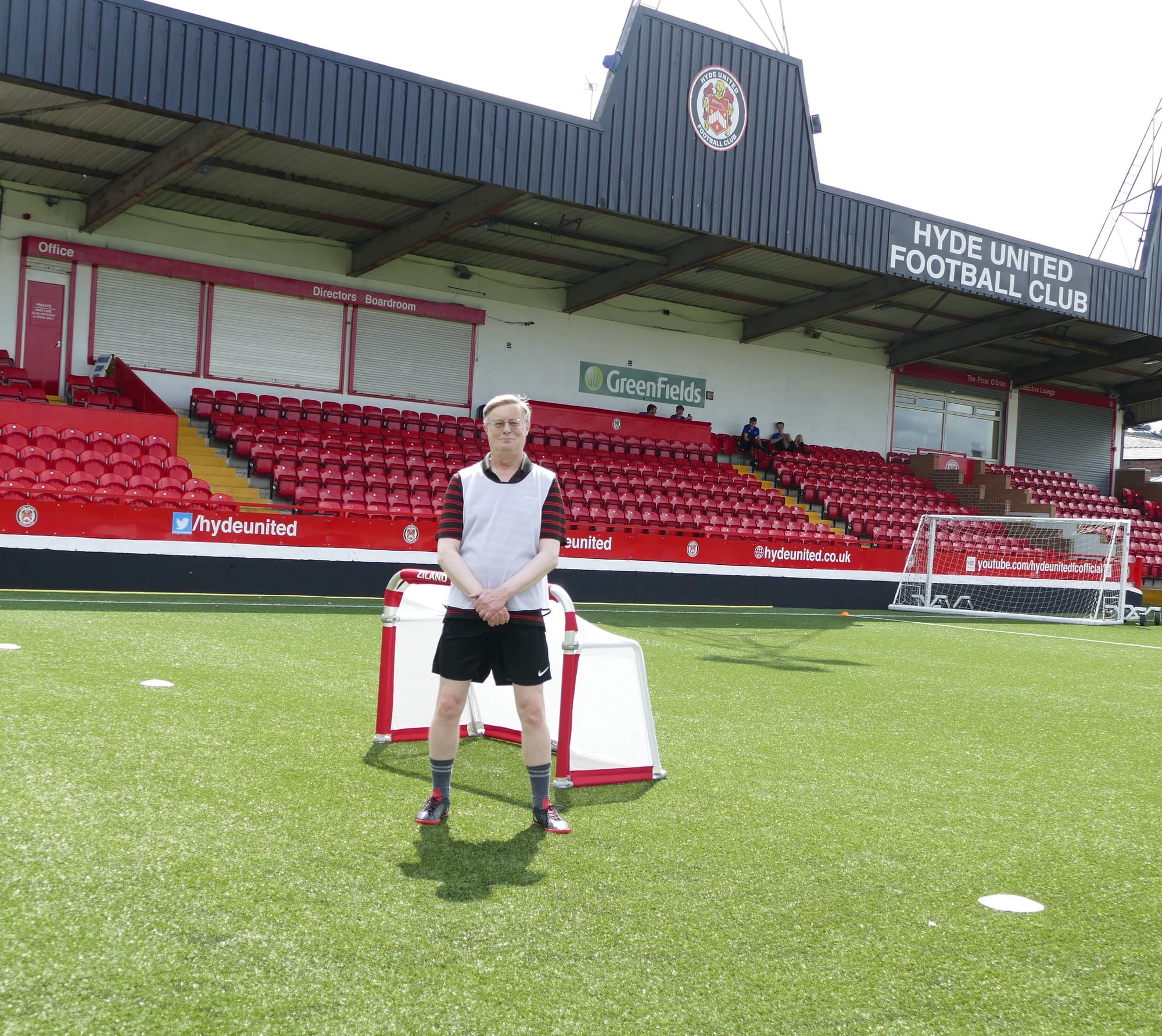 I told 'em Oldham
David Partington wanted us to know his eye surgery went well. The procedure took about an hour but he felt 'comfortable' throughout.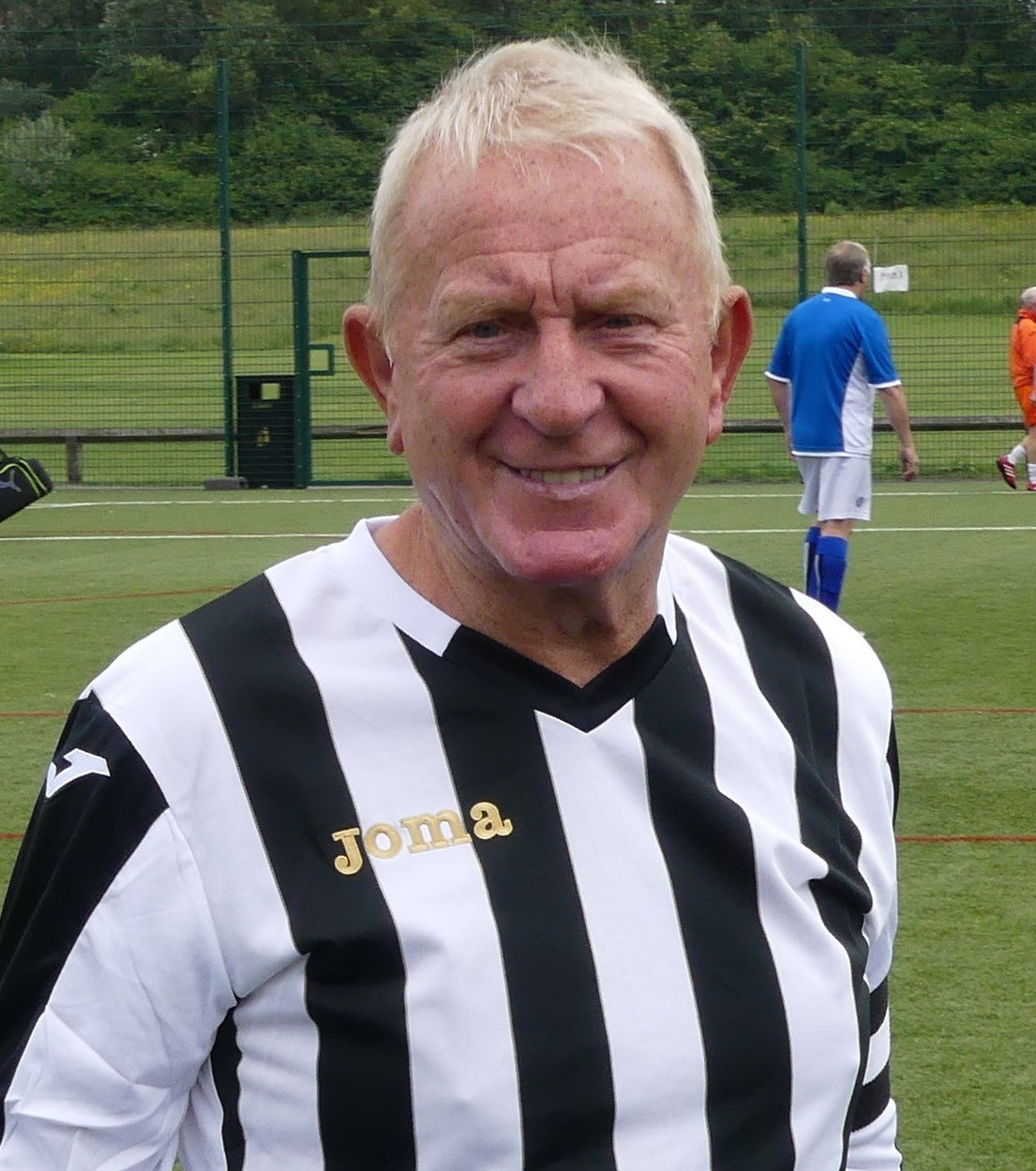 Not the kind of thing you'd want anyone to undergo but if there's a problem you do need to get it sorted. Thanks to the advice of health professionals Dave grasped the nettle as soon as was possible. It will be a few weeks before he is back with us, although he may put in an appearance before he can play again.
Get well soon DP.
13th July...
Just a quick heads up about what happened at King Street.
Dollops of Denton gratitude to Denis Cudahy and Tony Cravagan who filled a hole 'pearced' as Garry suns himself in Scarborough on a much deserved break. Two games of 8 v. 8 well Refereed.
The goal famine continued with two nil-nil's. Both good games with some useful walking football on display. From a personal point of view it was good to be back on a pitch with Messrs: Brereton, Fielding D and several others...it's been a while.
There'll be a further account of what happened earlier later on today.....
...and here it is...
Alan Richards took both warm up's as Dave Partington is unavailable today and Peter Quinn is nursing his calf injury.
The first game was highlighted by some very deft footwork from Steve Amison and Terry Harrison who combined well together in black. With Dave Gibbons marshalling their team from the back they looked likeliest to score despite White's array of goal scoring ability spearheaded by Messrs: Stewart and Jarvis. Referee: Denis Cudahy
Peter Dixon turned up for the second session, the first time we have seen him in a while due to Sciatica which many will know can be painful. A few familiar faces were missing as the injury toll ratchets up another couple of clicks , it's now making a dint in numbers but today they worked out well for another game of 8 v. 8 with Richards helping equalise things for the team in black.
This was another good game enjoyed by all, it's thought.
Nobody managing to score but White's were creating more chances, some squandered, some narrowly missed and Terry Hayden's goalkeeping was superb throughout. Stuart Saint and Peter Dixon took the gloves for White's and both saw their commitment rewarded with clean sheets.
Mike Caldwell threatened for White's with his role up at the far end of the pitch waiting to pounce, and having one goal disallowed for encroachment. He had a couple of chances but nothing from a particularly acute angle, which is his forte. Towards the end Black's deployed a man marker to deny him the chance of nicking a late winner. ( it's the first time I've played with the 'Unders' in a long time and it was smashin' .. Nobody taking the result, nor the desire to win too seriously. - Ed.)
Quick news: Tomorrow is your last chance for some time to play a recreational game of sweeper/keeper at Hyde United. Our plans to stage sessions throughout the Summer have been dropped after an administrative mistake in the Hyde office saw us left with just half of the pitch. Not what we envisaged at the outset, and not what we want. Fair play to the club, for they have reimbursed us the entire amount. It's good to maintain harmonious relations and the way they have dealt with this is most honourable.
We round off with a friendly v. Burnley Clarets at Ewen Fields next week (21st. kick off 10-45am).
Stuart Saint was given his club shirt today. He's part of the squad to face 'Clarets' so the timing was appropriate. All players are requested to wear their own b & w striped shirts for that game with dark socks and shorts - black if possible.
Laurie O'Toole has been in touch and after his latest episode with his knee he is taking a few weeks rest before deciding whether to press on with walking football. The longer view is necessary here and Laurie does not want to jeopardise the joint, nor his health going forward We wish him well and hope to see him back playing. In any event he wants to stay involved with the group, perhaps as a Goalkeeper, perhaps not. Time alone will tell. There'll always be things to do even if you cannot play your normal game in the midfield Laurie. We know how much you enjoy it.
Let's spare a thought for Dave Partington who is having some eye surgery today.
David's name along with 20 others has so far been registered for our 'PAY THE PENALTY' comp...there's still time to enter. Shooting will commence soon, please start to bring your fivers from next week - it's going to be fun and will be filmed !
No photo's or video today - giving that a rest for a week or three, there's plenty to be having a look at on YouTube or Flickr
_________________________________________________________
GORDON'S SWEEPSTAKE ON THE 'EURO'S' who had the winning ticket.....?
(3) Euro sweepstake2 - YouTube
___________________________________________________
It's understood that all Committee members wish to remain in post for another year at least. Of course all positions are subject to re-election and nominations are welcomed for anyone who you feel entitled and suitable to have a go themselves. The names of the nominee, and the proposer must be submitted in writing (email will do) by the end of July along with a seconder. State which post you are nominating for: Chairman, Secretary, Co-Treasurer or Committee 1,2,3. These roles are currently filled by Messrs: G.Nixon, A.Richards, A.Richards, G.Brown, C.Fielding, D. Partington, T.Cravagan and G.Pearce respectively.
Election's - if required - will be arranged before the A.G.M. (17th. & 19th. August)
email admin@tamesidestridersdenton.org
______________________________________________________
Whilst it's appreciated not everybody had the chance to take part in Gordon's 'Euros' sweepstake the result will be announced later in the form of a short film which will see the man himself revealing exactly who has won the money. Watch this space !
COMING SOON - PAY THE PENALTY...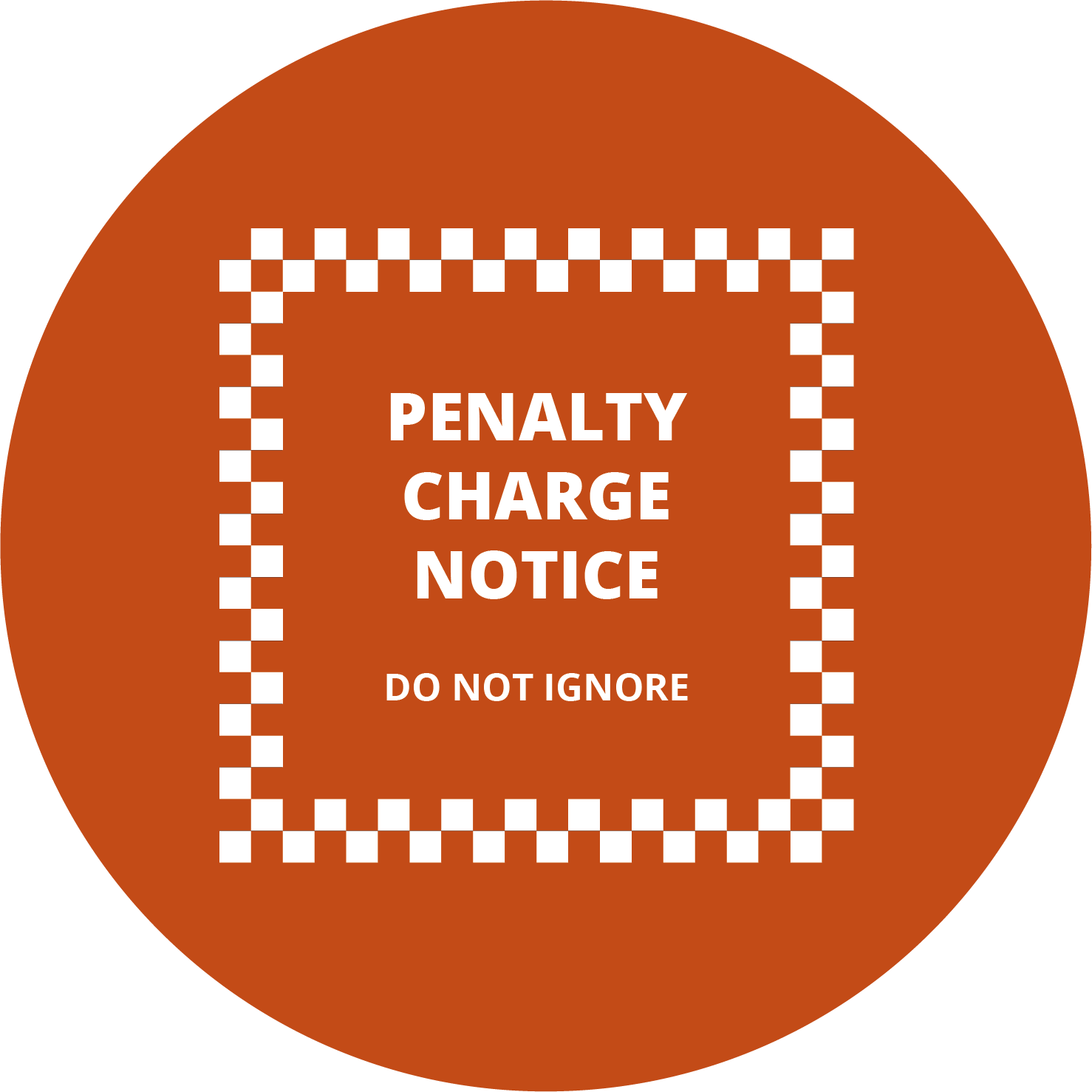 Register for your five pens - pay the fiver when we arrange your shots you'll get five one pound coins back, for every one that misses the target (mini goals from 14 metres) you'll forfeit a quid into the bucket. We keep going across a few sessions until there's only one player left with money in his pocket. We donate half of the bucket to a worthy cause, the other half to the penalty 'king'. You wouldn't bet against any of these fellers...or would you ? Five minutes worth of accurate 'penalty' potting...just for fun as much as anything else...have a go ?
Register your name at one of the sessions this week - no money needed yet...the process could take two or three weeks to complete.
____________________________________________________
Saturday 10th.July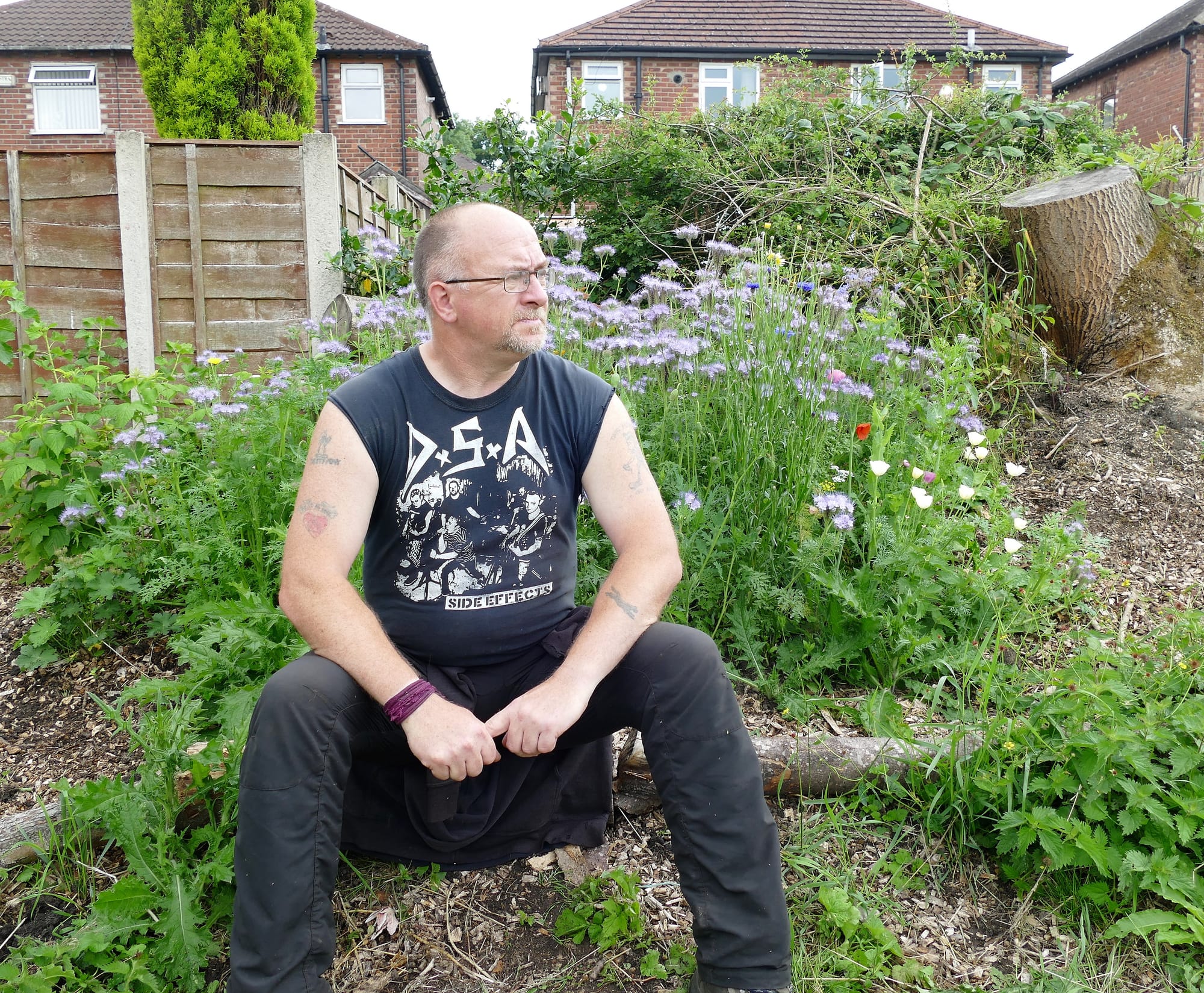 The Badger made his way to Denton Town Football Club this Saturday morning to meet up with David Higginson-Tranter also known as the 'Fungal Punk'. Dave, along with his good lady and a mate called Rob is working on a project at one end of the ground, introducing shrubs and plants that are wild life friendly. During a short but fascinating chat he introduced several species I'd never heard of including the wonderful specimen pictured which had several Bees buzzing around its mass of pretty blue flowers .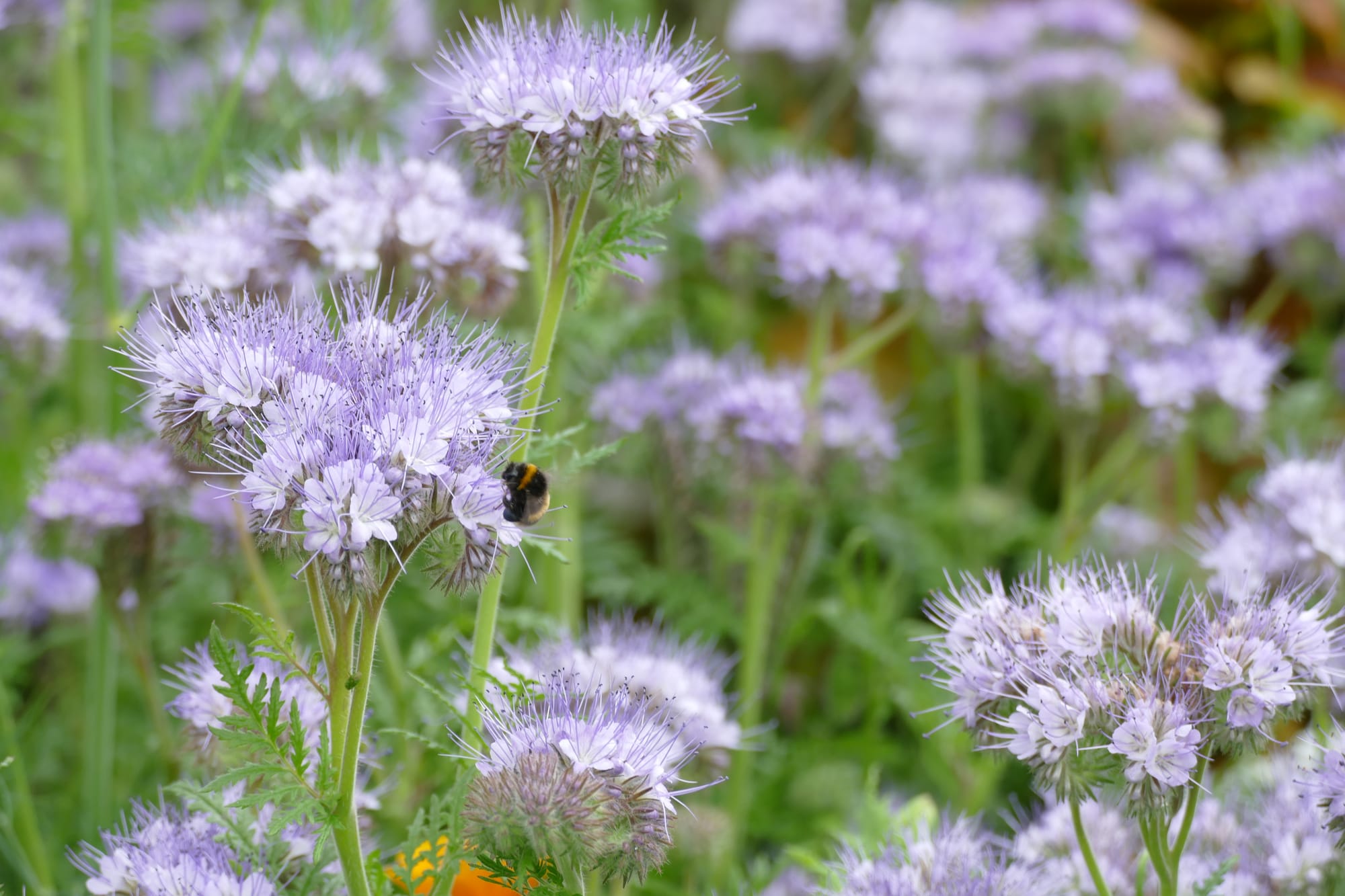 Insects abound too on the now developing patch of ground which is substantial in size.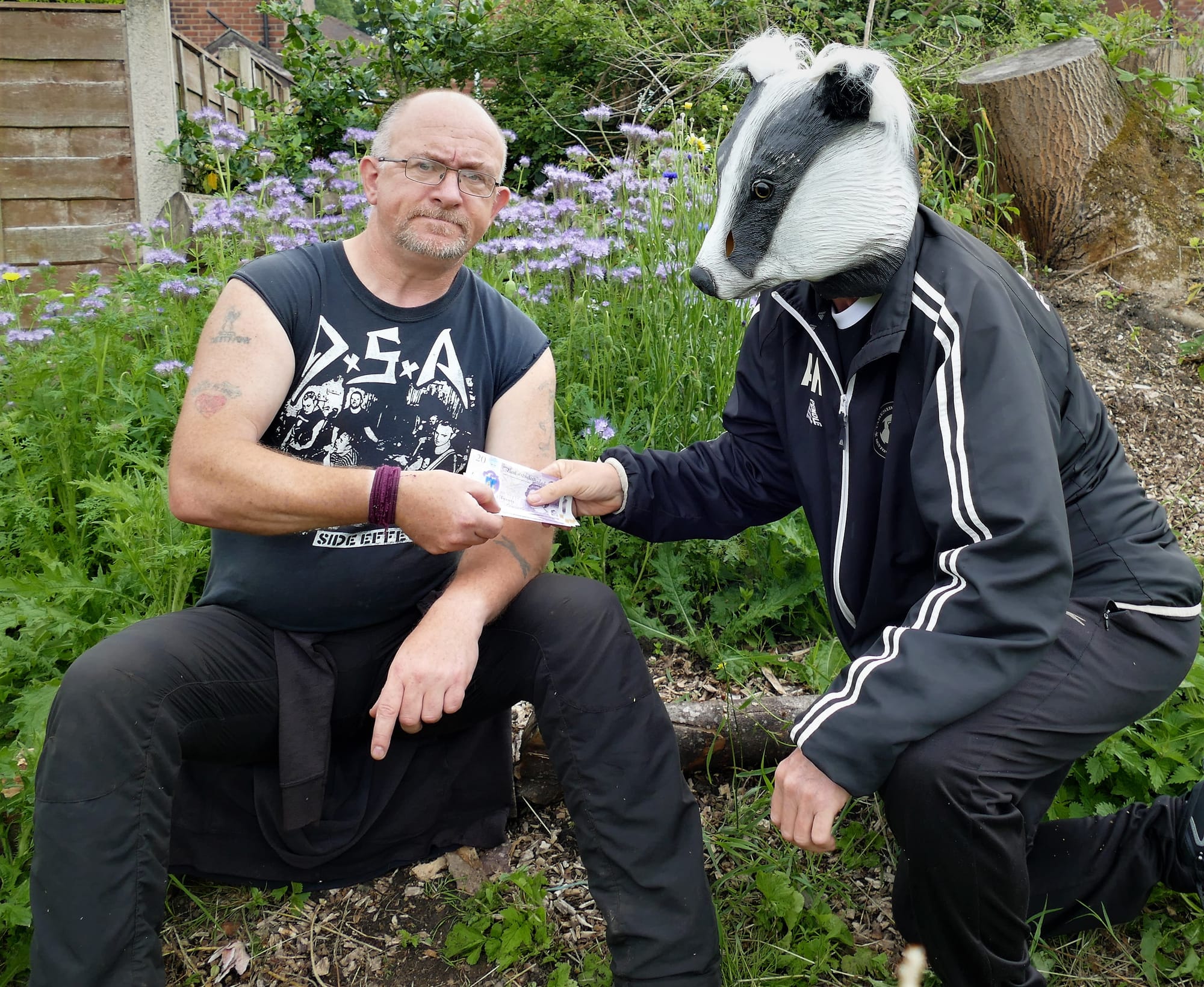 Dave with our Badger
Our Badger presented Dave with £100 five crisp twenty pound notes which will be a shot in the arm for his project and means we can re-visit the ground from time to time to see how this very worthwhile work progresses.
We also wish Denton Town F.C. all the very best for the forthcoming season.
Thanks to all who contributed to the recent bucket collections. Dave, a real character was delighted with the donation and we wish him well with his work.
Update from Dave: "What a pleasure and what a cockle-warmer, utterly bowled over by such a kind and considerate gesture, it made my day....."
Incidentally , in case you're wondering , that blue plant pictured above is correctly named 'Scorpion Weed Phacelia Tanacetifolia' - just to be clear (I'm wondering now if it stings - Ed.)
_______________________________________________________________
The Annual General Meetings - at King Street after the sessions have ended.
Tuesday 17th. August
Thursday 19th. August
Agenda to follow