28.2.21

THE STRIDES OF MARCH
As a forgettable February (if you've not had a new roof put on your house) slips away the more promising month of March looks to have optimism writ large right through it.
In like a Lion out like a Lamb they say...
We're going to feature a few other walking football websites in the coming weeks as we countdown to our resumption.
Have a look at what other group and organisations offer their members and their interested observers. We'll start in our own north-west neck of the woods about thirty miles west at St.Helens Beacon Walking Football. These guys report on their sessions regularly with underlying humour. Their 'blog' is worth a look as is their extensive 'player profile' page. They follow W.F.A. rules.
HARRY'S GAME ?
An initial look at their team shot might suggest a certain errant 'Prince' is a benevolent sponsor - but look deeper
The aim is to link a different website each day for a while (until I forget- Ed.)
Take a look at this one
https://www.sthelenswalkingfootball.com/
_______________________________________________
You thought it was all over - well, it's not..here's Gaz's Refereeing quiz - < click >
KNEES !
So many of us are wearing knee supports lately here's a piece that turned up on the internet as a by-product of the space programme
27.2.21
Following a virtual committee 'meeting' at 4-00pm. this afternoon Tameside Striders D.W.F.G. will urge members to have Covid-19 vaccinations if offered , both for their own safety and just as importantly the safety of others in the group. However, there will be no compulsion and no exclusion of anyone who is not vaccinated. The take up is high, we already know that.
The committee agreed unanimously to return to playing on the 30th.March (Tuesday) and Thursday the 1st. April.
When we resume will will proceed with caution as suggested by H.M. Government medical advisors. However , temperature checks will not be carried out, but we reserve the right to re-introduce them at any time.
GROUP MEMBERS WHO FEEL UNWELL MUST NOT ATTEND.
Masks/face coverings should still be worn on arrival and a register signed declaring you are feeling well , have no Covid symptoms and have not been exposed to anyone who displayed symptoms or has tested positive in the previous fourteen days. Please continue to bring the right money wherever possible.
Kit bags should still be socially distanced and at all times pre kick-off players should be mindful of keeping a two metre space between themselves whenever possible until we kick-off.
We will still be playing the sweeper/keeper game in the short term. This will be reviewed in June, By which time most of us will have had a second vaccination.
We will continue to follow all precautionary requirements of Denton Youth F.C. and will review any further F.A. guidance that is issued.
We will produce lists - like Resumption 1 in August - advising players which session to attend initially. The Glossop based players should be free to return if the tier system is not re-introduced. Watch the website or check your email inboxes in a couple of weeks time please.
Players used to turning up on Tuesday and Thursdays LONG TERM can still do so but those Thursday players who only recently attended on a Tuesday too will need to stay away from the Tuesday sessions until we can ascertain trends of demand and attendance, Thanks for your co-operation on this and thanks for answering the call when we asked you to make up the Tuesday numbers.
The meeting decided it will be Autumn at the earliest before we consider taking part in the competitive walking football 'Over 70's league, although we may look at arranging a couple of friendly games in the meantime and perhaps a one off 'tournament' in the summer.
It's hoped we can re-arrange the proposed 'Tiger Feet' festival, and 'Friday Night Lights' at some point.
The meeting concluded at 5-00pm.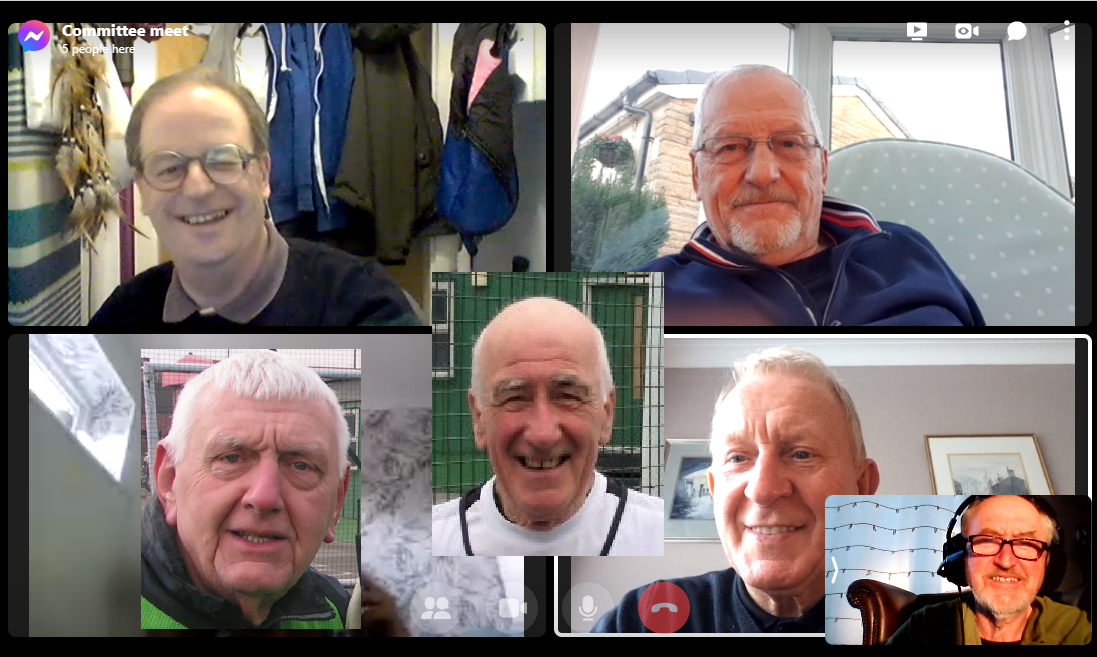 _____________________________________
26.2.21
With more than a hint of Spring in the air the committee will this weekend turn their attention to Resumption Mark 3. The light at the end of our particular tunnel is now looming quite large. Quite a change from a couple of months ago when I downloaded this image for use on the site.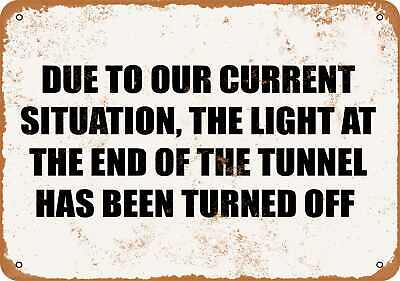 However, optimism now reigns supreme. But in just what way will we go forward from here, and when will we start ?
Will we maintain the protocols that were in place before Lockdown No.3 ? Do we need to be as ultra-cautious as we perhaps were. Rest assured these matters will be dealt with but if you have anything to ask or proposals to put forward please email or text to the usual addresses/numbers.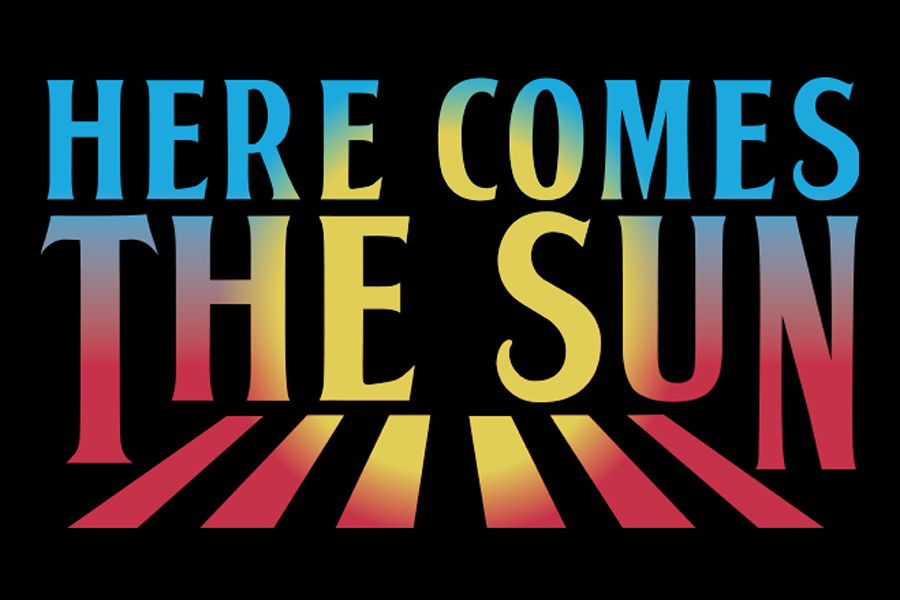 The F.A. as we all know lump us in with the youngsters in their overarching 'grassroots' terminology. There may be a little more sense in that now our age group has benefitted from a shot in the arm.
Speaking of which someone has asked the question on a national forum should a jab be mandatory before a player can play ? This raises all kinds of questions well outside the field of walking football. However it is a fair question in the opinion of some , but not in the opinion of others more libertarian in nature.
Surely it's the answer which should be judged 'fair' or 'unfair' and not the question.
25.3.21
This website rarely gets involved with the wider, national game and all the various divisions, antagonism , problems and anomalies it can generate. There is the odd exception...
There's been a good response - as group responses go - to this poll originated by Alan Richards this week on one of the national walking football Facebook forums.
Our group is affiliated to the Football Association via D.Y.F.C. but like many others is less than happy with their approach nationally to our unique game. We have no specific allegiance to the W.F.A. which seems more interested in the international scene, although from this sample more might seem to rate its credentials higher than the F.A.'s. It must be said that there are local variations within the Football Association and in a few areas a commitment to a higher level of interest in walking football is evident.
Given the feelings expressed in the poll results there is a level of dissatisfaction with both organisations. These are uniquely extraordinary times of course and allowances must be made for the restrictions the pandemic has posed.
That said, the road ahead represents an opportunity to improve past performance and priorities - enough said.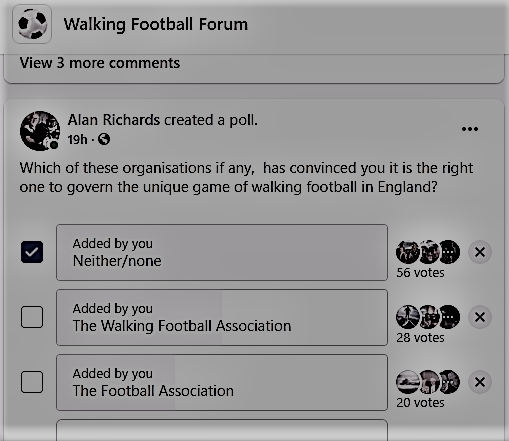 you can join the forum at this link if Facebook is your thing
Walking Football Forum | Facebook
24.2.21
DON'T FORGET GORDON NIXON'S QUIZ AT 4 pm.
WEDNESDAY ~ WHATS APP
update: another win for Steve Stafford
____________________
23.2.21
During our enforced lay off this website - as promised - has done its best to keep our players, and anyone else interested in touch with the game by a variety of means.
Ever innovative, tomorrow we bring you a ten question quiz from our main Referee Garry. You can find it at the audio button on the 'home' page.
Somebody must have been reading our profiles because the latest edition of the W.F.A. newsletter gives more background and personal information on its 'Chief Executive' than has ever been published before in a walking football context, so far as we can ascertain . 'All you need to now about Paul Carr' who at 66 is younger than some may have thought. He has an impressive c.v.
Some of their stated aims and most of their playing rules make sense to many of us but such an apparently smart operator should by now be the custodian of a much more popular organisation
You can read the newsletter at the link below
_____________________________
Further to Government announcements last night the Football Association have issued a statement which can be read here. There is no specific reference to walking football and the needs of the people who play the game. However, as vaccinations has progressed so well , especially amongst older people we can look forward to a return before too long. The members the Committee will discuss a firm date for resumption on Saturday
Grassroots football to return from 29 March with 2020-21 season extended until end of June (thefa.com)
A brief look on the Walking Football Association website this morning failed to find any up to the minute update.
- - - - - - - - - -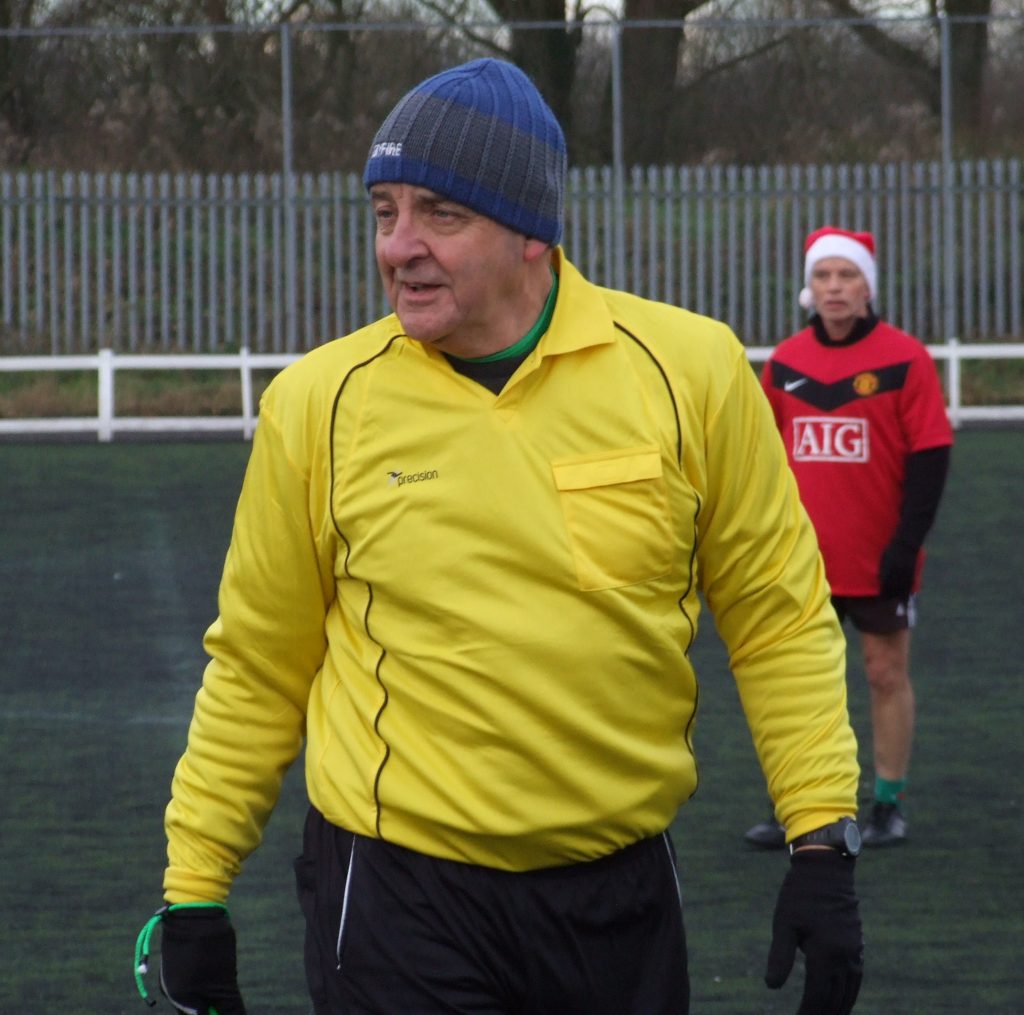 Read all about our well respected Referee Garry Pearce
his 'profile' can be found at the link below
www.tamesidestridersdenton.org/player-profile/garry-pearce
22.2.21
A fun 'observational' quiz !
how well do you know Denton W.F.G.?
Green shoots are starting to emerge and we may get word of an eventual way back to playing later. The committee will now meet EVERY week to work out a cautious way back.
In the meantime if you fancy having a go at answering check out the vid (alopogies for the slight glitch near the end).
Grab a pen and paper if you like ~ not sure how many questions there are but you'll be done and dusted in fewer than ten minutes - any answers you don't know then you'll learn something and if you like it we'll do more
21.2.21
Reset required ? - some people never give up
https://www.walkingfootball.com/news/view-1653-time-to-press-the-reset-button/
Some people think ONE England walking football team is an "embarrassment" , let alone two.!
We'll be keeping an eye on this but can't see it going far. No idea why there is so much angst expressed about this game. We are in it to get some exercise, and have some enjoyment with a football, taking part as and when in games against others for the fun of it or in good natured competition.
We keep seeing references to the 'England Walking Football Community' as in the definite article - it's balderdash because the game is fragmented, and frankly that needn't really matter, unless you want to claim you control it and turn it into something it is not.
------------------------------------------------
19.2.21
Another player profile
https://www.tamesidestridersdenton.org/player-profiles/keith-yardley
____________________
Focus has shifted to domestic matters for the Editor this week as work on the roof at 'Richards Towers' continues apace. Much consternation caused checking weather forecasts as the hard working contractors crack on with the job.
At least the dog is behaving impeccably with all the bumping and banging, likely to spook a more nervous hound.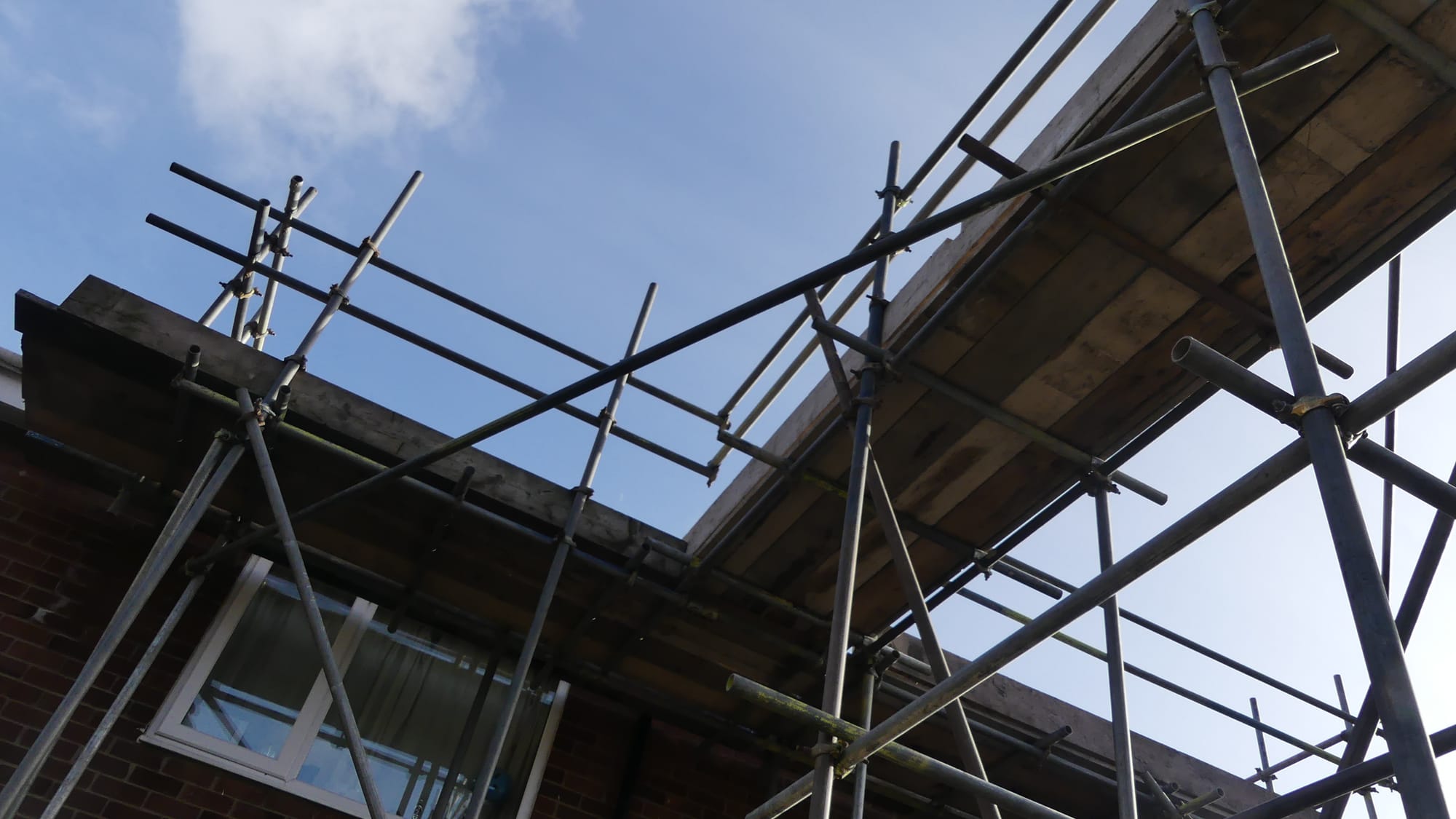 However, we do have a couple more of our'player profiles' in the pipeline. Keep visiting the website for an imminent insight into the life of a 'two footed winger' whom most of us will recognise
______________________
Kop an earful of Liverpudlian Garry Pearce in an interview he recorded with Tameside Radio about three years ago. His Scouse wit comes shining through.
https://soundcloud.com/alan-richards-12/garry-p1
17.2.21
Not much news about so why not have a look at this album from Summer 19 Festival ? - it's excellent and reminiscent of a sweeper/keeper fiesta. The Badgers took the trophy but everyone involved was a winner in a veritable Bib bonanza !
Another player profile - this time Clem White is in the frame !
https://www.tamesidestridersdenton.org/player-profiles/clem-white
Committee meeting 13.2.21
A virtual committee meeting today at 4.05pm. hours with five members present. David Wilson was absent.
We spoke about welcoming one or two new players when we finally resume. We have had a couple of enquiries lately. The main criteria is that they realise what we're about and while games are mildly competitive it's not about winning at Denton. Results matter but are not important. Exercise, enjoyment and having a good time is our raison d'etre.
The 'Shed' project at Dukinfield was discussed and we agreed to publicise what goes on there. We will also gauge their interest in walking football and if the numbers stack up we can certainly arrange a friendly game at Denton by way of mutual introduction, should they be agreeable.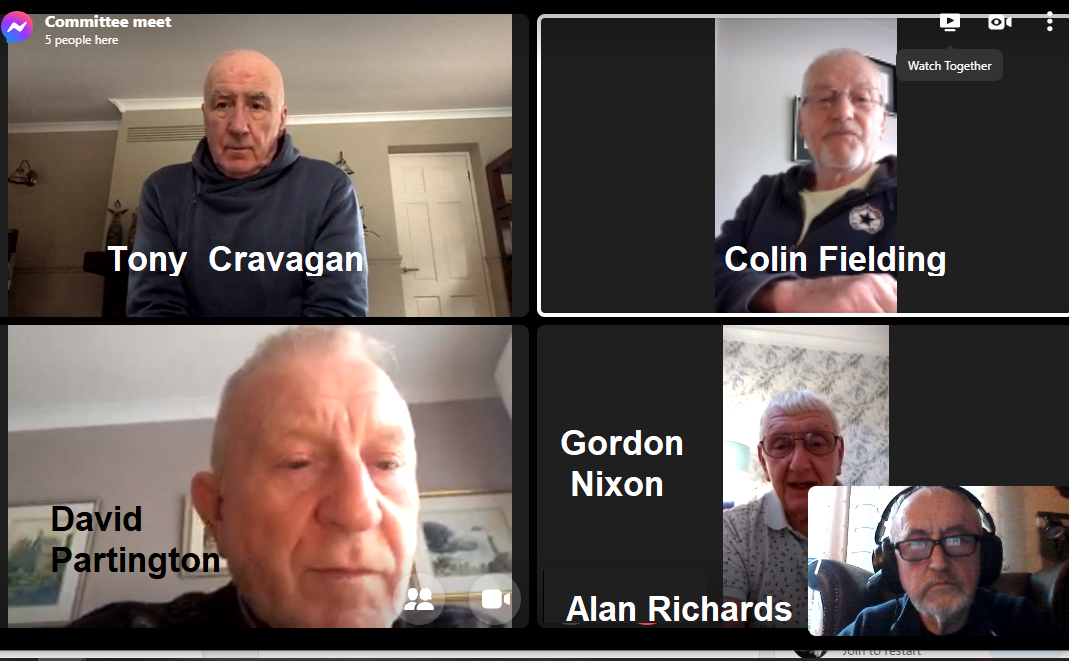 Following an idea from the Chairman the Secretary is looking for funding of a project which could see the commission of some hard backed photo books which will mark our brief but significant history. All committee men will select their choice of some photographs. The Secretary will compile the books. Any players who feel strongly that some photo's should be included are welcome to nominate them too. Browse our albums , and make a note of which of the photo's features in and the reference number. Then let Alan know of your choices and we'll endeavour to include them in the books. We probably could not include everyone...but we could try.
Denton South Councillors have once again generously offered small grants to worthy voluntary causes in this part of the borough and the Secretary has applied. If successful the books will bear the names of the Councillors who have a record of assisting us over the last three years. A fitting acknowledgement of their continued support.
The Constitution, proposed last month and overwhelmingly supported with no negativity in the first week of February , is now adopted and is in printed form. All were impressed at the response to the vote. Sixty seven positives and no negatives all returned online within the space of one week. Incredible. Thanks to all.
Mike Smith's appointment at Curzon Ashton was mentioned and regarded as a big positive for walking football locally. The Secretary repeated his oft stated view that the Fair Play League - largely his creation - is not patented. And if anyone wanted to start the same or similar format again he'd be happy to talk about how things went over one and a half seasons, although he may not want to be involved in the delivery of such a venture himself. That said we may not be averse to participation in such a league. But for us the priority is recreational sessions with the odd friendly AND eventually perhaps entering a one off knockout tournament for those of our players who hanker after a competitive game or three. Also a possible return to Over 70's if and when the GMWFL resumes.
We all wished David Wilson well following his recent eye operation.
The meeting closed at 5-05 pm
_________________
NEW PAGE - flashback photo's x four
www.tamesidestridersdenton.org/flashback-photos
12.2.21
A video from Lancashire F.A. ~ it's not quite up to date but it's been well put together and was shot on a 'league day' at Heywood Sports Village featuring some familiar faces, and one familiar jacket ! Worth a look....
The Group's committee will meet online this coming Saturday at 4-00pm. Matters discussed will be reported here. Meanwhile in the regular game tonight Chelsea travel to Oakwell , home of Barnsley F.C.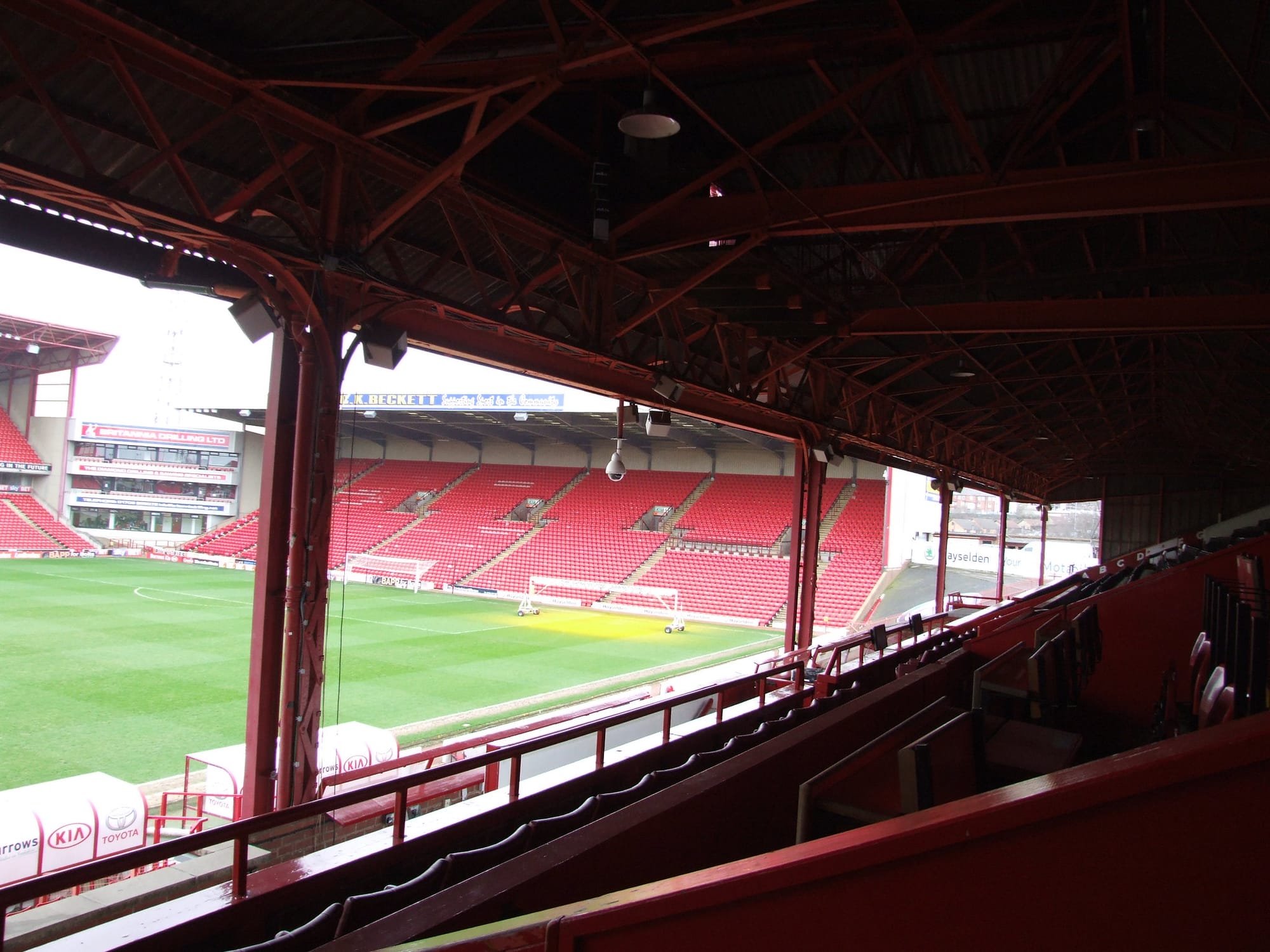 A ground many of us will remember fondly after our guided tour in March 2017. An atmospheric old stadium with a look that's evolved across the decades. The games of walking football that followed in the indoor training complex, and the after match hospitality afforded by the Barnsley 'Pals' rank among the highlights of our brief history. Good luck to their team tonight. These kind of games are what the F.A. Cup is all about. If Chelsea come out on top it will obviously please our own 'true blues Messrs: Lake and Wingrove much more, so we must merely say let's hope the best team win !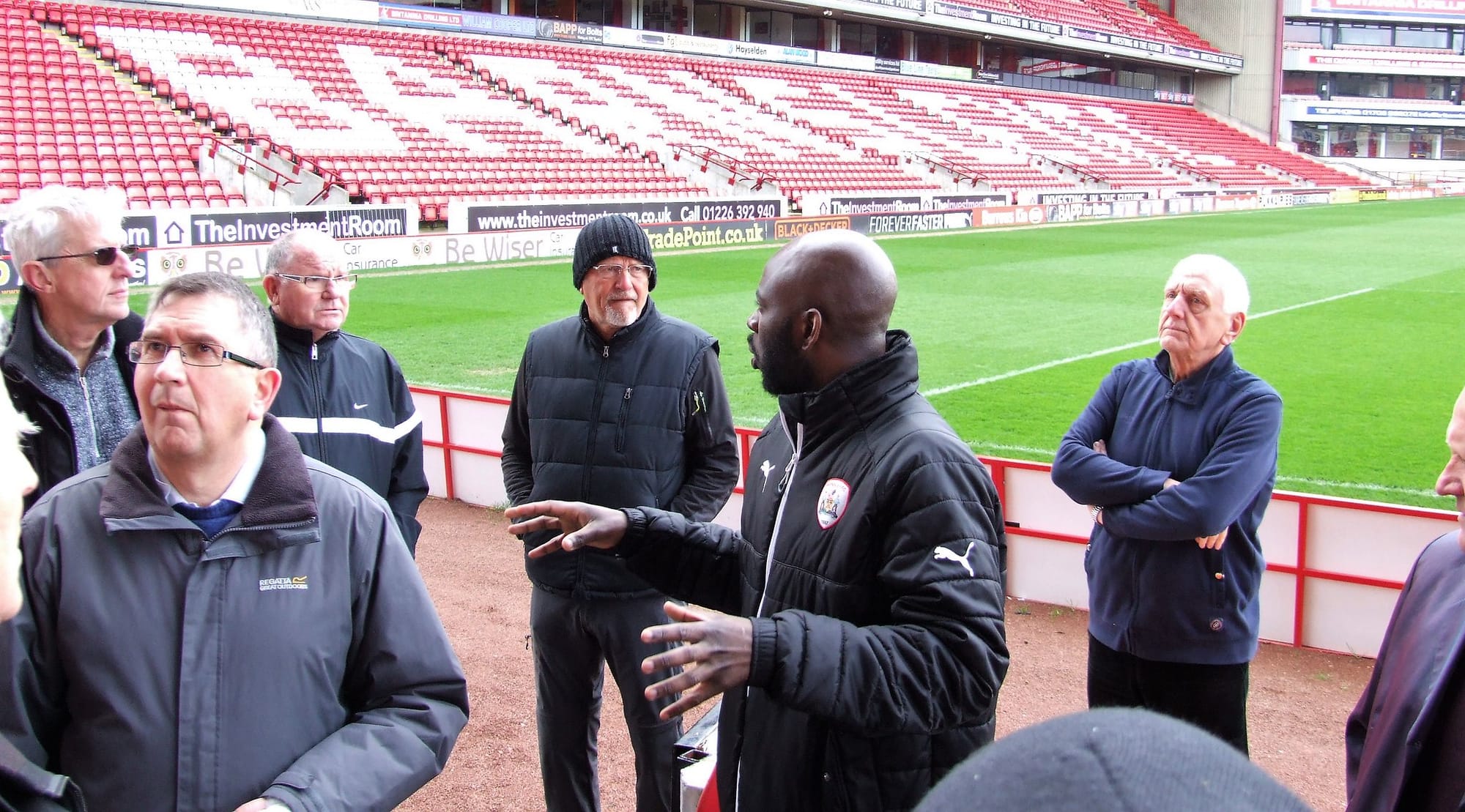 Striders enjoy their tour of the ground
_____________________________
THE SHED
Mention 'The Shed' to most football fans of a certain vintage and it will conjure up images of Stamford Bridge. At one time a motley collection of terracing and stands with a dog track around the perimeter. In truth in later years it became rather ramshackle.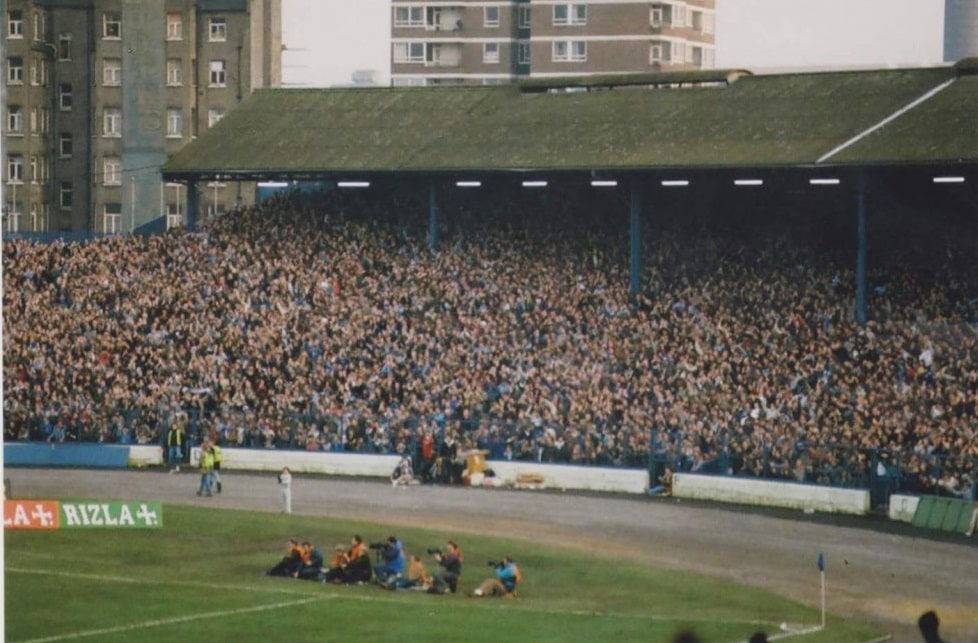 The Shed - Stamford Bridge
The fearsome shed was the corrugated iron enclosure for the most vocal home support and a fearsome place it could be for a visiting fan who knew no better than to wear his teams colours and stand his corner. I speak from bitter teenage experience.
That was then and this is now.
'The Shed' locally is a place where men of a certain age in our local community can come together to learn and develop practical skills. Basic woodworking or cookery for instance. Or just enjoying each others company. It's located in Dukinfield and is really a 'workshop' given the friendly nickname 'the shed', as blokes often have sheds in their gardens which many might see as a refuge, of sorts. I know this applies to at least a couple of members of our group ! Today the Ed. spoke to Mike Barlow who is the organiser. They also have a 'sporting memories' session conducted by a former Premier League Referee and they have tried walking football -indoors - in the past and Mike introduced to us by Sharman Birtles (Vice Lord Lieutenant of Manchester) wanted to to make contact and see if our two groups could offer some mutual interest and participation.

Some of the 'men of the shed'
We have resolved to meet when restrictions are eased.
The Dukinfield 'Shed' sounds like a friendly place and a huge improvement on the Chelsea one. We should look forward to finding out more about it as the year progresses and normality hopefully begins to beckon us all.
_________________________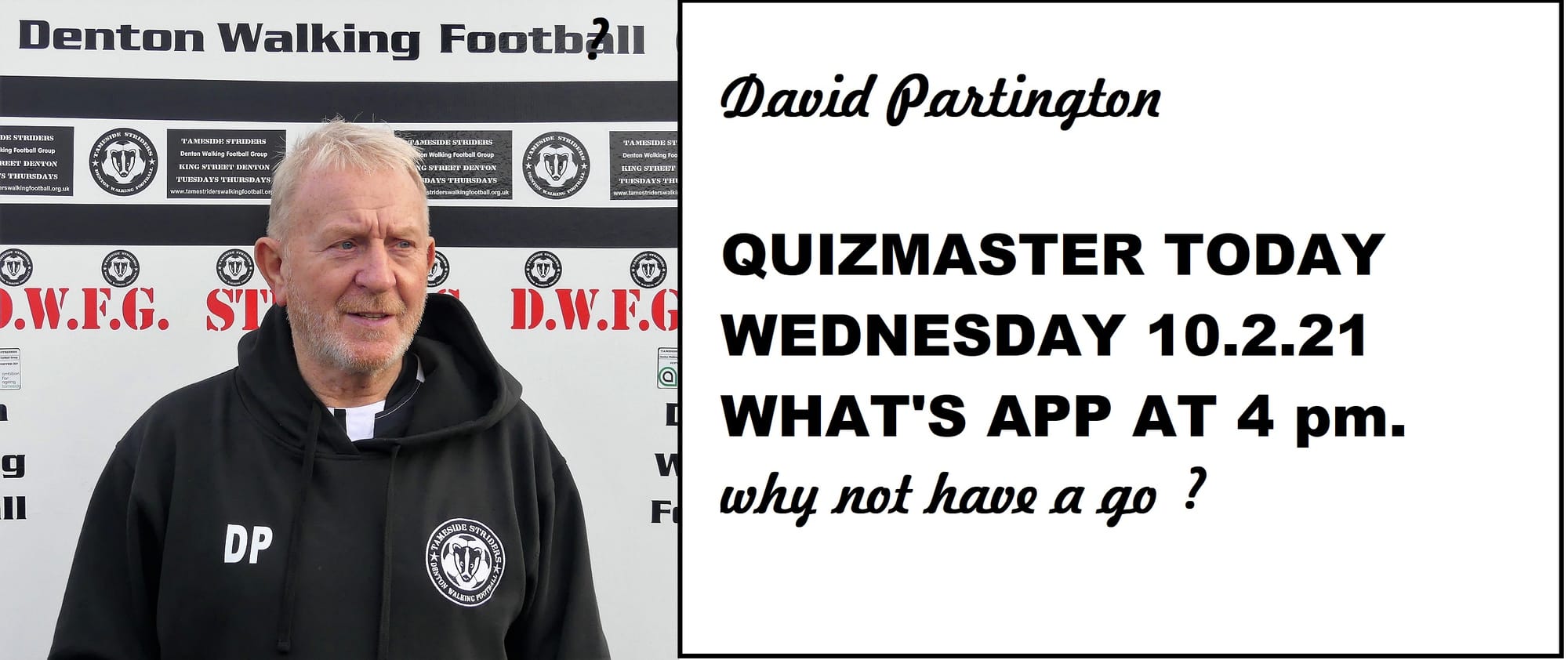 10.2.21
A call from Brian Coll yesterday with news from Stalybridge Celtic. Following the departure of Mike Smith it appears the 'Foundation' there is to be discontinued. However, 'Walking' Football sessions on Monday's will continue I was told which is a good thing for Tameside Walking Football.
Brian also spoke of the appointment of Mike at Curzon Ashton Football Club, and with several local outfits now hosting or playing the walking derivative, the future of our game in its various guises, seems assured.
Each of these groups, or clubs are, and will remain separate entities of course, with each possibly offering something a little different.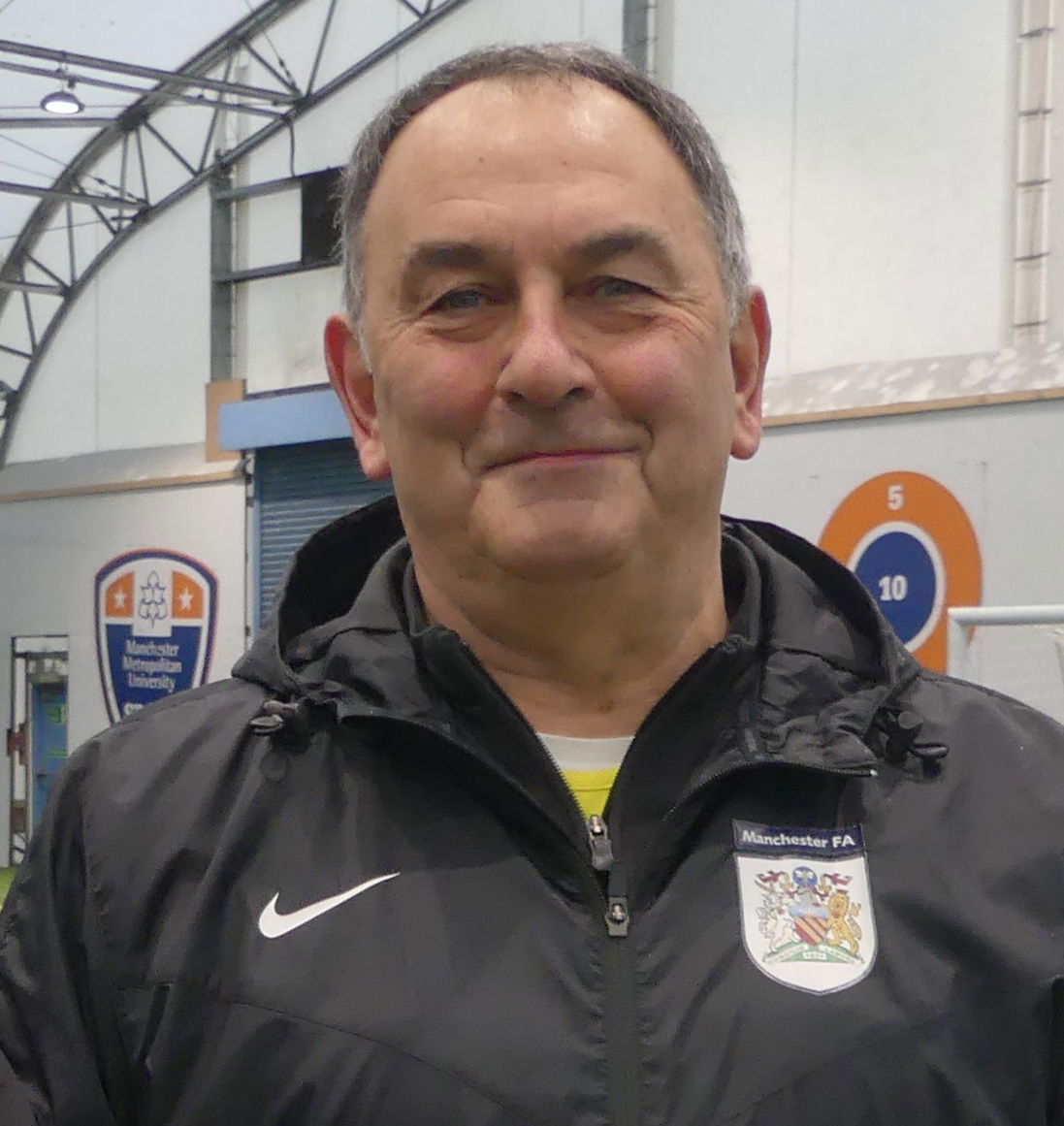 Brian Coll
IT was good to hear from Brian , who is known to many in our group. A former Vintage Celtic stalwart, and fellow graduate from the January 2018 F.A. Referee's course when several of us at Denton were schooled in rules we had helped devise by Manchester County F.A. man Tom Elliott. .
Brian Refereed for us at Platt Lane in December 2019 of course, and also officiated a few games in the F.P.L. when we needed reinforcements in that regard, proving himself an excellent choice.
___________________
9.2.21
Our latest 'goal or save' scenario features a duel between Steve Foster and Gordon Nixon
8.2.21
CUP FEVER
I had no idea this film existed. It was made by The Children Film Foundation when I was a mere 13 years old. Set in and around Manchester and Salford it's about a kids football team who get some help from Matt Busby (pre-Knighthood) and some of the players at an Old Trafford that looks a bit like a building site on one side, but the rest of the ground is as I remember it when visiting with the Blues in the 60's and 70's. For nostalgia buffs. Features a very young Susan George with a cameo performance from Bert Trautmann. Bernard Cribbins plays a P.C. when kids were fearful of them. Also classic footage of Altrincham F.C.'s Moss Lane ground. I watched the whole thing and really enjoyed it Give it a try? United fans of a certain vintage should not miss it from 37 minutes in.
__________________
Find out a little bit more about BILL HARRISON ~
he's 'in-profile' here https://www.tamesidestridersdenton.org/player-profiles/bill-harrison
AND YET ANOTHER ONE...
HAIL HARRISON - Terry this time. Artist, goalscorer of some renown and player of the year 'Overs' 2018 he's even got an album out click below
https://www.flickr.com/photos/stridershots/albums/72157716405643482
_______________________
Whilst your here why not check out 'goal or save' from the 'MORE' menu above - Could 'Mike the K' thwart the Claret?
7.2.21
Clem White rang today and a chat revealed he has a passion for Parrots and Cockatiels, and owns three of these birds. The Amazonian Parrot is called Alfie and his initial owner has fifteen dogs !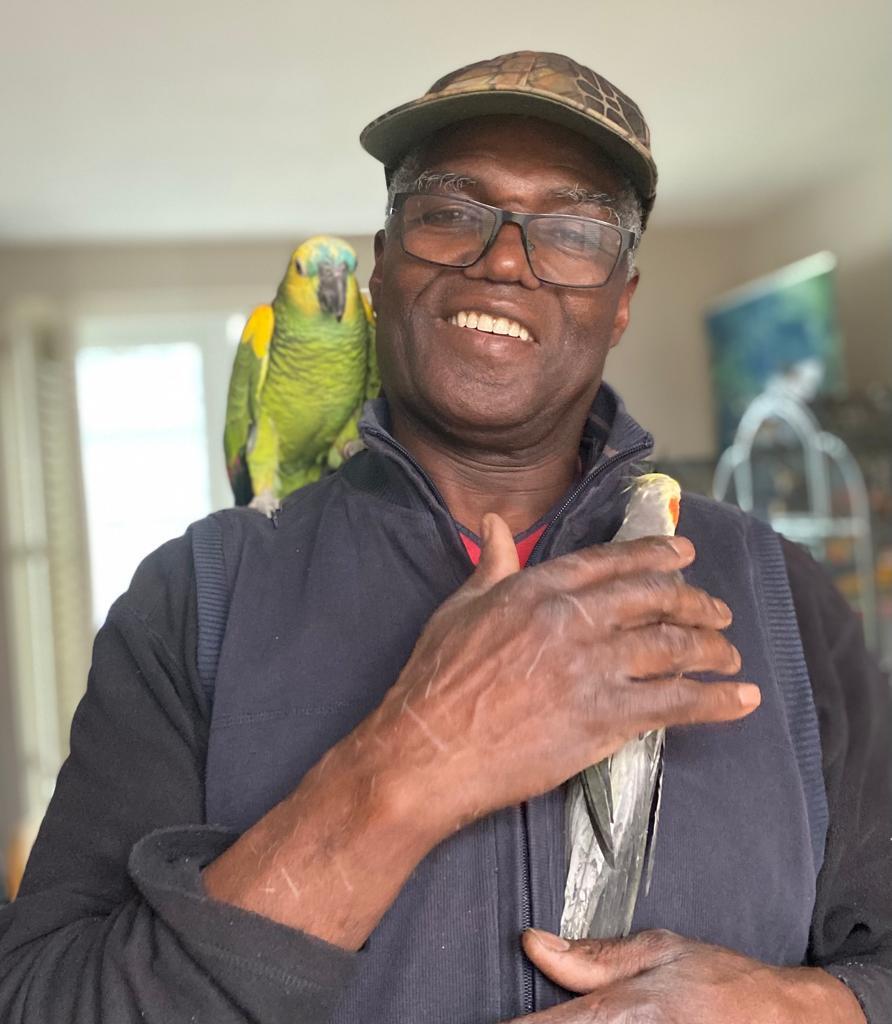 Clem with 'Alfie' on his shoulder
When Clem took over his ownership he used to 'bark a lot' (Alfie, that is) but he has now stopped doing that as Clem doesn't own a dog.
Clem has agreed to do one of our 'profiles' and I'll give him a ring sometime soon to find out more about the man, his birds and his life.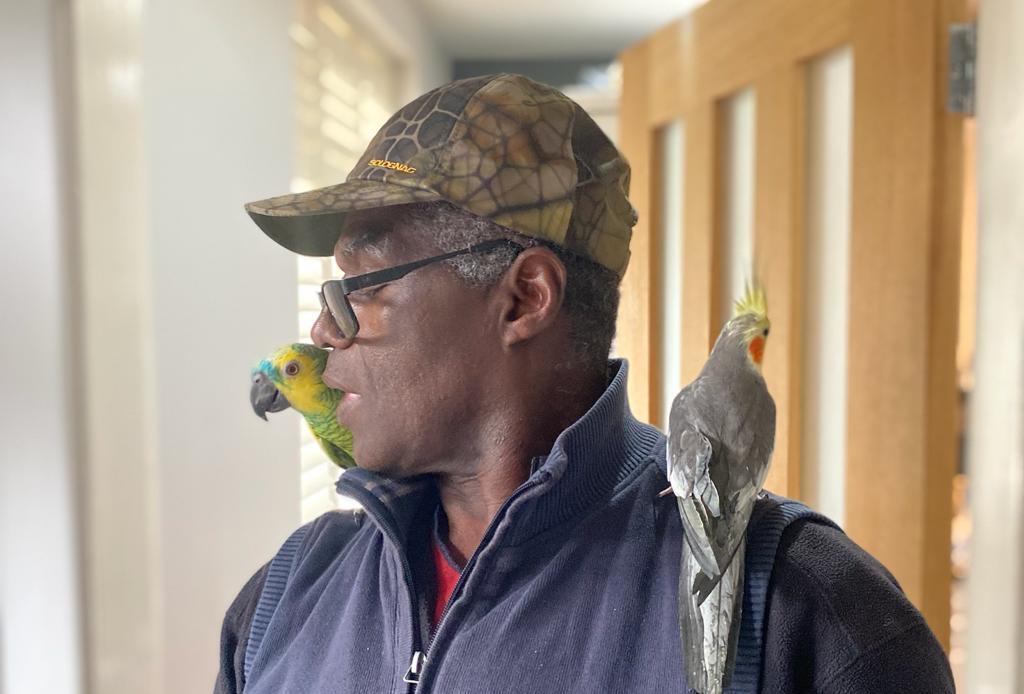 ____________________
6.2.21
New feature ~ goal or save Tracey v 'Party'
CHECK IT OUT www.tamesidestridersdenton.org/goal-or-save
_____________________
5.2.21
Lengthy chats with Roy Smith and Bill Harrison today. Both are keeping well. There maybe some more profiles in the offing. Colin Fielding too has been approached. Plus a conversation with Garry Pearce who is preparing a quiz for Wednesday 17th. It looks as though David Partington will be in the chair next Wednesday 10th. We had an above average turnout yesterday for Colin Fielding's fine effort, which was won once again by Steve Stafford, with Garry himself finishing second. When speaking earlier the Stalybridge based Referee and sometimes full back was complimentary about our photo archive which brings us to....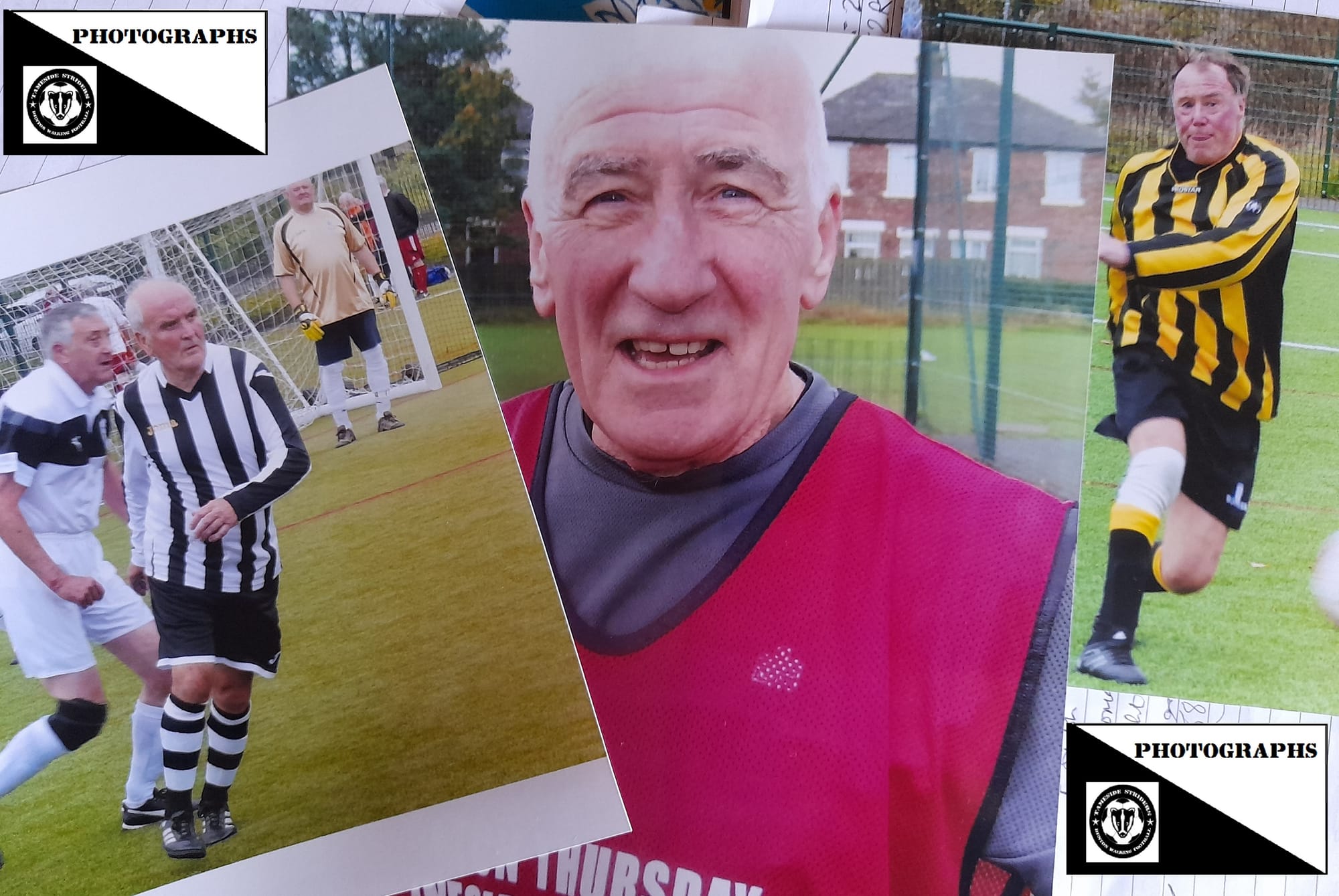 l to r : Terry Harrison, Tony Cravagan , Adrian Jones
...Why not get yourself over to our photo pages on Flickr and select two or three of yourself to order ? It's not hard to do and there is such a wealth of material on there for printing in full resolution. Here is a trio of Striders we prepared earlier. The one of Tony is 12 x 8 and superb quality. The deal is between you and Flickr. (if you need a helping hand let me know ~Ed.) nobody makes any money on this apart from Flickr. You can even download to your device and use your own regular printer if you like. Photobox offer a very good service.
-------------------
A match report from three years ago tomorrow, STEVE ROURKE made his debut at King Street, two David's picked up injuries and John Gaskin was on target ! There's an added bit of local interest tagged on too - walking football united ? the question was why?
6th February 2018 : Snow began to fall during our Over's game but thankfully it was light and an absence of any strong wind made conditions bearable. Eighteen players were involved in a remarkably good game of Walking Football with lots of skill on display. Graham Oakley struck the first blow for Plains and was creating consternation in the left wing berth, combining well with new man Steve Rourke.
Oakley added a second soon afterwards and was well and truly in his pomp. Both Bibs and Plains transgressed the running rule and the deficit was reduced from a Terry Harrison penalty which Keith Burrows could do little about. At the other end Peter Jarvis struck in similar fashion to restore a two goal advantage. There was no further scoring in the match. The second half devoid of goals but not injury as David Fielding limped off.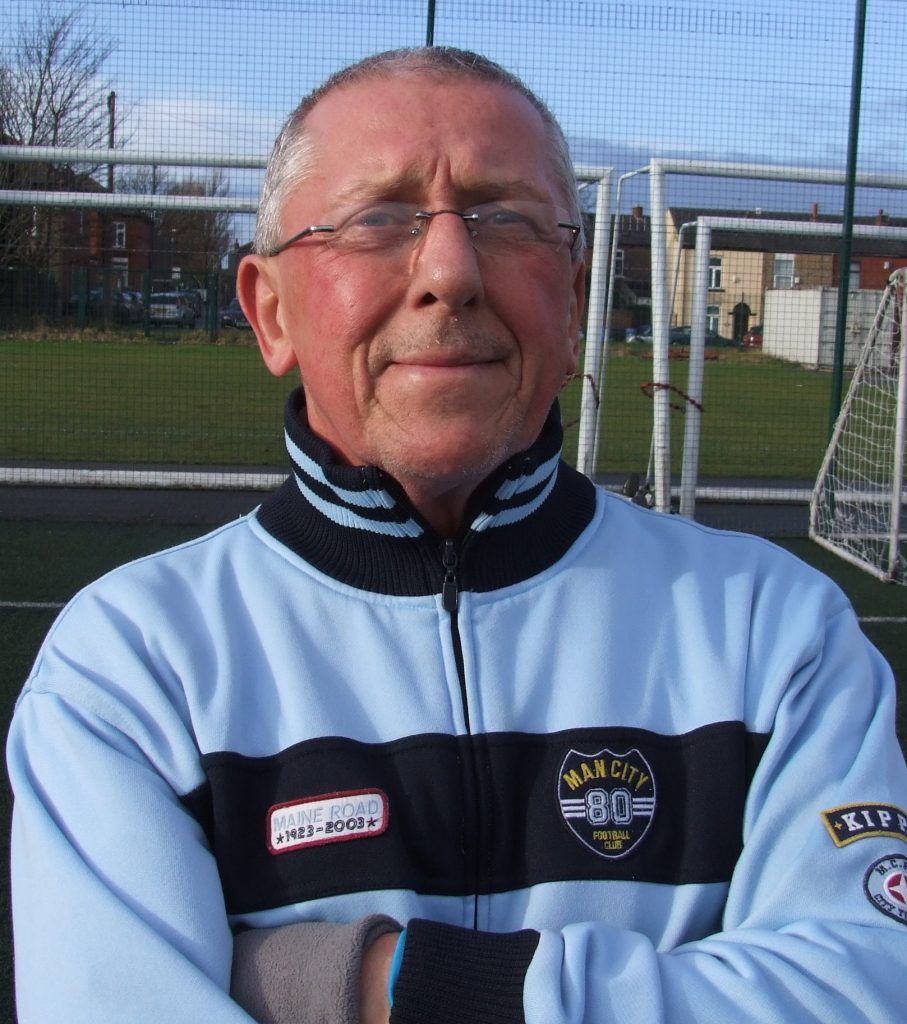 Steve Rourke
The snowing intensified as the Under's took centre stage. Numbers sightly down a 6 v.6 saw more good football and a first goal for John Gaskin. He and his blue bibbed team played some neat passing approach play. At half-time David Wenham succumbed to a muscle injury and was replaced by Alan Richards. Blue ascendancy continued and Partington and Jarvis added to the account for a three-nil win. Despite the best efforts of Bemrose, Brereton and Dixon the Yellow team couldn't penetrate Blue defences with a couple of good stops in goal from Richards.
The group's Secretary/Co.Treasurer later attended a meeting with 'Action Together' in Ashton-under-Lyne, where a strategy for uniting all the walking football groups in Tameside was mooted. He steered DWFG clear of such an arrangement, although he was asked to attend again, perhaps in an advisory capacity. "We will not dilute our autonomy. Everyone else at the meeting was in paid employment. We are mere volunteers who are making a very good job of it, as numbers show. Our D.W.F.G. is different in nature to other groups, and is currently the most successful in the area. We will remain independent in my view and I'm confident I speak for other Committee members too"
Curzon Ashton Walking Football was seen as an appropriate venue for expansion but the Professionals in the room seem to think there is a vast reservoir of untapped walking footballers in Tameside. In Richards' view, there isn't. "We already direct people to beginners sessions, and to Curzon when appropriate. We are doing our bit to encourage newcomers with Denton Thursday. Unlike some of those present we have limited time to devote to recruitment."
Ed's note - with hindsight we steered the correct course. The passing years has seen 'Action Together' be extremely supportive in terms of financial and practical help and guidance. For this we are extremely grateful.
__________________________________________________
4.2.21
Under's action re-visited from 20th October 2020
3.2.21
The following have all voted to approve the adoption of our new Constitution.
(we have had no votes against, so far).
S Johnson, M Conroy, T Brereton, A Muir, I Taylor, B Stafford, J Kenyon, K Yardley, D Wenham, J Gaskin, L O'Toole, M Heath, V O'Brien, T Blanchard, S Rourke, B Smith, K Burrows, D Cudahy, P Theobald, M Taylor, S Birtwistle, P Dixon, C Turner, M Caldwell, P Quinn, G Pearce, B Hadfield, L Breegan, B Lancashire, F Matthews, P Livesey, J Leech, N Metcalfe, R Martin, S Foster, A Brodie, K Dean, G Griffiths, S Wingrove, D Cooper, T Cravagan, D Wilson, D Partington, C Fielding, G Brown, G Nixon, D Gibbons, A Richards, M Kieran, B Roddy, P Jarvis, S Amison, R Lake, J Stewart, H Cooper, P Smith, L Gillan, G Oakley, S Stafford, A Graham, K Thomas , K Oldham D Fielding, J Boyle, B Harrison, R Smith, D Moore makes 67 names in favour. None against. Efforts will be made to contact remaining members but the overwhelming response tell its own story. A group still engaged and ready to restart under improved and documented guidelines whenever we can.
THANK YOU ALL on behalf of the Committee
You can still vote by text message to 07387 174934 and include your name.
Via 'Whats App' either publicly or by private message to Secretary Alan Richards or any Committee member.
Same method on Facebook or of course you can reply to the email you should have had yesterday 2.2.21.
Thanks to all the above for their positive support.
_______________________________
When the Over 70's beat Birmingham WF
website URL caption is out of date of course
spot the Strider ~ in 'primary' colours !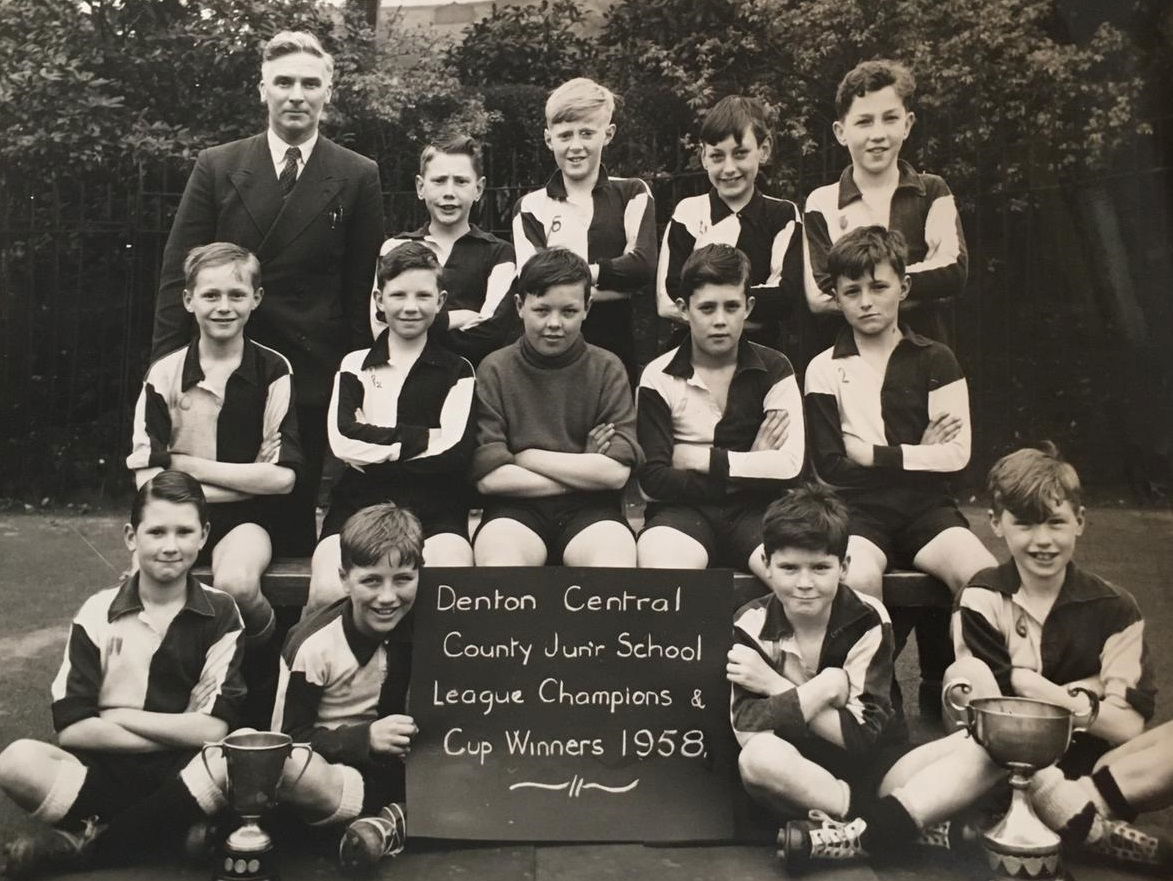 Double winners 1958
Bill Lancashire's player profile https://www.tamesidestridersdenton.org/player-profiles/bill-lancashir
_______________________________
"I have just had a very enjoyable time reading through all our Player Profiles. It is good to learn about the 'hidden' lives of people one just grins at on a Tuesday morning! " - Bernard Roddy
_____________________________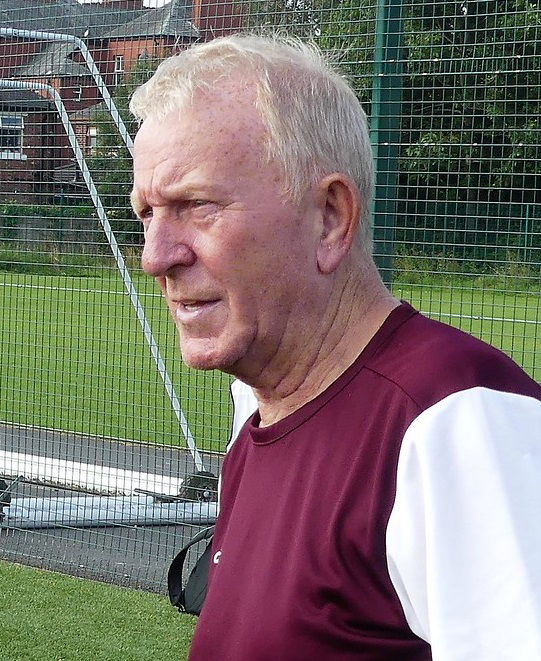 David Partington - TamesideStridersDenton
now online here - BARRY SMITH - in profile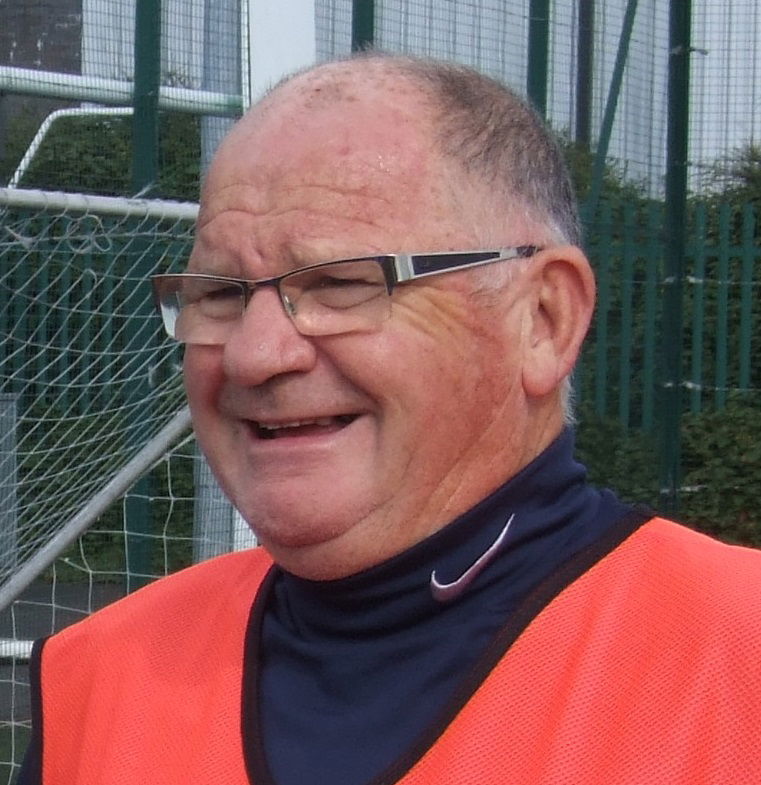 more clubs than Jack Nicklaus
CONSTITUTION - high time we had one !
One has been drafted and we will have a vote on its adoption soon
____________________________________________________
_______________________________________________________________
21.1.21
Another of our 'player profiles' will be online from mid-morning, this time Bernard Roddy (pictured) is in the spotlight. Just choose 'more' from the menu above, and then the relevant page.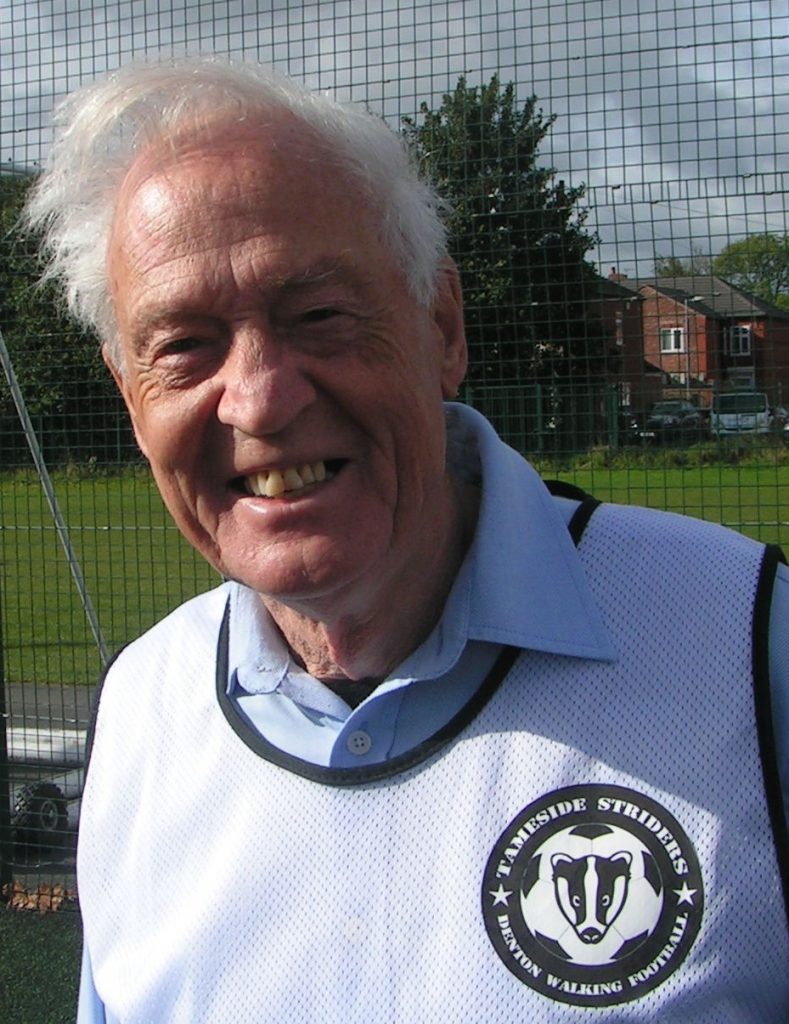 Stephen Stafford won the quiz yesterday. Question's by Garry Pearce. Check the quiz schedule below and if you wish to sit in the quizmaster's chair on Wednesday the 10th. February then please get in touch.
______________________________________________________________________
20.1.21 The highlight of the day, apart from Garry's quiz at 4-00pm. is the publication of David Fielding's 'player profile. Just click the 'more' button from the menu and look down the list. The amiable Devonian is the latest to share his story with us and it's well worth the read.
19.1.21
_______________________________________________________________________________
HOME GROUND TODAY'S OFFERING...make of it what you will. To get a picture of Tameside in general why not grab your camera and get out and about. Send us your shots . Capture the mundane - there's lots of it after all, but also plenty of interesting and engaging bits many of us take for granted because they are so familiar.
Denton, a town of two halves....
DAVID WILSON'S PLAYER PROFILE IS NOW ON THE SITE Player Profiles - TamesideStridersDenton
____________________________________________________________________-
A busy week beckons here on our website with player profiles being well received, it's hoped we can get two or three more 'in the can' to offer further insights into names and faces we know well. David Wilson's is published today Player Profiles - TamesideStridersDenton Dave Fielding and Bernard Roddy are the latest to offer their back story.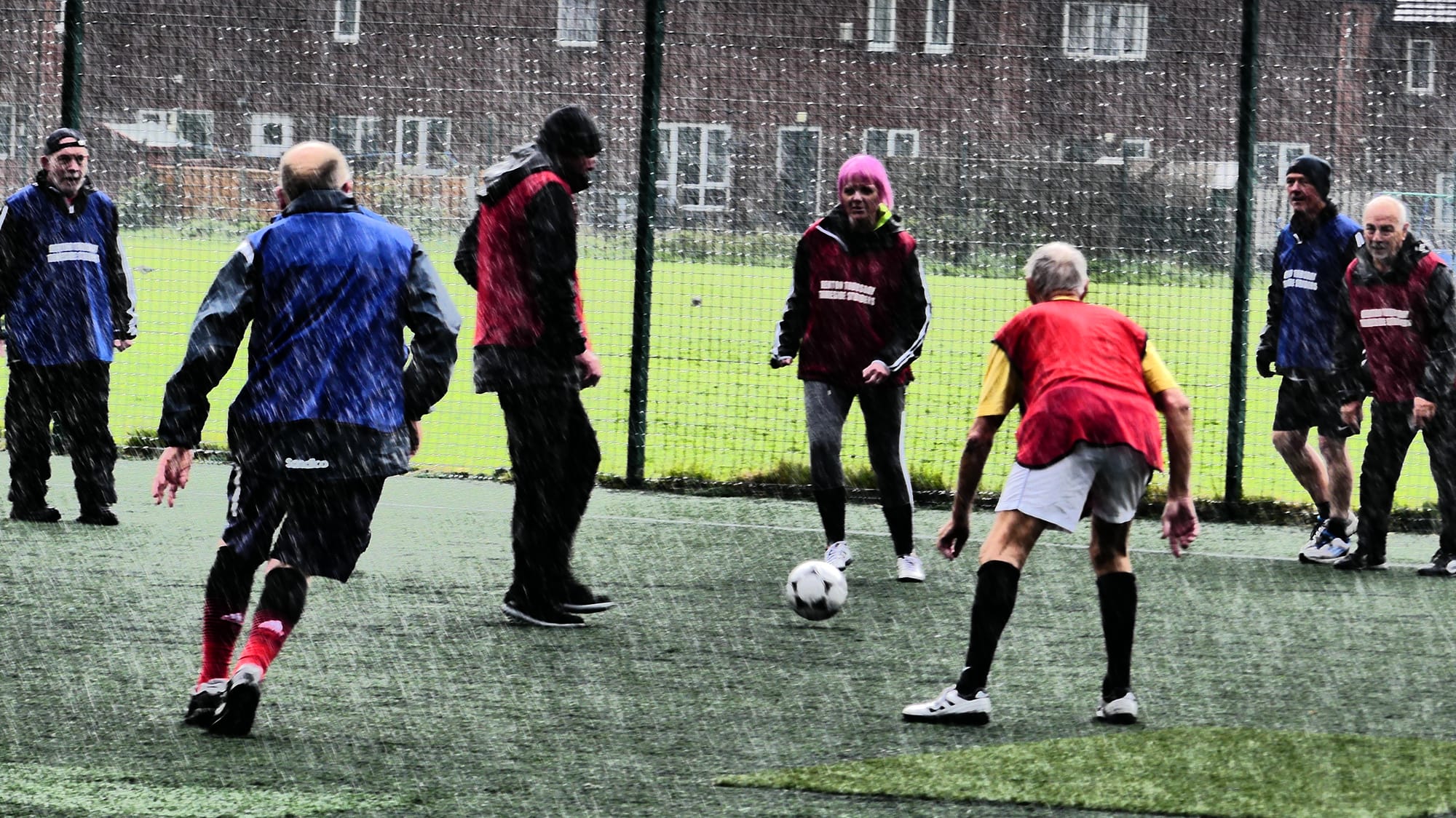 when the going gets tough...memories of a previous Winter - or was it Summer?.
______________________________________________________________________________________________
.
13.1.21 Editorial news...
Two fascinating insights into the lives of a couple of our more senior players this afternoon with 'phone calls from John Boyle and one in response to a message I'd actually managed to overlook (phone problems) from Bernard Roddy.
John first, and he returned my call from yesterday when I'd spoken at length to his charming Wife Pat. They've lived in Northenden since returning from America in 1975. Unbeknown to me John - a very keen narrowboater - who grew up supporting Gillingham F.C. has an Honours Degree in Botany and Bacteriology from Newcastle and Durham Universities when both institutions were under the same educational umbrella. His area of employment was in the pioneering days of DNA and genomic research. He has his Covid jab at the Etihad Tennis complex next week. John has been supervising the removal of a huge, unstable Silver Birch tree in his garden which was beginning to threaten his house. A pleasure to speak to him and it's hoped we will all be re-united at King Street soon.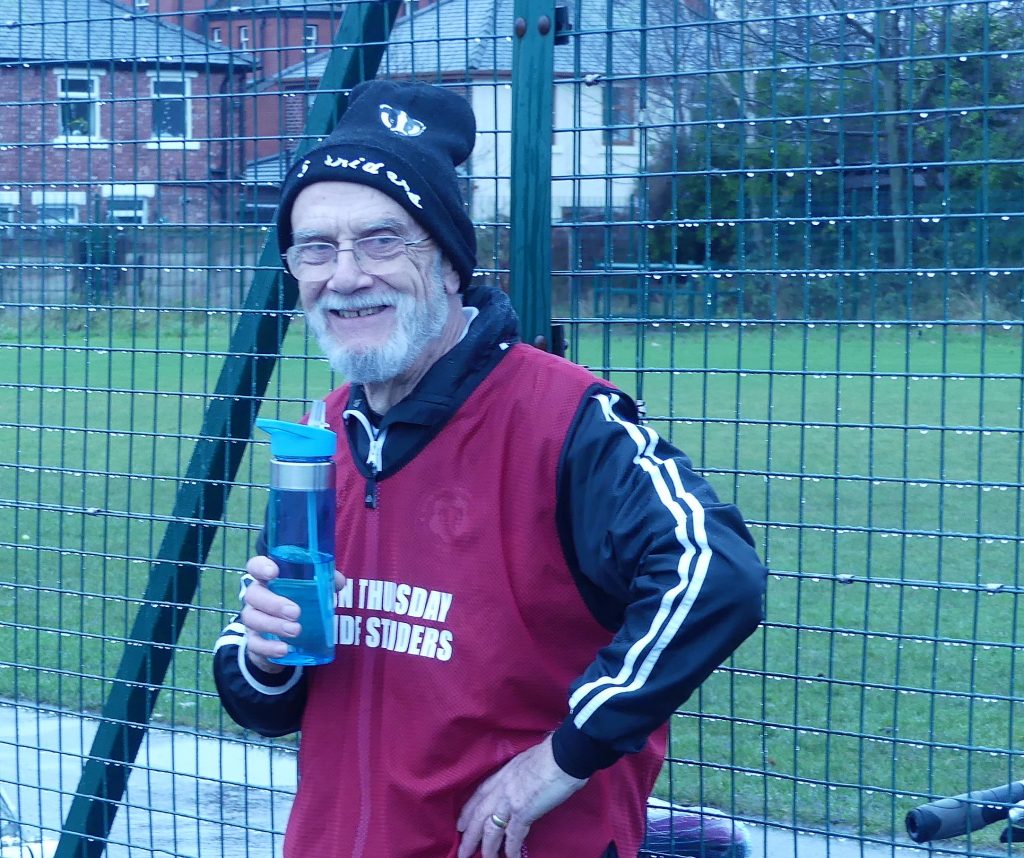 John Boyle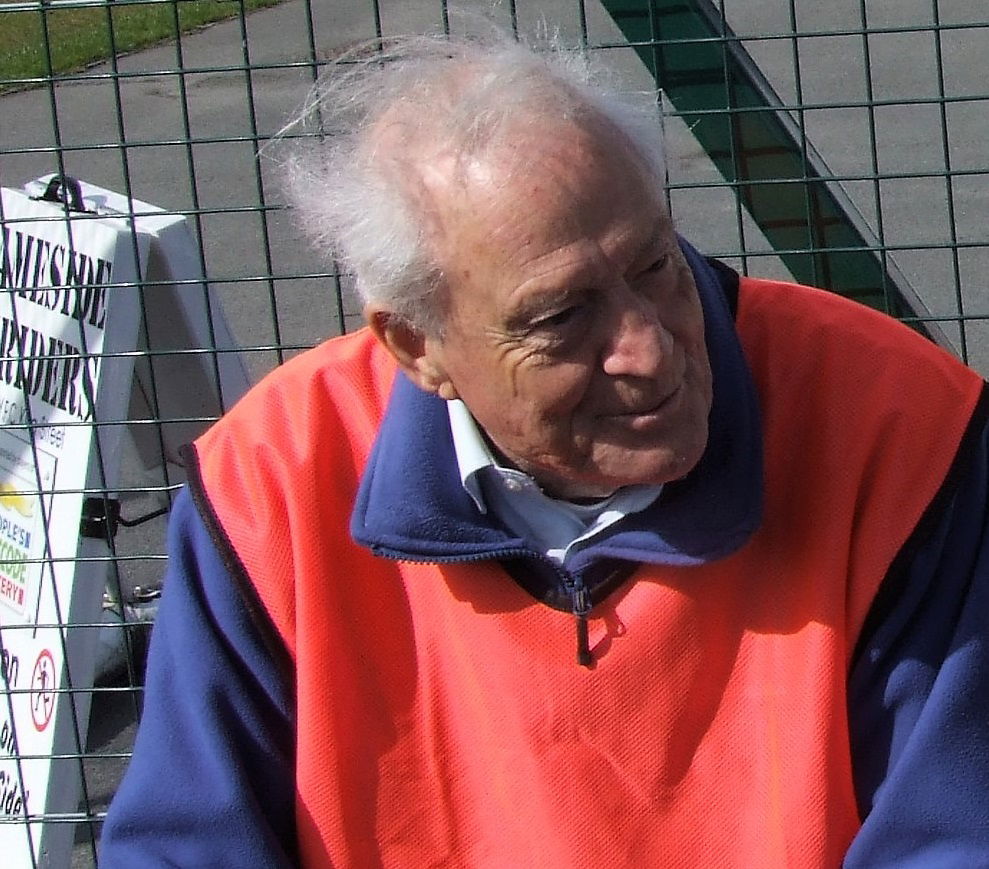 Bernard Roddy
Bernard Roddy has been quite poorly over Christmas with a bout of Dermatitis. A course of anti-biotics and a boost from some steroidal treatment has put the problem firmly in retreat. I learned more about Bernard in fifteen minutes than in the last three or four years of very brief meetings at walking football sessions when I seldom get the chance to chat very much.
A school teacher in Manchester's Moss Side area throughout most of the nineteen fifties and sixties Bernard was called up to the Army as part of the National Service programme and was posted out to Egypt with the Royal Artillery. This proved a real eye opener for the Manchester man. Luckily, he had returned to Blighty just before the Suez crisis 'kicked off' to resume his teaching career. He decided to study for a degree in his own time in Economics and History, thereby boosting his teaching credentials even further, and he became 'Head of the English Department'. He was form teacher to a regular class of boys which he'd take charge of for the entire school day ! Subjects must have been very varied in nature. It's hoped we can speak to Bernard at some length soon, and delve into his career and his football memories too. He was a regular attender at Maine Road from the nineteen forties. Journeying from his home near Belle Vue with his Dad on the number 53 Bus, famed for it's inner ring route around our great northern city.
It's actually a little odd to think that John and Bernard, with a combined seven year attendance at our walking football sessions don't actually know each other. (I'm sure they'd get on like a house on fire - Ed).
___________________________________________________________
10.1.21 Take a look at the drop down menu 'more' and seek out Player Profiles. The latest one is a humdinger from David Gibbons who achieved something most of us can only dream of. Being paid to play football ! It didn't quite work out in the end but he had four unforgettable years with Manchester City.
- - -- - - - - - - -
8.1.21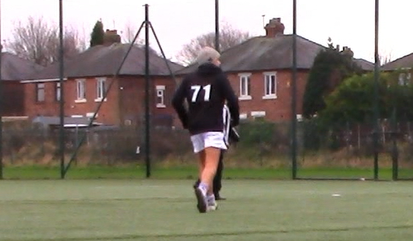 LES BREEGAN - player profile...here...https://www.tamesidestridersdenton.org/player-profiles/les-breegan
7.1.202
Video featuring moments of Rourke, Moore, Stafford and Amison which may make them all smile - it's another one from the 'Overs' archive. Enjoy....
We have been busy in acquiring some more X/L shirts in black and white stripes for those players who missed out in December 2019 or before the first 'lockdown' . If you were with us then we'll endeavour to supply you with a shirt that fits although it may not be one of the 'Hummel' variety but it will be decent quality.
Anyone who joined us after the first lockdown is asked for a modest donation of a fiver towards the cost of the shirts which averages about £9. We'll upload photo's over the coming days just to keep the pot simmering a bit.
A NEW FEATURE - player profiles number one - Jimmy Stewart www.tamesidestridersdenton.org/player-profiles
Older content has been deleted to free up data space and keep the page relevant