We are pleased to announce £500 of funding from the Football Foundations and their return to 'football' initiative.
GAME ON INDEED !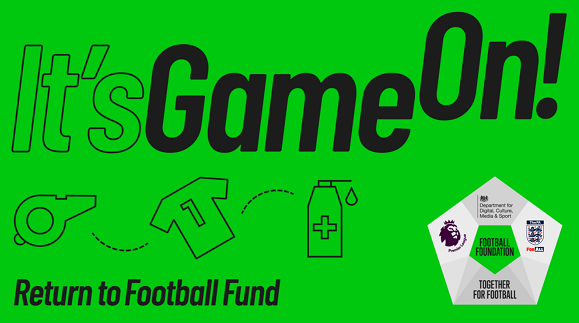 Most who keep up with events will know we return to conventional walking football at the end of the month on at least one pitch per session
Yes, we know it's a different game but up to half of this substantial grant will help equip our part-time walking football goalkeepers with a pair of gloves they can keep as their own.
A sensible safety first policy even as we approach a lower risk stage of the Covid pandemic. Work is already underway in ordering gloves so messrs: Dixon, Theobald, Taylor M, Cravagan, Moore, Stafford S, Gaskin, Pelling, O'Toole, Place and Gibbons can step in between the sticks as and when necessary. Thanks all for volunteering on an occasional basis - where would the game be without you?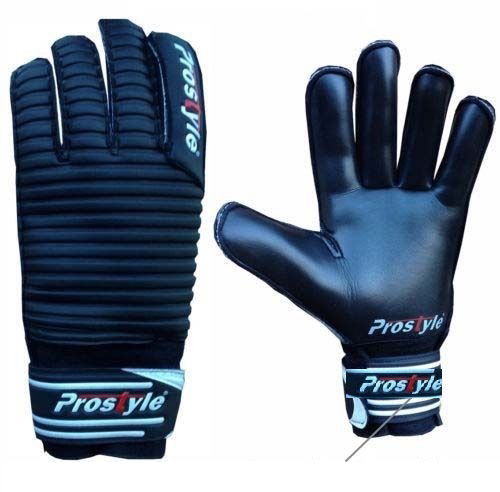 PRESS RELEASE
Tameside Striders celebrate funding success for walking football's recovery...
£500 awarded to Tameside Striders to assist walking football participation locally.
Walking Football in Denton and Tameside received a boost today as Tameside Striders (Denton Walking Football Group) was awarded a £500 grant by the Premier League, The FA and Government's Football Foundation.
The £500 grant, part of the Foundation's Return to Football Fund, is helping the Strider's to restart following the lifting of government restrictions on grassroots football and walking football. The grant was made possible thanks to funding from The FA and Sport England through the Football Foundation.
This money will be used for increasing pitch time for our players.We have recently seen a big increase in fees. Also we will be purchasing goalkeeper's gloves for our more casual 'goalies' who do not own gloves of their own. At the moment of course sharing is definitely out !
Alan Richards,D.W.F.G. Secretary , also said: " I'm absolutely delighted with this development, we have seen plenty of gloveless volunteer goalkeepers come forward so keen are they to get back playing the conventional game once more. Although our 'sweeper/keeper' alternative has been a fantastic success and will always be retained within our core activities".
Robert Sullivan, Chief Executive of the Football Foundation, said: "This grant award to Tameside Striders towards pitch time and goalkeeper gloves is vital for the local community in Denton as they get back to playing walking football. Our Return to 'Football' fund is supporting clubs across the country, helping them to kick-start our national game again locally and try to recover from the effects of COVID-19. "
"This is part of our wider ambition to transform our grassroots game and unlock the power of pitches, something we hope to get back to in full force as restrictions are lifted."
The £2.1M Return to Football Fund is directly targeted at groups of people whose participation has been affected most by COVID-19, offering Clubs up to £2,500 each.
The grant comes as part of an investment of more than £16m that has been made available to help clubs prepare for the restart of grassroots football following the COVID-19 pandemic. In March, the Foundation declared "Game on" and announced three funds to get football's 12 million grassroots players back on the pitch.
The Football Foundation is the UK's largest sports charity and exists to improve the experience of playing football for everyone, by championing fair access to quality facilities.
For more information, please contact:
● Alan Richards at admin@tamesidestridersdenton.org or on 07387 174934 Visit footballfoundation.org.uk for more information on the Foundation.

___________________
The final piece of the jigsaw for 'Tiger Feet' is now in place with Sweeper/keeper Roy Smith's team named...
EWEN VILLA
- - - - - -
Game video from Thursday's second session - watch the Editor 'Placed' on the deck ! (8:18)
**BREAKING**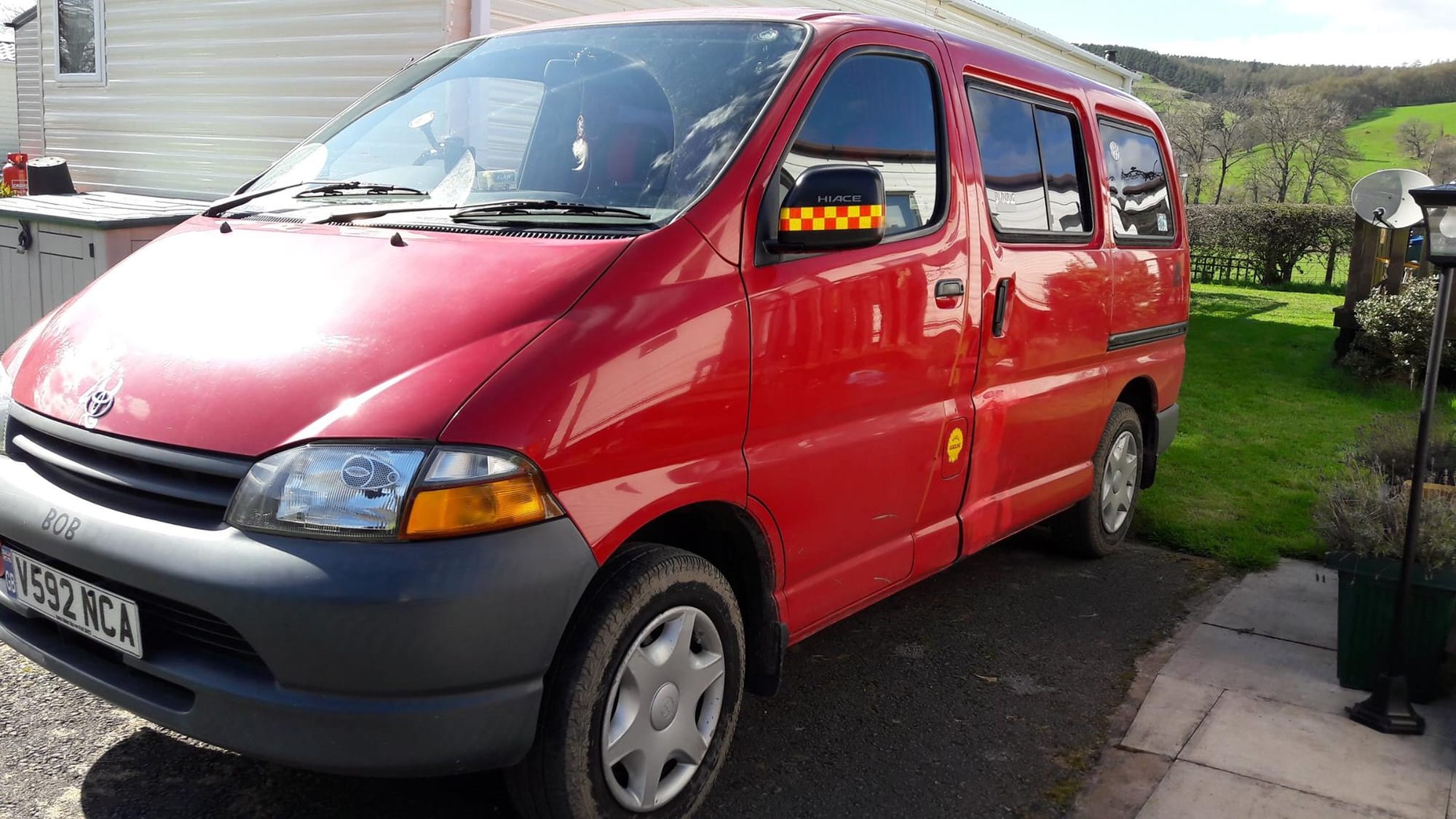 'Bob'
Group workhorse and family bus 'Bob' passes his latest M.O.T. with flying colours - this remarkable vehicle is 'bobbing on a bit' in terms of age but he's a Toyota Hiace - highly rated vehicles for those who know their vans
7.5.21 'snippets'
Some video is online at our channel from yesterday's Thursday sessions. Primarily the first game on pitch one. There's more to come from the second session.
Also some photographs here
The list for 'Tiger Feet' is almost full with about forty seven names. If you wish to claim one of the last couple of places text 07387 174934 with your name please. Committee men have already offered to stand down BUT this will not be necessary as format is still being worked on and we will finalise this soon. Thanks for the overwhelming level of support for this event.
If you get fed up of playing with the 'Striders' Droylsden Town are looking for 'Over 60' players locally. You need to be good it's claimed, as "you'll be mixing it with current England walking football internationals" according to their ad. on Facebook.
'Kingsmaid' are now running regular sessions at King Street on a Wednesday afternoon. A brief look this week saw them playing nine v. nine on the full pitch which apparently suits their needs. If you aren't getting enough pitch time with us these are options which could be open to you, as is Curzon Ashton Monday and Friday mornings should you so wish.
As reported we have plans for a couple of months down the line so be patient and please watch this space.
6.5.21
Another well attended session today. A bright morning with less wind than Tuesday's session had endured.
Brief match reports may appear on the Thursday page later.
Thanks first to Bill Harrison for returning Jim Pelling's bag to him.
The following players registered for the May 18th. 1.30pm. kick off EXTRA game for Thursday players to give them a little more time on the pitch.
As the game is over subscribed with 22 names (we needed a maximum of eighteen) it's regretted that the following players who regularly play twice a week at Denton will have to make way for those who only play on a Thursday. This is as fair a way as we can devise given the circumstances of having so many members of our group. We cannot please everyone and those left out can of course play in the morning sessions as usual.
Mike Caldwell, Terry Hayden, Jim Stewart, Joe Bemrose , Peter Quinn and Roger Place all of whom have been playing twice a week regularly, are welcome to wait after their games have finished and attend as reserves if they wish.
The squad of six to play 'The Committee' 5 will be as follows: Nigel Metcalfe, John Leech, Brian Hadfield, Gerry Markland, Les Breegan and Tracey Blanchard. Garry Pearce has offered to Referee this game.
The other Thursday only players who will contest a game of their own on the other pitch are as follows : Steve Birtwistle, Geoff Griffiths, Jim Pelling, Ken Thomas, Clem White, Steve Stafford, John Kenyon, Bill Harrison, Vincent O'Brien, Dave Cooper. Keith Burrows has offered to Referee this one.
The TIGER FEET festival has been over subscribed in the planned format. We are looking at alternative ways to accommodate everyone who wants to play. The list is now almost CLOSED unless someone decides to drop out voluntarily. Once again we are hoist by own petard of popularity which is a cross the organisers bear and share out the minutes available as fairly as we can.
___________________________________________________
PAWS FOR THOUGHT - tiger feet and beyond takes shape....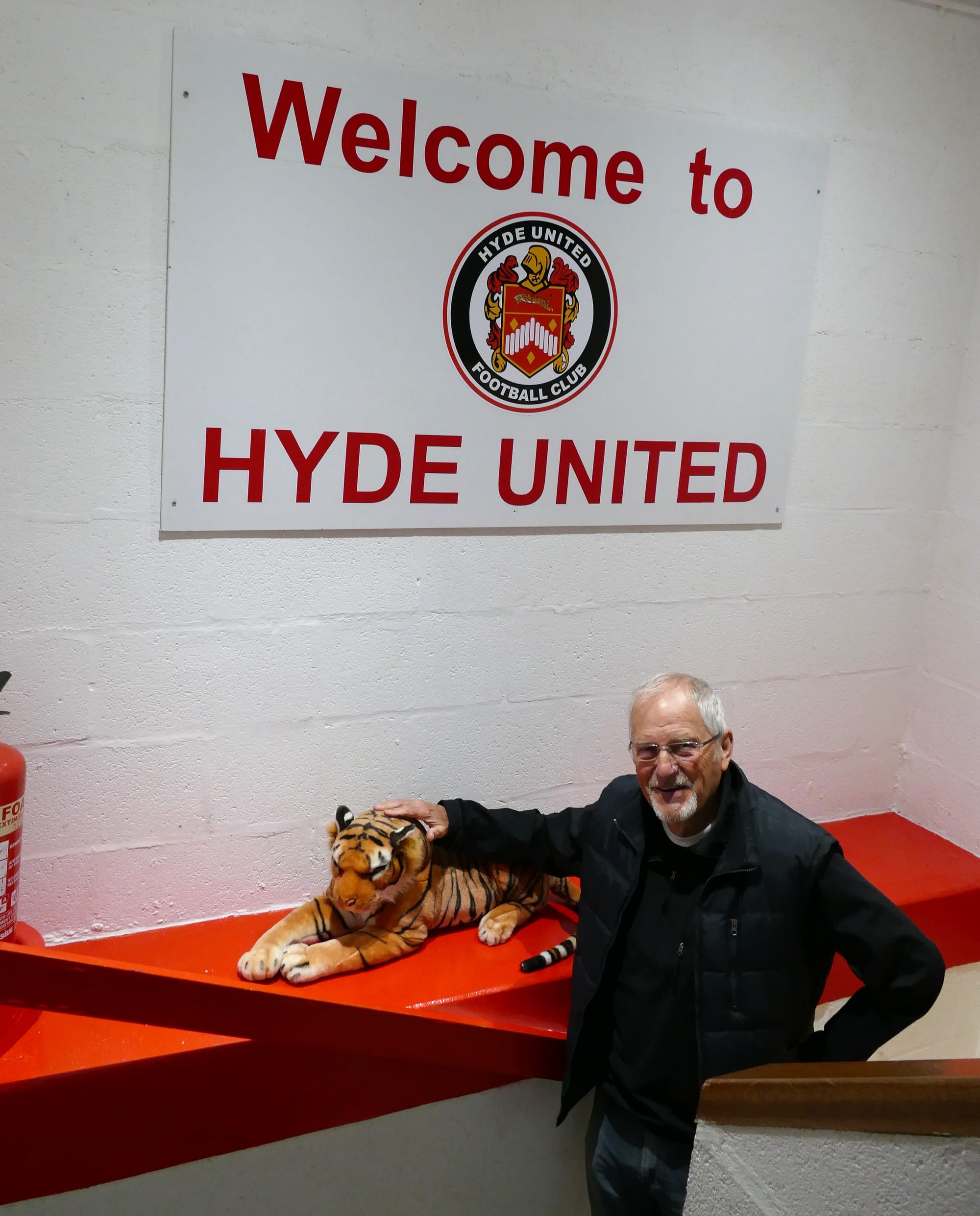 Colin Fielding and Alan Richards met with Peter Ainger and Mike Davies at Hyde United's Ewen Fields this morning. The stadium was looking at its best after a recent paint job has returned it to its rightful red, after a few years bathed in blue.
What will follow from these talks is an association with the club over the summer months and possibly beyond in the form of an annual event and a possible summer programme beyond this year.
A very productive and amicable chat with over a cup of tea and we settled a few details about planned events which can be outlined now, but much more detail will need to follow.
The 'Tiger Feet' festival will take place on June 30th as announced starting at 11.00am. Committee members will be there earlier to set things up. The 'Peter O'Brien' lounge and bar will remain open after the games have finished - around 2-00pm. The bar will be open, and we are investigating the idea of Pie & Peas (provided) , and a pint or two which players can buy themselves from the bar. This will relieve the pressure on time and give us an opportunity to socialise in a post 'festival' like atmosphere.
The Wednesday's following 'Tiger Feet' from July 7th will, for a period of eight weeks see Over 70's sweeper/keeper played at the stadium under the auspices of Denton Walking Football Group following our unique ethos. The precise detail on this may change. Give us time to assess where we are going with it and what our options are regarding space, and time. We may also have opportunities to encompass a game or two with other groups from outside the area who have a similar ethos to our own and play the small goal game.
Remember there is a lot of organising here and for every game we play a Referee is required. That's the way we do things at D.W.F.G.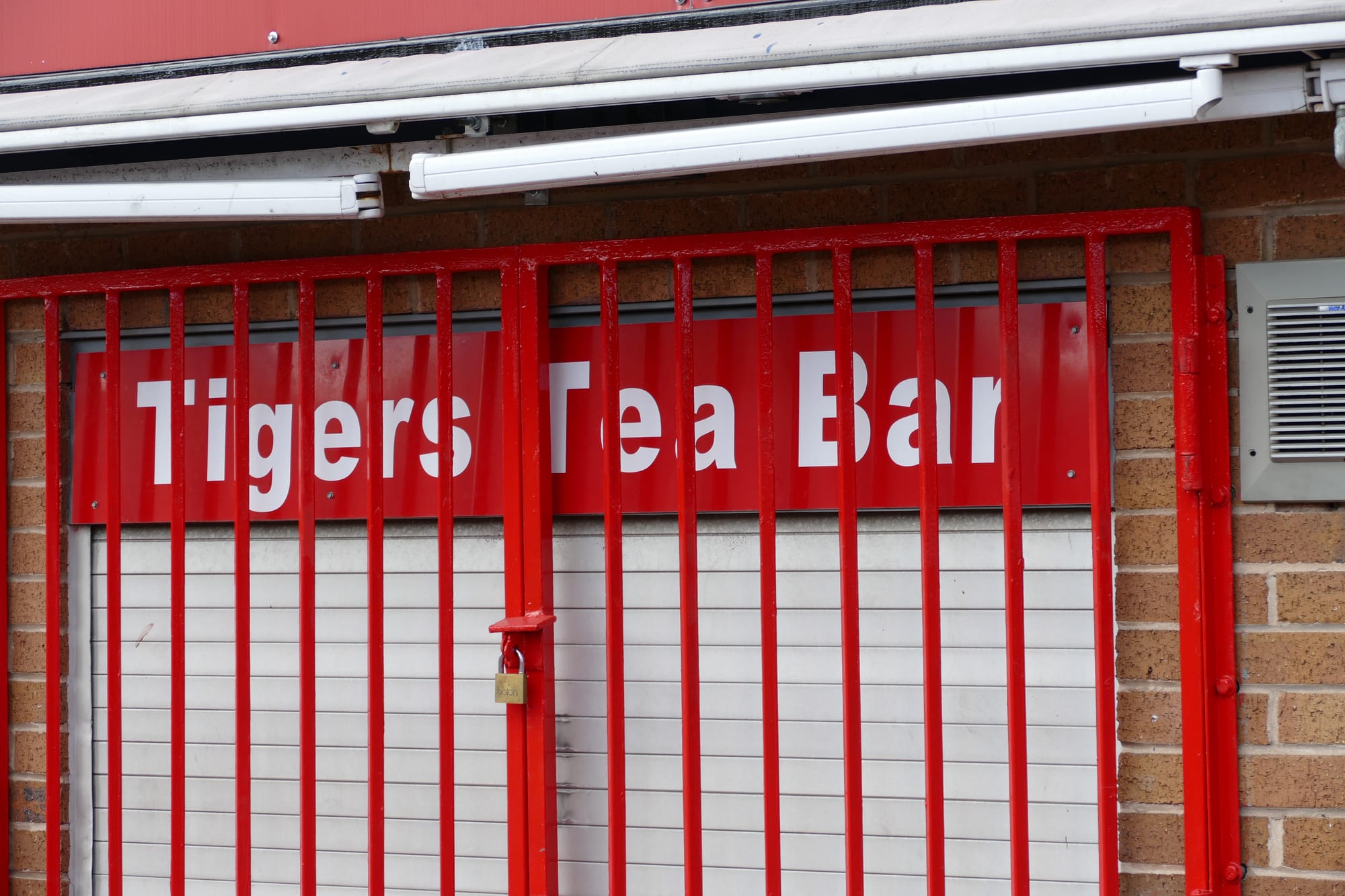 These eight sessions will continue to cost £3 for the whole of our time at Hyde across the summer - the 'Festival' is free of charge, of course. Each subsequent Wednesday Tea and Coffee will be available to buy at the ground for just £1. If it's raining we can take cover in the 'Shed End'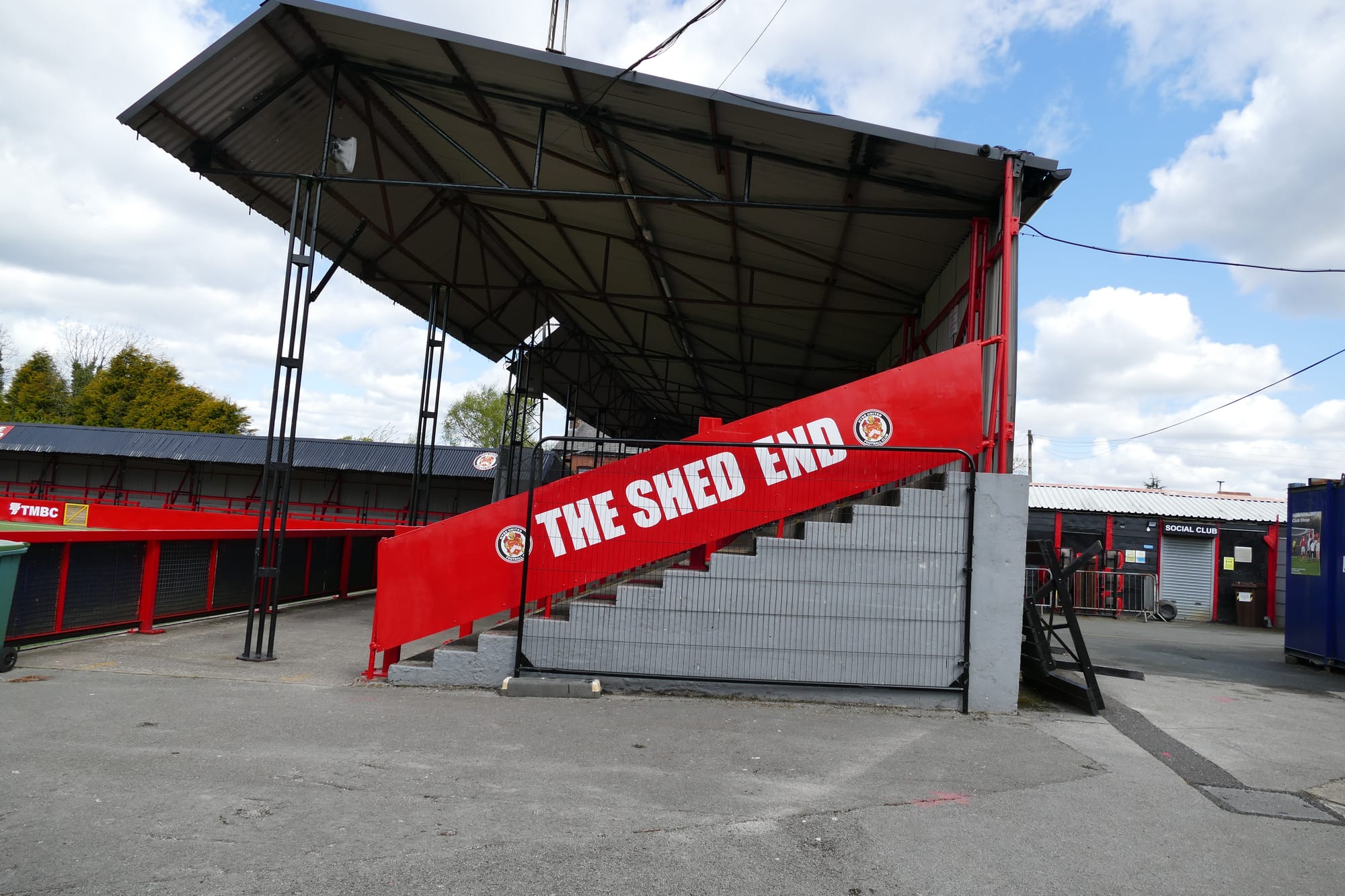 There should be enough time to play games of a similar length to our 22 minutes each way , or perhaps slightly longer. It is highly likely that players will be restricted to two sessions per week to try to keep a lid on numbers. More on this soon. Astro trainers are essential as they are at Denton. NO football boots, and no studs.
We will have a bucket collection throughout June at our sessions and at 'Tiger Feet' to help raise a money for Denton Town F.C. our nearest football neighbours.
This hook up with Hyde is an excellent development for our group and we can look forward excitedly to more time on the pitch and a way of slightly controlling numbers at our regular sessions. We stay committed to Denton Youth F.C. of course and if the 70's sessions prove popular we may well move them back to King Street if the opportunity arises. All this to be decided in a spirit of moving our community non-profit based group forward to the benefit of older people who want to play a slow, non-contact derivative of football itself. 'Walking Football'.
In normal times there are several of our players who watch Hyde United' first team regularly of course and who knows, a few other may well join them, on the terraces as we develop an affinity for this well ran club with a long history and such friendly staff.
More photo's from today are here <<<<click>
__________________________________________________
Overs action cam pitch 2 - link on the Tuesday page AND uploading now GP REFCAM Mk. 2
GARRY PEARCE - REFCAM 1
May the fourth....
Another highly convivial session at King Street today.
Good to meet new men Rob Rowney and Dave Flaherty and welcome Stuart Saint once again with his new bibs - the numbers are now up to 81 !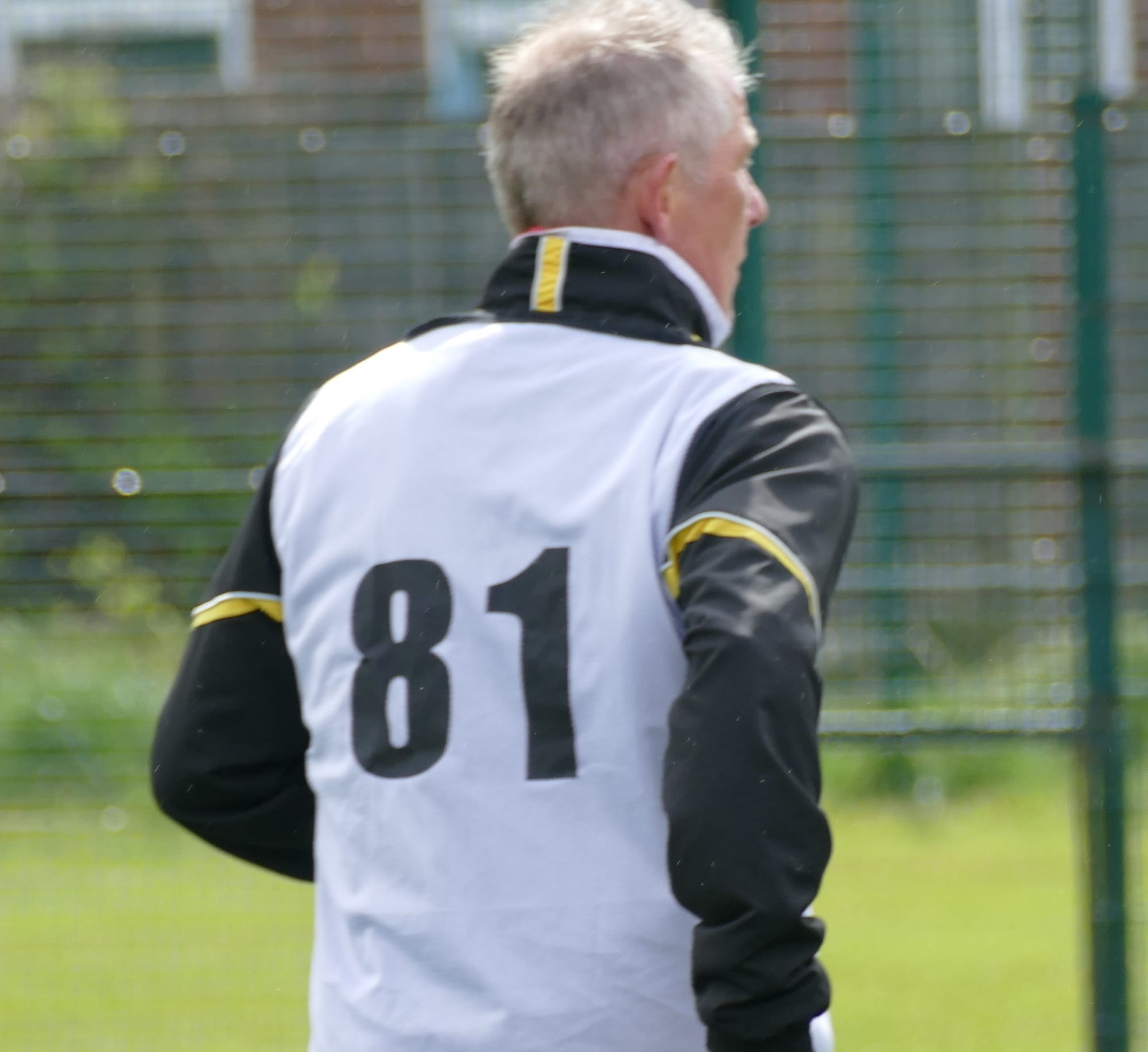 Old megaphone mouth was back in the fold - sometimes it's needed to get the message across but not from ten feet away - note to self "Remember"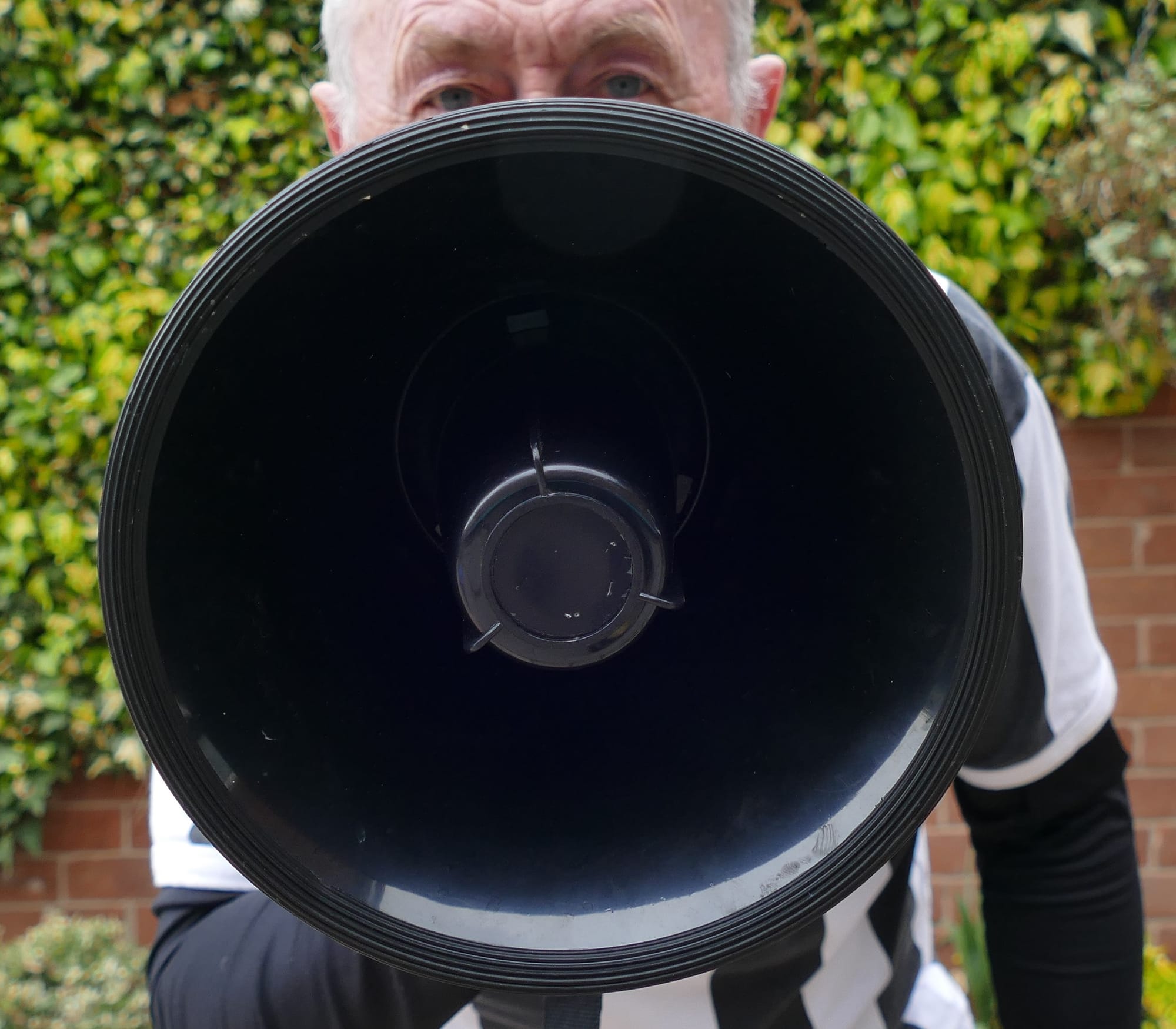 Three very closely contested games. A 4-3 a 6-5 and a 7 v.7 Under's fun-fest sweeper keeper on three quarters of the big pitch that ended in a 2-1 win for the Black bibs !
Lots of photo's to process - half day closing at the Chemist so it might take a while. Also an experiment for Referee Garry Pearce with a body worn action camera, and conventional video from both hours keep me busy into the night - but not between the hours of 8-00pm. and 10pm. as I'll be otherwise occupied in a football sense. Happily, I hope but nothing's taken for granted.
Before I sign off this initial first impression from today I must thank the Committee men who have manned the pumps - if not the voice trumpet - so very efficiently while I've been away, none more magnificently that Tony 'TC' Cravagan who has sorted out the cash so methodically and left me with an easy job of accounting for four sessions plus this one today.
THANK YOU
_______________________________
3rd. May
SIZE MATTERS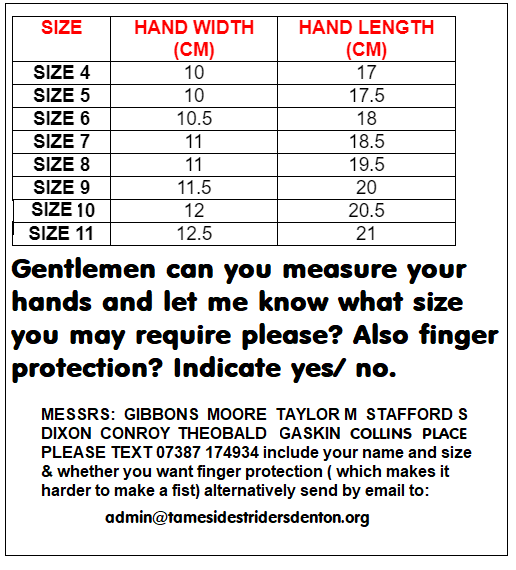 Keith Yardley gets into Mike Caldwell's 'Unders' reckoning as 'Amity in the Afternoon' begins to take shape. Deft with his feet and highly mobile could this development tip the balance the 'Unders' way ?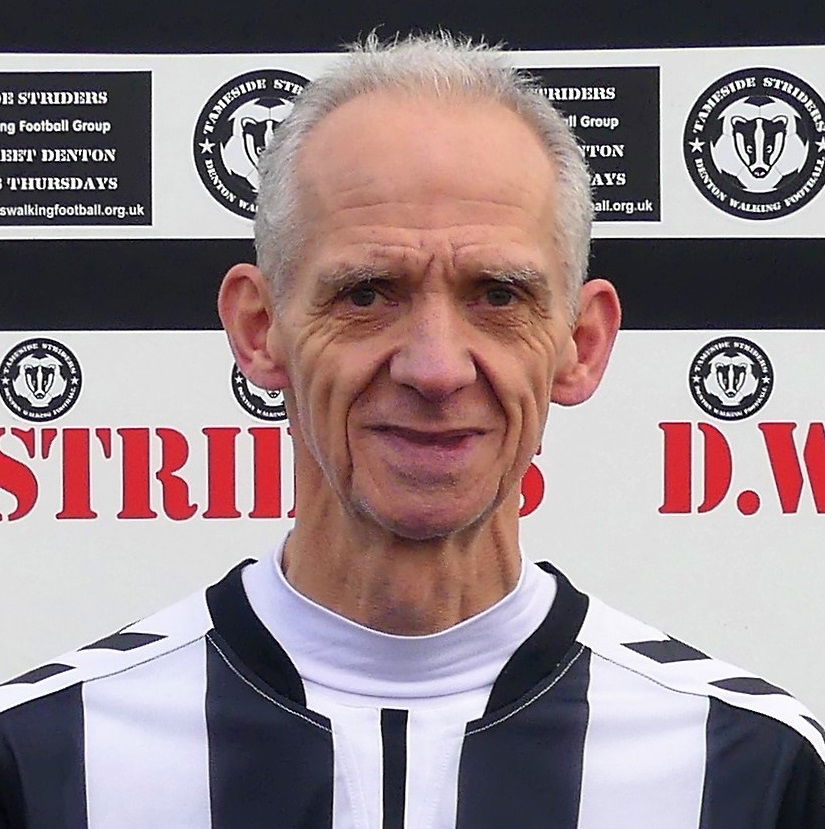 and...BLANCHARD'S BOOST FOR PARTINGTON !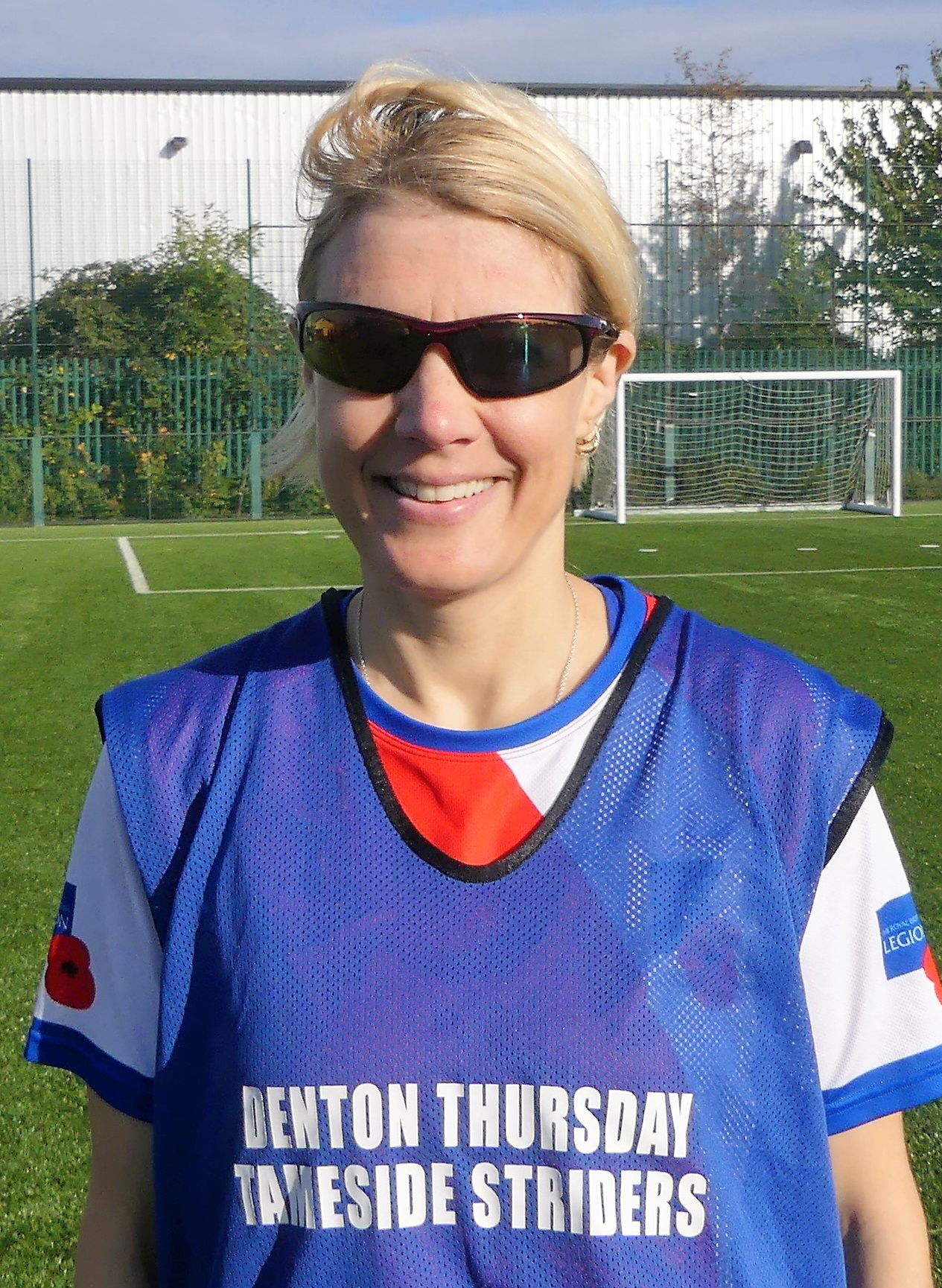 Tracey Blanchard commits to 'Amity in the Afternoon' a vital component for 'Party planning' one would think
2nd.May 2021
**NEW** a link to our latest 'blockbuster' ( it sez 'ere) with appropriate music from The Blossoms as we pay a small homage to goalkeepers past and present and even some who have said they will take on the role in the future - sometimes.
A 'Hand half-way in Glove' production for Tamestriders T.V. as we set about acquiring some !
WATCH ON YOUTUBE NOW ! (please)
__________________
Let's make this a very friendly affair and ensure more such fixtures follow...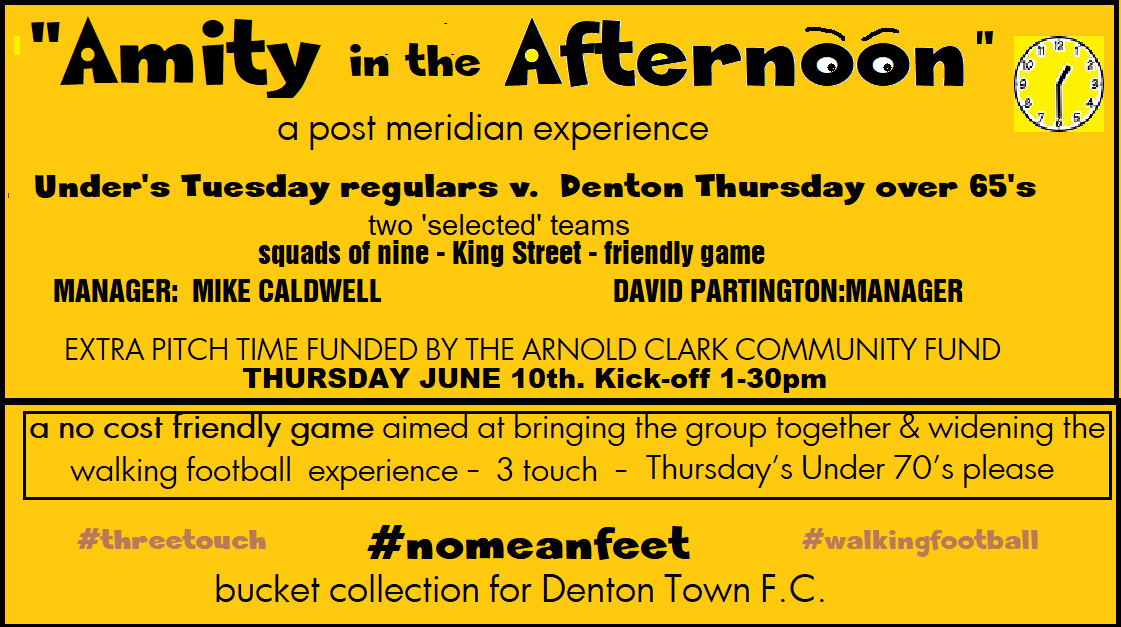 Mike Caldwell and David Partington will manage the teams with Garry Pearce getting a walk out in a playing role for a change. Names are trickling in for this one off friendly. Mike looks to have Paul Theobald and Peter Dixon at his disposal up front with the defensive qualities of John Gaskin and Garry perhaps shoring things up. Martyn Heath in midfield is an option for the Denton man who has lots of experience in managing the 'regular' game of which this isn't.
'The Party' line will be of selecting a team to deal with unfamiliar opponents. Already boosted by the likes of such names as Hadfield and Blanchard, with Stafford S, John Kenyon , Les Breegan and John Leech among others already keen, he will have his work cut out.
It's highly likely Alan Richards will Referee this one perhaps with assistance on the touchline. We'll film it too with luck so let's make it a showcase for a slow non-contact game under the walking football banner.
Names can be registered this week - also taking names on Tuesday and Thursday for May 18th (Thursday players) and 'Tiger Feet' (all players).
ROADMAP
The committee's ideas in focus and dates to remember. Following on from survey feedback the final session in each month will revert to multi-touch when we play walking football. Three touch will feature prominently throughout the rest of the month. Of course this will be reviewed regularly. Sweeper/Keeper games remain three touch at at all times, again kept under review and all opinions listened to as we have demonstrated . This week we meet with Hyde United to discuss a Wednesday session for Over Seventies ( maybe over 69's) at Ewen fields.
We're confident we can come to an agreement but if not we will seek solutions closer to home - thank you for your continued support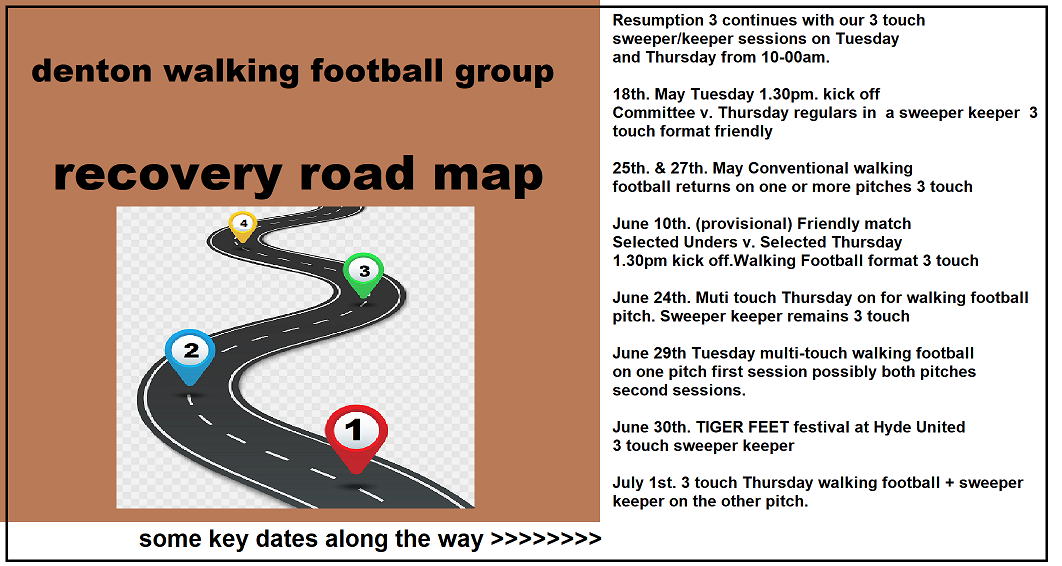 MAY DAY MAY DAY !
We'll be publishing our own 'roadmap' later with some key dates in an effort to simply our way back to something like normality. This week we will begin (or continue) the process of taking names of the interested for our friendly games and for the TIGER FEET festival on June 30th.
30.4.21
How many UNDERS ( who play Tuesday second session) of and over would be interested in playing a friendly game with Thursday's Over 65's and vice-versa? This is likely now to be a Thursday afternoon slot if we can arrange it. The aim would be for sometime in early to mid June. No cost to players. NO over seventies (catered for separately) please unless you're a regular with the Under's on a Tuesday.
Failing this how many would prefer to play a team from elsewhere ?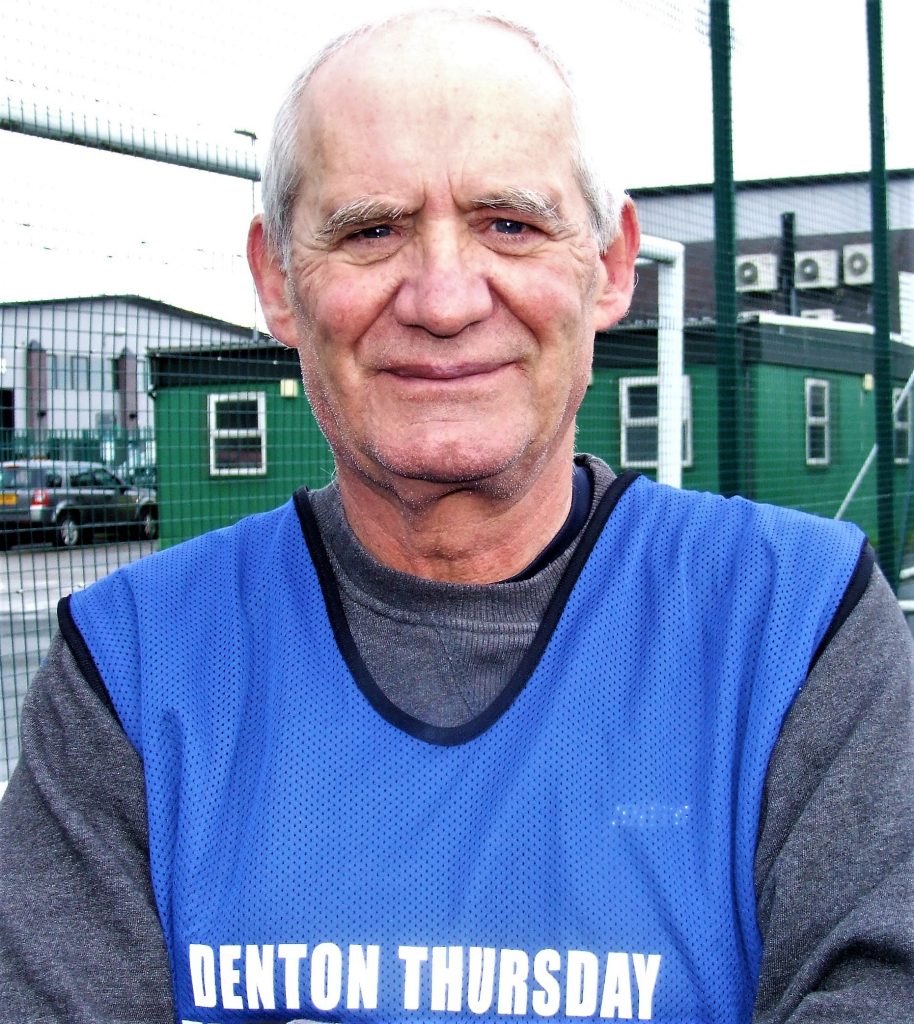 Mike Caldwell - Unders man managerMike Caldwell is willing to manage the unders into this fixture and David Partington has agreed to manage the opposition. We've had a few players register interest already and some of Thursday's walking footballers look up for the challenge.
Whilst we still await the receipt of further funds (promised but not yet delivered) it will be a modest amount of money to pay for some extra pitch time. Given our commitment to an extra over 70's session the Committee is keen to share this opportunity with the slightly younger players, as this is the right thing to do. Any ideas beyond what's outlined above will be considered so please let us know your thoughts.
We're talking about three or four hours extra pitch time in total depending upon the venue. To take place over the summer months, and it's expected it would be a walking football format (not s/k). Confirmation coming when we hear further from our benefactors.
29.4.21
The group can confirm the arrival of a substantial cheque from the Arnold Clark Community Grant scheme.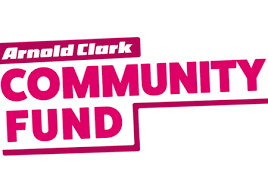 This will help us develop our own over 70's 'Summer Session' which we have been talking about and give us options for others to spend a bit more time on the pitch as the restrictions ease for us all. We are so grateful to the Scottish based car dealership and if you need a new or second hand motor please give their website a look. The application was tendered several weeks ago by the Secretary/Co-Treasurer and will be put to good use in the coming months.
There's no doubt our group ticks relevant boxes in helping older people get the most out of life with the exercise and easy going camaraderie our kind of 'walking football' can provide.
THE POWER OF FIVE
Even extended to our Referee's today . Serious thanks to all of them. Read about numerical perfection on the pitches
...read TC on Thursday
28.4.20
With two new players yesterday numbers are once again an issue. We cannot for the moment accept any more new players over the age of 68. The situation will be closely monitored. For those 'Under's' with fourteen turning up on Tuesday there is clearly room for a couple or three more but once again if EVERYONE arrives to play we will have a problem. The maximum we can safely accommodate in any one session is twenty four across the two pitches, and with Sweeper/Keeper it's better at twenty.
Thursday is a little easier but not much. Our Over 65 Thursdays have steadily grown. We are talking soon to parties interested in hosting an Over 70's session which will appeal to the many septuagenarians we have. This will be a medium term move over the summer. It may lead to a thinning out of numbers as players will be restricted to two sessions per week - otherwise we will be back to square one as stated elsewhere. This is not the worst of problems to have and shows we are doing something right.
Those players who 'strongly agreed' with taking a turn in goal and buying their own gloves will be asked for their sizes soon - if you don't know then your shoe size is often a good guide. The whole point of this exercise is that you are the only people to wear them so please keep 'em in your kit bag and keep 'em to yourselves.
At the current time Goalkeeping without gloves is not possible. We hope to be seeing Goalkeepers once again by the end of June.
Whilst we have your attention can we urge our qualified Referees to consider offering their services a little more often ? The more you Ref. the better a Ref. you will become and the game always needs a Referee - if you want some kind of order. Which we do.
Thanks for reading - here's a postcard from Wales...about our latest album...corrected version - with apologies to George NEWTON
_____________________
27.4.20
This 'new' website went live twelve months ago
thanks for your support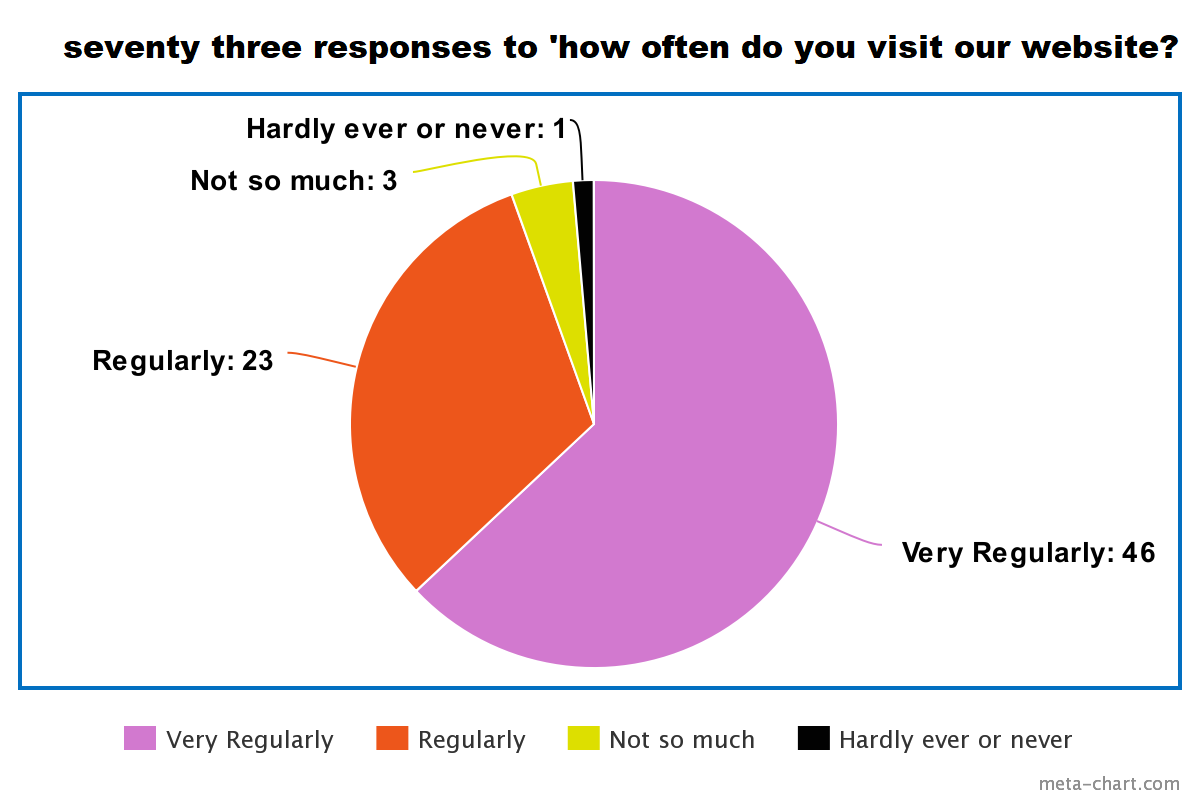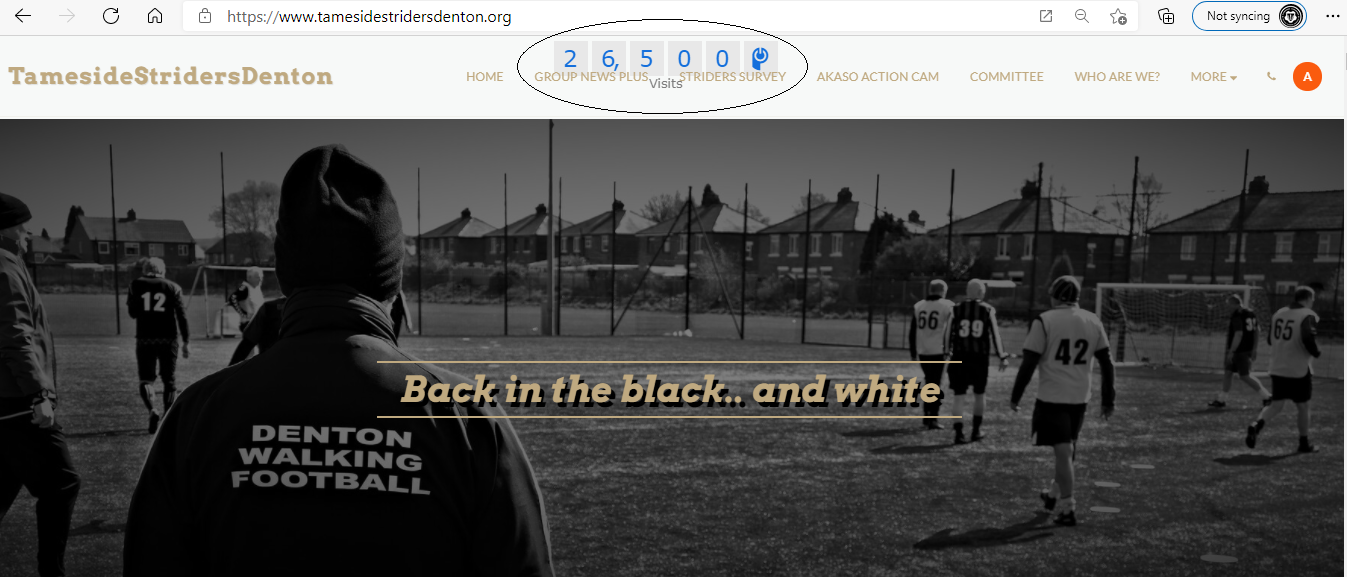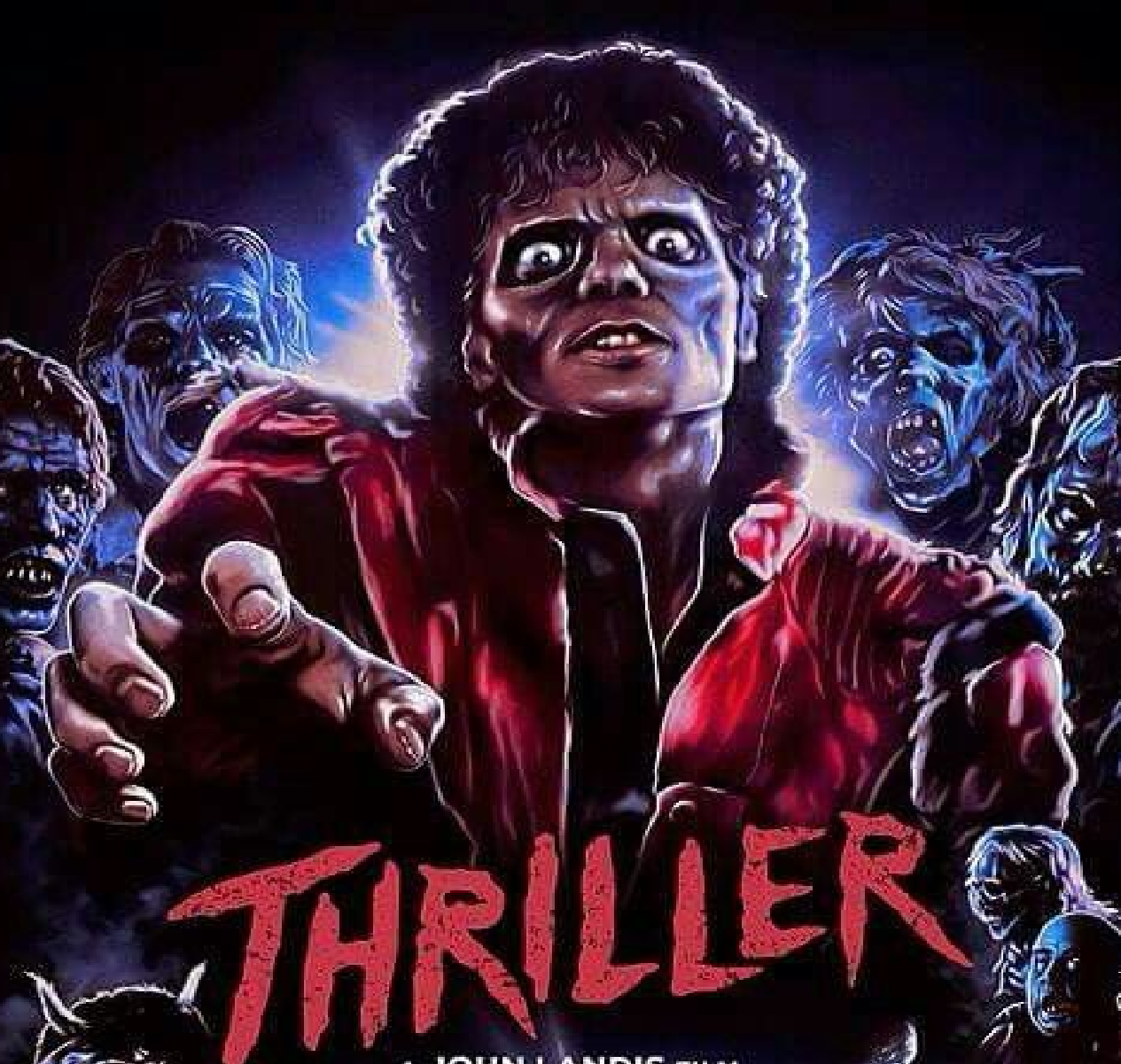 What else would you call a 6-5 ?
see Tuesday page
If the Ed. never sees another pie-chart it will be too soon. Some light relief arrived though in the shape of TC's brief account of today's goings on at King Street. Find it on the Tuesday session page. find it here
Ed's note: Although it's good to chill out on the edge of the Berwyn's (when evening falls chill is the operative word) I'm beginning to miss my walking football sessions. It's stayed dry since Resumption No.3 - a remarkable run of not getting wet !
Thanks to all the committee men who have been organising things and oiling the wheels of D.W.F.G. - augmented now by Garry Pearce ~ Welcome Gaz.
_____________
We once again extend good wishes to those who are unable to attend due to illness or injury. You are missed at the sessions. Looking through the photo albums we are compiling is a reminder that we haven't seen certain faces in quite a while now, and hope that's eventually proven to be a temporary absence.
We do understand however that people will sometimes leave our group or decide to stay away for a while for a variety of other reasons. When this happens for an extended period or departure is obviously permanent their squad number will be 'semi-retired' unless we get the garments returned to us - for which we are willing to pay cost price of £8 per pair. When our numbers approach three figures (100+) then those 'retired' numbers will probably be re-instated and assigned to another player.
So, if you have walked away from D.W.F.G. we are sorry to see you go but it would be greatly appreciated if we could have your black and white bibs back - thanks.
______________________________________________________________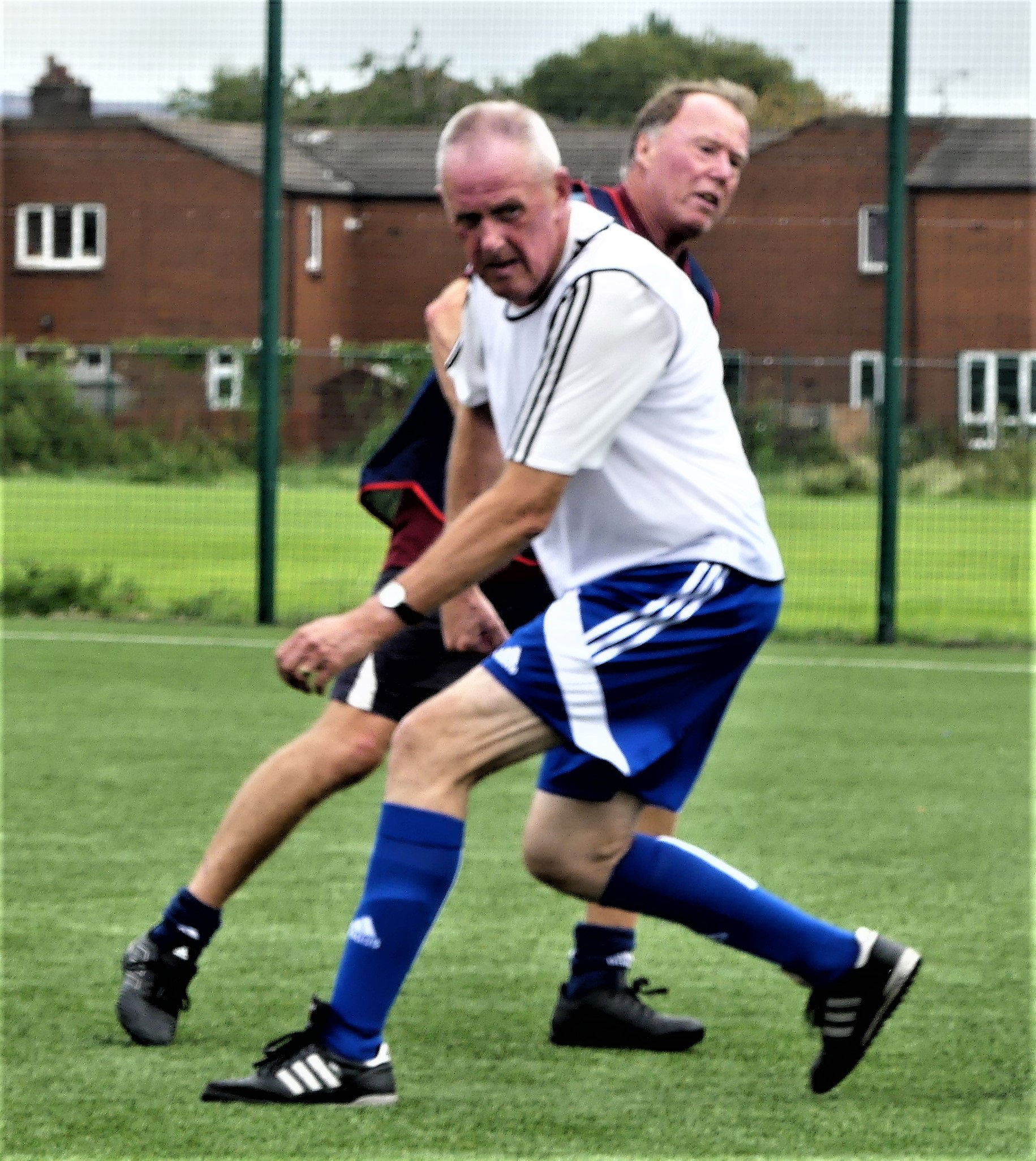 Check out the latest three touch graph on the survey page - it's quite startling. The lack of cards for contact ( 1) shown over 11 rounds of twelve fixtures (144 twenty minutes games) at the F.P.L. in 2018/19/20 seemed to suggest a definite effect, but the results from 73 people polled are quite startling. Food for thought for other league organisers and all who wish to play competitive walking football ?
______________________________________
Life of Pie - having fun with charts and graphs. For more results in the form of pie charts visit the Striders Survey page from the menu top right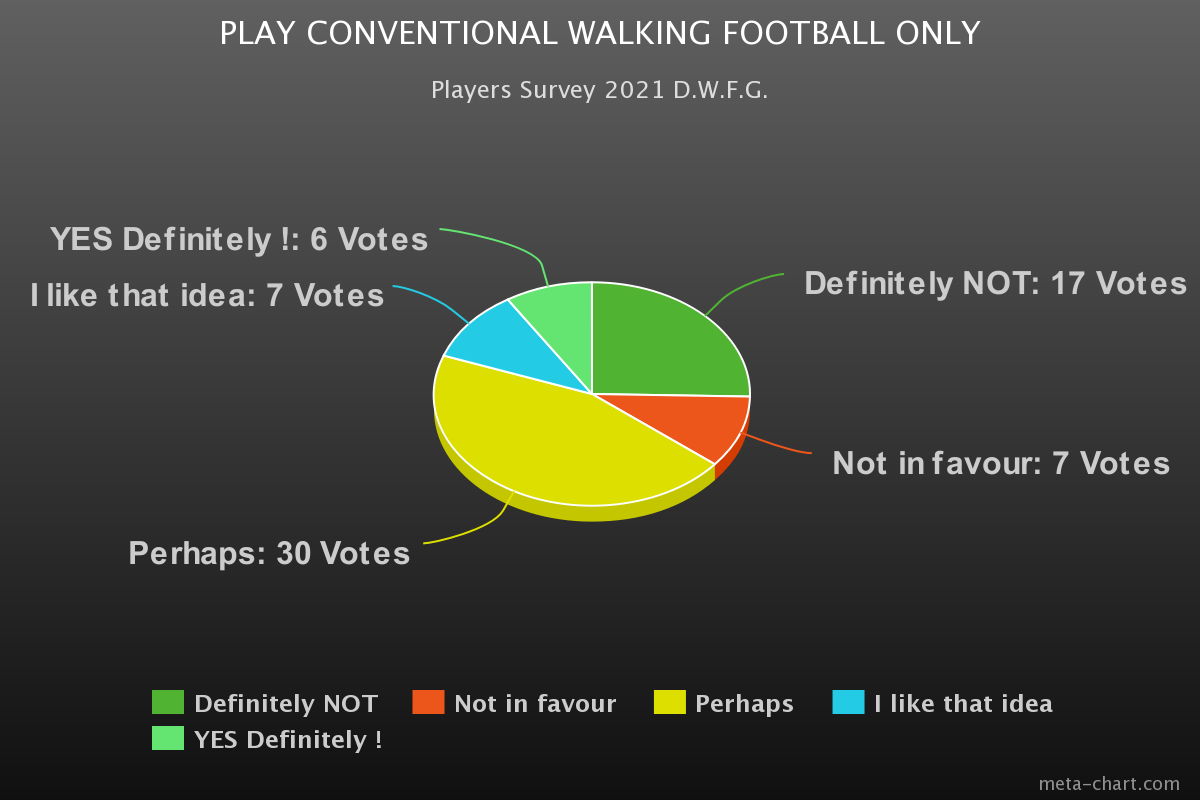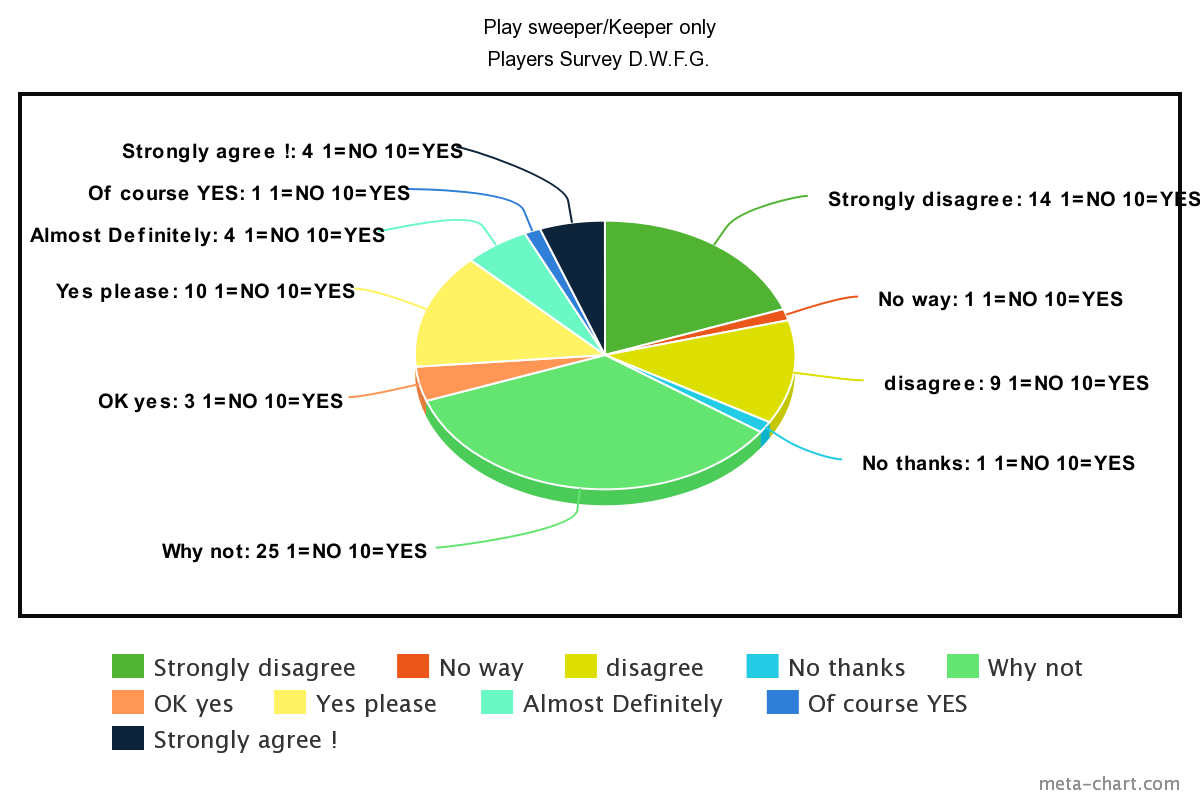 Major points to emerge from the Committee meeting 24th. April 2021.
1. With his full agreement Garry Pearce has been co-opted to the committee and will assume the role of session leader for the Under's second session Tuesday once players have taken to the pitch, the usual people will oversee registration and money taking. Garry will be managing the format with the assistance of experienced players within established guidelines, and making sure the kit (balls and markers where appropriate ) etc. is put away inside the lockers inside Dressing Room 3 after the session has ended. These will be taken from the lockers at the outset of the second Tuesday session. There should always be at least one other committee man present to assist Garry, and we ask players for co-operation too in assisting him. As a popular figure with common sense opinions he has our total support.
2. Sessions on Tuesday and Thursday from the end of May will rotate Walking Football on one pitch and sweeper keeper on the other. Please be ready to rotate at the end of your first game. The exception being the 'Unders' on Tuesday where walking football can be played on both pitches. Indeed this may mean we do not have to buy extra 'Samba' mini-goals. These may well be packed away at just after 11-00am. If the right numbers turn up at that time a big pitch game of up to eight a side can take place - definitely NO MORE than eight. ''Lingering'' will not be required if that's the case. Obviously if numbers exceed sixteen then 'lingering' may well be welcomed. It's very much an ad hoc situation. We have to decide quite quickly , so please be patient but don't expect a second game. Markers will need to be uplifted at the end of the first game/s and another set re-laid dependant on the format chosen. We have plenty of markers and will increase stock further.
3. We have looked at the survey results and decided upon the following. Three touch will dominate our sessions but on the last day of each month teams playing walking football can revert to multi-touch on a trial basis. Sweeper / keeper format will remain three touch at all times as it suits the game. This will start at the end of JUNE. Until then we need to eliminate even accidental contact as much as possible.
4. In addition to the extra funds granted by the Arnold Clark group, The Secretary has been successful in applying for a substantial grant from the Football Foundation, part of which will be spent on goalkeeper gloves to be held by individuals and worn by nobody else . Most players who expressed willingness to buy their own gloves will be so equipped free of charge.
Names will be drawn out of a hat if supply has to be limited, and you will be asked your shoe size, as there is often a correlation between hands and feet. The grant is ring fenced for this purpose and for some extra pitch time which we are of course pursuing at Hyde. If the 70's session is successful then come September we will have to move the venue and / or time. We will cross that bridge when it presents itself.
5. It's almost certain - subject to final negotiations in early May that throughout July and August we will be staging an over 70's session at Ewen Fields, home of Hyde United. (King Street is unavailable) Wednesday's at ten-thirty am. until noon - prompt. Two pitches is the plan with a minimum of twenty players in attendance a maximum of 24. Cost to players £3. Anyone who is over seventy, or reaches that age later THIS YEAR is welcome to come along but register first please. This session will be stricter on pace and contact hopefully reflecting the added maturity of those present.
Players will be limited to a maximum of TWO sessions per player per week unless that player makes a serious contribution to Refereeing each month, and eventually attends a course when available. Please don't assume you can turn up Tuesday, Wednesday and Thursday to play. Strictly two sessions maximum per week or we'll end up back at square one. It is hoped some more of our qualified Referees will offer their services on a slightly more regular basis. Once every few weeks would be adequate.
6. Roy Smith is our seventh sweeper/keeper for the festival after Gordon Nixon opted to go into the hat with the other names all of which will be gathered during the month of May and drawn in a filmed procedure.
7. We may have to increase session fees from £3 to £4 given recent fifty per cent rent increases at Denton Youth. We will all vote on this at the Annual General Meeting in early August and until then the fee remains at £3.
ALL COMMITTEE MEMBERS EXPRESSED A WARM WELCOME TO GARRY PEARCE who's contribution to the group are already highly valued...it's good to have him aboard the good ship that is Denton Walking Football Group in an additional capacity.
Tuesday first session 'Overs' :
139 total points for three touch
74 points total for multi-touch
Tuesday second session 'Under's'
81 total points for three touch
91 total points for multi-touch
Thursday First session (Over 65's)
121 total points for three touch
103 total points for multi-touch
Thursday Second session (Over 65's)
103 total points for three touch
84 total points for multi-touch
Almost all who preferred multi-touch conceded that three touch was likely to eliminate contact - a major consideration at the moment - and always , in truth.
There will be other agenda items too, where questions and suggestions from the survey will be explored with a view of structuring a way forward over the summer in which we can better manage time, and increasing numbers.
As our most regular and senior Referee Garry Pearce will attend and put forward his seasoned opinions on where we should go from here. There's nothing to fix because nothing is broken at Denton - merely a case of fine tuning and taking advantage of certain opportunities which could well be coming our way.
____________________________
22.4.21
Brief details on the 'Thursday' page of today's sessions, the second of which sounds far from satisfactory, on one pitch anyway. The graphic below gives details of our WALKING football festival for players who at least TRY to walk most of the time ~ it may well be over subscribed.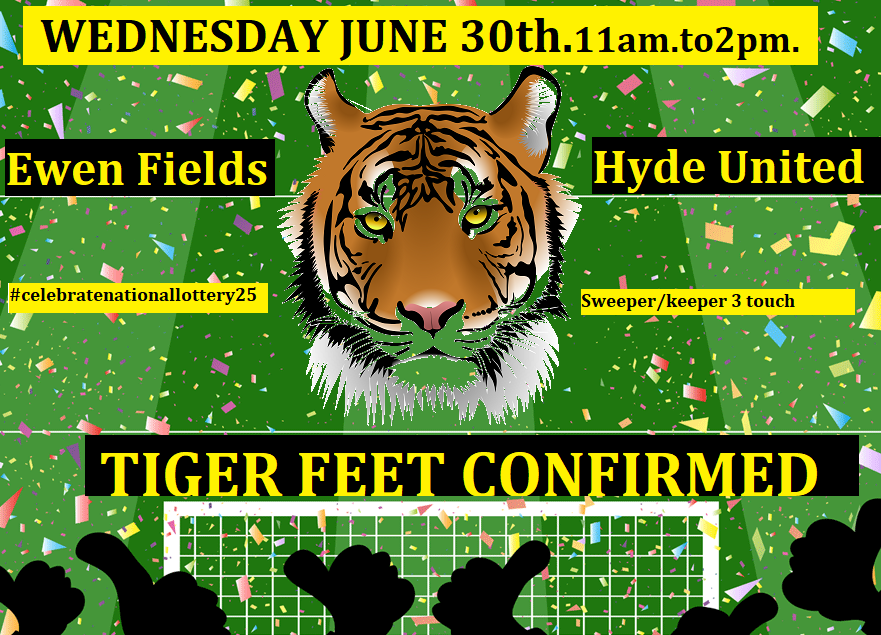 Confirmation by way of an email from Hyde United F.C. this afternoon. Organisation will commence next month.
21.4.21
The friendly with Wakefield Wanderers planned for May 18th has been postponed due to mutual concerns about car sharing before 21st.June. We look forward to welcoming Niall and Mick et al later in the year.
However, the pitch will remain booked for the Tuesday afternoon between 1.15pm. and 2.45pm. and available for a limited number of Thursday players
An ideal opportunity for regular Thursday attendees to get an extra game. The Committee team is also waiting to play, so if you want to take part in this register your name at the sessions no later than the 6th.May.
Depending on responses we'll have either one game or two, and possibly switch teams half way through. Sweeper keeper, three touch format of course in keeping with our current policy, which will be mooted at the weekend. Bring your b & w bibs !

Thursday on a Tuesday - a one off
This 'extra time' is by way of a thank you to the Thursday men for filling the void last year when Glossop regulars had to stay away.
When we decide which way the group is going and all restrictions are lifted by H.M. Government we will have more opportunities for extra curricular activity for all players if they desire it.
_____________
Please return any survey forms you still have, we have enjoyed a phenomenal response with about 85% of forms returned or completed online.
__________________
Check out the comments underneath the 'Zero Contact Heroes' video on YouTube because they are worth a read - Derek is not happy
____________________________________________________________
Relaxed and disciplined slow 'walking football' at its best in this short clip from last weeks 'Unders'
Zero Contact Heroes
________________________________________________________
20.4.21 Tony Cravagan has filed some match reports from an egg-citing day of walking football at King Street...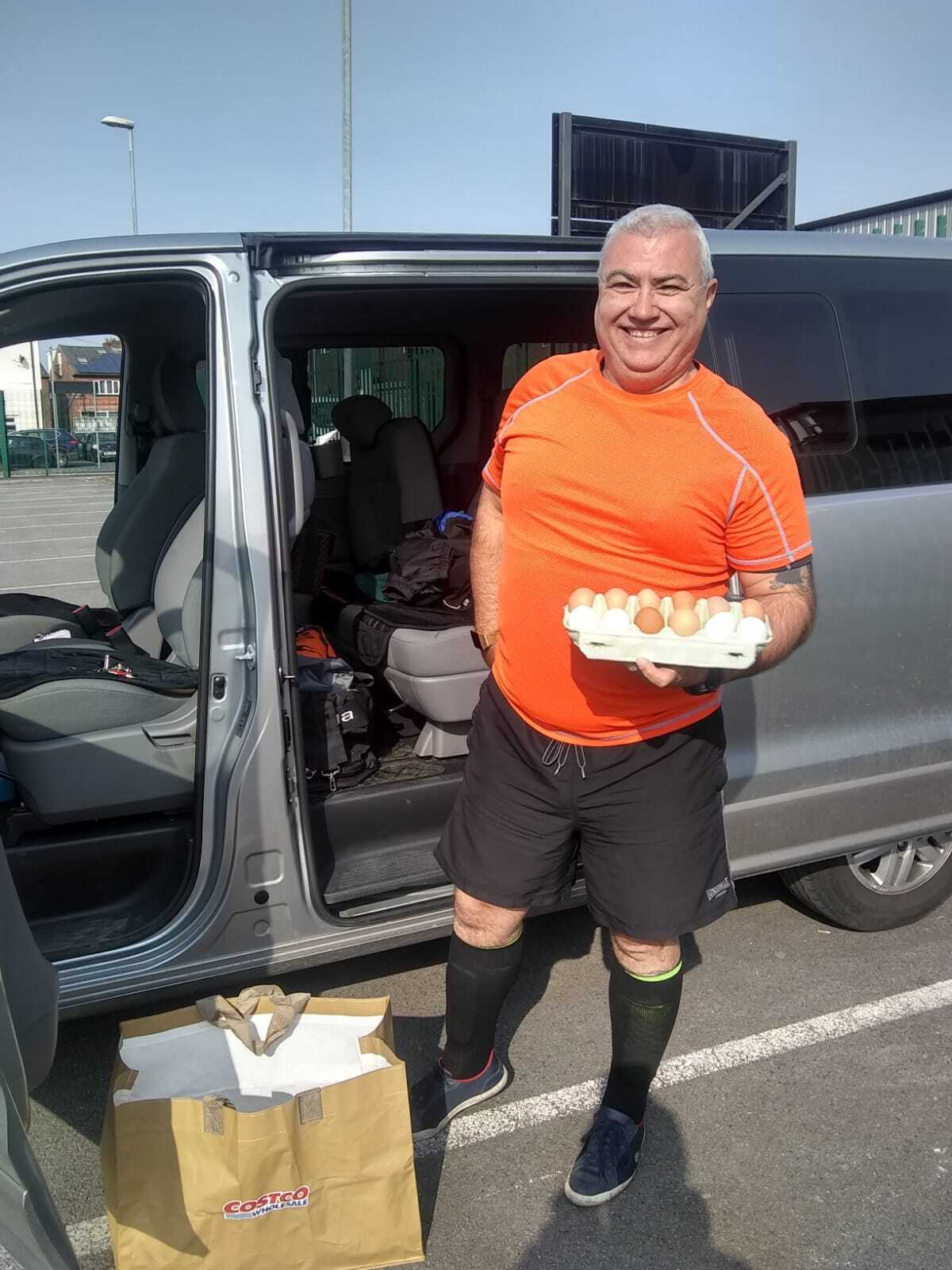 Denis Cudahy - the 'eggman' today did he play for the whites?
__________________________________________
20.4.21The Secretary spoke to Hyde United's Peter Ainger today in an effort to discover the acceptability of Astro-trainers on the Ewen Fields surface. The conversation was inconclusive as enquiries have not yet been made with the manufacturer. The future of the one-off 'Tiger Feet' festival may be somewhat rosier than any medium to long term association with the club due to constant demands on the pitch from the H.U.F.C. 'academy'. Mr.Ainger will have more news for us later this week, and we hope it's positive for a sustained connection with the famous old football club and its excellent ground and pitch.
Rest assured if necessary, other alternatives will be found and we will be expanding our activities in the medium term. The numbers demand this as well as the new enquiries which are coming our way weekly. A solution may indeed lie closer to home.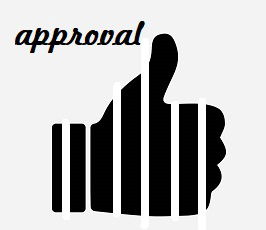 Further analysis of the Survey results in so far reveal a striking approval rating for the committee and our decisions. With forty plus players 'strongly agreeing' they are pleased with what we do, and the rest of the results dropped no lower than an eight out of ten score with the majority of the others returning a number nine. Such confidence is appreciated and be assured any changes will be carefully plotted and will bring what's best for our group going forward.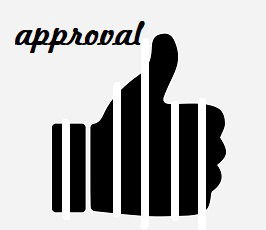 The Website also scored highly Of those who can access the internet from 63 returned forms we scored an average of 8.10 in terms of regular visits, with almost half saying they 'strongly agree', registering a maximum '10' score.
With activity on the Facebook group dropping off, and the 'Whats App' group membership remaining static , this is clearly the space for group news and activity.
More survey 'analysis' to come.....
__________________________________________
19.4.21
The first data from our survey forms is being recorded and 'analysed' ahead of Saturday's meeting of the committee. It's already clear with 55 forms returned that there is overwhelming acceptance of Sweeper/Keeper, but a willingness and desire to rotate between the small goal game and regular walking football. Three touch is popular across all the sessions but not exclusively so. One or two exceptions aside those who do not like three touch say it 'helps to eliminate contact' by a substantial weight of opinion.
We have no shortage of people willing to act as goalkeepers, and most say they are prepared to invest in a pair of gloves of their own. Two of those volunteers have declined to equip themselves , thereby meaning they cannot take up the position in Covid times.
IMPORTANT Nobody should be buying themselves any gloves just yet please.
Thanks to all who have returned their forms so far, we still have about twenty outstanding so if you want your opinion to count please return them to a committee man tomorrow, Tuesday or Thursday or alternatively complete the form online from the menu above. Cut and paste to give your answers before emailing them to admin@tamesidestridersdenton.org
17.4.21
A newly edited REFCAM 4 is online...less lead out now when the camera was left running - press the button twice to STOP !
_____________________________________
15.4.21 Several new experimental videos online at Tamestriders t.v. body worn REFCAM's - any value in them - let us know.
Probably better footage from fixed positions but we innovate like few others. These are unseen, unchecked and totally unedited. Constructive criticism is welcome - nit-picking decisions isn't.
https://www.youtube.com/channel/UCuWT2I4A_i1x_i3Mo3pL-_g
15.4.21 And another beautiful morning at King Street with slightly milder temperatures than we've seen of late. Two 4 v. 4 games were followed by two 5 v. 5's . We had an experiment with a body worn camera worn by myself as I Refereed - if you get seasick easily this footage may make you queasy - mixed results I'd say, I wonder if you think it was worth trying? The cameras (for me) work better from a fixed point. We have some Pitch one footage with Mike Taylor sweeper-keeping in black. Links later on the relevant Thursday page. All totally unedited to save time and effort. First look at the 'rushes' revealed a fine Alan Brodie strike on goal.
Thanks are due again to Roger Place, scorer of a superb 'goal' today for his latest donation.
We are constantly getting enquiries for places and it's clear we need to expand. Just what form that expansion will take is open to question at the moment. Committee members already devote a lot of time to the two sessions for no reward. We may need two players from the 'Unders' Tuesday session to take formal charge of putting away the equipment, including taking charge of an extra set of mini-goals at home to return the following week. These aluminium goals are not cheap, and we cannot risk their loss.
With our rent increase announced on Tuesday a straw poll of a few remaining Thursday players suggested they would not be averse to an increase to £4. We can hold prices steady at £3 until the A.G.M. in August. A 33% increase would compare favourably to a rent increase of 50%. all players will be given the right to speak about this in due course.
- - - - - - - -
About fifty survey forms have been returned so far - thanks. More than enough to get a flavour of what people are thinking. Remember you can complete online if you wish. Data will be collated over the next week. If you bring your forms back net week hand them to Tony Cravagan or Gordon Nixon please and I'll get the information from them. The Committee will meet on Saturday 24th. if our regular time doesn't clash with any major pro. football fixtures.
____________________________
The 'Tiger Feet' festival due for Hyde may run into a snag with footwear concerns. We are seeking urgent clarification of what's acceptable on the Ewen Fields surface. We have played on their pitch before with Astro-trainers and hope nothing has changed. Moulded studs are not suitable for our sessions of walking football.
If, as is keenly hoped the festival can go ahead , we have enough volunteers to fill seven Sweeper-Keeper positions. The team names are coming in 'Hyde-D-Hi' 'Hyde Flyers', 'Outcasts', 'Jerry Hat-Tricks' and 'Goalden Oldies' so far.....could we have a 'Ho-Dee-Ho' , a 'Ewen Yours' or even a 'Ticket to Hyde' ? The ball is in Nigel Metcalfe and Terry Hayden's court. Give it some thought please chaps.
_______________________
_________________________________________________________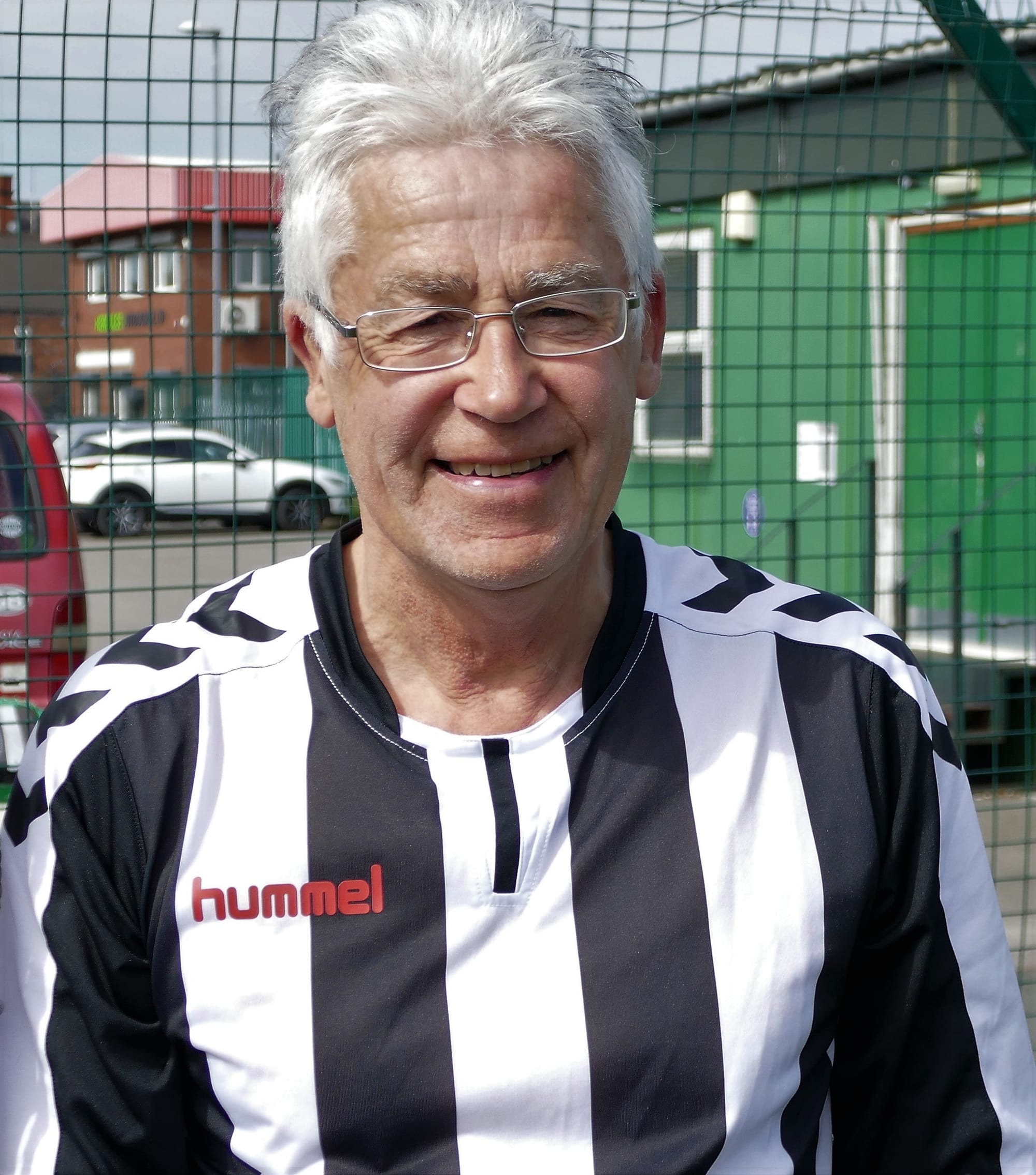 Graham Oakley in his Strider's shirt yesterday


News is coming SOON of our resurrected festival 'TIGER FEET' at Hyde United F.C. aimed at D.W.F.G. players we're going to need seven teams for this Sweeper/Keeper event. Demand might well outstrip places but first of all we need seven volunteers to play the sweeper/keeper role throughout six games.There will be a trophy awarded to the most proficient S/K who concedes the fewest 'goals' .This is a basic building block in the planning for this so get your name in by email a.s.a.p. to admin@tamesidestridersdenton.org
or text to 07387 174934 alternatively see any committee member over the next week or so . Of necessity this will be first come first served for these places. We do not yet need names for other positions. It's going to be a day to remember and one you might not want to miss - Wednesday June 30th. 11-00am to 2-00pm we'll have more detail very soon.
NO COST INVOLVED FOR PLAYERS THIS WILL BE A NATIONAL LOTTERY FUNDED EVENT
13.4.21
SOMEBODY FOUND A YELLOW BIB LAST THURSDAY LYING PITCH SIDE ,BUT I CANNOT REMEMBER WHOM - WAS IT YOU?
PLEASE TEXT 07387 174934 if it was you. The owner is now known.
_________________
On arrival at King Street this morning the Treasurer was greeted with news of a hefty 50% price increase for the pitch rental from May 1st True, this is the first rise in rent we have seen , but with an even more substantial bill every four weeks to pay now we may need to contemplate a rise in playing fees, which have been steady at £3.00 for over three years. Another alternative would be to reduce playing time to two hours per session, instead of the two and a half we currently enjoy, but frankly do not maximise. Nothing will be decided before our Annual General Meeting in August. In the short to medium term we can absorb the increase. Everyone is welcome to chip in an opinion on this when you next attend.
Today we had two five a side games in each session.
Thanks to Denis Cudahy and Garry Pearce for Refereeing and Gordon Nixon and Colin Fielding who shared the officiating in the second hour.
Four lingerers were accommodated within the 'Unders hour'
We will have video and a few photos in due course Good to see Bernard Roddy back in the fold this morning, apparently he was on very good form. On pitch one yours truly played in a black bibbed team that managed to squander chances galore but still walk out winners. A great game to take part in.
Q:where's your camera when you score a belter?
A: Covering events on the other pitch !
______________________
12.4.21
please remember to bring your survey forms back this week
Check out the 'akaso-action-cam' page for today's clip.
Action at both ends and we'll soon have both ends covered
_________
______________________
Two for the price of one - well, near enough !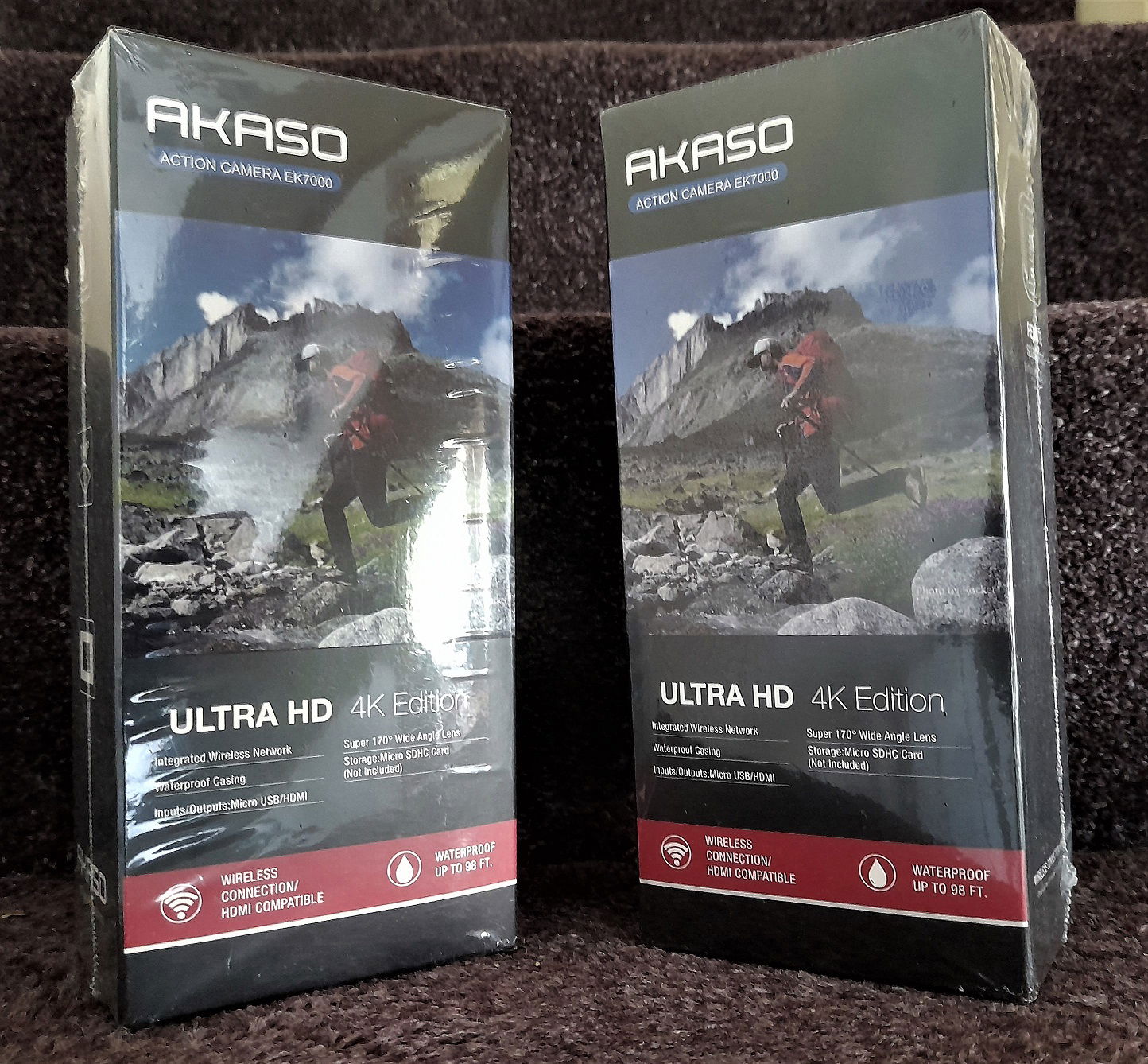 because it's a game of two halves !
11.4.21
Good luck to David Wilson who this week is undergoing the second of two procedures to remove cataracts, this one from his left eye. David has had his share of setbacks but retains all of his enthusiasm for the group and its activities.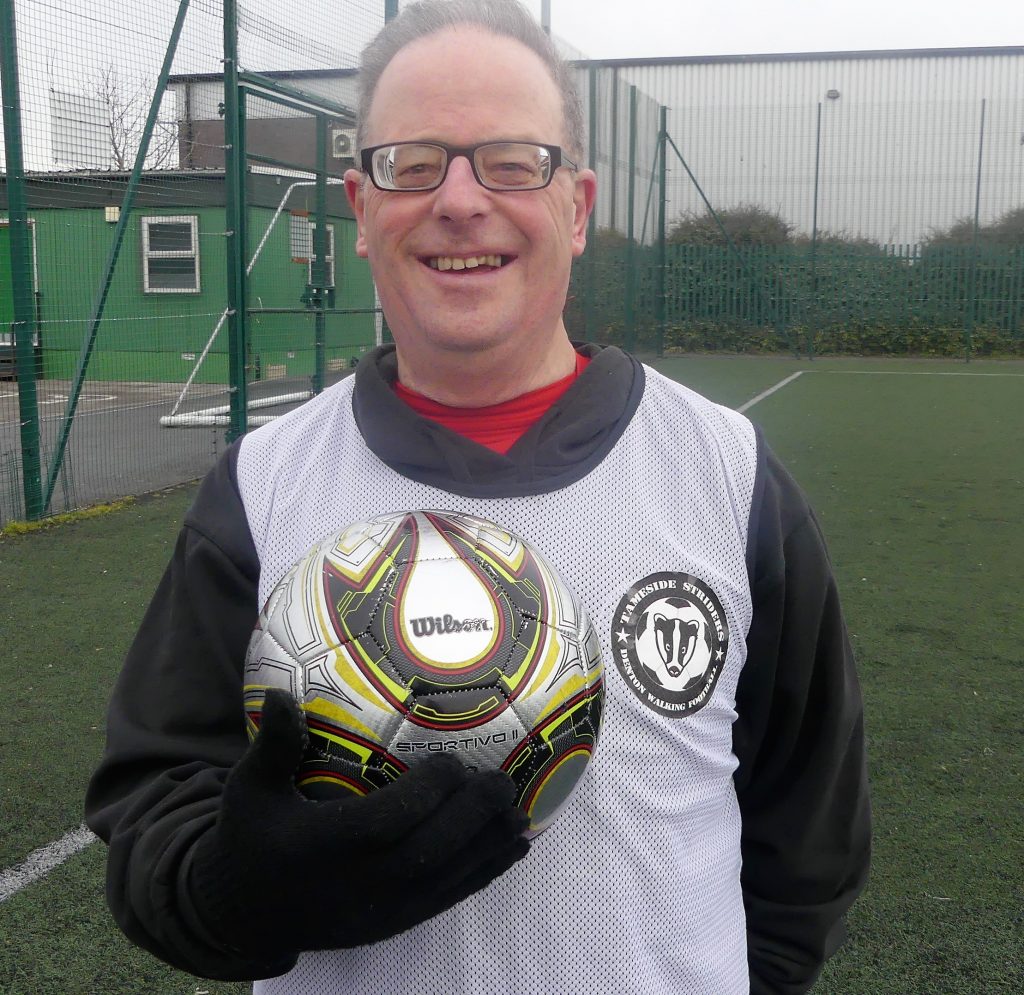 Dave Wilson
David's vision has been impaired of late but soon the only blur will be David himself moving up the flanks at King Street ! David has expressed a wish to donate a trophy to our first upcoming festival (more on that later) in memory of his late Sister. This will be awarded to the sweeper/keeper with most shut outs. Clean sweeps , clean sheets call them what you will. It's a specialist position and some players are very adept at blocking the path to those miniature goals. Bill Lancashire, Roy Smith et al. It's going to be an interesting proposition for those who like to sweep.
____
__________
The group should be taking delivery of two Akaso EK7000 action cameras today. So he will know his 'Akaso from his elbow' very soon Tony Cravagan will be familiarising himself with this nifty little device and between us we'll be capturing more and more unmanned output from strategically mounted cameras.
Something for the weekend Sir (or Madam of course)?
We have a new page especially for the camera's output. The clips will change regularly as there's only room for one the way the page is formatted.
Look at the menu above and cop an eyeful of a splendid Partington pass into the goal from his own half, and a Geoff Griffiths enjoying himself, bagging a couple of strikes in the process, including a penalty after defender ingress into the 'D'.
10.4.21
Today's committee meeting discussed several points. Member's can get a report by email if they request one Please include your name with the e.mail if it's not obvious by your address.
admin@tamsidestridersdenton.org
____________________________________
VIDEO with VOICEOVER (comment on youtube please)
_________________________________________
BREAKING : Editor's survey answers - if anyone cares
9.4.21
Brock around the clock ! yesterday's portrait shots linked on the Thursday session page
Get your surveys in a.s.a.p. please - the Ed. will show you his later today
Work starts soon on arranging 400 + photographs into 4 albums...'THE HISTORY OF US'
IMPORTANT COMMITTEE MEETING SATURDAY at 4-00PM
EVERYONE WILL BE UPDATED A.S.A.P.
8.4.21
THE DAY OF THE HAT TRICK
Around about forty people at Denton Thursday, most of them playing in the four games we staged on the two pitches.
An outbreak of black and white stripes across two sessions as A Bevy of Badger's badgered, and set about making the morning special whilst easily shaking off lockdown torpor.
Four sessions in, and Resumption 3 is going well.
Richards Refereed a lively opener on pitch one at the northern end of the ground.
Whites were early leaders with Kieran and Bemrose registering accurate strikes. Terry Hayden inspiring confidence at the back.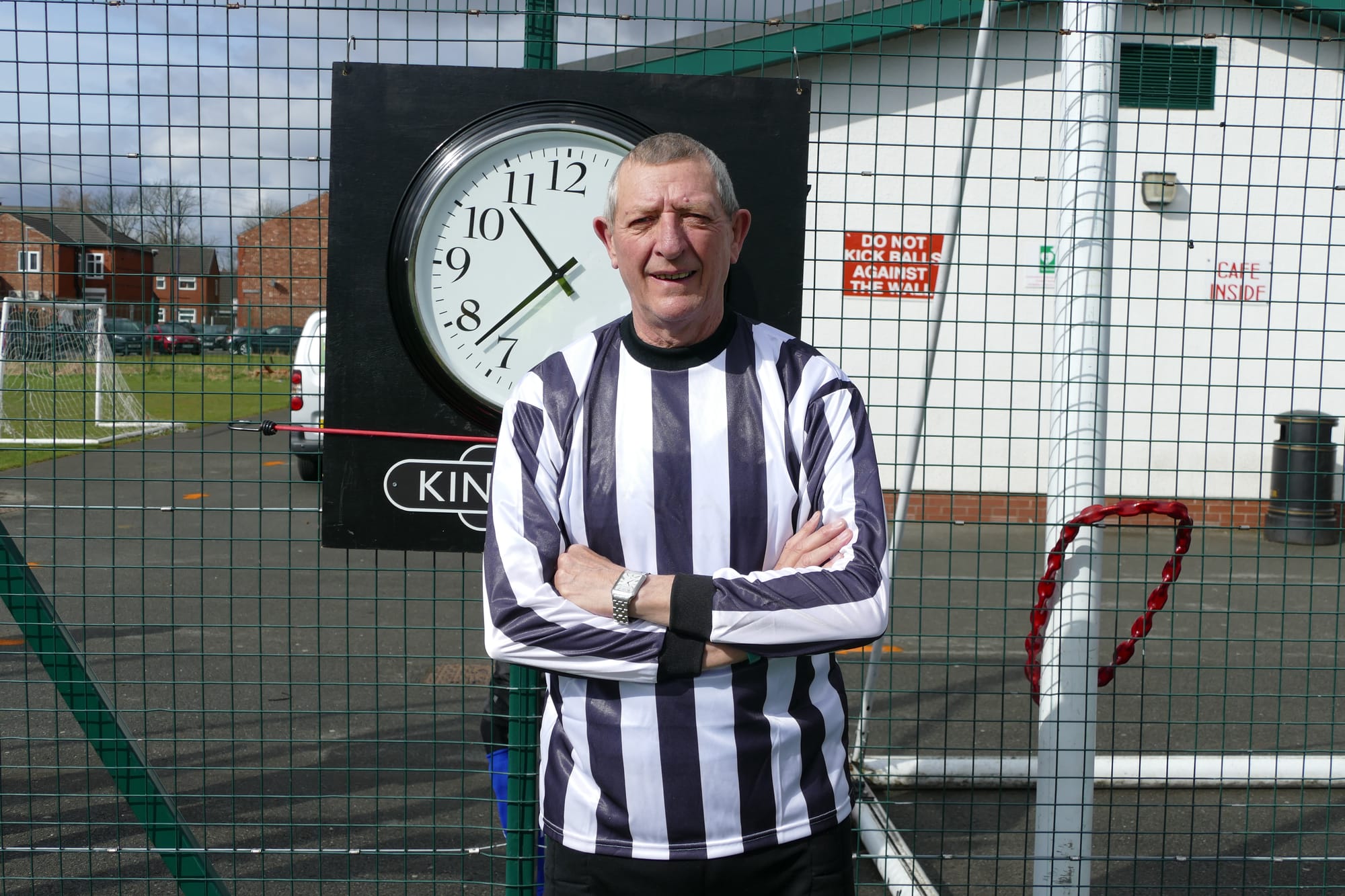 Terry 'they shall not pass' Hayden
Geoff Griffith pulled one back from the spot after Mike Kieran's ingress. Frank Matthews went very close from the left.
A Dave Partington 'special' brought Black's level before White's got their noses in front again. Joe Bemrose notched up another hat trick - his second this week !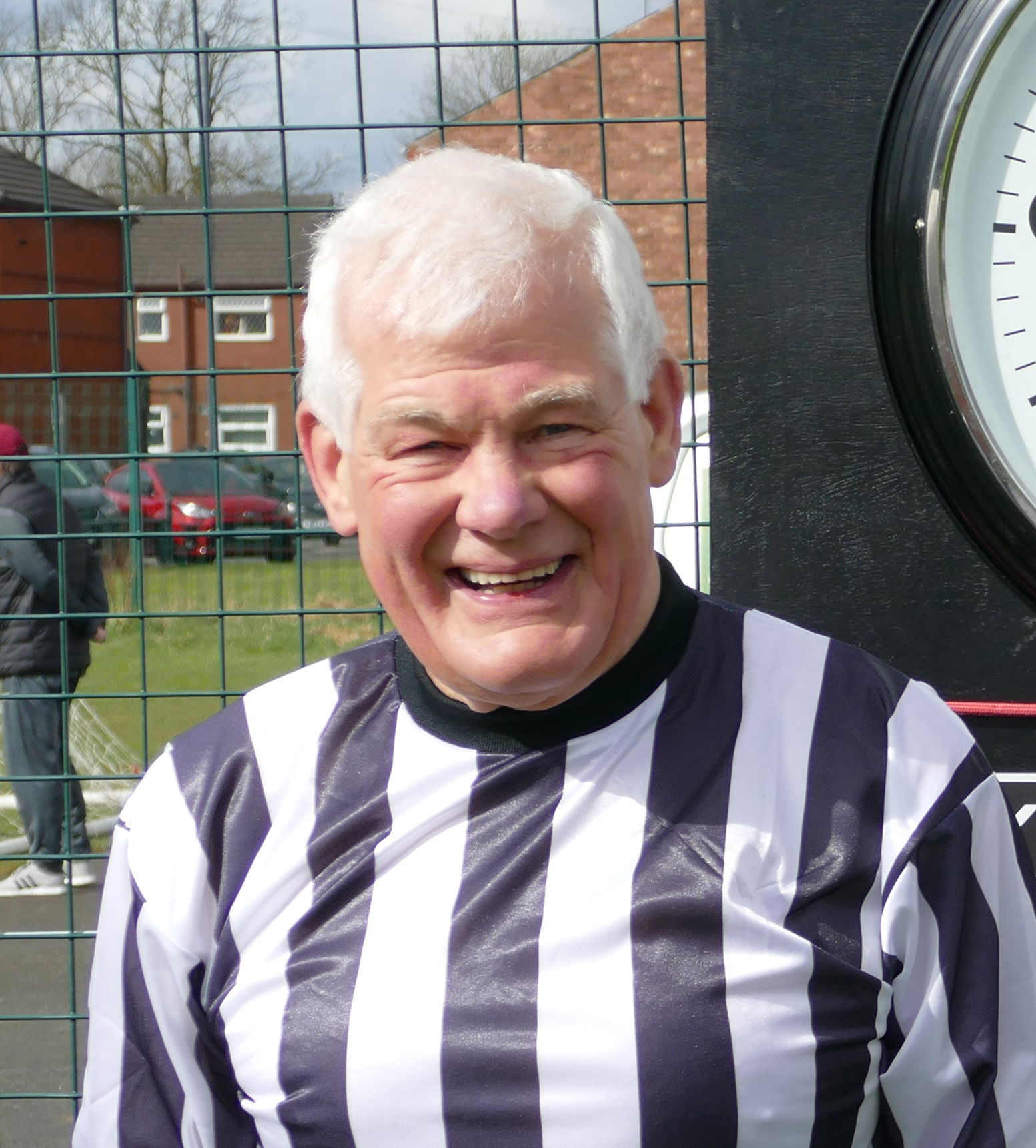 Geoff Griffiths - filled his boots today !
Geoff Griffiths also with a hat trick today - at the fulcrum of Black's invention potted another penalty. Again MK donned the guilty mantle with his ingress. A Steve Birtwistle burst gave Joe Bemrose a gilt edged chance to reduce the arrears from the spot but Birtwistle redeemed himself to bag the winning goal for his Black team.
PEARCE PURRS POST MATCH....
What followed on the same pitch was described as "the best game of walking football I've seen for a long, long time" Coming from Garry Pearce that's praise indeed. Few have seen as much walking football as he has, and we all know he's not one for flannel.
Blacks had stormed ahead. A cheeky goal off the left buttock of Alan Richards and another from Mike Caldwell saw to that and then Richards added another benefitting from some fine passing between Steve Amison and Mike Caldwell.
White's were nimble and mobile, often a euphemism for running but there was very little of that today. Blanchard was always threatening and Peter Collins up field in a different kind of role for him was dangerous.
Richards dropped back to sweeper / keeper and produced some timely blocks before stepping up to convert a penalty for his hat trick.
Mike Caldwell also hit the back of the net three times including one from an incredibly acute angle. A feat mastered earlier by Peter Collins his near Denton neighbour. Has Mike been coaching in lockdown ?
The game had everything. Perhaps too much contact as the excitement mounted, but nothing malicious. Garry Pearce was busy.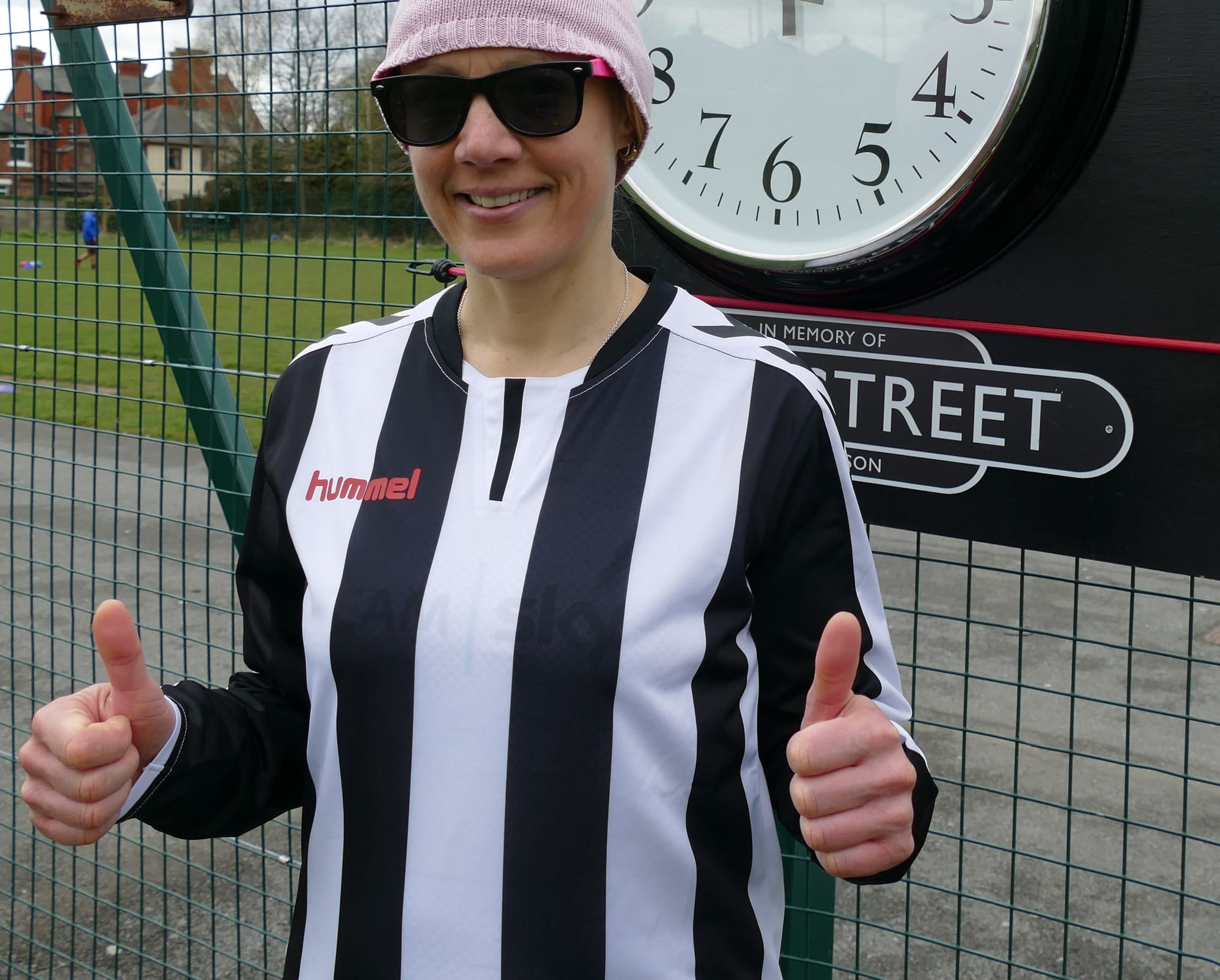 White's anchored by a Roy Smith in magnificent form fought back. Smith himself drove one home and Tracey Blanchard was on target too and it was she in fact who grabbed the equaliser with the last kick of the game. Clem White was raiding from the right and Richards and Quinn battled valiantly to stem the tide. Pete Ward a willing worker on the right for Blacks.
The team aren't writing too many match reports at the moment but this one was something special. Somebody else may well chip in with reports from the other games.
This one ended six-six, and a superb time was had by all.
Thanks to Garry for Refereeing .
Tony Cravagan had Refereed the first match on pitch two. He then played in the second game, another high scoring draw. The team selection has been delegated more recently and everyone seems to be getting it right most of the time. 'Party' picked the line ups for this one. Colin Fielding and David played and Ref'd a half each. Committee members working in tandem and shouldering the burden. David Wilson ensuring every arrival took home a survey envelope.
We do not know how much these sessions will change as a result of the questionnaire but there's an element of if it 'ain't broke don't try to fix it' about Denton. Sweeper/ Keeper is a brilliant game and WILL continue, going forward whatever the results that come in. Especially on a Thursday - a session that was founded on 'difference' from the start.
So many people are asking for extra days, or to bring their friends along. I hear you, we hear you BUT numbers are still a little tight. We may have to find a way of thinning out the numbers just a little. There are several people who have not come back across the last fortnight, most for reasons we know of. Five v. Five on our pitches is ideal. We can just about live with 6 v. 6 in extremis. Please be patient while we analyse the information that comes back in and plan ahead as Spring becomes the Summer. Which is FESTIVAL time so keep your eyes peeled. The Tiger, soon to be released from his cage is on the prowl once more. There will be more demand than capacity so get ready and keep yourself well informed of what's afoot - Thank You.
(As this bulleting resembles a match report it will eventually be migrated to the Thursday pages)
________________________________________________
7.4.21
If you cannot get hold of a hard copy of the survey go to the survey page from the menu above - cut the questions and paste them into your email adding your answers as necessary. Send them to admin@tamesidestridersdenton.org
Nobody needs to feel left out
Yesterdays victorious White's (Overs) see the Tuesday session page for more photo's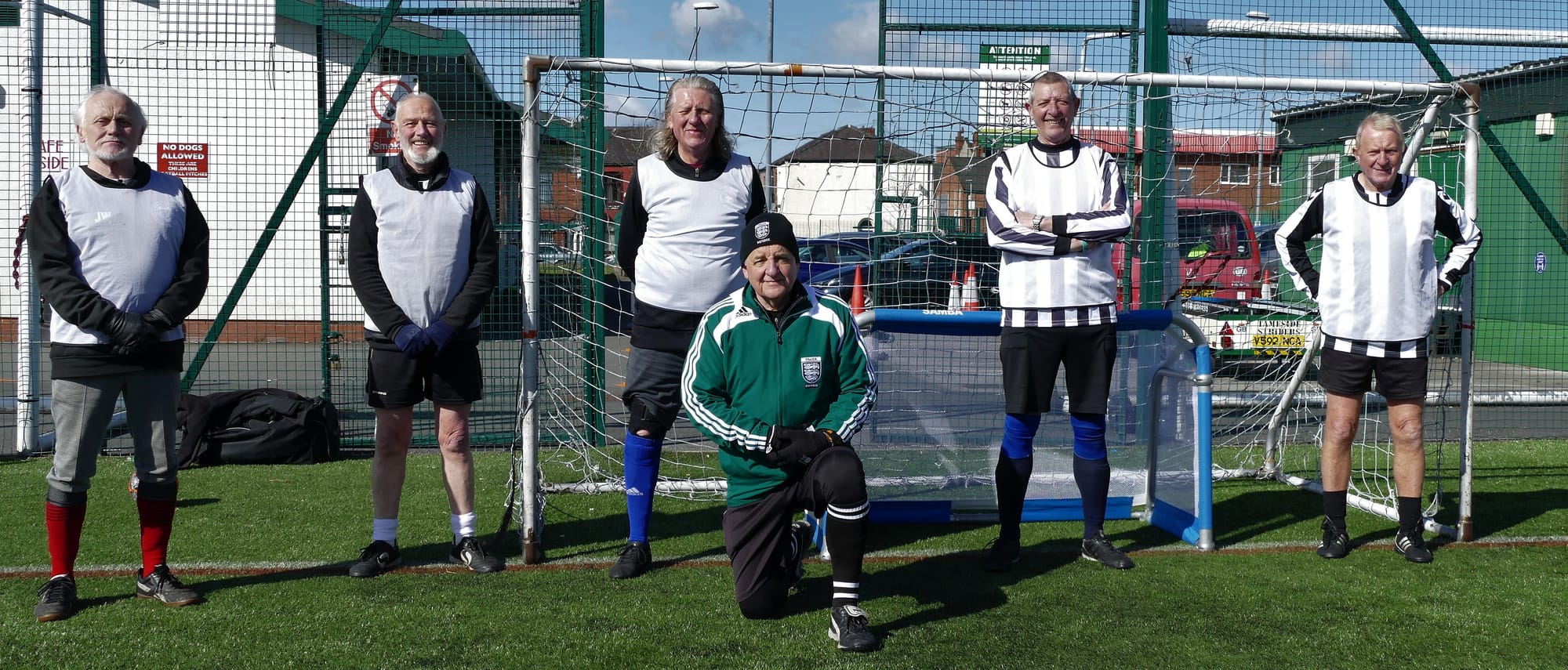 want more? click below
https://www.flickr.com/photos/stridershots/albums/72157718925788530
APRIL 6th.
Forty two people turned up in the April sunshine , most of the to play but we had four Referee's who made themselves available ! Spoilt for choice and two of those got to play at least one game and in once case two. Denis Cudahy and Keith Burrows returned for the first time this year. Good to see you all. We value our Referees.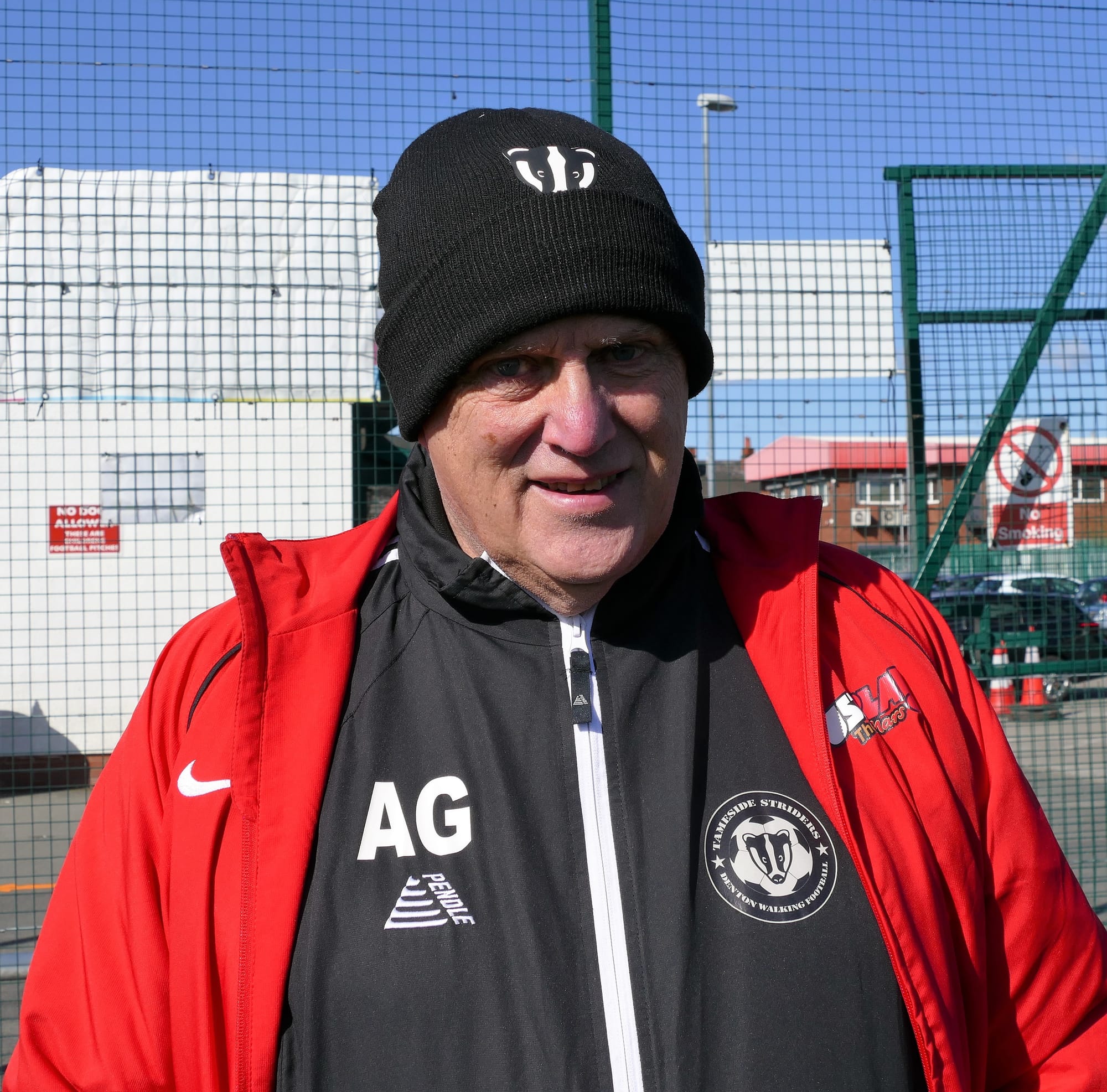 Alan Graham
Splendid to see Alan Graham back and it's hoped he becomes a regular once more.
Garry Pearce Refereed across the whole morning. Yours truly played in a goal fest on Pitch 2. With Steve Rourke in good form and Brian Stafford scoring for fun. Tony Cravagan and yours truly added a brace apiece. We were anchored at the back by Bill Lancashire in a black bib , playing alongside Cravagan is a rarity for Bill and this allowed Tony a chance to get upfield a little more.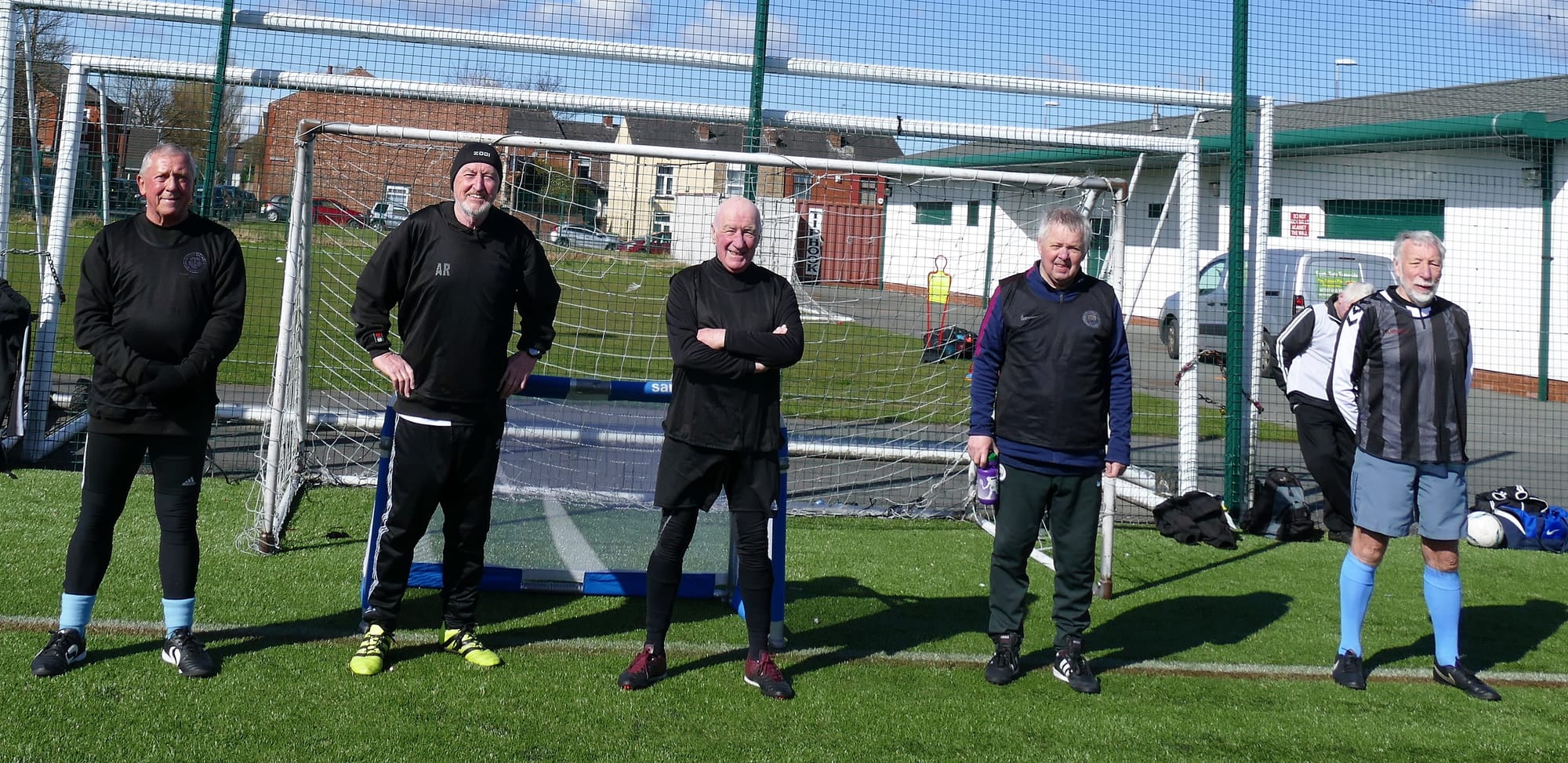 White's were anchored at the back by Lawrie O'Toole and David Gibbons. The former scored a fine goal. Pride of place in their goal scoring ranks went to Jim Stewart who was remarkably accurate today. The game ended nine-seven to the Black's.
I think it was four one on the adjacent Pitch, with Joe Bemrose bagging a hat trick.
Under's hour was well attended too. Two more games of five a side. All players looked to be enjoying themselves. Peter Dixon grabbed a goal on pitch one, beyond that results are not known. Good job they're not important. Enjoyment and banter to the fore on pitch one according to Garry Pearce. Five runs on pitch 2 with Alan Graham in control. Some individuals really need to rein in their running. It stands out like a sore thumb to an experienced eye like Alan's. Plus it's never a good idea to question the Referee's judgement.
David Wilson handed out the Survey envelopes, please think carefully before answering the questions. They may have a bearing on all of our walking football futures.
Three players failed to sign the Register today. Messrs: Livesey, Jones and Harrison T. This is an important document in more ways than one please remember next time.
With more players asking to play on more days we cannot keep everyone totally happy. The survey will help us plan, and assess viability going forward.
Gordon Nixon picked up a thigh strain today - take it easy and rest up Gordon.
We will have some photo's later. There was a trial with a head mounted action cam today which saw mixed results. Most of them inferior. Back to the drawing board with that one, any decent footage to emerge will be released. All links to images will be on the Tuesday session page.
Next Tuesday you'll be able to get a hot drink after the games - something we might have appreciated today.
__________________________________________________________
STRIDERS SURVEY ~ RESULTS SHARED MAY 2021
Players, Referee's and Honorary members, can grab a survey envelope and form at your session and return them within a week or two. The committee agreed upon this consultation, as we don't get a chance to gauge opinion on the day. Sticking a hand in the air is all very well but we need more detailed feedback because we like to do things properly.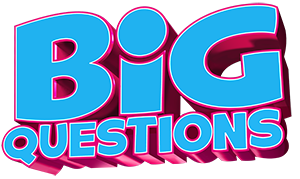 Some of these questions require a bit of thought too.
We have been really pleased the way resumption has gone so far. When the Covid situation calms even further (as is expected) and most of us have had two vaccine shots then we need to decide upon a plan going forward. To do this we need player involvement .
To get some advance info. on what we're looking for look here.
www.tamesidestridersdenton.org/striders-survey
___________
We've had a few enquiries lately for new players to start attending and for friends of existing members to join in with our sessions. Having to answer in the negative because of caution around numbers is not what we want to do and we don't want D.W.F.G. to sound like a closed shop, but the problems of too many people at once could be very real. We walk a fine line.
The new way of recording your name on a pre-printed sheet is helping us to see not only WHO attends, but who DOESN'T
Second session last Thursday was a case in point. We hade twenty people across two pitches BUT seven names you might classify as regulars pre-pandemic were not at the session.
So for now please stick to the days you normally attend and when numbers settle and we see who is, and who is not coming back we may be able to offer more flexibility.
Without wanting to turn people away from Denton we can recommend the Monday and Friday morning Over fifties sessions at Curzon Ashton which start from 10.45am. These sessions feature several Denton players too. We have already suggested this route to several people. There is also an evening session on Monday's but don't know what availability is like for newcomers, nor do we know of any age restriction for that one. Contact the club for details.
_____________________________________________
A timely reminder of Denton's successful opposition to industrial development on green belt adjoining Tame Valley dropped through my letterbox today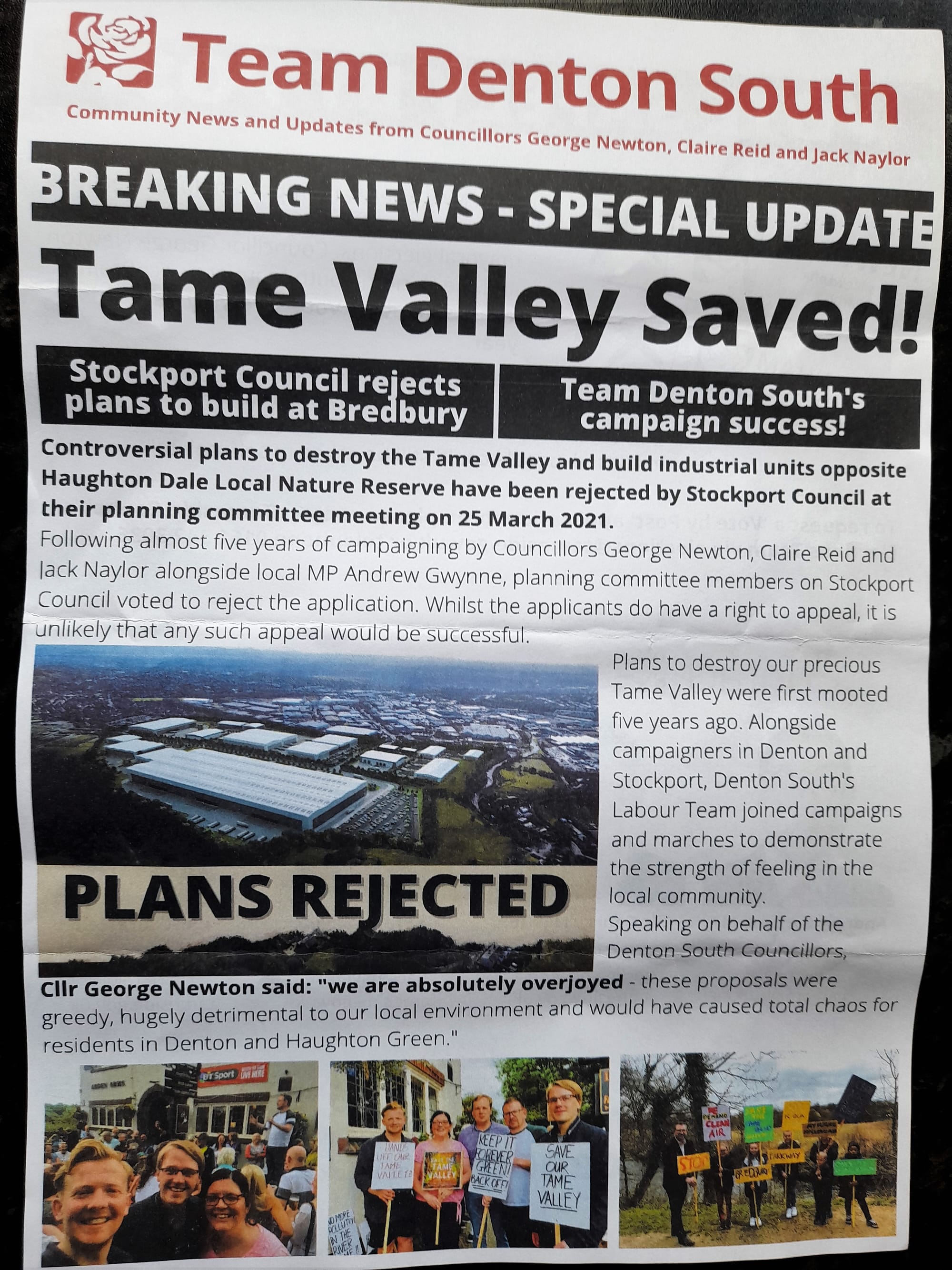 .
Via Tameside Council 'Team Denton South' have just funded our new group photo albums which are currently in production. Councillors George Newton, Jack Naylor and Claire Reed shown below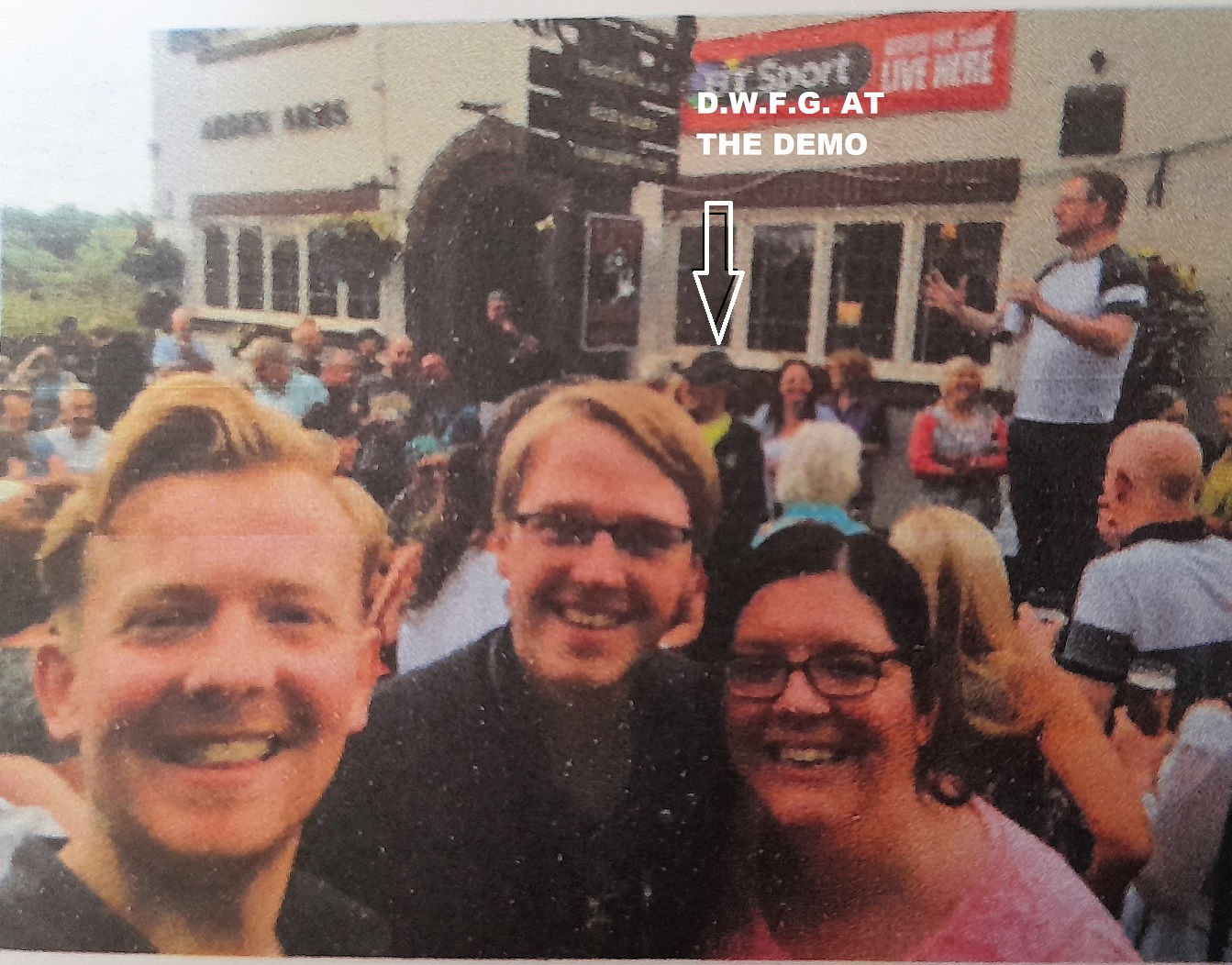 George, Jack & Claire (D.W.F.G. arrowed)
We do not cover politics on this site but these three people work exceedingly hard for the local community and have supported our activities consistently.
________________________
Within the next week or two all players who attend will be handed a questionnaire to help us decide future planning when restrictions hopefully are lifted , relative normality beckons and and most of us will have had two jabs. We need to know what kind of game you want, and how much commitment you can offer to the game you want, plus how interested are you in widening your experience of walking football.
2.4.21
a message from Mike...rock solid sweeper -keeper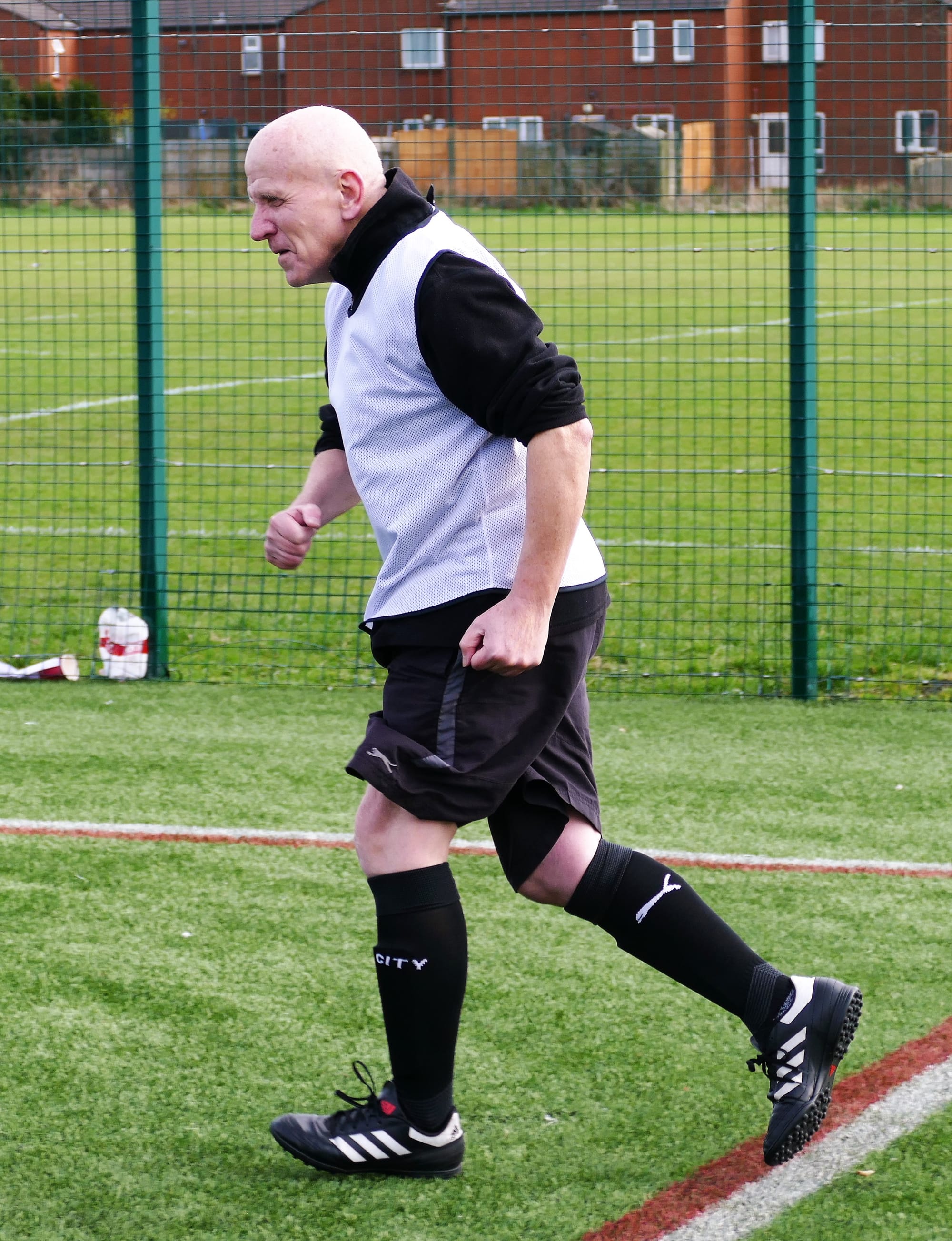 Mike Taylor


"Thank you, the Committee, Referee's and All participants for today's session. It is fantastic to be back playing and seeing everybody , Have a happy Easter and a good weekend."
1.4.21
Action Camera trial - DEBUT FOOTAGE
THURSDAY QUOTES
"Thanks Alan and all the committee who made it happen in getting WF back on. lt was a joy to play again all be it very cautiously in my case. as l had a heart attack at the end of October and then caught covid in hospital. Onwards and upwards now."

Ken Dean

"Just a quick thank you to all that helped put on today's sessions,it was great to be back and was enjoyed by all."

Stephen Stafford

"Here here well said Stephen thoroughly enjoyed today. Big thanks to all who make Striders top of the shop."

Tracey Blanchard

"Great to be back at King st. this morning, thanks to all involved with organising it. Thoroughly enjoyed it."

John Leech

"Big THANK YOU to Alan and all the committee for getting walking football back to Denton.Thanks all."

Frank Matthews

"Thoroughly enjoyed today great to be back many thanks to all the committee members for your efforts to make this possible!"

Les Breegan
RESUMPTION THREE MARK TWO
(news with a little match detail)
No fooling on this memorable day April 1st.
Though when I got home from King Street my better half Sue told me H.M. Queen had been on the 'phone to Oprah Winfrey to put her side of the story ! I fell for it and was aghast, for all of a few seconds ! Hands up (prank courtesy of the Daily Mail)
An excellent Thursday turn out saw almost forty people passing through the King Street gates across the two and a half hour session today. This session was taking off twelve months ago and none of the interruptions and lockdown have done anything to diminish the appetite for the brand of walking football we play.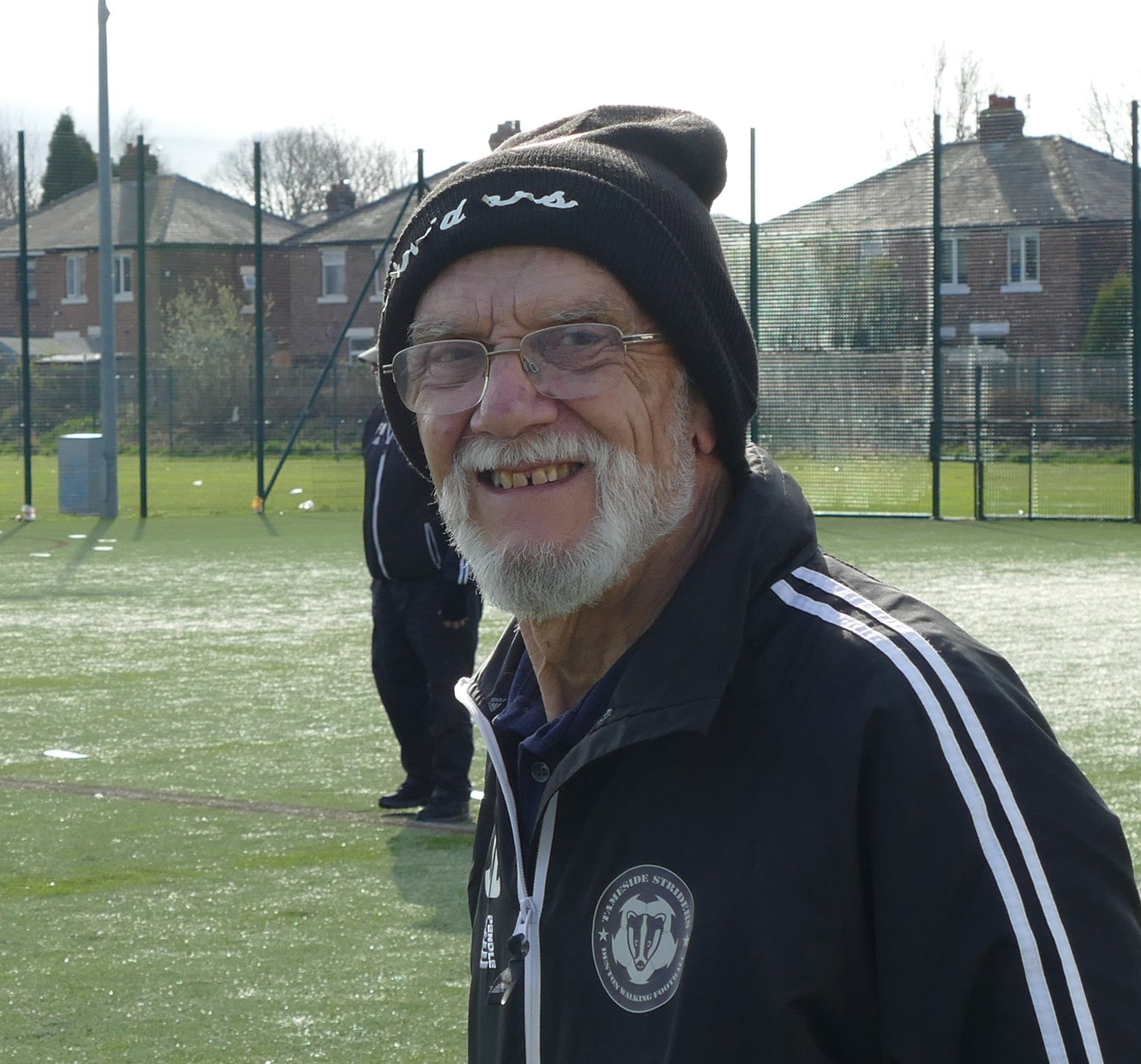 John Boyle
John Boyle came out from Northenden to check in with us and stayed for a while. He has a leg problem after some heavy lifting on his allotment - good to see you John but take it easy. Hope you can play again before too long.
A Herculean effort from David Partington with two warm ups, an energy sapping 4 v. 5 where he was all over the pitch and then he Refereed a full game - he was also on target from distance and got the best out of his team mates with his energy and mobility thanks David.
Four games of almost five a side today then. Yours truly played in one half sharing Refereeing duties with Chairman Gordon Nixon. On the other pitch Tony Cravagan unselfishly officiated a full game and then shared a half each with Colin Fielding to get some game time into his legs. The Marple man was pleased to get on the scoresheet which was the icing on what he later described a brilliant morning !
Everybody seemed pleased to be back. Some shirts were distributed to those who didn't have them previously, good to see more of the black and white stripes being worn.
Thanks to Roger Place for the donation - very useful indeed.
Great to see Ken Dean back after illness, looking very sprightly on the pitch.
There was a chill in the air in contrast to Tuesday, the wind coming in from the north-east I think, bringing some North Sea cold to the proceedings but no complaints - it was dry !
I don't think I recorded a single run in the half a game I Refereed, there seemed to be an absence of penalty kicks across the whole proceedings as everyone seemed to hit the ground walking - or giving a good impression of not running !
Peter Wright was missed, hope your leg is soon better Pete.
A mention for Gordon Nixon who made way for me in the second half on pitch one. Thanks. It was great to find Ken Thomas thirsty for goals, a need I helped quench with a few assists later chipping in with a couple of 'pots' my own. Ken though was 'on fire! slotting home three in about five minutes ! (we should mention it's easier with no goalie ! ) A pleasure to play on that black bibbed team today.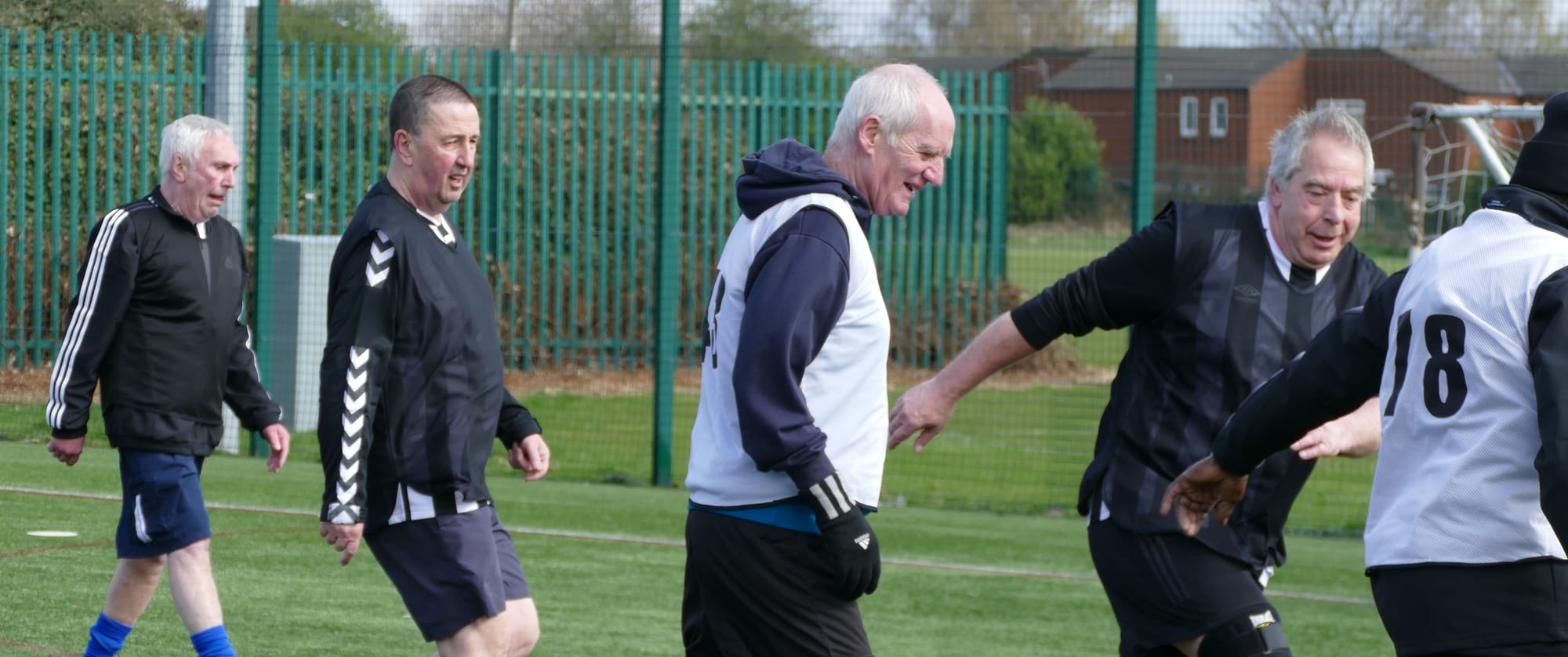 Peter Smith was the lynchpin for our side and what a solid defence we had with Nigel Metcalfe in form. Roger Place also combined well in midfield. Conversely , what a contribution Roy Smith made for the White team ! Sweeper / keeper extraordinaire and also scoring a beauty from distance. Keith Oldham and Mike Caldwell were the main threats in white's offensive half. The mighty Quinn doing his best to staunch the black tide.
- - - - -
All players were reminded of the photo opportunity that's detailed below. Everyone needs to select at least a couple of shots so they can feature in our photographic history.
That history was augmented today, we'll have links later on the Thursday session page.
Don't be backward at coming forward. Be a part of it.
Remember if you spot more shots you'd like to own there's nothing to stop you downloading them and arranging your own prints. All are free to download. Plenty to go at !
A little bit of video and a some photographs - featuring a few 'lockdown locks' (a fair few of us have grown what's left of our hair) will follow on the Thursday page later, or tomorrow. These are busy days. Sitting here now I'm already stiffening up. Left shoulder and right buttock in particular ! Make of that what you might. Time for a hot 'Radox' bath.
Alan Richards
GOOD NEWS WEEK
Hedgehoppers Anonymous, remember them? All R.A.F. lads who formed a pop group and had a hit ! 1966 - ish ?
What a great year that was for all sorts of reasons...and this has been a good week for our group with 'Resumption 3' continuing tomorrow and the following development today...
For the third time on our relatively short history we have been nominated for some financial support from 'Team Denton South' Councillors in the form of a three figure grant via Tameside Council.
This time , after committee discussion we intend to use the money to commission some photobooks drawing upon the best of the six thousand photographs in our archive at this link...
www.flickr.com/photos/stridershots/albums
All players have the chance to nominate a couple of their favourite pictures to appear in these books. Just browse the albums at the above link and choose ones you especially like, it could be one of you, perhaps a portrait or an action shot note the album and the reference number and email them to admin@tamesidestridersdenton.org or alternatively jot down the details and hand them to any committee member at one of the sessions. The books will make appearances at social functions and also at King Street when we are allowed to assemble indoors once again. We're building a heritage for those who follow us...
...The exact format is not yet settled but these books will take some time to compile, so please select any photo's you want included by the end of next week 10th. April.
Many thanks to Claire Reid, Jack Naylor and George Newton, 'Team Denton South' pictured below - whatever your politics there is no doubting the commitment to our local community from this team.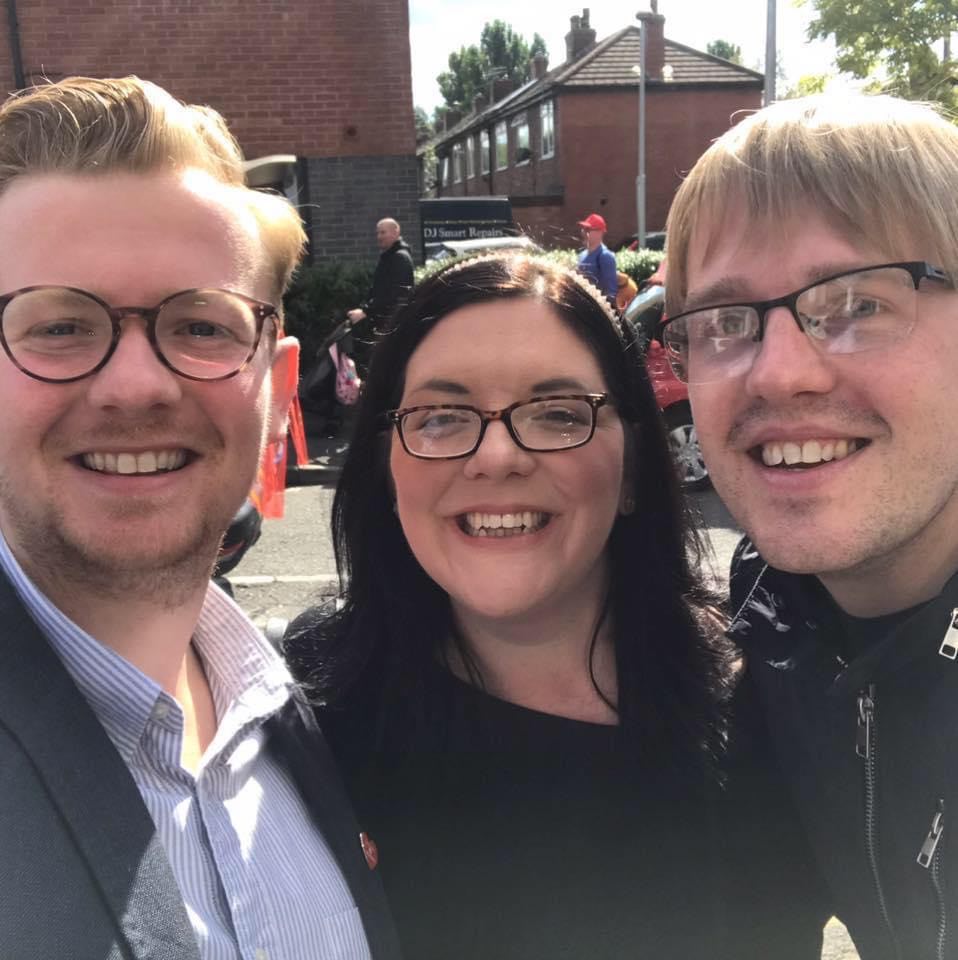 George, Claire and Jack
____________________________________
31.3.21 - there's a link to forty-odd photographs and a few odd lockdown hairstyles on the Tuesday session page. Not everything in black and white makes sense, either ! We welcomed a Saint, and had no sinners from what could glean. Not much running going on - apparently. Certainly still photo's have the edge on video in that regard.
---
30.3.21

"What a great day to restart. A couple of close games for the overs. We (blacks) won 4-3 in a closely "fought" match. I believe the other game ended up 5-4 " - Steve Amison

"It was good to be back playing Walking Football today. Great bunch of guys, good fun, good quality games. Thanks to Garry and all those who refereed and thanks to Alan and the rest of the committee for organising the day. It was great to be back" - Colin Fielding

"Well done to the committee who made it happen and to everyone who attended and made it a day to remember. Really enjoyed it. Great to be back" - Bill Lancashire

"Thanks to everyone who made it a great day especially the hard working referees and committee! - Keith Yardley

"Was good to see you and all the lads today,Thanks to Gary Alan & Tony reffing the games .a special group of people indeed - David Partington"

"Just to say how good it was to be back playing today and to see everybody, long may it continue" - Gordon Nixon
---
Steve Wingrove , sporting a new lockdown barnet
pots-a-pen
only fourteen metres and no 'keeper...
..but we've seen plenty missed !
30.3.21
TAKE THAT ! Resumption three...but are we back for good ?
We had just over forty Striders at King Street today in Resumption sunshine.
Most were there to play of course but fortunately we had Referee Garry Pearce across the whole session, and one or two others put in an appearance. Clem White strolled by with one of his Daughters. We also saw a rare appearance from Peter Brammer who has not played with us for a couple of years at least.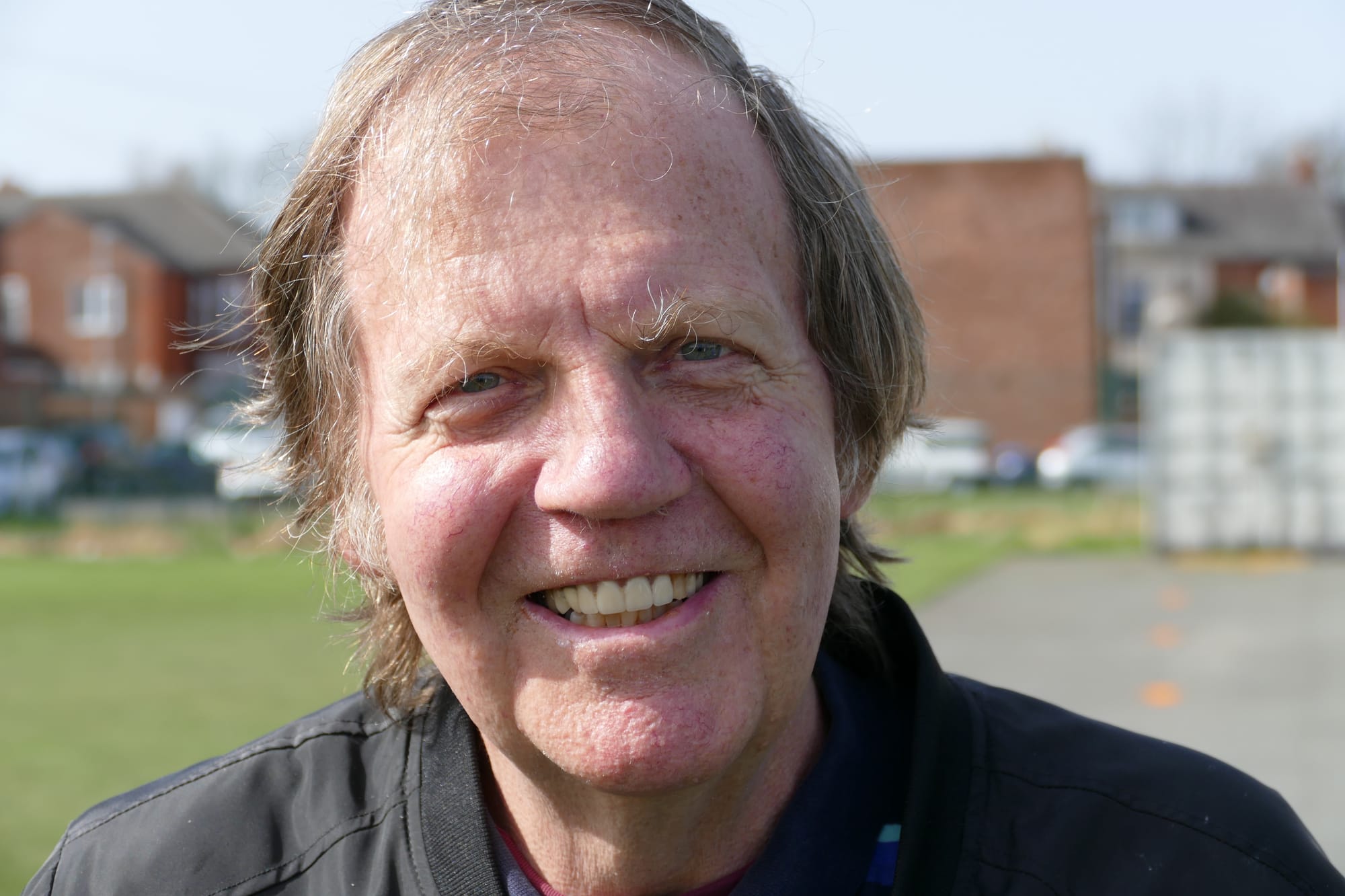 Peter Brammer
Both pitches were utilised for four, five-a-side games. Yours truly Refereed one half on pitch number two and played in the second half. A tremendous early hat trick from Brian Stafford put the white team on the rack but it ended up a closer affair. Tony Cravagan took over the officiating in the second half.
David Gibbons making his mark on this game with his presence and his advice to others.
There was not much calling for the ball at all in this one. I understand from Garry that the game on pitch one was quite close up to half time, not sure what happened later.
We had a new man join the Under's ranks and seventeen or so of them turned up at 11-00am. Stuart Saint has played plenty of walking football at other venues but wanted to sample the Denton air and our somewhat unique atmosphere seemed to appeal. Stuart took home his bib to launder and will be back next week to sign on. We'll sort out a squad number in due course.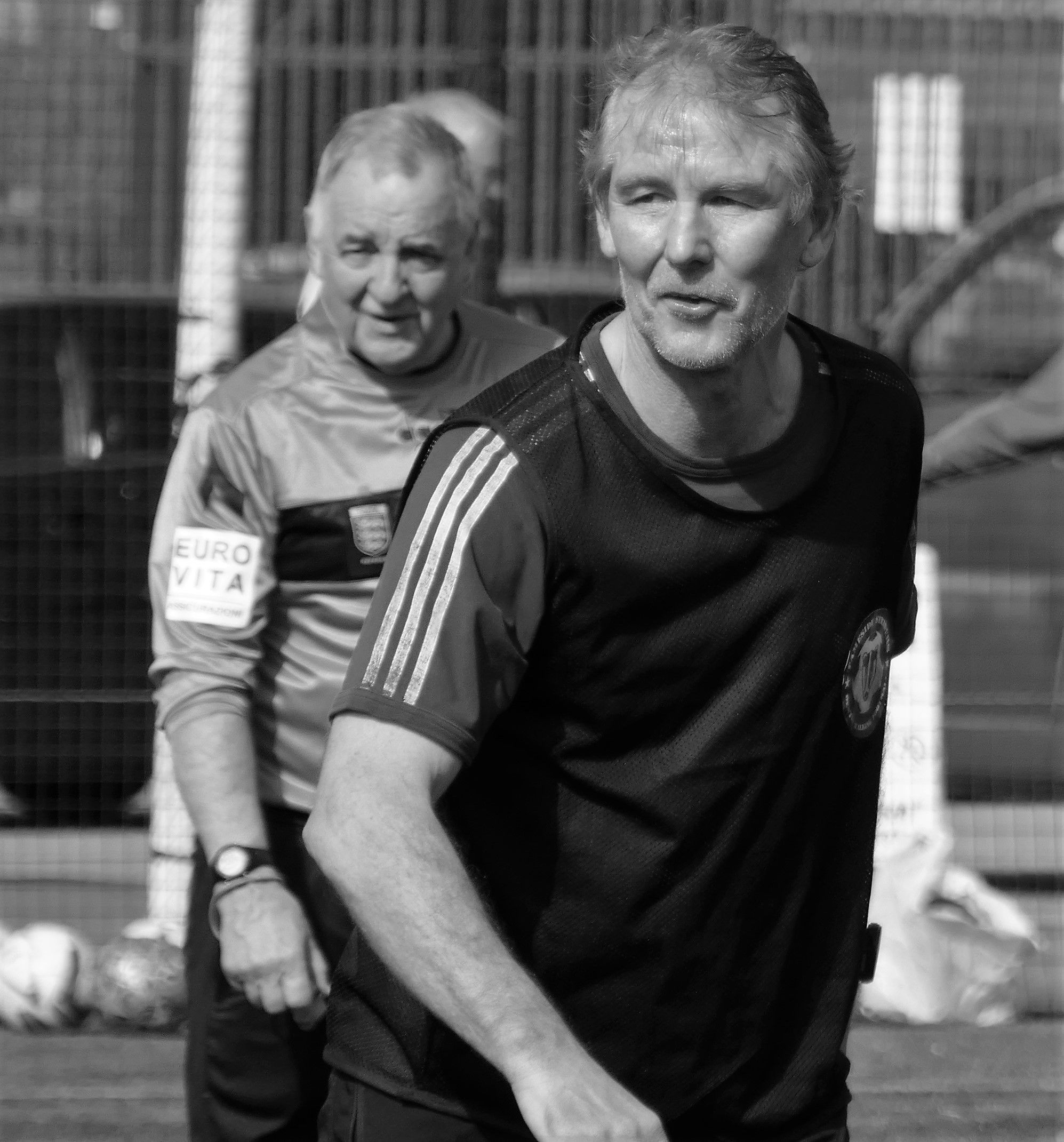 Peter Quinn stepped into the Refereeing breach during Unders hour. I didn't see too much of what went in these games but did capture a Steve Wingrove penalty from fourteen metres. Always easier with no goalkeeper to beat, but plenty have been missed. A few players 'lingered' into the second hour but these opportunities will be fewer as we go forward, everyone who likes an extra game should bear that in mind.
We are getting calls regularly from people wanting to join us but a lid must be kept on numbers. Today was a day we could have stayed around the pitches all afternoon but when the weather normalises, five hours across two days is enough - sometimes it's more than enough.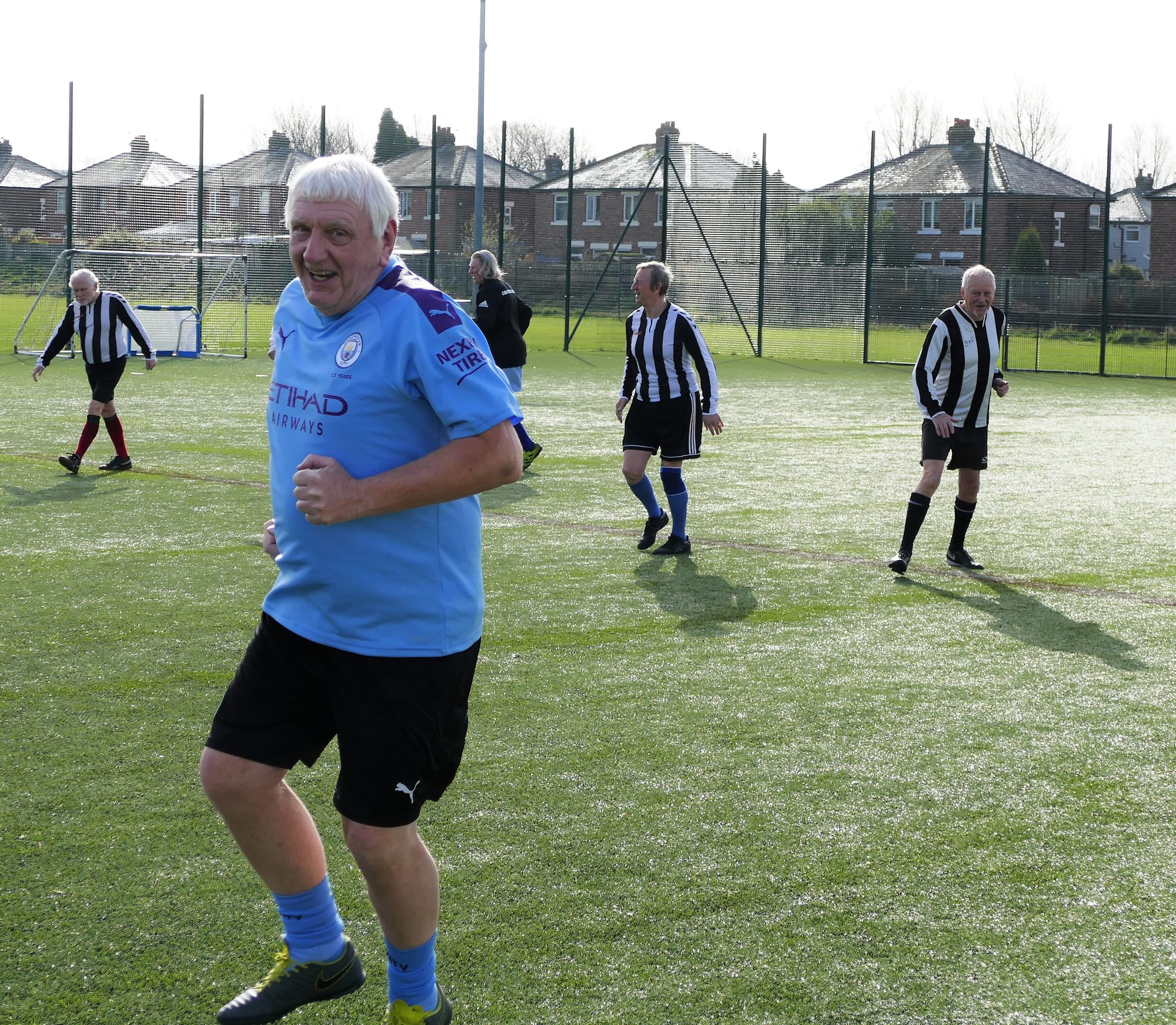 Chairman Gordon, clearly pleased to be back
There were several recipients of Striders striped shirts today. A few more were worn and it's good to see the black and white 'Badger' look at King Street. One day soon we'll have another photo shoot in front of the backdrop board.
It's been a bit of a long slog since Christmas, but we made it and thanks to everyone who 'hit the ground walking' today, and to those who couldn't make it for whatever reason, we wish you well and hope to see you soon.
We go again on Thursday, please consult the bulletin board for your slot if you haven't already done so.
We will have further snippets and photo's to come, linked on the Tuesday session page in due course.
_________________________
The Heywood League's website highlights an extensive new strategy for 'grassroots' football from the F.A.
Walking football is mentioned. Who knows if this will amount to anything much for our unique game but you can read about it by following the link within the introduction
_______________
The weather forecast looks promising for our return. There's not long to wait now until we can start up again. Thanks to all those who have kept in touch via this website and other media. The aim was to maintain contact with one another, and give a source for news - even if it's been thin on the ground at times, surely the nadir was a ball inflation video - oh well.
Follow the protocols for a safe return
See you Tuesday and Thursday
_________________________________
Steve Stafford won last weeks 'Quiz by Gordon'
An enjoyable affair with a good mix of questions and a novel approach to scoring points...the future of quizzes is unclear
and now for something completely different...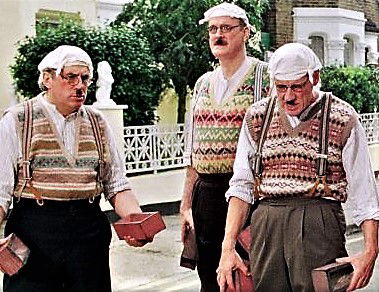 WALKING FOOTBALL ASSOCIATION : RETURN TO PLAY GUIDE
Do you know your place? - 'elite or non-elite' ?
Find out:
____________________________
A REMINDER THAT ASTRO TRAINERS ARE THE ONLY ACCEPTABLE FOOTWEAR FOR OUR SESSIONS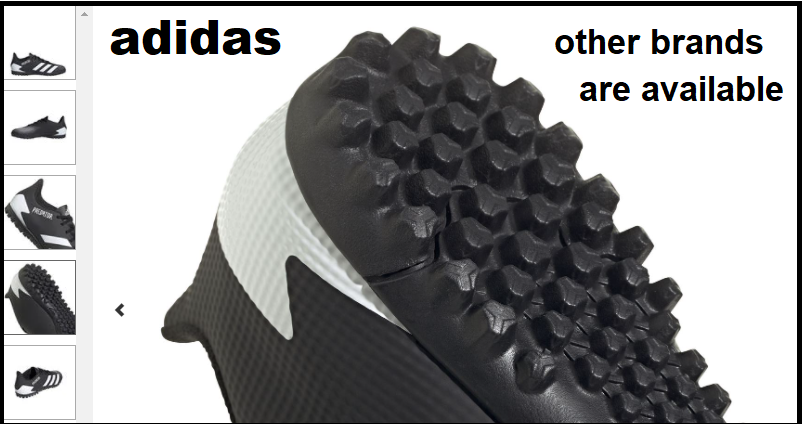 Check list for next week.1. BLACK AND WHITE BIB
2. BRING THE RIGHT MONEY IN COIN PLEASE
3.NO REFRESHMENTS AVAILABLE UNTIL 12th. April
NO GATHERING IN GROUPS OF MORE THAN SIX AWAY
FROM THE PITCH - thanks
if you feel unwell or share your life with someone who is displaying symptoms of Covid 19 please stay away for now.
24.3.21
F.A. GUIDELINES NOW IN
Main points. Travel okay but don't car share.
NO BREWS UNTIL APRIL 12th. even outside. No spectators until that date either.
Some kind of Covid Register still required. Track and Trace must be maintained but if you can scan in to the app no need to record on paper. Our own Covid Register will be paper based - sign to say you have no symptoms and have not been in contact with anyone who has JUST LIKE LAST YEAR.
Social distancing MUST be maintained off the pitch.
Bring a face covering in case you need to go inside the building. Toilets will be open but no changing rooms. Maintain hand hygiene do NOT handle the ball unnecessarily.
FROM D.W.F.G. Our Committee members will remind you to distance if you are standing too close together out side of game time. Please co-operate this is for your benefit as much as anyone else's.
Who attends and when ?
Please look at the page RESUMPTION 3 from the menu above and CLICK ON THE 'R'
IF YOU FEEL UNWELL STAY AT HOME
We've been here before, let's hope this is the last time
_______________
23rd.March 2021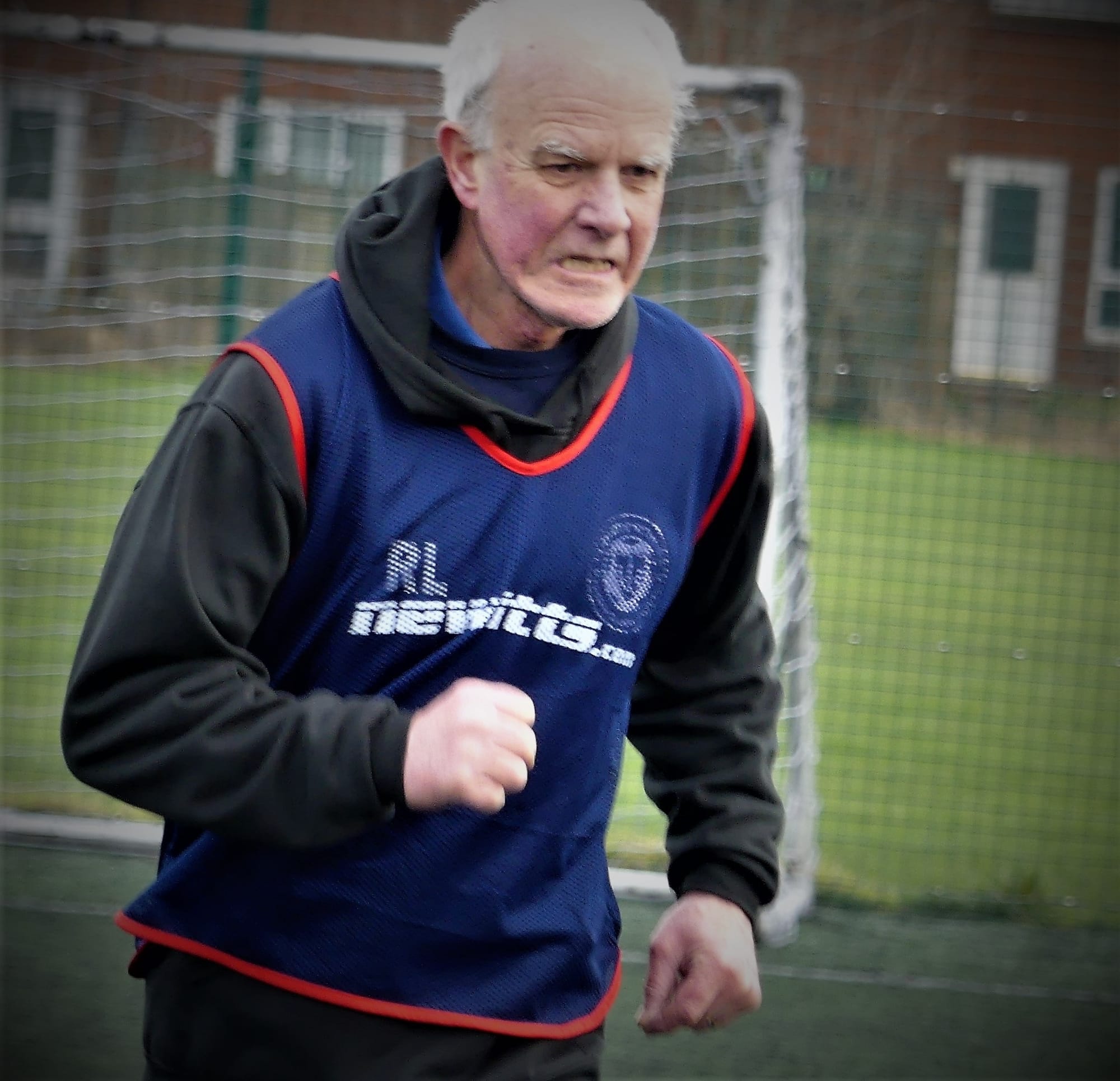 Rob Lake

The last in our current series of'profiles' features Rob Lake.
_______________________________________________________________
22nd. March 2021
Gordon Nixon will be running Wednesday's quiz for those that wish to take part. 4-00pm. on Striders 'Whats App' group .
__________________________________________________
__________________
21.3.21
Yesterday's committee meeting went thus...
Typically, the first committee 'Zoom' type meeting to be recorded was beset with technical problems to begin with.
Sod's law, there are usually fewer hitches.
This turned out to be quite funny really, and a short video is available to members if you want it.
The attendees were told agenda item number one - Resumption guidance from the F.A. has not yet materialised. This informs D.Y.F.C. what rules they have to abide by, and by implication we must abide by too.
We can only hope the advice is forthcoming in the next few days - time is running short.
The 'Tiger Feet' festival will probably be re-arranged for Summer 2021. The indoor element may need re-examination. We will Contact Hyde United but the exact format is yet to be decided. It is more important to get our regular sessions up and running before planning any extra curricular activity. It also makes sense to hold 'Friday Night Lights' over to the Autumn when the nights are drawing in once again after a hopefully glorious Summer and several months of uninterrupted walking football. All names gathered for that will stay in the loop.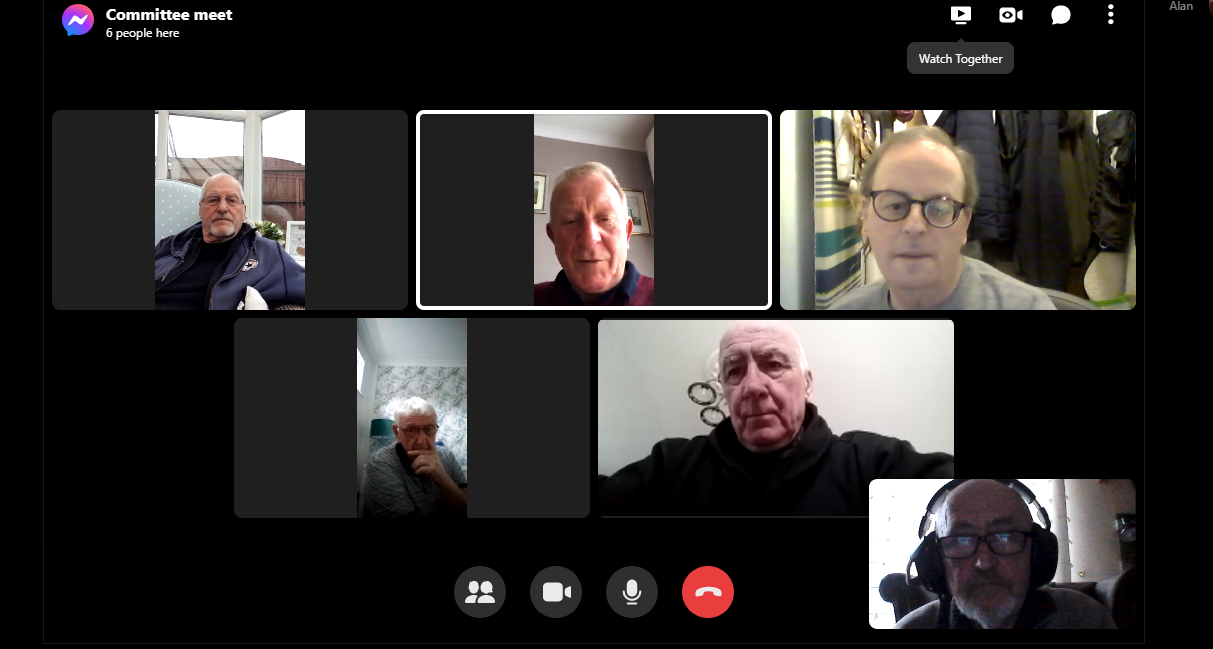 Alan Richards entered a draw to win a football kit. He got lucky again, and won it.
We have lots of kit already of course, but this is very good gear from Adidas, allegedly with a retail value of over £500. Black with three white stripes in the Adidas tradition.
The kit will be split. and means that the Hummel Black & White striped shirts we already have spare (brand new with tags) in a variety of sizes now represent full kits, augmented with these quality Adidas shorts and socks. All at no cost to the group save the price of a holdall to keep it in. £14.99. We could field four teams simultaneously in our own colours ! The Hummel's would need numbering though to comply with approved rules which make complete sense.
The Walking Football Association are planning changes in their constitution. We will keep a close eye on developments. Applying for affiliation once again is a possibility at some point subject to what these changes are. We are already affiliated to the F.A. via Denton Youth F.C. the two organisations (W.F.A. and F.A.) are not mutually exclusive. Or at least they weren't the last we knew.
The website domain name renewal (tamesidestridersdenton.org) will be finalised before the end of the month and will run for a further two years. It will cost about £20. Website hosting renewal last April was a two year deal, it's more expensive but will not be due for renewal until April 2022 when our online presence will be reviewed. The 'new' website has consistently attracted several hundreds of visits each week, during a period in which we haven't even been playing !
It looks like our recent request for funding of four photo books has been declined. If this turns out to be the case then sometime later in the year we will get some of our best material printed and compile our own albums to preserve our history for those who follow us. Photobooks on a budget, if you like.
Calendar's were also mentioned. If we made these for sale then it would be difficult to satisfy the need to feature everybody within the pages. A remarkably cheap option was mentioned and Colin Fielding is to look into the prices he quoted and drive such a project forward if he feels it's viable. These would be sold at cost as we are of course a 'not for profit organisation'. (just the opposite in fact as demonstrated by the subsidised sale of face coverings last year)
Members will be surveyed in early summer on issues we need to examine going forward. This might be a mix of online and paper questionnaire. We all recognise the need to canvas opinion going forward.
Finally, it's more than obvious as we all age as a group that we will be beset by health problems, some fairly minor, but some potentially serious. Without naming names we wish all of our members the best of luck going forward with any treatment they may undergo to restore them to rude health. This serves to remind us all how lucky we are to keep going with this game and treat it with the perspective it merits. A leisure pursuit designed and created to keep us all healthy. Alive and kicking !
The meeting closed at 5-10pm.
As soon as we know what we can do when we get back we will publish on the website, social media platforms and some players may get a telephone call. Thank you.
Member's can watch the 'drama' and the comedy of errors as the meeting unfolds if they email admin@tamesidestridersdenton.org - you'll get the link to a ten minute clip....
_____________________________________________________
20.3.21
RUB-a-DUB-DUB
THREE NEW BALLS IN A TUB !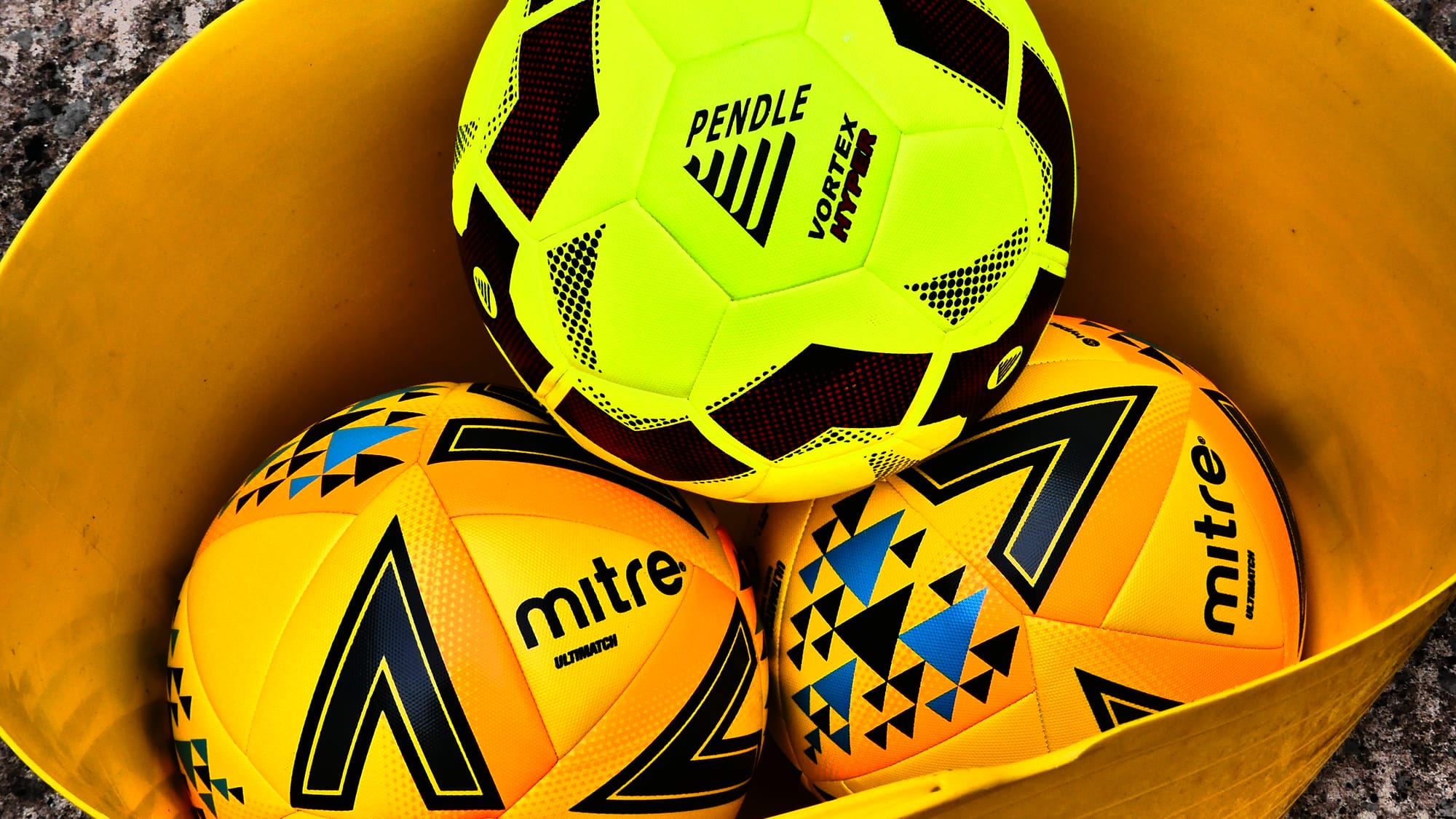 match balls to augment our stock_______________________
SOMETHING FOR THE WEEKEND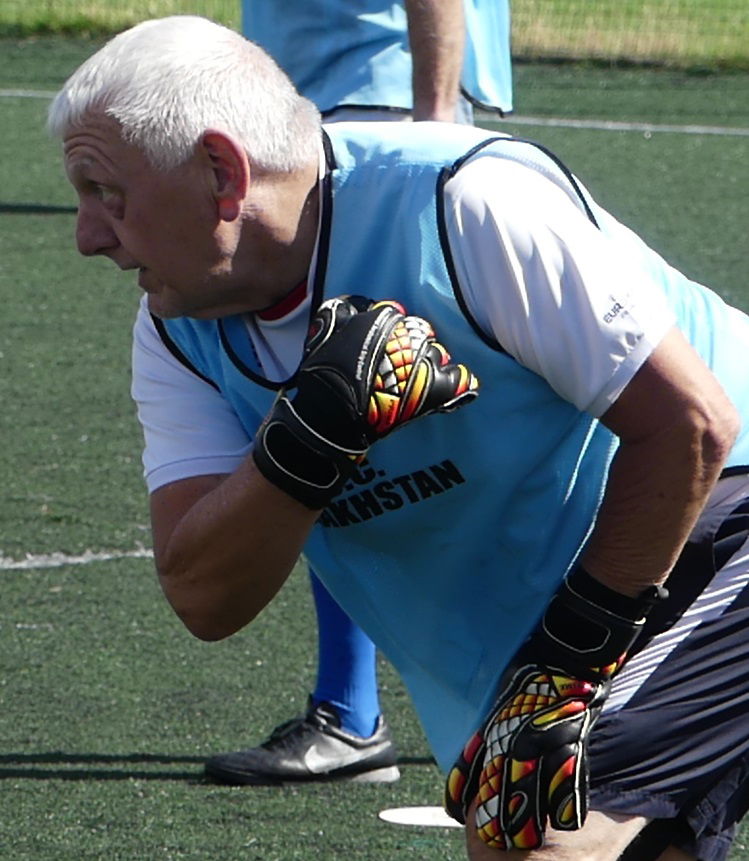 https://www.tamesidestridersdenton.org/player-profiles/gordon-nixon
_________________________________