Colin Fielding was born in 1945 just after the end of the second world war.He was an only child but his family support network was assured with numerous cousins many of whom of a similar age all lived nearby in Hadfield, Derbyshire.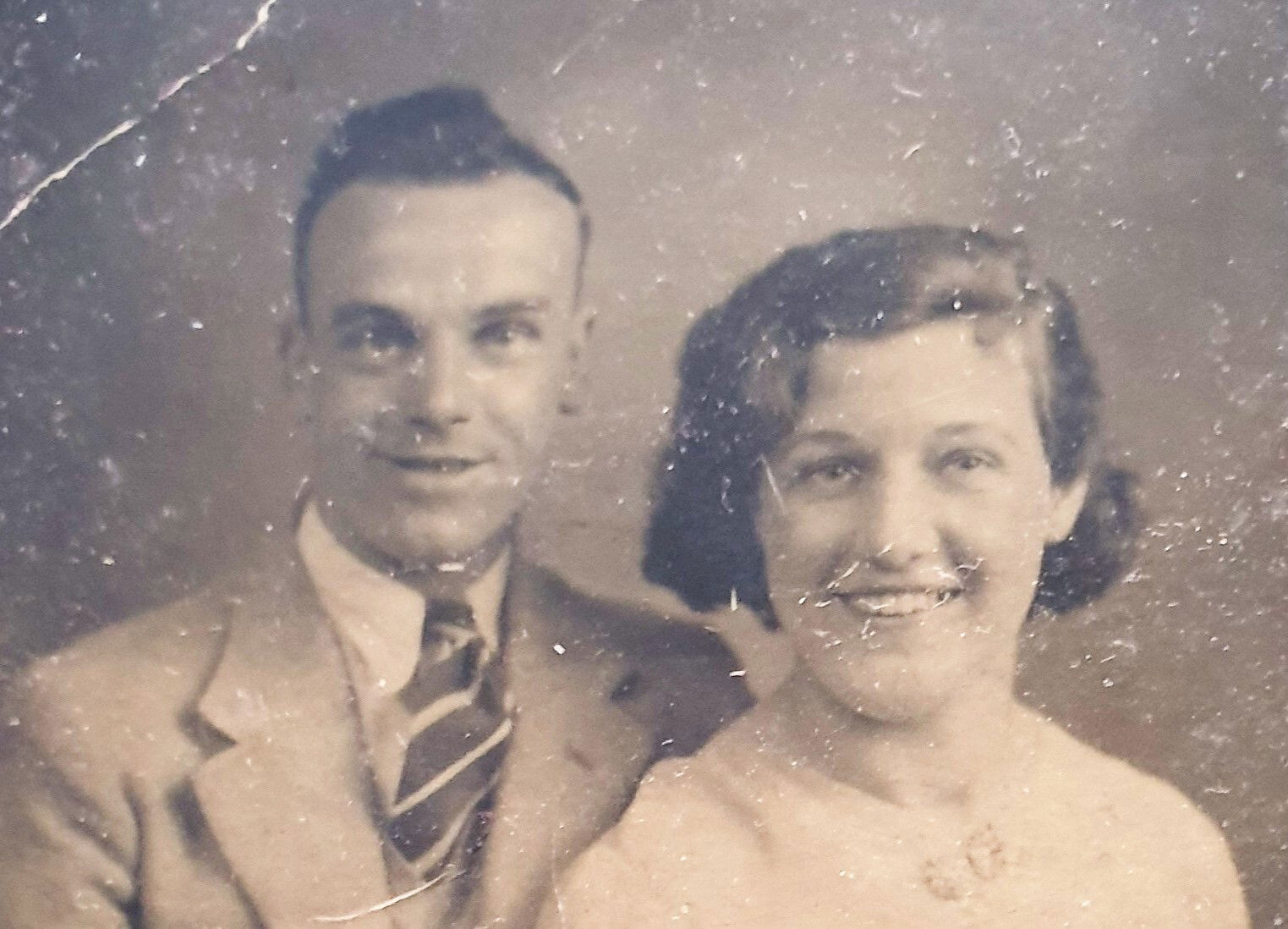 Joe and Martha FieldingColin's Mum Martha was a 'lovely' woman who later took on projectionist duties at the local cinema, where Colin would help out. Choosing the music and dimming the lights. Col's Dad Joe was busy in the textile trade locally, like so many others. The terraced home was sandwiched between a bakery and a grocer's shop. The smell of freshly baked bread would wake the family up regularly. The only downside were the Cockroaches , attracted by the heat and darkness of the recesses all older homes have. Joe Fielding was adept at luring them to climb to a modest height over strategically placed bowls of beer, into which they'd fling themselves in a suicidal nose dive. Colin's regular early morning chore was to collect and dispose of the dead bodies.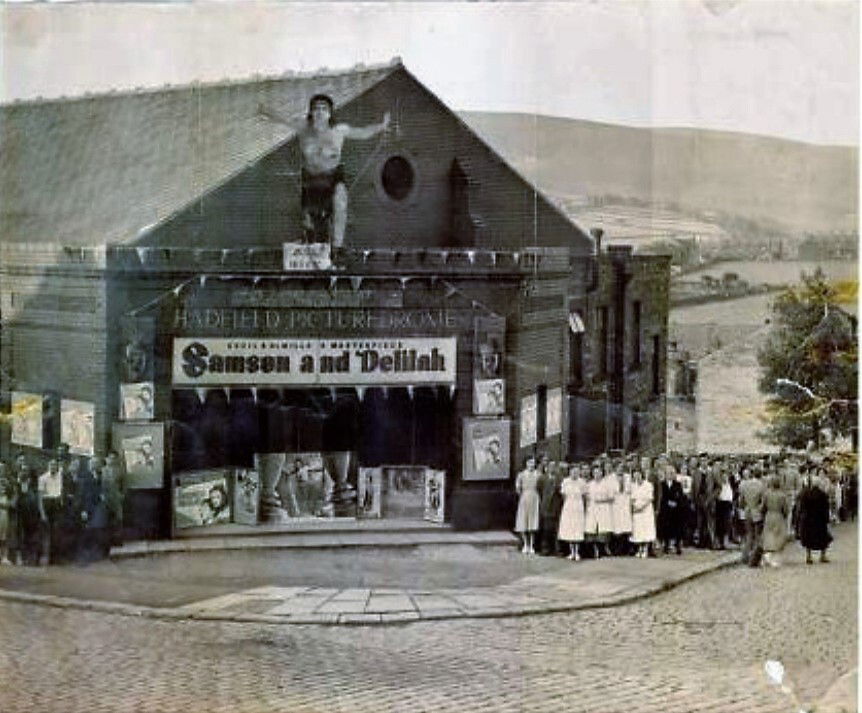 Hadfield Picturedome
He attended St.Andrew's Primary School but his main concern was to eek out every hour of daylight playing football with friends in Bankswood Park.
He had a rural upbringing, often helping out on a farm. One of his most vivid memories is seeing a large Bull on being 'introduced to a Cow ' ejaculate prematurely, all over the Farmer's son, Eugene.
Colin passed the eleven-plus examination and earned a place at Glossop Grammar School. Again, sport dominated his thoughts. Becoming Junor School 'Champion' He was a very useful athlete. Cross Country running was his forte. He was chosen to represent the region in a north of England cross-country championship at Lyme Park and finished fifth in a field of four hundred and fifty !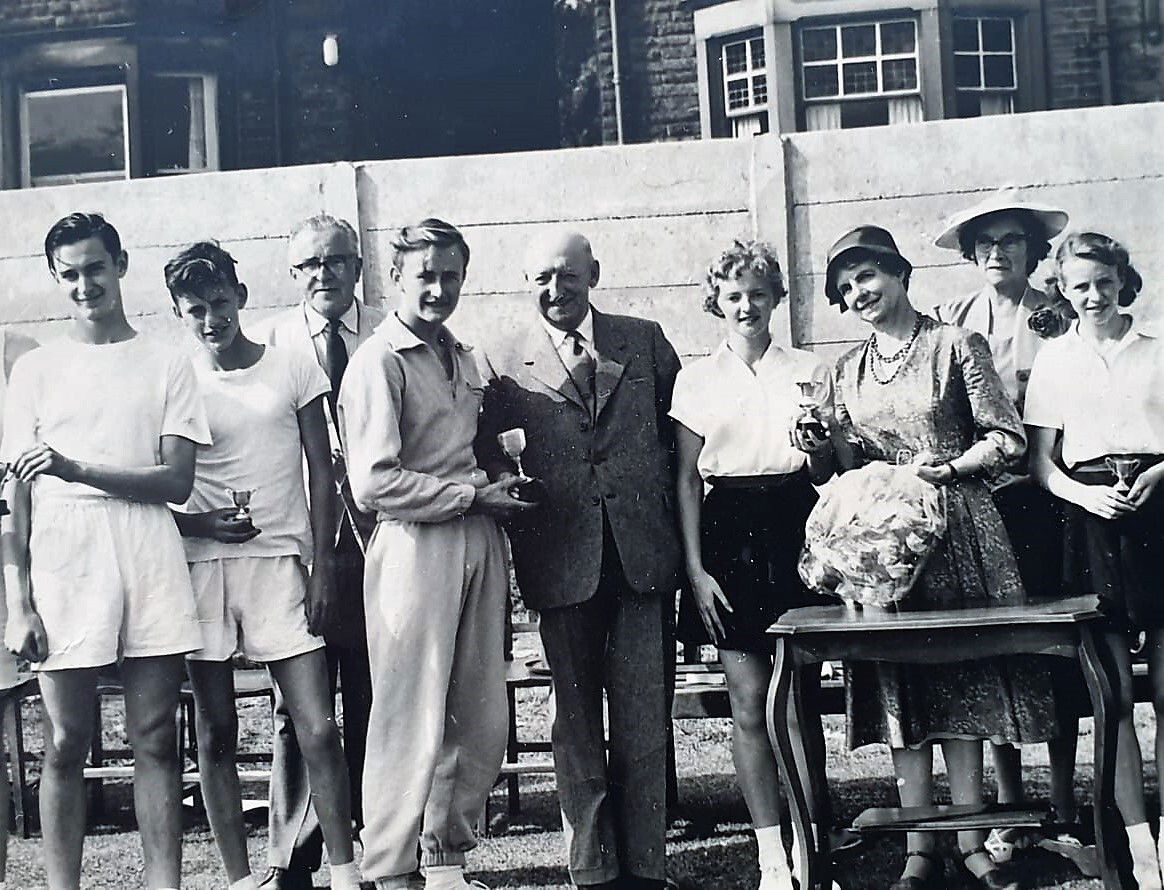 Junior School Champion picks up another pot
He was uprooted from his school though when Dad Joe got a job in Norfolk. The seaside playground of Great Yarmouth was to be his new home, but all that glittered was not gold. Busy and inviting in the summer, the winters were long. He'd earn a fiver a day on the fairground helping out on a 'Bingo' stall at weekends , but once the holidaymaker's had gone home the winters were long and dreary.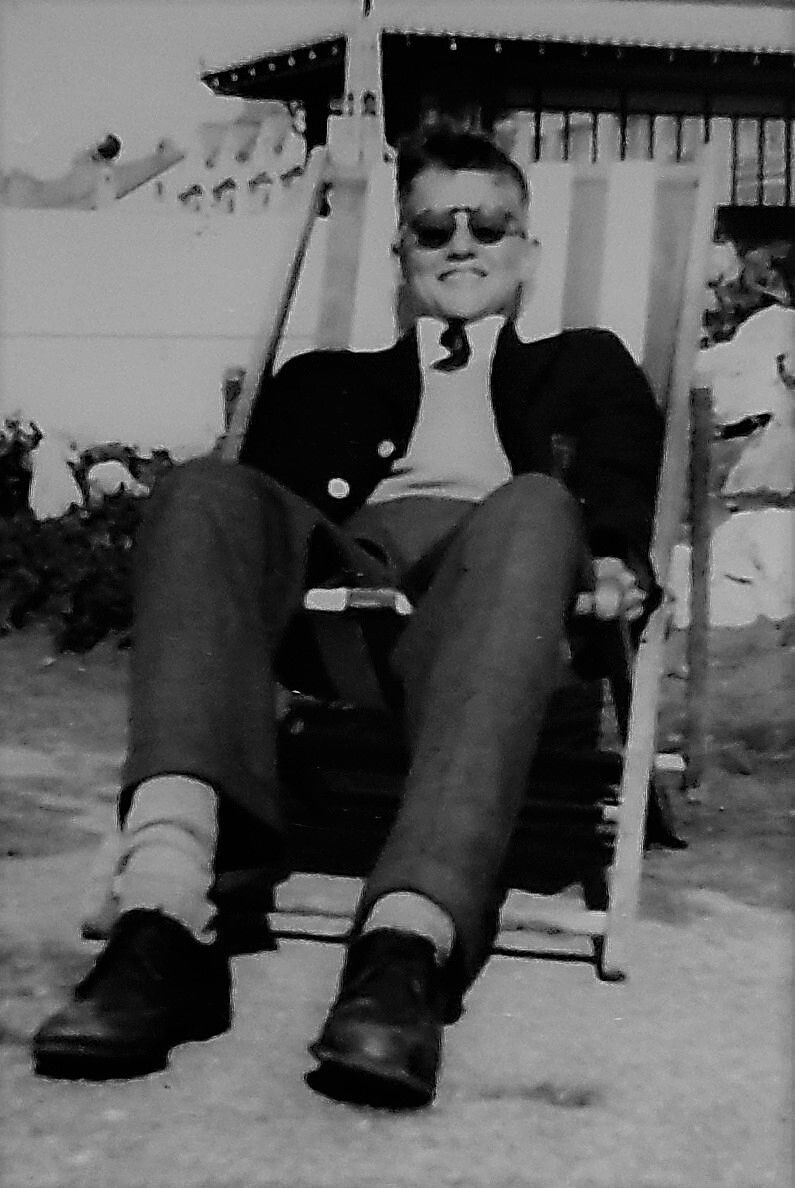 Fielding at fifteen - in Yarmouth
Staying on at his new school held no interest for the teenage Fielding, and he left school with five G.C.E. 'O' levels . He'd had enough of Yarmouth too, which for Colin was far from 'Great', and told Mum and Dad he was 'going home'. And so it came to pass that at sixteen going on seventeen he made the break from Parents, who reluctantly, but happily accepted his reasons.
The move back to the north-west involved stays with extended family. His first full time job was in nearby Hyde at Ashton Brothers textile mill. Fit and active, he'd gained part-time employment at weekends lugging coal sacks from the back of a lorry like this one.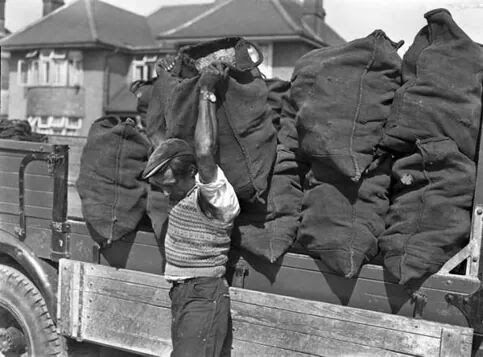 For less physical work though, his exam successes had stood him in good stead. He became a trainee 'time and motion' man walking around with a clipboard and stopwatch studying work practices and not to put to fine a point on it, looking for ways the company could save money. Never a really popular role with co-workers Colin can still hear the words of a certain song "Little Man You've Had a Busy Day' ringing out from the lasses on the looms.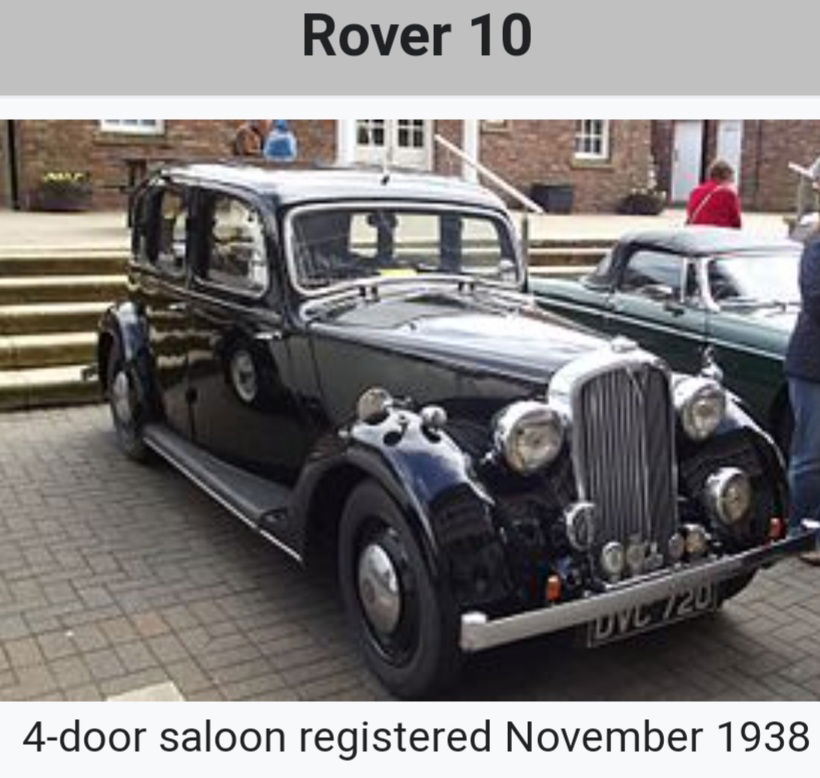 Now a car owner at a cost of thirty odd pounds, he drove a Rover, once owned by Wilfred Pickles no less !
Colin left Ashton Bros (by now Courtaulds) to manage a smaller related operation in Rochdale. Becoming skilled and increasingly qualified in Ergonomics and Management Strategies he entered the Chemical industry with a small firm in Failsworth.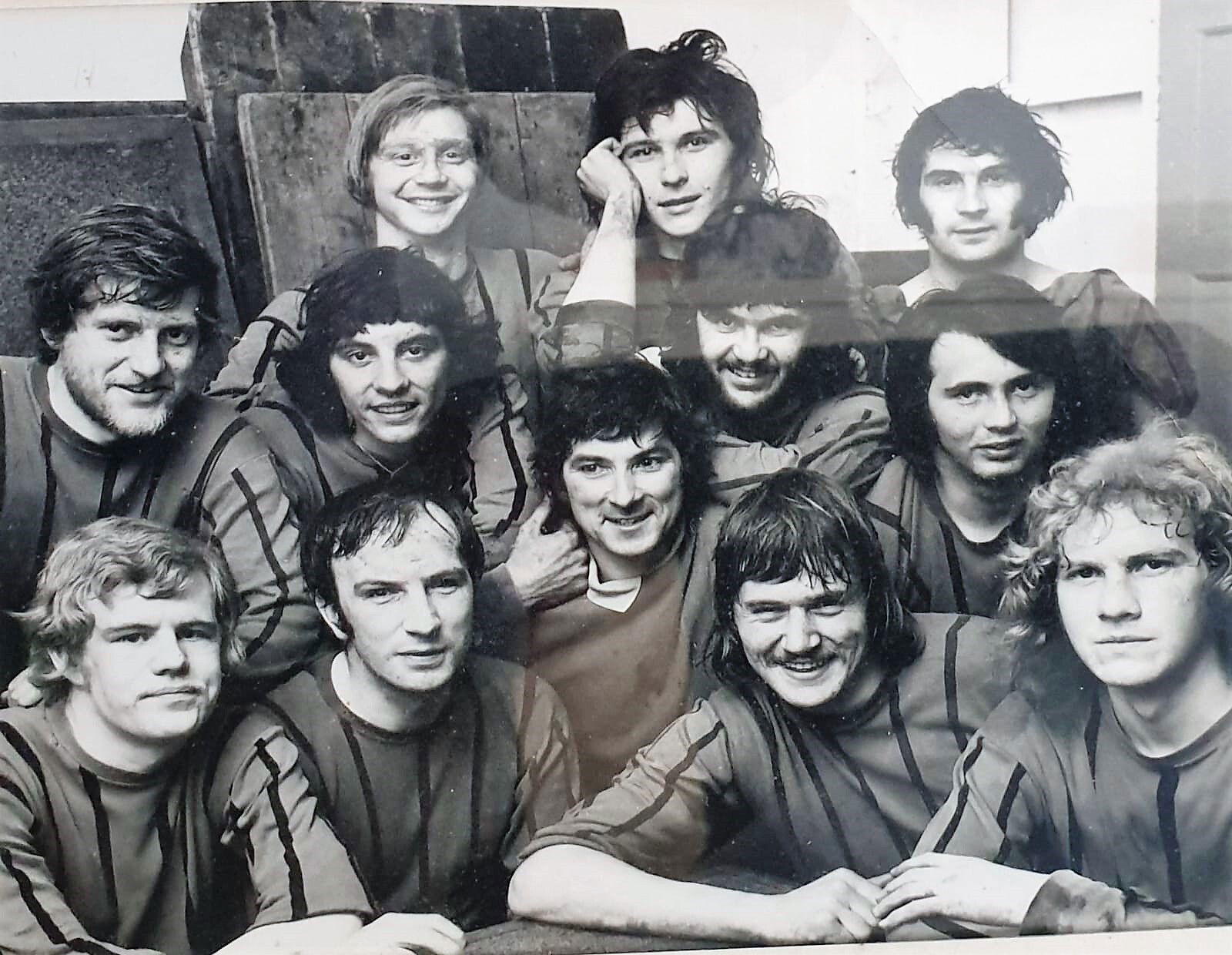 Colin ( middle-left) with team mates in stripes
A pair of fresh eyes looking at long established procedures, he was able to change fixed attitudes and get people working with greater efficiency. Still studying and now working for 'Qualitex' Yarns in Ashton-under-Lyne Colin had married by and they had two children Lisa and Carl.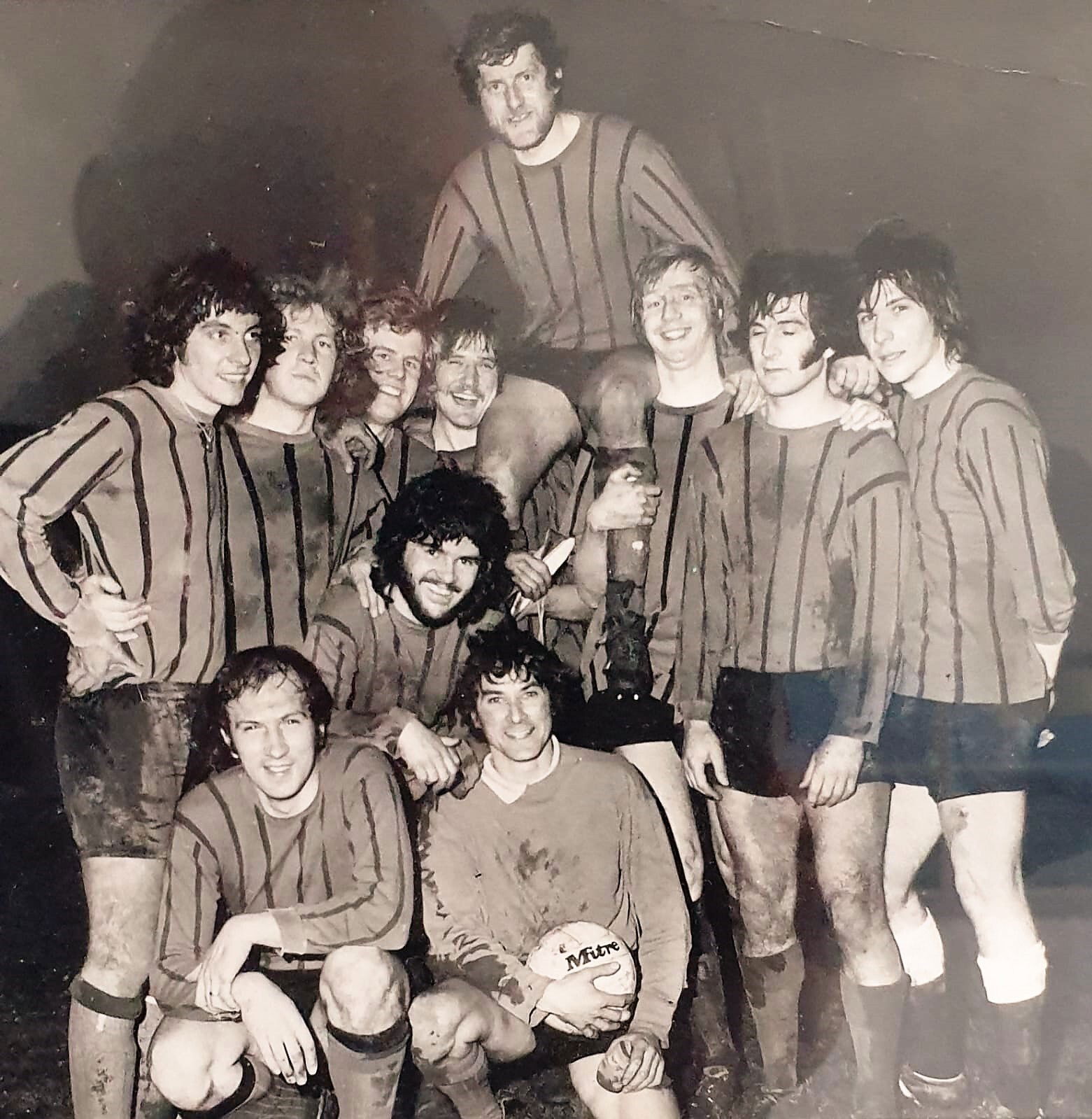 Col the Captain lifted aloft by Cup winning 'Glossopians'
Tiring of textiles he had an eye on Local Government and joined Salford Council as an Organisation and Methods Officer. Moving closer to home as local Government reorganisation took place in 1974 and the metropolitan borough of Tameside was created.
Colin played a lot of football while all of this was going on and was an uncompromising defender. Self admittedly going to great lengths to thwart opponents by almost any means, mostly fair, some foul. He also played Rugby in his thirties and wished he'd taken up the game earlier.
During his time at Tameside he over saw the introduction of a wheelie bin programme on the grounds of efficiency and ergonomic ease. A big improvement on operatives lugging black bin bags about.The number of bins has grown exponentially of course, in tandem with Colin's career as he climbed the Local Government ladder to become Director of Personnel (Human Resources in modern speak). A prestigious job, and he found it was a role he relished.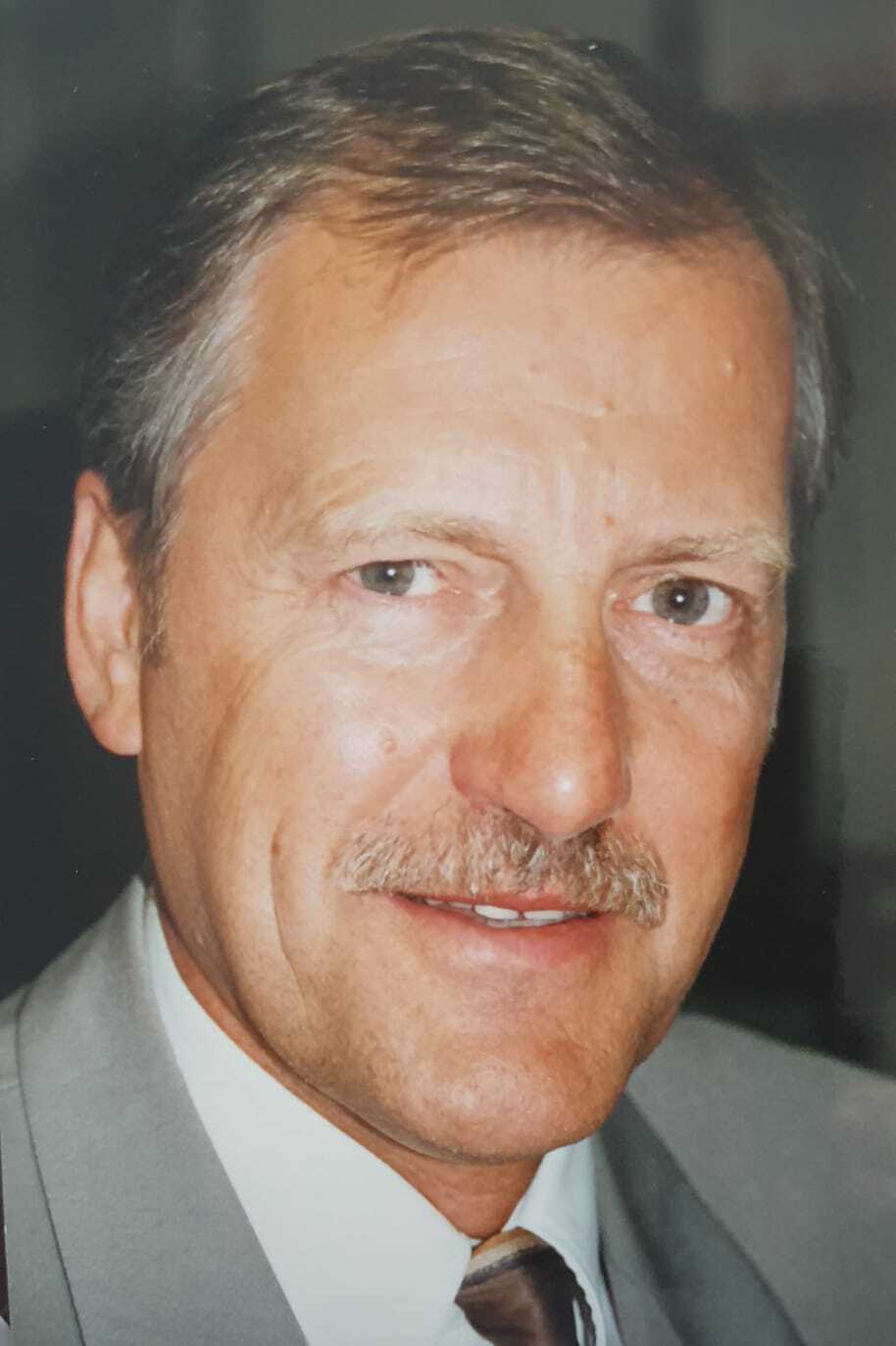 Colin's Council I.D. photo
He valued his fitness and his new role at Tameside meant he was given the opportunity to involve himself locally on the sports scene. He has ran in the 'tour of Tameside ( see video ) and has managed various teams teams even touring Italy with one of them. A particularly memorable game against Murata, sprang to mind. The top side in San Marino. They almost held them to a one-one draw on their own midden before a late winner tipped the scales the San Marino way . A Brazilian world cup winner skippered the local team !
Back at work now he also helped plan the massive investment Tameside put into their Leisure and Sport facilities in the 1990's.
Rewinding a decade or so and with one marriage not quite working out, it was a Godsend for Colin when he met Adele after two years of a 'single' life. They married in 1983 and have two children Ryan and Liann. Now with eight Grandchildren - all boys and two Great Grandchildren (one of each).
Tragedy visited the family when, after being diagnosed with terminal illness, Colin's oldest daughter Lisa died at the tender age of twenty five. Colin and Adele nursed Lisa throughout her illness, and her passing caused more pain than can be adequately described here.
Lisa did have a son, Daniel. Who grew up with family Fielding and has close bonds with them. Grandson Dan is now a strapping man in his thirties, and a similar age to Colin's other 'children'
Colin was now involved with Stalybridge Celtic Juniors, where he met Garry Pearce and Peter Quinn. They became friends. Col also served on the board of the Football Club too for a while, before moving on to Mossley Football Club where he became a Director once again.
By now he'd taken early retirement at the age of fifty seven ! Although for two years he helped launch the Tameside District Assembly, co-ordinating things between eight different former town and boroughs.
Also involved with a casting agency for young thespians he played football with a group of would be actors at Anfield. Scoring a goal at the Kop End. He's taken part in a production at Old Trafford where he was privy to an Alex Ferguson team talk, bumped into Cristiano Ronaldo no less at Bolton when he was involved in filming. Our man has also played football in Mexico City at the Aztec Stadium.
We can all see Colin is a man who has grabbed the bull of opportunity by the horns (possibly remembering his mate Eugene's experience at the other end, years ago).
Serving Hyde United, also as a member of the Board he recalls those few years with fondness. "Lovely people at all of these local clubs" he enthused. When Hyde began to share their ground with the newly Arab owned Manchester City Colin was involved with negotiations with the late City Secretary Bernard Halford. Negotiations which were lucrative enough for the club to ditch 'United' from their name for a time and Ewen Fields was painted blue! This may not have gone down well with long term supporters but needs must. It was too good an offer to refuse.Colin recalls sitting in the Director's Box chatting to Vincent Kompany. Yes he has moved in exalted circles on the football front.
A season ticket holder at Old Trafford for many seasons he recalls the early days "as mates we'd go in the train from Hadfield, I can remember being very close up to Duncan Edwards who seemed a giant of a man" His later favourites include George Best of course.
Colin developed a good relationship with Tommy Docherty, and had his ear and 'The Doc' would sometimes perform Q and A sessions at social functions.Colin took up walking football at Curzon initially. He had bumped into old friend Garry whilst out shopping and the rest is local history.We all know Colin.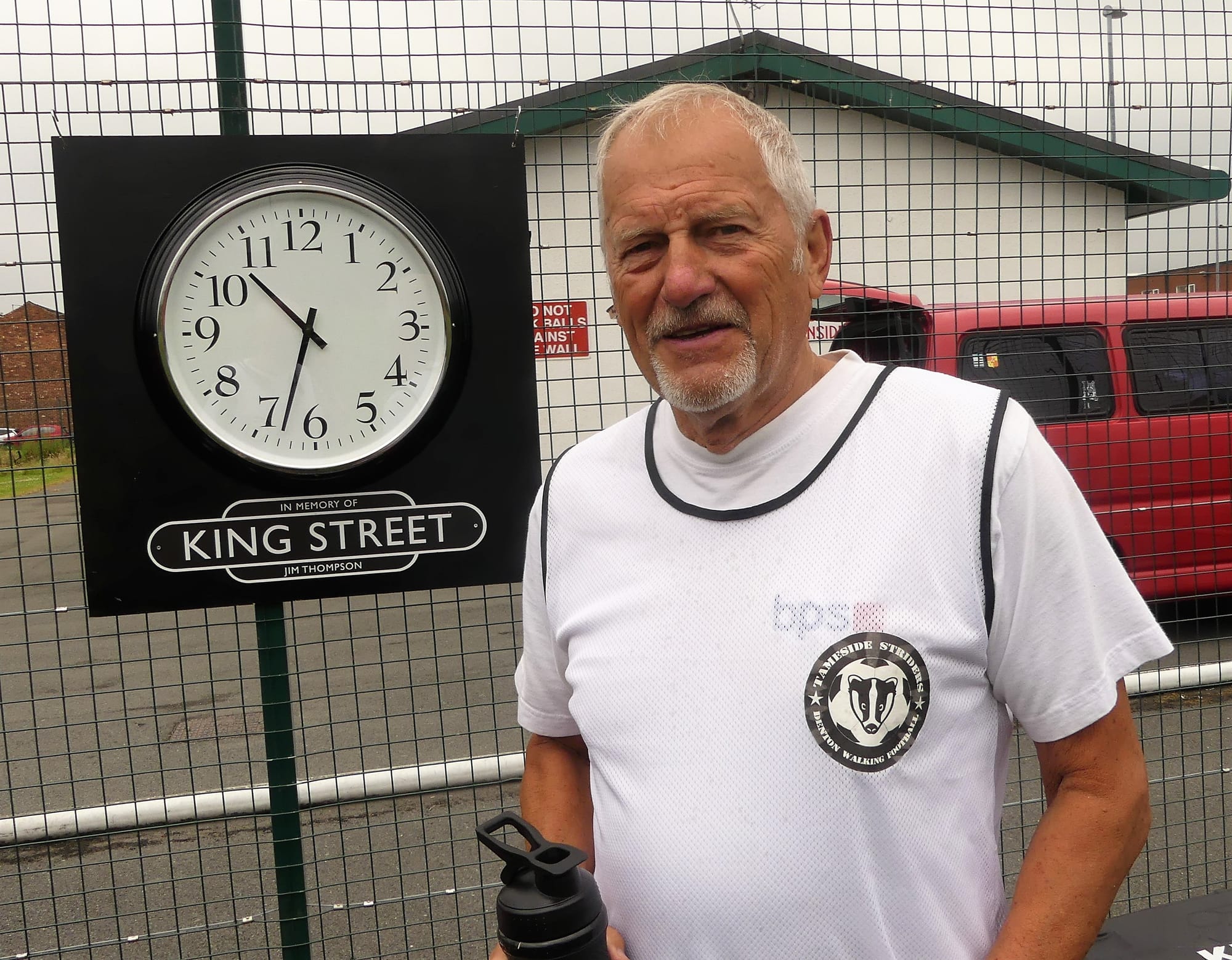 He retains a competitive spirit though much mellowed now. He last managed our Over 70 teams at Heywood and may well choose to do so again. He has served on the Committee at Denton for two and half years and often comes up with ideas and theories which can demonstrate that depth of experience gleaned over those years of involvement with semi-professional clubs, and his experiences in man management.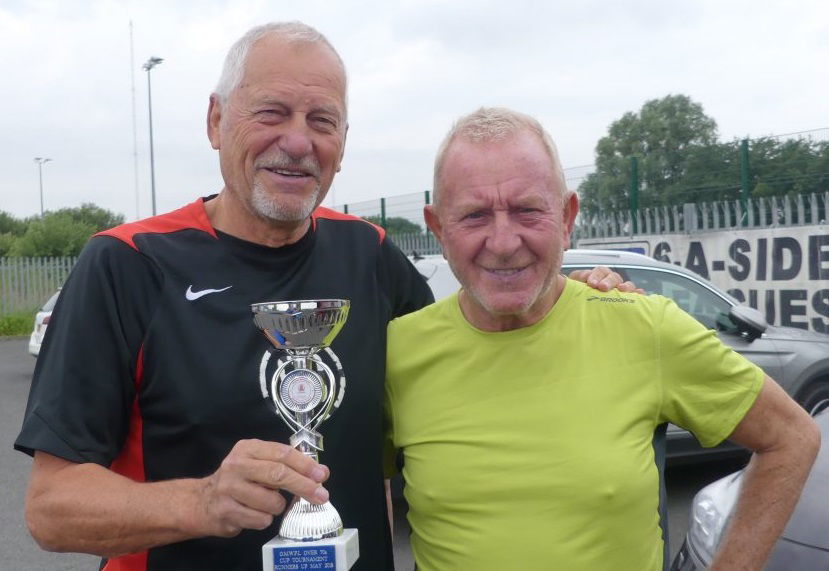 More management success
On the field he is like all of us, prone to the odd lapse but you're always pleased to have Fielding Snr. on your team. He can look cultured and elegant on the ball at times, and is a gritty, committed defender with an eye for goal. His old win at all costs habits have melted away, and he plays the game as fairly, and as squarely as anyone.
This profile merely skims the surface of a longish life well lived, and after phone calls lasting longer than a regular football match, it's a pleasure to feature it here.
Alan Richards - Editor