Goalden Oldies are under the stewardship of impressive Sweeper/Keeper Mike Taylor.
A substantial number of the players are based in Stalybridge.
Mike is an unassuming character and once on the pitch he gives little away. Canny and dependable he's the ideal building block for a squad that has some interesting architectural features thanks to a good draw from the hat.
Cultured Chris Turner - always a good player to have on your team if you like a good pass and a team mate who is aware of your positioning. He plays with his head up, and is seldom in the wrong place himself.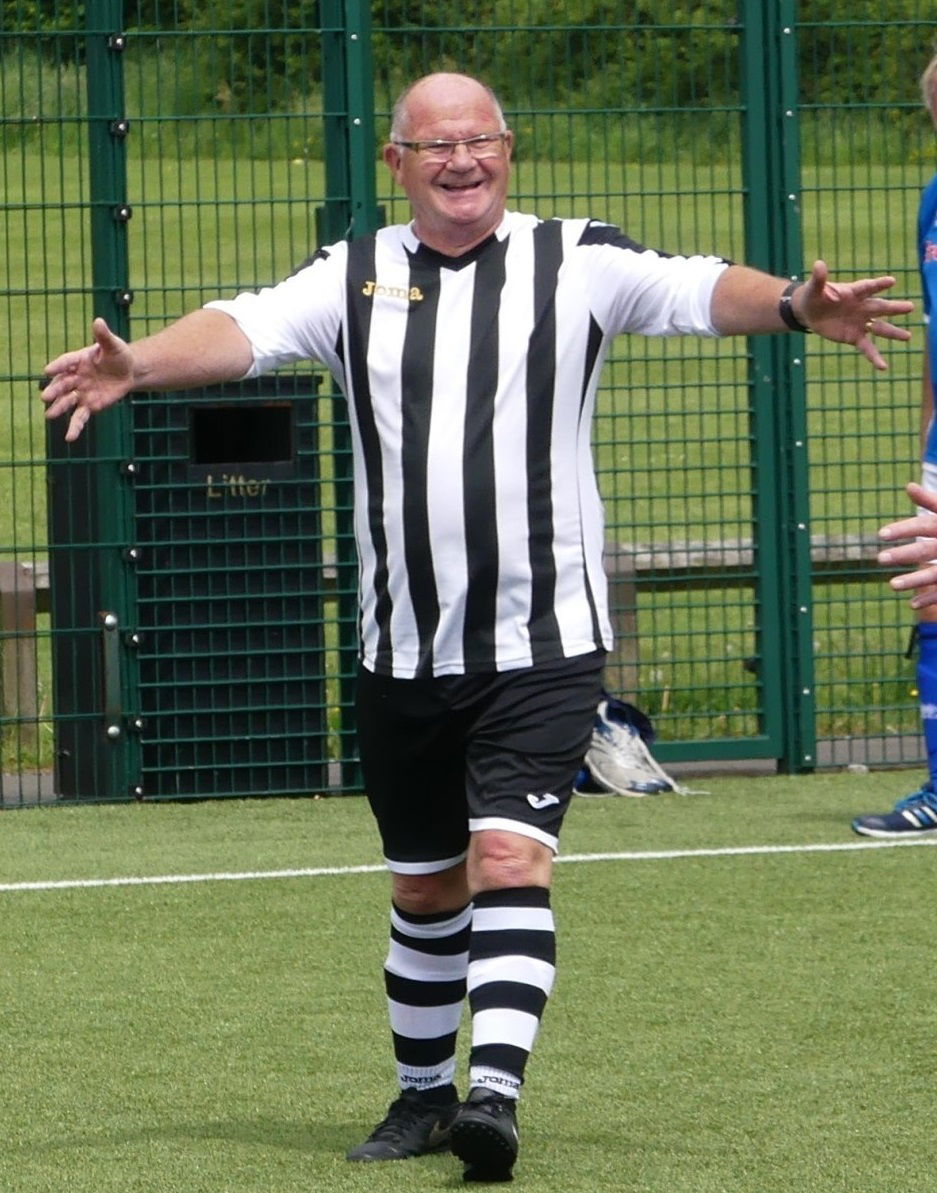 Barry Smith (above), another Smith returning to play at Ewen Fields for the first time in several decades. Stocky Barry still has power in his legs and can use it to good effect when his rangefinder is functioning well. A player to pose problems with mobility that belies his years.
John Kenyon is another player bursting with energy. When put to good effect he can unsettle defences and is seldom unwilling to try a shot or a pass on goal.
Add the prolific Peter Jarvis to this mix and we can see it's a line up with 'goals' writ large right through it.
Opponents must be wary of the offensive capabilities contained within.
The two Stafford's almost completes the line up. Steady Steve , cool in midfield and with an eye for a chance plays alongside his namesake Brian Stafford. A prodigious netter of the ball in the 'Sweeper/Keeper' format.
To this potent mix add playmaker and long distance striker David Partington and you can see why they might be the bookies favourites and the big Tiger could be purring if they click into gear on the thirtieth. The G.O.'s could light up the Festival if they play to their strengths. Surely some will need to be played out of position. A fantastic prospect in store but a Taylor made headache in terms of selection and who to leave out of the starting line up in their yellow bibs.
The G.O's kick off their campaign on pitch 2 against Hi-De-Hi in what is a mouthwatering prospect of a match up. May the best team win.