It's an old joke but when it comes to football Barry Smith has had more clubs than Jack Nicklaus !
Of all of us , Barry is the most local to our King Street ground. In fact he has lived almost his entire life within a hefty goal kick of the pitch. Born in 1947 in the 'front room' of number one St.Lawrence's Road the youngest of three siblings with an extended family encompassing four more youngsters.
Barry's Dad hailed from Cumbria and was a big Rugby league fan. In fact before Barry attended school for the first time he has visited Wembley Stadium to cheer on Workington in the 1952 Challenge Cup final , returning there some years later when they won it again ! Vivid memories easily recovered for Barry.
His formal education began at Duke Street, Denton. He was playing football for the school team way before his time at the age of seven ! The team was a good one and won a league and cup double by thend of his time in Primary School. The headteacher offered the team's players a tanner for every goal they scored and in Barry's case it cost him nineteen shillings and sixpence ! so prolific a marksman was he from the wing.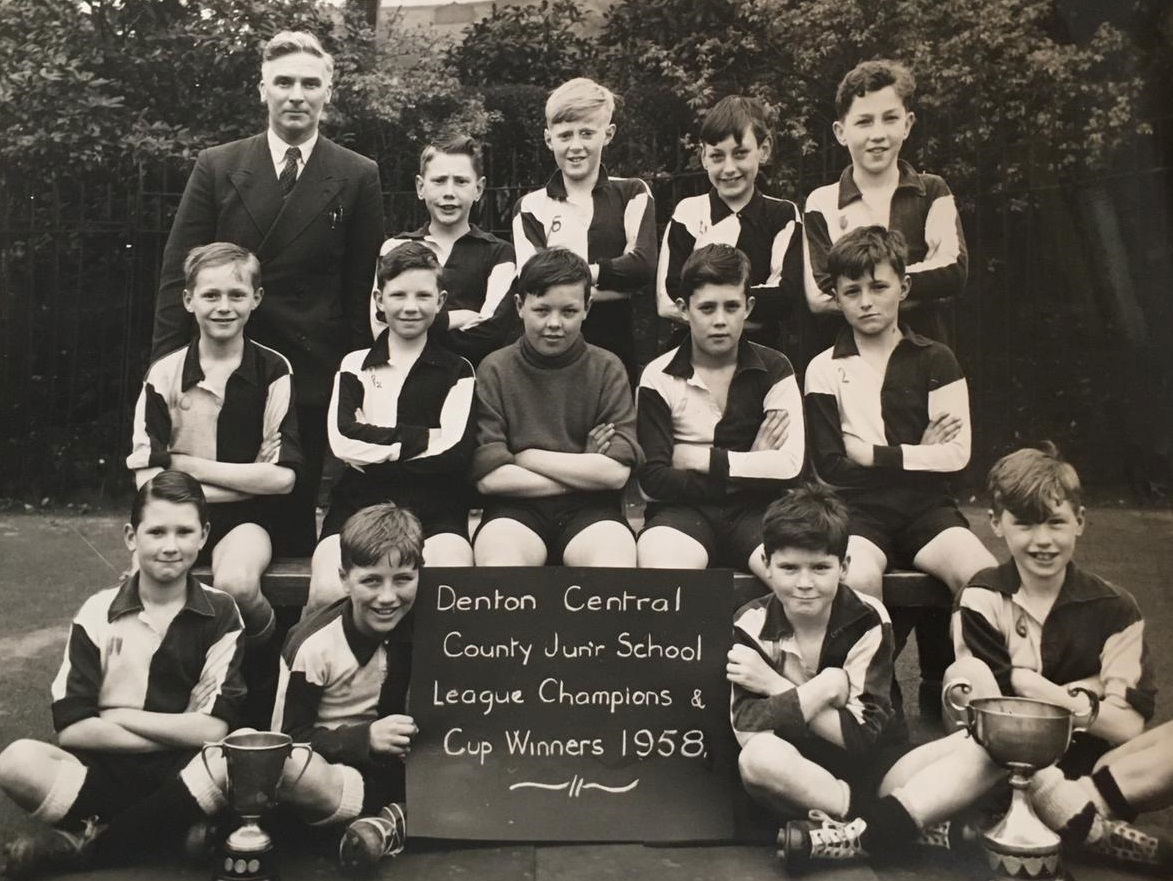 Primary Colours - black and white Double winners Barry second from right front
Holidays with the family alternated between Bispham near Blackpool and the Robin Hood holiday camp outside Rhyl. Lees Coaches of Denton was their primary conveyance.
On moving up to secondary school Barry plumped for Two Trees at Haughton Green. A short walk away. Speaking of short, Barry's height was causing some consternation in his mid teens as he was just four foot seven and weighed seven stone !
While at the school, he fondly remembers a trip up to Workington with his dad when they drew Manchester United in the F.A. Cup. This was just a few weeks before the Munich Air disaster. Barry had ben introduced to the players on the train up to Cumbria and all of them had autographed his match programme. Sadly, this great piece of memorabilia was lost, over time.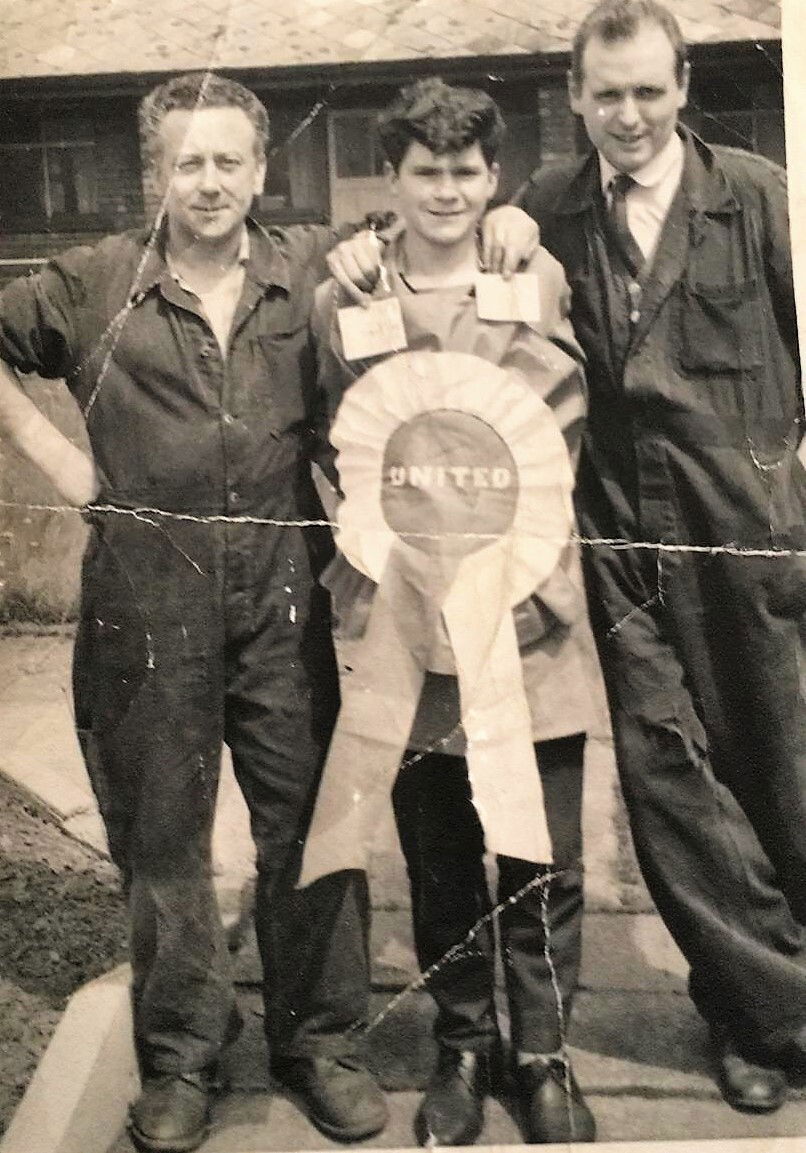 ready for the 1963 Final
As the early sixties dawned Barry was still excelling at football and played for Denton Boys in the North of England Cup. He recalls one game with Salford boys when they we being thrashed ELEVEN nil at half time. The goalkeepers were switched. Salford's Jimmy Rimmer now stationed between the Denton posts. Nobby Stiles dominating the midfield for Salford couldn't double their score in the second half and it finished fourteen nil. A damage limitation exercise paid off.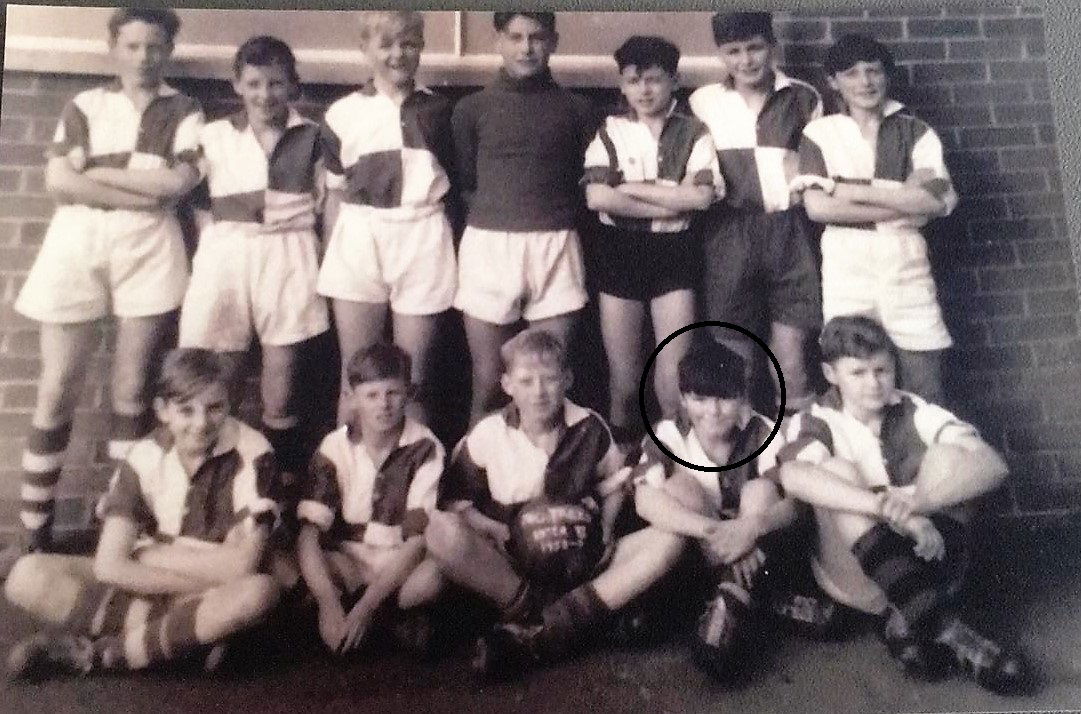 Two Trees team 58-59
Barry left school a few days before his 15th. birthday. With only a vague idea of what he wanted to do. He recalls walking to Old Trafford - not to the football ground but to 'Quicks Motors' where he fancied a job as a mechanic. No vacancies there though and it fell to his sister to put in a word for him at James North's in Hyde. So began along association with textiles and garments.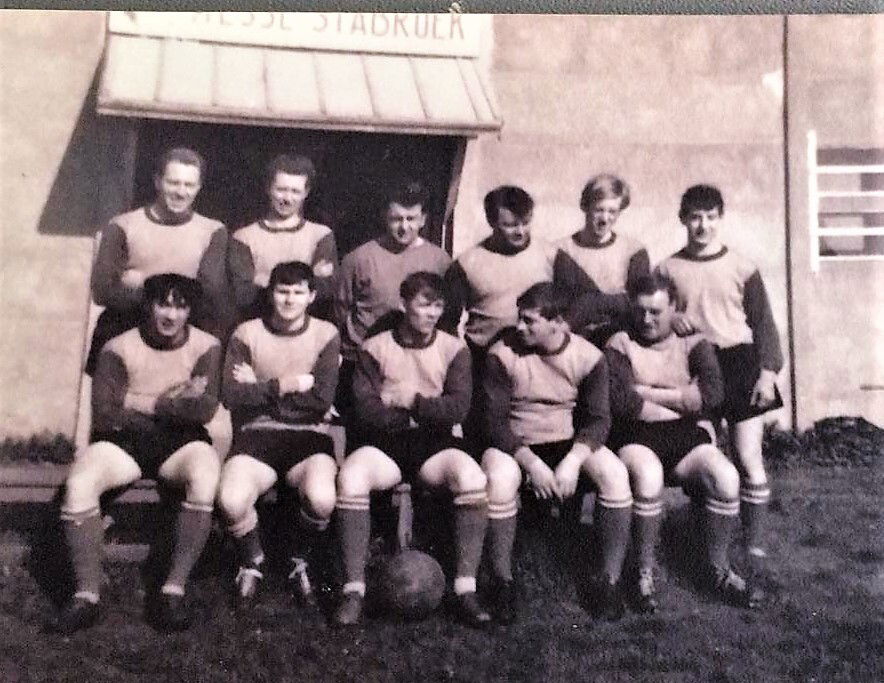 Belgian adventure ~ seated second left
He'd had something of a growth spurt in his later teens and filled out a bit too. He had turned his back on playing football with a preference to watch his beloved Reds. He went down to the 1963 F.A. Cup Final with Eric Thomas's Dad in their Humber Hawk. Luxury motoring in those days. He's returned to football as his physical stature developed, and played in a pub league for a while. Soon after though he was lighting things up for Oldham's Batteries and Arnfield Mono Pumps, where former City pivot Dave Ewing was coaching. A memorable trip to Belgium - flying from Southend to Ostend for a European tournament was perhaps the highlight.
Barry had met and married Linda by the end of the 1960's. They moved into a house a stone's throw away from St.Lawrence's . They had two boys who in turn have provided the couple with two Grandchildren and Doug, a Great Grandson.
Back to football and 'Baz' was asked to sign for Hyde United under manager Les Sutton. He played for the first team often in one of their better periods. Pete O'Brien and Mickey Haughton were team mates. Although not quite a regular, his appearances on a Monday night in the 'floodlit cup' stick in his mind. A brief fall out saw Barry turn his back on 'the tigers' and he departed for Dukinfield Town. He describes himself as a two footed winger with an eye for goal, scoring regularly wherever he played. He later managed The Top House' team for the pub atop Mill Lane, and had a run out as a Referee having completed an F.A. course.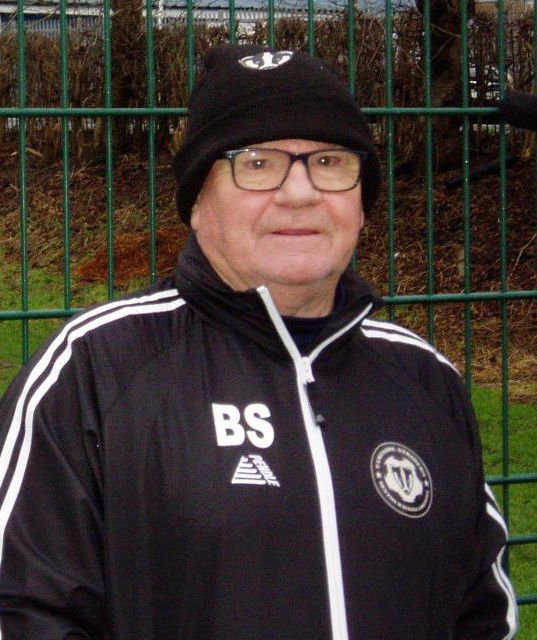 Work had seen him promoted to 'Cutting Room Manager' by now. A five month spell in Morocco saw him sampling exotic delights in North Africa. Returning home to take up a position as 'Shift Manager' in a rubber factory. He and Linda had a huge slice of luck when their lottery syndicate had a big win. As Barry puts it he went to bed with a life changing £400,000 win in his mind. The following day it emerged other ticket holders had shared the money but the subsequent pay out was still very substantial and has helped provide many holidays for the couple as well as giving close family a helping hand.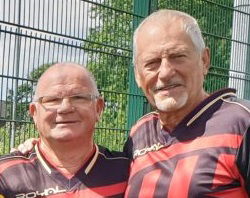 with the latest of his 'managers' at Heywood
Barry retired a day or two before his 65th. birthday but then took up driving helping his Son's company deliver three piece suites up and down the length of the British mainland, which he did until his seventieth birthday. (He was at King Street that day and shared a slice of cake with all of us).
Photo-Safari's, a hot air balloon trip over Kenya's Maasai-Mara in Africa join a helicopter trip over the Grand Canyon as highlights of Barry and Linda's impressive tourism itinary.
He came across walking football after seeing our group on Facebook. He has played both at Denton and Curzon. He was one who played in the middle of Manchester in cage erected on paving slabs - one of our mis-adventures maybe. (I have clear recollections of him diving on to the bone hard surface to stop a shot !) For a while he was a regular goalkeeper for our competitive teams and also brought his goal scoring habits to Heywood with the Over 70's. Wherever he plays he has retained more power than most of us in those stocky legs of his which he puts to good use.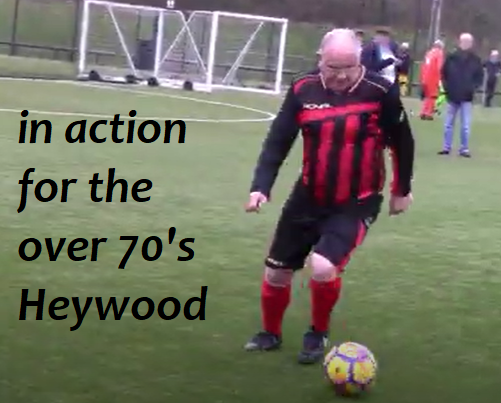 Speaking to Barry for the best part of an hour his love of football and his clear memories of a life spent playing the game are obvious.