BILL LANCASHIRE
Defender Squad No. 16
Bill was born on the top of Werneth Low (not in a field, but in Aspland Maternity Home). It was August 1943; the middle of the war, and his dad was serving with the Royal Navy somewhere in the Indian Ocean. It was not until the end of the war when Bill was almost two years old that the pair of them met for the first time.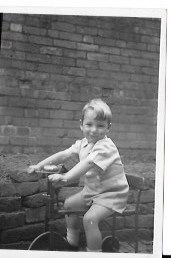 Bill's first bike
The family lived in the centre of Hyde, right where the Asda supermarket now stands and being located virtually next door to Greenfield Street School, it was no surprise that he went there to begin his school career at the age of 3. Leisure time was spent playing in the streets and fields or sneaking into the school playground to play football with his mates.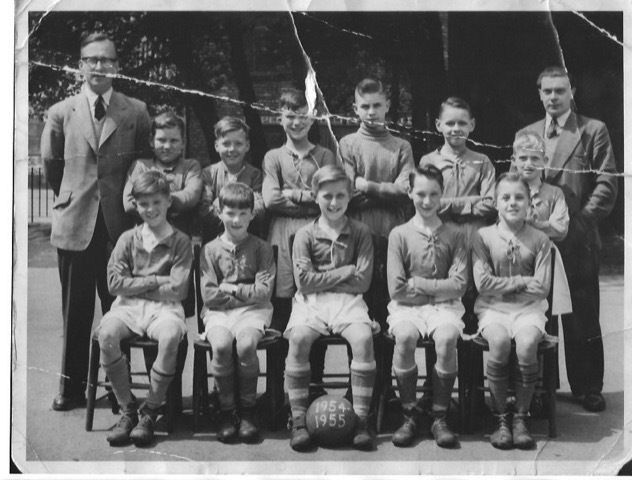 Greenfield Juniors Bill 2nd. right seatedAt the age of 11 Bill moved up to Greenfield Street Seniors before he later transferred to Hyde Grammar School where he gained a few GCE passes. It was while he was at school that he began his fledgling football career, playing for the school teams. Usually on the rough, cinder pitches that were commonplace in those days. At the age of fourteen Bill joined the Hyde YMCA football team, but after just one season he left to sign up with friends who played for the newly formed Union Street Sunday School Youth Club. A club that he stayed with until his mid thirties.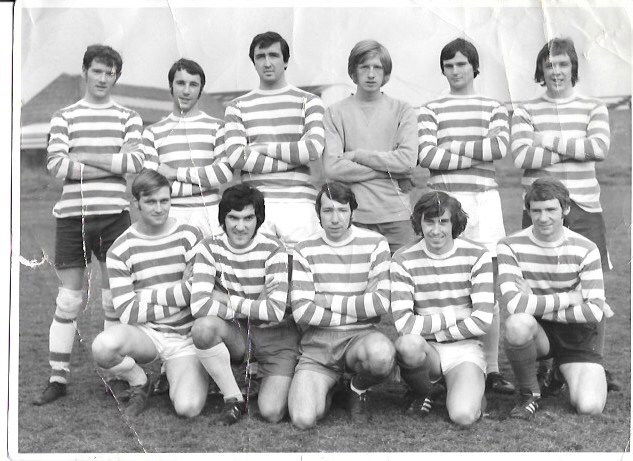 Union Street Bill centre front - spot the other Strider?
In the early years with Union Street, and being a very young team, they were beaten most weeks and were thrashed more times than not, including by the Army Pay Corps at Ladysmith Barracks. However, as they grew in stature and skill they began to improve and they progressed through all the divisions of the Ashton League before they joined the Stockport League division three. Winning the league title they moved up and eventually became Division One Champions, also winning several knock out trophies in the process. Union Street then signed into the Manchester Amateur League and once again the team progressed through the three divisions to eventually become Division One Champions. Once again they added a number of trophies to their growing collection of successes. During this time Bill also played for a few Sunday teams, but it has to be said, with limited success.
Bill eventually 'retired' from playing when he was 33 years old.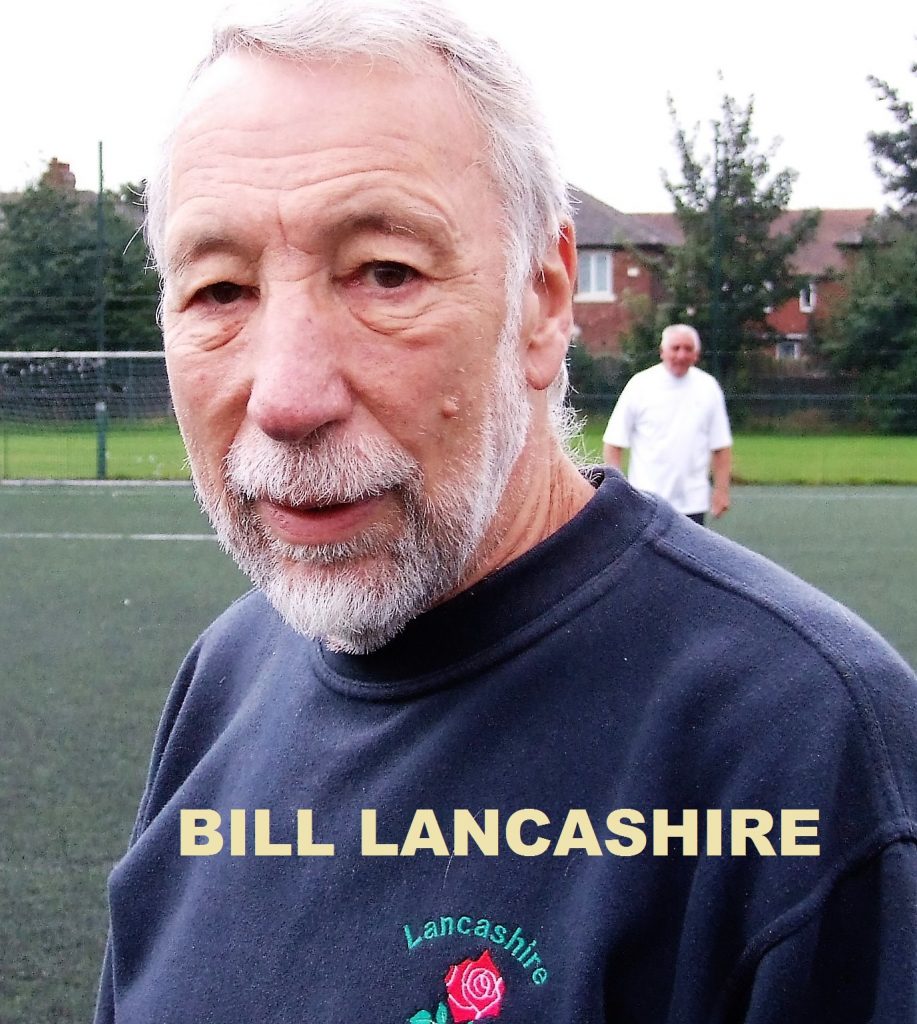 Until he was 21 however, Bill's main sport was cycling and he competed in many time trial events racing against the clock. His best time for a 25-mile event was one hour thirteen seconds. He says that he should have 'beaten the hour' that day in Yorkshire but the event was only two weeks after being hit by a motorbike while out training.
He married his wife, Pat, in 1969 at St Chad's in Romiley and they had their reception at 'The Lamb' in Gee Cross. The two of them moved to a bungalow in Stalybridge, and eventually had three children – Adrian and twins Andrew and Cara. They now also have four grandchildren.
Because of a shortage of space in the bungalow they moved to their present house in Gee Cross in 1975. For a couple of years Bill also helped to run the Gee Cross cubs football team.
Career wise, after leaving school Bill decided that he wanted to be a creative writer and so he joined an Advertising Agency in Manchester where he acted as an office boy/gopher until he talked his way into joining the company's copywriting department. It was there that he began to learn how to write advertisements, brochures and press releases etc. After a few years and determined to increase his meagre wages he began a series of moves to different advertising agencies. Firstly in Leeds for a year or two, then back to Manchester. It was while he was into his third Manchester agency that he was headhunted by what was a newly formed agency moving from London into Manchester and that was where he remained for the next ten years, eventually becoming Creative Director.
During those years Bill was writing advertisements, brochures, TV and radio ads, videos and anything else that came along.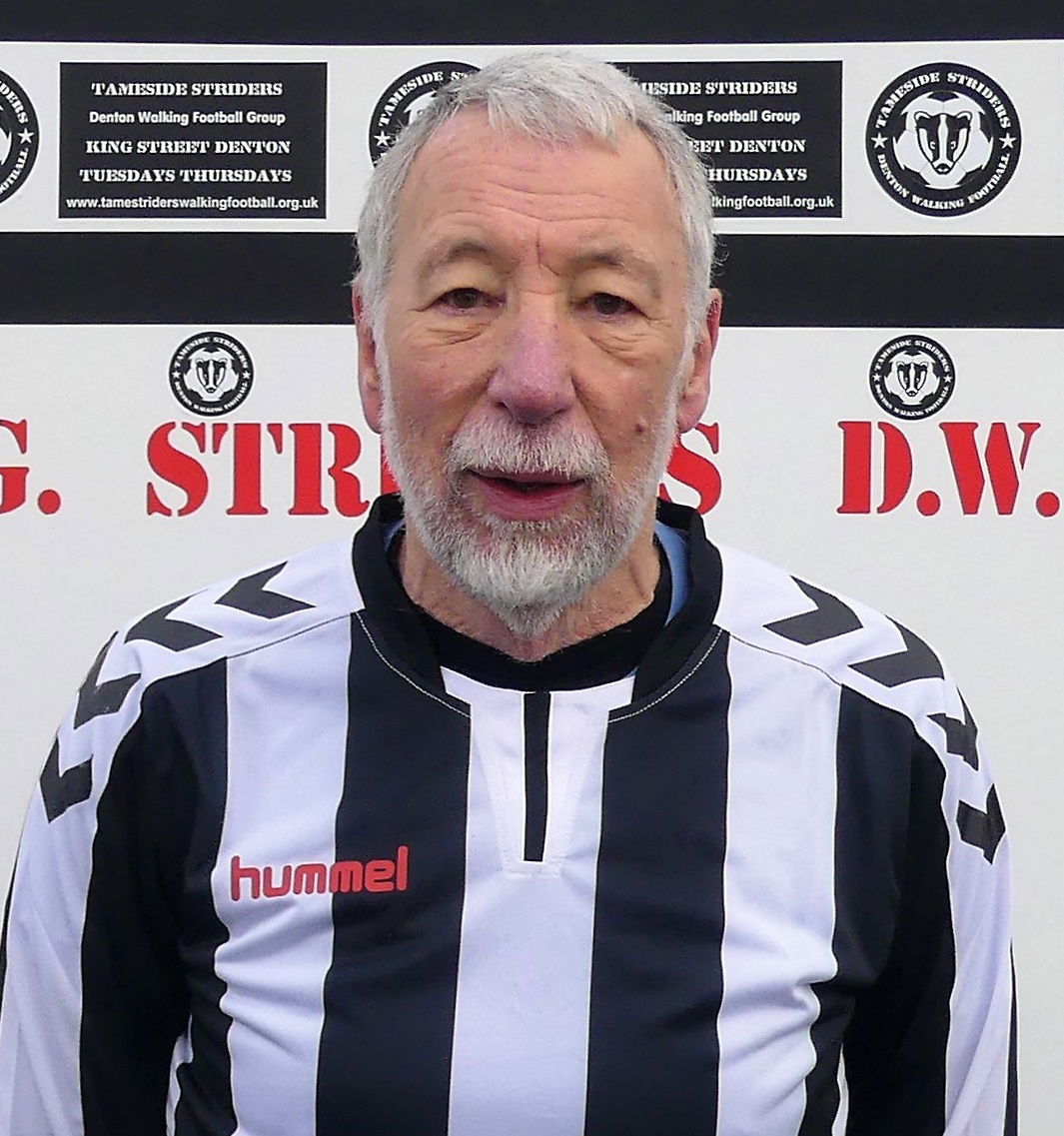 Bill in Hummel
Finally, after a ten-year stretch at the agency, he decided that it was time to go it alone and so he established himself as a freelance copywriter based in Salford. After a couple of years he teamed up with an art director and the two of them founded a small creative partnership in Stockport.
About ten years later the partnership was dissolved and Bill retreated back to his home to continue offering a creative service on behalf of a number of clients, working alongside freelance designers, photographers and printers etc.
He still does the occasional writing, although now it is mainly for the Internet, providing copy for websites, blogs and so on. One project at the moment is editing a book about Matlock Bath written by an ex-colleague. He has also written a couple of children's short stories, but has never tried to get them published.
After stepping down from regular football Bill took up running. Mainly for pleasure but occasionally competing in more serious events, including half and full marathons.
Despite all this, the yearning for football never really left him and it was when he heard about walking football that his curiosity and enthusiasm was aroused.
But he didn't know where he could play walking football until he walked into his son's barbers shop one day and Adrian said that if he wished to know more about walking football he "should speak to that chap" nodding towards a waiting customer.
It was David Wilson, who told him about Denton W.F.G. Bill's first game was an exciting eye-opener and of course he thoroughly enjoyed the experience. Although he considered himself reasonably fit, the unexpected intensity of walking football left him full of aches and pains that night.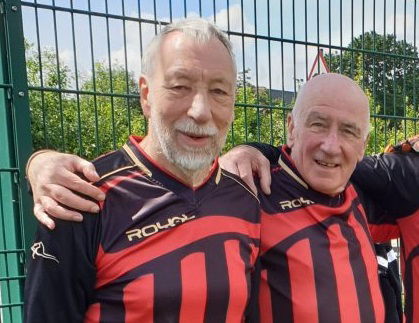 The past few years have been terrific and walking football is now an important part of Bill's life. Not only the atmosphere and energetic workout of the well-run Tuesday sessions, but also the camaraderie and good friends that he has made over recent years. Bill has also become a regular member for the 'Over 70's' team at Heywood.
At the moment of course all walking football activity is suspended, but Bill says that he can't wait for the lockdown to be lifted when once again he will be able to join in the weekly walkabout.
________________________________________