Devonian David Fielding was born in Torquay in 1954, one of four children. His Father (a Mancunian) was in the Royal Navy sailing out of nearby Devonport on H.M.S. Ark Royal and other ships to all corners of the world. He was away so much Dave's Mother brought up the children almost single handed.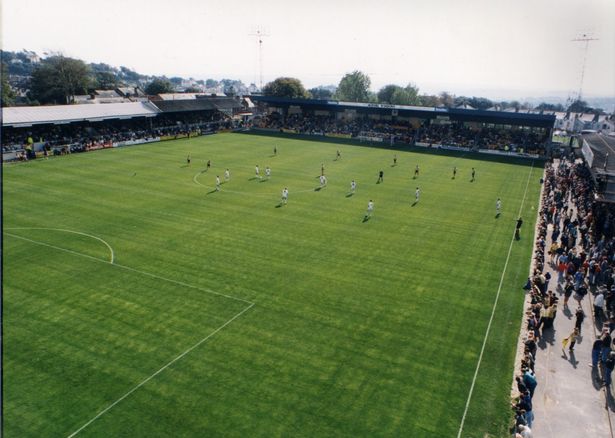 Torquay United F.C.
David lived just four hundred yards from Plainmoor, the home of Torquay United and football played a big part in his childhood and teenage years.
He was a regular for his school team and later one his P.E. teachers invited him to join a team he ran in the South Devon League. Waldon F.C. It may seem unlikely but the area was a hot bed of football, and the league had NINE divisions. It was feisty too. Apparently the area held the record for the number of fines imposed on errant players, even David was sent off at least once !
A right centre midfield player, Dave was emerging as a very competent footballer when he was lured to Totnes Town, a six mile drive away. This represented a step up, and the offer of five free pints of John Courage Ale in the club house every other week was just too tempting an offer for Dave to turn down. Fortunately his goalkeeping chum was tea-total and would give the tanked up David a lift home ! Games with all the lovely villages in that delightful part of the world sound like a holidaymaker's glossary. Dawlish, Exmouth (Rob Lake's territory) and Crediton just three place names that spring to mind from our conversation.
On leaving school behind him he desperately wanted to follow in the wake of his dad and enlist in the Royall Navy. Both parents resisted, preferring their oldest boy follow an apprenticeship on land in civvy street, his wishes were overturned and he became a trainee toolmaker .
In his early twenties and married by now with a growing family Dave's dad had moved back to Manchester. To Beswick in fact, near the big Gasometer, in an area now transformed by Sheik Mansour's money which has been flowing into nearby Manchester City for well over a decade.
David decided to follow suit with his family and they all journeyed north to start a new life in Manchester. Part of which involved watching City and United from time to time with his dad.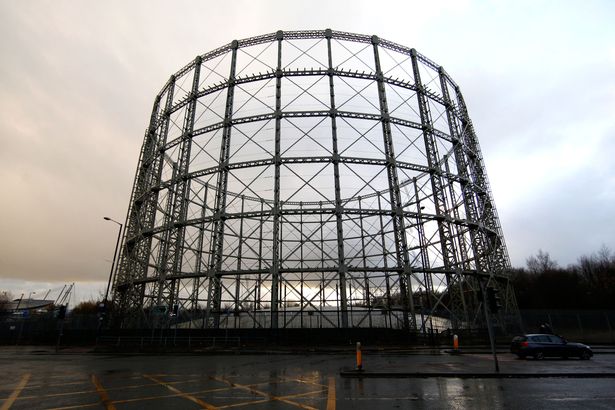 Dave moved to within shooting distance of this local landmark
With Dad now working for the Manchester city council, he arranged an interview for Dave with the housing department. As luck would have it the chap who interviewed his was absolutely potty about Devon. The interview centred on the delights of Babbacombe, which of course David knew well,. He must have deployed his Devonian accent and rolled his R's very well that day because at the end of it all David was offered not the job he had applied for, but a three year fully funded college course on Estate Management ! For the city with one of the largest stocks of council houses in the country ! A stroke of luck . This turned out to be another major turning point in his life.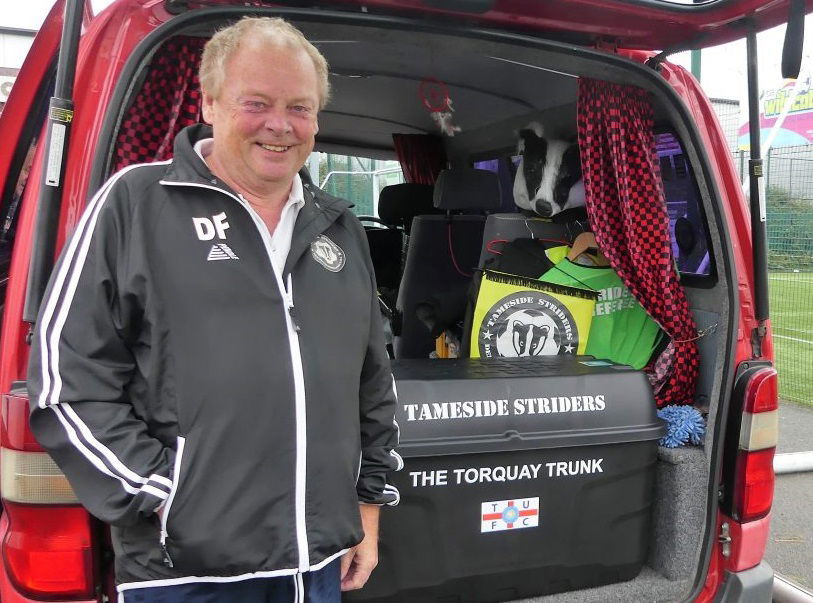 Once qualified his first assignment was to take charge of SIXTY FOUR caretakers on the Hulme estate. Remember those streets in the sky' with the fearsome reputation? "Undeserved" says Dave, " I had hardly had any bother in Hulme , people treat you the way you treat them, whatever their walk of life."
He began to play five-a-side once more and then progressed to full football, playing and later managing St.Wilfred's in Hulme. Great days reconnecting with the game he always loved.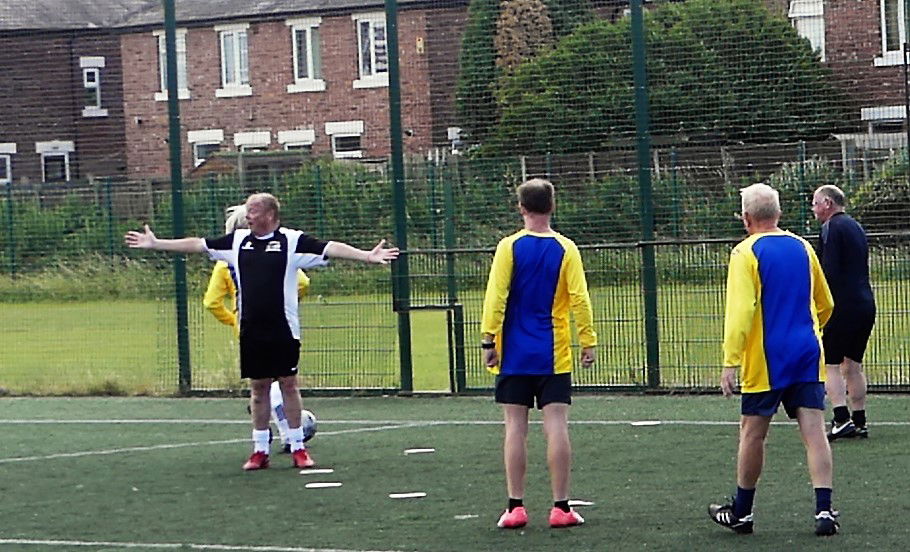 With the offer of a move out to be the Assistant Manager of the Hattersley Estate David, now living in Gorton said goodbye to working in the inner city. By now his marriage had ended and he may well have been looking for a new challenge. Finding fresher air to breathe was not his only slice of luck and he soon met his future Wife Diane, who was also now single with a couple of young children. They now have seven Grandchildren between them, all living locally which is great for family get togethers in more normal times than we are living through at the moment.
All was going well until our man suffered a heart attack at the age of 56. Having also been forced to have a partial removal of both kidneys David has known what a blow ill health can be.
His surgeons know how beneficial exercise and walking football can be too, and they urged him to resume as soon as he felt fit and able. He made an emotional return to King Street last Autumn having established himself as one of our most popular players, as well as being elected Nash Amblers player of the year at Curzon in 2019.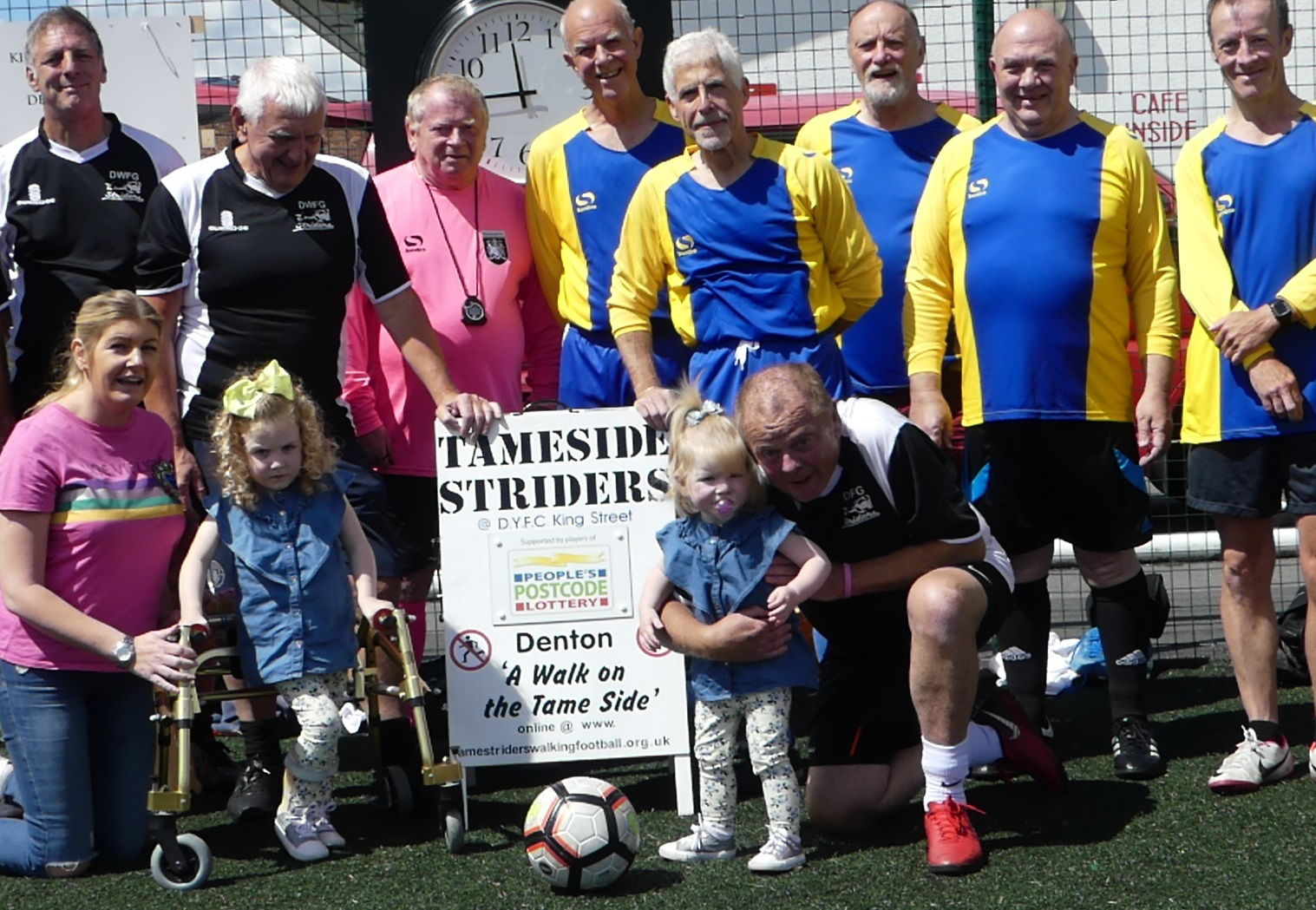 He decided to try Denton along with John Gaskin. Both had been sampling the game at Active Tameside in the cage at Audenshaw. They wanted a slightly better standard. Dave was bowled over by the welcome he got at King Street. Within months we were playing a long game on the 'longest day' in June 2018 for 'Lottie's Little Legs'. Dave & Dianne's Granddaughter 's legs by all accounts are getting stronger all the time and she is making remarkable progress.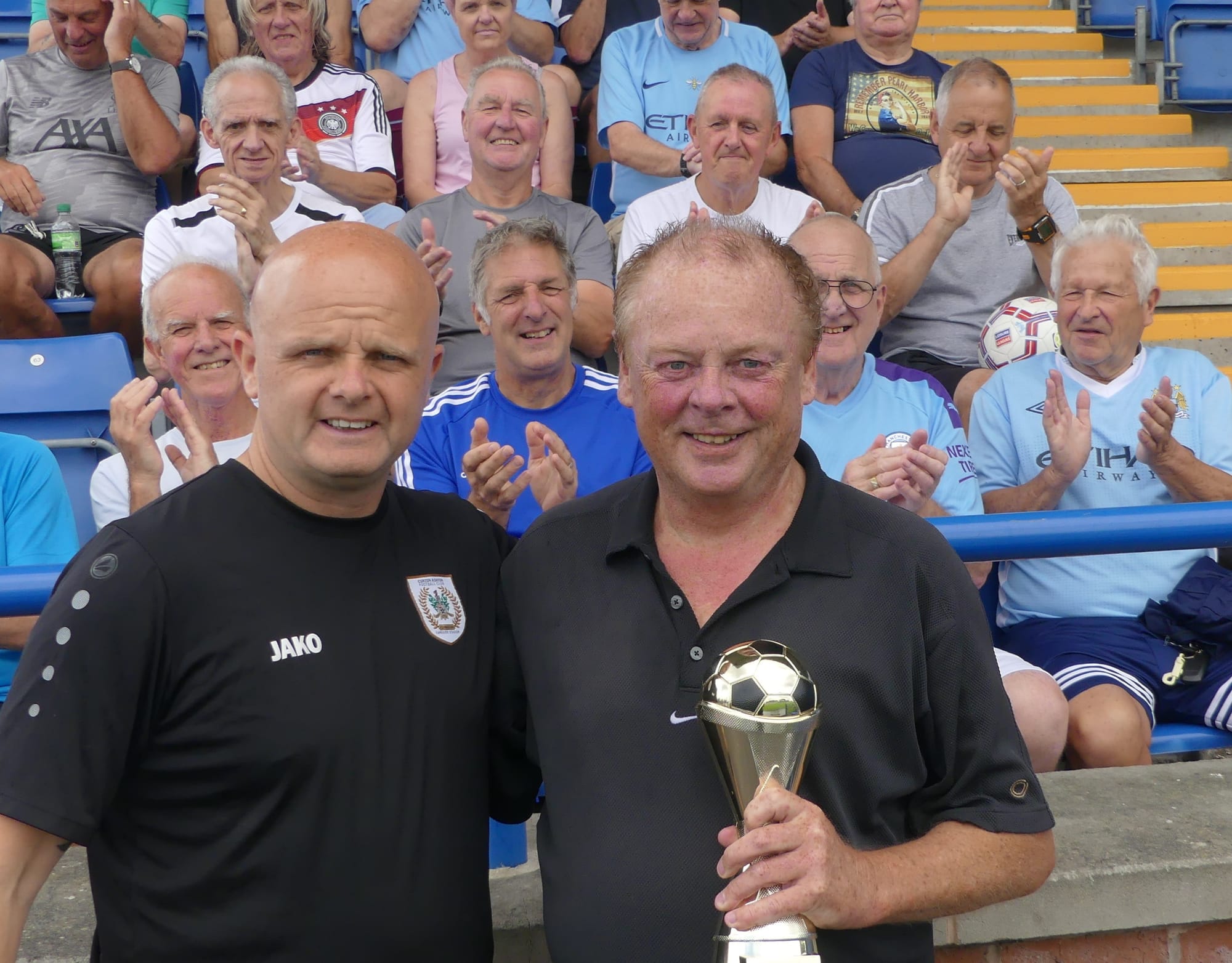 Player of the Year ~ Nash Amblers 2019
In those days of the F.P.L. which seem a long time ago now David figured for both the Bees and the Striders and gave valuable assistance in setting up the pitches on more than one occasion. Dave also generously sponsored a banner at King Street which only recently fell victim to the weather. And who can forget the 'Torquay Trunk' which he also funded and is now residing in our secure store room at Denton Youth stuffed full of bibs, balls and the like.
David could not speak more highly of our group "it's given me a new lease of life" he said, and continued "I'm so grateful for the way the committee run things it's absolutely fantastic , and the sense of humour that constantly comes through is brilliant, I can't wait to get back at it Al"
It was a pleasure speaking with David and look forward to the day we can share the same pitch once again. That will go for everyone who knows the man, you also now know some of his story.