David submitted his profile in his own words...
"I was born in 1945 at the Lake Hospital , Ashton-under-Lyne. now Tameside General. I was the second son of Arthur & Sarah,my older brother Arthur being 7 years older. My mother was always known as Sally and my brother known as Archie. We lived in a two bedroom terrace house in a cobbled Chapel Street at number 11, rented from the council. My brother and I shared the same bed until we moved in the early 60's. I can remember having no hot water, and an outside toilet. We always had a good fire going in the front room, burning coal or wood from the local wood yard. No carpets on the floor, just oil cloth and a rug.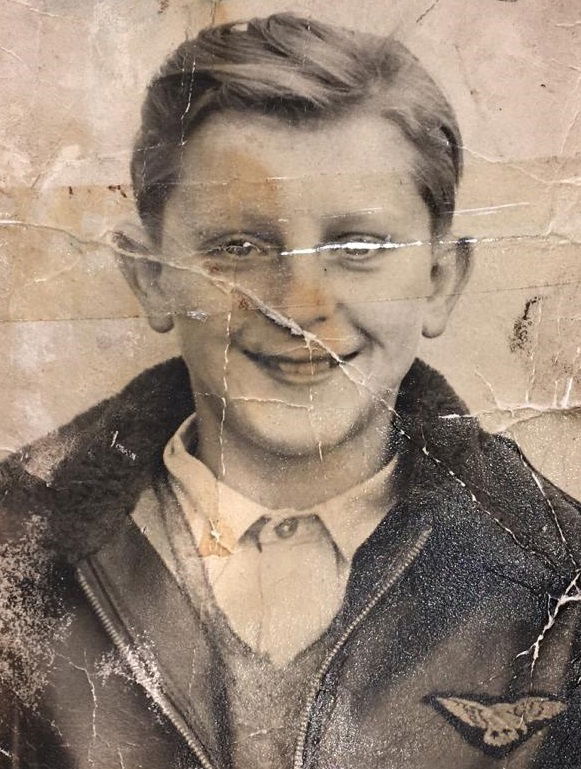 My Dad was a general labourer never out of work, but never staying long in the same job. Mother had six sisters and two brothers and they all lived in nearby streets, some in the same street. Dad was from the Ancoats area of Manchester and had 5 brothers and two sisters.
Two of his brothers were killed in the last war, only three days apart. My Dad and another brother came back safely. Dad returned home 12 months before the war ended, he was wounded but was sent home. I'm glad really, or I might not have been here . Dad had a good singing voice and would do a turn in the local pubs at weekends, a Bing Crosby type crooner. Money was very tight in our house and we never had any !
Mam worked in the local cotton mills with her sisters, but decided it was not for her and took to cleaning work instead. Mainly at the Kings Head pub on Market Street Droylsden. She would then go to Ashton Moss working for a market gardener. There was nothing much in those days to keep you in the house , only the Radio. No television , so it my a childhood consisted mainly of playing outside.
We had a Croft in our street and that's where my love for football developed. Playing all day some days, we were a poor family but we were happy, like all the other neighbours around us.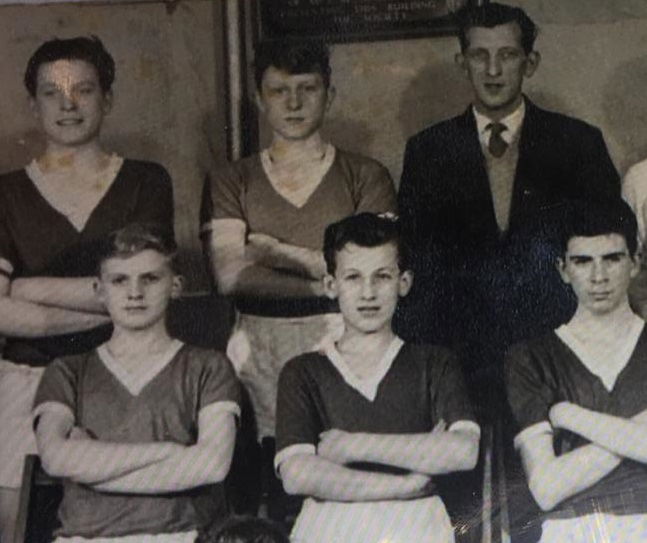 David centre rear
I went to Moorside Primary and played in the team. Bill Murney (Heywood GMWFL organiser) was just a little younger than me he also played and Peter Roberts some might know from Curzon. I was not a regular in the team and not having football boots that fitted me didn't help. I was not very keen on school but loved sport, and football was the thing I enjoyed most. I then went to Littlemoss Secondary school and played in their team but my attendance record was not good at all. I was picked to play for the area team but the headmaster George Lees had me in his office to tell me if I was to be allowed to go, then I must not have anymore time off school !
I went and never stayed off again. I left school at 15 with only a one length swimming certificate, nothing else. That's one of the things if I could turn back time I would have changed. More regular attendance at school, my mother was far to soft with me.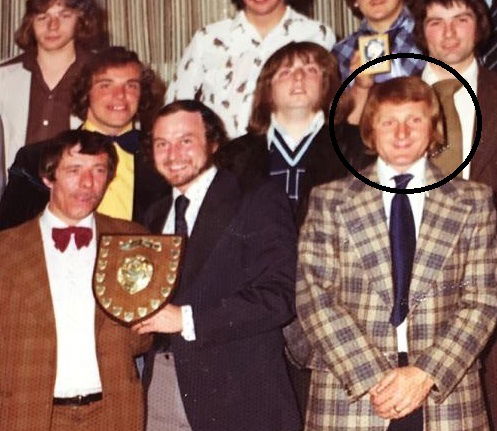 I played football then for Droylsden boys club it was a very good team winning the league in 1960/61 Bill Murney also played in that team and was a very good full back. Most lads who played went for trials at different league clubs, I went to Stockport with a couple of others Trevor Porteous was the manager at the time. None of us were asked back. I played at Droylsden FC in their youth team, and playing on some of the league grounds.
I also played for Bradford Parish (now Denton Town) for a while again with lots of my pals. I also loved Boxing and joined Droylsden Amateur Boxing Club,following in my Dads and Brothers footsteps. Both of them were very handy in a boxing ring. I loved the training but the fighting was so difficult, the golden rule was not to lose your temper, well it's very hard when someone is slapping you on your face not to rush in. I boxed for two years but it was not for me.
I learned some good lessons though , one was never judge a book by its cover. There was a lad called John McGuinnes who wore glasses and was as thin as a rake. I was paired to spar with him, I thought I must take it easy with him. Truth is I never landed a punch he was so fast , not long after that I left boxing behind.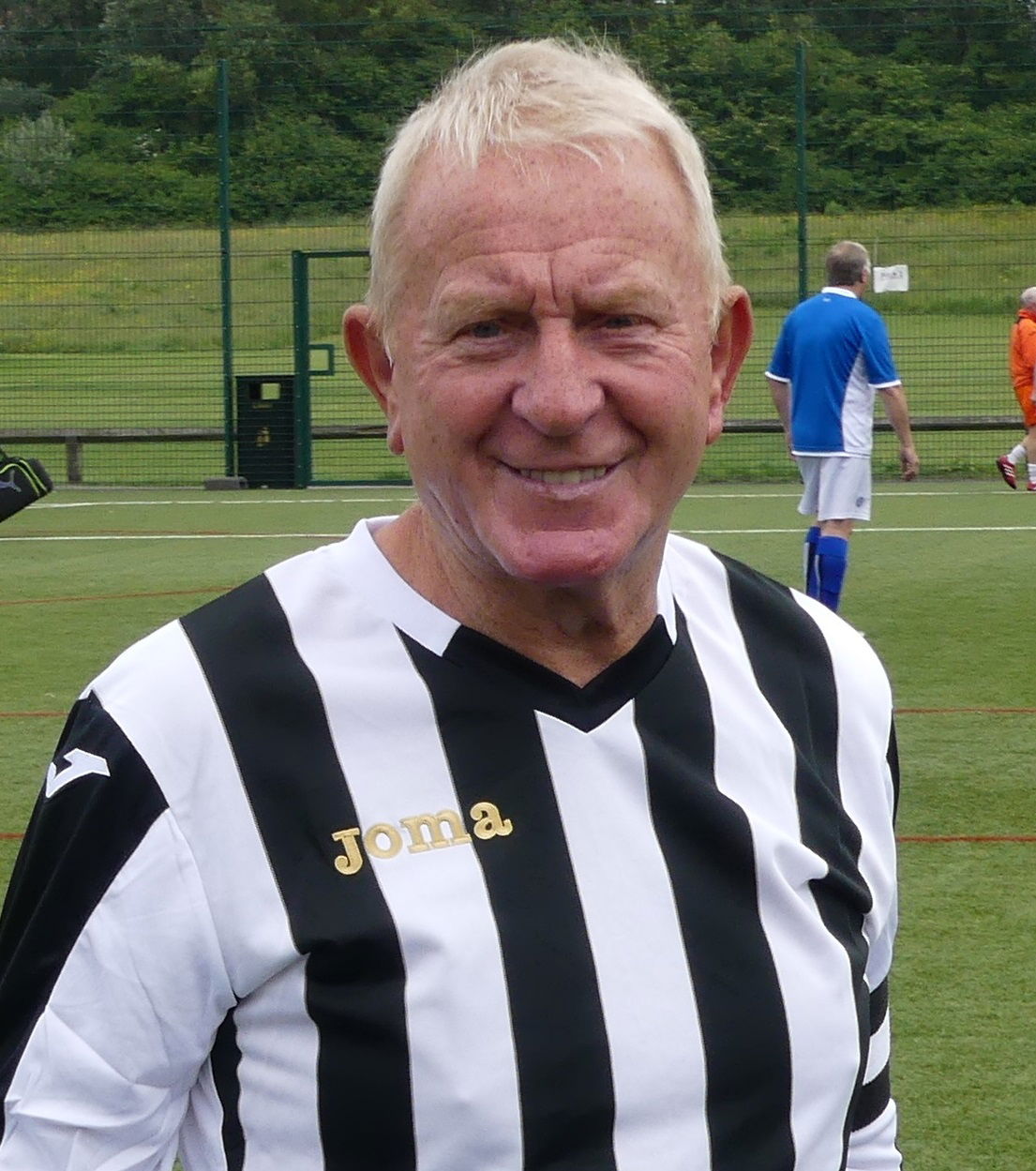 'Striding' out years later
I got a job in the abattoir in Manchester for Kelly & Stott, although I worked on the meat side I played for Smithfield Market's Wednesday afternoon team on a few occasions. My hours were 3am. to 11am . Ernie Stott had a brother on the board at Blackpool and he got me a trial there. I did okay but too many more were better than I was,so it was back to local football and work. It was while I was working there I got a phone call to get home quickly. I got a lift home I had just passed my test but had no car. When I got home I was wondering what was going on. My Brother met me in tears to tell me my mother had a Brain Haemorrhage and was being rushed to Crumpsall Hospital.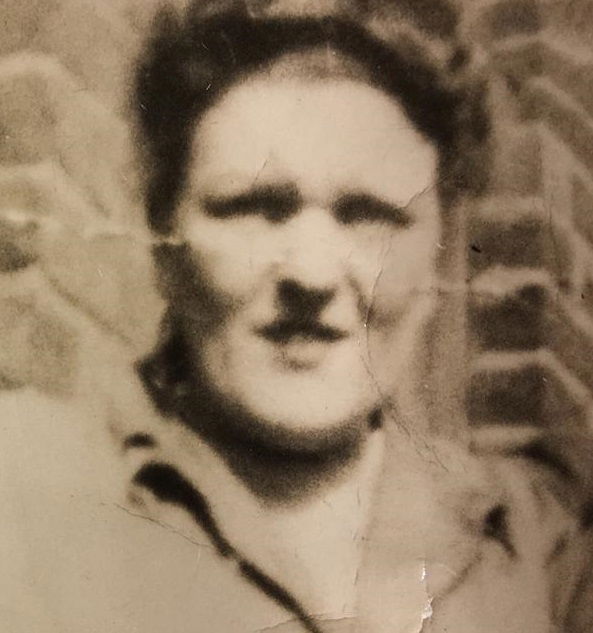 David's Mum 'Sally'
She had a seven hour operation that saved her life but left her paralysed down her right side. it was a very dark moment of our lives. I can remember when she returned home, Dad had to stay home with her for a good while, so to help out I took a couple of different jobs in the afternoon to make extra cash, my brother was married by now but he did everything he could to help. Life would never be quite the same for sometime but with my mother's determination she was soon back cleaning and cooking and Dad was able to return to work, that was one of the worst times of my life.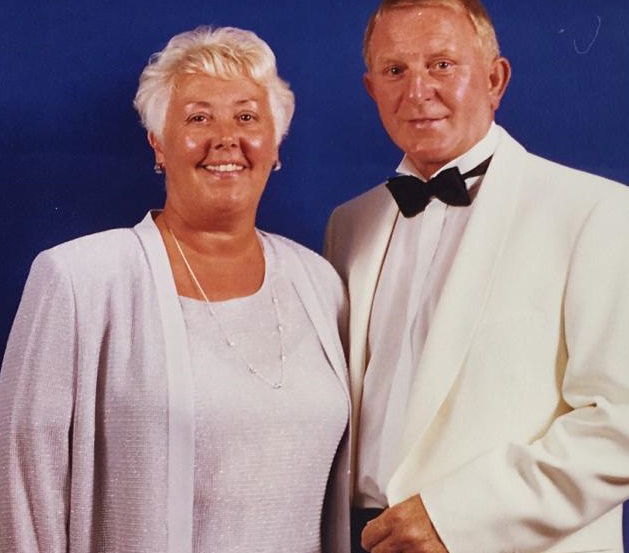 Elaine and David
My best came upon meeting my wife Elaine, we had two children Richard & Stephanie, who have given us four Grandchildren. I was also lucky get a job in the late 1960's driving oil tankers for a family firm which sold out and eventually bought by Shell Oil ! it gave me a very good wage for the first time in my life, and I had over 35 years in the job,i played in a very good five- a-side team which won the North West England Championship 4 years out of six back in the 1970's.
Elaine and I bought a local newsagents grocery shop which she ran with a couple of Staff. After ten years of hard work we sold it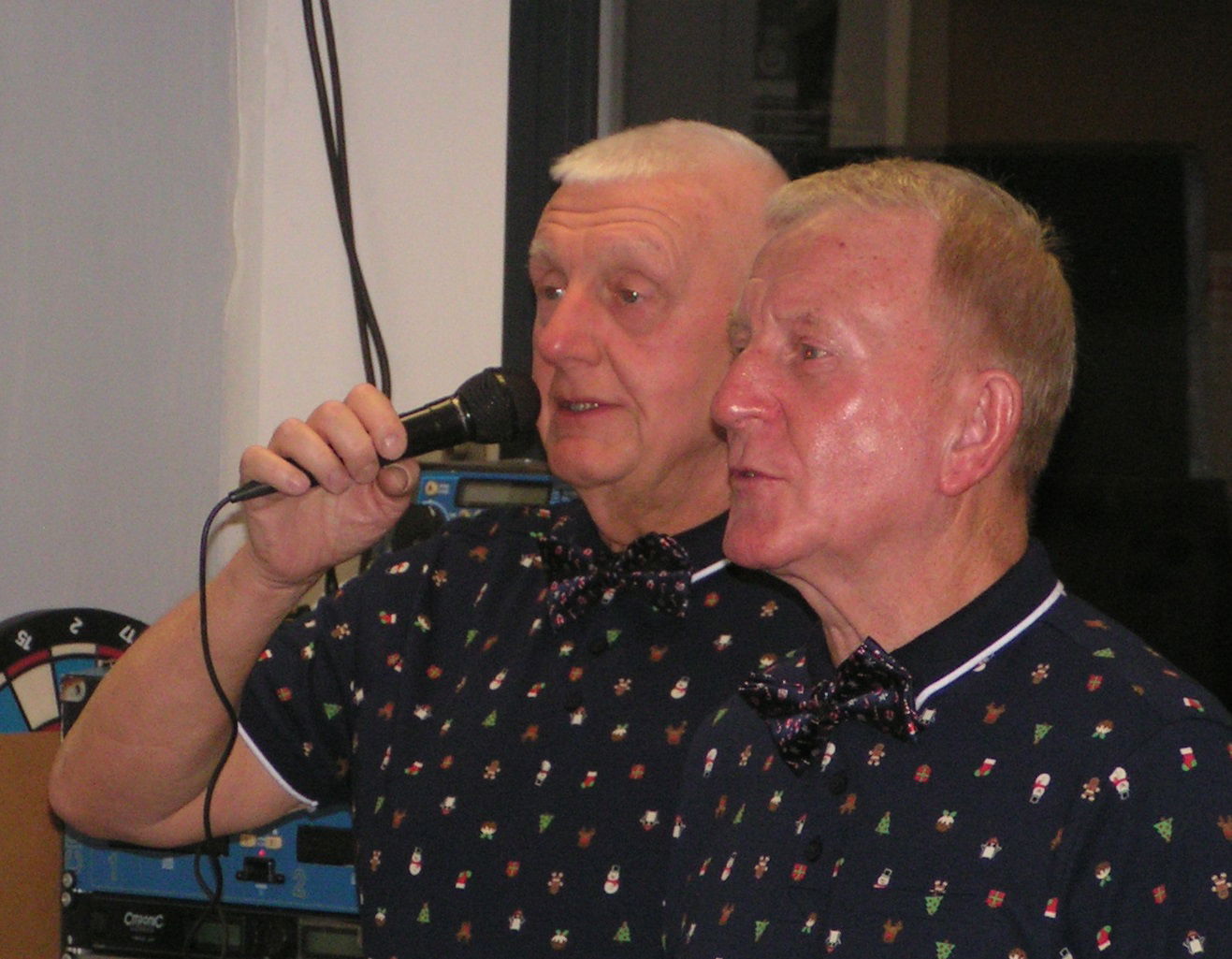 Party piece (right) with Gordon Nixon
When I retired I did a few things about the house and garden, and took up Golf for a few years. I loved it , but a phone call came from Bill Murney, telling me about Walking Football. He asked me to come up to Hadfield to play. I was not sure at first but decided to give it a go,I had kept myself reasonably fit, and never being a smoker or drinker probably helped me in that regard.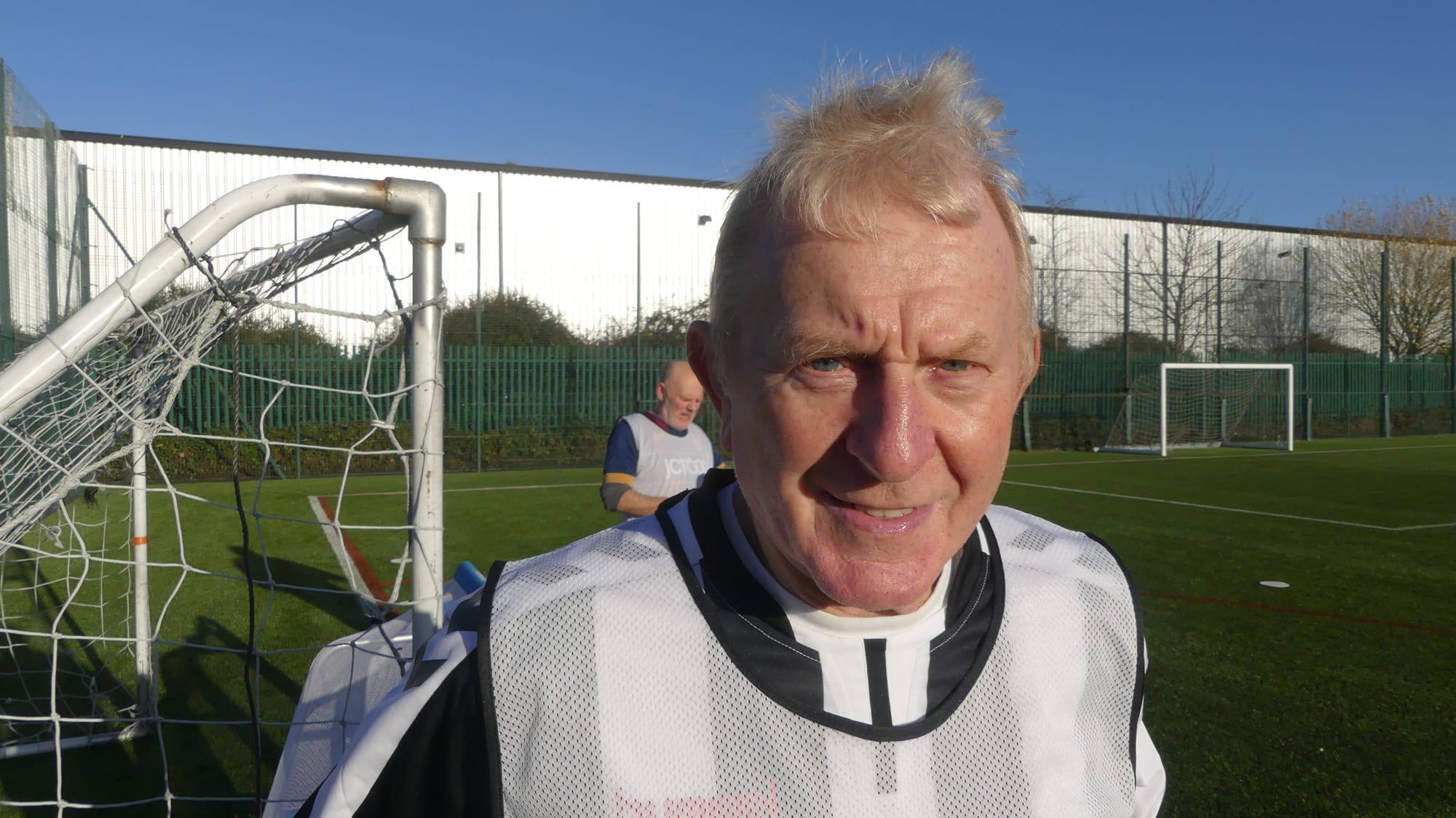 November 2021
I really enjoyed the sessions and met Gordon Nixon, Steve Wingrove and Rob Lake there and made good friends with them to this day I started to play on Tuesday's too at Denton. Nowadays walking football at Denton is incredible, it's so very well run and organised by Alan and the Committee which I'm a proud to be a part of.

David equally at home between the sticks
I have been lucky to represent Denton (and other teams) on a few occasions playing competitive Walking Football but that part of it does not interest me anymore. I'm just so happy to be playing on Tuesday's and Thursday's with some wonderful people. I will always have that winning mentality but it's not as important as it was anymore, plus at 75 I'm slowing down a bit, but I will always be grateful to Bill for getting me involved.