Gordon Nixon has an extensive working life behind him and a variety of jobs have given him a seasoned and measured outlook on life resulting in a calmness and worldly wise way which makes him popular with his peers in the group.
Born in the heavily industrialised part of inner Manchester near Bradford Pit, he came into the world in 1950, then the youngest of four children of Tommy and Ivy Nixon. Early formative years spent in a back to back terraced house handy for Tom's employment in the nearby colliery. The work ethic instilled from a young age by loving parents who scarcely needed to raise their voices to each other, or to their brood. Childhood was "blissful."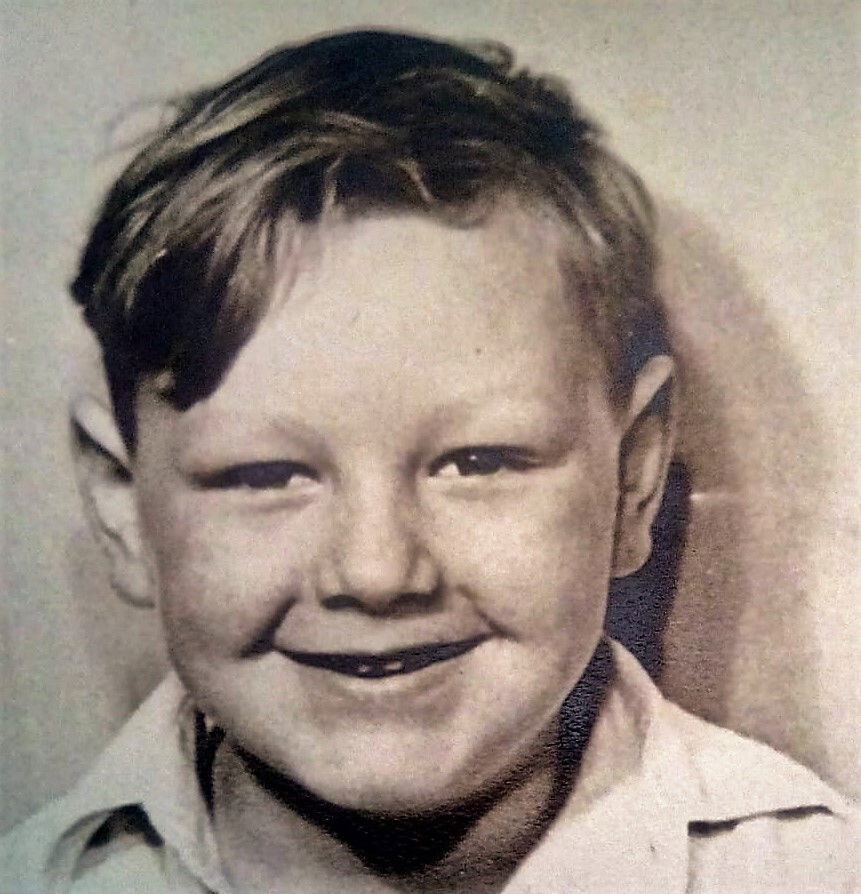 Tommy had served in the Royal Artillery in India during WW2 . Ivy was a full time mum as Gordon grew up. First school for our man , after a short spell at Nursery was Queen Street Juniors. He took on the essential basics of the three R's with little difficulty but the early , often defining watershed of an eleven plus exam saw him progress to the Secondary school on the same site.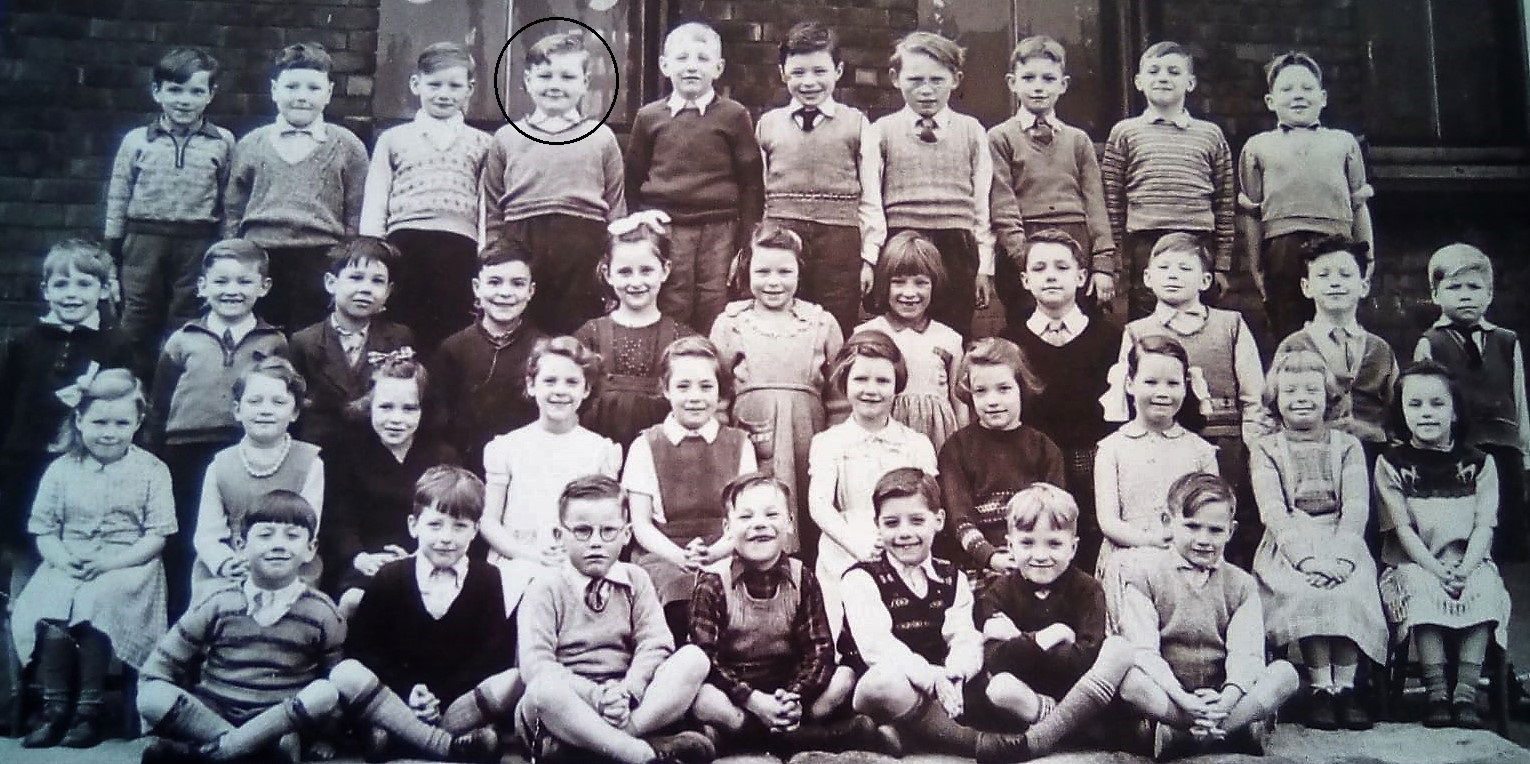 Gordon's first close encounter with professional football came when he clambered onto the perimeter wall, pitch-side at Maine Road in 1960 in a crowd of 65,000. . Dad had decided it was high time and took him along to see the Blues lose by the odd goal in three to Burnley - who would win the league title that season. Bert Trautmann made an impression, as did Joe Hayes. Burnley's dashing blonde centre-forward being Ray Pointer of course.
(Gordon and myself both saw Bert sent off a couple of years later when he struck the ball towards the Referee in frustration - and hit the target - Ed.)
Sports facilities at the school centred on a shale football pitch nearby, located between two busy roads. It would develop ruts, and in boots borrowed from his Brother, Gordon began to master the art of ball control in the face of a very uneven bounce ! He made the school team. Wolverhampton Wanderers were arguably one of the biggest teams in England back then and their distinctive 'Old Gold' and black colours were adopted by Queen Street. Gordon can still remember those cotton shirts and the joy of pulling one on to face locals rivals like St.Bridget's, and Ravensberry Street.
Back in the classroom Woodwork and metalwork were among the things he enjoyed the most.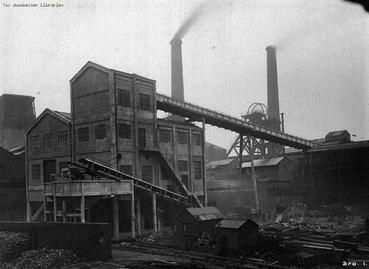 Bradford pit Manchester
Gordon's parents had had another child unexpectedly by now, fully ten years younger than himself, and the family moved home a couple of times. Eventually settling in Moston, on a small estate populated by colliery workers and known locally as 'The Miner's Village'
Academia held little allure but when he left school at the age of fifteen the 'Careers Officer' clearly recognised a young man who could deal with life's ups and downs, and earmarked a job with a local 'lift engineer' which needed a keen worker to learn the trade. In stepped Gordon on the ground floor.
F.M. Bell didn't strike quite the right tone and thanks largely to his Sister Barbara's influence Gordon peeled away to secure an apprenticeship with 'Calico Printers' on Pin Mill Brow as a 'Machine Engraver'. This role suited him well and he stayed to serve out his time. During this period Gordon had married, and fathered two children Victoria and Lee. Eventually the two of them have produced EIGHT Grandchildren.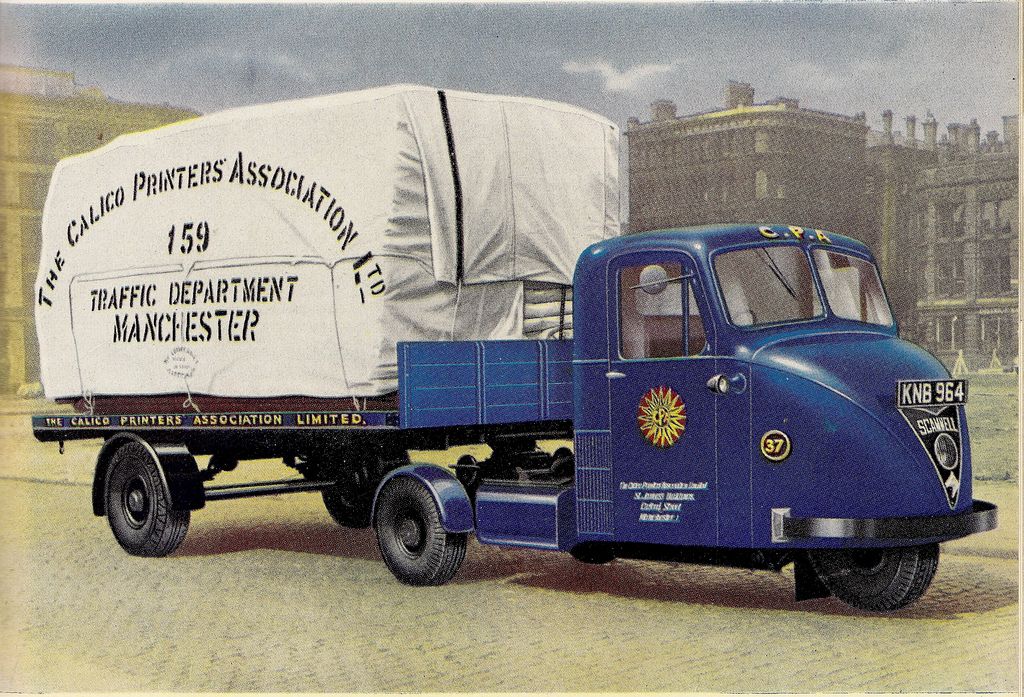 Football at this time involved a place in a pub team and a stint with a club he and his mates had started with a maternal link. 'Ivy' Villa saw Defender Nixon making many appearances in sky and navy blue candy stripes.
Gordon's first marriage didn't last, and at a time of change in his life he answered the call of the Royal Mail in 1978, joining the Post Office at Newton Street. He took to this like a duck to water and within twelve months his colleagues had elected him to a Union (of Post Office Workers) position. He made his first conference speech in Blackpool's Winter Gardens in 1983.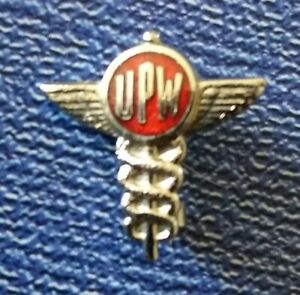 U.P.W. badge
Three years later he met Janet, who worked as a G.P.O. telephonist in Ashton-under-Lyne and was also involved in trade union work. After five years the two sealed the knot and had bought the house they still live in, close to Glossop.
After sixteen years or so Gordon became disillusioned with the postal role. U.P.W. courses he'd been invited onto had been enlightening though, and had given an insight into the way the organisation worked, all adding to his experience of life and the workplace.
He had been stationed inside the sorting office at Newton Street and been 'very happy' but a move to a new depot at Oldham Road meant the nature of the job began to change in ways he did not warm to. Mechanisation was another hurdle to clear as modern technology was embraced by the Royal Mail.
We all know life has its twists and turns, and in 1994 the two decided on a complete change of direction. Offered the tenancy of The 'Bull and Butcher' in Leigh they leapt at the chance and grasped the nettle of the Greenall's pub. A somewhat belt and braces working class clientele quickly endeared themselves to mine hosts Janet and Gordon, and vice-versa. Darts and Dominoes were popular. (The kind of pub my Dad would love - Ed.)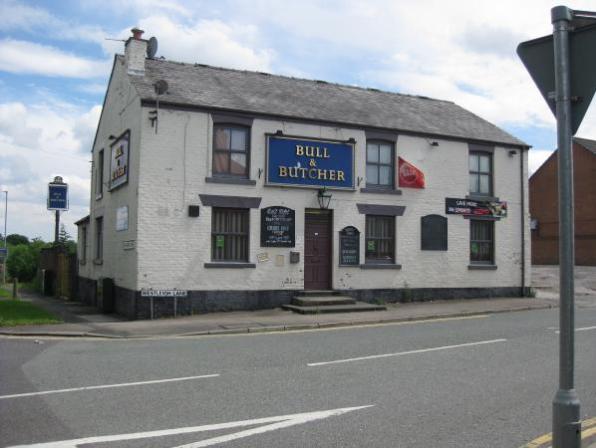 The Bull & Butcher - on 'dangerous corner' as locals called it
Janet took care of the food at the weekends , and Gordon pulled the pints. Four happy years followed. Demanding years it's true, with limited scope for get-away breaks and holidays.
Coincidentally as the tenancy was coming to an end the pair were head hunted to take over the Stewardship of Stalybridge Conservative club. They'd rented out their home whilst living in Leigh and had three more years closer to home in the licensed trade.
Not averse to trying something completely new, Gordon took to driving buses for 'Stagecoach' at Stockport. The only drawback he found was the need to let people on board. He enjoyed the driving aspect very much . Some pesky passengers the only blot on the horizon. Gordon was 'on the buses' for a year. This was around the time of the millennium.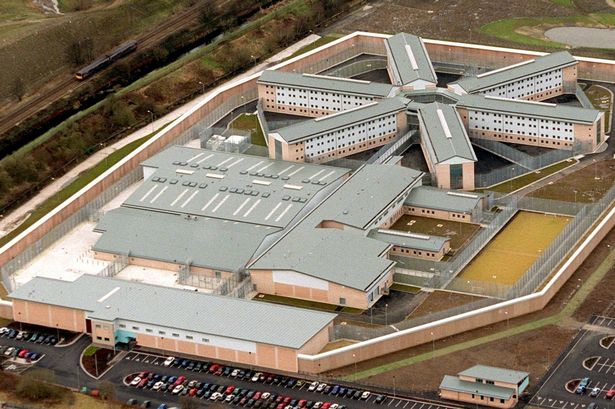 H.M.P. Forest Bank
Having applied a few months earlier for a job with the Prison Service, the call came while he was still with 'Stagecoach'. He didn't think about it for long before accepting a role at Forest Bank, first of all with 'Young Offenders' . Various other wings and segregation blocks were experienced. No doubt Gordon's maturity helped him adapt to the challenges the role must have entailed, after all he was well into his fifties by now.
The couple were managing to get away for holidays more regularly now , and cruising on the high seas is remembered as a favourite. It's a good bet more cruises and holidays in the sun will follow when we all get the chance to pick up where we left off pre-pandemic.
Walking Football beckoned in the early days of Gordon's retirement from 'Forest Bank' which was to be his last position in the world of work.
He teamed up with Rob Lake, Dave Partington ,Steve Wingrove and others on Thursday's at Hadfield with Wellfit's Owen Brothers, and soon began to play at Denton.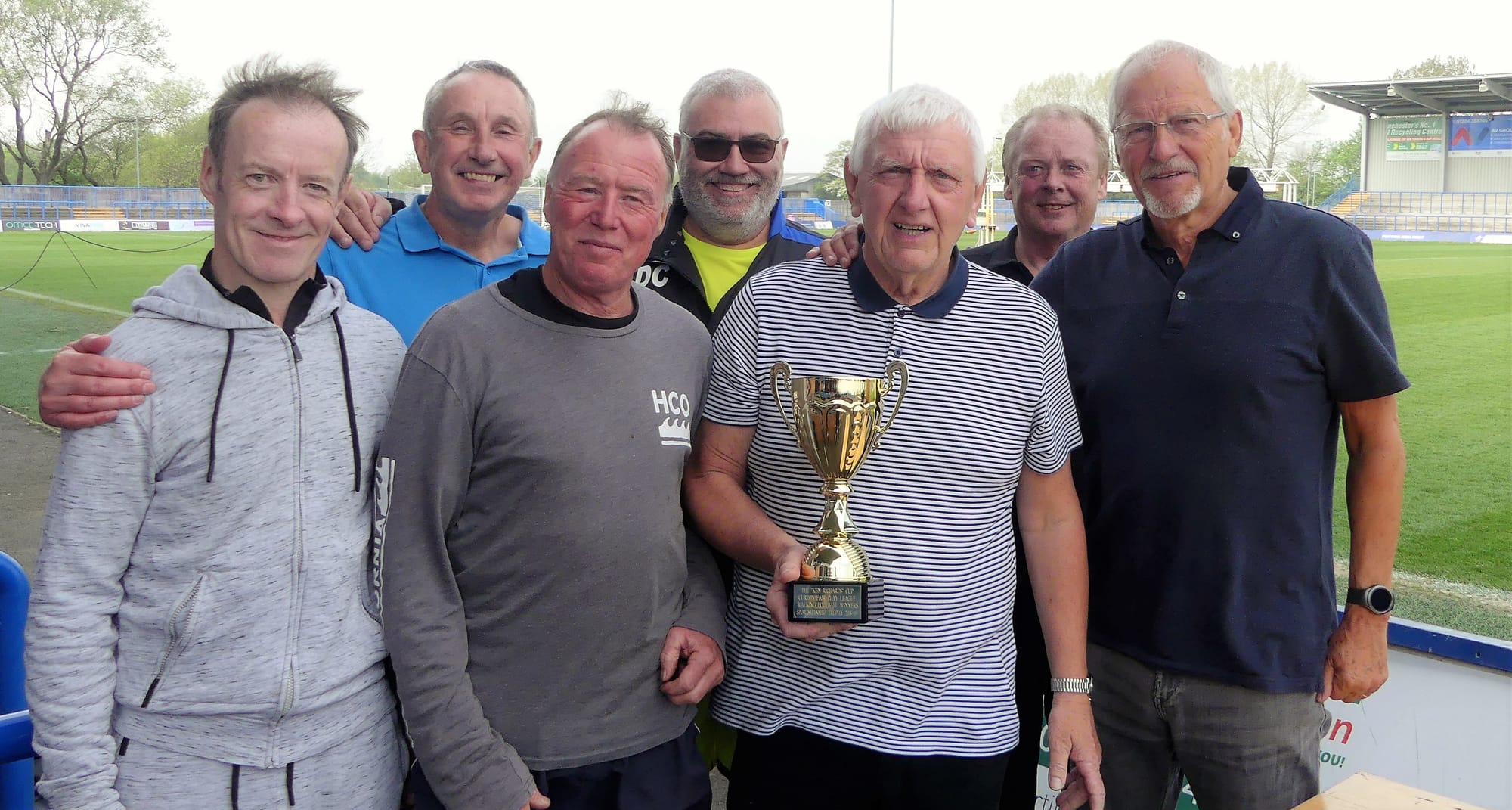 Gordon's team the 'Bees' Fair Play Cup winners 2019
When it was clear independence was the only sustainable way forward for our games, Gordon attended initial meetings with Alan Richards as we negotiated funding on which to base our progression.
He was elected Chairman in July 2016. Since then he has been almost ever present on Tuesday's and is now a regular on Thursday's too. He has turned his hand to M.C. and compere of our Christmas 'doo's' with his mate David Partington, both combining to help make great successes of our annual get togethers at 'The Nash Bar' and elsewhere.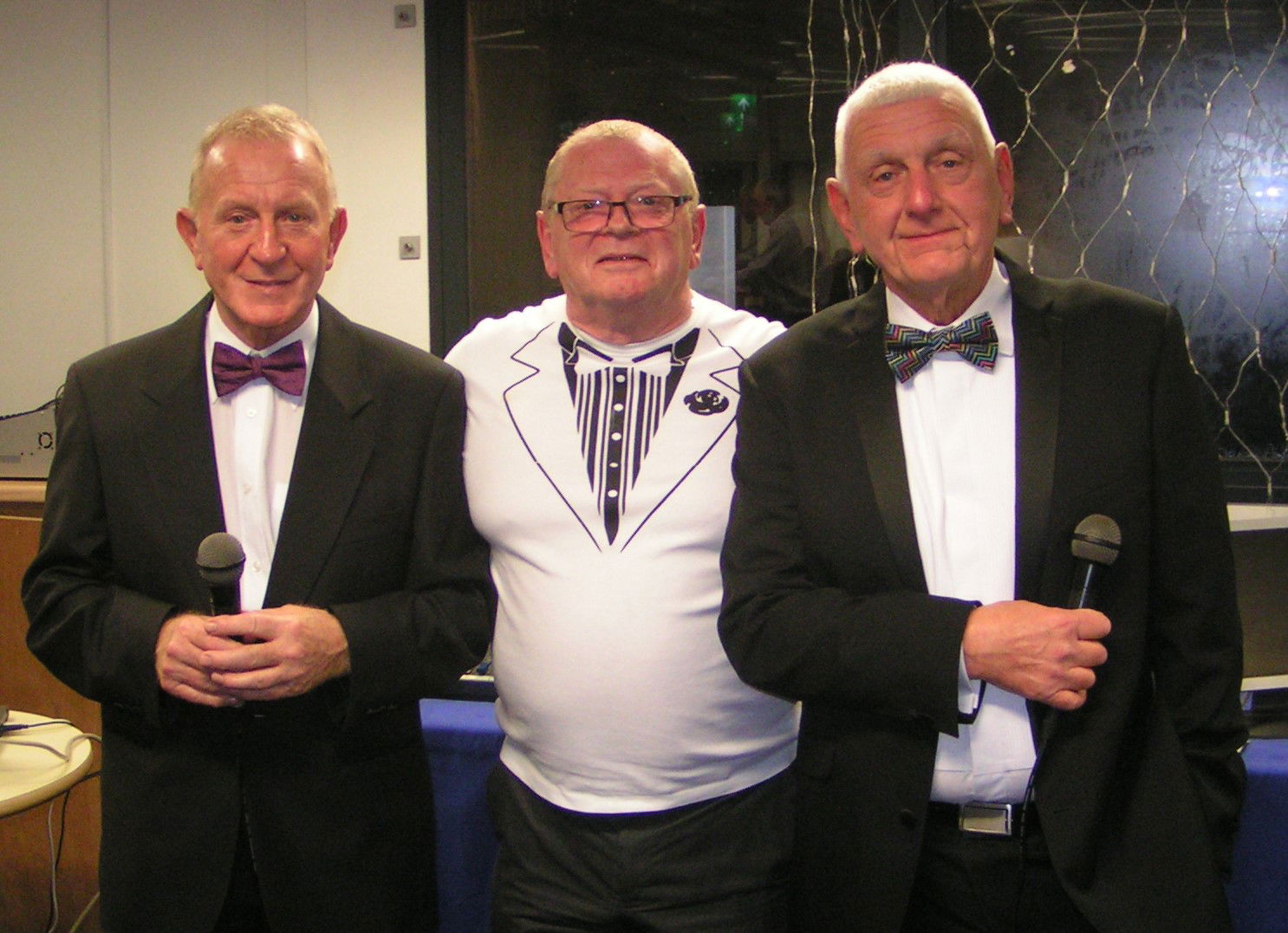 With Dave Partington & Keith Burrows December 2017
Quizmaster is another role he has adopted with relish and he's organised lots of Q & A's on Whats App since we've been locked down and shut out.
Always a popular figure within the group. A committed defender of strength with number two on the back of his bib. He likes to drive forward, and can shoot with power when he gets good contact.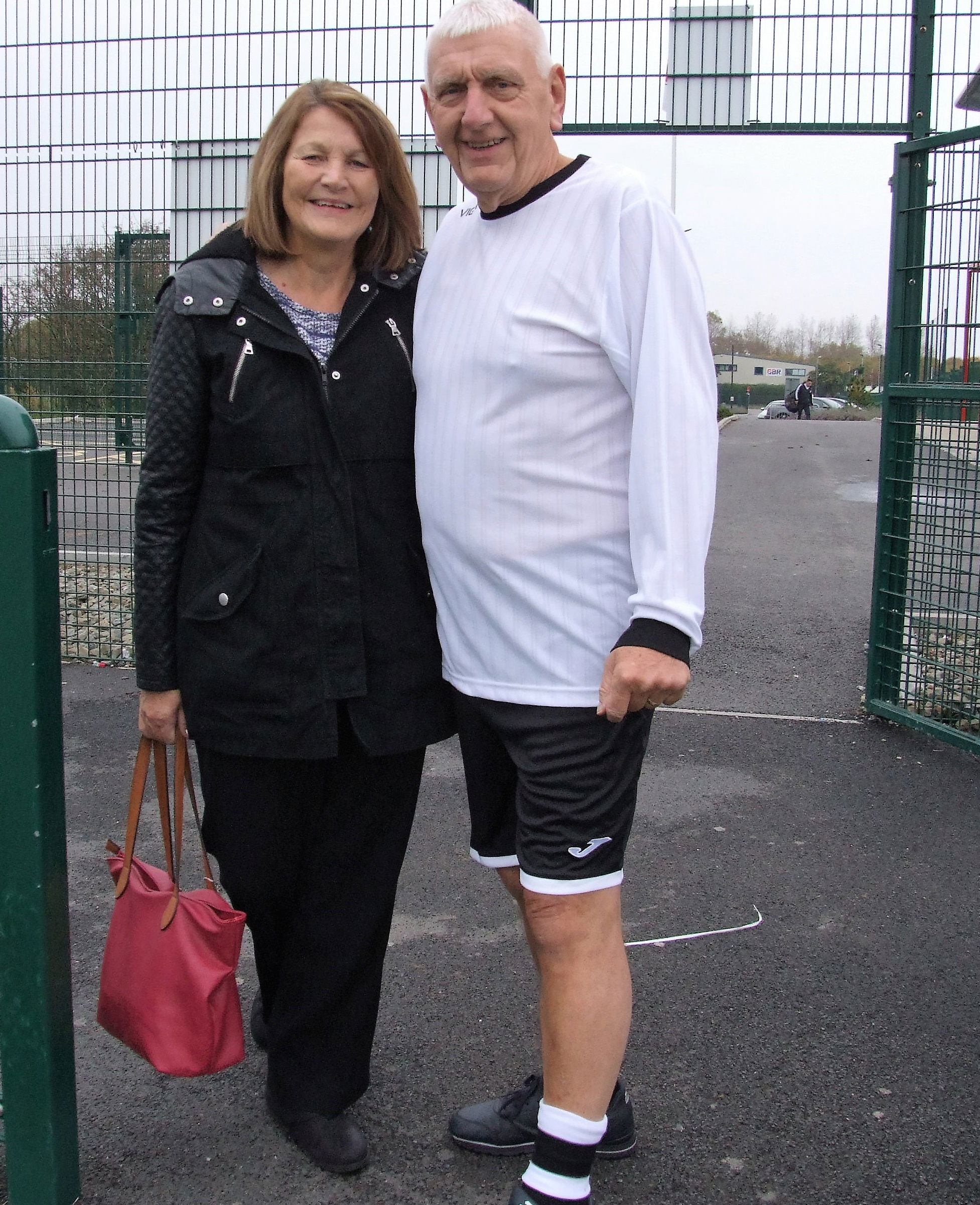 The Nixon's - Fleetwood away 2016
Not averse to a goalkeeping stint either when we play conventionally, Mr.Dependable is experienced at Heywood, and in the F.P.L. both between the sticks and outfield. Without doubt a key member of our set up. Below is perhaps his finest moment in the game and one we won't forget.
Now a Great Grandparent , Gordon's hoping next to make a mark on the Over 70's league, if and when it resumes.
Gordon has followed the fortunes of Manchester City F.C. through thick, thin and thinner since he was a lad. His own Son Lee chose the red option but with Grandson Riley alongside him Gordon has been along to the Etihad in more recent times. He's enjoying the current crop of success of course, and is a regular pundit on the groups social media platform whenever the Blues' games are televised.
It's been a pleasure to get to know his back story, and to share it with a wider audience."
Alan Richards