One of the keenest of our more recent additions (2019, I think) John Kenyon has embraced the game and become a regular attender on Thursday's at eleven. Also turning up when he answered the call to swell the numbers on Tuesday when we asked a little extra of him.
A popular and appreciative player here is a chance to find out more about his life, this time written in his own unedited words.
I was born in 1952 in Osborne road in Denton. My dad, then aged 49, was a hatter at Wilson's hat factory and later Joseph Howes and Sons and my mum, aged 40, worked at Oldham's Batteries. I was the youngest of six children with eighteen years between me and my eldest brother. As an 11 pound something 'whoops' baby, I was a bit of a shock and this was compounded when I arrived at just over 11 pounds with only one hand. (Mum had a bit of a bad time).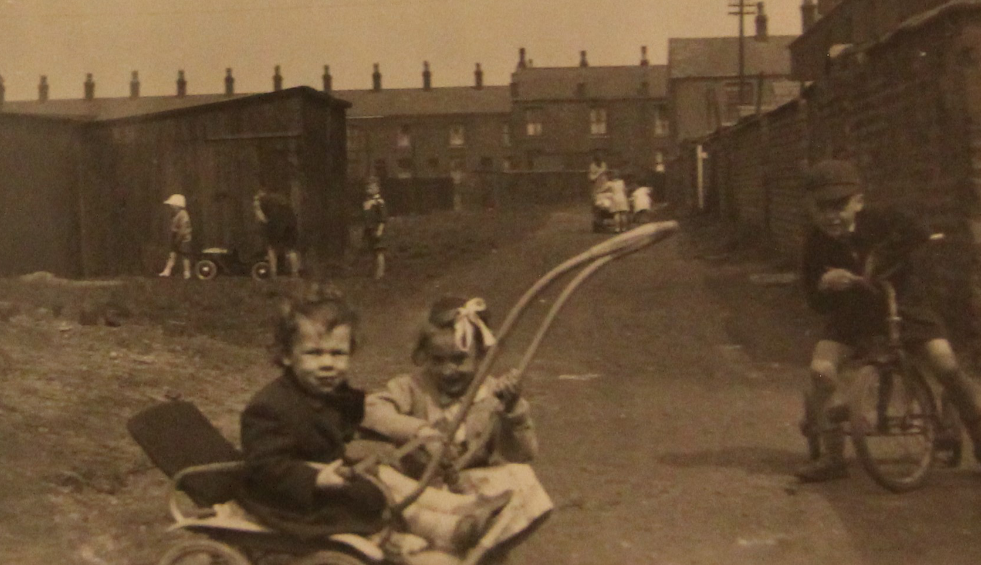 John about 18 months, & sis' in their ' playground'
In 1954, we moved to Acacia Avenue at the bottom of St Lawrence's Rd, into a brand-new council house. I went to school at St Anne's Primary School and I was the proverbial 'could do better' child.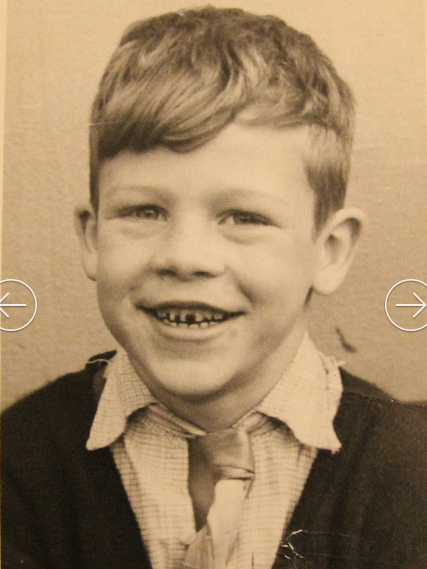 the boy Kenyon
Sadly, sport did not feature much in my growing up. I was not allowed to play on the cricket team because of my hand (teacher's decision) and when the football team was being selected, my sister borrowed my 'new' size 4 football boots to play hockey and I had to play in a pair of borrowed size 10 rugby boots stuffed with newspaper. Surprisingly, I never made the team.
It was in my final year at St Anne's that I got my first artificial hand which made me stand out a bit as it did not move, and I wore a glove on it all the time. On the plus side though I did get free gloves three times a year.
From St Anne's, I went to Two Trees Secondary Modern. Again, I was an average student, but I was not involved much in sport as I had to follow my sister, who is four years my senior and excelled at all sport, as the teachers would frequently tell me.
My dad passed away in 1967 which left mum, my sister and me at home. Things were a bit difficult, but mum did a brilliant job. I have to admit, school was not my favourite place, I was a bit of a clown and corporal punishment was very common, and sometimes quite violent. I left with one grade one CSE in English and five or six CSE.s of very little significance.
It was in the mid-sixties that I started going to Old Trafford with two friends. Unfortunately, it was mainly home matches as I couldn't afford away trips. One thing I regret was not going to Wembley for the European final but between us we did not have enough tokens so, as I had the least tokens, we cut them up and pieced tokens together for my two mates. I went round to one of their houses to watch the match in colour.
The first job I went for in 1968 was at a crane firm in Gorton somewhere but, although I passed their induction exam, they said they could not give me a job because they would not get insurance for me to work high up on cranes because of my hand.
I eventually started work later in 1968, (interview Friday afternoon, started work the following Monday), working at John Walton's of Glossop bleachers, dyers and finishers in Hadfield.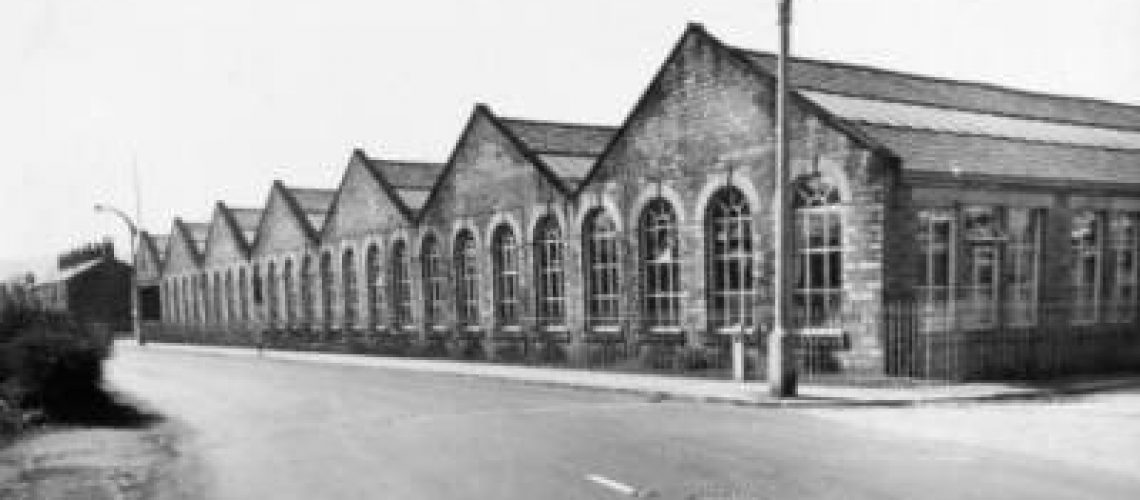 Walton's of Glossop
This was where I became officially 'disabled' as, on the advice of the shop steward, for job security, I registered as disabled, making up the percentage of disabled workers employers had to employ. I worked in administration there, cycling often to save money, until the firm closed down in 1985 and I was made redundant. I then went on to work in Longsight, again in admin in a textile wholesaler and again I was made redundant two years later.
After a spell working for the DHSS in Longsight, I made a complete change of direction and went to college in Crewe to train as a primary teacher. Four years later, just before I got my degree, I changed direction again and ended up working for Tameside Social Services. I worked for Tameside Council for twenty-five years, working at Boyds Walk Children's Home in Dukinfield, with children with disabilities with challenging behaviour and complex medical needs. Very satisfying work but often physically and emotionally stressful.
Two years before I retired, in 2015, following a routine angiogram, I was told I would have to have a quadruple heart bypass and I joined my three brothers in the bypass club (two of us quadruple and two triple). After a few months recovery, I went back to work and retired in 2017.
Looking back over my working life I was surprised how many jobs I did to keep afloat, especially in the early years when I used to find extra work during my annual leave such as potato picking, cleaning a quarry, building work, office work at Newton Bank. I also did a coupon round for several years and later worked on the electoral roll, census and polling stations.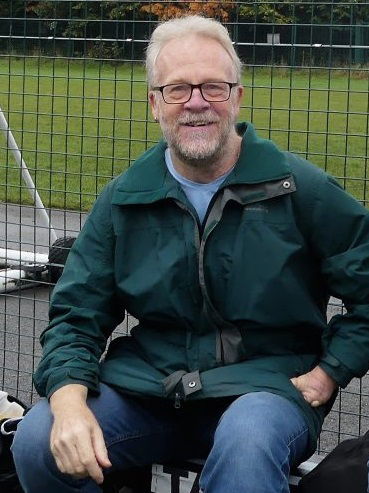 I lived in Denton until 1974 when I married Norma and, in 1975, we moved to Hyde, where we have lived ever since. Moving to our present house in 1980.
We have two children Sherrie and Daniel and have been blessed with four grandchildren and two great-grandchildren.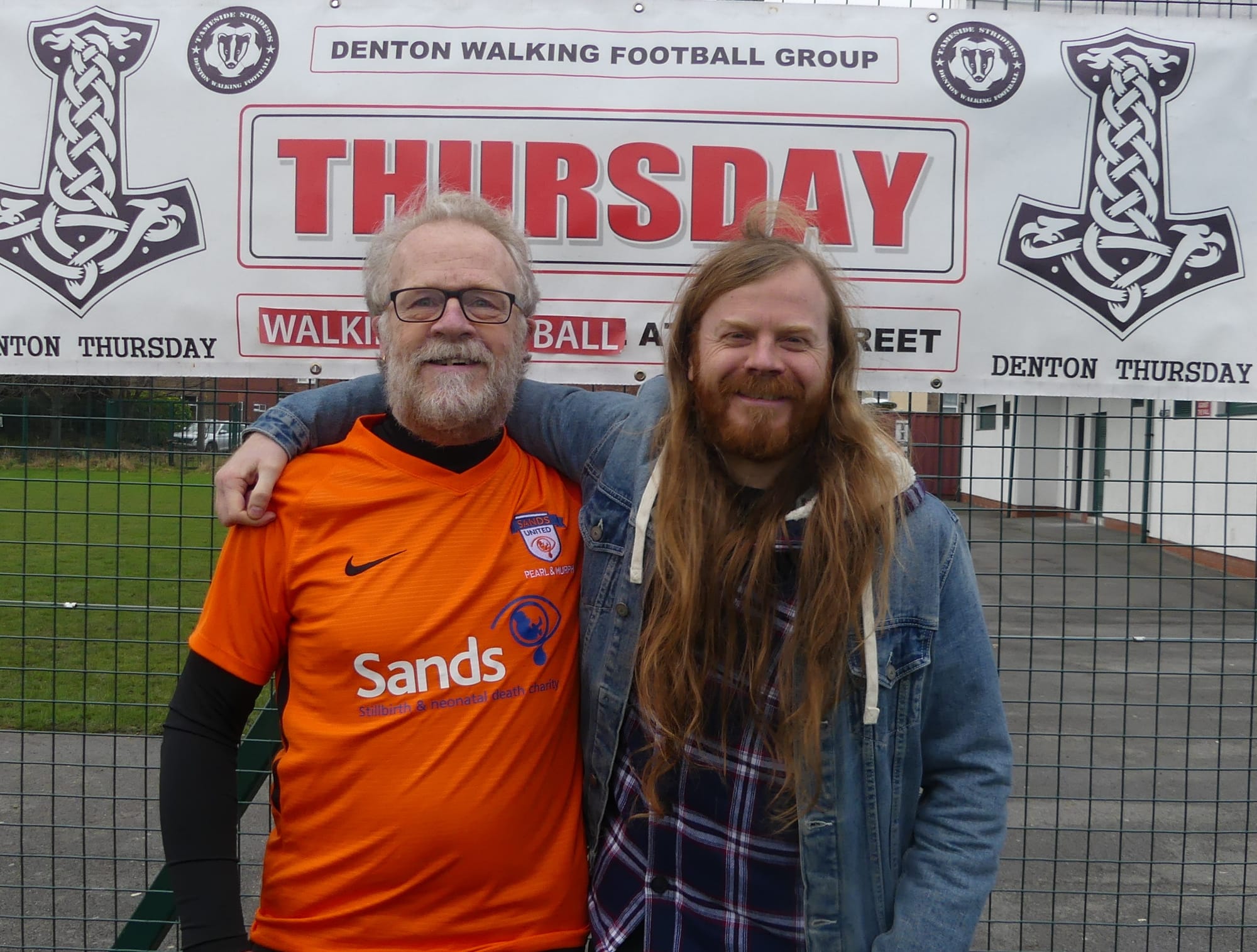 John with Son Daniel
The only football I was involved in was playing five-a-sides with children from different streets in Denton when I was at secondary school. I played for Shoecroft Shadows, from down Town Lane, as a left winger.
When I was about fourteen, I started playing badminton at Denton Methodists this became my sporting passion. We played in the Tameside Badminton League, which had several divisions. I reached quite a good standard and ended up playing in the first division for ICI in Hyde.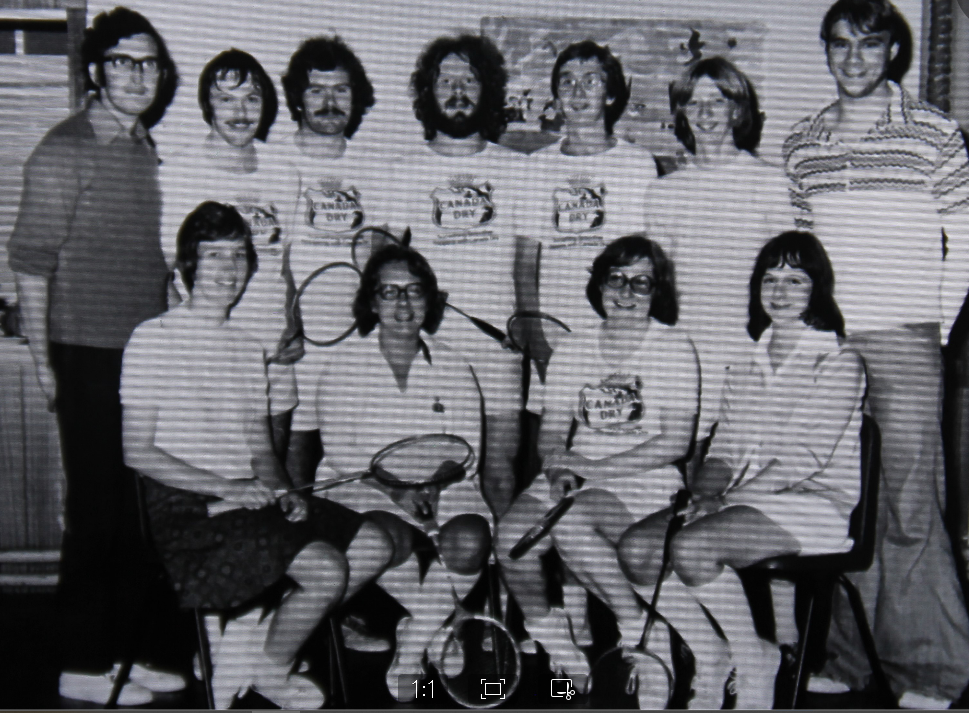 Badminton - John's passion (centre back)
I have a few hobbies, painting, writing, genealogy and a bit of photography but I felt I needed something more active. I had seen walking football advertised on T.V. and said "I wouldn't mind doing that ". But I put it off until I saw something on Facebook and decided to go down to Denton, where I was made welcome straight away. That was the best thing I have done for a long time and I cannot wait to get back.
(And so say all of us, I'm sure - Ed.)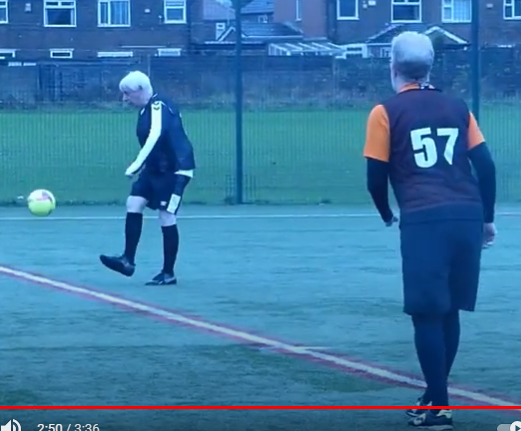 John Kenyon - 57 in the Black