Steve Wingrove is another of our 'baby-boomer' generation born in the mid nineteen fifties.
The Son of Yorkshireman Ron, a toolmaker and Joan a punch card operator who had met during the war years . The family lived in Shepperton, Surrey, which retains village status to the south west of Outer London.
The middle sibling, with an older brother Graham, and younger sister Anne, Steve speaks very fondly of his parents and describes his childhood as 'idyllic'.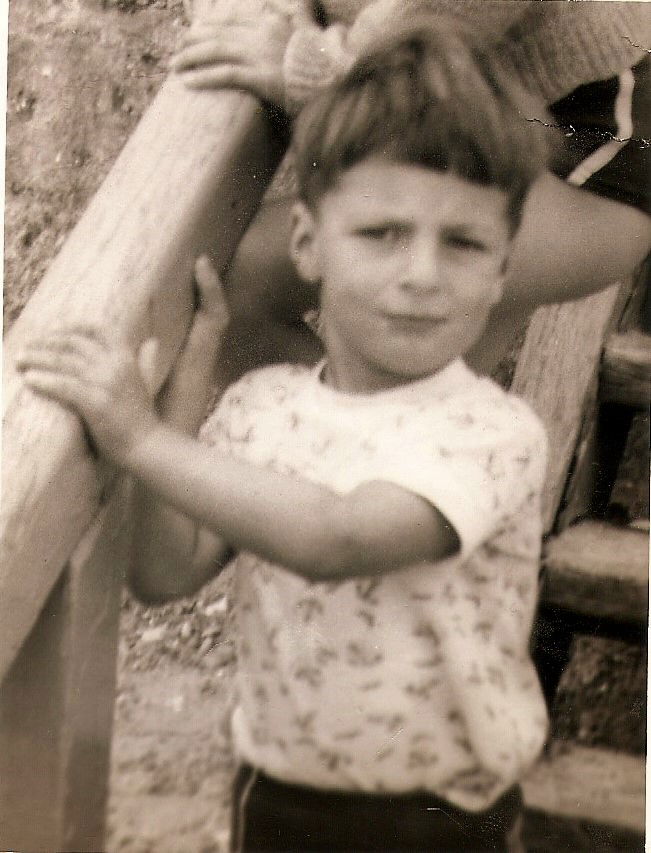 the boy Wingrove
Although he wasn't too keen on school, much preferring to spend his time playing football , which he 'lived and breathed'. There was no shortage of play mates with a keen group of like minded young lads on various green spaces around the village. He also became an enthusiastic runner (some might say he retains that trait to this day). Athletic prowess was coming to the fore as he matured.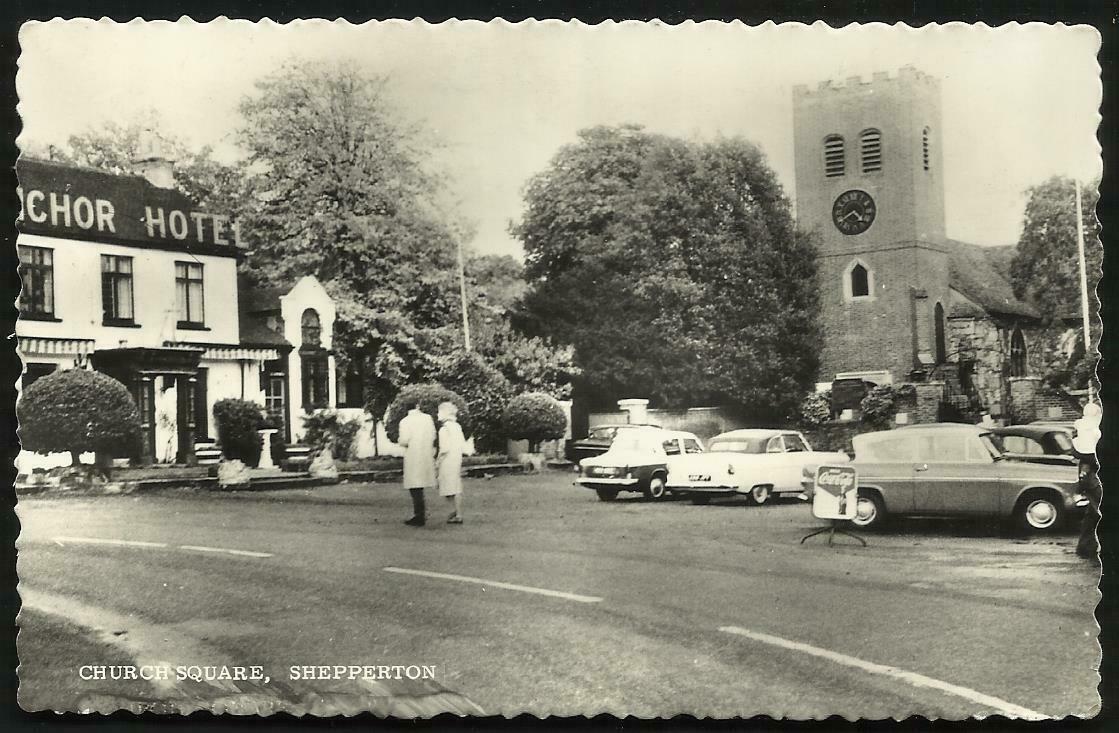 Shepperton
Childhood highlights often came in the summer holidays. His Dad was a very practical man who could turn his hand to almost anything so when it came time to pack the family Hillman Minx and head off towards the South of France, there was no way a blown cylinder head gasket two days earlier was going to stop them. It was removed, the head 'skimmed' and re-fitted very quickly and that Hillman would manage the 1,000 mile round trip with ease .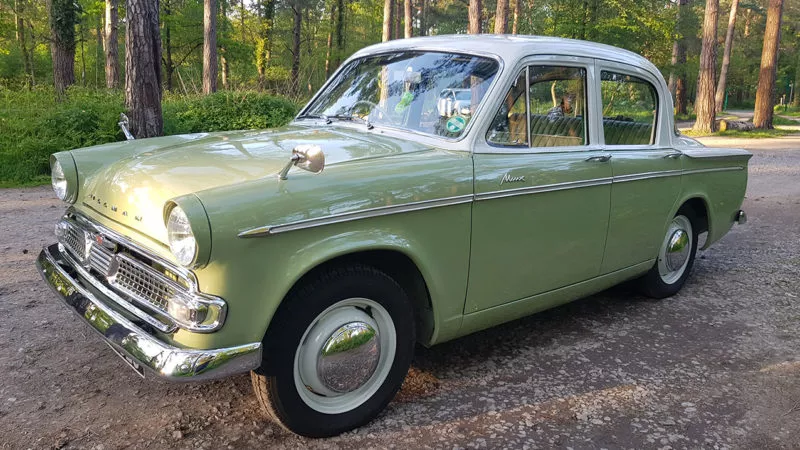 A Minx of similar vintage
The French adventures became almost an annual feature for a while at least, and the weather was more conducive to camping than Wales, where a similar trip had been ruined by persistent downpours.
Moving on to 'Matthew Arnold' secondary school after the eleven-plus examination, Steve's aptitude for practical work began to manifest in metal-work and similar 'hands-on' subjects.
His first love , football still remained high on his agenda but the all male school had some stiff competition for places and he was often on the fringe of team selection. He later helped form 'Shepperton Rangers' and recalls one game in particular against 'Sunbury Celtic' when a very young Gordon Hill mesmerised the Rangers defence with a bravura performance including goals Steve can still recall today !
His practical leanings dominated. One of his teachers noticed him gazing thoughtfully out of the window to the playing fields one day, and decided he'd be good material for the Chess club. Taking it upon himself to show Steve the intricacies of the game, which he grasped very quickly. He still enjoys playing Chess when he can get a game.
He left 'Matthew Arnold'at the age of fifteen and a half, although his school days were not over, as we will discover later.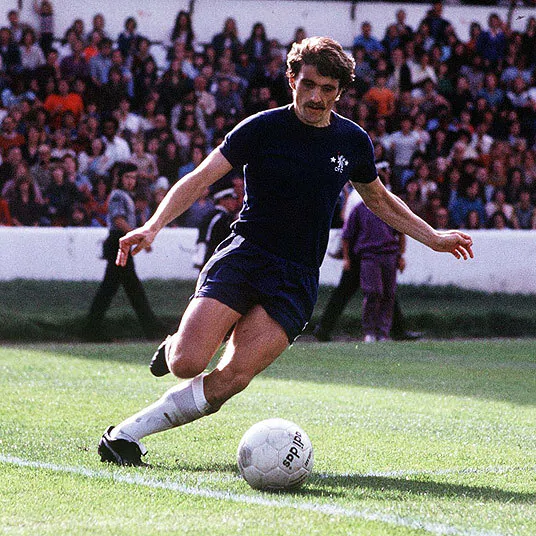 Charlie Cooke
Teenage years saw frequent trips to Stamford Bridge. Chelsea's stars of that era included Peter Osgood and Charlie Cooke, who's style Steve would often try to emulate whenever he got the chance. He couldn't get a ticket for the legendary 1970 F.A. Cup Final which went to a replay at Old Trafford, and has become the most watched football match of all time ! A David Webb goal ensuring his heroes took the Cup back down South.
Starting work as a trainee Engineer and 'Capstan Lathe' operator Steve took advantage of day release at college to enhance his knowledge. After two years on the Lathe he moved to a company making dental instruments. Precision work in stainless steel which demanded attention to detail and a focussed approach. He did well.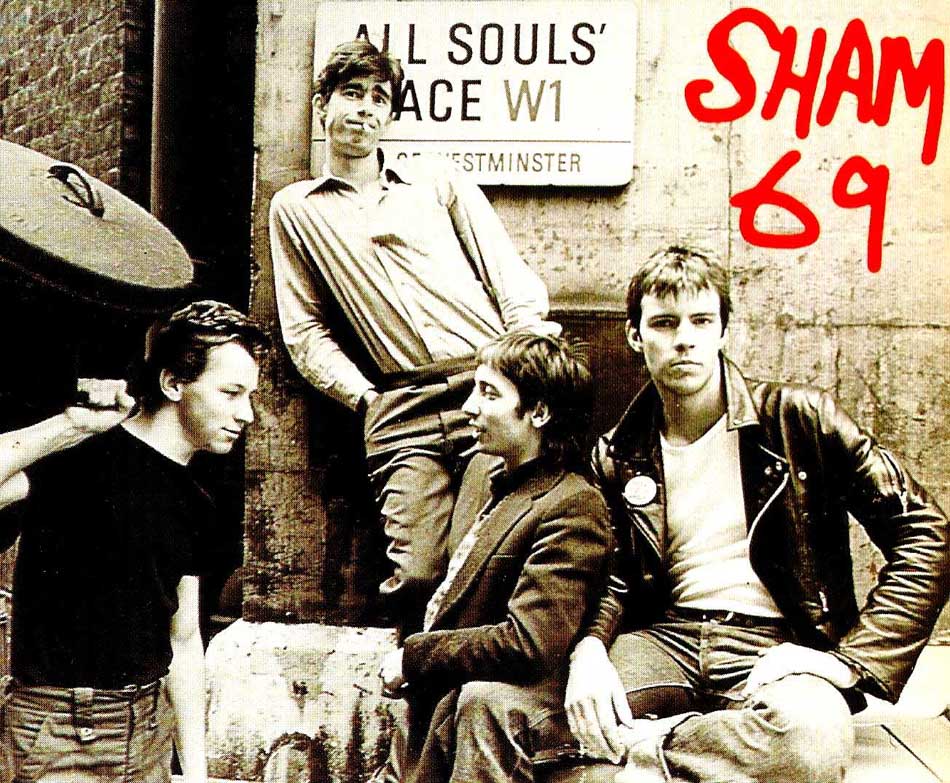 He was a follower of Walton & Hersham on the non-league football scene and sometimes bumped into Jimmy Pursey of Sham 69 - most of us will remember the punk anthem 'Hersham Boys'... laced up boot and corduroys' !
At the age of twenty one he'd been admiring his soon to be Wife Sarah for some time from afar , before bumping into her in a pub one night and asking her to his twenty first birthday party - still four months off ! Sarah readily accepted the invitation and it must have been a good 'doo' because not long after that they were married.
The Dental company had moved by now to the west country , and Steve found employment with British Aerospace at Weybridge. He took to the aviation industry and found himself detailing Aircraft and engraving panels, once again a fine eye for detail was required.
The couple's three children Mark, Amy and David followed around this time.
Tragically, their Daughter Amy passed away at a very young age. "There is not a day goes by when we don't think of her" No words can convey the chasm of grief such a loss leaves at the heart of a family.
The Weybridge plant closed and Steve had to find a way to keep the family afloat financially. His skills were in demand however and he joined a smaller concern where his Avionic adeptness could be utilised. 'Page Aerospace' was not to his taste though and within a couple of years he had rejoined British Aerospace at Kingston-Upon-Thames.
The firm later sponsored a football kit for a team Steve managed in Chertsey, and in the photo below you can see him, along with eldest Son Mark who is second left on the bottom row.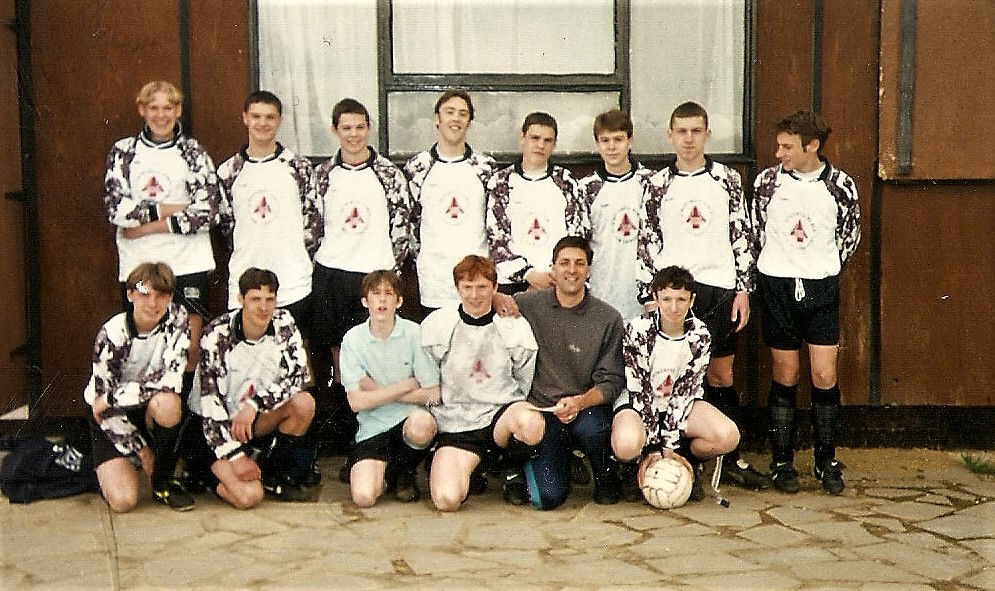 The Kingston-on-Thames factory closed (Steve was not blessed with the best of luck in this regard) and he moved out to Dunsfold , near Godalming , pursuing his role as an Airframe fitter.
At this point in his life Steve was beginning to tire of Engineering and fancied trying his hand at something completely different. He'd applied for a school caretaking job in his mid forties and to his surprise he was successful. Fourteen happy years followed as he turned his hand to general maintenance duties and 'Englefield Primary' was his home in more ways than one. A three bedroomed house went with the job, enabling the family to rent out their own home which offset the drop in income involved in the move. The lack of a commute in these years must have been a Godsend. Living 'on the job' can have its advantages.
Always following Chelsea's results Steve had, like many of us, put family before football and his match going days dwindled as Chelsea's fortunes improved, courtesy of Russian money. Transforming not just the club, but the ground they played on as the 'oughties' and the new century began to tick by.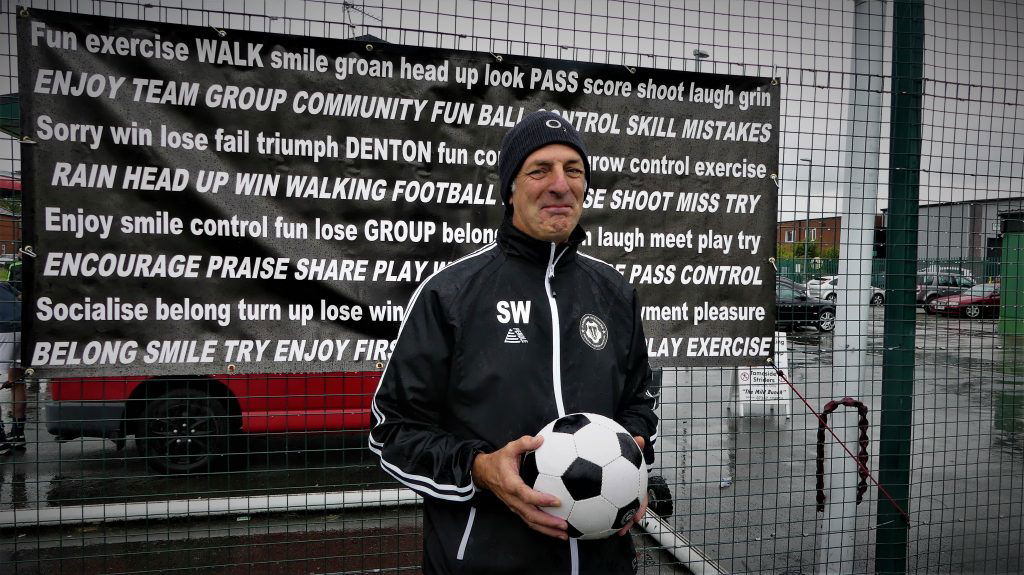 Steve & Sarah's oldest Son Mark had secured a good job and moved north with his own family. Settling on Glossop as a place to base their new lives. In 2015 Steve and Sarah decided to follow, not least because they had six Grandchildren now living in the Derbyshire town in the 'High Peak' Steve's love of walking was instrumental in his decision. The topography of the town and its surroundings can't be bettered if one likes to ramble. David, their other Son stayed down south and works at Heathrow.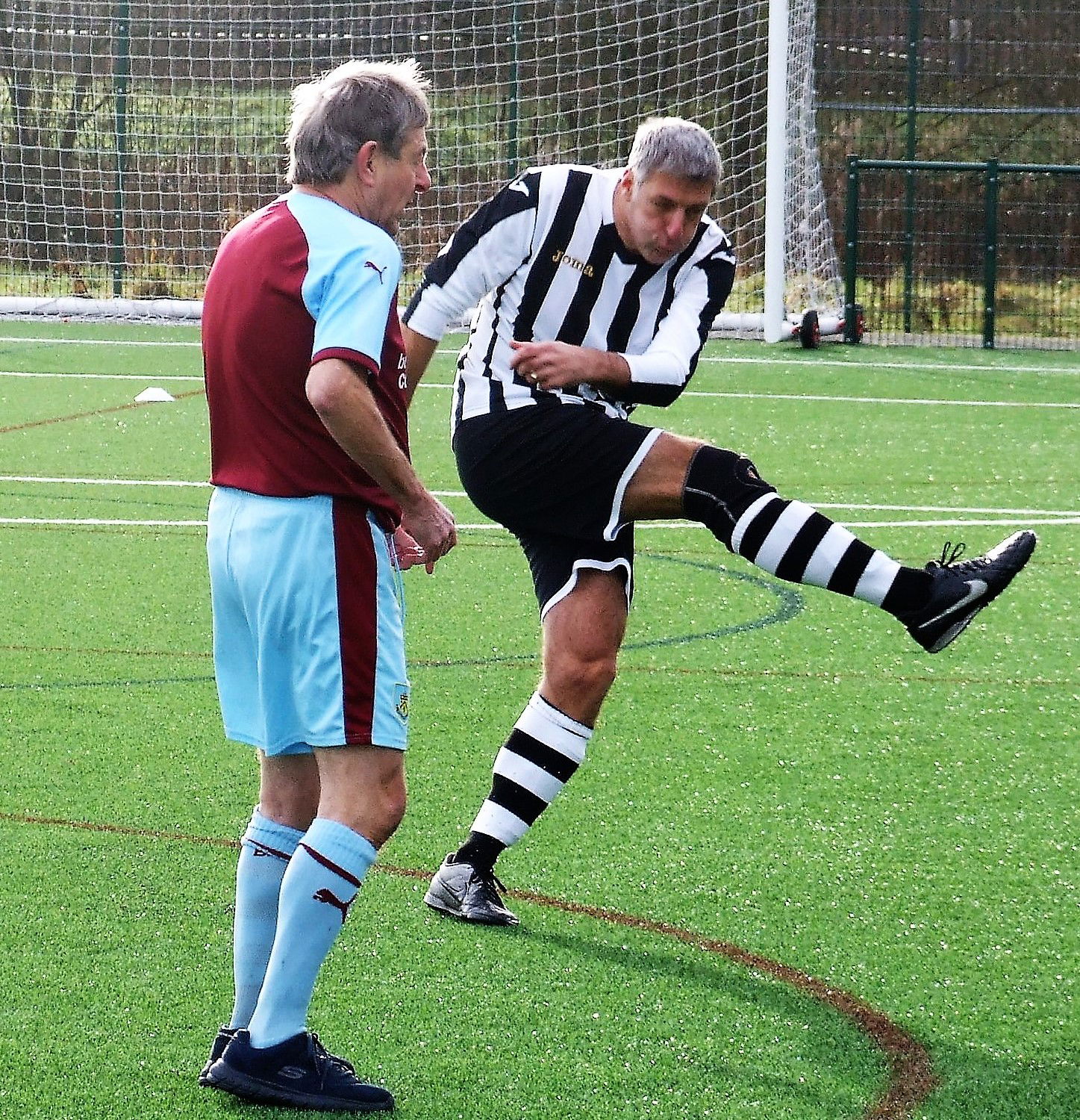 Walking football soon beckoned and Steve started playing at Hadfield with the Owen Brothers of 'Welfit'. Meeting like minds like Rob Lake, another southern England 'exile' who has become a good friend, and Gordon Nixon, the subsequent move to Denton was as logical as it was inevitable.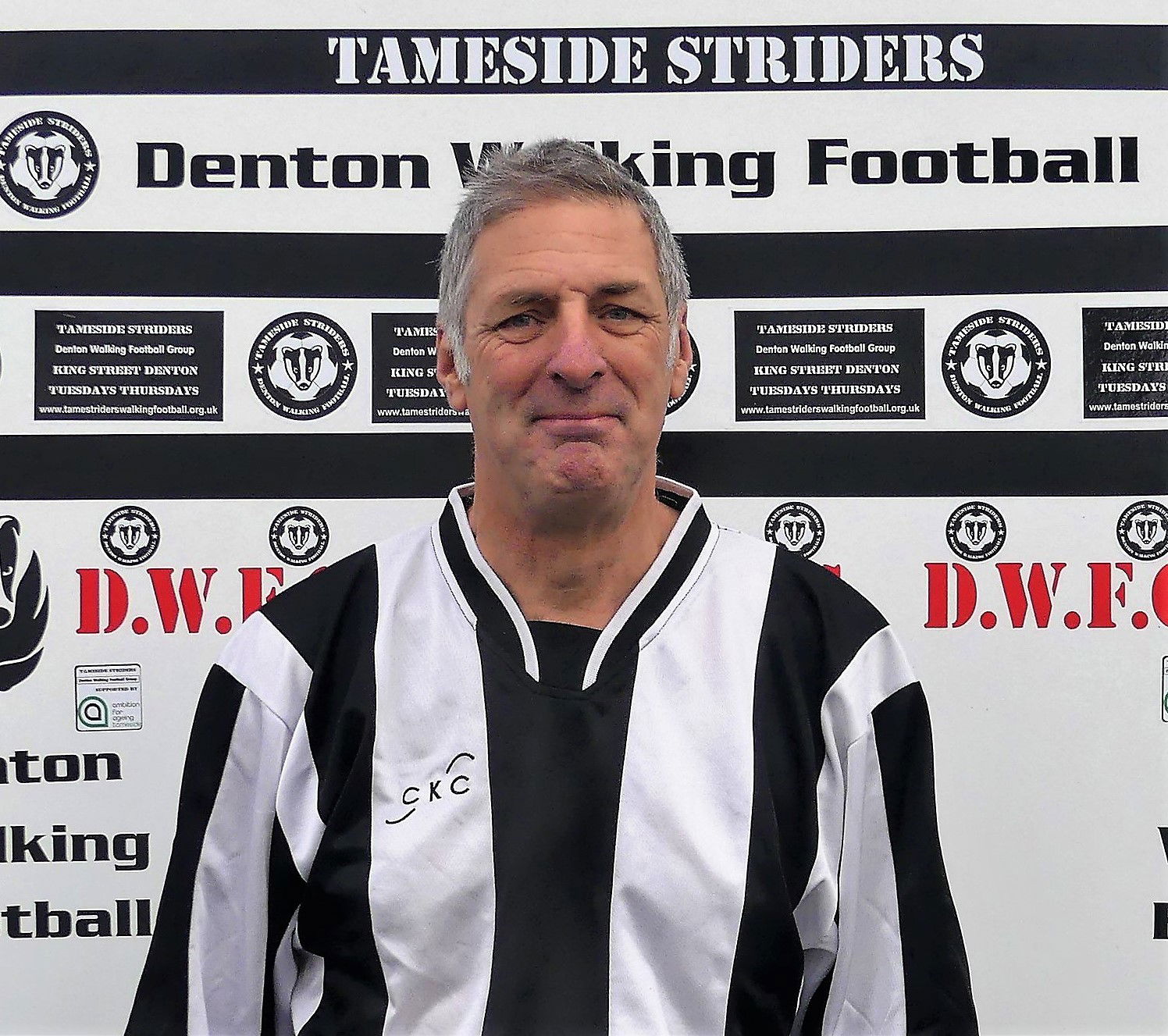 Steve is missing his walking football. He was a regular at Heywood for the Nash Amblers Over 60's, where he scored some important goals. Also filling a Striders shirt in the F.P.L. in the inuagural season. He wonders though if the long lay off's we've endured may change some people's attitude to the game itself. Perhaps a less competitive edge might prevail. Time will tell of course, but he agreed at Denton the inclusivity and mixed ability format suits him best.
One unfortunate event struck Sarah back in the winter time recently when a fall on snow and ice resulted in some painful, extensive and complicated consequences for an elbow. Treatment is ongoing and we extend best wishes to her for an eventual full recovery.
The couple have no regrets about their move to Glossop, on the contrary they love it and describe northern people as friendlier than many of the people they left behind in Surrey,
Steve will be back with us when we resume , in the meantime it's been good to get to know more about the man, and a pleasure to publish this 'profile'.
Alan Richards