Eight minutes of the first half Thursday second session 5.8.21
Some video clips from 29.7.21 Denton Thursday - elevenses | Flickr
A series of short video clips from Thursday 8.7.21 here
8th July...on the shoulders of Giants . Almost a Netcam as the 'Akaso' captures part of the first half from right behind Terry Hayden...mostly of interest to those who played in this game or those who think three touches is difficult to enforce ! Click the link below to be transported in an instant to King Street once again....
24th. June and we should have a few short video clips on Flickr later - look here for links...in the meantime we have some team shots from the first hour today.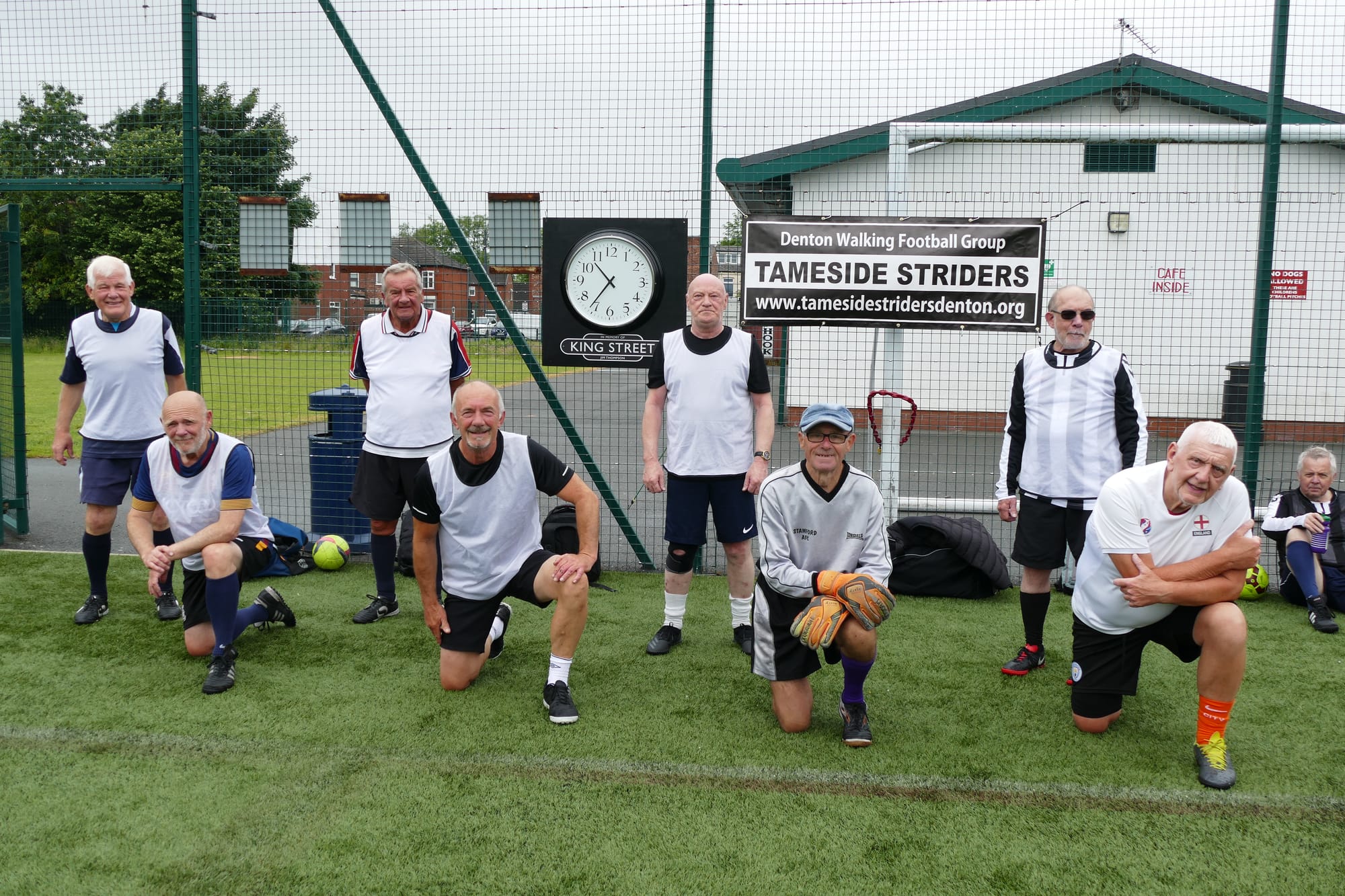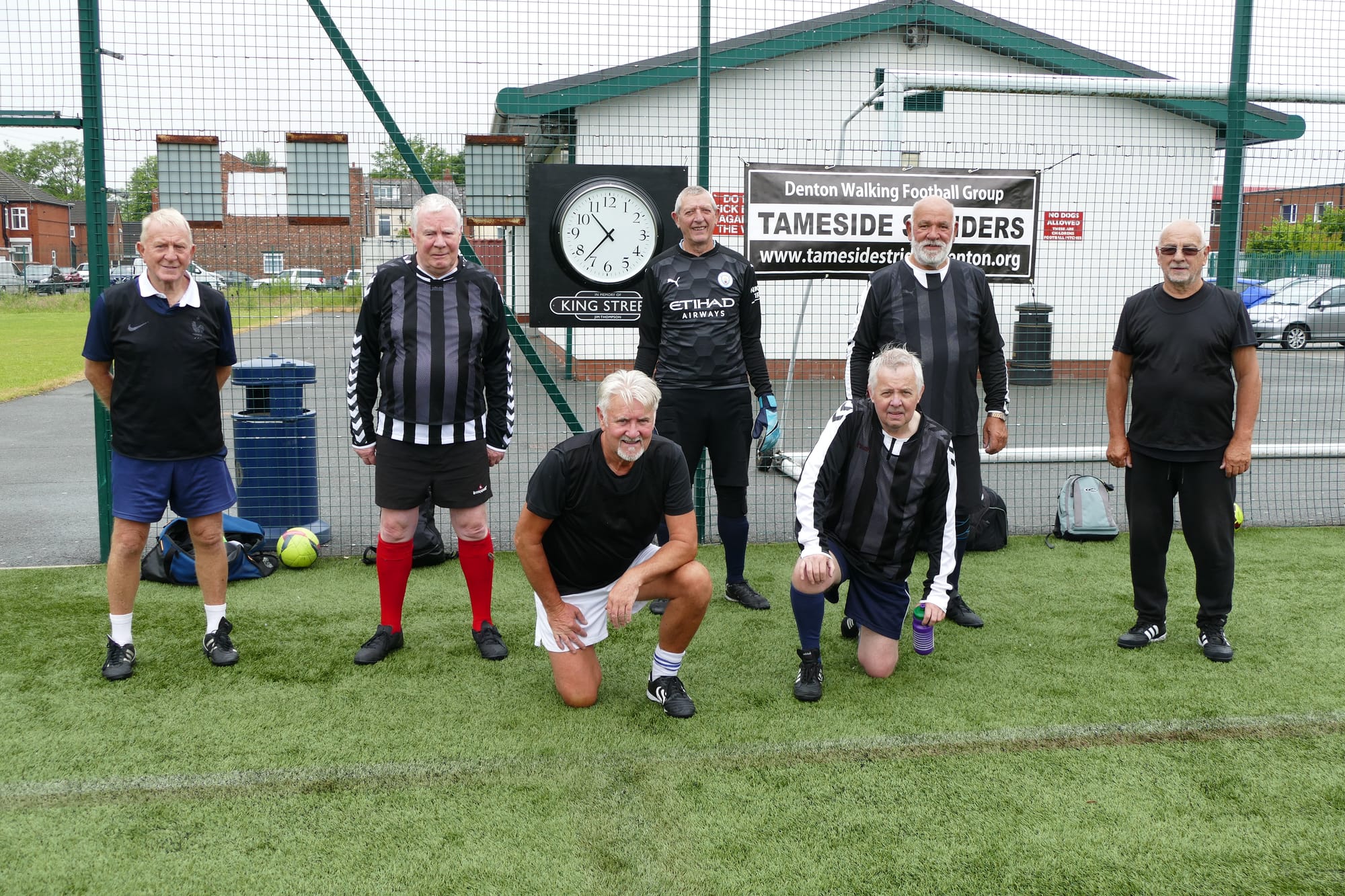 Some stills from 17th. June in this album S.O.S....
eight minutes you won't get back...
Denton Thursday the musical - YouTube
JUNE is busting out all over Denton Thursday....
and here's the first footage from the third...pitch two only at this stage.
3.6.21
Tony Cravagan's notes on the day we welcomed a new player:
Session 1 , Pitch 2 , 5 v 5

New player Tony Sutton had an excellent game on his debut for the Whites who took an early lead Stafford B netting from a Fielding free kick. Fielding was again in the action with the Whites second goal before half time.
HT - Whites 2 Blacks 0
The Blacks became more of a threat in the second half with Nixon changing SK with Matthews and Griffiths linking up well with a Brodie but despite the changes Stafford was able to snatch another two to complete his hat trick. Sutton was unlucky not to convert a penalty but goal of the match went to the Blacks from a multiple Brodie Nixon combination culminating in a Brodie consolation goal for the Blacks.
FT - Whites 4 Blacks 1
A. very good game with lots of one touch football.
Ref Tony Cravagan
- - - - - - - - - - - - -

Session 2, 3/4 Pitch , 8 v 8

Teams equally balanced in the first half with both SK's kept busy, Taylor for the Whites and Smith R for the Blacks.
HT - O- O
The second half continued in the same vein until the deadlock was broken by Taylor scoring from a penalty awarded from an encroachment.
FT - Whites 1 Blacks 0
Players please note the SK rules are on the website and also available in hard copy.
Ref Tony Cravagan.
- - - - - - - - - - - - - - - - - - - - - -
27.5.21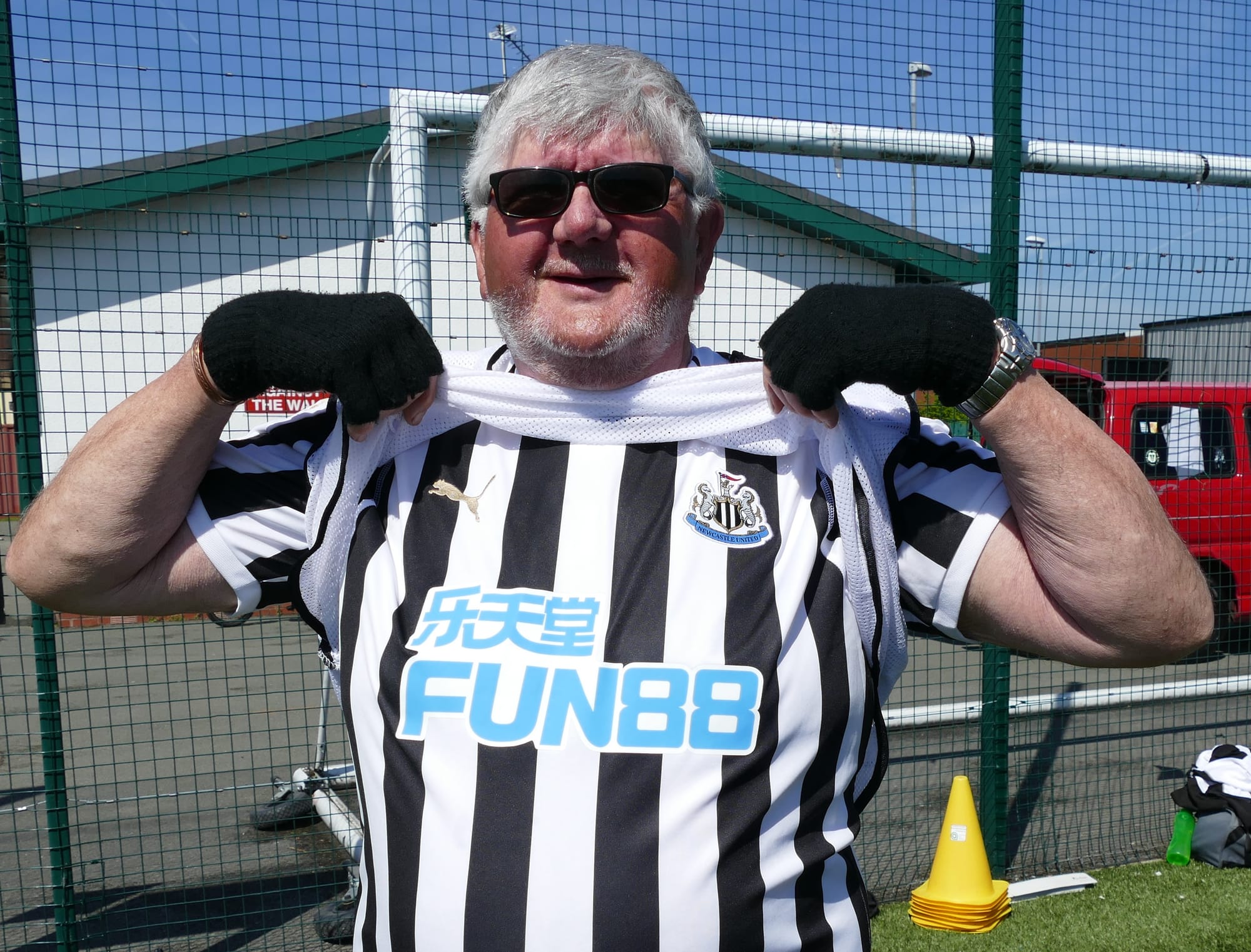 Frank Matthews with shirt straight from the Bigg Market
David Partington writes from Pitch 2 second session where it sounds like there was a close and exciting game today...
Black bibs 4 White bibs 3.
I played the first half,and refereed the second trading placeswith Gordon Nixon. White's scored first with a very good strike from Mike Caldwell, but soon afterwards Stephen Amison equalised to make it was 1 -1 half time.
it was an end to end game with whites Tracey Blanchard hitting the post on three occasions she played very well without and deserved to score.
Tony Cravagan was playing his 'SK' role brilliantly with Alan Brodie and John Kenyon always helping out, Blacks took the lead With a fine Keith Oldham goal, but the White's hit back again to equalise Mike Caldwell once more,.
Blacks made it 3-2 with Ken Thomas scoring . White's would not lay down and it was a hat -rick for Mike Caldwell that made it 3-3.
Gordon Nixon was superb playing alongside 'SK' Mike Taylor who blocked plenty of goal bound shot.
A very good move again involving Thomas, whose great pass found Amison right on the edge of the 'D' and the Bredbury man finished it off superbly making it a Black bib win by four goals to three. A very good game to play in and to referee.
On pitch One second session Alan Richards Refereed, and takes up the story...
A game of contrasting halves and contrasting shirts ! Stripes in evidence and jolly smart they looked too.
In the first period the teams were quite finely balanced,. There was just one run penalised. in this game . Having officiated most of these players last week and penalised more running I wanted to view the camera footage back to see if I'd called it about right. Such a pity that on this occasion the Akaso has let us/me down. There will be other opportunities.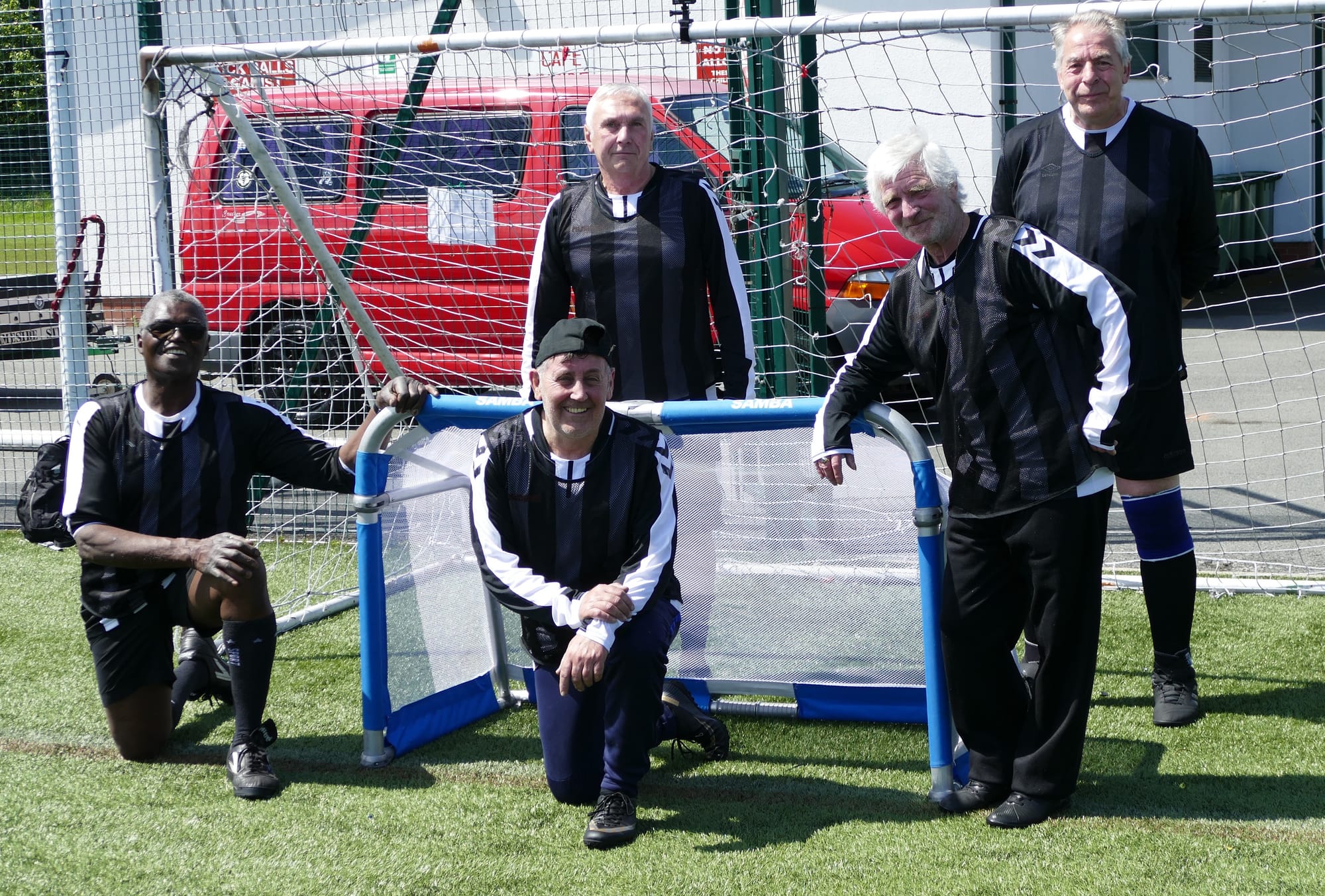 Black bibs smiling in the half-time sunshineBill Harrison finished well on two occasions to give Stripe's an early lead. Clem White, in black bib reduced it by fifty percent with an excellent strike. A restrained game with little contact so far.
Jimmy Stewart equalised with a fine 'shot-cum-pass' into the Samba net and at half-time the game was poised.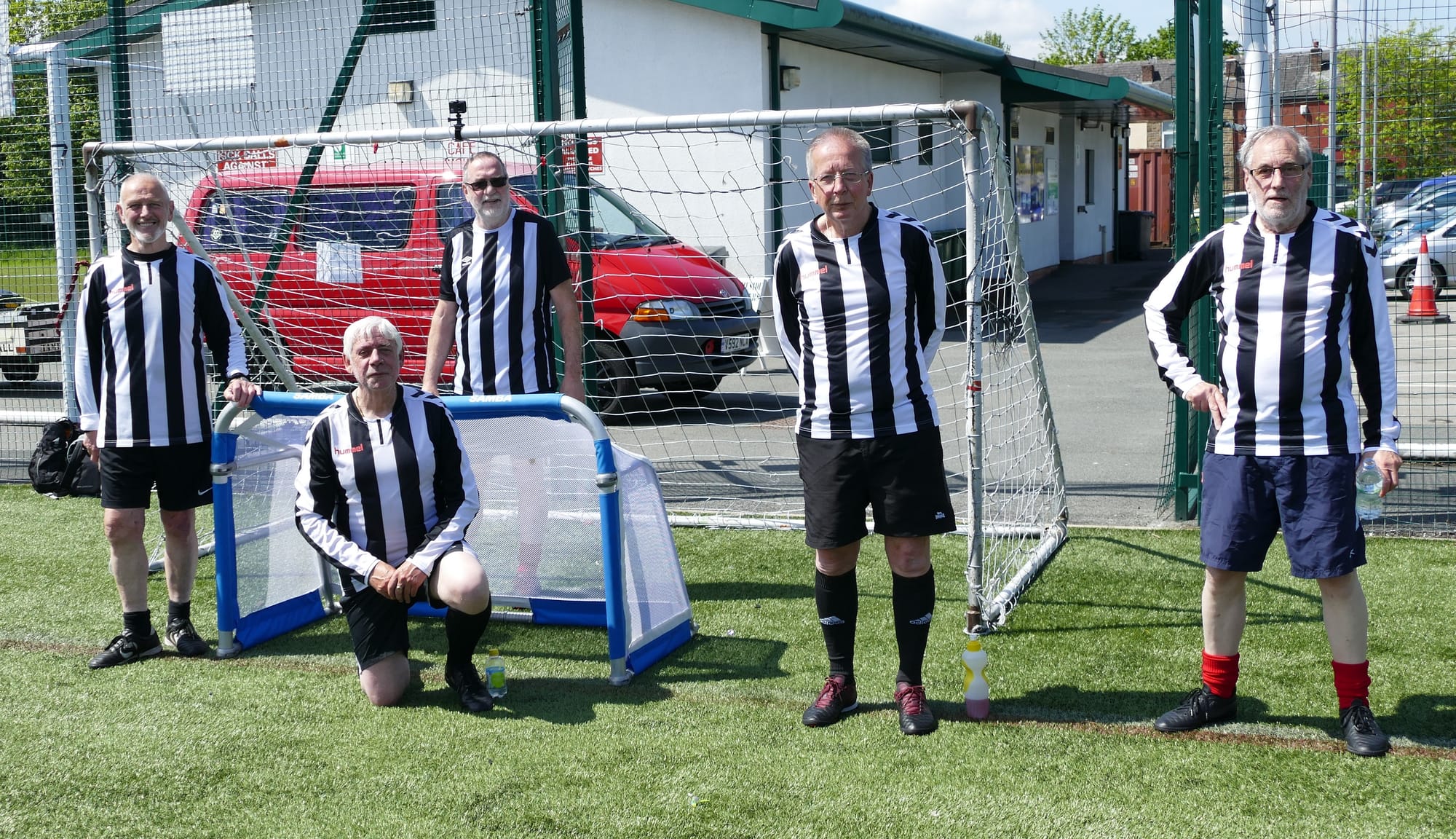 Stripes at half - time
As the second half got underway the mood seemed to change, just a little. The play became scrappy and there was some bickering and chunnering and the contact increased slightly. Players were fishing for their ball with their feet in close contact with each other, there was some pushing and a little jostling. Nothing major but it needn't happen.
Black bibs took the lead when Peter Wright - overly keen to win the ball at times put his team ahead. Things calmed down after a few minutes had elapsed and the pace of the game stayed relatively calm too.
Peter Quinn deserves mention for his full stint at Sweeper Keeper as does Nigel at the other end. At one point though Nigel committed a'keepers cardinal sin and wandered into his own 'D'.
Steve Stafford stepped up in stripes to stroke home the resultant penalty and the score stayed at 3 -3 until the end. A somewhat curious game, but a good one to Referee.
Note: We have some unmanned video of the first game across three quarters of the pitch. It will emerge soon. Black's were triumphant with goals (so far as I can remember) from Gerry Markland, perhaps Steve Birtwistle and a particularly good one (at least one) from Alan Brodie. Namesake Richards missed a sitter at the other end which is definitely captured in Keystone Cop's mode for all to enjoy - least of all Alan himself ! (he's not bothered really - Rashford's miss last night was far worse, (and he gets paid !) the subsequent abuse he has faced online though is repugnant.
__________________________________________________
Thursday 20.5.21
Tony Cravagan writes...
Session 1, larger pitch.
(some shortish video clips of Tony's game on Flickr, now! -
visit this link https://www.flickr.com/photos/stridershots/albums/72157719279694530

An odd number but not an odd game.

Start - 7 Whites v 8 Blacks.
The extra man made a difference enhanced and with a strong flat back four comprising of Partington, Hadfield and Nixon supported by Sweeper/Keeper Colin Fielding, it was was a hard nut to crack. Whist the White's chances came from long range attempts from Bemrose it wasn't long before the 'White's pressure was rewarded with a goal from Stewart.
HT - White's 0 Black's 1.
Second half - 8 White's v 7 Black's.
Nixon changed sides for the second half giving more strength to the Whites defence linking up well with Breegan and Martin. The teams now more balanced resulted in most of the play being conducted midfield with few goal scoring opportunities which was reflected in the final score from an excellent game from all players.
FT - Whites 0 Blacks 1

Referee- Tony Cravagan.
I watched most of this from the touchline - the game was a credit to all who took part, and to the Referee...some video soon)
____________________________________________________
Second session pitch one. More to come so keep an eye on the youtube channel AND PLEASE SUBSCRIBE if you haven't already. It costs nowt !
Some video from the first session - more to come
13.5.21
David Partington's pitch one game went like this -
Dave writes...
The game ended in a 3-0 win to the white bibbed team, with goals from Collins, Stewart and Kenyon. Some very good play by both teams, although a little quick at times. The White's with Colin Fielding having a good SK game and Tracy Blanchard showed what a good player she is, displaying some superb pass and move skills.
Blacks had Brian Hadfield and Peter Wright, playing in the midfield positions and exchanging some very good passes between themselves and teammates. 'Tight Angle' Mike Caldwell came close a couple of times, as did Clem White and Nigel Metcalfe showed some great positioning playing in his customary Sweeper/Keeper role , a good game enjoyed by everyone.
See 'News' for Alan Richards Ref's eye view of the first game today
PHOTO'S & VIDEO FROM THIS SESSION COMING LATER
meanwhile...
Tony Cravagan's Review from Pitch 2 - 13.5.21 2nd. session.
Review from 2

Session 2, Pitch 2, 5 v 5.

The Blacks were quick out of the blocks with an early goal from Amison originating from an Advantage Kick In. The remainder of the half was well balanced with few goal scoring opportunities with both SKs , Taylor M for the Blacks and Smith R for the Whites , little troubled.

HT - Whites 0 Blacks 1
A different story in the second half, with Amison scoring from the right to increase the Blacks lead which was soon followed up with Stafford S on the scoresheet finding himself free in central midfield. The Whites pressed hard to find their first gaol with Taylor K threatening and Leech always at hand even Taylor M was more adventurous but efforts were dashed when Stafford scored from defensive mix up following an Advantage Kick In. With gaps appearing in the at the back for the Whites and some accurate distribution from Smith it wasn't long before Stafford was awarded with two further goals.
FT - Whites 0 Blacks 6 ( Amison 2, Stafford S 4 )
Referee- Tony Cravagan
________________________________________
6.5.21 We have plenty of video from my own camera on Pitch One in the can and no doubt TC will be reviewing what his camera captured too. It will take a few days t get these up on youtube as I have a back log - a quick initial look suggests some half decent play on pitch one. Ed.
Tony Cravagan's comments from Pitch Two on polling day !
Walking Football certainly got my vote today with both games on pitch two played in the right spirit....

Session 1 - 5 v 5

The Whites looked a stronger team but it was encouraging from the Blacks to finish the first half level pegging at 2 - 2 , both teams conceding an own goal.
The Blacks held firm until late in the second half when Martin scored the winner from an acute angle from the right.
FT - Whites 3 Blacks 2
Thanks to Colin Fielding for Refereeing

Session 2 - 5 v 5

Two well matched teams with experienced Sweeper / keepers, Mike Taylor in Black and Nigel Metcalfe in White. Steve Stafford opened the scoring for the Whites with a goal within the first minute but it was quickly cancelled out with reply from Amison. The Blacks went in leading at half time thanks to Harrison taking the score to 2 - 1 .

The second half was well balanced despite Leech frustrating many of the Whites advances. Amison scored his second to level the score. With all to play for the final result was decided by an own goal resulting in a win for the Blacks.
FT - Whites 2 Blacks 3
Referee - Tony Cravagan. (thanks Tony - Ed.)


Alan Richards Refereed the first game on pitch one.
Early doors running soon subsided when penalised . There was too much contact with players over eager to win the ball. A combative start then. This was penalised regularly. At one point a blue card was considered. Perhaps we should consider adopting the Heywood principle of combining running AND contact when accumulating for penalty awards.
Les Breegan 'potted' for Whites in some style. Twice. The second after a fine assist from David Wilson.
Gordon Nixon was the dynamo at the heart of almost everything White's tried to achieve. His team firmly anchored by Jim Pelling at the back.
In the second half Brian Hadfield and Joe Bemrose registered strikes on target for black bibs, to bring the game level. Deservedly so after good work from Frank Matthews and Terry Hayden at the back. Earlier Steve Birtwistle had 'missed' a penalty after Black running reared its head one more time with Mike Kieran the prime contender for the one hundred yard dash !.
The game ended in a rare 'Desmond' (two-two) for this sweeper - keeper format.
SECOND SESSION FIVE V FIVE
In the game that followed on the same pitch the teams looked equal enough on paper but Black's were drilled well on the 3g. and were playing some good walking football. Blanchard was busy and alongside Kenyon and Oldham did most of the damage as they raced to a three nil lead. Shell-shocked Whites re-arranged the defence a little and steadied the ship before half time.
Mike Caldwell had chances to reduce the arrears but narrowly failed on several occasions. Not much luck for Mike at the moment. Peter's Quinn and Collins toiled, the latter quietly assuming control of defensive duties. Peter Wright did not put many feet wrong in spreading passes about the pitch. but Kenyon and Blanchard with the assistance of Roger Place and Keith Oldham out on the left. Colin Fielding was the defensive lynchpin for Black's who thanks to the usual suspects were leading five nil with ten minutes left.
Peter Wright pulled back one goal after a good move and Alan Richards coolly slotted home from deep to reduce the deficit further still. However this was a fine 5-2 win for the black bibs and one they thoroughly deserved.
Thanks to Gordon Nixon for Refereeing this game to day.
Photo's on Flickr soon.....
__________________________________________________________
29.4.21
NUMBERS PROBLEM ? what numbers problem?...
Tony takes up a story of equilibrium and balance when five, and five, and five and five added up to an enjoyable morning at King Street............
"Pitch perfect numbers at King St this morning.....

Session 1

Pitch 1 - 5 v 5
HT - Whites 2 Blacks 1
FT. - Whites 5 Blacks 4
Referee - Denis Cudahy

Pitch 2. - 5 v 5
HT - 0 , 0
Referee - Peter Quinn
FT - 2 , 2
Referee - Tony Cravagan
Well balanced game with some near misses from Blacks Dave Cooper and fine touches for the Whites from John Boyle.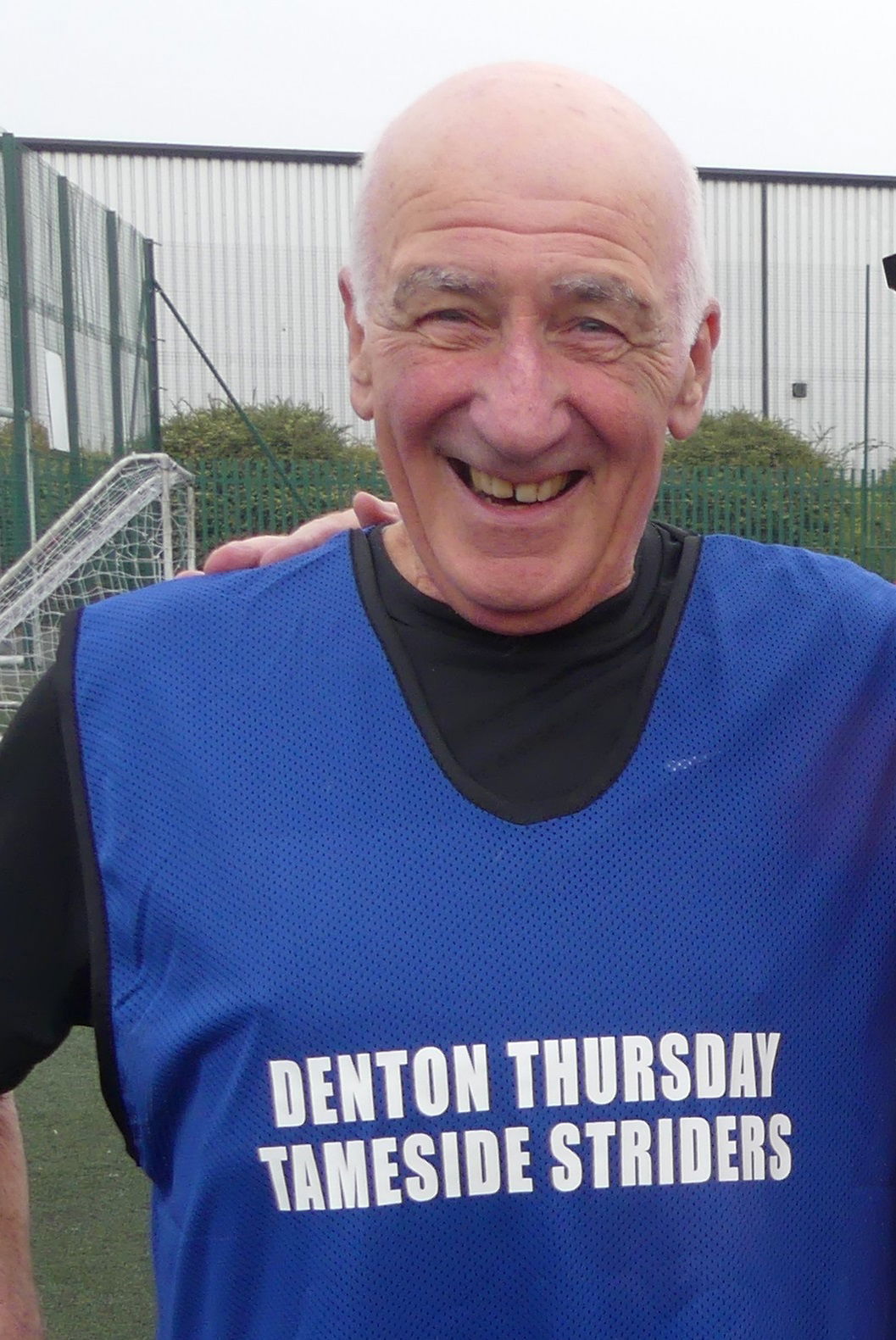 TCSession 2

Pitch 1 - 5 v 5
HT - Whites 1 Blacks 2
Referee - Colin Fielding
FT - Whites 2 Blacks 5
Referee - Dave Partington

Pitch 2 - 5 v 5
HT - Whites 4 Blacks 1
FT - Whites 6 Blacks 2
Referee - Tony Cravagan.
A great improvement from last week with little contact and a more constructive game. Whites on target with nearly all their shots especially if your first name began with " K " ( Thomas and Oldham ). The Blacks were more organised in the second half but found it difficult to get passed Metcalfe."
TC
NB: Gratitude to Tony and all of our Referee's across both sessions this morning - Ed.

22.4.21
Thanks to Tony Cravagan for filling us in with the details from today. A day of too much running and too much contact in the second session. This won't be tolerated on any kind of regular basis, repeat offenders will be spoken to. Please take note. We do not want to re-introduce Blue/Red cards and shouldn't have to do so.
Session 1
Pitch 1
4 Whites v 5 Blacks ( first half )
Whites held fast to hold on at HT
HT O - O
Second half numbers evened up with Steve Tomlinson joining the Whites.
A unique game with all the Whites players scoring a goal each !
Played in excellent spirit.
FT Whites 5 Blacks 1
Referee - Denis Cudahy

Pitch 2
5 v 5
FT Whites 2 Blacks 5
Referee - Peter Quinn

Session 2
Pitch 1
5 v 5
FT Whites 2 Blacks 3
Hat trick for Blanchard.

Referee - Gordon Nixon
Pitch 2
5 v 5
HT Whites 1 Blacks 0
FT 2 - 2
Amison scoring the Whites goals.
A rather quick game punctuated with too much contact.
Referee - Tony Cravagan
_______________________________________
You'll find an hours worth of video from this weeks session here
https://www.youtube.com/channel/UCuWT2I4A_i1x_i3Mo3pL-_g
__________________________________________
8.4.21 - BROCK AROUND THE CLOCK Brock around the clock ! | Flickr
Also some film footage to come...here's a Steve Birtwistle goal..
Five minutes of video from yesterday 1.4.21
Some good photo's from today's 'RESUMPTION RAVE' we cleaned up, there was no mess. Great to be back with you all...thanks to the committee for a real group effort today. We will have some short video in due course. For stills, please click the link >>>> Lockdown Locks | Flickr
---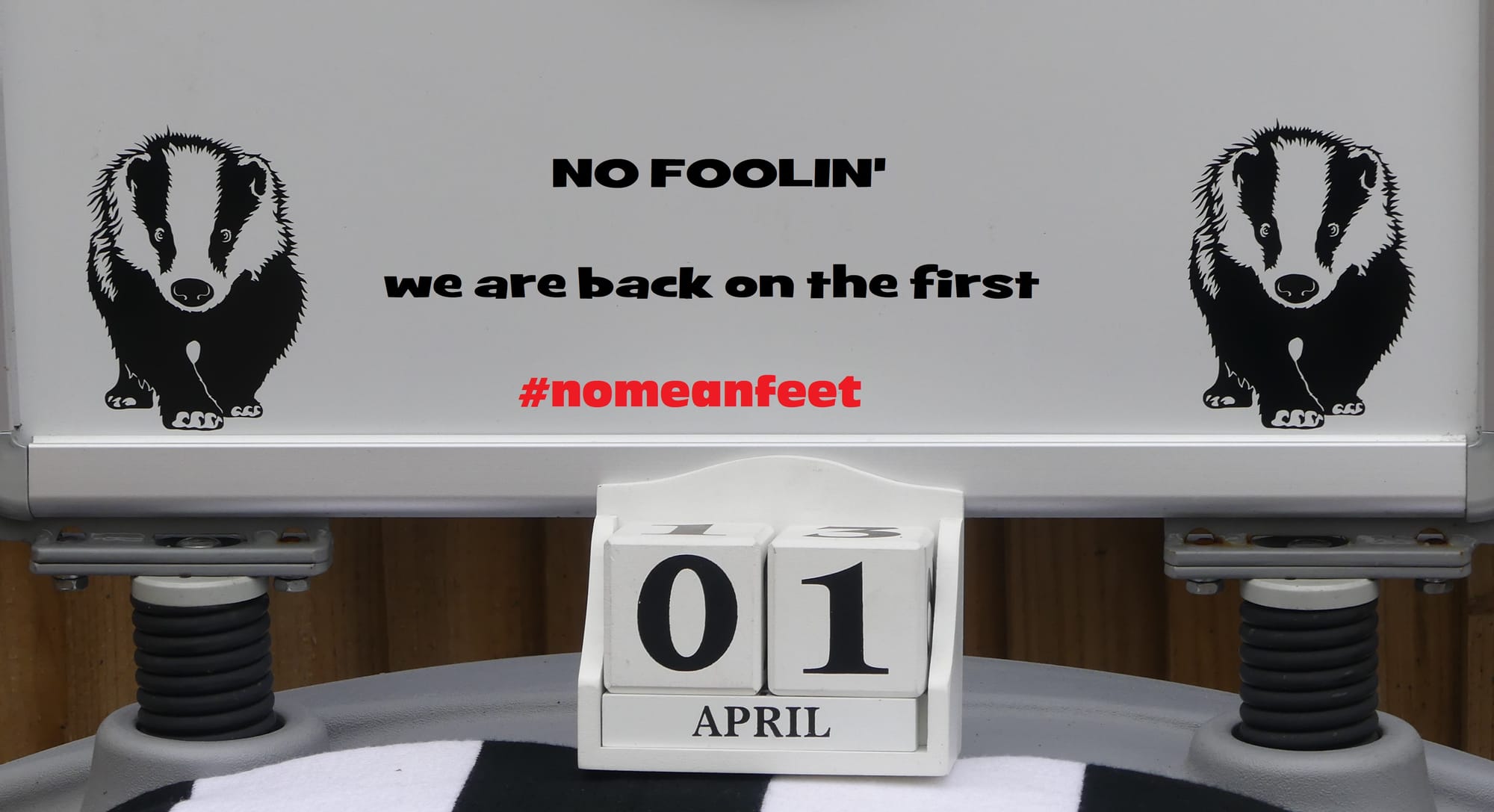 "GOALS APLENTY AT THE END OF TWENTY TWENTY"
Referee Tony Cravagan reports from Pitch 2
5 Blacks v 5 Whites.
The Black's overshadowed the White's at the start as Pete Smith scored 2 quick goals both from the left. White's had to work hard to stem the tide with Collins, Gaskin and Sweeper/Keeper Peter Quinn holding firm against a menacing Mike Caldwell and a busy John Kenyon.
Up front Jim Stewart and Clem White had few opportunities with Black's Geoff Griffiths Smith combining well with Smith to prevent any serious shots on goal. As the Black's resumed their attacking Collins on the counter managed to break through on the left and slot the ball home to relieve some pressure off the White's. The euphoria unfortunately didn't last, as goals from Caldwell and Kenyon gave the Black's an unassailable lead at half time.
HT - Blacks 4, Whites 1.
An exchange of players for the second half was took place in order to try and give a better balance to the game, with Stewart donning a Black bib and Peter Wright changing to White.
The Blacks however maintained their threat with most attacks originating from Smith, but White's , now more confident and coming more into the game. This brought Caldwell back into midfield and from this position he scored a long range goal, making a change from his usual up front position. White's were undeterred and continued to press forward , Wright now influencing a more balanced formation and Clem White showed some delicate touches. However, utility man John Kenyon managed to break free on the right and restored the Black's commanding lead. White's deserved at least another goal for all their endeavours and this came with the last kick of the match. Pete Wright's curling right footed shot finding the goal
A game to warm the cockles of your heart at a cold King Street.
FT - Blacks 6 ( Smith 2, Caldwell 2, Kenyon 2 ) Whites 2 ( Collins, Wright)
Referee - Tony Cravagan
__________________________________________________________
REFEREE'S BALLS UP....
Referee Richards cocked up today on Pitch 1 second hour.
For he failed to redress the numerical balance at half time and has just ( yes, just like 7-30pm.) realised the Black team were deficient , numerically for most of the match.
Sincere apologies - when Vin O'Brien asked me if Joe was going on 'their side' I did not realise the significance of the suggestion. Aaahh !
Anyway the game turned into a mauling for Black's and ended in a nine-one defeat. Richards assisted the Black's efforts in the second half but it was too late by then. Playing and Refereeing is very difficult (in his opinion).
Four goals from Bemrose, including a penalty (ingress before the ball) , Bill Harrison, Ken Thomas and Steve Stafford added more goals and only Mike Taylor did not register.
Full marks to Black's for not complaining and taking a heavy defeat on the chin. - (I wish you had-Ed) as this was a bad oversight. Very little contact and hardly any runs to record. This game was a pleasure to Referee apart from the biting cold.
Anyway be sure such a mistake will not happen again.
Whites 9 (Bemrose 4 1 pen, Stafford S 2, Thomas 2, Harrison B )
Blacks 1 ( Place)
PHOTO LINK BELOW
A good time had by all...evidence here ~ photo's from the last session of 2020 click the link ~ Pre-Christmas kicks | Flickr
THURSDAY ON A WEDNESDAY - 23.12.20 to be precise...and there was much 'precision' on show today....
Six v. Six on a three quarter pitch today not quite the penultimate game of the year given two simultaneous extravaganzas from eleven fifteen.
Garry Pearce played sweeper/keeper for Whites with Messrs: Markland, Stewart, Matthews, Wenham and Bemrose in his team. Cravagan anchored for Black's with Pelling, Partington, Birtwistle, Breegan and Richards ahead of him. John Gaskin Refereed this one.
It was a good game with superb finishing on show.
Richards benefitted from some good service from those around him who were pushing passes out to the left . He capitalised when finding a clear channel through with a couple of flawless finishes to out-fox the wily Pearce who had looked commanding at the back and was martialling his team well.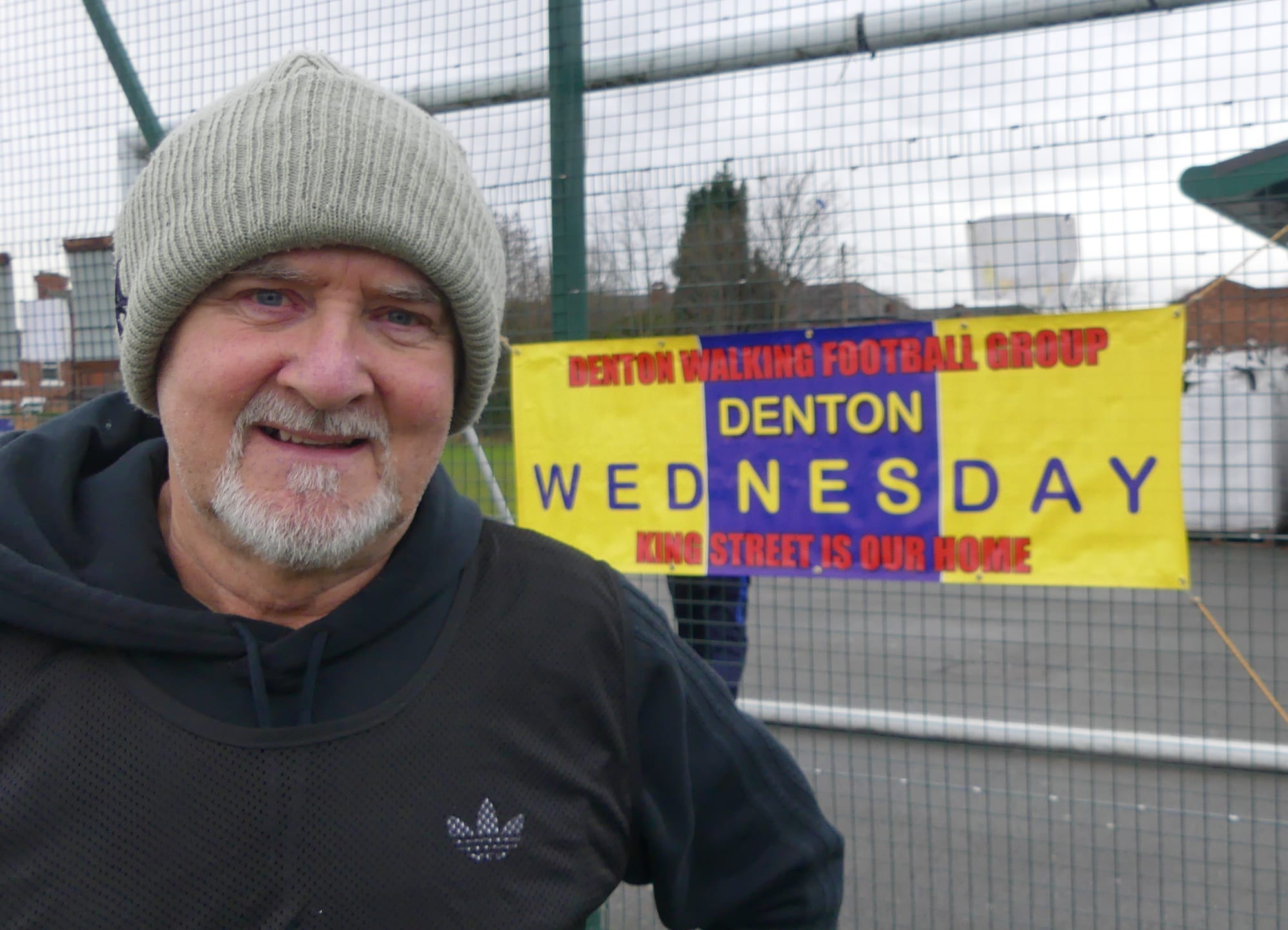 Les Breegan outstanding today
Breegan look every inch a walking footballer who will do well in competitions if he so desires. Calm, collected. Not seen him pulled for running yet ! Joe 'Odd boots' Bemrose pulled one back for White's and it was two goals to one at half-time.
With Richards on the right now - (the unmanned camera seemed to have a magnetic attraction for the man in the Christmas jumper) Black's set about first consolidating , then building on their lead.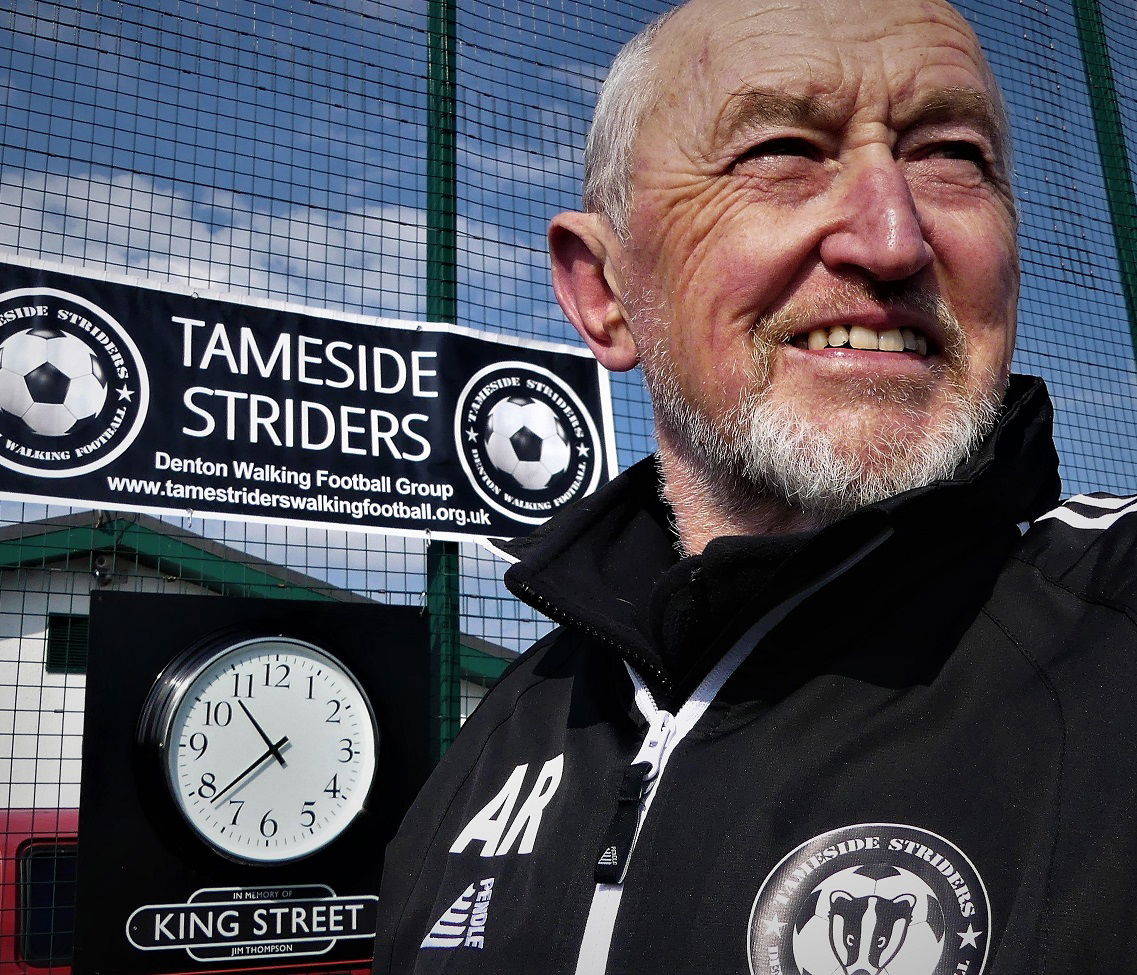 Richards - (one he prepared earlier) pleased with his "goals" today
"Great through balls from Partington and Breegan and some good one touch stuff from Birtwistle opened up the White's. Pearce expertly closing down angles but lacking a little in support. Again Richards who had gone wide a couple of times when he might have done better, slotted home the advantage, not once but twice ! His fourth goal in particular would have delighted tight angle Mike Caldwell ! Gerry Markland, another who can look elegant on the ball reduced the arrears. Jimmy Stewart - master finisher - had one of his quieter days. Matthews and Wenham contributed gamely to the cause but it was left to David Partington to underline Black dominance today and score perhaps (only perhaps) the "goal" of the game with a long distance punt from deep inside his own half.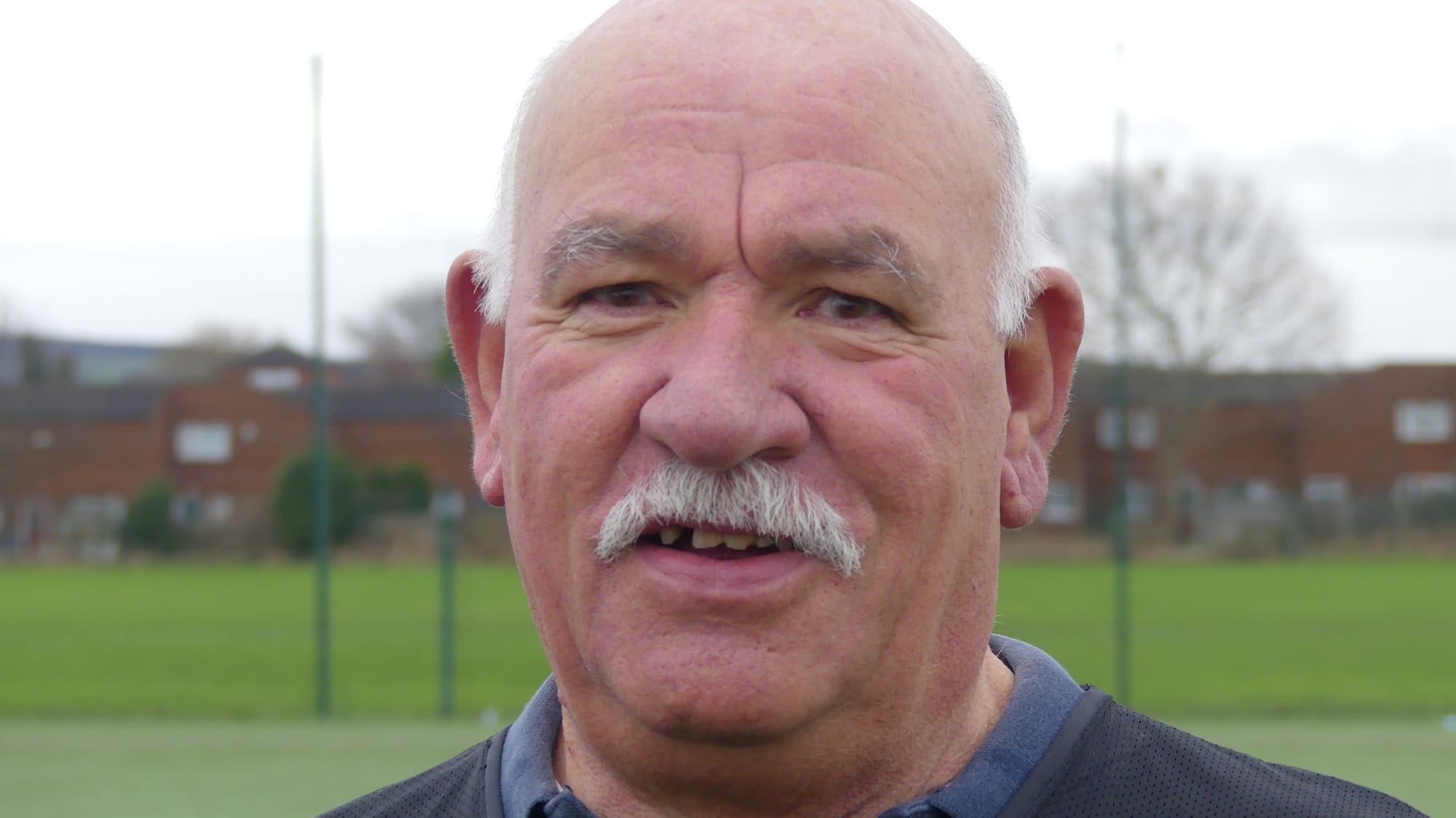 Jim Pelling
Blacks were resilient at the back with the ever improving Jim Pelling aiding Tony 'the tiger' Cravagan, and Partington was never far away covering plenty of ground once again.
Jolly good fun. We shall look for some video footage later. Thanks go to John Gaskin for Refereeing.
BLACK'S 5 (Richards 4, Partington) WHITE'S 2 (Bemrose, Markland)
Tony Cravagan's thoughts from pitch 2 may follow......Referee Richards will have his report of a nine-one mauling on Pitch One later - watch this space.
__________________________________________________________________________________________
December 17th. First game Refereed by Tony Cravagan who reports...VIDEO HERE https://youtu.be/3CCOCQ5cq_Q
"Hi Alan regret no notes taken but HT Blacks 3 Whites 0. No further goals.
Scorers - Russ Martin, Dave Partington, Les Breegan."
Nil desperandum Tony , we have video of this game a sequence from each half and may even have captured two of the goals. Midnight oil may be burned to get this online before the weekend.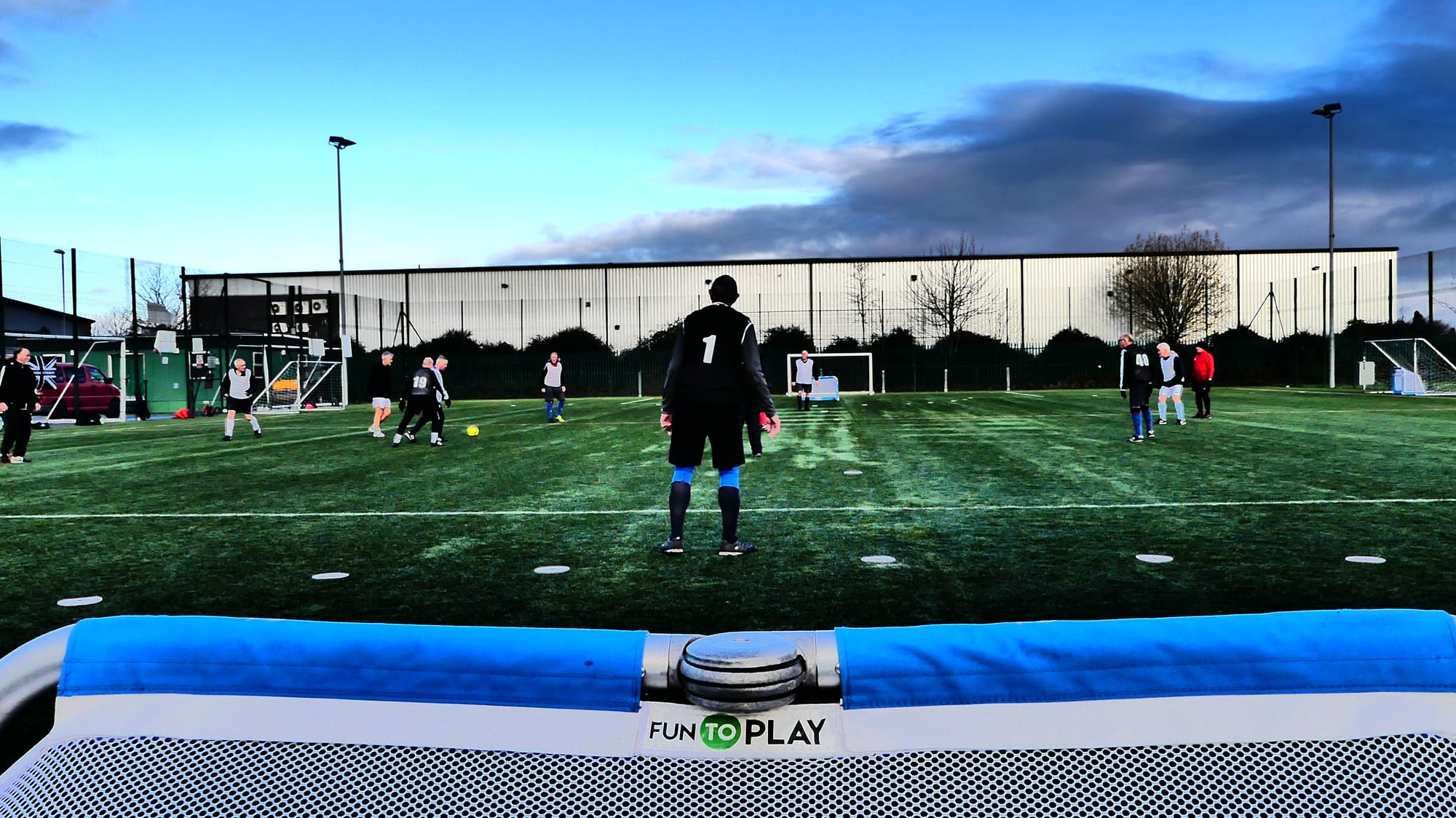 __________________________________
Pitch one from eleven fifteen saw a lively game emerge with the returning Tracey Blanchard making an immediate impression for her black bibbed team.
Combining well with Steve's Amison and Stafford who had opened the scoring she put an early run behind her to grab the third and make White's look a beaten team after just fifteen minutes.
Peter Wright in his new number 56 bib was in the mix and working hard to keep White's in it. With messrs Cravagan , and then Quinn holding firm in the face of adversity in the sweeper/keeper role they were up against it from the word go.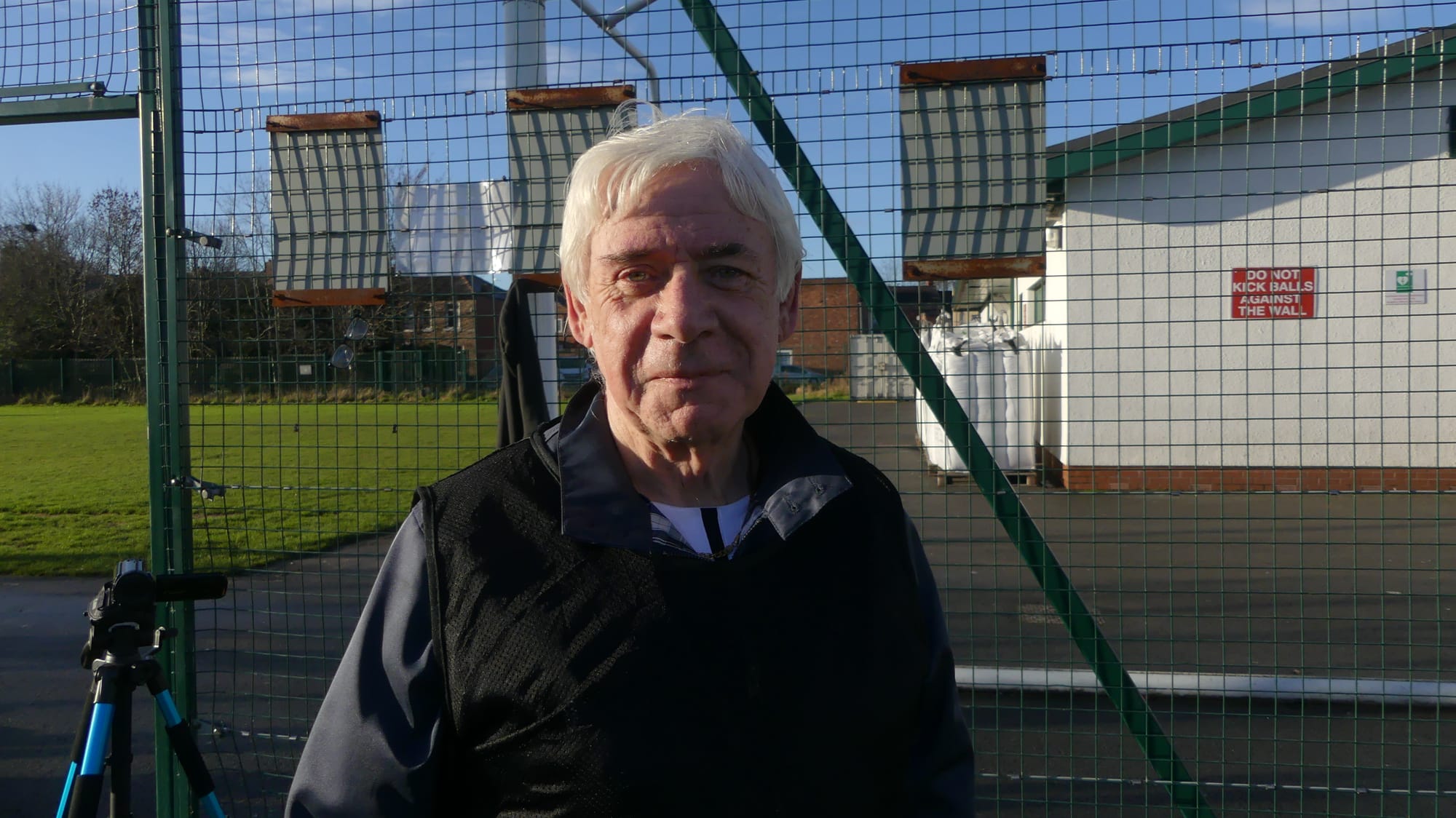 Vinny O'Brien
Into the second half we went and Vinny O'Brien was keen to make an impression on the game with a series of adventures up the right flank feeding balls into the centre for Blanchard and Amison to try and profit from.
White's stemmed the flow a little and hit back with a fine strike from Cravagan from the half way line. Maintaining a level chin high altitude the ball's trajectory arced downwards at just the right time to creep under the mini-goal bar at the 'Clock End'. Brilliant !
Moment later Cravagan could have reduced the deficit to just one goal but missed a penalty (3 runs). Blanchard notched her brace and made the game safe with another goal. Steve Amison put the cherry on top of this impressive Black performance with a couple of minutes left. Time was walking short but ingress brought another White penalty and Bill Harrison bravely stepped forward. He too was a foot wide of the goal with his kick, proving that for some it's not an easy task to strike the ball into a four foot wide goal from fourteen metres.
A good game that ended in a 5 - 1 win for Black's
BLACK 5 (Blanchard 2. Amison 2, Stafford) WHITE 1 (Cravagan)
David Partington kindly Refereed the other game from 11-15am. today and writes....
On pitch two the game ended 4-3 to the White bibs,Jimmy Stewart scoring early on with his trade Mark finishing from the wing. Black Bibs started off slowly but soon got into there stride with John Kenyon going close for an equaliser. Minutes later it was that man 'Jinky Jimmy' Stewart who got his second for White bibs. Roger Place struck a third for the White's and it looked like it was going to be a real heavy Black bib defeat as half time came.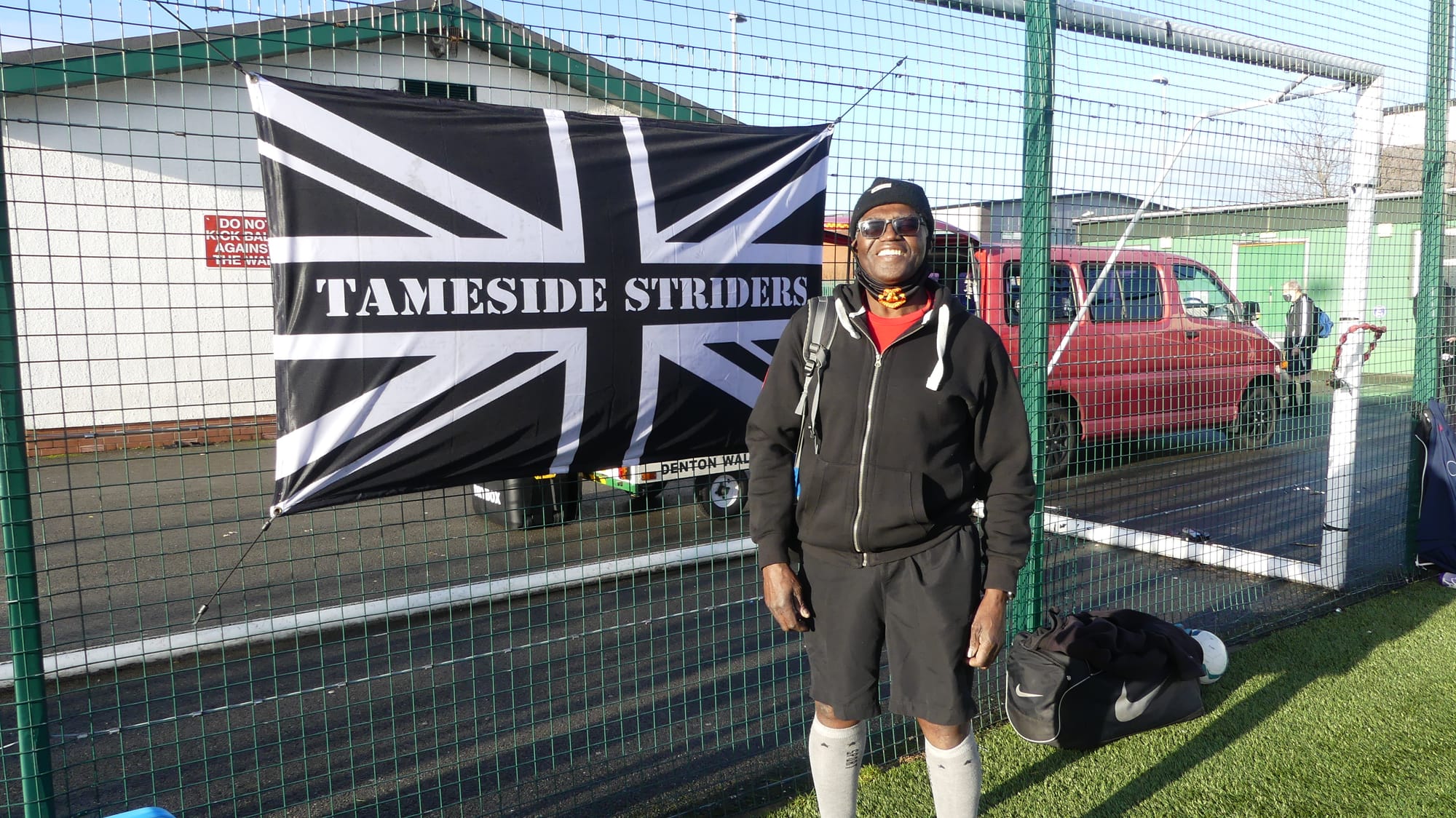 Clement Winston White
The second half saw something of a turnaround with Clem White getting a good goal to make it 1 - 3. However, just as the Black's were sensing a come back might be on the cards it was that man Jimmy Stewart once again who scored to grab his second hat trick this week ! Time was running out for Black bibs s but credit to them they scored two more goals. Clem White adding his second, and Ken Thomas was on target to give the White's a bit of a scare,Terry Hayden was Suberb playing Sweeper Keeper with help from Joe Bemrose. A real good game and played in the usual good spirit.
Black bibs 3 (White 2, Thomas) White Bibs 4 (Stewart 3, Place)
_________________________________________________________
Here Comes the Sun....dooden doo doo...
10.12.20
Arrivals at ten am. this morning were greeted by a rare site. King Street bathed in sunshine. There wasn't much warmth in it but it was definitely sunshine all the same.
Alan Richards Refereed the first game a six v. six on the shortened 'big' pitch. Sweeper/ keeper of course .
Whites built up an early two goal lead after Bemrose and Stafford B had hit the target.
Blacks had a chance to hit back after deliberate handball by sweeper/keeper Haydem presented Markland with a penalty kick. Unfortunately it was steered well wide.
Black did not look like a team trailing by two clear goals. A busy Jim Stewart was foraging forward and well supported by Birtwistle and Markland. Blacks defensive duo of Pelling and Cravagan repelling any more White attacks.

White's walked out winners
Birtwistle was on target before half time and halved the White's advantage. This was a well balanced game of nip and tuck and the mobile Breegan, Bemrose and Stafford were a handful but the Black's were always in contention. Geoff Griffith was having a useful game for Whites and along with Quinn and Hayden at the back
As the second half wore on it became apparent that both teams were giving little ground.
When a through ball of some quality produced a burst of pace from Birtwistle the Ref signalled a 'third run' White entrusted the spot kick to Hayden who made no mistake from the 14 metre spot. Three one up then and apparently cruising the White team did not concede a signal running offence. However, Blacks were not finished yet and we saw a fine goal from Gerry Markland close the scoring. A narrow White win of three goals to two.
Thanks to Referee Richards , said nobody at the end but he got over it
Afterwards we could only offer one lingerer a second game - this time it was Peter Quinn. We try to rotate. It's important that with similar numbers both hours resemble one another. Numbers always dictate strategy. With fourteen players available a 7 v. 7 on the same pitch was the obvious answer. Those 4 v. 4 games are hard work and the eleven o'clock arrivals have a right to expect to dictate the shape of the game, rather than make concessions to accommodate lingerers. We all know by now that a second game is a bonus not an entitlement (says someone who didn't play at all today) . Two 4 v. 4's in this morning's second hour would have required hastily reconfigured pitches, and an additional Referee. Four of those playing in two 4 v. 4's would have already taken part in a demanding match. So, when all things are equal it's best to follow the line of least resistance whilst offering everyone an enjoyable hour as a minimum. D.Y.F.C. Chairman Peter Wright joined us for the first time.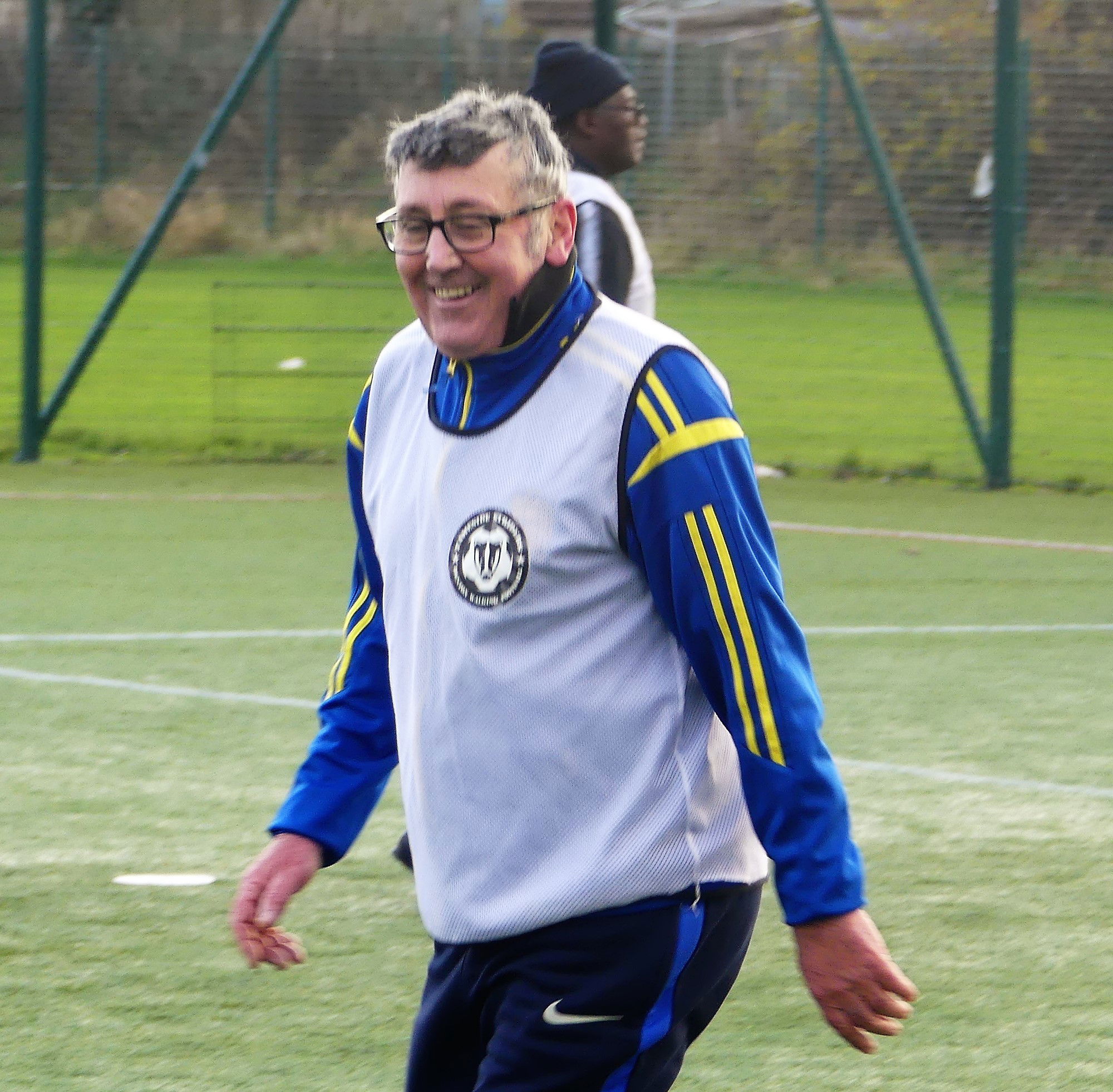 Peter Wright - Chairman D.Y.F.C.
Tony Cravagan has written some of the details of a very close game that was only won right at the end. The odd goal in seven made the difference. Everyone seemed to agree this was one hell of a game and we have photographs and some video which includes a number of the goals. Links will appear here on the Thursday page in due course.
Over to you Tony.....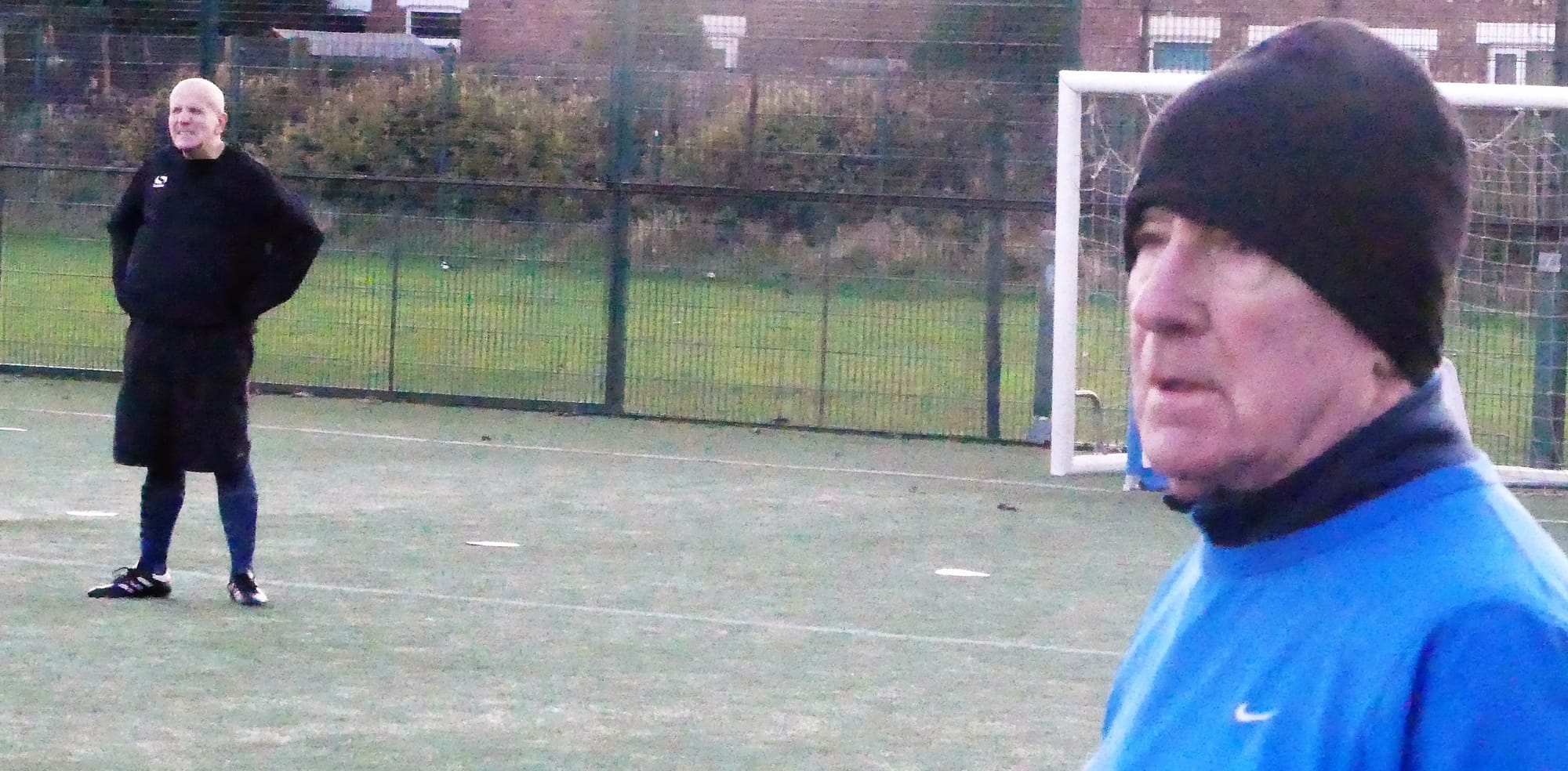 Over to you Tony.....7 Black's v 7 White's writes Referee Cravagan
The first half started with the White's dominant, especially Thomas active on the left quickly put them in front with an early goal. More pressing from the White's kept the Black's Sweeper/Keeper Taylor on his toes but inevitably Caldwell from his renowned up front position added to the White's score. One of the few breakaways for the Black's came with an unusual goal from the right when Harrison shot when falling down not realising he had scored. The White's continued their attacks and out of the blue or should I say out of the white came a great goal from Clem White who hit the ball from near the centre spot.
HT - Black's 1 - White's 3
The Black's were more settled after the break with a complacent White's giving away a penalty after encroachment which was cooly converted by Stafford S. A result was now in sight for the Black's and with more confidence they began stretch the White's defence with their S/K Collins unable to stop Amison from levelling the score. Game on with both teams eager to seal victory and with time running out ( or should this be walking out ! ) a draw seemed to be inevitable but just as you thought it was all over up popped Leech to score for the Black's in the last few seconds.
FT. - Black's 4 ( Harrison, Stafford S, Amison, Leech) , White's 3 ( Thomas, White, Caldwell )
Thanks Tony...sounds like a good, close game there will be video linked here in due course - Ed.
_______________________________________________________________
Warming up for action: a resumption movie
3/12/20 : Garry Pearce posts from earlier today...
Brief notes from today: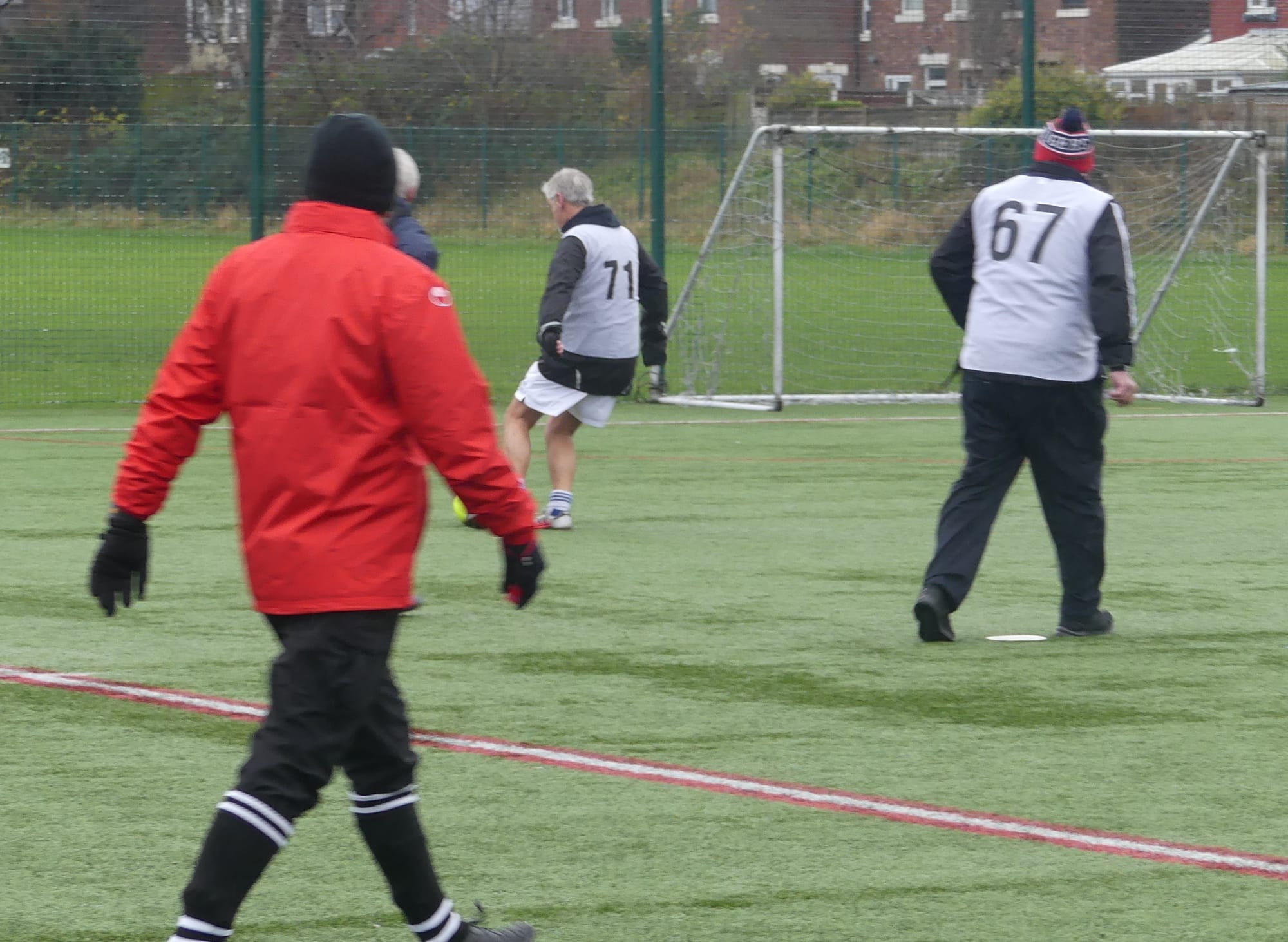 First hour today, a seven a side affair, saw what turned out to be a close game in the end. Two first half goals from the Blacks were enough to settle the match. The first from Gerry, which was quickly followed by a neat finish form Russ. Second half was an even affair and although Whites tried manfully, they couldn't get on the score sheet, thanks in the main to some excellent Sweeper-Keeper blocks from Roy Smith. Mike Kieran took a hefty shot to the head, which ended his participation early.
Thankfully Mike seemed OK shortly afterwards. (Yep, I rang Mike and he's 'fine' - Ed.)

Final score : Blacks (Markland, Martin) 2 v 0 Whites
Second hour, another seven a side and Whites took the lead when Ken Thomas finished off a fortunate pass that originated from Mike Caldwell. Steve Stafford equalised for the whites, so the teams were level at half-time. The second half saw whites begin to dominate somewhat and some good chances were spurned. Pete Collins then did put the Whites with a nice flick from the outside of his right boot. Joe Bemrose then found his range , to score a couple, one deflected but they all count. Steve Stafford then pulled one back for the Blacks but Mike Caldwell then rounded off the scoring with a trademark finish. Lots of fun today, stacks of banter, the guys all seemed de-mob happy! (Confirmed below I think, - Ed.)
3/12/20 Players said "Good to be back after Lockdown Mk.2" photos here - Resumption the second | Flickr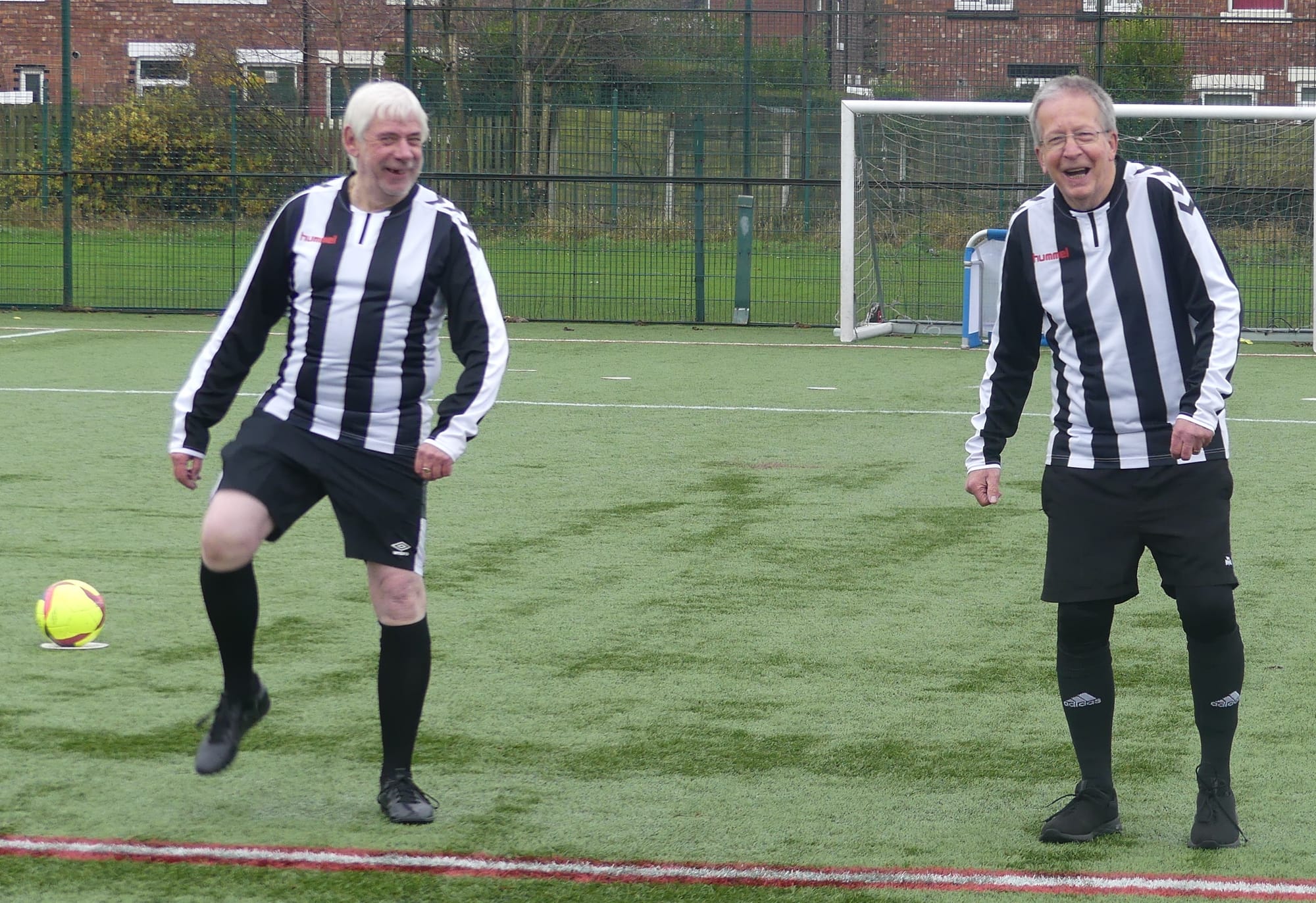 FOUR REPORTS FROM FOUR GAMES TODAY 29.10.20 - these take time to write and we should all be thankful for the dedication of our reporters...
These are not in chronological order and first comes Tony Cravagan from Pitch 2 at 11.am....
GOALS GALORE AS STEWART SCORES FOUR.....

4 White's v 4 Black's

A bit of Black Magic to start with Mike Taylor scoring a sweet goal venturing from his nominated SK position. The lead was short lived when Jim Stewart pulled one back after a defensive misunderstanding. The game was well balanced with the Black's back line duo of SK Taylor and Cooper mirrored by the White's SK Metcalfe and Stafford S providing formidable combinations. The Black's midfield lynch pin Leech was well supported by O' Brien and it wasn't long before their efforts were rewarded by a Leech goal. The lead was quickly cancelled out with a Stewart customary goal from his favourite wing position. Just when you appreciated Jimmy's goal, Hadge Cooper came up with a cracking punch, finding the net with a long range shot from just outside his own " D". With the game swinging from end to end the White's came back with an equaliser from Kenyon.

HT - Whites 3 , Blacks 3.

Stewart, the Denton Dynamo, sparked life into the second half with another one of his electrifying goals bringing up his hat trick after Steve Stafford set the ball rolling with his first goal.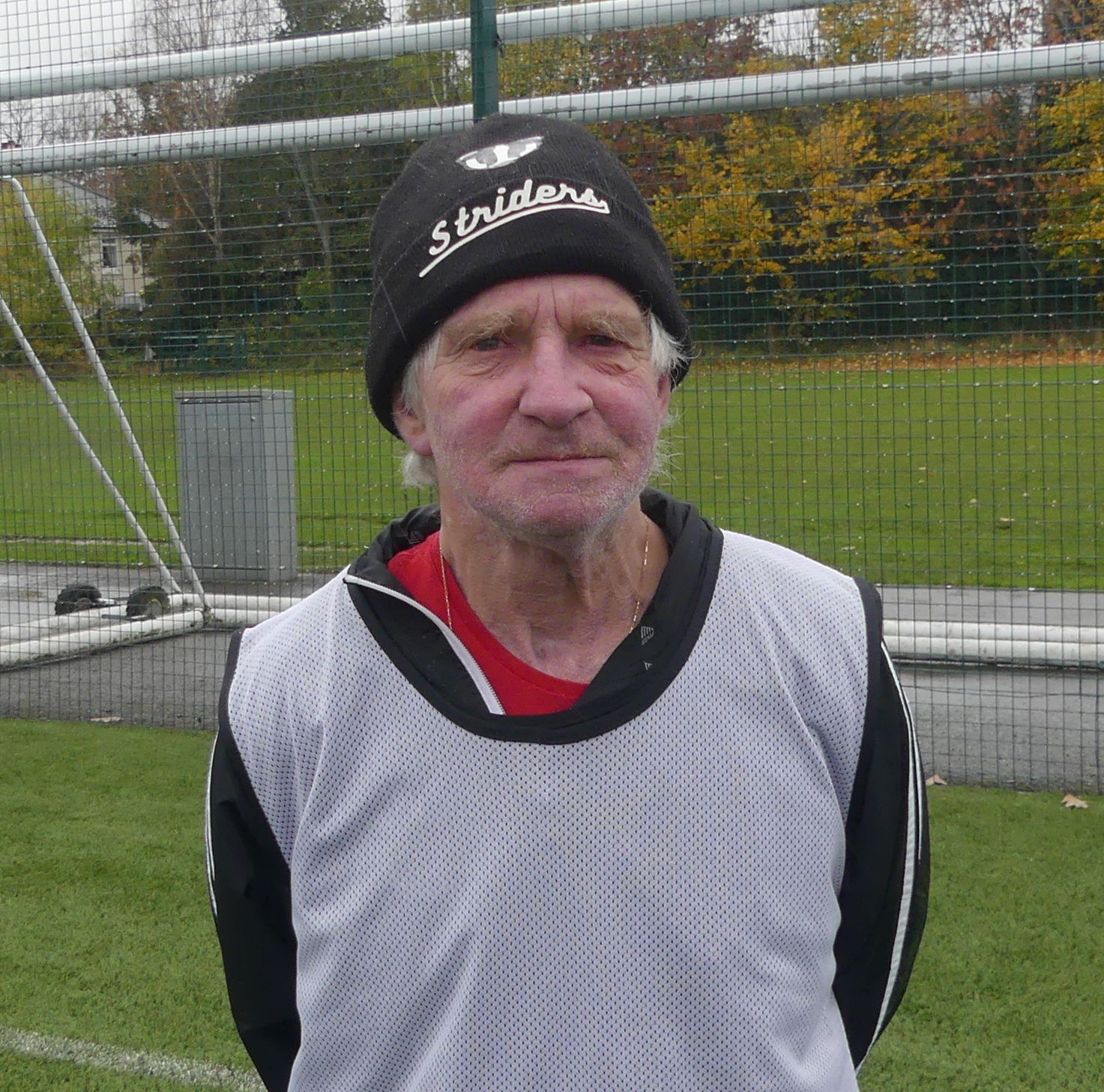 Denton Dynamo Stewart - hat trick plus one today
Despite the Black's striving hard with some excellent distribution from Cooper, up pops Kenyon for the White's to increase their lead. More attacking from the Black's especially O'Brien and Leech who found it hard to penetrate the White's defence with Metcalfe in control. Such attacking motives inevitably left more space up front for the White's which enabled Stewart to score his fourth. Not content with one hat trick for the White's Kenyon became their second player to grab a trio with the final goal of the game.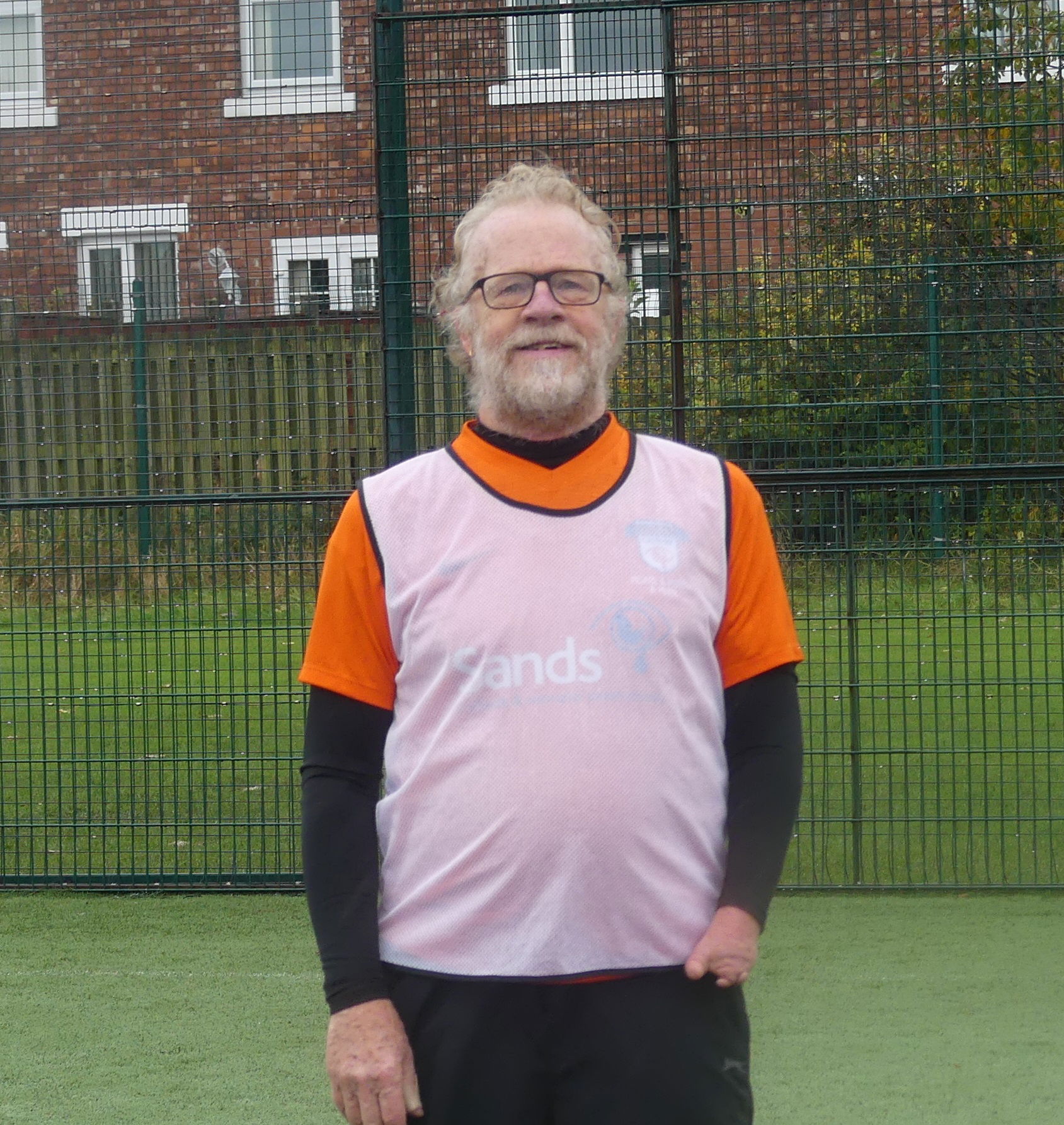 John Kenyon - another hat trick
FT - Whites 8, Blacks 4
Referee - Tony Cravagan
_________________________________________________
Garry Pearce supervised to games and sends us his thoughts on this Thursday....
Four v Four on Pitch two this morning under rain relentless skies. Whites were quickest off the mark with Colin Fielding rolling home the opener. The effervescent Dave 'Party' then deservedly got two more for the White's, despite Tony's resolute defending, to take a three-nil lead. Gerry then eluded Jim Pelling and scored in reply for the Blacks, adding a second just prior to half time. With the second half soon underway and with Frank now as SK, Tony was soon in the midst of the action.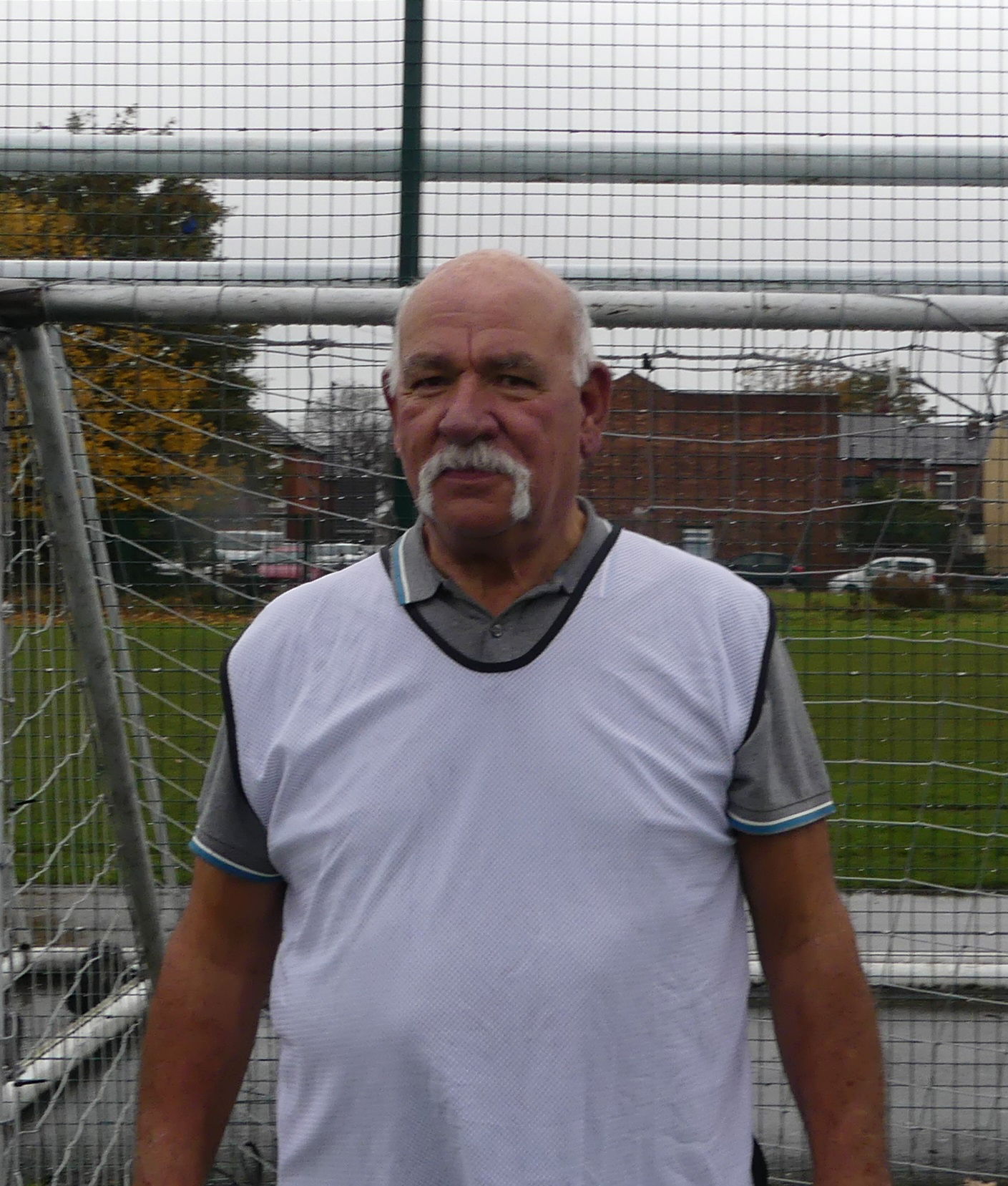 Jim Pelling
Colin added his second and Whites fourth, before Garry, multi-tasking by playing and refereeing today, pulled one back again for the Blacks. Jimmy Stewart, who'd had a fairly quiet game until this point, then scored a quick-fire angled double from his usual right-wing position. Garry then scored his second and what turned out to be a consolation for the Blacks. Final score: Blacks 4 v 6 Whites.
It's not easy to play AND Referee Garry, so thanks for your efforts.
- - - - - - -
Pitch One 11.15am.
FIVE FIVE SPECIAL...
BLACK'S 5 (Richards 2 -1 pen. Collins 2 , Pearce ) WHITE'S 5 ( Bemrose 3, White, Fielding C)
Another four v four on Pitch one for the second hour, with Garry Pearce refereeing. A fairly quiet ten minutes or so, before an attacker ingress to the penalty area brought a penalty for the Black's which was neatly placed in the centre of the goal by Alan Richards. Clem was moving steadily across the attacking half and a neat turn and shot, saw the equaliser for the White's. Black's restored their advantage when a sweeping pass from Dave Party found the marauding Richards who slotted the ball home in his trademark fashion. Pete Quinn then set up Joe to equalise again just prior to half-time.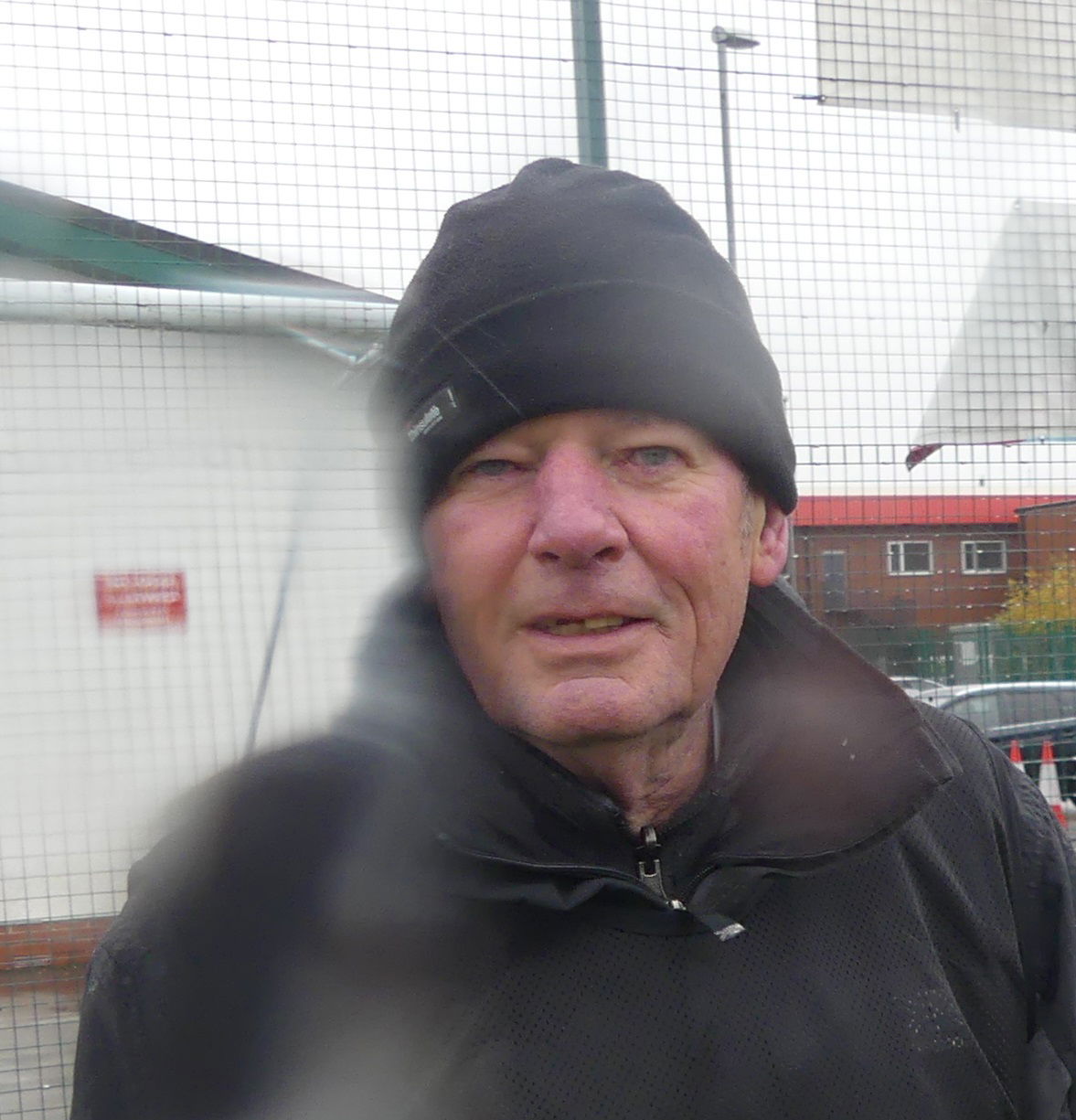 Collins - Pete's finishing 'sweet' today
Second half saw the slightly injured 'Party' take a rest and pick up the whistle, while Garry came on to replace him. White's took the lead when Joe took an easy opportunity and went further ahead with a well-placed effort from Colin. Pete Collins then saw a sweet strike from out on the left-wing find the bottom corner, before a defensive error right in front of the 'D' let Garry pull the scores back level. With just a couple of minutes to go, Joe finished a neat passing move for the Whites, to complete todays scoring. A steadily played game, virtually no contact and just two runs. Lots of smiles and banter too!
Final score: Black:s 5 : 5 Whites.
________________________________________________________________________
Referee Richards on Pitch One at Ten am. found......
ULTRA-KEEN KEN DEAN IN HIS POMP...
WHITES: Breegan - Cooper D - Hayden - Birtwistle
BLACKS - Griffiths - Bemrose - Martin - Dean
And so it came to passing.
Along with the month is the season slipping away? Are we into Winter yet ?
So many hanging on to the Autumn of their lives with a game of football this Thursday morn' . Wizards of drizzle each bringing something special to our pitches today in their own way.
I Refereed the first four v. four on Pitch One - the Crown Point End. Five v. Five is easier on players and for me is the optimum number for sweeper/keeper A.S.K.A.N.C.E. but we all know the numbers sometime just don't add up. Every day, every session is different.
Ken Dean in his second outing of the week put Black's ahead early doors, and looked menacing all morning. More was to come from the Marple man. His opener was cancelled out after a Joe Bemrose own goal. Russ Martin restored the lead for Black's but Dave Cooper went close and almost equalised.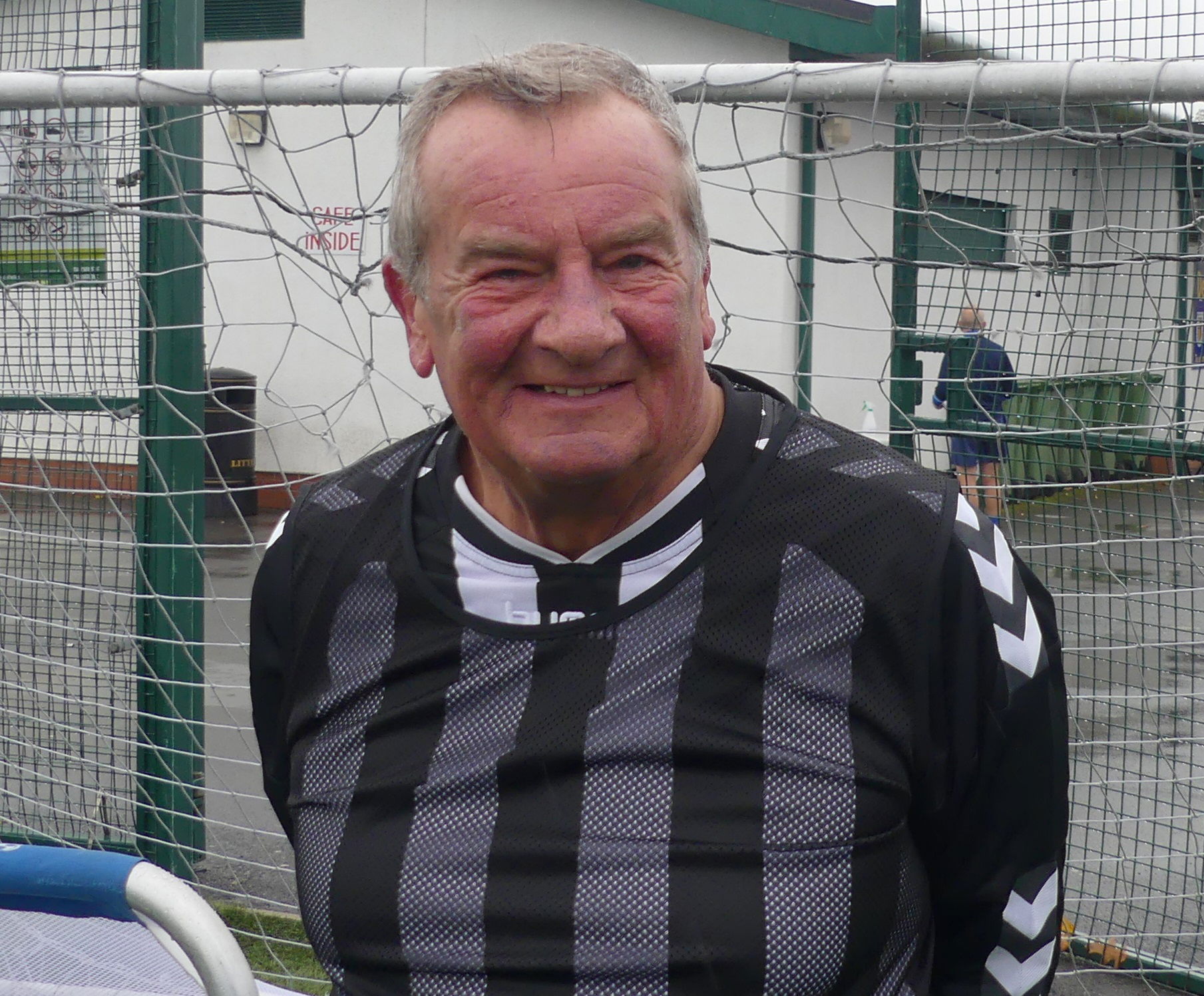 Pearlers from Dean
No contact at all in the first half - the holy grail at the moment - and after Joe Bemrose struck , at the right end this time, and Les Breegan finishing very accurately for White's the Black bibs were three two up at the break.
Terry Hayden, tall in White, had been the busiest of the sweeper / keepers and as the Black team. lacking n S/k specialist rotated throughout the match, so everyone in schwarz (Deutsche for black) got a walk out further upfield. Geoff Griffith was seeing plenty of the ball and using it to his teams advantage.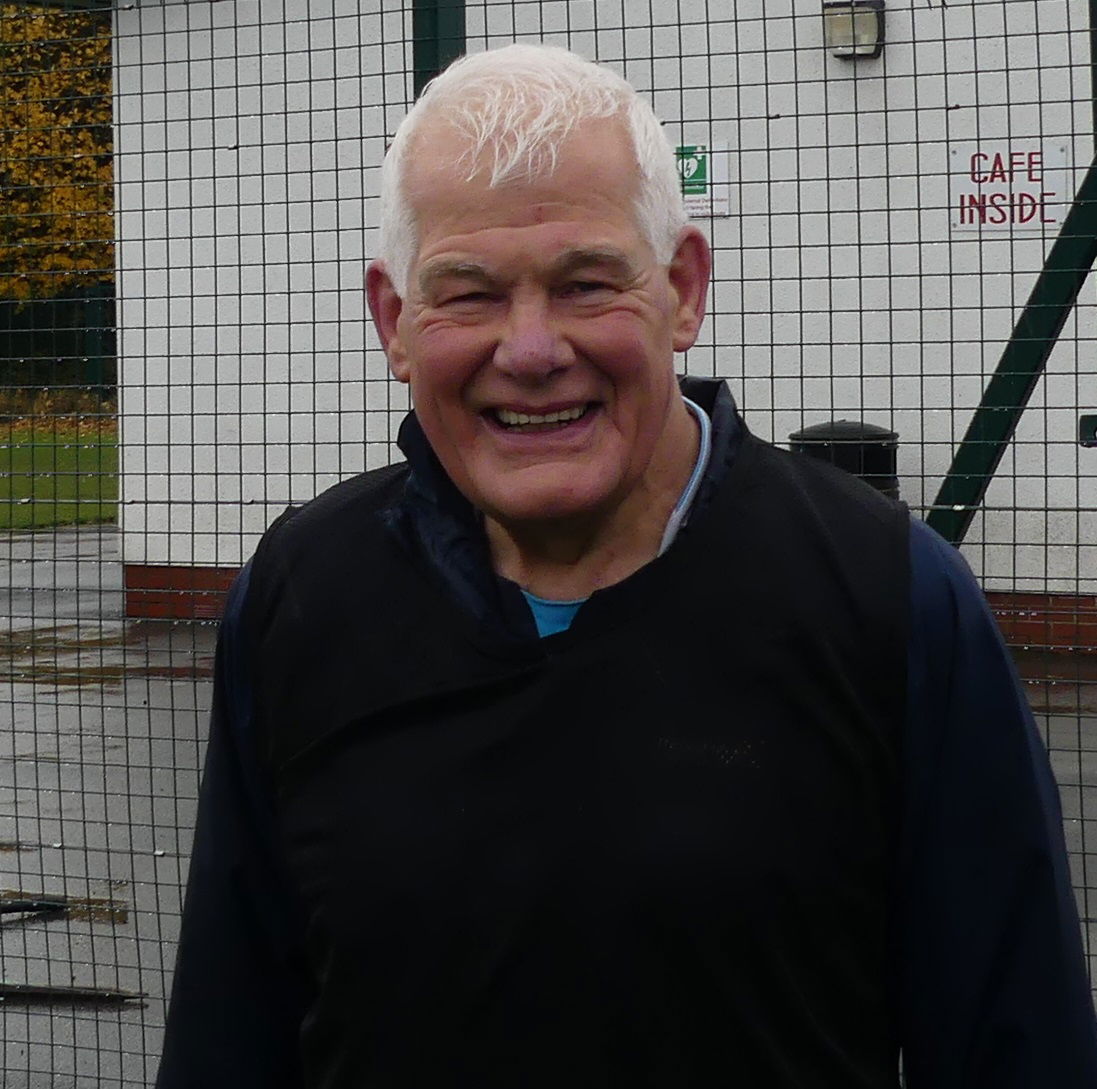 Geoff Griffiths - saw plenty of the ball
A triple second half salvo from Dean,clad in Strider's stripes underneath his bib and clearly in his pomp today extended the Black lead and his fifth goal came when he launched a penalty kick from the spot after a third White run.
Russell Martin added the eighth from the spot to put the icing on the Black's Forest Gateau . White's were not outplayed in this game, they had a fair few efforts and the score flattered their opponents just a tad. Those pearlers from Dean made the difference in a sporting contest with literally zero contact and only five instances of running across the entire piece.
An extra player on each team might have made a big difference here.
WHITES 2 (Bemrose o.g. Breegan)
BLACKS 8 (Dean 5, Martin 2, Bemrose)
----------------------------------------------------------------------------------
Tony Cravagan has cabled his latest two game despatch from Pitch One as a player and as a Referee...and....
STAFFORD HELPS HIMSELF TO A HATFUL !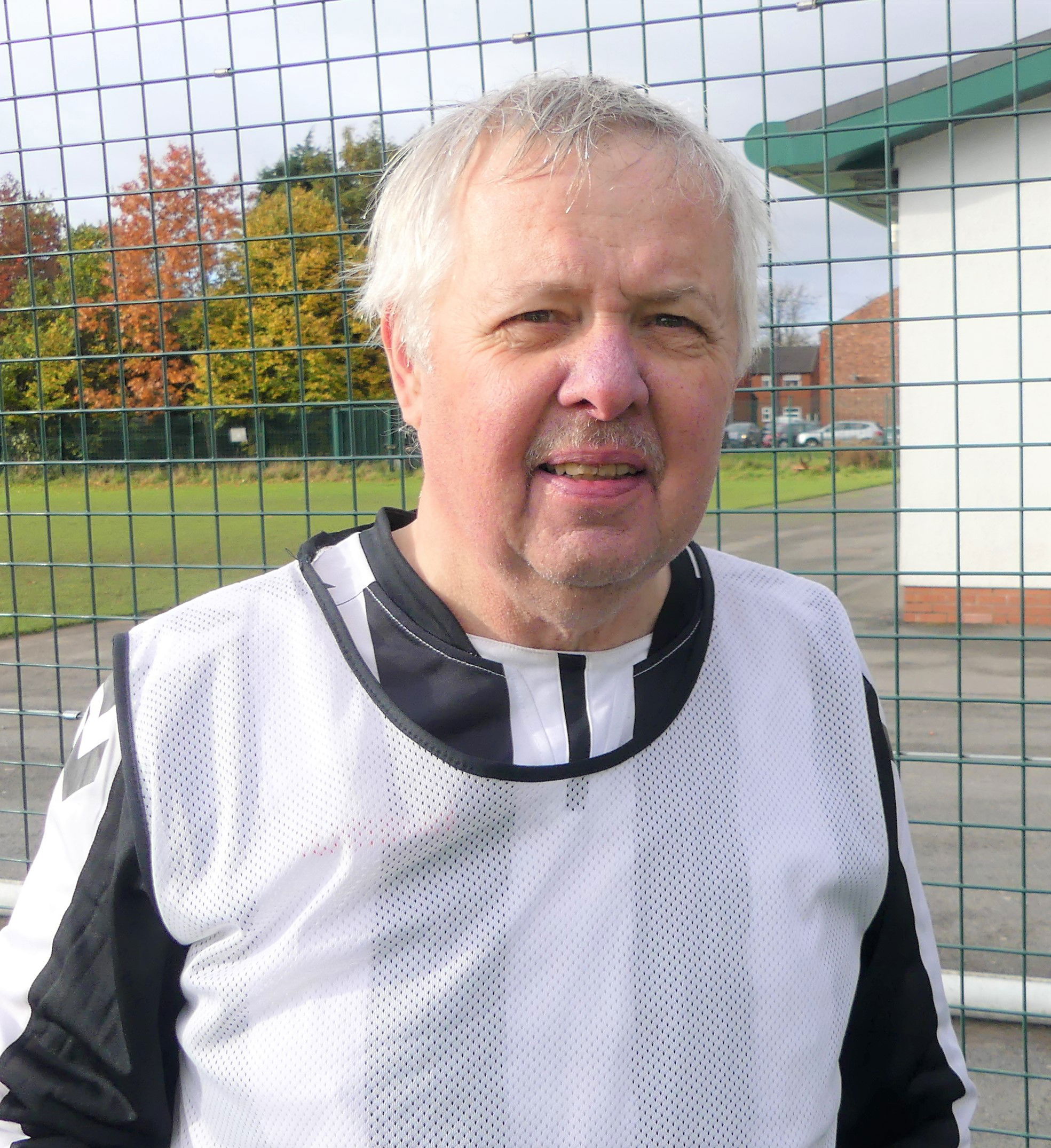 Brian Stafford - 8 goals today
Session 1 , Pitch 1
5 Whites v 5 Blacks.
A Life of Brian as Stafford scored all the EIGHT goals for the White's, but this was far than a one man show.
The Sweeper Keeper for the Blacks was Jim Pelling and for the White's Frank Matthews..
The White's midfield combination of Partington and Hadfield proved a hard nut to crack but despite being a couple of goals down Stewart came up with two Jimmy specials to even the score.
Jimmy Stewart
Defenders Cravagan and Pelling had their hands full with wide men Griffiths and Stafford a constant threat with the inevitable result from Stafford. The pressure was relieved for the Blacks thanks to 3 White runs with Markland scoring from the penalty spot.
HT - Whites 3, Blacks 3.
The second half continued in the same vein with the Whites retaining most of the possession and always seem to find Stafford who converted a couple more. Yet again the Whites totted up 3 more runs and Markland was spot on with his second conversion. Would you believe it the score was at 7 all but yes you've guessed it Stafford scored a winner on the point of full time.
FT - Whites 8, Blacks 7
(note: well balanced team selection)...sounds like a fantastic game hope everyone enjoyed it.
Thanks to guest referee Gilson Rogers for his handling of the game.
(Brian's not the messiah, just a very prolific goalscorer - well done ~ Ed.)
———————————————————————————————-
Session 2 Pitch 1
5 Blacks v 5 Whites
An interesting game with referees Pearce and Rogers on opposing sides.
Colin Fielding was nominated Sweeper Keeper for the Black's and Roy Smith for White's.
A familiar pattern within minutes of the start Caldwell nets one for the Black's who quickly settled down with Fielding's precise distribution building from the back linking well with Pearce and Bemrose. The Black's pressure tested Rogers and Smith who's valiant defending was eventually breached by a Bemrose goal. Black's ahead. Collins was quietly making inroads on the left but the enthusiastic Ken Thomas worked hard to annul the Black's progress this forced play into a more central attack by the Blacks with Bemrose taking advantage and adding his second. The Whites were relieved when Gilson Rogers scored an excellent goal to keep them in the game.
HT - Blacks 3, Whites 1
The pattern continued again with Caldwell scoring again shortly after the starting whistle giving the Black's more confidence to spread the ball about resulting in near misses from Pearce. The White's held firm and were able to create an opening for Griffith's to give them their second goal, a reward for keeping out the continuing advance from the Blacks. It was only time before the Blacks would add to their score and their chance came with a penalty awarded for encroachment but Bemrose just failed to convert. Not deterred Joe made amends by scoring the final goal securing a win for the Blacks.
FT - Blacks 5, Whites 2
Referee - Tony Cravagan.
Thanks Tony. sounds like another fine game, nice to see our Refereeing guest bag a goal to make his day even more memorable.
Ten o'clock on Pitch Two.
EXPERIENCE AT BOTH ENDS
4 v. 4 with Colin Fielding and Gordon Nixon sweeper-keeping at opposite ends.
Black's soon amassed three runs spread across the team. Joe Bemrose struck an arrow straight penalty and then quickly added another goal to make it two-nil.
Roy Smith made it three and Black's were suddenly up against it.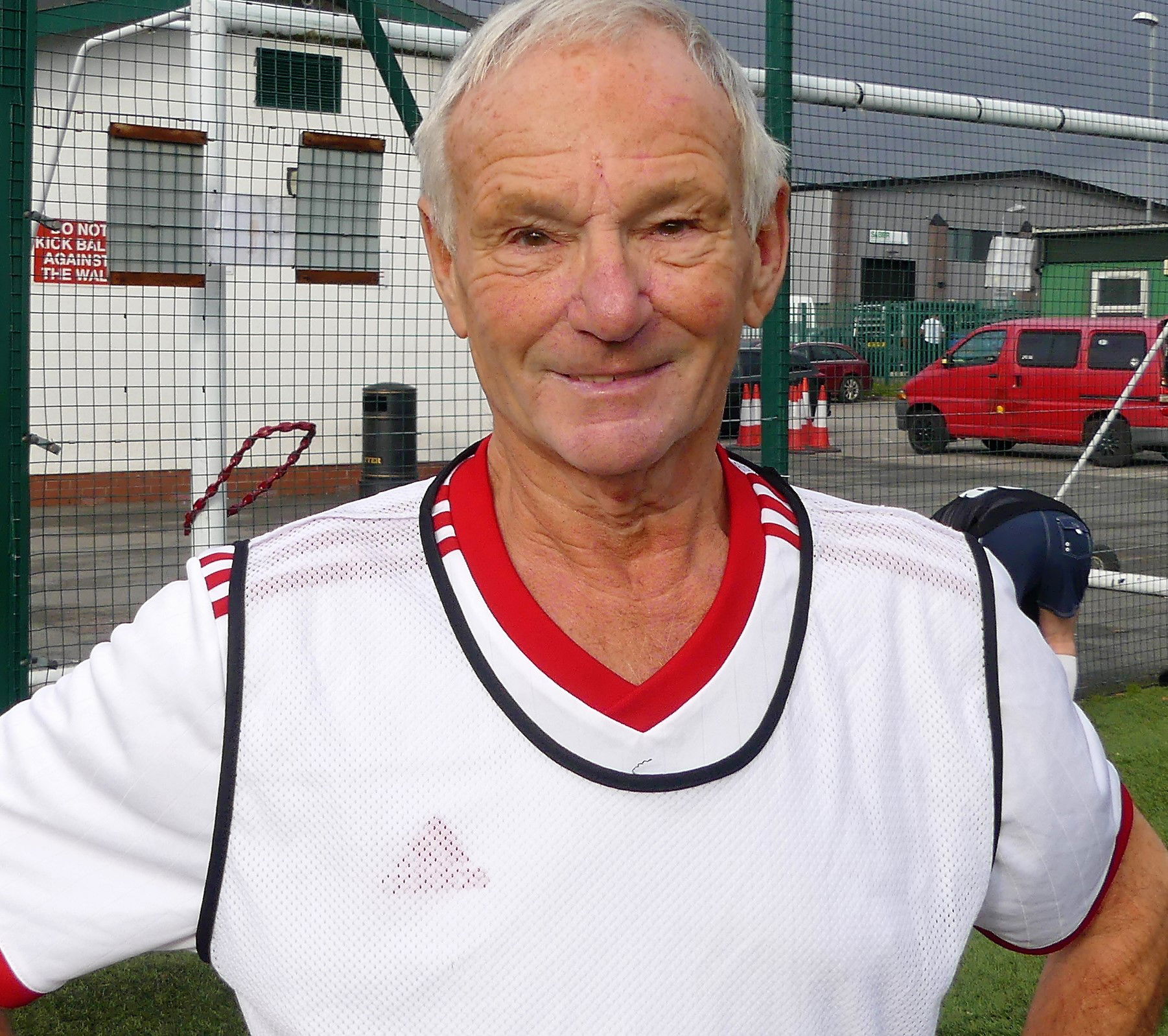 Roy Smith - conjured up a third goal
That was until Steve Birtwistle grabbed the game by the scruff of its neck and bagged a brace in quick time and it looked like 'game on' but the man at the back strode forward to restore the White's cushion - a good goal from Colin Fielding.
Les Breegan, comfortable on the ball all morning hit back for Blacks with another quality effort but with a rare mistake this time from the penalty spot, Steve Birtwistle put the ball wide.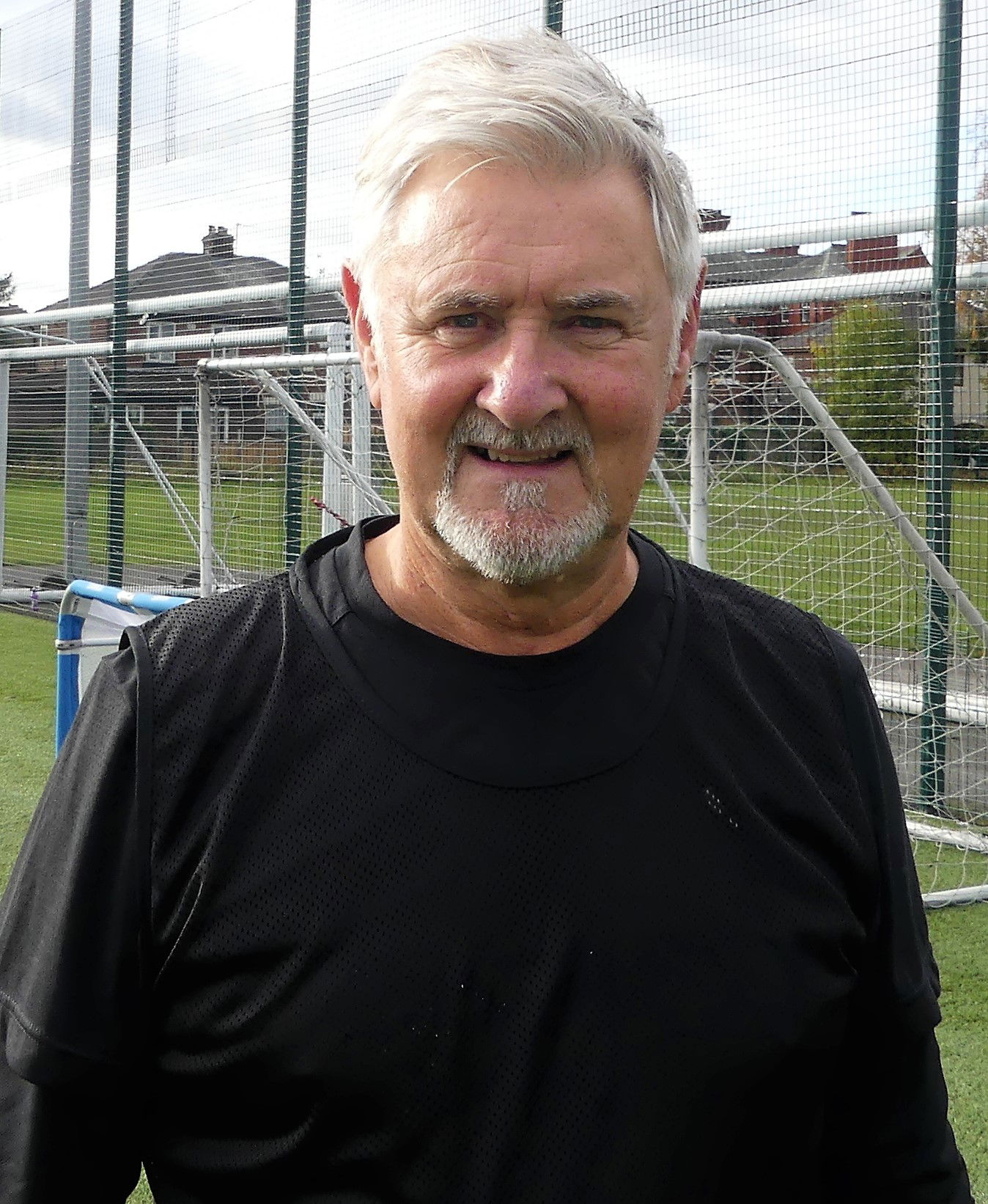 Les Breegan - 'comfortable'
Encroachment from the Black team's maverick Mike Kieran put the ball at the feet of Joe Bemrose for a second penalty kick which he converted with aplomb. Final score 7 - 3 to the Whites.
A well contested game played in the right spirit and relatively easy to Referee.
_______________________________________________________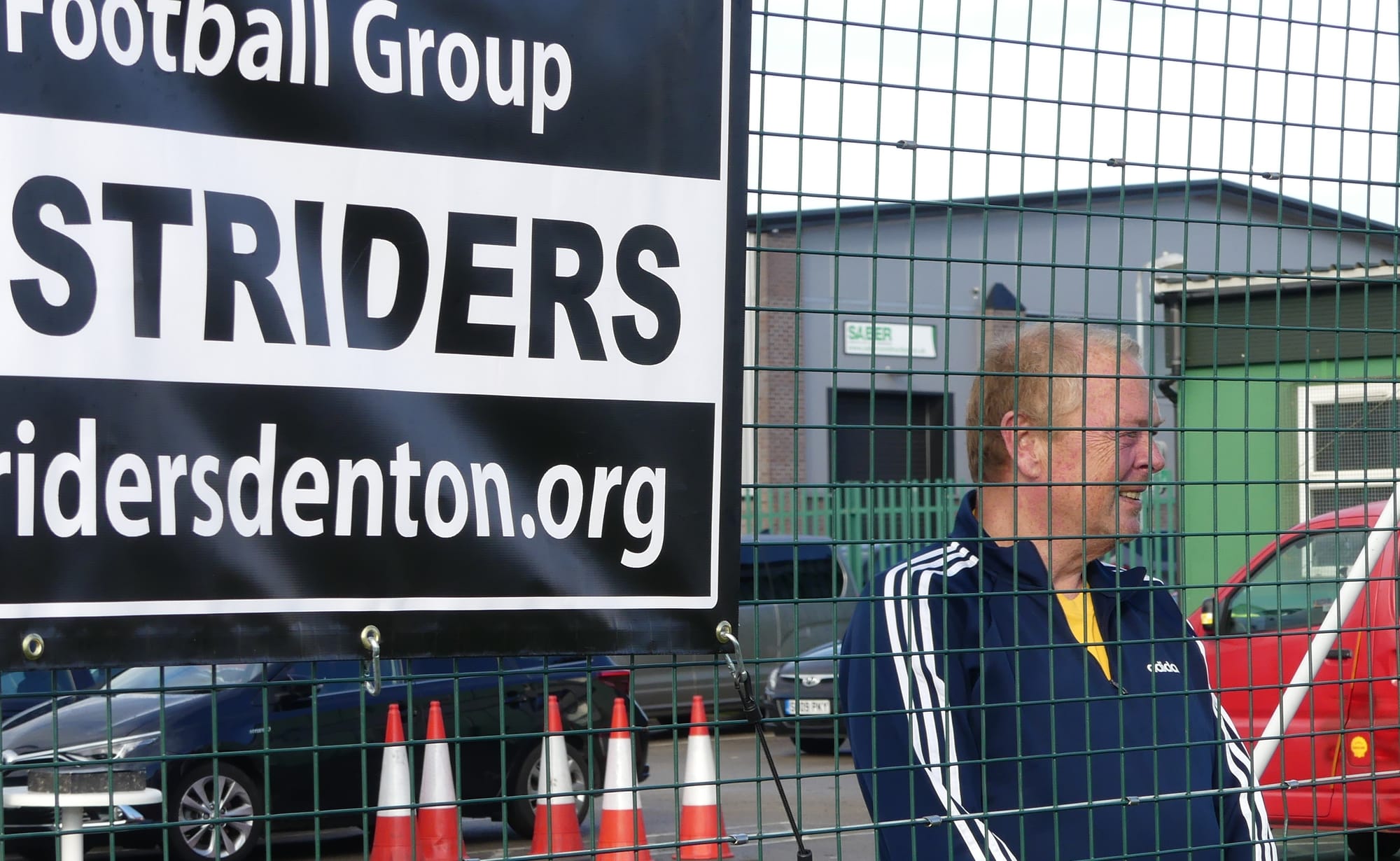 David Fielding - in on the Thursday action today

SECOND SESSION PITCH 2
RICHARDS' GLOSS FINISH PUTS BLACK'S ON THE WINNING ROAD....
David Fielding Refereed his first game at Denton for a while as ten of us gathered on pitch two , teams selected and away we went under greyer skies which eventually delivered so fine rain. A good game with some decent passing.
Alan Richards benefitted from one such pass and put the Black's ahead with a precision strike from the left wing.
Both Sweeper/ Keepers look like accomplished specialists in that position but Nigel Metcalfe could not quite stop an equally fine effort from Bill Harrison which levelled the score. Game on !
All square at the break with both teams having their moments of good play. How much has John Leech improved his game over the past year? Answer: A lot.
With the rain falling now, the Whites toiled hard to get their noses in front. Brian Hadfield and Peter Quinn both saw a lot of the ball and a lively Keith Oldham hit the frame of the goal twice, he then proceeded to pepper the goal with shots but none went so close. Mike Taylor, dependable at the back for Whites was distributing the ball well but Blacks held firm with the energetic Kenyon all over the pitch. Richards was benefitting from Metcalfe's distribution too, the big man very solid and capable at the back. Also confident enough to offer much vocal direction and encouragement to teammates.
A fairly innocuous looking kick in from Kenyon failed to find Richards but instead clipped the heel of Mike Taylor before squirming into the net. With their noses in front Blacks began to play some more expansive football With Leech doing sterling work on the right. He capped a fine performance with a brilliant finish to make the game secure for Blacks.
Final score Blacks 3 (Richards, Taylor o.g. , Leech) Whites 1 (Harrison)
Many thanks to Referee David Fielding.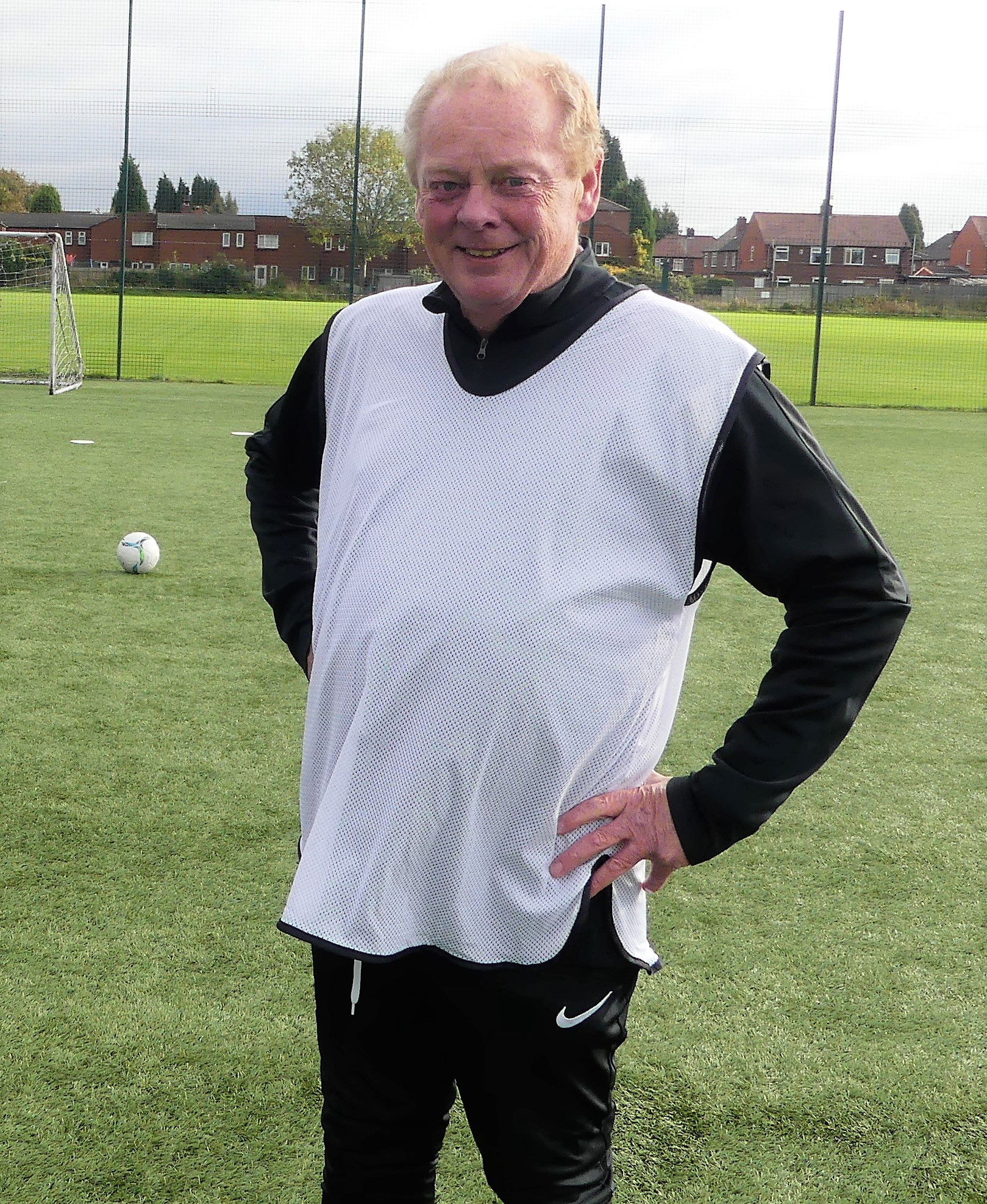 David Fielding - Refereed today
_________________________
"Slow it down" they said. Take a look what an unmanned camera captured. A second half comeback that's what...twenty minutes of your life you won't get back : BUT if you want goals there's five here. The first half is even less rivetting...
MID OCTOBER...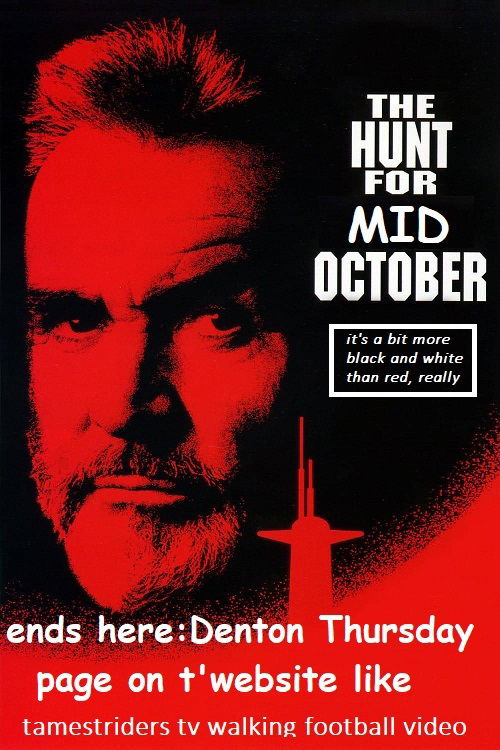 As eleven o'clock approached we saw two games coming to close with a 6-5 nail biter on Pitch 2. White's with Markland, Richards,Dean and Breegan had dominated the first half leading three one at the break.
BLACKS 6 (Birtwistle 3, Stewart 2, Martin) WHITES 5 (Markland 2, Dean Richards, Breegan)
They had started poorly with sweeper/keeper Richards making an early error of distribution upon which Steve Birtwistle capitalised . Richards, playing only his second full game since lockdown composed himself to block several more efforts and that was the last real chance the Blacks had in the first half.
White's had played some excellent stuff which sadly the unmanned camera (Accidentally left in slow-mo mode) did not capture. Ken Dean, always dangerous opened the scoring and Richards profited from an accurate Markland free kick steering the ball home unerringly from twelve yards. Les Breegan - impressive in possession - underlined White's superiority into the second half with a very well taken goal.
Something was stirring within the black camp though and this was the classic 'game of two halves'.
With Brian Hadfield and Birtwistle pulling the strings for a mobile Russ Martin and the predatory Jim Stewart on the wing the second period began like the first with a Black goal within seconds. Russell begin the revival with the S/k drawn out of position in time honoured fashion. Another mistake from Richards - his back heel intended for Breegan fell right at the feet of poacher Jim Stewart and the rest was a foregone conclusion.
Level now and with their heads up the Blacks looked inspired as Birtwistle - both knees heavily strapped - completed a fine hat trick the last two elements of which will feature in the upcoming 'epic'.

White's were not done yet though and a change of sweeper/keeper saw Richards released upfield as Gerry Markland anchored for a time,then Ken Dean. Chances came up at both ends but it was that man Markland who made the scoreline more respectable by notching a brace in the latter stages.
An excellent game and a pleasure to play in , hardly any contact or speed . The film will certainly attest to that stuck as it was in slow-mo and it should be on TTV later today (Saturday) Well Refereed by Tony Cravagan.
______________________________________________________
After eleven we featured a 7 v. 7 on the bigger pitch. Not quite enough lingerers were available to even things out and Geoff Griffiths, despite offering was disappointed. Brian Hadfield again enjoyed a second game.
Again the match was filmed, and this time the camera was manned by each of our first hour Referee's who both enjoyed half a game themselves.
WHITES 4 (Stafford S 2, 1 pen - Place pen Harrison B) BLACKS 2 (Pearce, Kenyon)
In this one there was some controversy as a White penalty was awarded after a Black attacker put a foot in their 'D' in an effort to score. Referee Richards awarded a penalty at the other end. This rule (number 6) existed before lockdown and was not a part of the recent review. Some players appeared surprised. Everyone was offered a copy of the rules recently and there are spare copies still available.
Steve Stafford despatched the spot kick and Bill Harrison followed up with a fine strike to double the lead. Whites were ascendant but the Blacks were in their stride too. What a stride it was as three runs were soon registered. Again Penalty ! Roger Place this time took the responsibility (is the spot too close now? - well a former professional footballer missed one of these from the same distance last week at Ashton) Place hit the spot. Pearce pulled one back for Blacks with an accurate finish after going close a time or two. This was a good game with evenly matched teams despite the scoreline.

Gamekeeper turned poacher Pearce advances on goal


Four one at the break though after Stafford - often pushing pace boundaries himself, especially off the ball - bagged his second.
The second half saw fewer goals as Whites contented themselves with their comfortable cushion. John Kenyon, always a threat persevered and was rewarded with a goal added respectability but the match finished in a four two win to Whites.
Seven runs all told and a few cases of contact. Nothing malicious, just carelessness in the mildest sense and a case of over enthusiasm which we really should be controlling in the current circumstances.
A good game to Referee. There is film of the whole game on Tamestriders TV.
Mid October 2020 - first half video....Tony Cravagan camera and commentary...coming soon...Garry Pearce films the 2nd.Half

More photo's https://www.flickr.com/photos/stridershots/albums/72157716311186546
9.10.20 Our Chairman Gordon Nixon's first match report featured here...read on...
In todays matches on pitch one the refereeing was shared between Dave Partington and myself.
The first game was goalless at the break, but not long in to the 2nd half the the deadlock was broken by Jim Stewart who slotted home to put the Whites in front. The black bibs continued to look for the equaliser which came via a good shot from Thursday player of the year Russell Martin?, the scores didn't stay level for long however when up popped Jim Stewart to double his tally for the day but what was looking like a win for the whites ended in a draw when Brian Stafford leveled things up with a fine goal.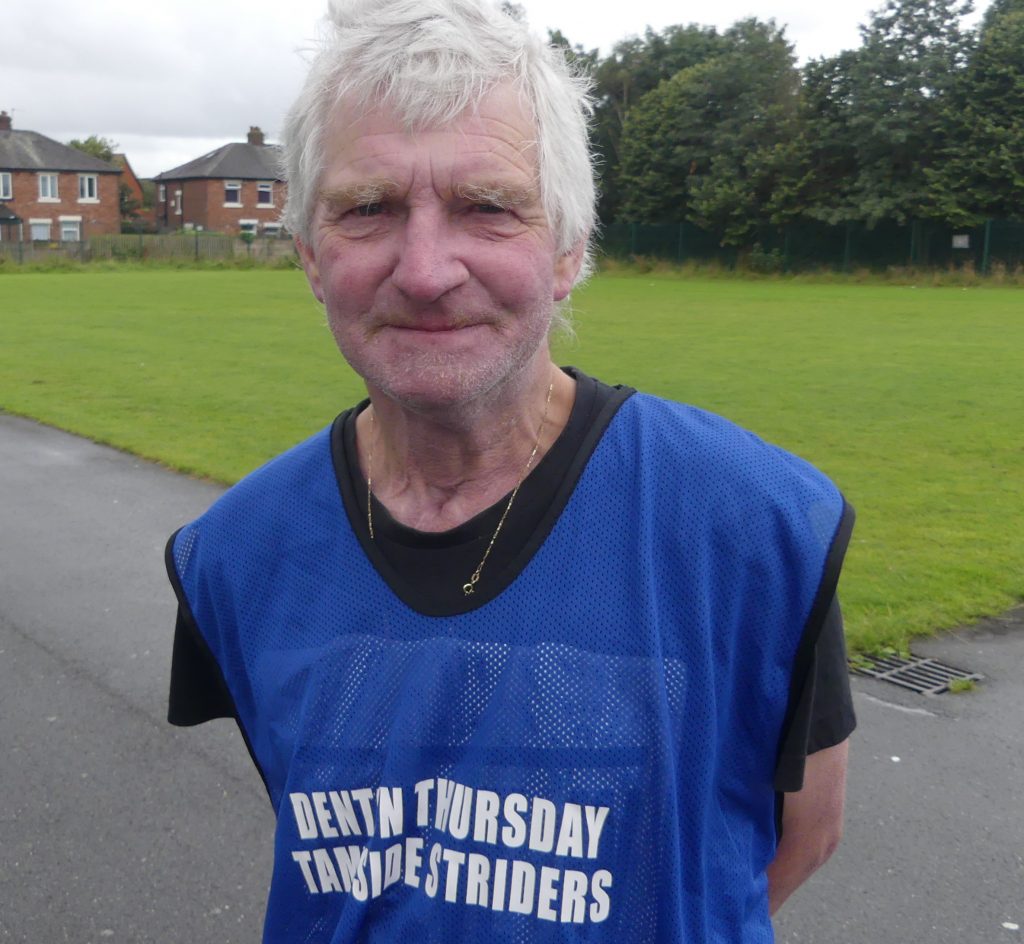 Jim Stewart
2-2 being the final score of a very good game.
_________________________________________
SECOND GAME with the eleven o'clockers.....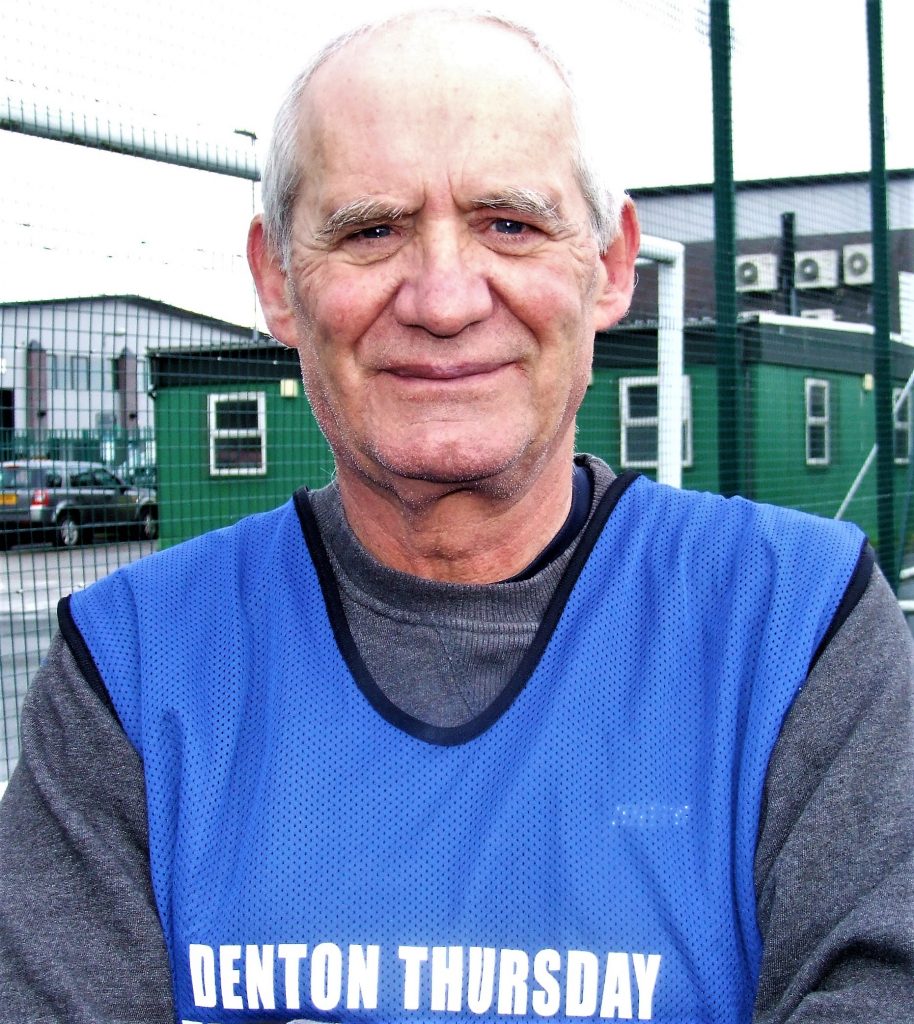 Mike Caldwell
There were some strange results in the Premier league last weekend and that trend continued in the second hour on pitch one. The White's ran walked away with a 13-3 victory over the black bibs , Mike Caldwell netting EIGHT ! and a Partington hat trick being the main goal scorers, the goals scorers would have normally scooped the headlines in this match but, its the team in black bibs who take the honours because at no time In this heavy defeat did they stop trying or encouraging each other.
They showed what Walking Football is all about. - Gordon Nixon
Ed's note: unusual to get such a heavy defeat but 'tight-angle' Mike can be a lethal finisher. Good to hear of the spirit of esprit des corps of the team in black. Results matter but they're not important so well done everyone and Mike that goalscoring feat of yours is a definite record form sweeper/keeper at Denton Walking Football - you've given us all something to aim at ....but it may stand for quite a while!
9.10.20 Tony Cravagan took up the whistle once again on pitch two at 11-15 and here are his thoughts on what followed...
Pitch 2, second session.

5 Blacks v 5 Whites
Referee - Tony Cravagan.

What a start for the Blacks with Oldham scoring a long range drive but before the celebrations had ended up pops O'Brien to equalise. The Blacks were not deterred with Richards putting them back in front from a cruel deflection off Leech. Taylor in his customary SK role kept the Whites at bay and it wasn't long before Bemrose found the net to add another for the Blacks. Hard work from the Whites midfielders Stafford and Harrison payed dividends linking up with Tomlinson who scored just before half time.
HT - Blacks 3, Whites 2
The blue skies from the first half were replaced by 50 shades of grey but the football continued as bright as ever. Busy Kenyon was unlucky not to add more for the Blacks who's wingers Bemrose and Richards sprung some excellent passes which eventually rewarded them both with goals. The Whites organised their defence with cool O'Brien combining with Leech and Harrison to prevent the Blacks from going further ahead.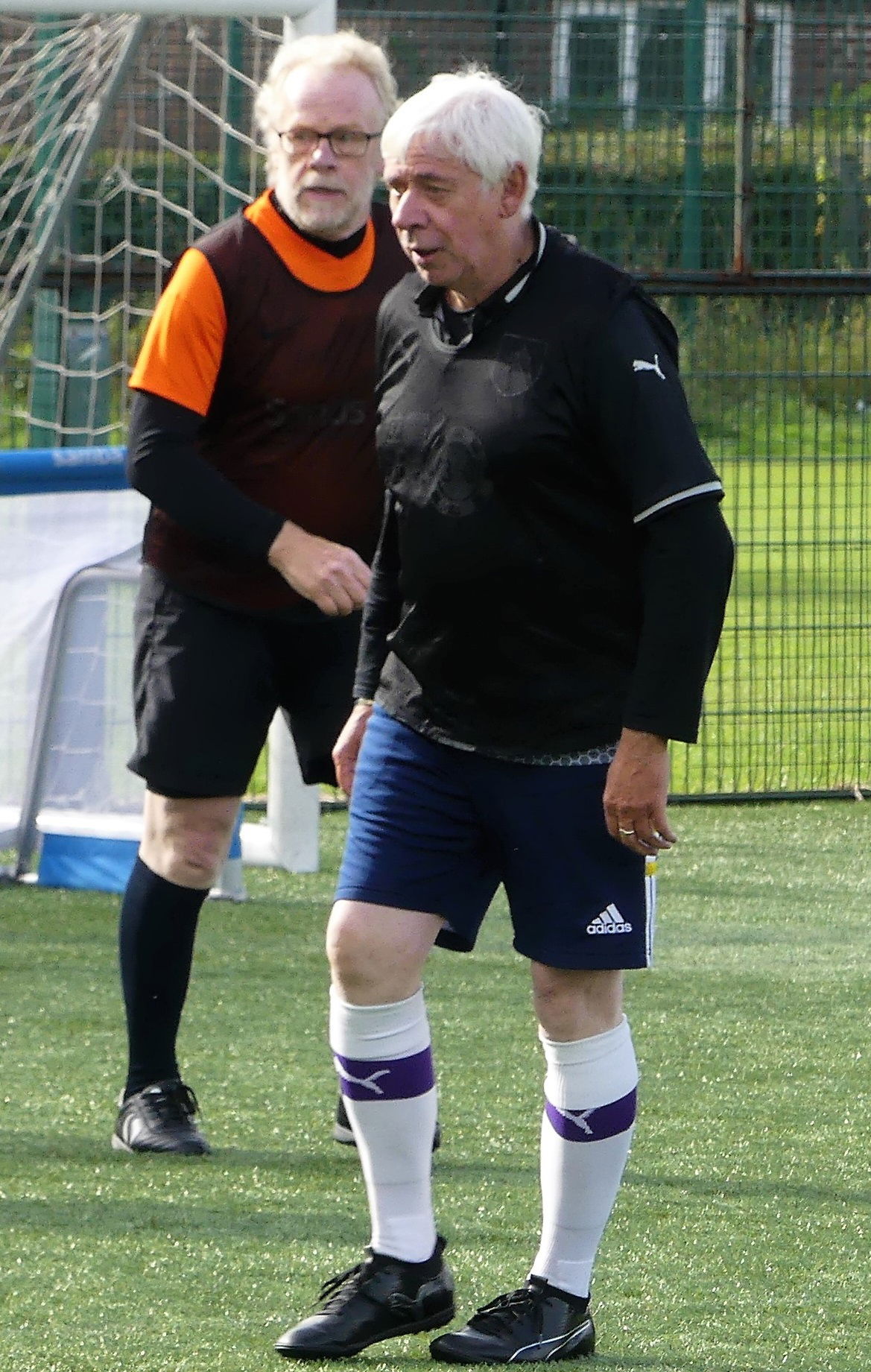 Vinnie O'Brien - right on another day
Pressure mounting from the Blacks forced the Whites to accumulate 3 runs with no hesitation from Richards to convert it for his hat trick. The Whites tried hard to redress the balance but it was not quite enough despite a late goal from Stafford.
FT - Blacks 6, Whites 3

Excellent game, most enjoyable to ref and to observe
______________________________
Ed's note: Yes a tremendous game of walking football played in fine spirit and very well Refereed. Always a pleasure to play with Joe Bemrose and Keith Oldham. With Mike Taylor solid and intuitive at the back and an energetic John Kenyon we played some good stuff. How noticeable the fine strides Vinnie is making now he has fully acclimatised. Steve Stafford played very well too with Steve Tomlinson a rock it was hard to get past and when you did John Leech was a further bulwark. Bill Harrison solid and a threat made big efforts to curb his pace. Thanks all - my first full game since February and I really enjoyed it. Tried really hard to maintain discipline in terms of pace - Thanks Ref for the word of warning !
____________________
8.10.20 Garry Pearce reports on a birthday goal for our man Matthews...
Five a side on Pitch two this morning under mostly leaden skies but at least no rain. Blacks took an early lead, thanks to a calm finish from Gerry Markland. Joe Bemrose then added to the Black's total with a penalty after ingress into the area. The ever-industrious Mike Kieron then pulled a goal back for the Whites, before Gerry again restored the Blacks two goal advantage. Joe then got on the scoresheet but at the wrong end when an inadvertent back heel flick rolled into the Blacks net. Just before the break, Joe scored again, this time at the right end, off his right shin, to yet again restore the Blacks two goal cushion.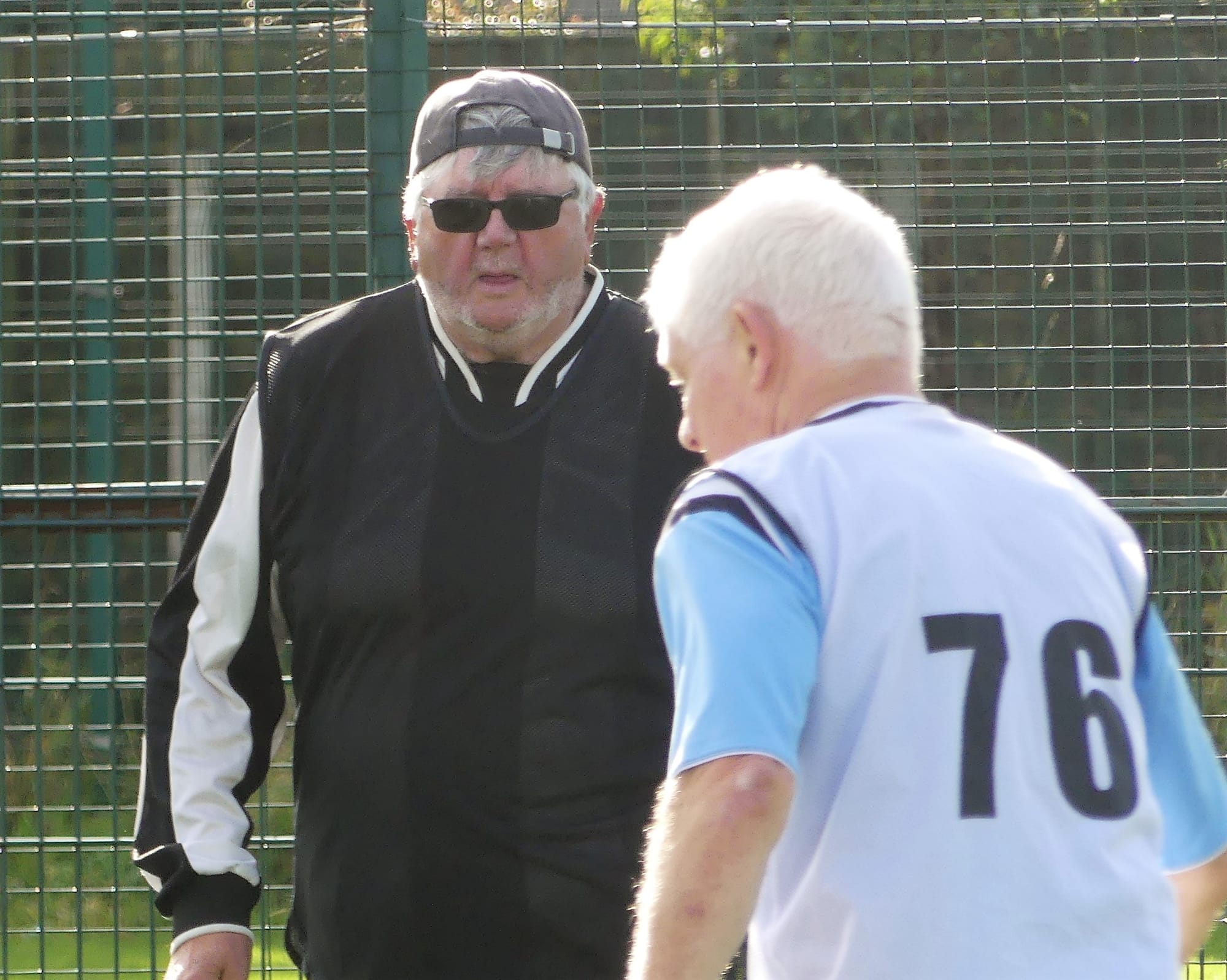 Frank Matthews left and Geoff GriffithThe second half saw birthday boy Frank get his goal when he was left all alone and duly made no mistake! Gerry then added his third before Les completed the scoring for the Blacks. Just enough time for Mike Kieran to get a consolation goal for the Whites.
A good game, lots of banter and only bit of contact, with just the two runs.

Final score: Blacks 7 v 3 Whites
2.10.20 The second half video from yesterday doesn't do us any favours really in terms of running. There was too much of it. The committee have already been discussing remedies and from next week onwards we will whenever possible avoid larger games on one pitch. This entails relying on more peoples willingness to Referee and perhaps enlisting a few more 'lingerers' to stay on when numbers are low.
Referee's will be encouraged to firm up their response to runners.
It's appreciated that some more recent second hour arrivals have only been used to playing on the large pitch which in the view of some encourages increased pace. However some players need to think about their game and show a measure of restraint. Both in terms of their speed and their attitude towards the sessions. A group of individuals, friends by now or acquaintances playing a game derived from football - results matter but they are NOT important. We are aiming for Zero contact at the moment and definite progress in that direction has been made. But this is walking football - and even though I've often referred to it as 'slow non-contact football' what we saw the other day - only in patches - was NOT slow at all. Thursday's are working well, let's not let standards slip ~ See you next week - Ed. The link to the second half is video is not published publicly
Most players run sometimes (I do too...sometimes - Ed.)
__________________
Tony Cravagan's filming continues to half-time...
1.10.2020 First hour coverage was scant today - understandable as the press visited and the usual media man was tied up. HOWEVER..we do have a series of treats for the second hour Strider's.
We start here...
24th. September 2020...
film from the first half - second hour here...
"IT'S A GERRY 'AT-TRICK"....
....and then some !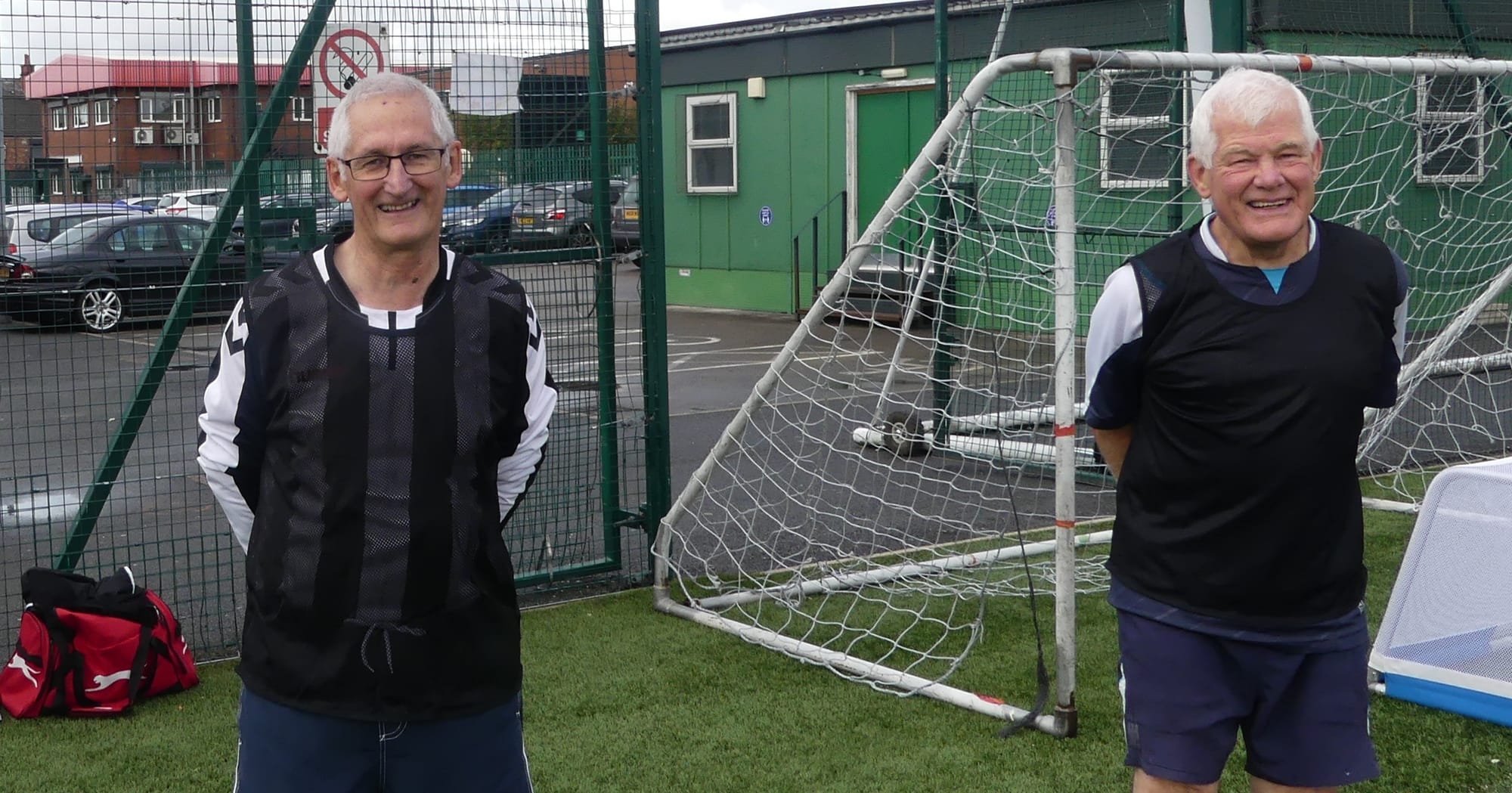 Gerry Markland (left) and Geoff Griffiths - tremendous performances from both G's
A really fine game of sweeper/keeper A.S.K.A.N.C.E on pitch two which I had the pleasure of Refereeing today.
FOUR in white bibs versus FOUR in black. Blacks began the better. Partington pulling the strings and getting a fine tune from Gerry Markland and Les Breegan and Geoff Griffiths. Jim Pelling was busy at the back. Russ Martin, Jimmy Stewart and a reliable Steve Birtwistle trying to stem the black tide.
The 'Sweeper keepers' soon got the hang of the 'foot plant'.
A quick brace from Markland underlined Black's superiority but Jimmy Stewart pulled one back for Whites.
Griffith was knocking on the door and with better fortune may have added three goals to the Black tally.
Another goal did come though and the headline was made as Gerry Markland always smartly turned out in his Striders stripes and Hummel chevrons in fine form slotted home well.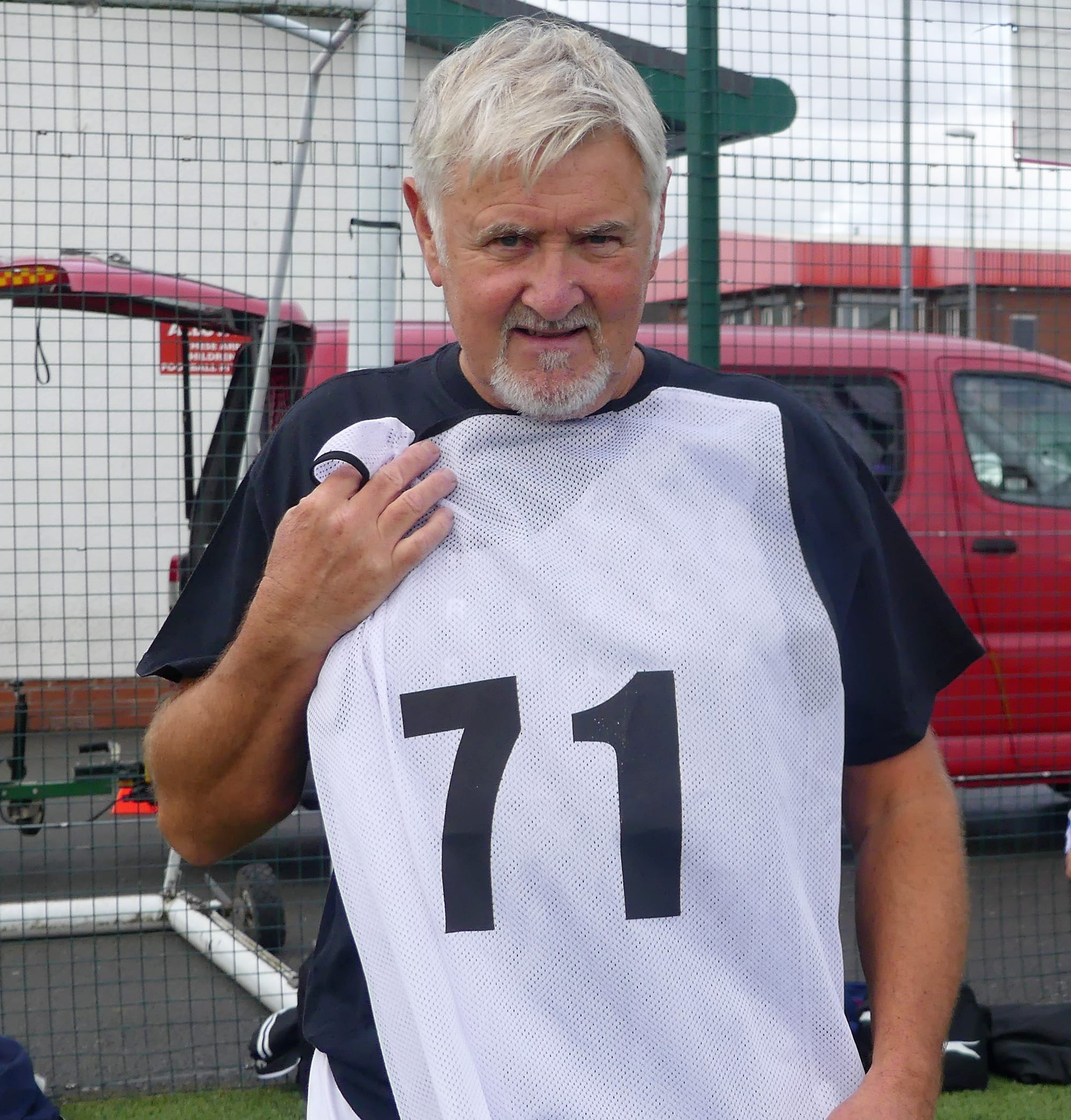 Les Breegan - newly signed on and sporting his new number 71 bib added a fourth and that's how it was at half time, when David Partington and Jimmy Stewart changed sides.
Jimmy didn't have to change position though and maintained his usual threat from the left flank. He has a real eye for a precision finish but only managed the one today.
Underway again and Whites began the long road back with two quick goals, one from 'player of the year' Russ Martin and another from 'Party'. Geoff Griffith added a 'beauty' to restore the cushion for Blacks, Gerry Markland notched another two before blotting his copybook with a hat trick of a different kind THREE RUNS ! Steve Birtwistle converted from 14 metres out to make it 7-4, then made it a Birtwistle brace to end the scoring which by now stood 7 -5 to the blacks. Just five runs throughout with very little contact. For long stretches of this match there was zero contact, so well done all.
Look out for those rule refinements on the website. All new S/K rules will come into force next week - but there aren't too many of them.
Tony Cravagan takes up the story from Pitch two with a Pythonesque play on a movie title ....& STAFFORD HITS FIVE !
5 Blacks v 4 Whites ( Result: 2-7)
Spaced out walking footballers on Pitch 2 - hope your dog is okay Brian !
" A Life of Brian's " on pitch 2 with Brian Stafford netting 5 and Brian Hadfield adding another plus Dave Wenham resulting in a total of 7 goals for the Whites.
The Blacks pulled back 2 goals thanks to Eric Thomas and Joe Bemrose.Even though the Blacks worked hard the precision finishing from the Whites and some excellent SK work from Terry Hayden was making it difficult for them. (Good to hear of Terry enjoying the S/K game - Ed.)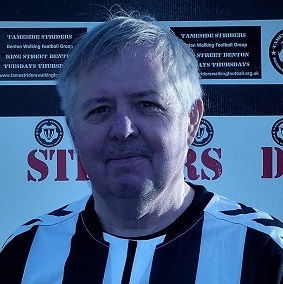 Brian Stafford- not the 'messiah' just a prolific goalscorer
A credit to both SKs ( Terry Hayden and Frank Matthews ) the new goal kicking procedure was perfectly executed. Hard work from Dave Wilson and some good inter passing between Ken Dean ( recovering from an eye operation yesterday ) and Eric Thomas was not rewarded with Brian Hadfield and Dave Wenham holding the midfield . The only way through for the Blacks was some distant shooting which eventually proved fruitful from specialist Bemrose.
Excellent game with little contact and just a couple of runs.
Our second hour has video in the can from the first half but this was a quicker game. Mike Caldwell finishing made the difference with a couple of tight-angle finishes as well as a Penalty conversion. It was a seven versus seven affair and finIshed EIGHT nil to the Black bibs ! A strange result as both teams looked evenly matched at the outset. An assistant Ref was deployed in the second half. Look for the video link later.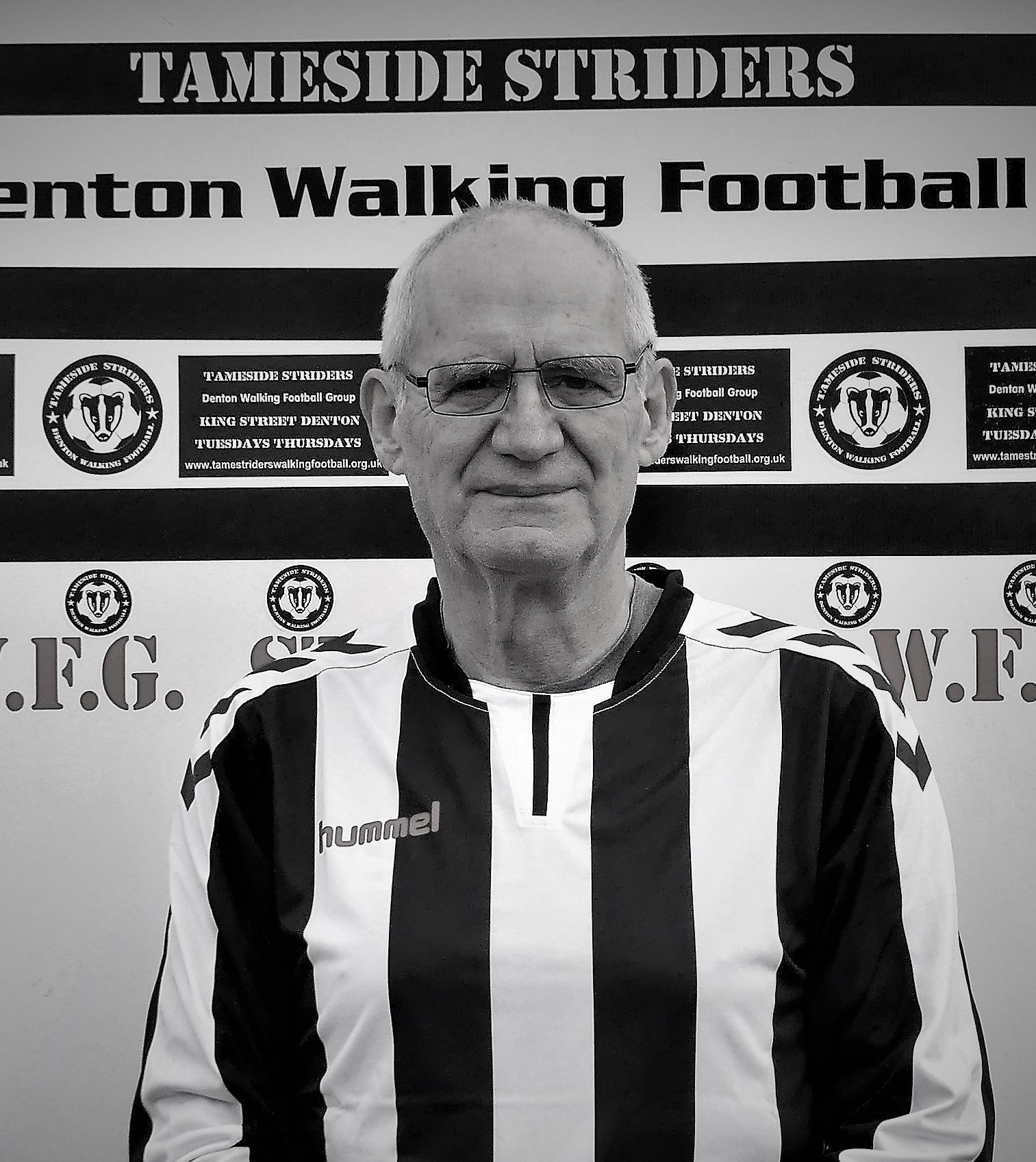 Mike Caldwell - impressive finishing made the difference
-----------------------------------
17th. September 2020
Tony Cravagan basic report: 30 players turned up today including 3 committee men plus Garry.
Game 1 - 8 v 9 - Whites 2 Blacks 0
Thanks to Garry for reffing.
Game 2 - 8 v 8 : Blacks 3 Whites 1
Refereeded by Tony Cravagan.
David Partington interjects:
"Most enjoyable morning, thanks to help from everyone.
Only been to the Thursday sessions a couple of times, but really enjoyed it this morning. A big thanks to Tony who did a great job in Alan's absence. Colin and myself helped a little also, and Garry was there to referee. The sun shone, what could be better,a nice group of players who all enjoyed themselves"
Colin Fielding concurred: "Agree totally Dave. Really enjoyable morning. Standard of play is improving every week, and lots of good banter."
Alan Richards agreed in absentia: Thursday's are ace across the morning David. Glad the sunshine arrived on cue with you too. We are having a nice settled spell of weather. Thanks t'committee for helping out.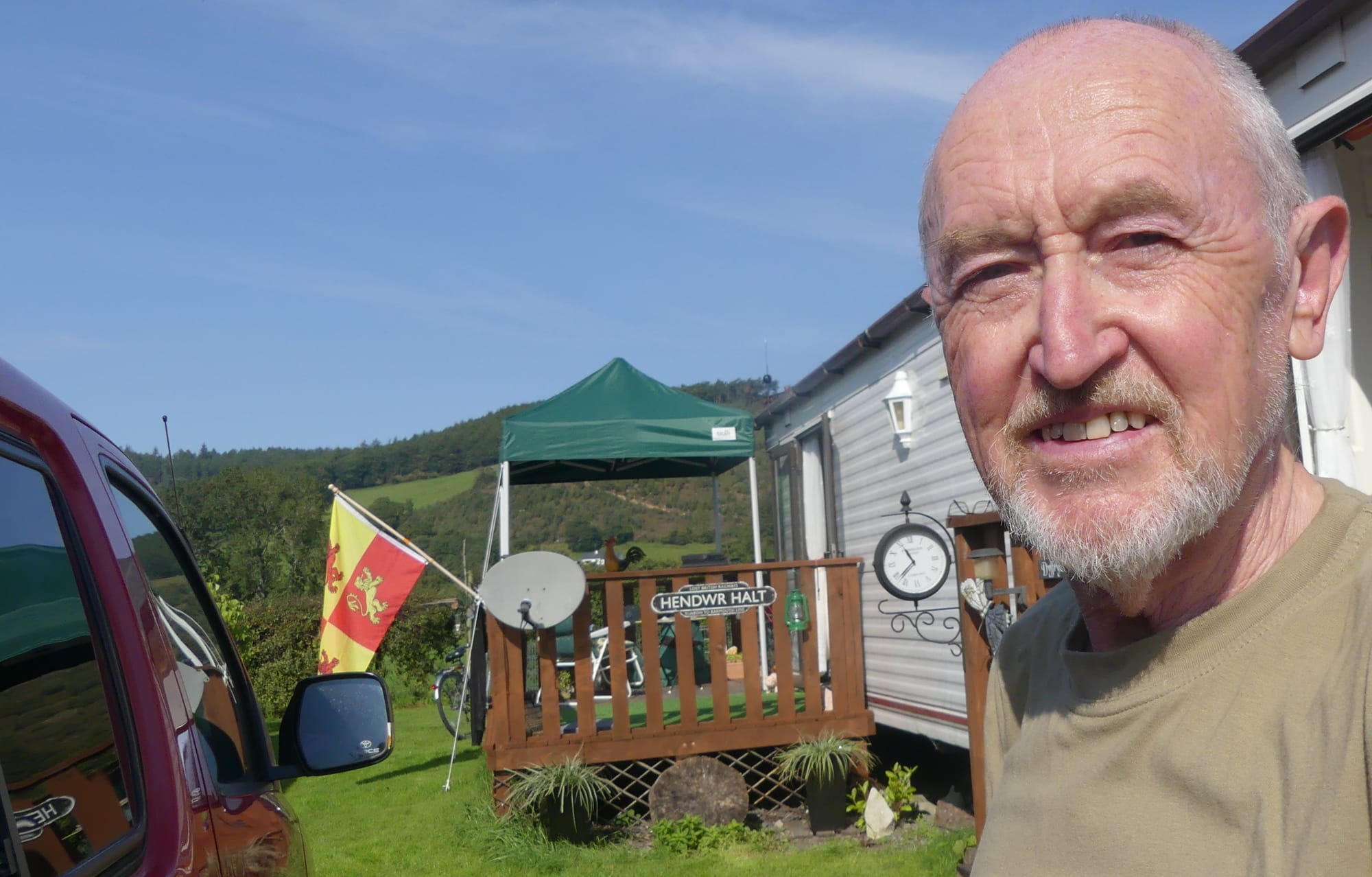 Alan - in absentia
10th September...VINYL SCORES...by Alan Richards
Thirty three and a third. Remember that? L.P. speed. But what were the others? 45rpm for singles and 78rpm for those much bigger things that used to make decent ashtrays if you left them on the window ledge on a hot day.
The first 78rpm. I remember our family buying was Paul Anka's 'Diana'. It sat on the same shelf as 1930's smash hit Oh ! Mein Papa...but I digress, and anyway it became a small plant pot one hot July day c. 1962 !
Thirty three turned up and three committee men missed out on some of the action to Referee. A fourth, David Wilson enjoyed his first 'walk - out' for a while. (thanks for the hat)
Both of those first games ended in 4 - 3 wins for the Whites. Which reminded me of another L.P. 'Synchronicity' by the Police ! 'King of Pain' and all that.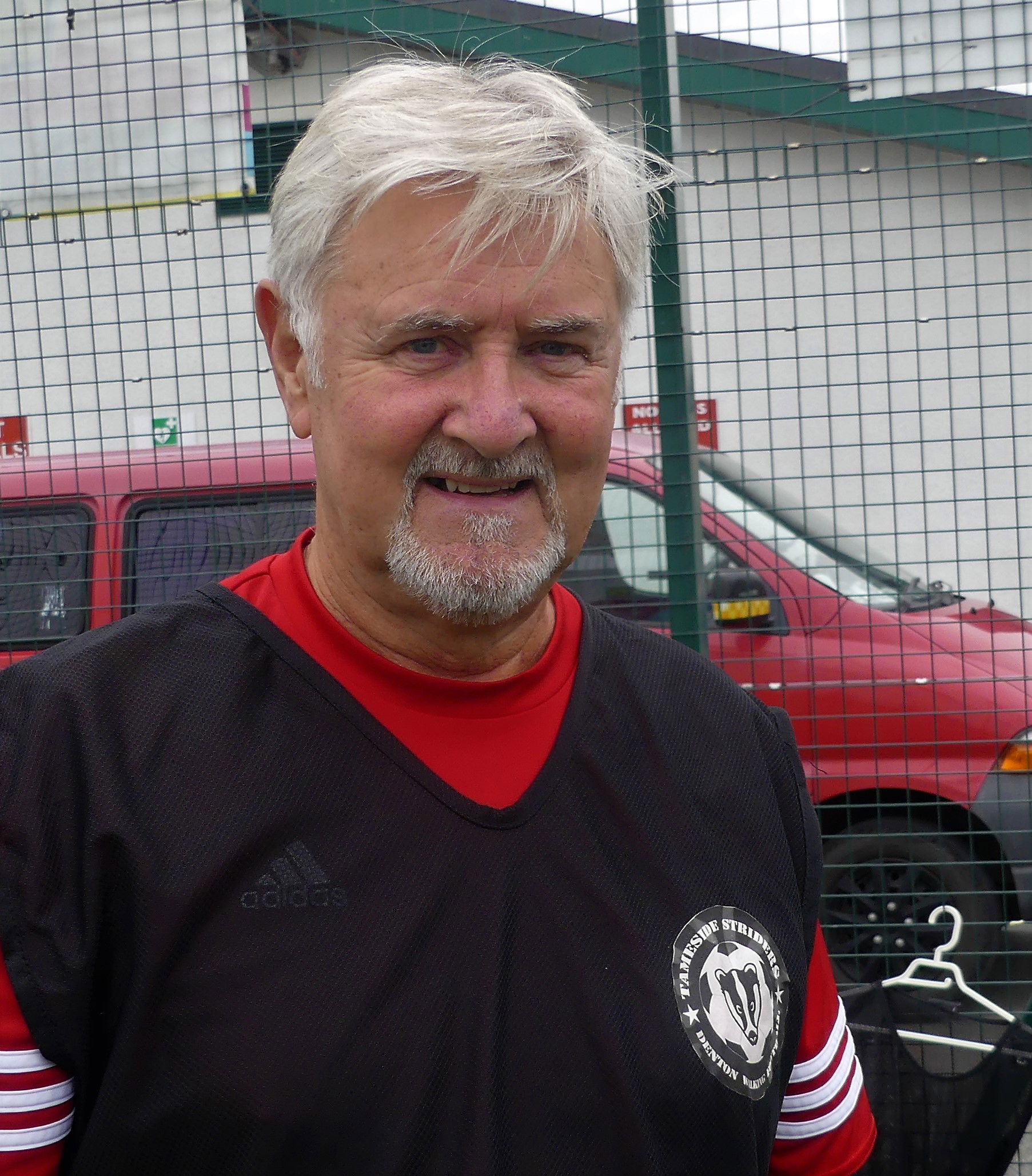 Laurie's mate Les
New man Les Breegan (?) (see photo above ) settled in well and seemed to enjoy it.
The walking football was anything but painful. To be honest it was good to watch. Just how far have Thursday's come, and everyone bar Tracey B. over 65 years of age.
We have video in the can, which includes a David Cooper and Mike Kieran goal and one or two others I've forgotten. I'm currently deprived of mega-quick wi-fi so it may take a while to get it online.
Tony Cravagan and Colin Fielding made a fine job of Refereeing.
THE WINNING WHITES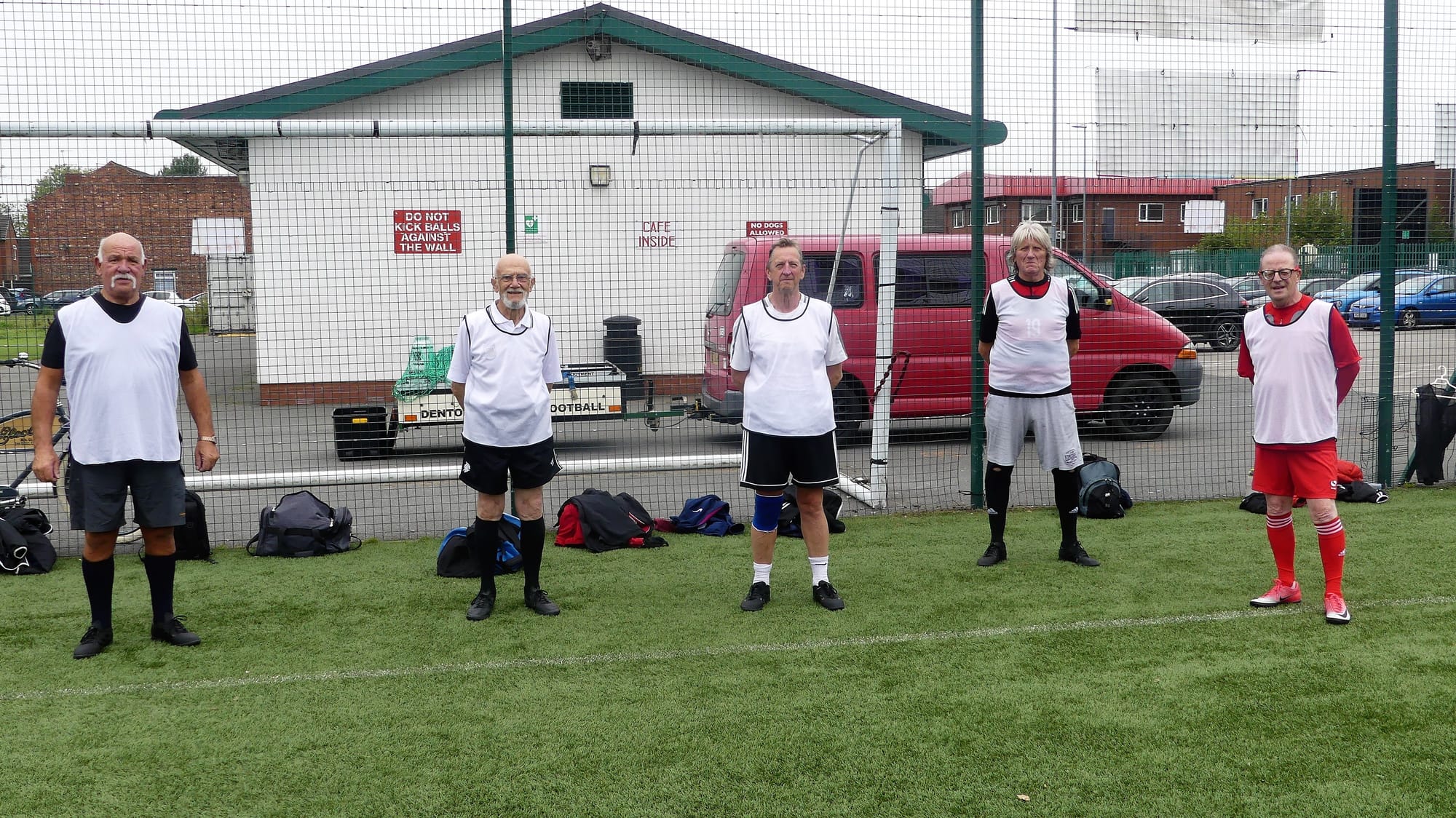 Pelling Boyle O'Toole Bemrose Wilson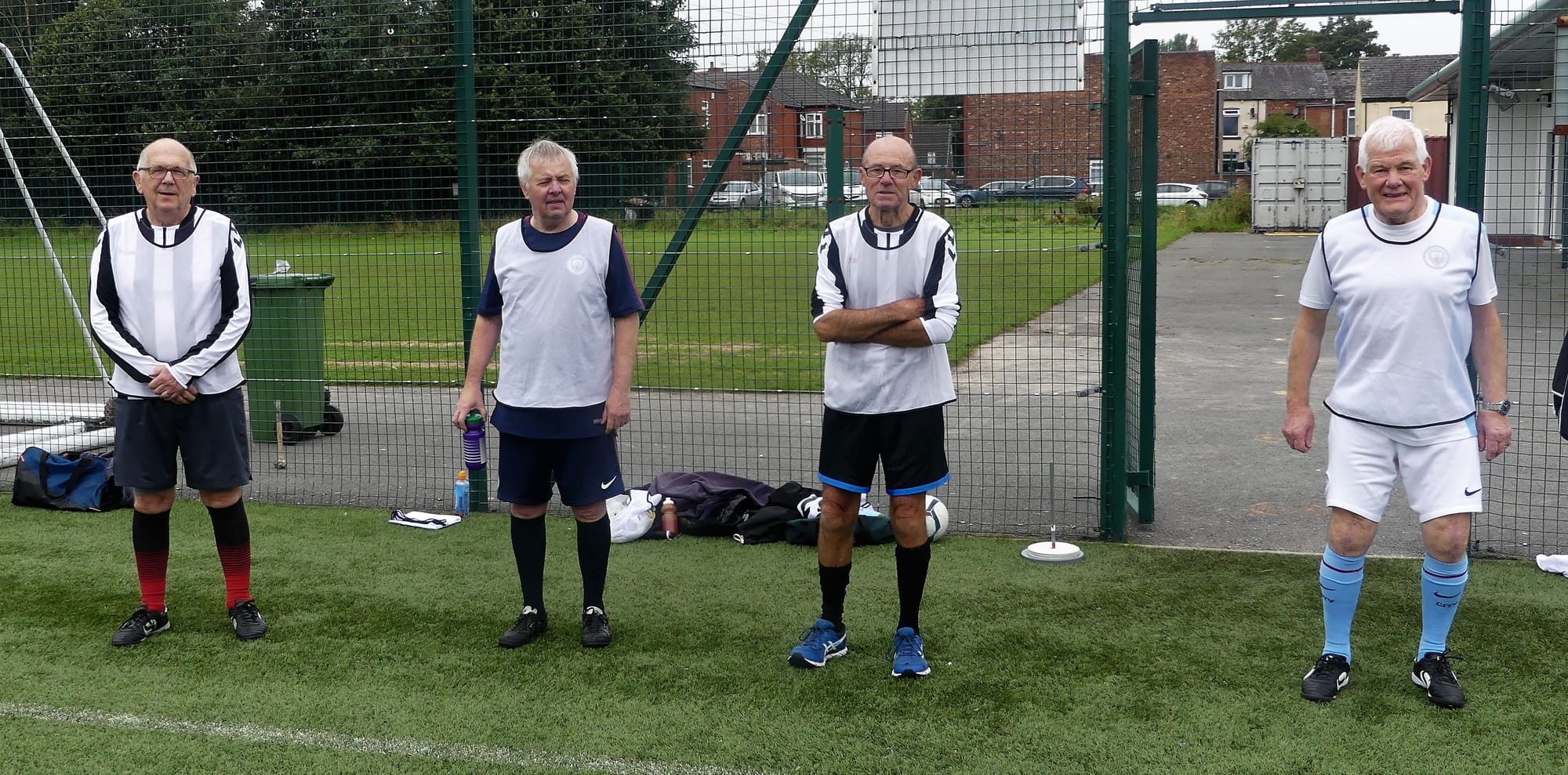 Martin Stafford Kieran Griffiths
As the first wave waved farewell , the eleven o' clockers turned up for THEIR weekly fun-walk.
Richards Refereed - perhaps a bit stricter on running than these players may have been used to. (This is a walking football group tha' knorrs).
Fielding C, and the Craggy Cravagan laid their whistles down and joined the White's and Black's respectively. Each of them subsequently walking in exemplary fashion.
Offered school playground type selection with Tony , Colin declined . He's ever the diplomat. Richards took up the task and in a black/white/black/white flash two teams emerged
It was an excellent, even game.
After a very early run Steve Stafford settled into the games pace. Tracey Blanchard, our '44' in black, moving speedily but legally, scored first to put her team ahead.
The lead did not last. Aforementioned Stafford of the Steve variety finished with some style to equalise.
Three quick black spurts brought the inevitable penalty for White's which John Kenyon sent wide. At half time it was one apiece. Both teams had spurned further chances but it was an entertaining game. The players seemed to be revelling in it.
Into the second half now and Clem White curled in a beauty around the SK with the inside of his right foot. Black Bibs 2 - 1 up.
White Bibs were not discouraged, putting some good passes together but lacking the final penetration they needed to find. What they did find was increased pace, as Mike Caldwell & John Kenyon were penalised after two runs in quick succession, to be fair their first bursts of speed since early doors.
Bill Harrison claimed it stepped up for the penalty kick looking mean and confident. With the big pitch in use the Referee shaved two metres off the distance but Bill's side-foot went wide.
Clem White, looking more energised today and relishing the service from Colin Fielding tucked away his second, and the teams third. Three one it stayed, as Mike Caldwell put a late penalty kick wide.
Another terrific session. We have had 69 players through the gates again this week plus every committee man has been on the scene at some point.
Give yourselves a huge pat on the back. This group is going places. For now it's the same place, twice a week. But that's better than nowt. Let's hope we can keep it up.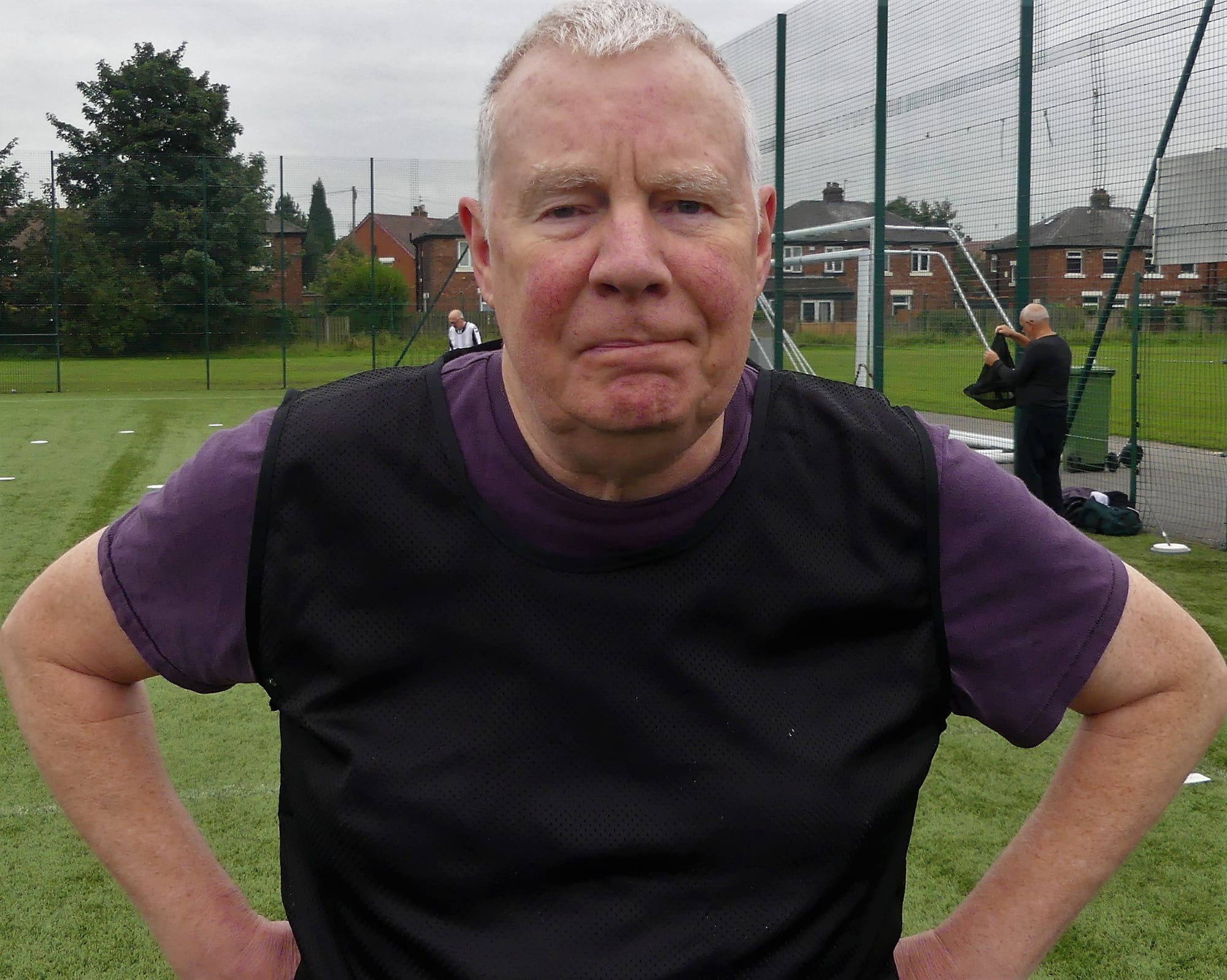 Steve Birtwistle
Steve Birtwistle (above) signed on today (thank you) , and I found Pete Ward's form and fiver in my black bag (not the crate).
Thanks to Tony & Col, the former has taken the bucket home and will look after the cash in my absence, as I am now on my little holiday break. - Ed.
BLACK VICTORS....

___________________________________________________________________
3rd. SEPTEMBER 2020...
a few minutes video...
..and the conclusion of the game
Another superb Thursday session saw twenty eight players arriving across both hours.
Twelve of which 'signed-on' for 2020/2021 - thanks one and all.
We had a guest player too , as Garry Pearce dropped by to have a look at proceedings. He was invited to play in the second hour (and scored a fine goal) as this morning the Refereeing was in the hands of Tony Cravagan and yours truly.
AVERAGE BODY TEMPERATURES 36.4 across the board ! (ish)
Temperatures checked it was a warm up from David Wilson that got the first hour underway. Richards Refereed a seven versus sevewn that ended up in an excellent 3 - 3 draw. Poven team selection methods serving us well once more.
Consuulting my Referee's notesfor this one. Jim Stewart scored a stunner to put white's into an early lead. Brian Stafford doubled that lead soon afterwards. Quick off the mark they were in more ways than one as they soon amassed three runs. Joe Bemrose put the black penalty wide.
Whites went three one up via Brian Stafford and had the chance to put the game beyond doubt but Ken Dean put his penalty kick (three runs) wide of the mark.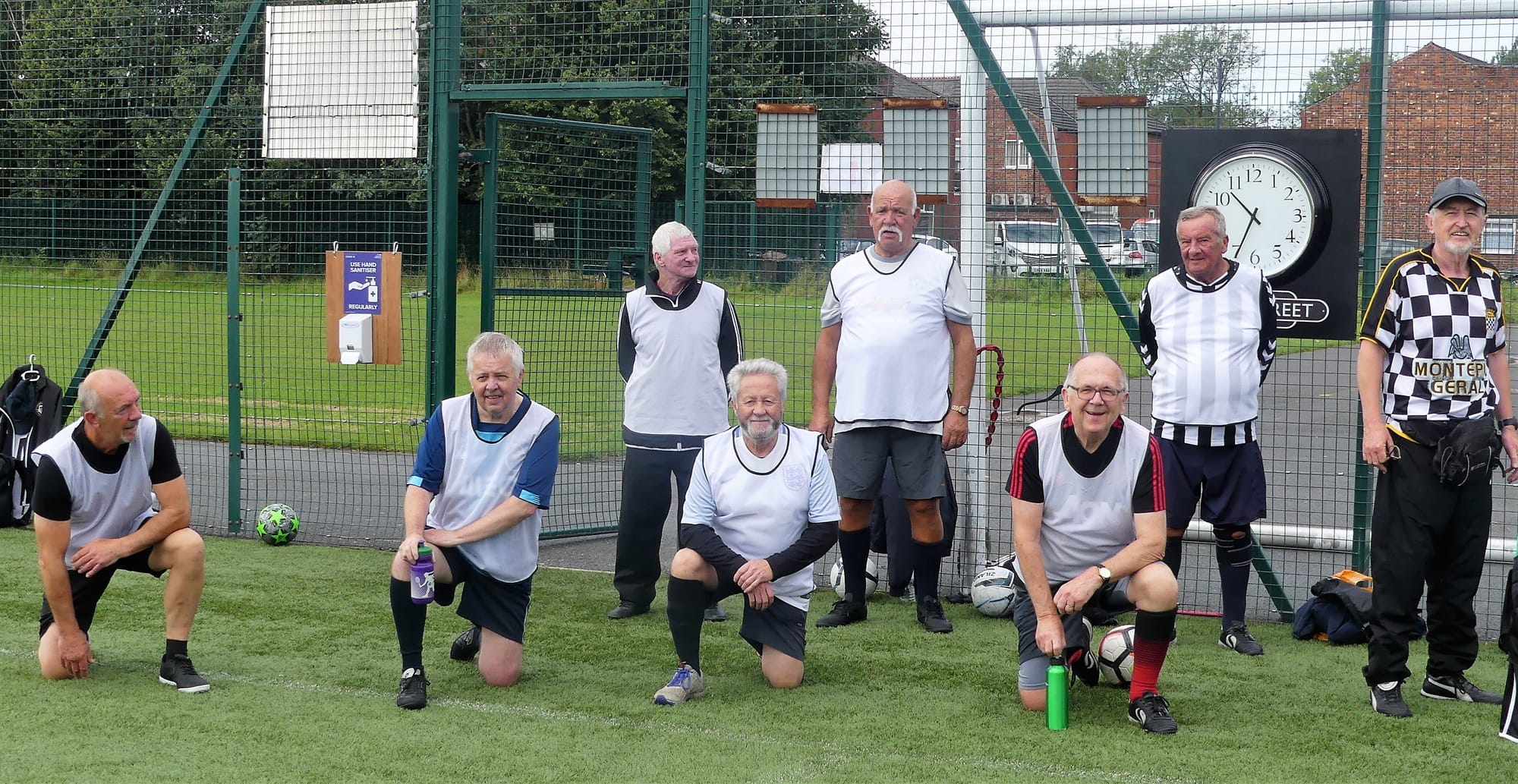 Arrears were reduced with an 'own goal' from Brian Hadfield and Blacks got the hint of a comeback into their minds. Dave Cooper gave them further hope with a fine finish from a tightish angle. With Black's looking less like underdogs now that they had the extra man in the shape of Gordon Nixon.
Jim Stewart, now in the unfamiliar role of sweeper/keeper instinctively but deliberately handled the ball outside his 'D' and it was Nixon who dispatched the penalty kick into the empty net. A fitting end to a good game played in tremendous spirit under the supervision of a reasonably strict Ref. (he claimed)

Tony Cravagan Refereed the second game , having selected the teams with guest player Garry. Garry tucked way the second goal with aplomb, after a Blanchard assist. John Kenyon had put them ahead. The game was sealed with a brace from Stephen Stafford
So, a four nil win for the Black bibs. Thanks to Tony for Refereeing and good to see Mr. Pearce playing - he should do it more often, perhaps on a Tuesday second hour where his fitness would be a boon. I have some video to edit, the photographs are now on our pro account at Flickr. www.flickr.com/photos/stridershots/albums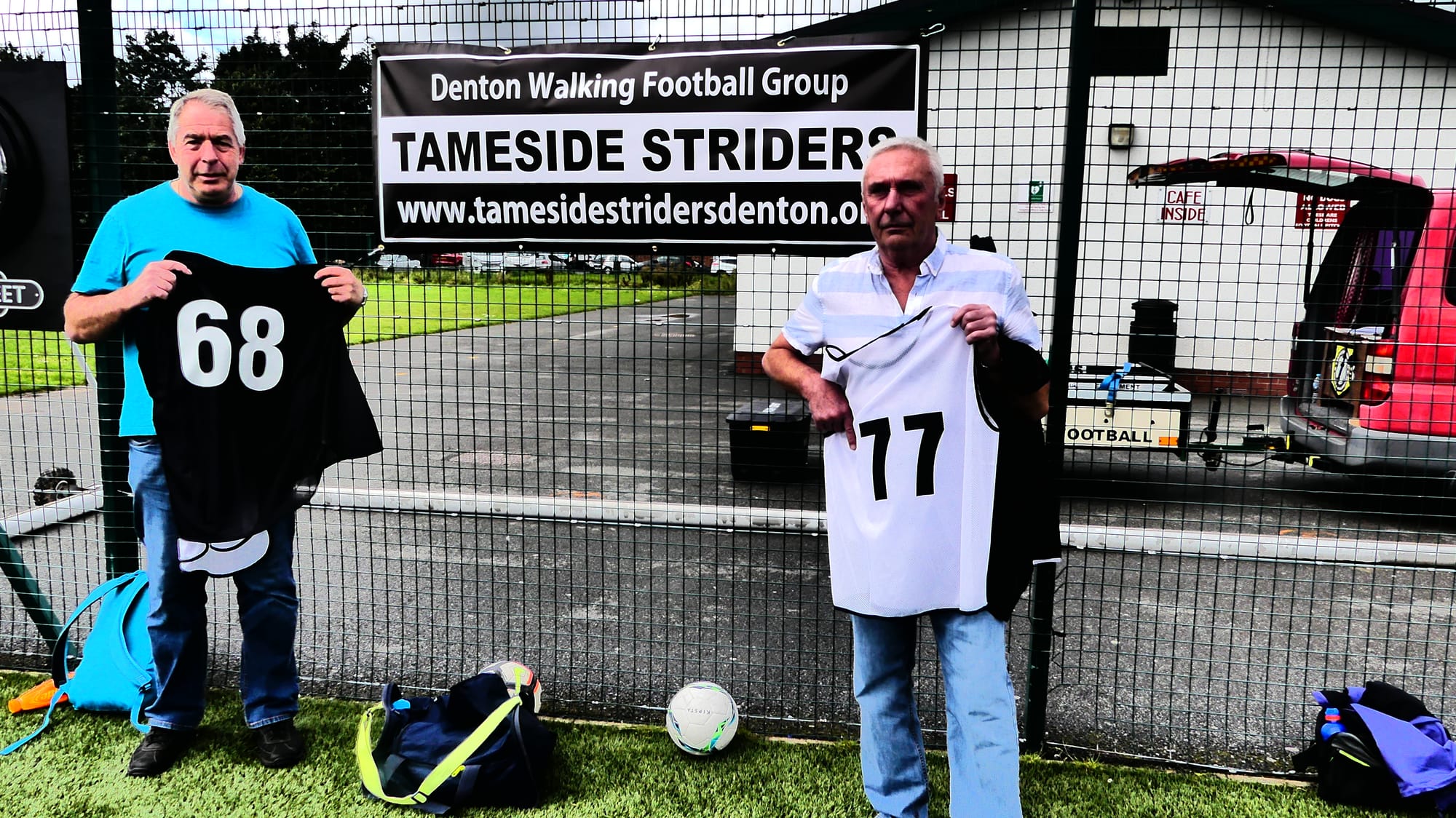 Thanks to all for turning out today. To Roger Place and Nigel Metcalfe , both injured but who wanted to hand in their signing on forms. To Steve Tomlinson, (third from left standing on the pic) back with us at least and for his donation of £10 to group funds - (un-necessary Steve but thank you) .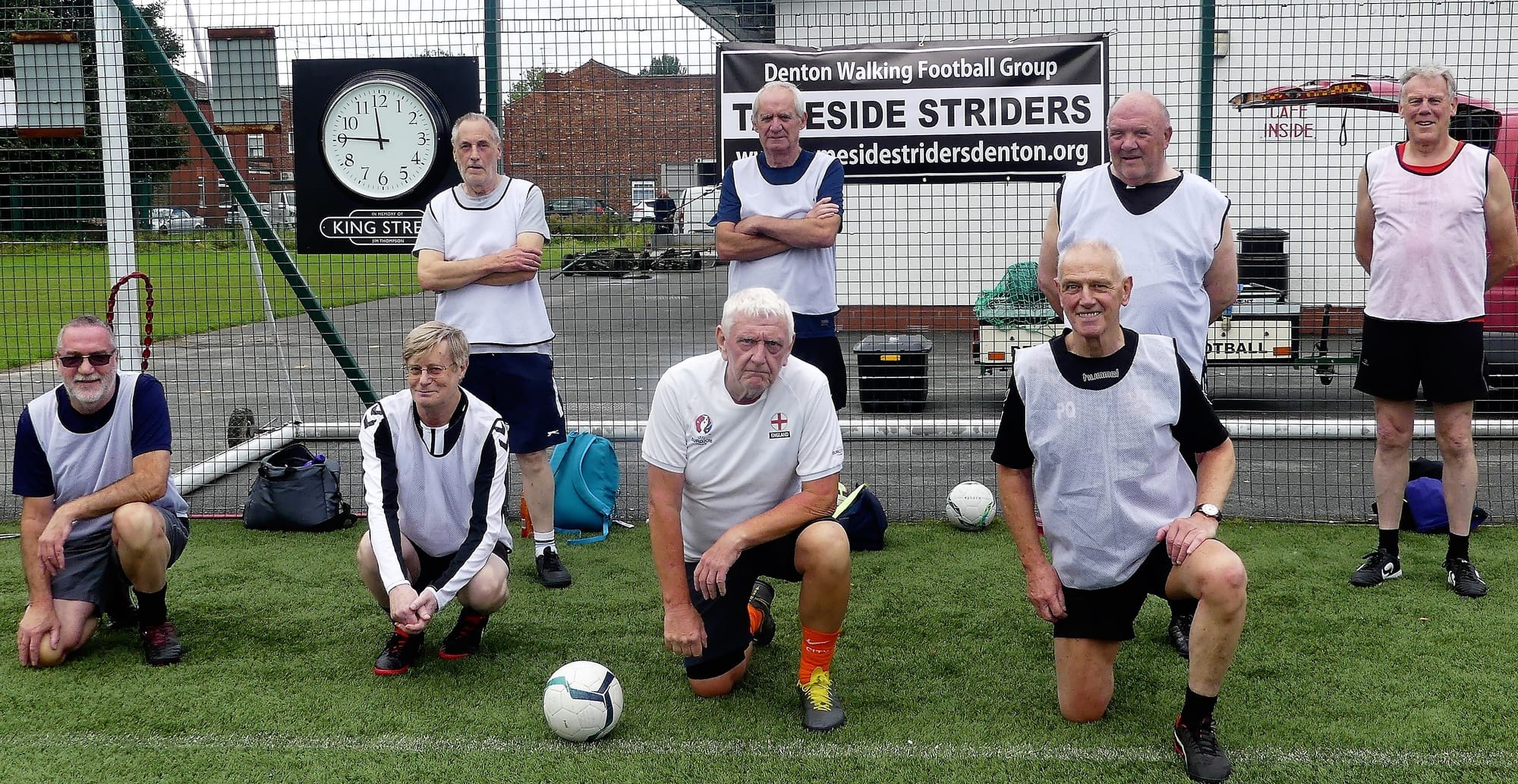 A variety of expressions from the white team - second hour
Do look out for the photo's and video coming soon. We have had almost seventy bodies through that big gate this week. Remarkable. None of them are fitted with big heads. You're all a delight to work with and to play with. A truly tremendous session. - Alan Richards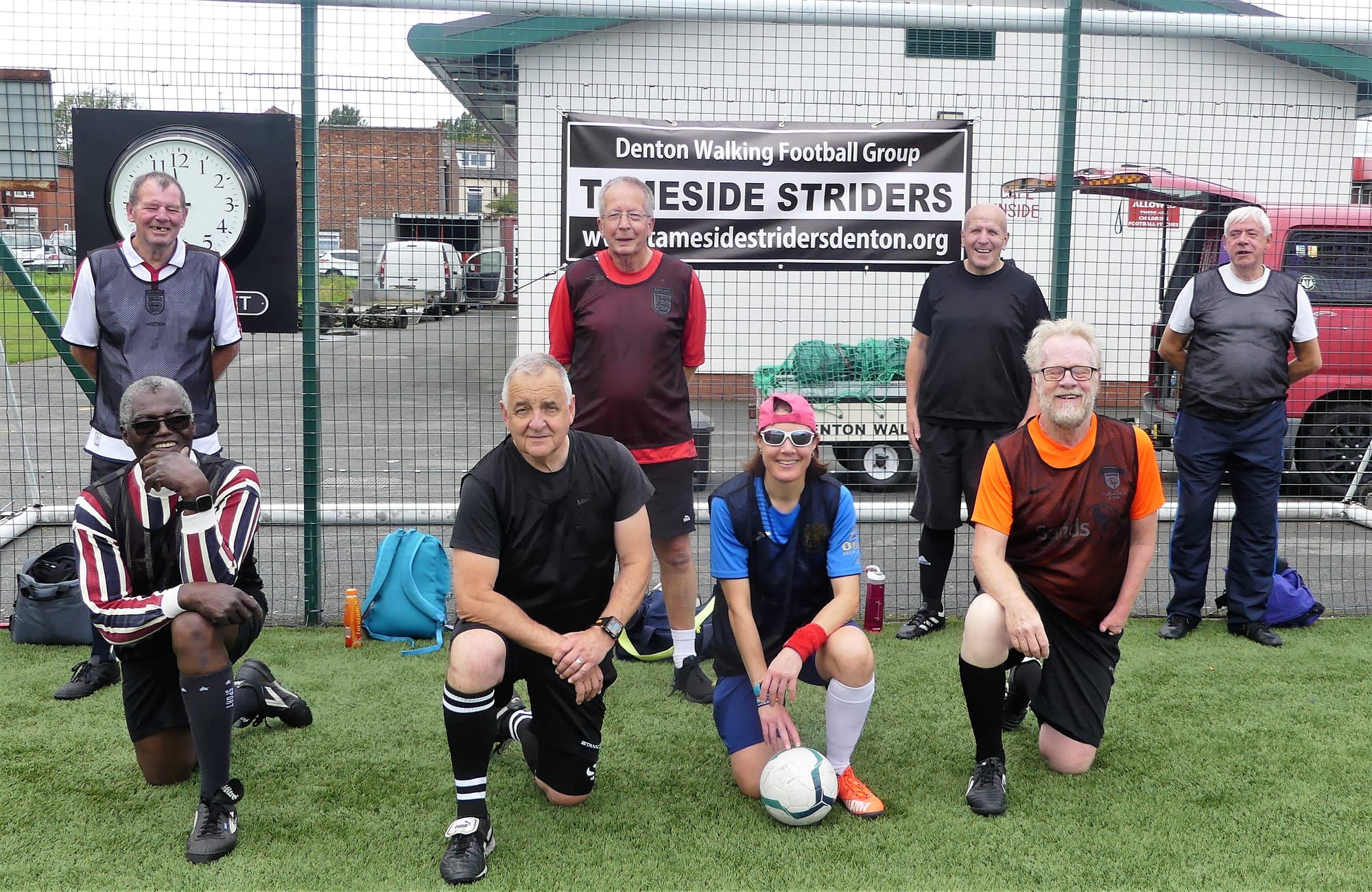 Black bibs - victorious today
27.8.20 COOL HEADS AT DENTON THURSDAY....
Have you noticed how quickly this year is passing us by ? Almost Autumn !
The Thursday crew reconvened this morning for the fourth of our post-lockdown assemblages (if there isn't such a word then there should be - Shakespeare used to make them up to suit himself you know).
The Refereeing was in the increasingly capable hands of Tony Cravagan who appears to relish the role. In truth both games this morning were played by people with cool heads (as I bore witness with my infra-red device) and the right attitude. This is Denton Thursday to a tee.
Team selection was done on a rapid fire black/white/black/white basis by yours truly and worked very well indeed with two close games. I think we had a two-nil and a two-one. Brian Stafford's brace was enough to settle the first game, I think Peter Collins netted in the second but other names elude me at this stage. There was very little camera or video shots today - (some over production since lockdown ended, so I'm giving it a little rest - Ed)
David Wilson took the warm up for both ten o'clock and eleven o'clock arrivals.
Keith Burrows visited the group today and it was good to chat about this and that. Particularly developments in the W.F.R.A. (Walking Football Referees Association) now that co-founder Mick Hill has walked away from the organisation. It is a loose affiliation of WF Ref's , nothing more nothing less but a good resource for advice for a fairly disparate group of possibly isolated people. ( I wish Mick Hill well going forward . Lincolnshire based Mick is a strict Referee and an F.A. loyalist to his boots and though we don't always see eye to eye on the latter, we do tend to listen to what each other has to say on governance and other matters - Ed.).
It was good to meet Peter Wright , Chairman of Denton Youth F.C. he was interested in what we do twice weekly and may even have a go himself on a Tuesday with the Unders at some point. He was appreciative of the big cheque for four weeks pitch rental. While I am Purser of the of the good ship Striders the club will never have to ask for the money, it will always be paid bang on time.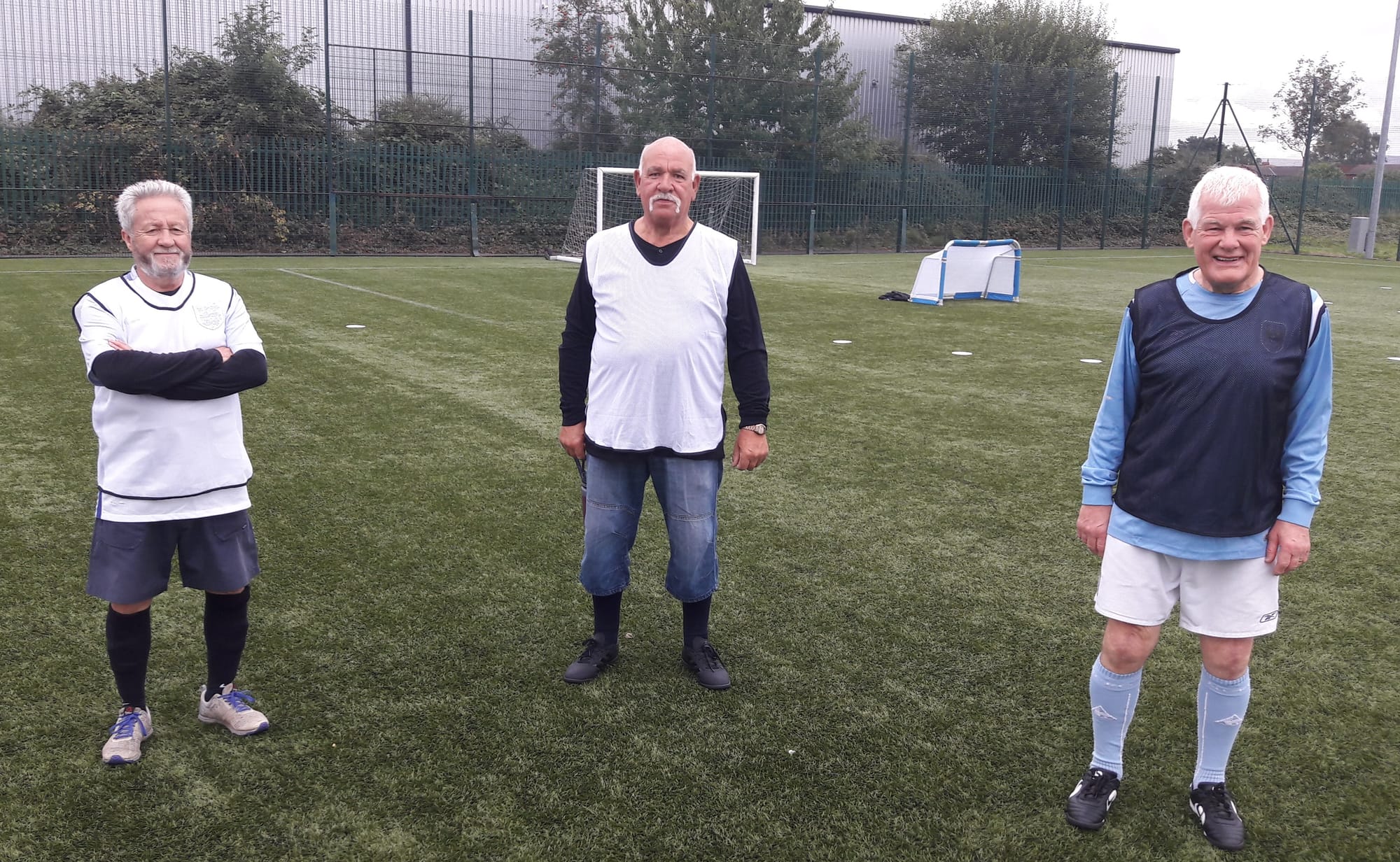 Friends re-united - at a distance Eric, Jim, Geoff
Some faces we had not seen in a while re-joined us. Eric Thomas who against his expectations manage to play a whole game, Jim Pelling looking slimmed down and very distinctive in his 1890 style shorts and zapata moustache , back in defence for the White team. Manchester City man Geoff Griffiths, returning to the fold for the first time since we were shut down in late February. All three collected their numbered bibs.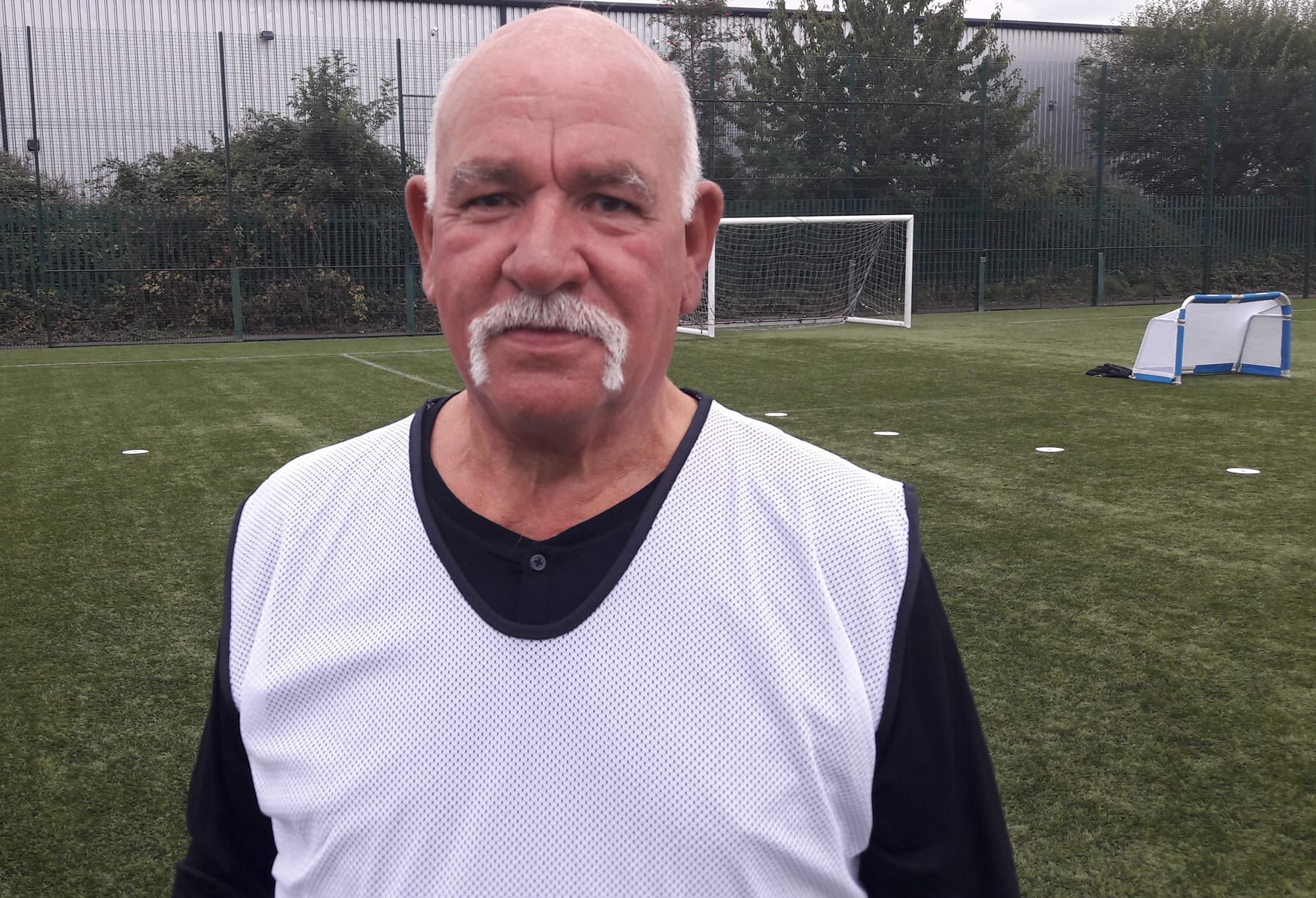 Jim Pelling
All took away signing on forms as did everyone else , I hope. If not collect one next week please.
Alan Twigg called early doors to hand in his No. 74 black and white bibs. Two recent injuries have but paid to his fledgling walking football 'career' which is a great shame. Alan praised the group for the camaraderie and the friendly welcome he'd been given. Manchester United and Beatles man Alan was invited to call in anytime if only for a cup of tea (now available from the DYFC office from next week) We'll be replenishing our tea bag and coffee supply over the weekend. We'll soon hve a shelter for those very wet days (only).
Newcomer Roger Place , injured in the warm up last week returned somewhat prematurely and had to leave the field with the same thigh injury. Frustratingly for him it was a case of Roger and out ! We wish him well , maybe give it a couple of weeks this time - the group is not going anywhere, after all. Roger and I had a chance to converse on the touchline and it seems his friend Nigel , also a Denton resident - who has taken to the sweeper keeper role like a duck to water, is in fact a goalkeeper, and had it in mind to play between the sticks all along. We shall see what the near future brings in relation to playing with 'keepers. Your committee is keeping this issue under constant review.
Don't forget there are two new 'filmettes' on Tamestriders tv. on youtube including the story of 'Mike the K' - another goalkeepers adjustment to the Sweeper / Keeper format (search for Tameside Striders or follow the link from the website) . Enquiries reveal a few of our own people are still unsure of the URL (address) so we will give it some more exposure in an eye-catching way soon.
I am looking for written features for the website so if you wish to write on any subject you think others might find of interest get in touch: alanrichards@tamesidestridersdenton.org
__________________________________
SWEEPER/KEEPER DENTON THURSDAY 20.8.20
photo album: https://www.flickr.com/photos/stridershots/albums/72157715566309482
Video
A beautiful summer morning saw the first hour staging a six v. six game with mini goals. Experienced stalwarts Nixon and Fielding providing the bedrock for each of the teams.
White's played some lovely stuff today, with Gerry Markland excelling alongside Joe Bemrose.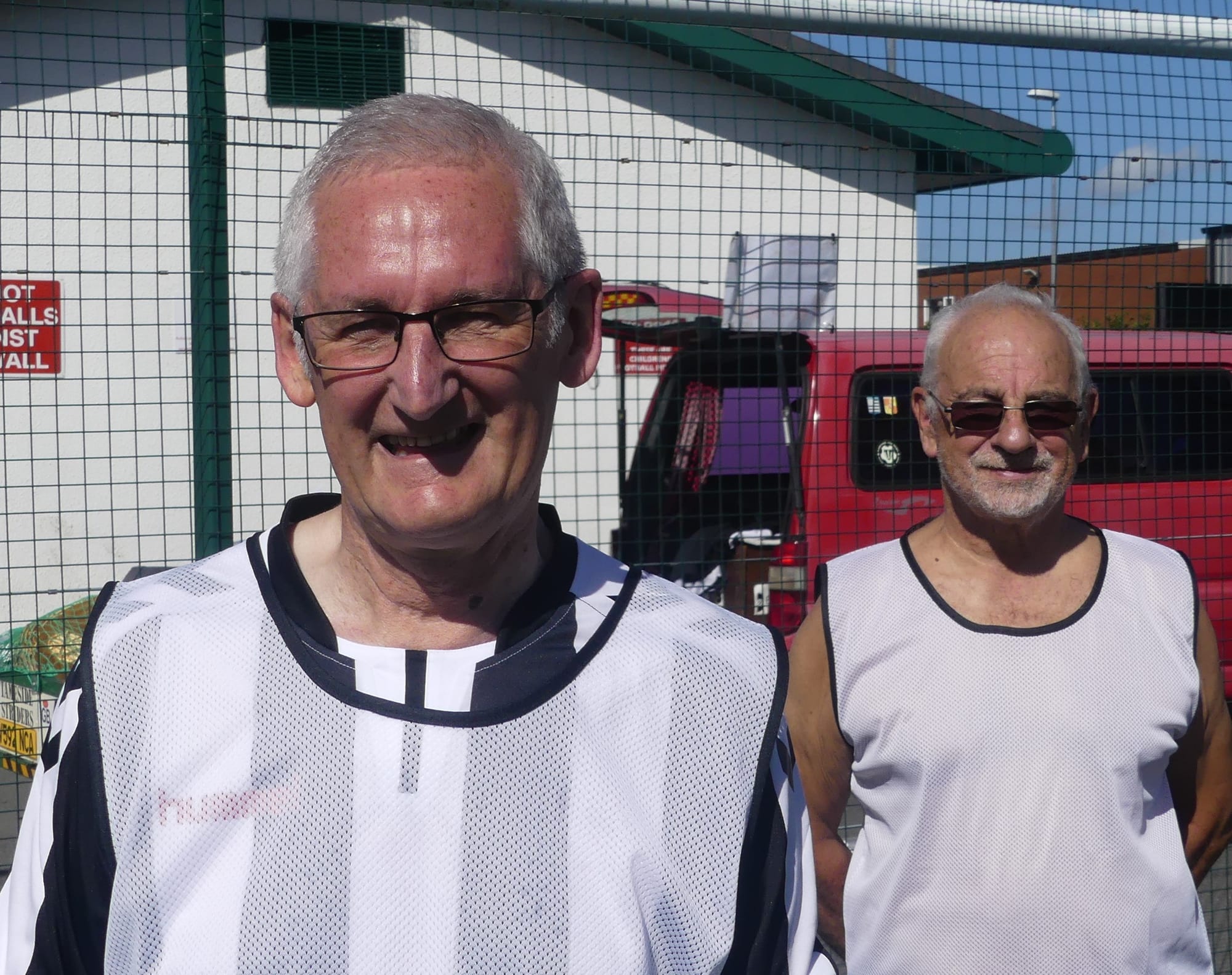 Steve Birtwistle notched up his first two goals along with his first two runs but these three players made most of the difference, urged on by Cravagan and Wenham.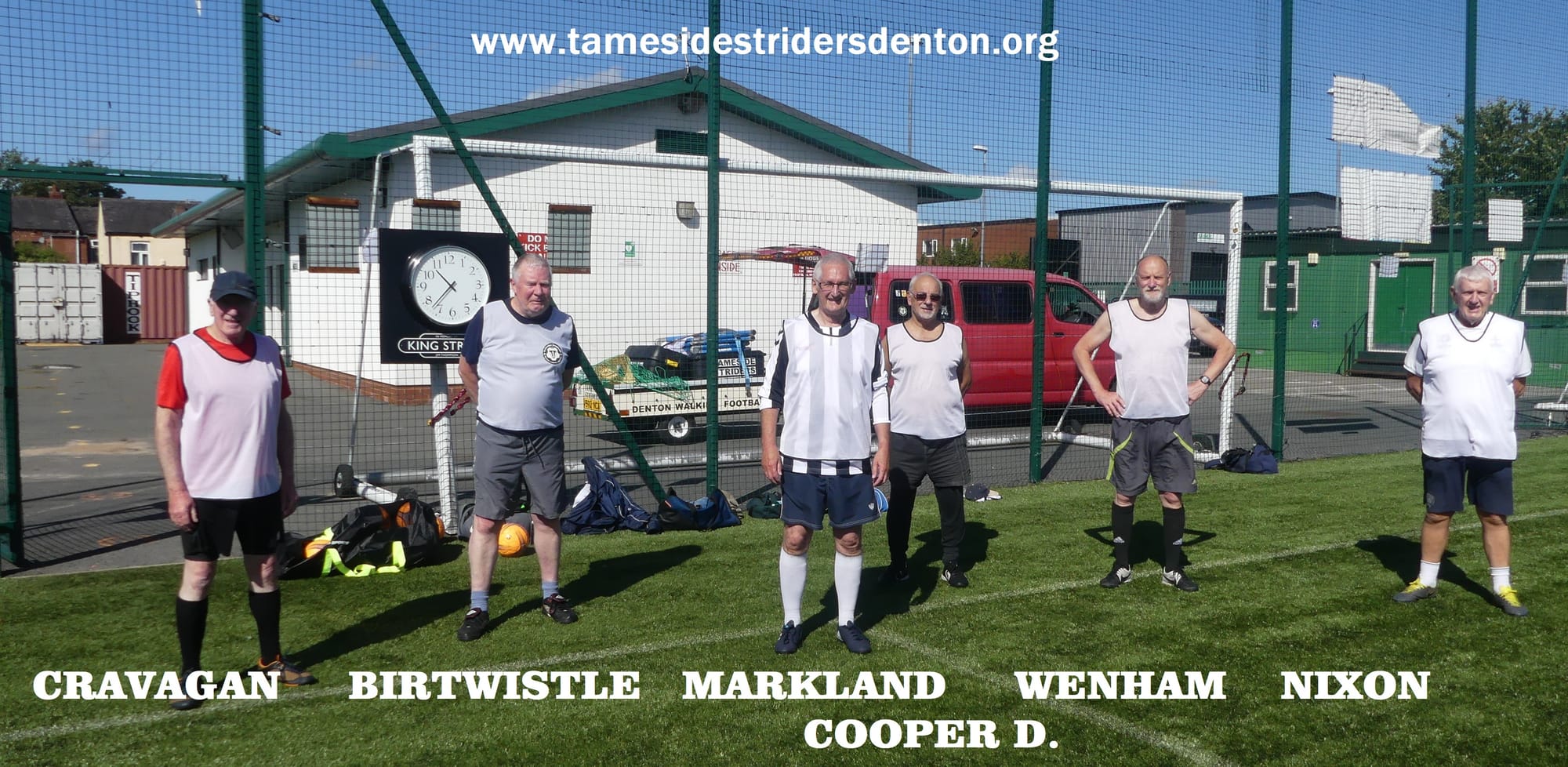 They were soon four nil up ! Black bibs were struggling a little. At half time a player exchange deal saw David Cooper and Joe Bemrose changed sides. Blacks pulled a couple back but Markland put the seal on a fine display with a fifth goal for White's , taking the game out of Black's reach.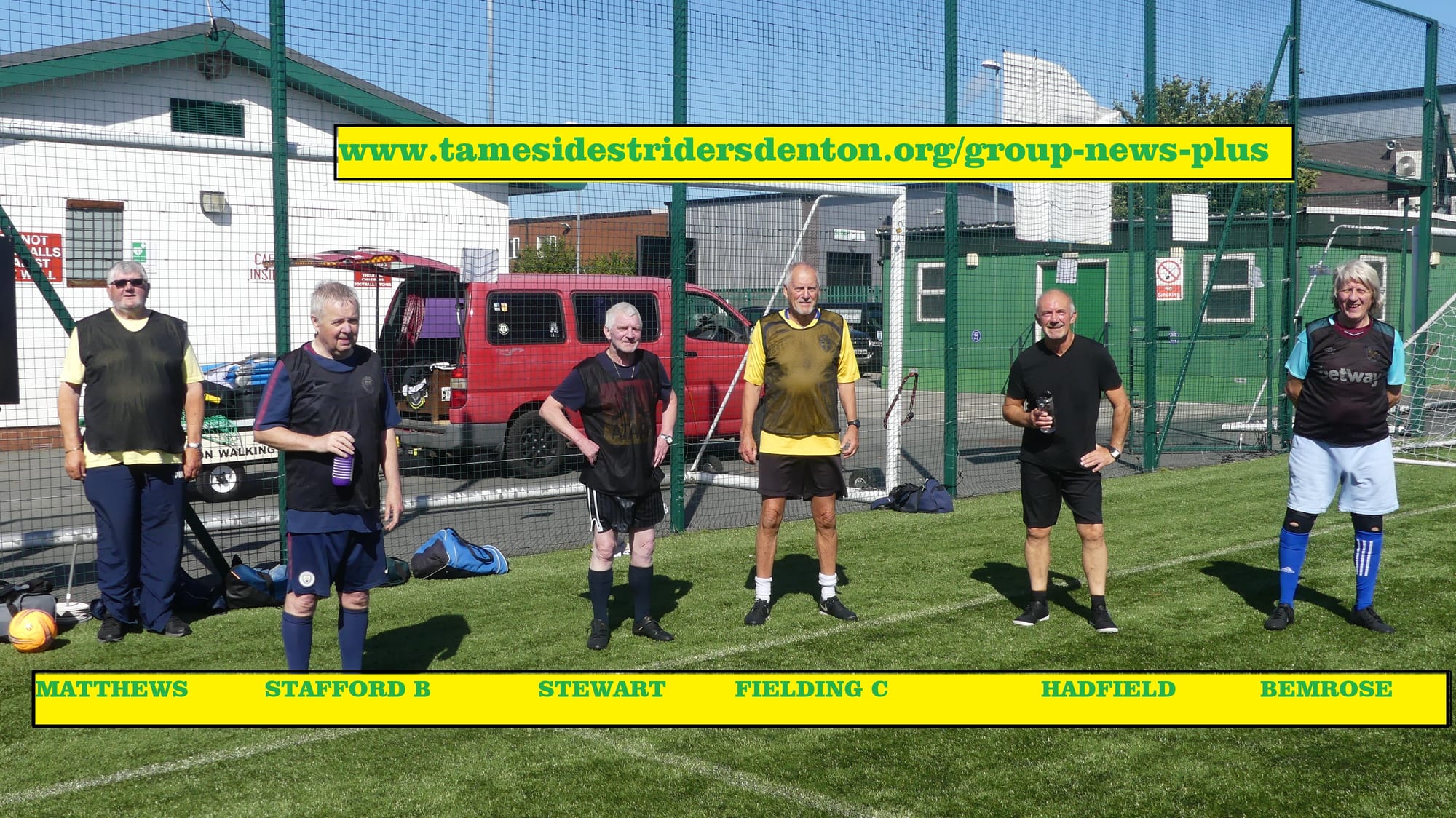 Thanks to Referee Alan Richards - said nobody, so I'll pat myself on the back here.
Second hour or so saw a seven v. seven on the whole big pitch. Tony Cravagan Refereed this time and it was a tight game. The space worked well for these numbers. There is video to come. Bemrose - justifying his number nine bib and in a fine goal scoring run of form put Black bibs ahead at half time.
Tracey Blanchard was back at King Street in her No.44 bib and having a big influence on the game. Her white team conjured up an equaliser via Peter Collins but John Kenyon steered home the winner Black bibs just before the end. A very good game of walking football enjoyed by all.
"Thanks to Tony" for Refereeing said Alan, and this time the sentiment was widely echoed.
Also appreciation to Colin Fielding and Gordon Nixon for their assistance today on another successful morning in our emergence from lockdown.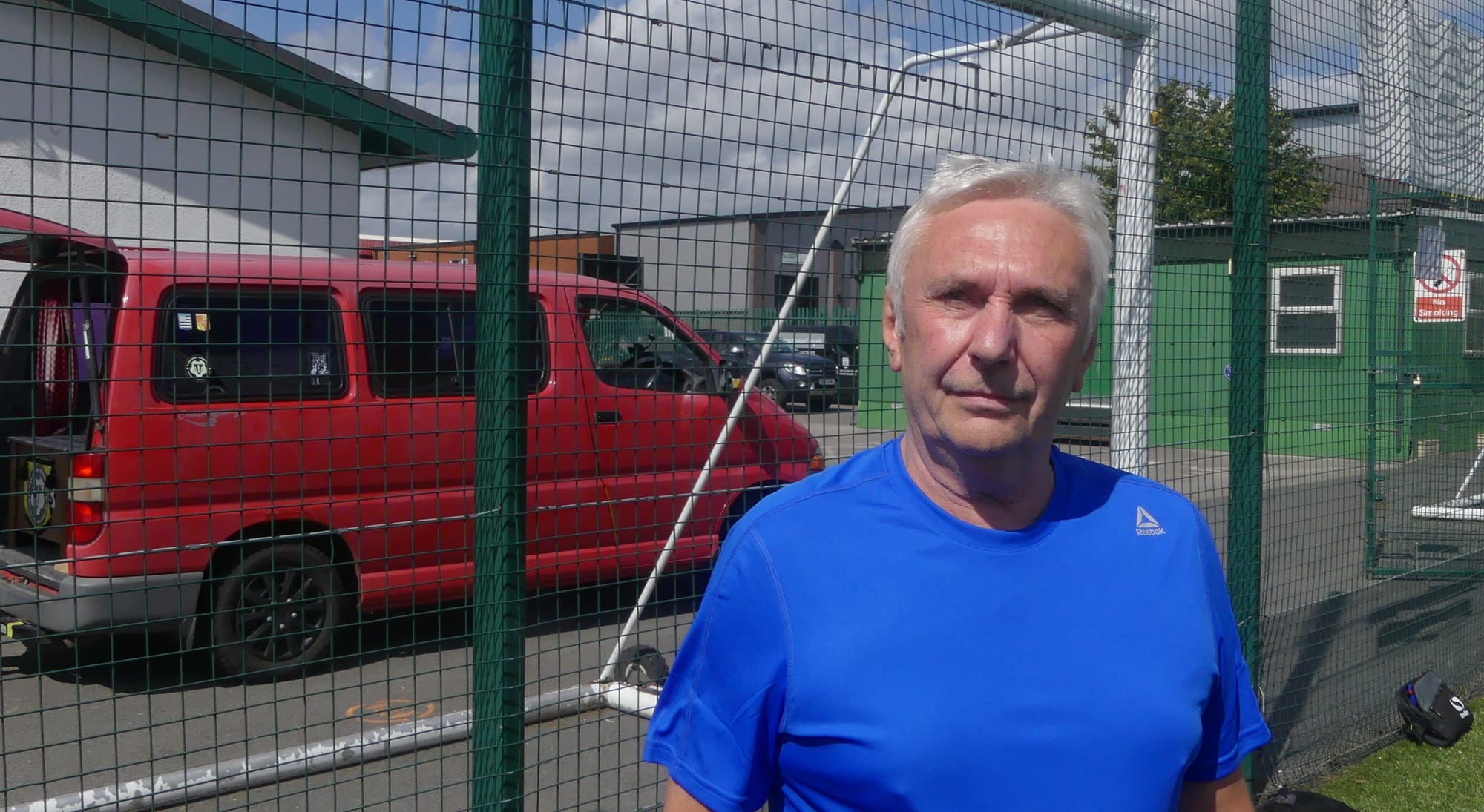 Roger Place injured himself in the warm-up and took no part, generously refusing the return his three pound match fee. Rest up Roger !
Next week you should all get signing on forms to be returned in September please, with the requisite fiver. New players and recent additions will be equipped with b & w bibs and squad numbers next month too.
P.S. Referee Richards forgot all about '3 runs a penalty' today.
It won't happen again :-)
__________________________________

13.8.20 THURSDAY THE THIRTEENTH...
A really good day with numbers back into the middle twenties and FIVE new men to welcome. All did well and should fit in to our way of thinking, our way of playing. We all know there are some groups who are more skilled (certainly think they are) and some who are more gung-ho and competitive but we are a little different. Vive la Difference ! Todays we had two games of sweeper/keeper on a longer pitch I think both were 7v.7. The Committee were out in force once again with extended warm ups and guidance for the new men.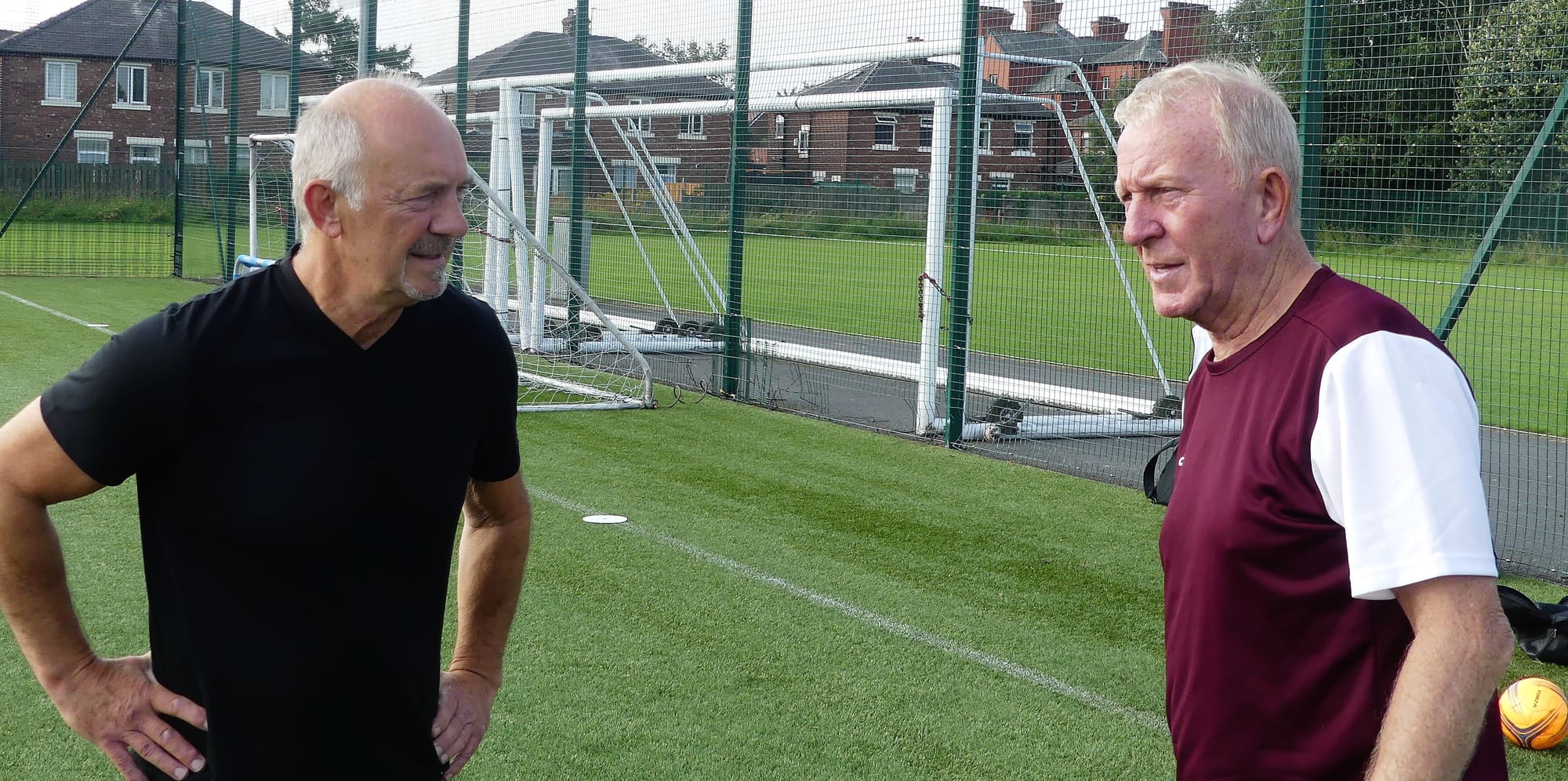 Brian Hadfield with Dave Partington
David Wenham's goal won the first match for Whites. I have no idea how the second game ended but I think black bibs may have turned the tables. Results matter, but they aren't important. (How many times have I said that - Ed?)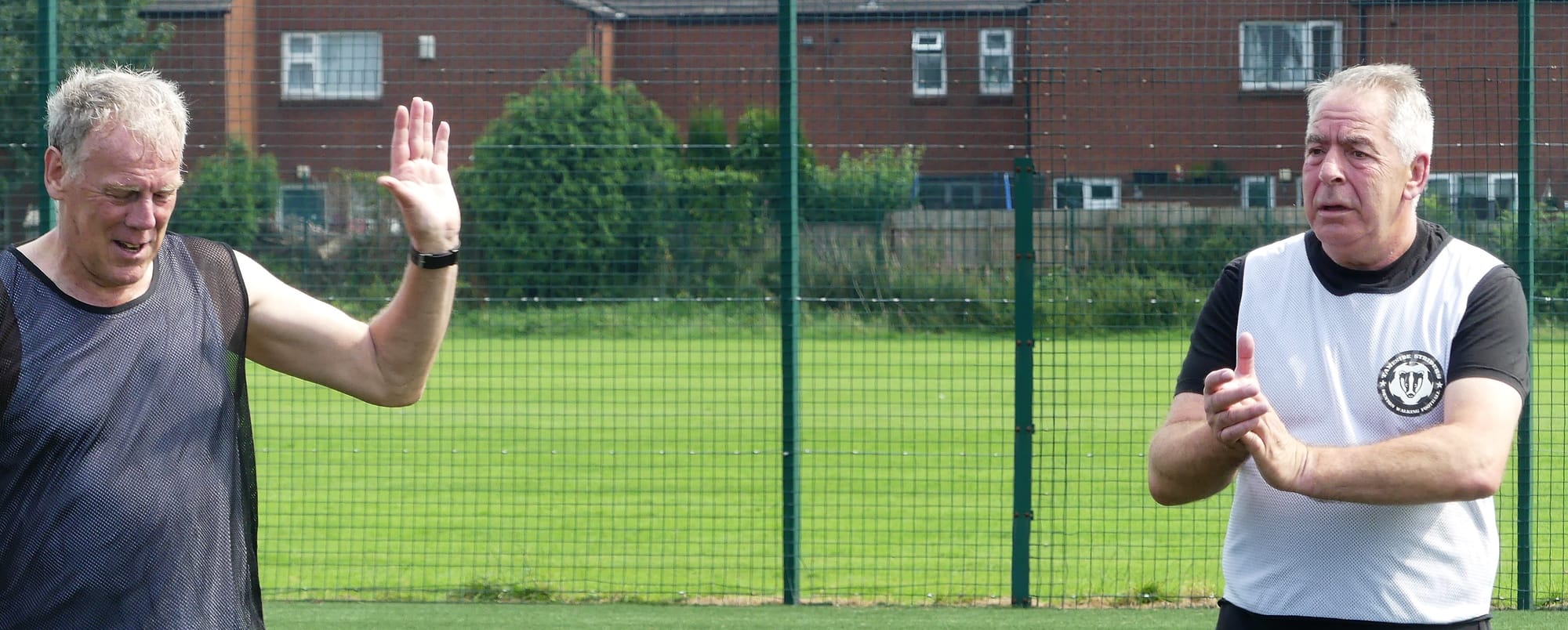 Ken Thomas left scored a fine goal today
So, a mention for the newcomers : Alan Twigg and Steve Birtwistle at long last ! Brian Hadfield , Roger Place and Nigel Metcalfe - the latter earned praise from a certain quarter for his sweeper/keeper play. All of these guys can play a bit, that much is obvious.
Alan Twigg suffered a calf injury near the end of his game. Take it easy and rest up Alan - we'll see you when you're ready to play again, if not before.
There are some still shots in a new album here:
https://www.flickr.com/photos/stridershots/albums/72157715476855213
Video from our first session in FIVE months !
___________________________________________________
St.VALENTINE'S DAY 2019

Blues 2 Reds 1 February 14th. 2019
No massacre on St.Valentine's day, more a non-contact walking football love in where eight attendees made the most of a slowly warming sun and bright blue skies. Taking to the pitch in newly laundered bibs thanks to Tony Cravagan. Peter Quinn Refereed the first half after yours truly took this mornings warm-up - almost managing not to groan outwardly, the walking backwards squatting was a challenge !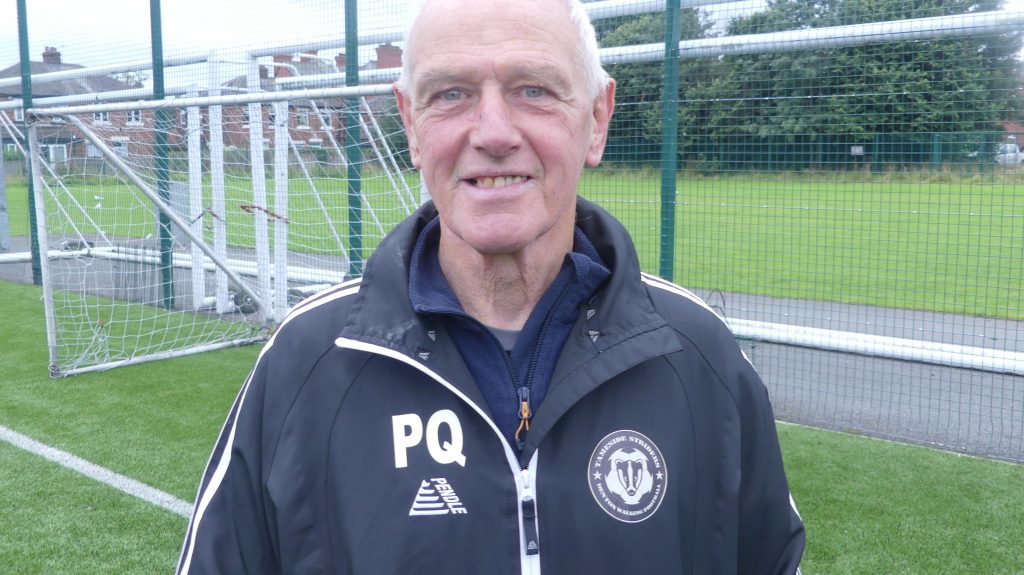 Peter QuinnTeams tested each other out early doors in this three touch fiesta Refereed very competently by Peter Quinn. Mike Caldwell grazed a post for the Reds and Julie Walker in Blue flashed a shot inches wide.Richards performed the save of (his) season actually diving low to foil Caldwell, the ball squirmed away towards predator Mike and it seemed to take me an eternity to get to my feet - I felt entombed in a vat of treacle. Luckily I got there in time with the lurking Caldwell denied his second chance.
Keith Oldham put the Reds in front after a splendid assist from Tony Berry.
I can't recall anyone being pulled up for running in either half today so well done all. Contact seemed totally eliminated. Most of the stoppages were for over head balls.
H:T one-nil Reds.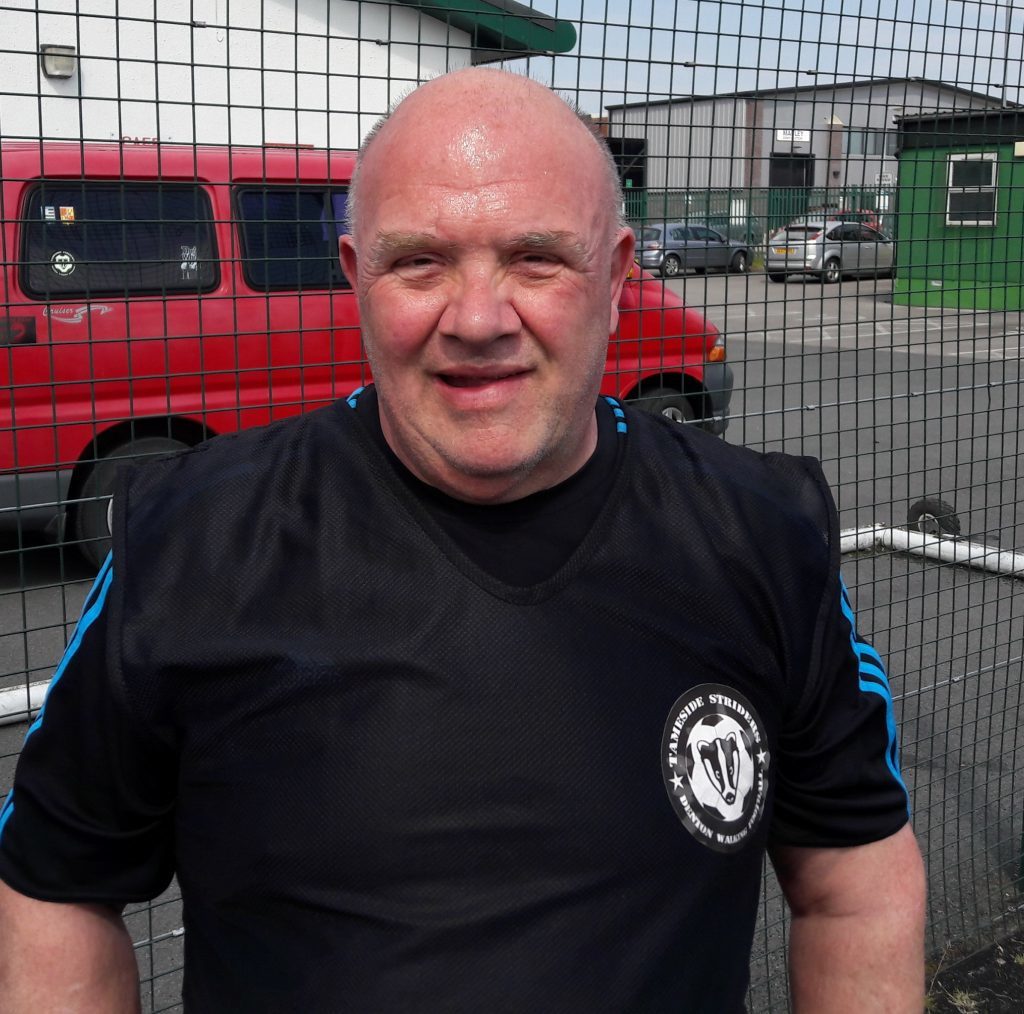 Steve Tomlinson firing on all cylinders - in a different bib todayThe second half saw Tony Cravagan assume the Ref's job. Quinn joined Blues in an effort to find another goal. Reds went closest, Mike Caldwell spurned a couple of difficult chances and Keith Oldham had a good chance to put Reds ahead. A word for Frank Matthews in the Blue goal. How about 'brilliant' with some vital blocks. He even recovered from his poor pass out from his 'D' to save superbly when the ball was fired back at him. Well done Frank.After a good interplay with Richards Joe Bemrose, a threat all morning fired home to equalise. Blues were buoyant, boosted by Bemroses strike. John Boyle was busy onthe right. Steve Tomlinson a midfield engine firing on all cylinders.
The lightweight Nike size 5 spent a lot of time over head height today, and yours truly was as guilty as anybody. However, the benefits of that ball are best demonstrated when it smashes into sixty or seventy year old limbs and appendages.
A Tuesday player was felled with a ball in balls this week. The lighter version could have lessened his pain.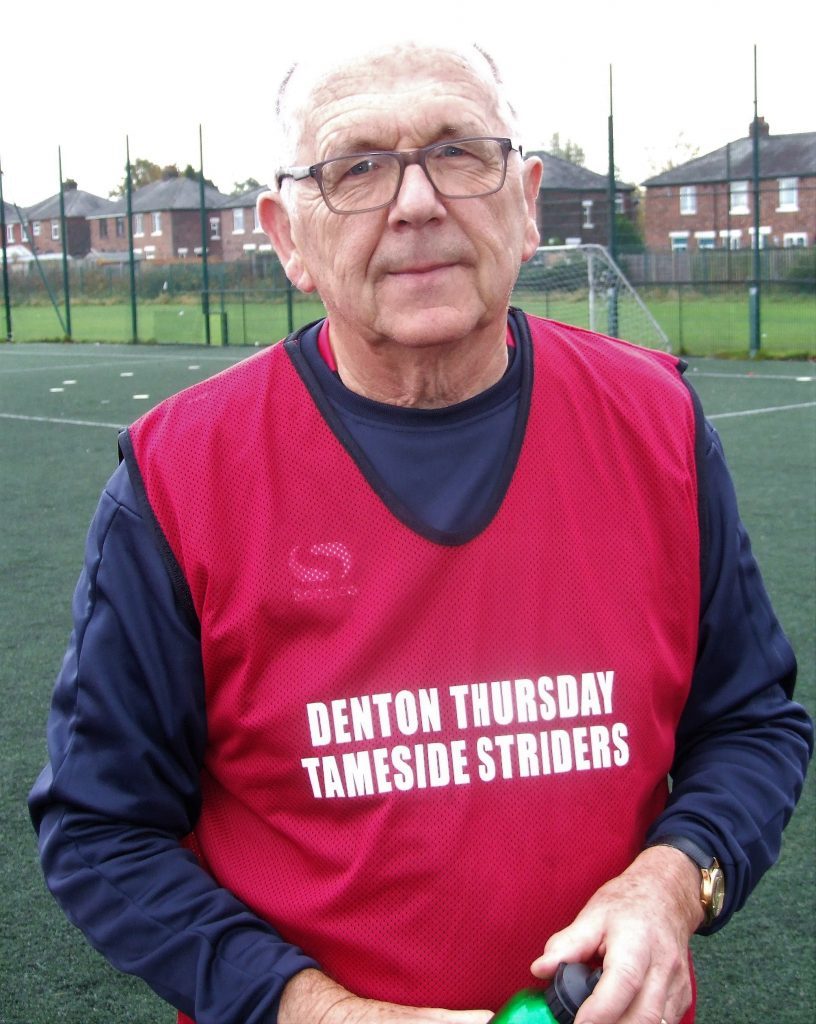 Russ Martin - on targetHalfway through the second half Russell Martin and Julie Walker 'chased' a through ball. Rusell got there first and slotted the ball home with a cool finish to put Blues ahead.They never really looked back. Sensibly watching the Red strike forces danger man Caldwell - always in an advanced position.
A good game. Thanks to Peter Quinn and Tony Cravagan for their Refereeing duties. Much appreciated.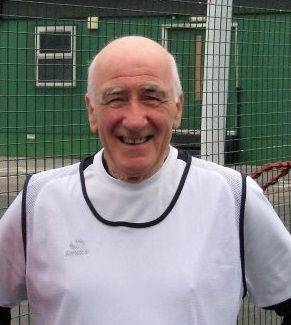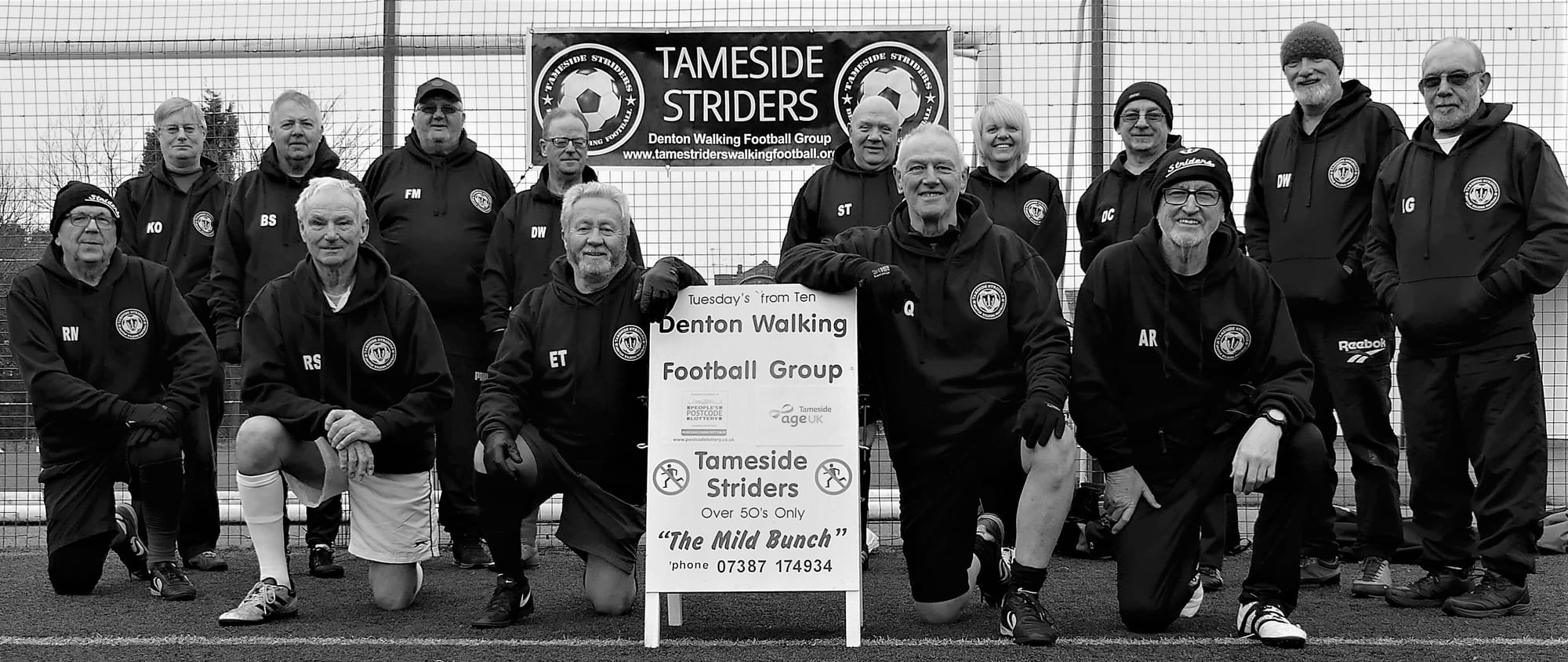 A retro report from February 21st. 2019...
PURPLE RUN, PURPLE RUN, PURPLE RUN PUNISHED BY 'PRINCE' JOE BEMROSE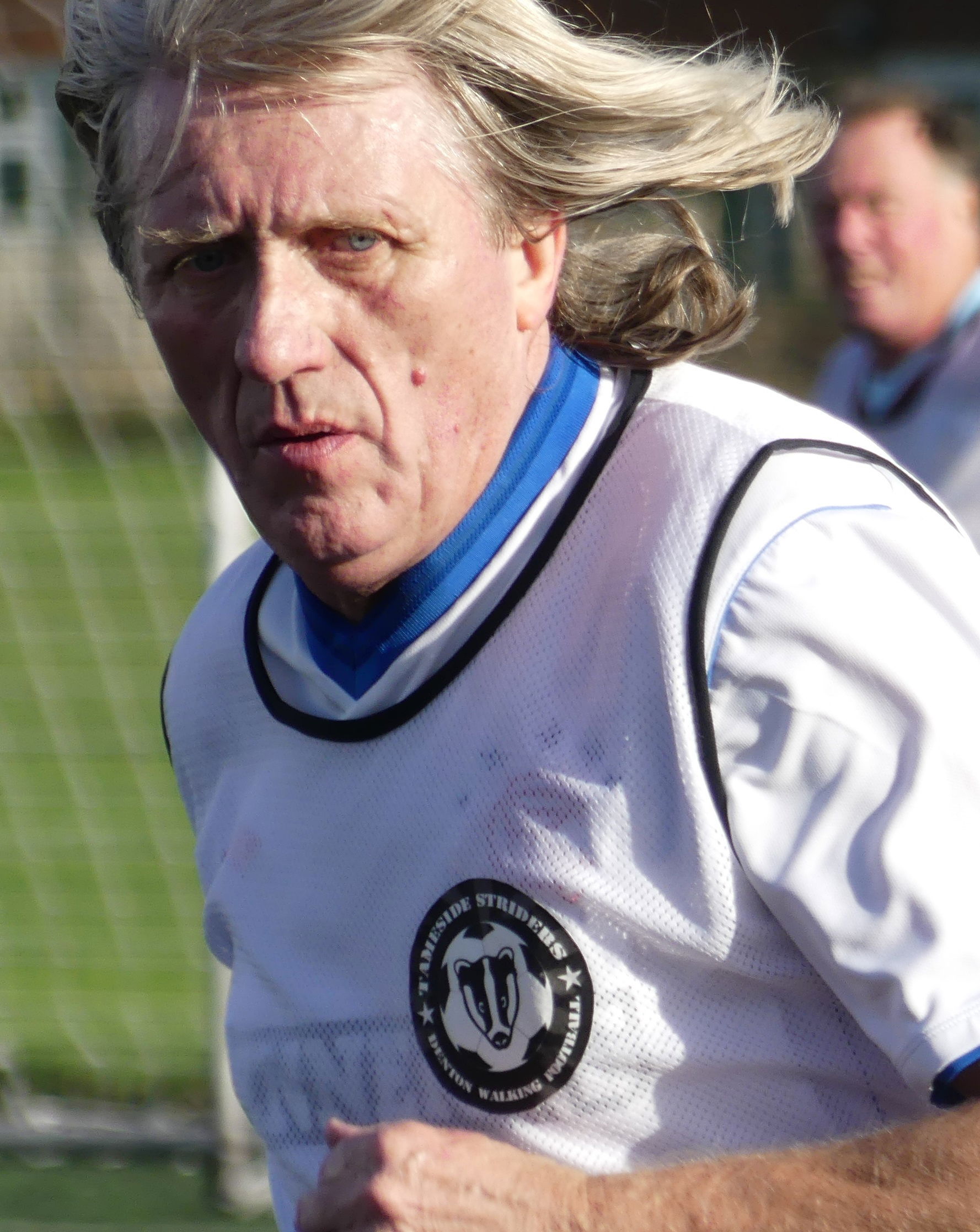 Eighteen Thursday-ites on the big pitch playing three touch. Richards Refereed.Orange Peels v. Purple Pips.
A 'goal' after just three minutes from Orange bibbed Ken Dean. Disallowed as he ran onto the ball to shoot. Parameters set early on we then played the full half with just one more run.
In the second half Purple's put a spurt on for reasons best known to themselves.
Both teams went close to opening the scoring and the frame of the goal was hit by each. 'Tight angle' Mike Caldwell almost opened Purple's account at the Northern End.

A fine move the other way saw Keith Oldham shoot just wide after a delicious cross field ball found him in space.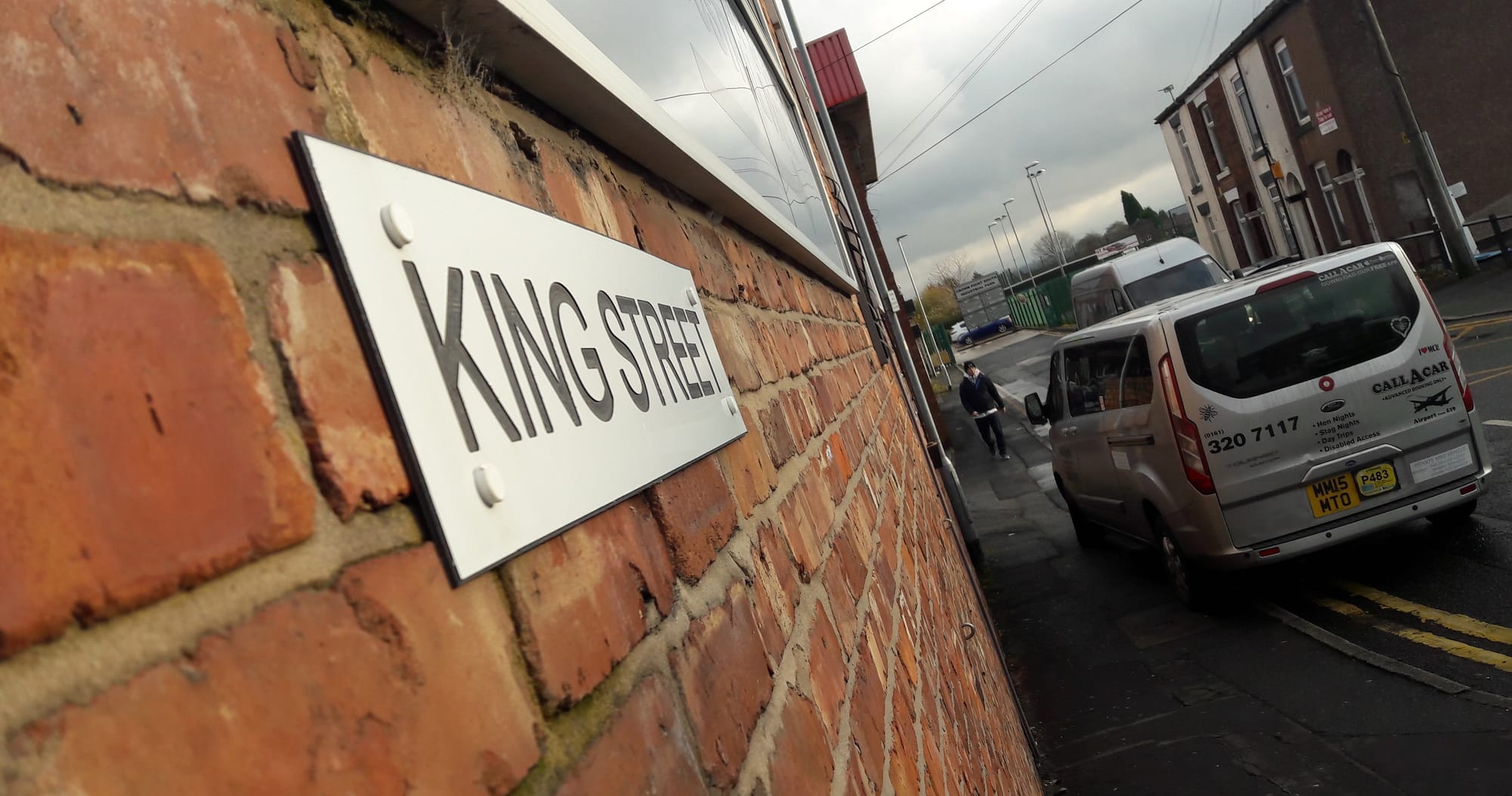 A third Purple run led to a penalty which was tucked away cleanly by Joe Bemrose and the Oranges clung onto their lead despite the best efforts of a Purple team who paid the price for increased pace. Two runs to Orange in fifty-eight minutes of 'walking football'. Some contact was penalised, some wasn't . Well done all on a Spring like morning, despite (or perhaps because of) firm Refereeing I think most people enjoyed it.
_______________________________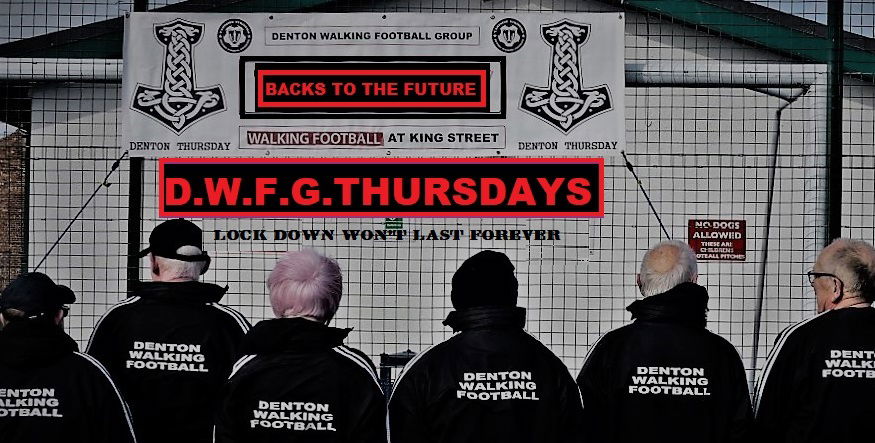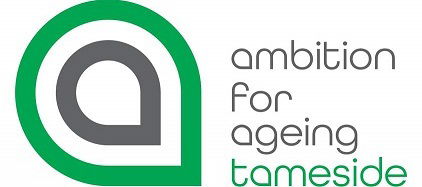 With thanks to our recent benefactors Ambition For Ageing
It was all going so well and just before we hit the Chinese virus buffers moves were afoot to divide the hours into Over 69's Under 69's and a sweeper/keeper add on at the end of it all. This will have to wait and we need to see when we can return, and in what numbers. Here's a flashback to happier times in 2018 to keep us all warm....photo:Alan Richards