SECOND HALF YESTERDAY - SIX MINUTES WORTH including
"HADGE GLOVES UP "
BITE SIZE VIDEO CHUNKS AND A FEW STILL PHOTO'S FROM TODAY'S FIRST HALF UNDERS click to find on Flickr
10th. August and Tony Cravagan Refereed two 4 v. 4 sweeper/keeper games on pitch 2. Here are his recollections...

Game 1
An excellent game, nice to see Dave Wilson getting back into the swing of things. Not much to separate the two sides except the the inevitable scoring from Stafford B who netted the goals for the Blacks.
FT - Blacks 2 ( Stafford B 2 ) Whites 0
- - - - - - - -
Game 2
Right from the start Fielding C stamped his mark on the game with an early long range shot to put the Blacks in the lead. This was incredibly repeated 3 more times with Fielding totting up 4 goals. This was no means a one man show with a Brodie creating chances and being rewarded with a brace added to by Amison.
Again some excellent football with little contact and only one run.

FT - Blacks 5 ( Fielding C 4, Harrison T 1 ) Whites 3 ( Brodie 2, Amison 1 )

TC
___________________________________________________
Tuesday 6th.July 21 videos and a few stills - click the link below..
PENULTIMATE JUNE - our first 'free' session and just the day before 'Tiger Feet' photo's and video clips here - also look on youtube for the Overs...
June 22nd 2021...
LOOK !
OVERS...
Third upload from King Street yesterday - bit quick at time but brilliant
Second unedited video - incudes a charming half time interlude - lots of laughter in this clip too. Certainly more fun than watching England.
First unedited video - hit the link below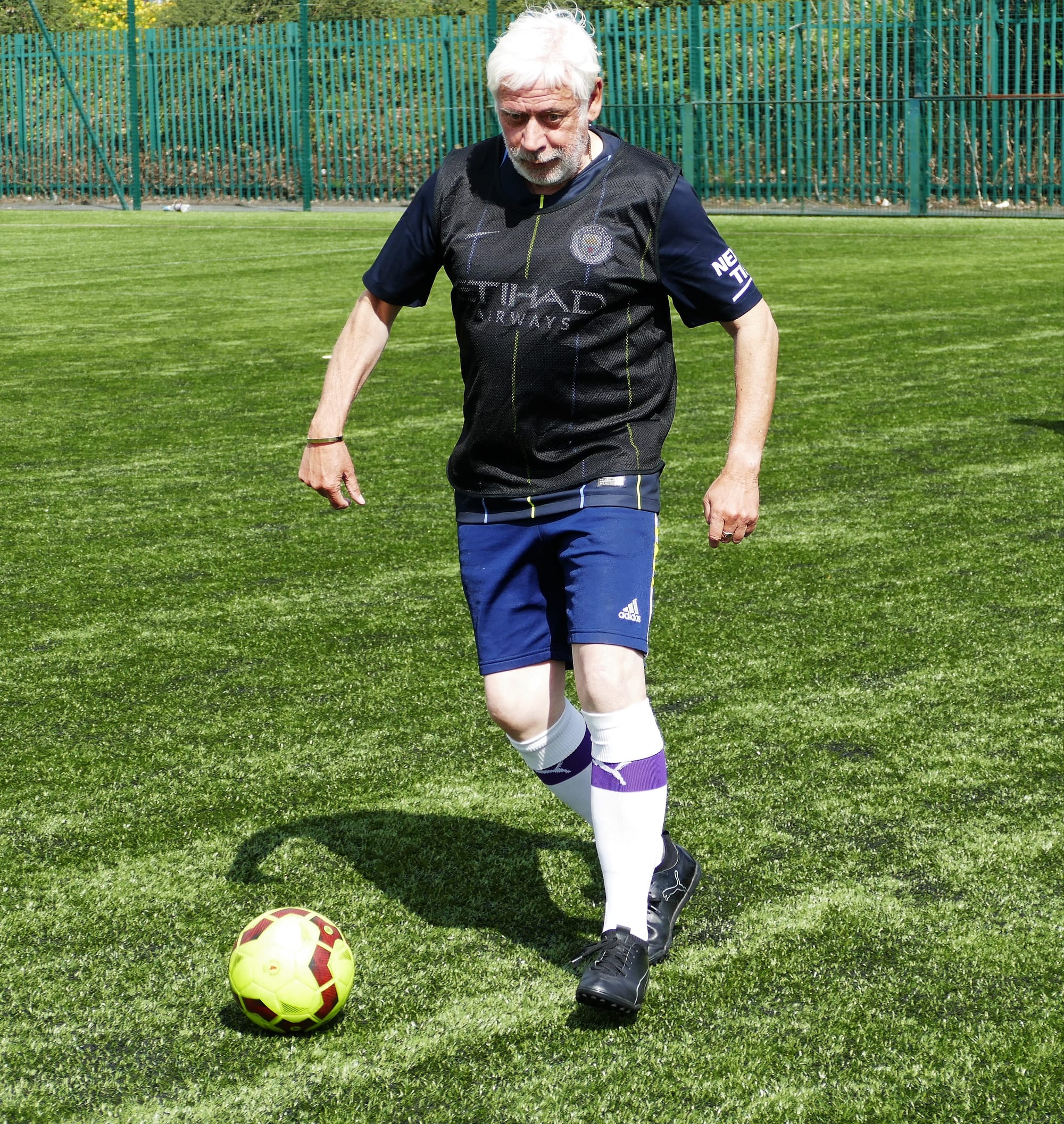 Vinny lingered...and scored
More photo's from the 'second longest day' here
June 8th. 2021
Keith Burrows with his first match report for the website. Keith Referee'd on Pitch One this morning....
First Game Black's won 3 - 1 Brian scored 2 for the Black's Colin Fielding own goal Peter Jarvis penalty for White's. 1 penalty conceded by each team for running very little contact by both teams.2nd game white's won 2 - 1 Barry Smith and Steve Johnson scored a special mention to the 'keepers Terry Hayden and Laurie O'Toole who played both games and produced some excellent saves, (no penalties for running on either side in the second match) minimal contact by both teams some good walking football played in both games.
Keith Burrows
____________________________________
Some challenging weather, of the cool , grey and wet variety did not dampen the enthusiasm this morning with 24 players turning up for the first hour 'Overs'. Garry Pearce, Peter Quinn and Tony Cravagan shared the Refereeing duties.
No photography in the damp this morning, which does not aid recall, so bear with me if names are incorrect and the chronology is found wanting.
Conventional walking football returned to King Street. 6 v. 6 with Hayden and O'Toole in goal on Pitch One who must have done a good job across two different line-ups because both games ended nil - nil ! Being the final session of the month we re-introduced a multi-touch format. Most players switched pitches at half time with exceptions.
So how was it for you? Feel free to feed back across our social media platforms please, or email via the website.
Three touch Sweeper Keeper went swimmingly well on Pitch Two. Yours truly played in both games. They were highly enjoyable affairs. At this distance I cannot recall much of what happened and the line ups leave me guessing . The first game went to Black's with strikes from Rourke (2) and Partington with the winner I think.
Difficult to recall who replied for White's. Rob Rowney was again impressive in this format of the game and Dave Flaherty is re-discovering his touch. Dave Gibbons anchoring well for White's all players seemed to relish the play.
The first game ended 4-3 (?) followed by another with a similar scoreline. Blacks ascendant again I think. Brain Stafford struck from a tight angle, and Jim Stewart was on target for White's before Richards slotted one home from fifteen metres. Highly enjoyable walking football with very little running penalised.
Forgive me for scant detail please. It doesn't matter too much anyway. Hope you agree.
We will review the way we did things this morning. Thanks especially to Laurie O'Toole for doing a full stint in goal with his brand new gloves. I took Laurie to one side at half time to 'moisten his latex' which some present found a highly amusing, if smutty concept. Mucky minds.
What can I say about the second session? Well there were just 'SEVENTEEN' you'll know what I mean, and the way they looked was certainly beyond compare. A few new faces, some familiar to some of us , some not. Paul Smith for instance making his King Street debut. Not quite enough for a two pitch, four team affair. We never know what kind of a hand we are being dealt at Denton. We react as well as we can in pretty short order, it has be said.
So, in the circumstances a 9 v. 8 kicked off , Referee Garry Pearce in Red. John Gaskin and Paul Theobald in goals for the first half. This was again walking football MULTI-TOUCH and how! A few have longed for this game , but we had no goals at the break when some changes were necessary.
Nil - nil at half time when a change of Referee was necessary and a team switch for the influential Peter Smith to redress the numerical imbalance. Alan Richards picked up his whistle and entered the fray, he'd not seen much of the game up to now. Not an easy task for Ref's or players required to adjust to differing interpretations.
If you think it is easy then please have a go yourself the next time we play this format - June 29th. You'll save yourself three quid into the bargain !
Goalkeeper's were changed with Gordon Nixon going in the Black goal and Roger Place donning his new gloves for Whites. I forgot to moisten Roger's latex - my bad.
Nixon , with latex well worn on his 'GK Savers' by now saved a penalty kick (after leaving his 'D' by centimetres to grab the ball) getting down very impressively but Mike Caldwell did convert another spot kick soon afterwards, despite a slight mis-kick which outfoxed the 'keeper. Theobald added another for the team in white, doubling their lead.
The most impressive walker today was Martyn Heath who displayed excellent restraint at times. no doubt battling against putting a spurt on. Well done that man.
Stuart Saint, another 'live man walking' halved the deficit from the penalty spot (ingress) and then followed up with another an honourable 'Desmond' loomed when in the final seconds a rare burst of pace took Heath into a shooting position but his strike struck the post bouncing harmlessly away to the strains of the final whistle. A relieved Referee who did not have to disallow a late winner from a man who's walking up to then had been exemplary.
Feedback will be welcomed on all aspect of this day at King Street. After more than six years I still do not think most have got the hang of trying to walk and play a restrained game. Two smaller sided games would help no end as we have said before. Preferable to one big game of football for old blokes. Just my two 'penneth, not all will agree. Three touch is also a far better proposition , and next week we return to the power of 3 better still 2 or even 1 !
Brian Hadfield retired at half-time limping, look after your groin Brian, rest up. Think carefully about Thursday, we don't want you enduring a long lay off.
The draw for the 'Tiger Feet' teams was made as the Under's players enjoyed their post match brews. Keep an eye out for news of that later. 55 players will soon know who they are playing for at Ewen Fields at the end of next month. Let's hope we see some sunshine by then. I think we are all ready for a bit of that.
Next Tuesday's session will be in the capable hands of other committee men as yours truly is heading westward to Wales once more. Thank you.
__________________________________________________
Committee Six v. Team Thor - first half from the Clock End
- - - - - - - - - - - -
Some more video from yesterday. Pitch 2 : Virtually unedited. As it happened:
_______________________________________________________
18.5.21 Today's 'extra-time' extravaganza' was a bit special. No further words from me but no doubt some more photographs and video will emerge in due course. Might take some time but any links will appear on this 'Tuesday' page.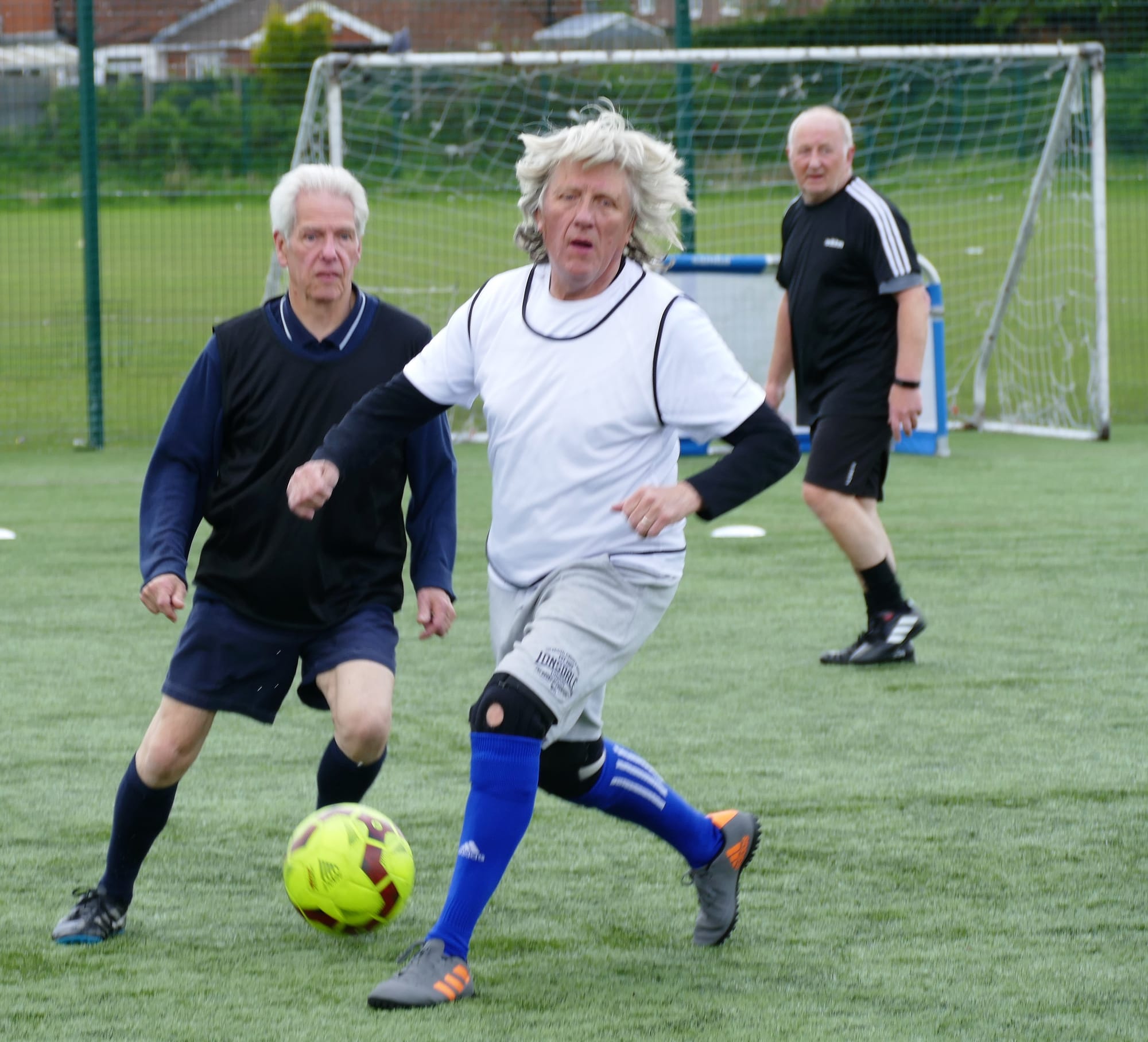 Better late than never (my oversight) Garry cabled his thoughts across Tameside yesterday and here they are...
Pitch two first hour, a plethora of goals! Blacks were in the ascendency for the bulk of this game and were soon three up, thanks to two from Pete Jarvis and one from John Williams. Joe B replied just before half time.
Second half saw a quick goal from Steve Rourke countered with another reply from Joe. Dave Moores, John with his second and Pete Jarvis with his hat-trick completed the Black's scoring before a late consolation (and hat-trick) from Joe.
Final score - Blacks 9 v 3 Whites.
Second hour, eight a side on almost a full pitch and almost at full speed. Pete Smith opened the scoring for the Whites before Pete Dixon equalised for Blacks with the first penalty of the game for running. Pete Smith then scored again for the Whites, from the penalty spot, again for three running offences. Theo made the scores level with a rasping effort and then his second eased the blacks ahead, before Pete Smith with another penalty put White's level.
Too much running, (duly penalised) and bits of contact. Still a good entertaining game though!
Final score - Blacks 3 v 3 Whites.
- - - - - - - - - - - - -
11.5.21 Photographs 'EVE of LXX' a personal milestone...or is it millstone ?
Tony Cravagan Refereed the first game on Pitch One today and here are his thoughts...
Overs Pitch 1 - 5 v 5

A bright start from the Blacks brought an early goal from Stafford B giving them confidence to dominate with the Whites SK Fielding kept far busier than his counterpart Gibbons. Most of the Blacks attacks emanated from midfielder Partington and it wasn't long before Stafford added his second. Not unexpectedly
Stewart scored another for the Blacks with one of his trade mark long rangers. The first half finished with a Stafford hat trick when he converted a penalty awarded from an SK handball.

HT - Whites 0 Blacks 4

The score did not reflect the difference between the teams but emphasised the accuracy of the Blacks forwards. The Whites were determined to redress the balance and worked hard to gain their first goal from a penalty scored by Dean following an SK encroachment. An SK change saw Taylor I take over from Fielding who's midfield role resulted in a well earned goal. The Whites began to dominate with ever active Amison unlucky not to find the net with some strong shots together with Smith B but it was up to Quinn to add a third for the Whites with a well taken goal from left midfield. Time for the Blacks to wake up as they stepped up a gear with Stafford asserting his goal scoring ability with his forth, and a solo " run " or should we say " walk " from Partington sealing it for the Blacks.

FT - Whites 3 ( Dean pen, Fielding, Quinn )
Blacks 6 ( Stafford B 4 one pen, Stewart, Partington )

Referee - Tony Cravagan
____________________________________________
Playing 'catch-up' with video from last Tuesday...here's a link
4.5.21
Yet more action from the overs - this time with wind assistance and NO commentary....https://youtu.be/8NuZXXbf1-8
Coming soon Garry Pearce REFCAM MK.2 - Unders.
OVERS ACTION CAM with a voice over commentary (better than roaring wind - he claimed)
Garry Pearce from Pitch One Over's today...
The game got under way in a strong wind and some stinging rain. Blacks were two up in the first five minutes, thanks to a brace from Pete Jarvis. Ken Dean pulled one back and then a trademark strike from the wing by Jimmy Stewart brought the scores level. Jimmy added another, as did Dean and the White's went in two goals to the good at the interval.
Steve Amison reduced the deficit to just one, shortly after the restart before Stewart again swept in a super strike without even looking up!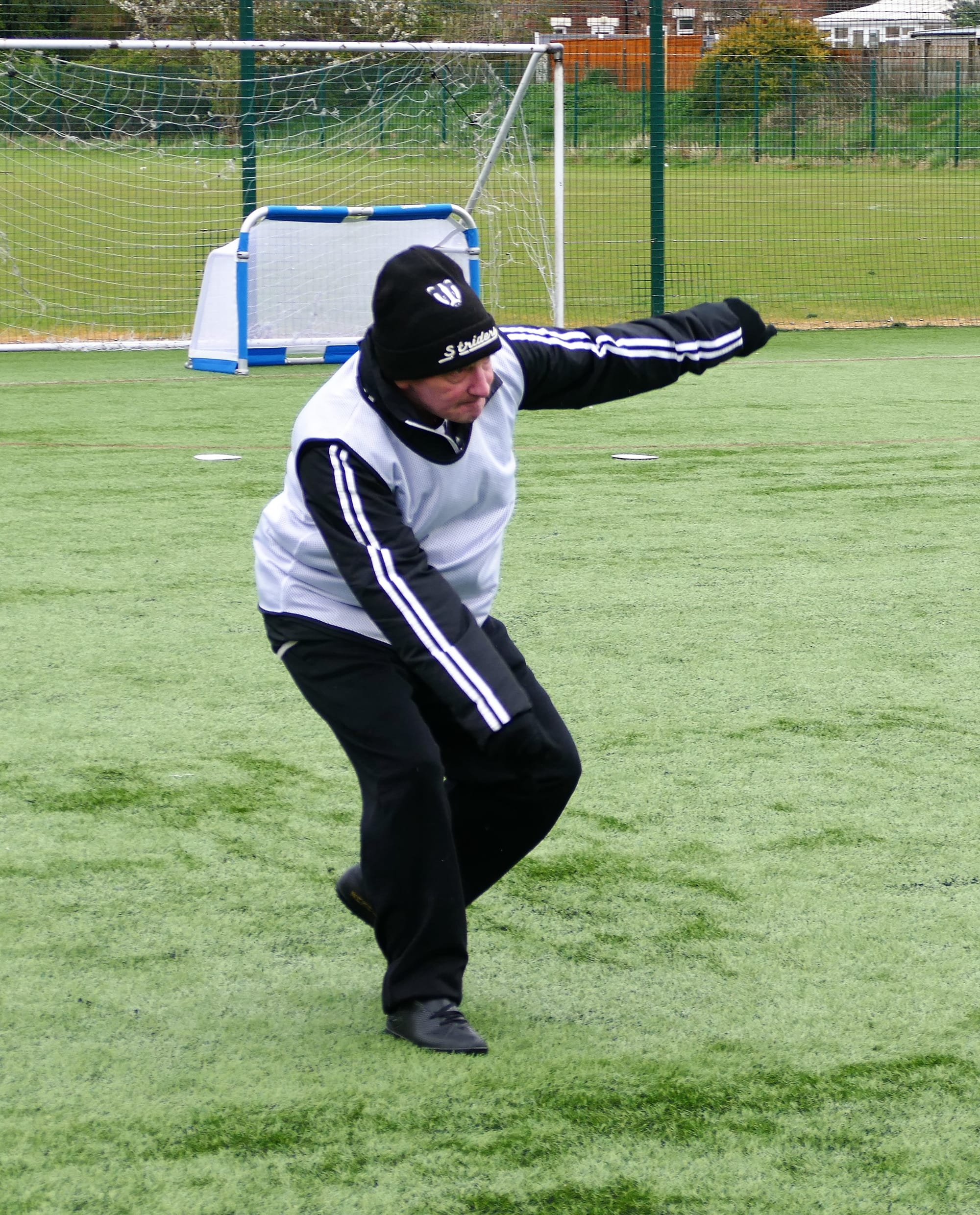 Jim Stewart in actionAmison then got his second before Stewart added yet another, almost carbon copy effort, for his fourth of the morning. Alan Brodie added a fifth for the Blacks but there wasn't enough time left to get the equaliser. Another cracking game.

Final Score Blacks 5 v 6 Whites.
- - - - - - -
Some more photo's from today are here <click> the link below
4.5.21 David Partington has penned a report from pitch one..
Gordon Nixon's hat trick inspired white bib come back, changing from his Sweeper Keeper role for the start off the second half when the white bibs found themselves 3 down. Two very good Barry Smith strikes and one from newcomer Rob Rowney ,it looked an uphill task for the white bibs until Gordon decided to step in with 3 quick fire goals ! Joe Bemrose was also on the scoresheet with the winning goal.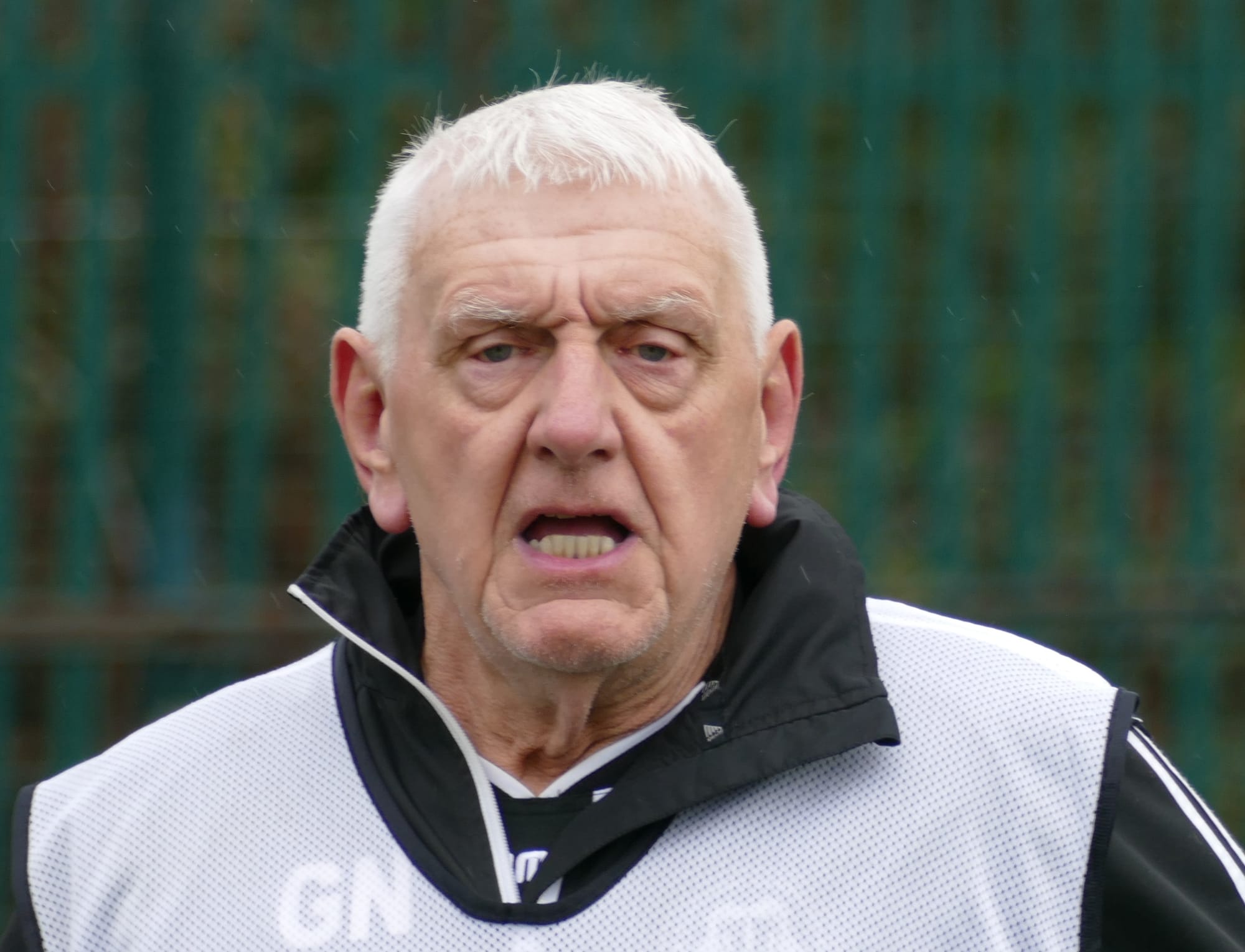 Blacks had Colin Fielding at SK and he had a very good game both the new men (Rowney and Flaherty) settled themselves in well and Peter Quinn also had a fine game today, Barry Smith was always a threat . White's had Terry Harrison up front with Partington and Bemrose in the midfield Laurie O'Toole was always involved from his midfield position, but today's Man of the Match was the SK turned striker Gordon Nixon! Denis Cudahy Refereed and did a great job, a good game enjoyed by all. ( not sure if it was Joe or Terry who got the winner)
Take a bow Mr.Chairman ! - Ed.
27.4.21
A short but very welcome report from Garry Pearce who Refereed a fine game which featured two of our newcomers. Garry takes up the story of what sounds like a...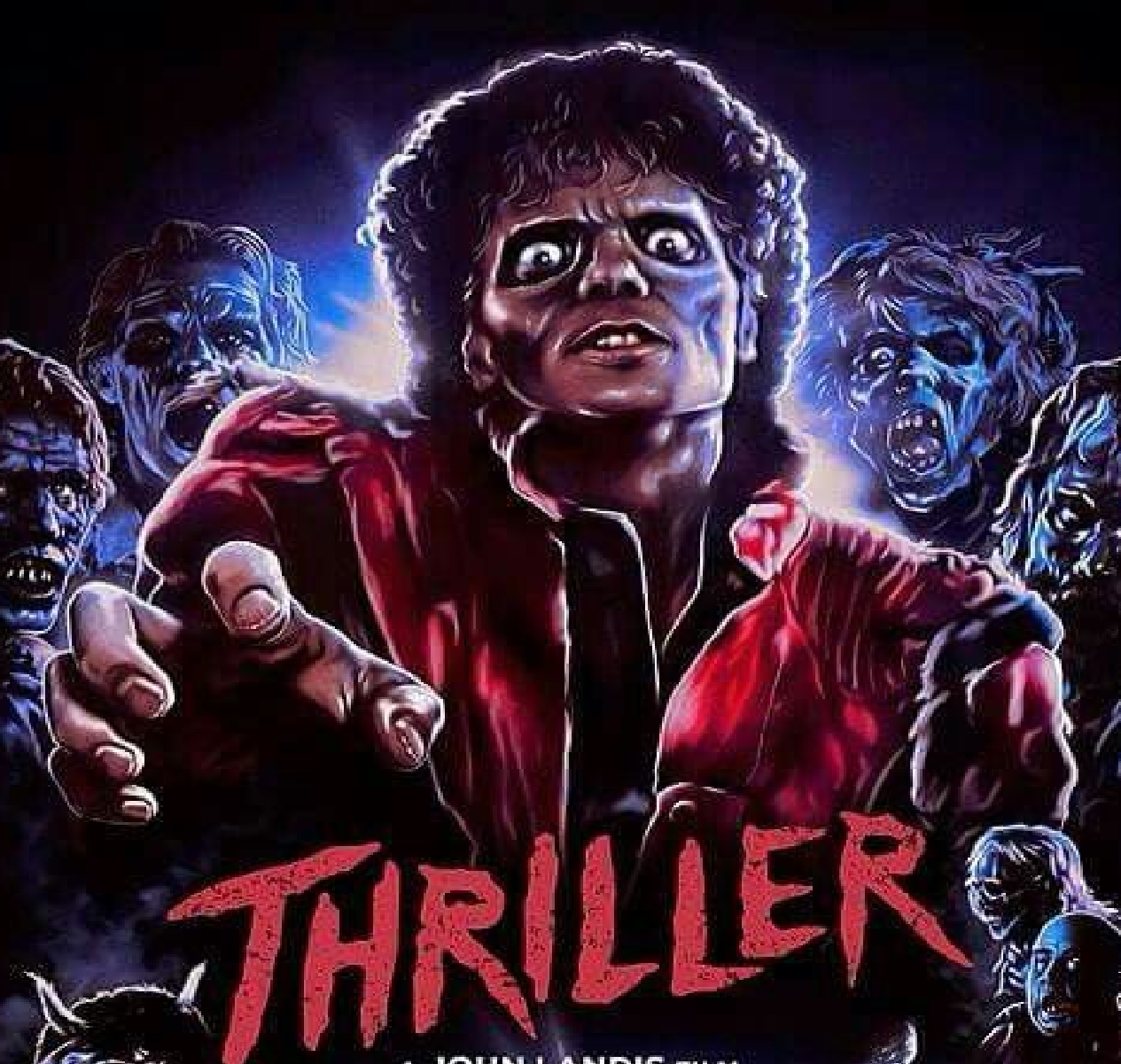 ...."A six v six included newly registered players Dave Flaherty and Rob Rowney and to be fair, they fitted in well...
...The scoring was opened for the Blacks by the ever-youthful Colin Fielding (Eh? - Ed.) . Dave Wilson, back from a long-enforced absence soon equalised from an acute angle. New man Flaherty then put Blacks back ahead, followed by goals from Terry Hayden (who had an excellent game) and another from Fielding.
Half time - Blacks 4 v 1 Whites.
Prior to the second half, Dave Wilson and Colin Fielding swapped sides and the game swung from end to end. Peter Quinn got White's second and Joe Bemrose scored a quick double, but his goals were separated by an effort from new man Rob Rowney which kept Blacks ahead. Terry Harrison then brought the scores level and with just two minutes to go, Peter Quinn popped up to clinch the game for the Whites.
A really good hour and a fun packed match.
Welcome to the group Rob and Dave...hope to see you next week. As Tony told you your days might change but it's hope you had a great time today - certainly sounds like it - Ed. (Alan)
Final score: Blacks 5 v 6 whites.
________________________________________
Llandrillo 2.15pm. Tony Cravagan has just cabled his report. The only telegram lad in the village has just legged it around here...sounds like there was a heavy defeat for the White bibs on Pitch One...
Overs

Pitch 1 - 5 v 5
The Whites were up against a strong Blacks team from the outset composing of SK Nixon supporting holding midfielder Partington with Moore and Jarvis roaming to feed Poacher Stafford B.
HT - Blacks 4 Whites 0
The Whites had no luck throughout the game hitting the post and narrowly missing and on several occasions. O'Toole worked hard in centre midfield with Stewart and Cravagan pushing out on the wings. Amison was always looking for a gap in the Blacks defence but to no avail and thanks to Lancashire the final score was kept to single figures.
FT - Blacks 8 Whites 0
....and later

Unders
Larger pitch 7 v 7
HT - Blacks 1 Whites 2
Referee - Garry Pearce
FT - Blacks 1 Whites 3
Referee - Colin Fielding.
Pleasing to see the numbers facilitating the kind of game some were asking for in the survey. I hope it was enjoyable - Ed.
________________________________
TONY CRAVAGAN has been good enough to file some match reports from earlier today....
Overs Pitch 1
5 Whites v 5 Blacks

Thanks to Denis Cudahy for reffing.
The Whites started with some wild shots from Cravagan which confirmed he's better trying to support SK Lancashire ! The Blacks were shored up by Gibbons and together with Moore and Dean began to dominate the midfield . Harrison was always an option up front for the Blacks flanked by Brodie but the score was even at half time 2 apiece.
The second half saw the Whites more organised with Rourke and Partington increasingly effective and Stewart was active on the right. Some fine footwork from Harrison posed a threat for the Whites but the latter took advantage of more openings under the tiring conditions and eventually came out winners.

FT Whites 6 Blacks 3

Thanks to Denis Cudahy for his excellent refereeing.

Under's Pitch 2
5 Whites v 5 Blacks

The Whites wasted no time in putting the Blacks under pressure with SK Yardley requiring help from Place and Turner to keep the them at bay. The Whites long rangers Wingrove and Bemrose continued the pressure with Theobald finding space to break down the Blacks defence. Counter attacks from the Blacks found it difficult to to break down a stubborn defence with Livesey in control but they managed to take the lead 2 - 1 at half time.
The second half saw Bemrose take over from Livesey as the Whites SK and pulled off some excellent blocks as the game opened up. At the opposing end Yardley was also extremely busy with a strengthened Blacks midfield but Brereton was able to find Oakley on a couple of occasions for the Blacks left winger to narrowly miss with some curling shots. A notable looping goal from Stewart failed to deny the Blacks from a hard earned victory.

FT Whites 3 Blacks 2
(thanks for Refereeing once again TC)
Brief details from the other pitch from Garry Pearce:
Some brief details from today:
Pitch two, first hour.
Blacks 4 v 7 Whites
Blacks-Barry Smith 2, John Williams and a pen from Sweeper Keeper Terry.
Whites-Joe B 3, Colin Fielding 3 and one from Steve. (Can't remember his surname, he does cricket too).
Blacks were 6-1down at half time, so a decent effort second half.
Pitch one second hour.
Blacks 4 v 3 Whites
Blacks-Stuart Saint 2, John Gaskin, Al Brodie.
Whites-Denis, Party, Mike Caldwell.
Both games 5-a-side. Four lingerers second hour.
__________________________________________________


More overs with Bill at the back...
13.4.21 UNDERS ACTION - look on the you tube channel for more
13.4.21 BERNARD IS BACK
Photo's from yesterday... IV.VII.MMXXI | Flickr
6.4.21 King Street action. Peter 'pots' from some way out...
PHOTOGRAPHS ON FLICKR :
March 30th - RESUMPTION 3
A four minute clip from today featuring a fine goal from Mike Caldwell, laid on by Keith Yardley. And another one on the adjacent pitch from Graham Oakley - not an own goal (sorry Graham...and Steve Foster)
22nd. December 2020
Garry Pearce Refereed on pitch one and here are his thoughts...
OVERS
A five v four to begin on pitch one under a pale wintry sun. A very early step into the area saw a penalty awarded for the White's, ably rolled down the middle by Joe Bemrose . It wasn't many more minutes before Alan Brodie put away a tidy equaliser. The effervescent Mike Kieran then put Black's ahead with a well-placed left footer. Dave Wenham added a third for the Blacks, before Bemrose reduced the deficit, but Mike Kieran added a fourth just before half time.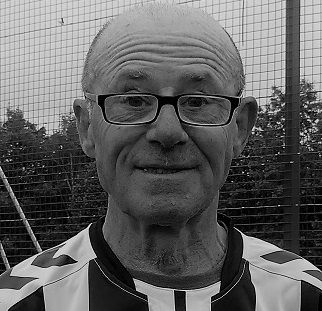 Mike Kieran
The second half saw the addition of early arrival Dave Fielding to the White 's team, and the teams were both five strong. This half was a much tighter affair and the prompting of Dave Partington saw another chance for Joe to score his and the White's third. Whites were now having the bulk of the play but Black's defence held firm to see them walk out narrow winners.
Final score: Blacks 4 v 3 Whites.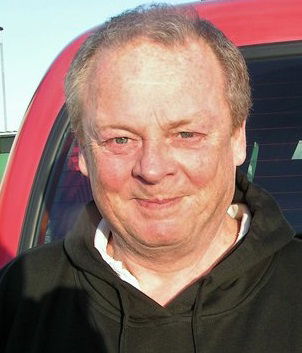 Dave Fielding
UNDERS
The second hour was again a five v five match up, thanks to a couple of 'lingerers'. It wasn't long before the goals started to flow and it was the ever-lively Paul Theobald who put Whites ahead following a flowing move. For the Blacks, sweeper keeper Keith Yardley ventured up field to level the scores. Phil Livesey added a second for Whites but Keith Yardley strolled to half way before unleashing a shot from distance to level the scores. The scoreboard was ticking over and 'Theo' got two quick goals to send the Whites in two goals to the good at the half way mark.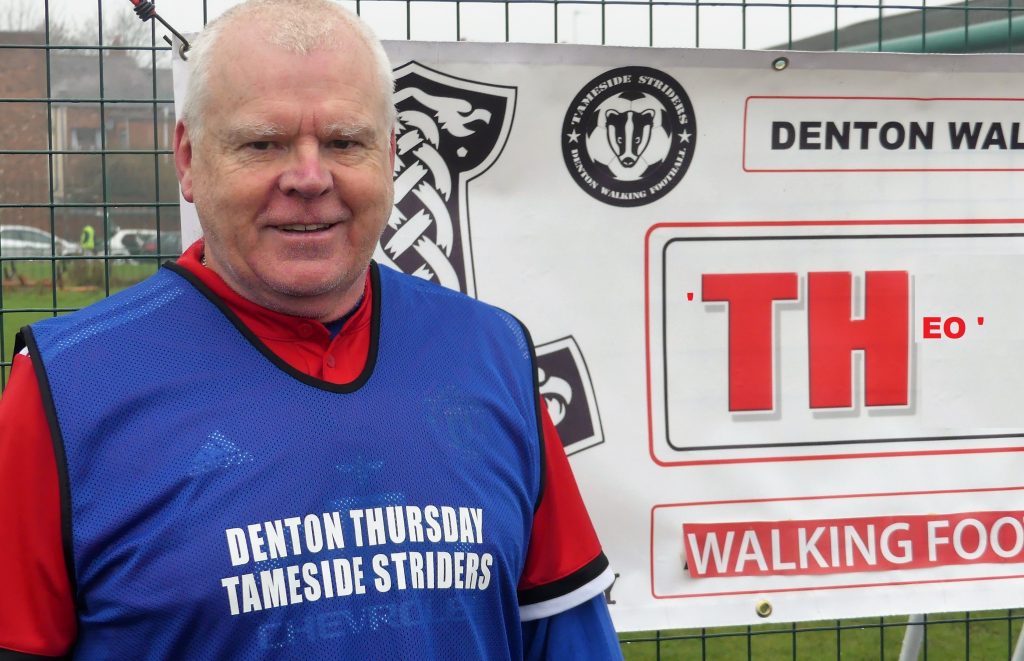 Paul Theobald - 'ever lively'
White's continued to dominate in the second period and with the now sweeper keeper, Roger Place unknowingly stepping into the area, a penalty was given, and despatched with aplomb by Hadge Cooper .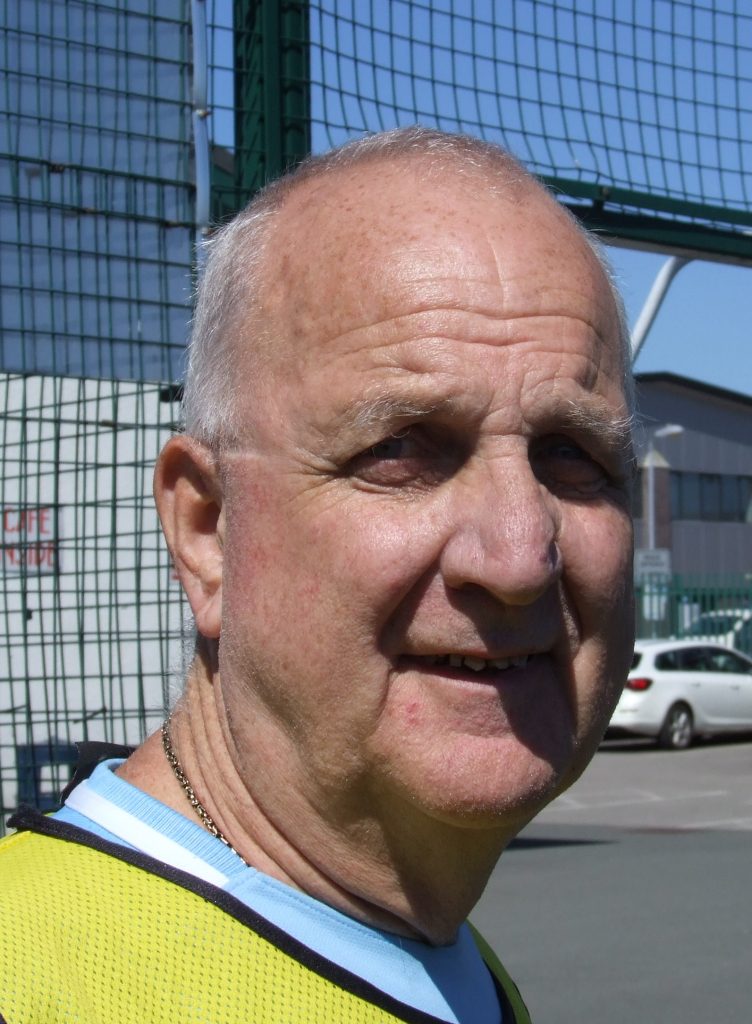 Hadge Cooper - 'aplomb'
Partington then scored with an excellent angled drive to put White's well clear. The hard-working Chris Turner poked home a late consolation for Blacks.
Final score: Blacks 3 v 6 Whites
-------------------------------------------------------------------------------------------
Tony Cravagan Refereed an 'Unders' game and report thus:
5 White Bibs v 5 Black Bibs

The Whites quickly started the ball rolling with a goal from Bemrose on the right finding the target. With Caldwell also a menace up front added a second shortly afterwards. A more confident Whites kept the Blacks Sweeper/Keeper Keith Burrows on his toes to deal with the Whites but a breakthrough goal from the Brodie kept the Black team in touch. Collins came more into the game on Black's left flank but it was Clem White on the right who popped in an equaliser before half time.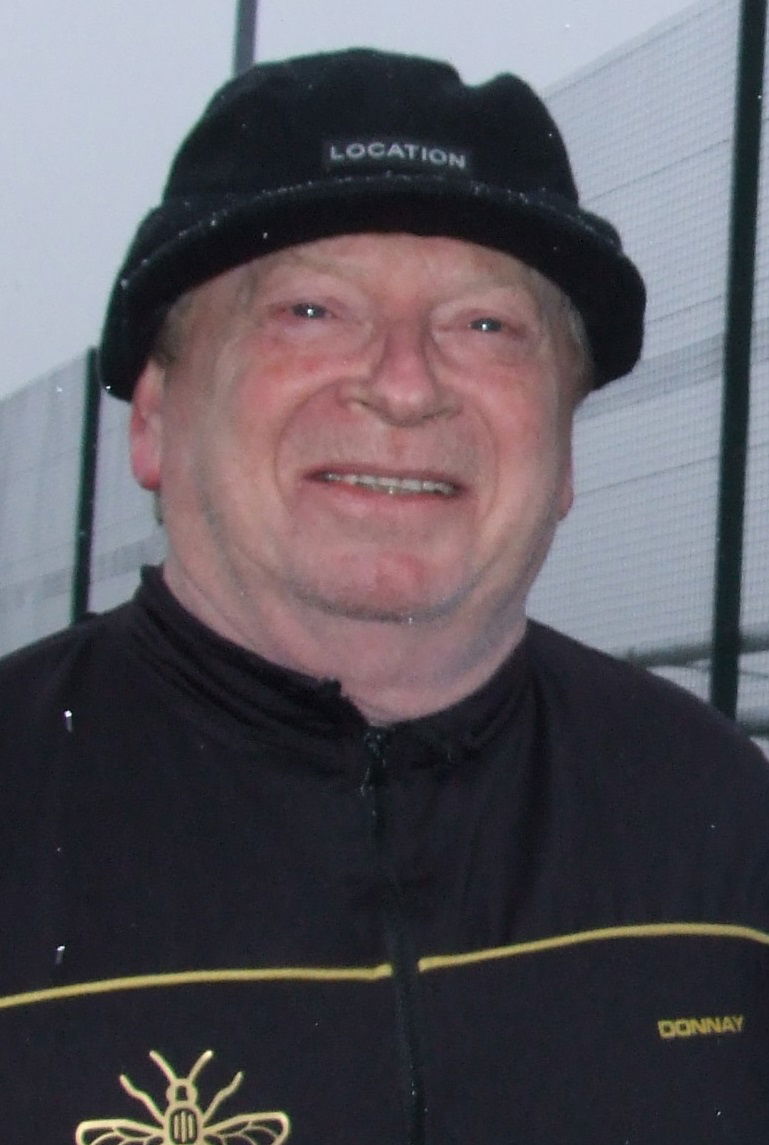 Keith BurrowsA more concerted White team started the second half with the cool Pete Smith supporting Dave Fielding in controlling midfield. Holding firm despite the ever energetic Blanchard trying to break their grip. More attacks from the White's pushed back the the Black's defence which eventually lead to an encroachment by S/K Burrows. A crisp penalty shot from Smith put the Whites further ahead, only to be enhanced with another goal from Caldwell. The Black's attacked to reduce the deficit with Burrows shooting from long range and moving into more forward positions but unable to penetrate a strong White's defence.

FT - White's 5 ( Bemrose 2, Caldwell 2, Smith P ) Black's 2 ( Brodie, White )
Referee - Tony Cravagan.
________________________________________________________________________


15th December our Penultimate Tuesday of 2020 - (robbed of so many by the Chinese virus ! )
SOME PHOTO'S LATER ON FLICKR - some unmanned camera action from Pitch one Overs to Edit.
WHITE GLOSS leaves matt Black's in the shade... writes Alan Richards...
A five a side on Pitch two for an unders hour Tuesday interspersed with Thursday men helping to keep the session viable in the absence of our friends from the hills !
Some extreme examples of clinical finishing were on display today. The team in White bibs were so efficient in finding the target the Black bibs were on the ropes after just ten minutes. In a boxing contest the Referee would have been considering calling a halt.
It was six one at half time. Jim Stewart and John Kenyon shared five between them with the Hyde man bagging a hat trick. Clem White had added another. The finishing was all that really separated the teams as Blacks were mobile and led by the inventive and ever persistent Mike Caldwell, aided by the lively Mike Kieran. Caldwell pulled a goal back at three one. Anchored at the back by the guile of John Gaskin, who could do nothing in the face of the onslaught, they were left reeling by this remarkable opening salvo from White's who could do little wrong from distance today. The first half drew to a close with Roy Smith taking a well struck ball into his 'nads (thanks to Trevor Brereton for that terminology) . Given a few moments to collect himself, and ensure things were where they should be he bravely continued. (See the half time photo on Flickr).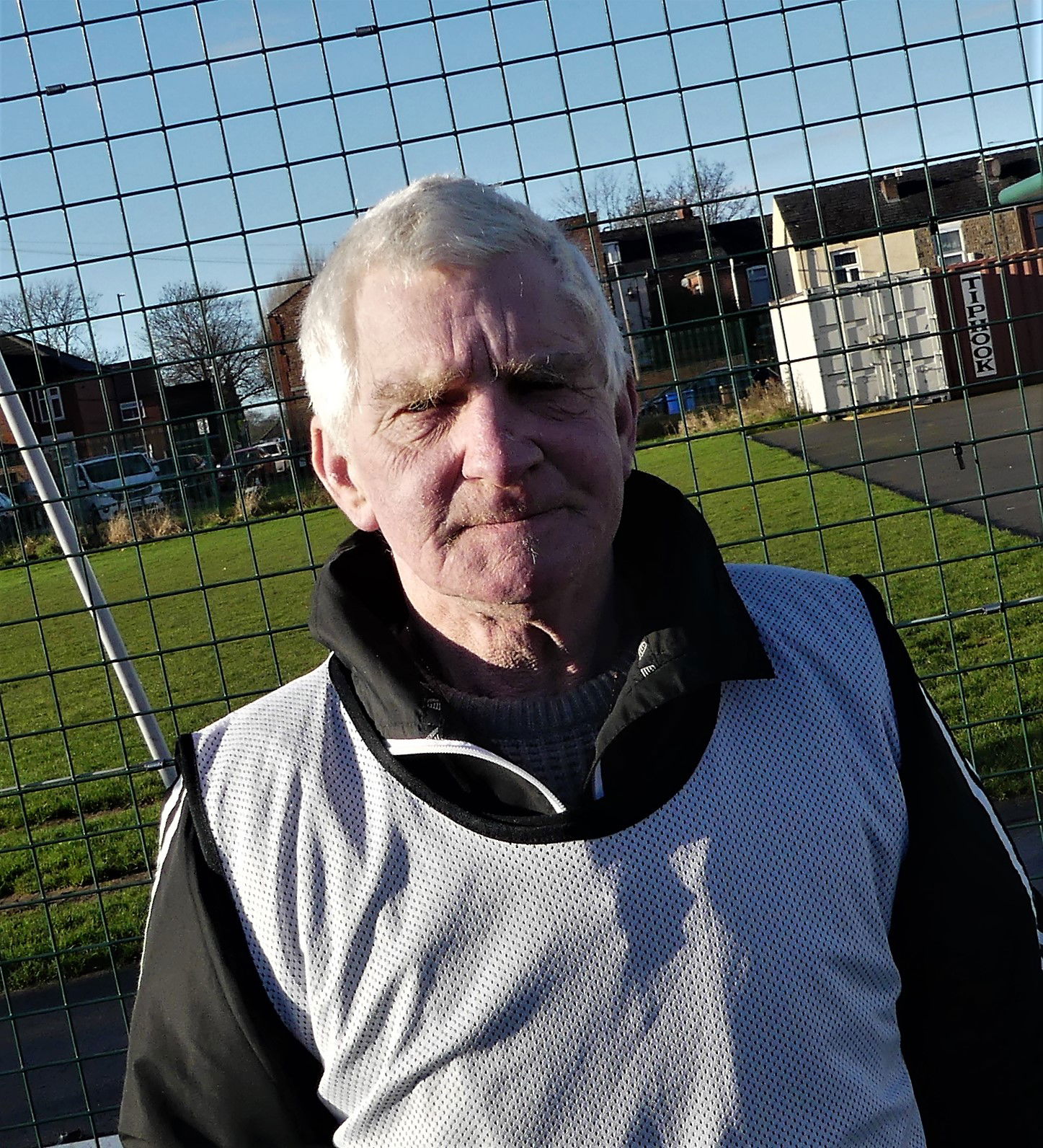 Jimmy Stewart - remarkable
Black's put the brakes on White's in the second half and they were reduced two more on target strikes. One, a quite remarkable shot from Jimmy Stewart as he was falling over! He got incredible accuracy onto the ball to complete his hat trick and John Kenyon ended a fine day for him with a fourth added to his personal tally.
Roy Smith, fully recovered from his unfortunate blow was penalised for running . His teams third such spurt. A uniquely strange outcome here as Mike Caldwell found both posts with the penalty and the ball settled on the line.
Mike Kieran, full of walking today registered a further consolation for Black's with a goal near the end. Well done to them and the redoubtable Ken Thomas & Peter Quinn for steadying a sinking ship and salvaging something from the jaws of a heavy defeat. Well done to White's for an impressive array of their finishing talent.
White's 8 ( Kenyon 4, Stewart 3, White ) Black's 2 (Caldwell , Kenyon)
Alan Richards Refereed, and thanks those who expressed their appreciation afterwards.
____________________________
Occasional 'Foot tapper' Tony Cravagan reports from Pitch 2 'overs' where Denis Cudahy Refereed...
The Shadow's provided backing for today's group !

Something to sing about , a perfect setting for this mornings game with the winter sun casting long shadows over Pitch 2 only to be outshone by referee Cudahy's bright yellow top.

4 Whites v 4 Blacks.

With Cravagan S/K for the Whites and Hayden S/K for the Blacks it looked like there was some hard nuts to crack but Moore turned up with his nutcrackers and quickly put the Whites one up. Simplicity and accuracy from the Whites caused problems for the Blacks who found it hard to make inroads especially with Moore and Amison in superb form leading to a second goal from Moore.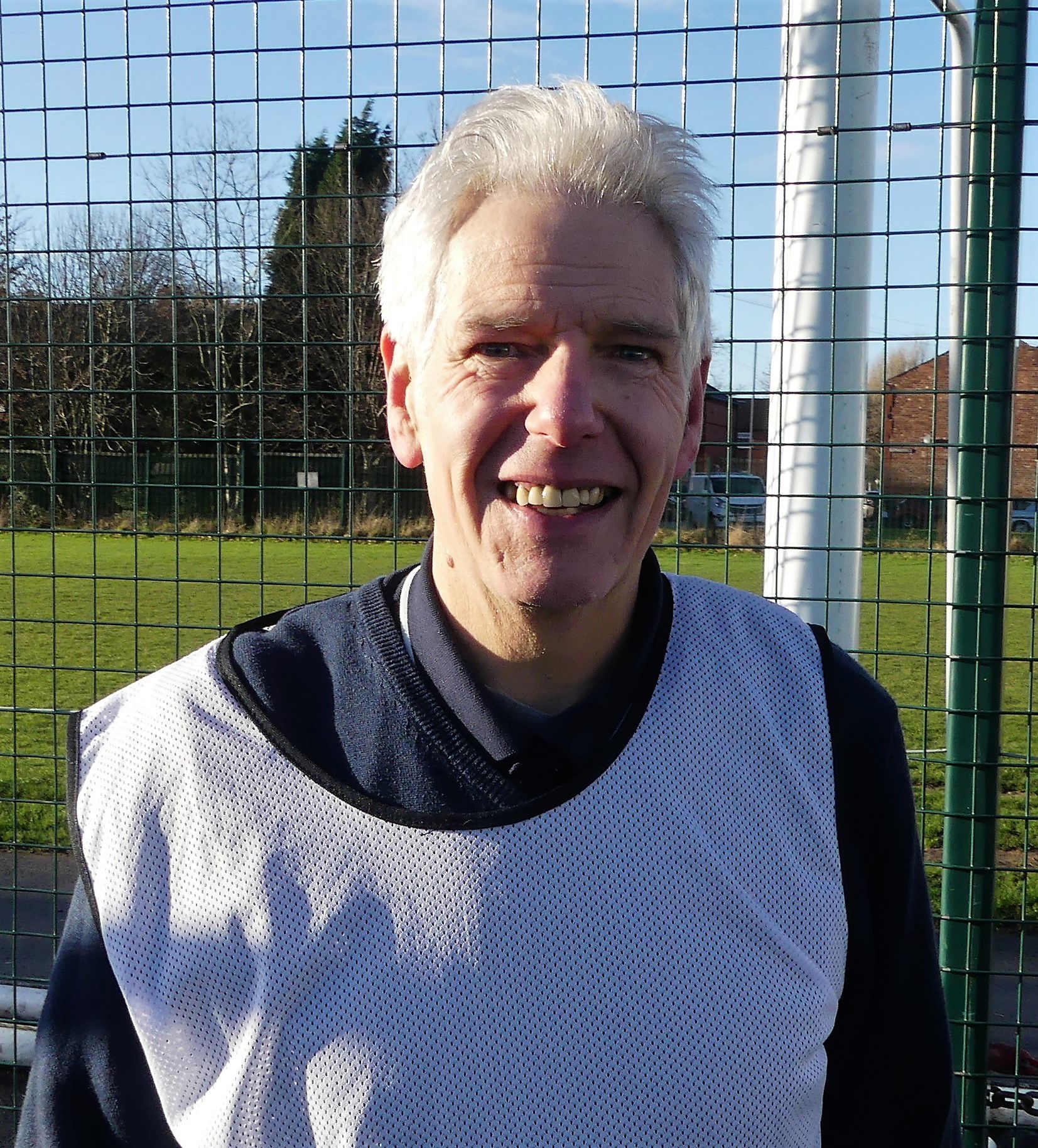 an off the shoulder look for Dave Moore who bagged a brace today
The Black's attack was spearheaded by Terry Harrison but he found it difficult to penetrate the White's defence and as the Black's moved up with Gibbons and Terry's namesake Bill looking to offer more support , the White's took advantage of gaps in the Black's defence with the effective Moore and Amison combination resulting in the latter giving the White's a comfortable lead at half-time.

HT - Whites 3, Blacks 0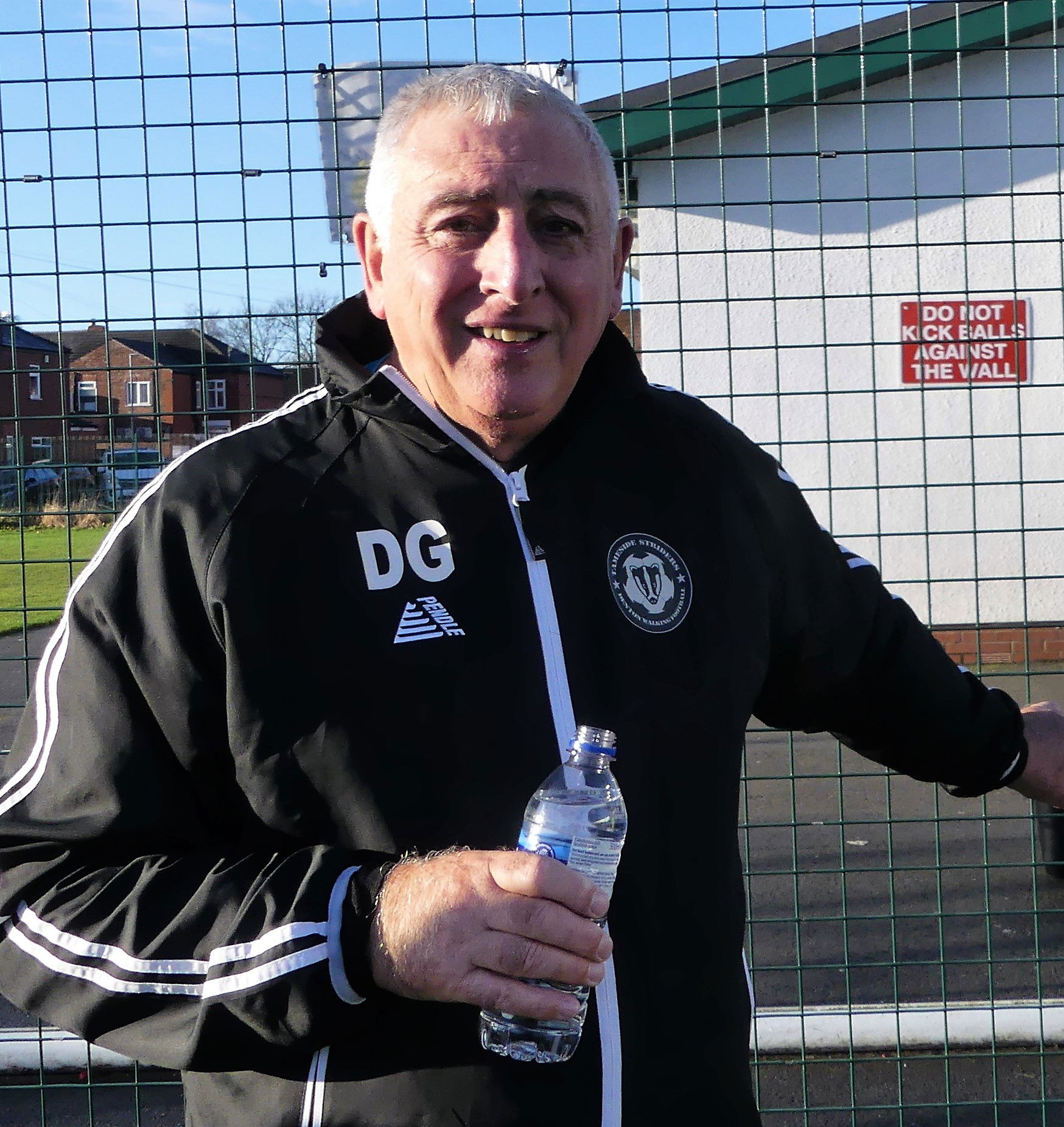 Director GeneralA more organised Blacks turned up for the second half blunting the sharpness of the White's first half performance. With encouragement from Gibbons the Black's began to dominate with Harrison B and Hayden working well only to deal with an occasional shot from Stewart. Unfortunately the Black's pushed up too far and Harrison T was penalised for encroachment but it wasn't Stewart's day and for once failed to score with hid penalty shot just going wide, it does prove that even at 14 metres a penalty is not assured. All hands on deck for the White's as the Blacks sensed more goals were there for the taking but more blocks from Cravagan kept the Black's at bay until Gibbons and Harrison T burst through from the left with Harrison T scoring a similar goal to his first. Under constant pressure the White's held fast and were able deny any last minute equaliser from the Black's.

FT - Whites 3 ( Moore 2, Amison ) , Blacks 2 ( Harrison T 2 )
Referee - Denis Cudahy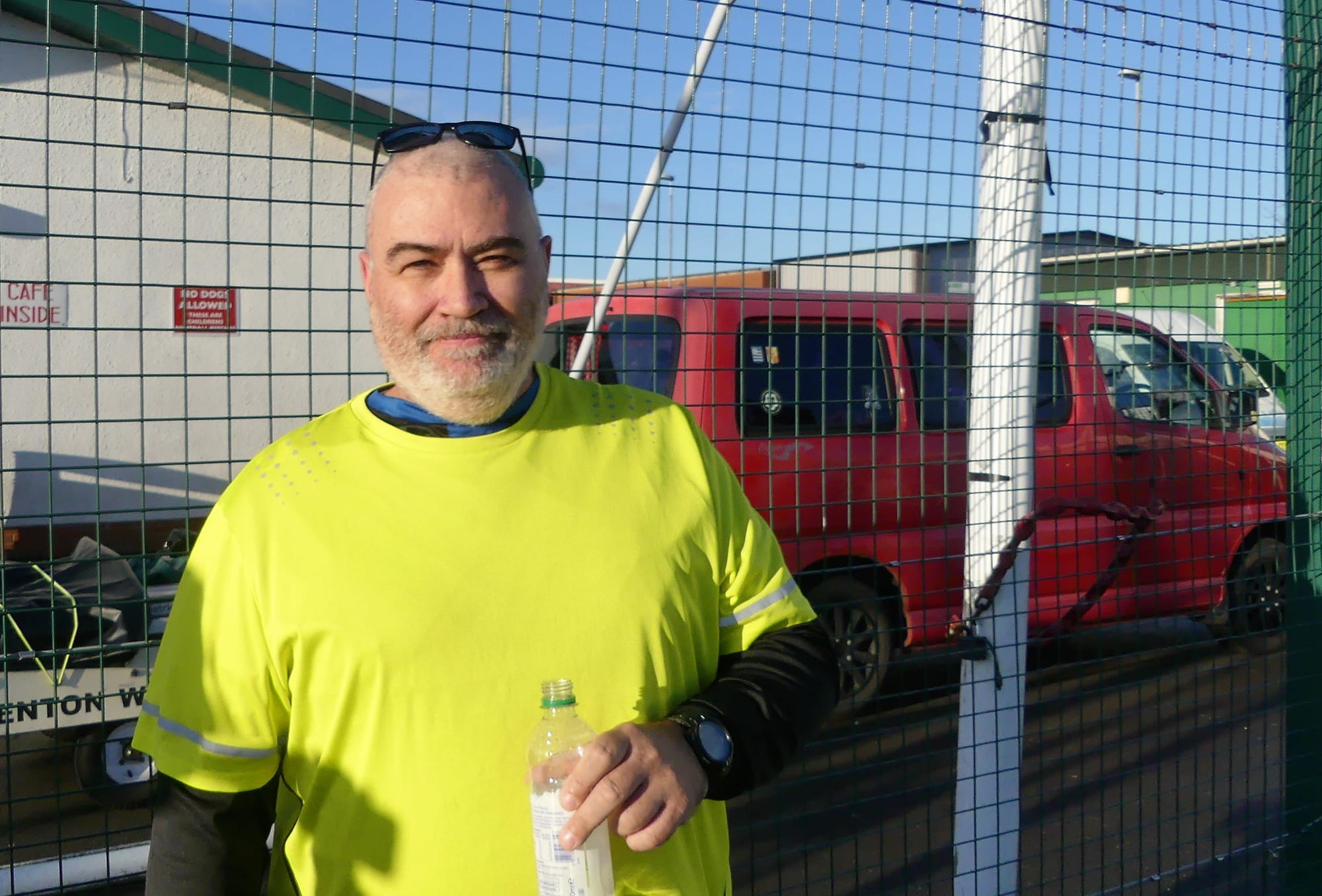 Denis Cudahy with 'Bob' in the backgroundGreat game, no runs, little contact, sunshine and excellent refereeing - can't ask for anything more.
(thanks Tony - Ed.)


___________________________________________________________
Garry Pearce again Refereed two games for us today and here are his collective thoughts about each of them...
In keeping with our comments on our Manchester weather, I think we were all pleased today to be playing on a bright sunny morning, on pitch one. However, the low sun caused one or two problems early on, with the ref in dark green being silhouetted against the light, receiving a couple of nicely weighted passes! Black's took an early lead on pitch one, when Alan Richards tucked away a neat pass from John Williams. Williams then turned from provider to striker and added a second with a similarly tidy finish. Brian Stafford then pulled one back for the White's just before the half-time break.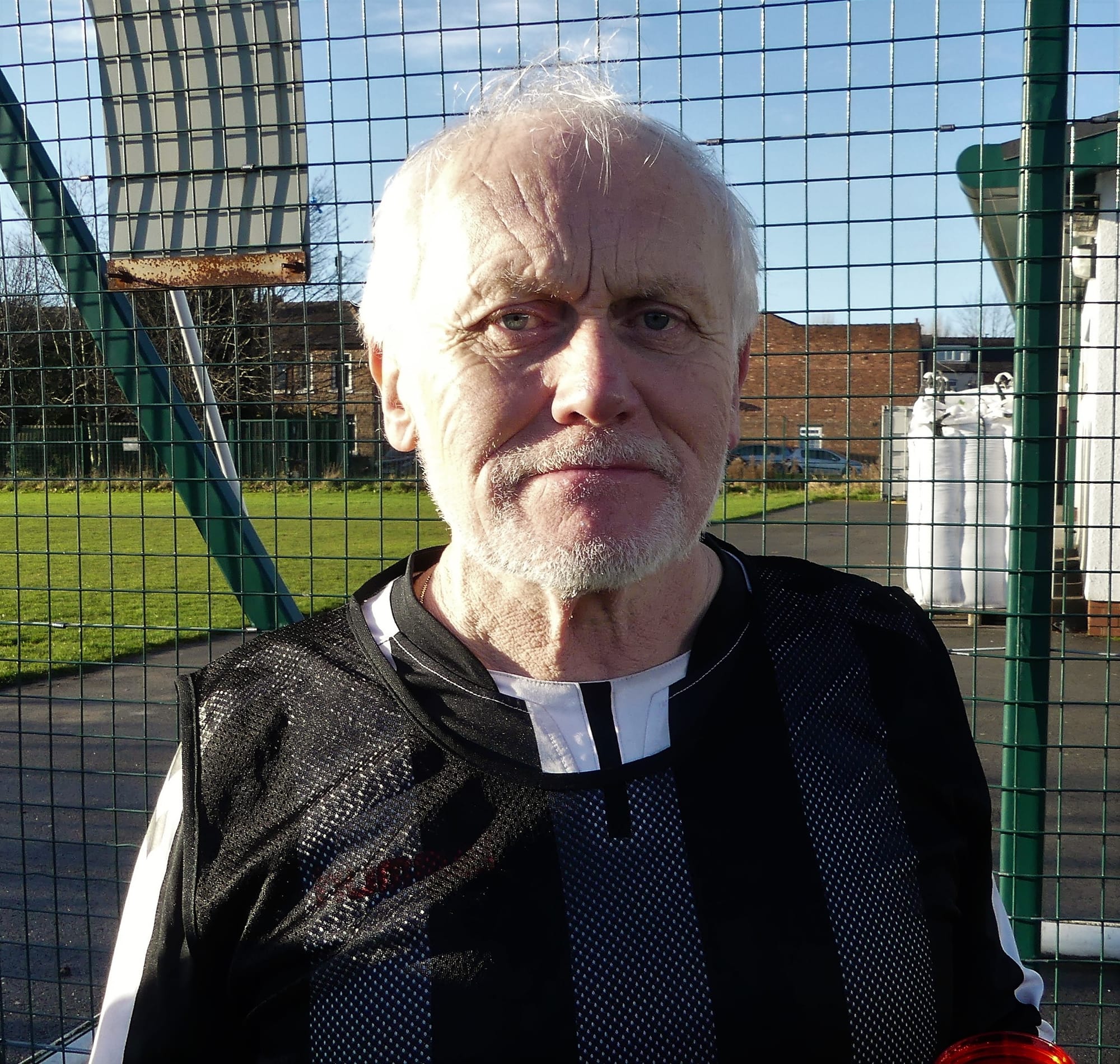 John Williams provider to striker
Second half saw the White's, particularly Stafford come into their own. Virtually every attempt that he had found the target and he scored no less than five second half goals to send the White's out as comfortable winners. A lesson in the art of finishing today, with every shot being placed skilfully, with little or no force needing to be applied. A well-deserved half dozen. Blacks strived manfully in the second period but their first half excellent passing and movement deserted them. A fully deserved victory for the White's, thanks in the most part to Brian Stafford .

Final score: Blacks 2 (Richards, Williams) v 6 Whites (Stafford 6)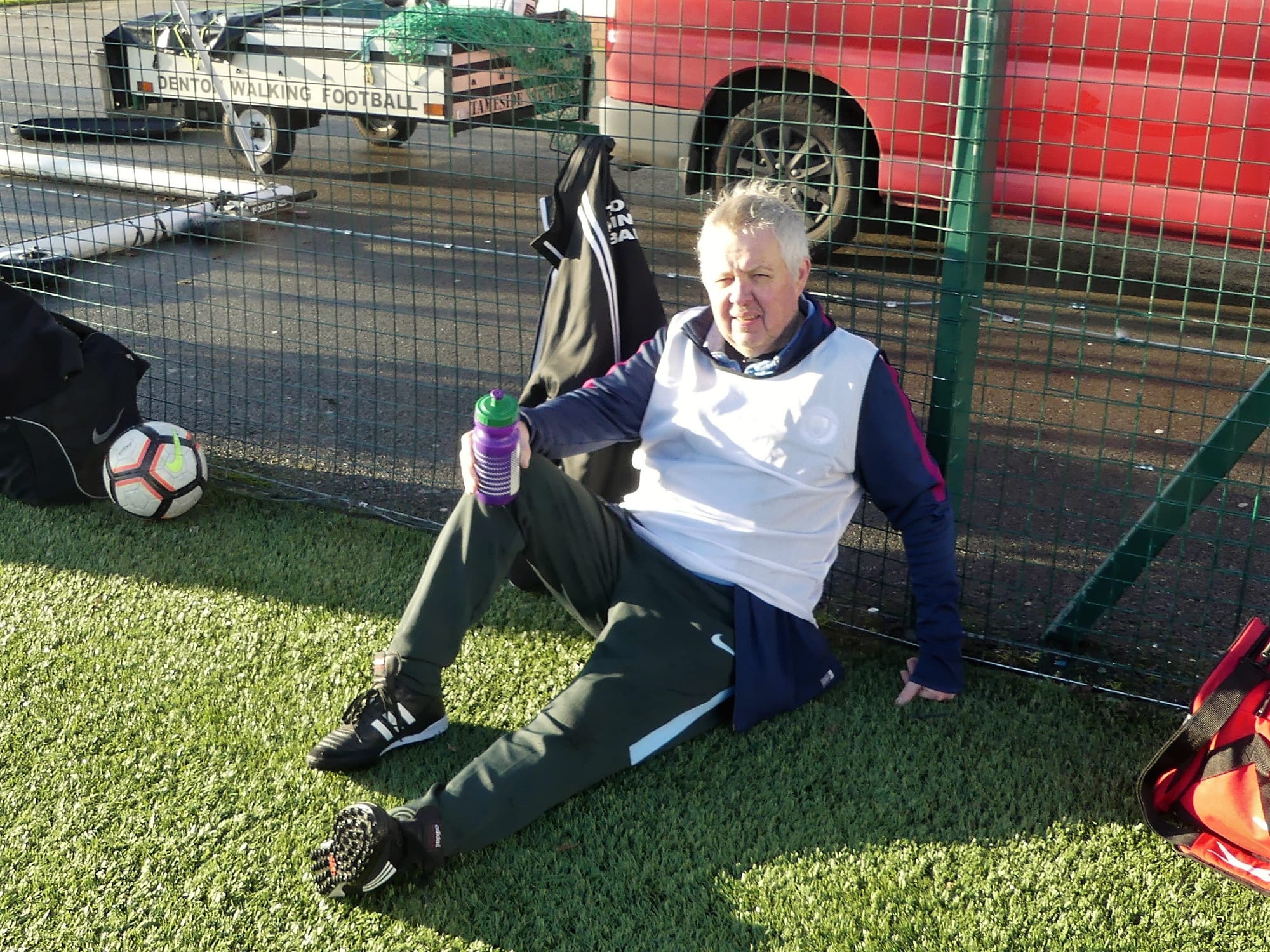 Brian Stafford - just what was in that half-time drink ?
(congratulations on another great goal scoring feat Brian ! - Ed.)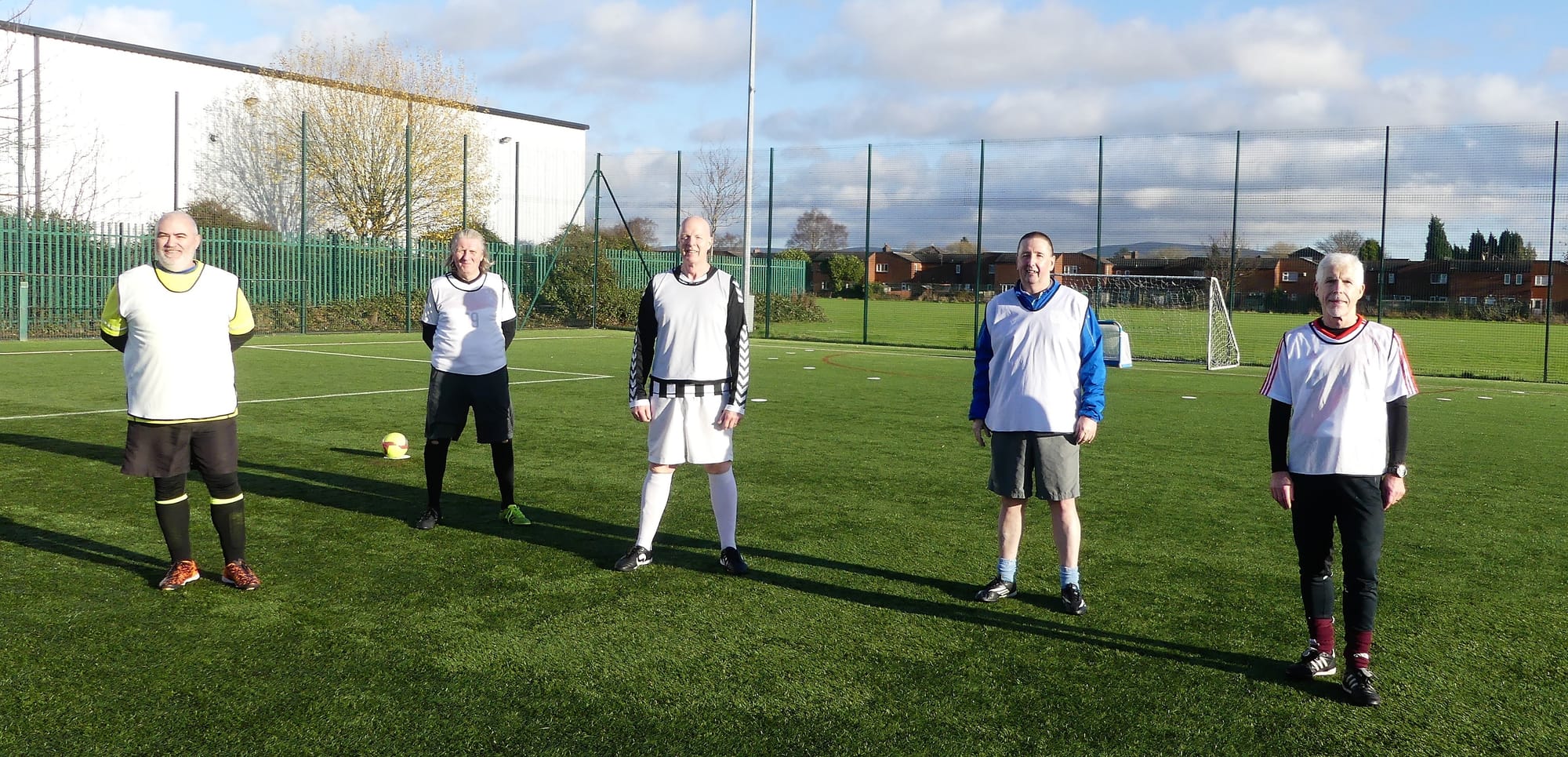 The second match on pitch one, again a five a side at a slightly faster pace, as you would expect. Mike Conroy started the scorecard ticking over for the White's with a decent drive. Conroy added a second some five minutes later, before narrowly missing his hat-trick due to shaving the post after a penalty was awarded for stepping into to the area. The second half saw a neat finish from Joe Bemrose, who'd had plenty of shots but struggled to find the target today. Chris Turner pulled a goal back for the Black's before Mike Conroy (I think) got a fourth for the Whites. Keith Yardley was then awarded a penalty after contact from behind denied him a goal scoring opportunity. He took the spot kick himself but placed it wide. Paul Theobald then reduced the deficit with a crisp strike, before yet another penalty was given for stepping into the area by the Whites whilst on the attack. Theobald duly placed the penalty kick in the centre of the goal to reduce the Whites lead to one. Blacks pushed hard for the final few minutes but were unable to find the elusive equaliser.
Final score: Blacks 3 v 4 Whites. A good game, only one run and one contact of note.
(Thanks Gaz - Ed.)
___________________________________________________________________________
TWO REPORTS FROM OUR SENIOR REFEREE GARRY PEARCE ON PITCH ONE....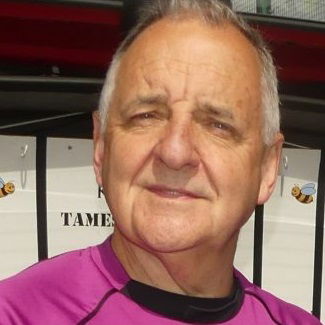 First game on Pitch One, was a four v five affair with club official Alan Richards kindly offering to change sides from the Blacks to the Whites at half time. It was the four-sided Whites who took the lead however, with a tidy finish from Terry Harrison. Richards then equalised for the Blacks and they began to dominate, as you might expect with the extra man. Richards added an angled second for the Blacks before Steve Rourke got on the scoresheet for Blacks with a decent effort from a good way out.

Richards switching sides to the Whites, certainly levelled the game up in the second half but it was an excellent, almost back-heeled effort for Rourke that put the Blacks further ahead. Richards then scored from an almost impossible angle to pull one back. That was followed by a nice turn and finish from Harrison to reduce the deficit to just the one. With about four minutes to go, Steve Rourke got his hat-trick goal, finishing from distance to put the Blacks out of reach. Alan Richards also scored a hat-trick, albeit for both sides but they all count. (thanks Gaz - Ed.)
Rubbish weather but great banter!
Final score: Blacks 5 v 3 Whites
Second game was a four v four match up, and it was the defensive stalwart for the Blacks, Steve Foster who opened the scoring. Keith Yardley then showed his usual fleet-footedness to add a second. The ever-mobile Trevor Brereton then added a third for the Blacks, before Paul Theobald sent a sweet shot into the corner of the net for the Whites, reducing the Black's lead. Blacks though were in control , and in attempting to hold onto the ball Yardley unfortunately rolled a back pass into his own net. Brereton soon added another for the Blacks and they went in at half time two goals to the good.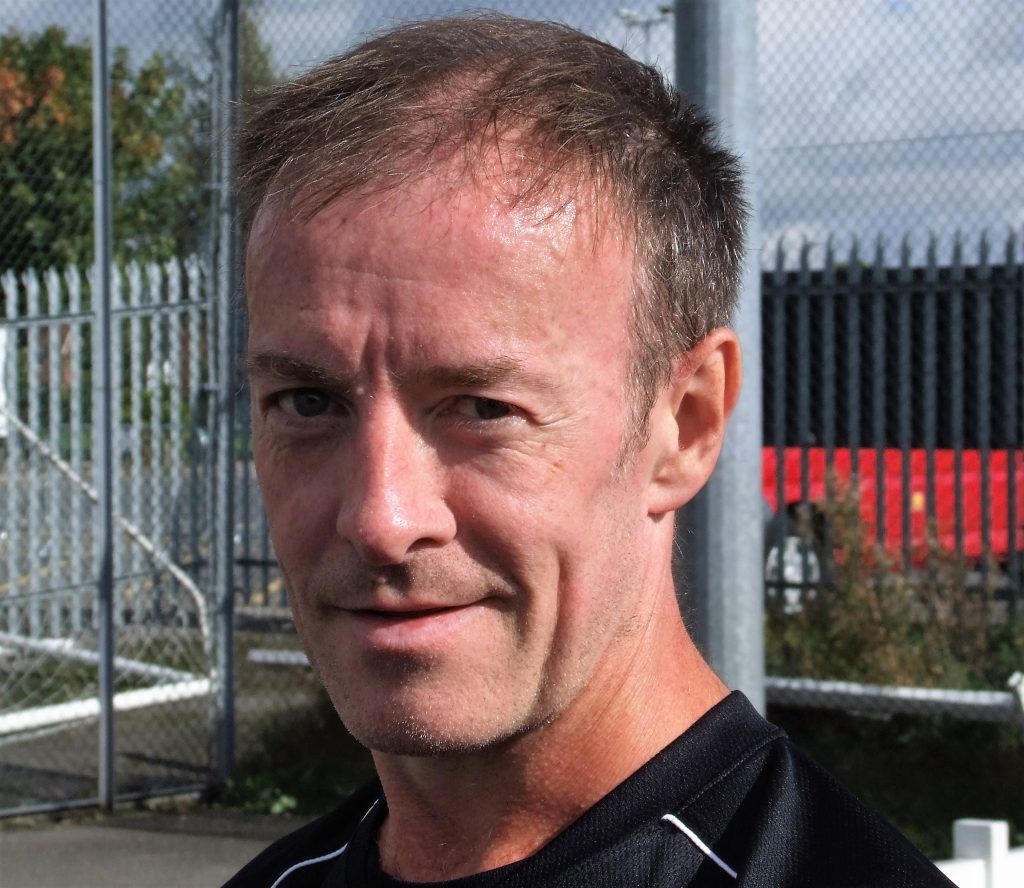 Trevor Brereton - winning ways continued
The second half was more even and the chances did dry up a little. Highlight of the half was not a goal but Mike Conroy almost pirouetting, whilst taking the kick-off, managed to end flat on his face, to the great amusement of all the players (and the ref!) Yardley then added a goal for Blacks before Conroy added a consolation for the Whites. A bit quick at first but the game settled down, couple of contacts and just the one run in ever deteriorating conditions.

Final score: Blacks 5 v 3 White
___________________________________________________
MORE REPORTS FROM OUR FIRST TUESDAY AFTER LOCKDOWN MK.2.
8th. December 'Unders' hour
AND THE RAIN CAME DOWN....as Referee Alan Richards writes...
incessant in nature , the cold and damp we all felt was summed up by the slate grey sky above our heads.
Pitch two. Assembled thereupon in White were Ken Thomas, Chris Turner, Joe Bemrose and John Gaskin rotating the role of sweeper keeper. They faced the Black bibbed threat of Mike Caldwell, John Kenyon , Clem White with Nigel Metcalfe anchoring things at the back.
When I came off the pitch at the end I thought we had seen a 6 - 6 draw, but on checking my notes in the warmth of home I see it was a 7 - 6 win for the team in Black.
Chris Turner put the Whites in front but John Kenyon levelled. Joe Bemrose struck but the lead was short lived as Clem White pounced to equalise. He added another with a deflection of Metcalfe but a third white run presented Caldwell with a penalty kick. "Straight down the middle" the late Peter Allis may have commented as Caldwell steered it perfectly.
Three apiece and all to play for.
Clem White added one just before half-time and 'led by four goals to three.
A brief interval and then back at it. Kenyon and Caldwell combined with a 'pot' each to put Black's in the lead 5-3. Bemrose hit back with his third and then capitalised from the penalty spot after a sudden burst of pace from White made it three runs for his team. Five goals to five with the clock walking down toward full time. Caldwell struck again to put Black's ahead but not to be outdone Ken Thomas notched his first for White's. According to my notes now Caldwell won it before the end with his third goal. Results matter but they aren't important. Neither are man of the match accolades and we don't do those, however the stand out player for White's today was Chris Turner, and for the Black bibs it was probably Nigel Metcalfe who was solid at the back and reliable when he ventured a little further forward.
Nigel cannot attend on Thursday as he is attending the funeral of Roger Place's Wife. On behalf of all at D.W.F.G. we extend our sympathy and our condolences to Roger and his family.
_________________________________________________________________________
From Pitch 2 a little earlier..
A four v. four : Refereed by Tony Cravagan, who writes....
BLACK MAGIC DENIED SWEET SUCCESS !
Straight out of the blocks Stewart put the White's one up before the starters gun had stopped smouldering, and to emphasise the White's early dominance Gibbons quickly added a second. Despite Stafford B unlucky with some near misses the Black's found it difficult to make inroads through a well organised White's defensive triangle of S/K Smith R , Harrison and Gibbons. Stewart, also available in breakaways , again scored a cracking third goal for the White's and tapped in another following a Black's defensive misunderstanding. Not to be overwhelmed Stafford B and Amison spearheaded the Black's attack with the latter pulling one back before half time.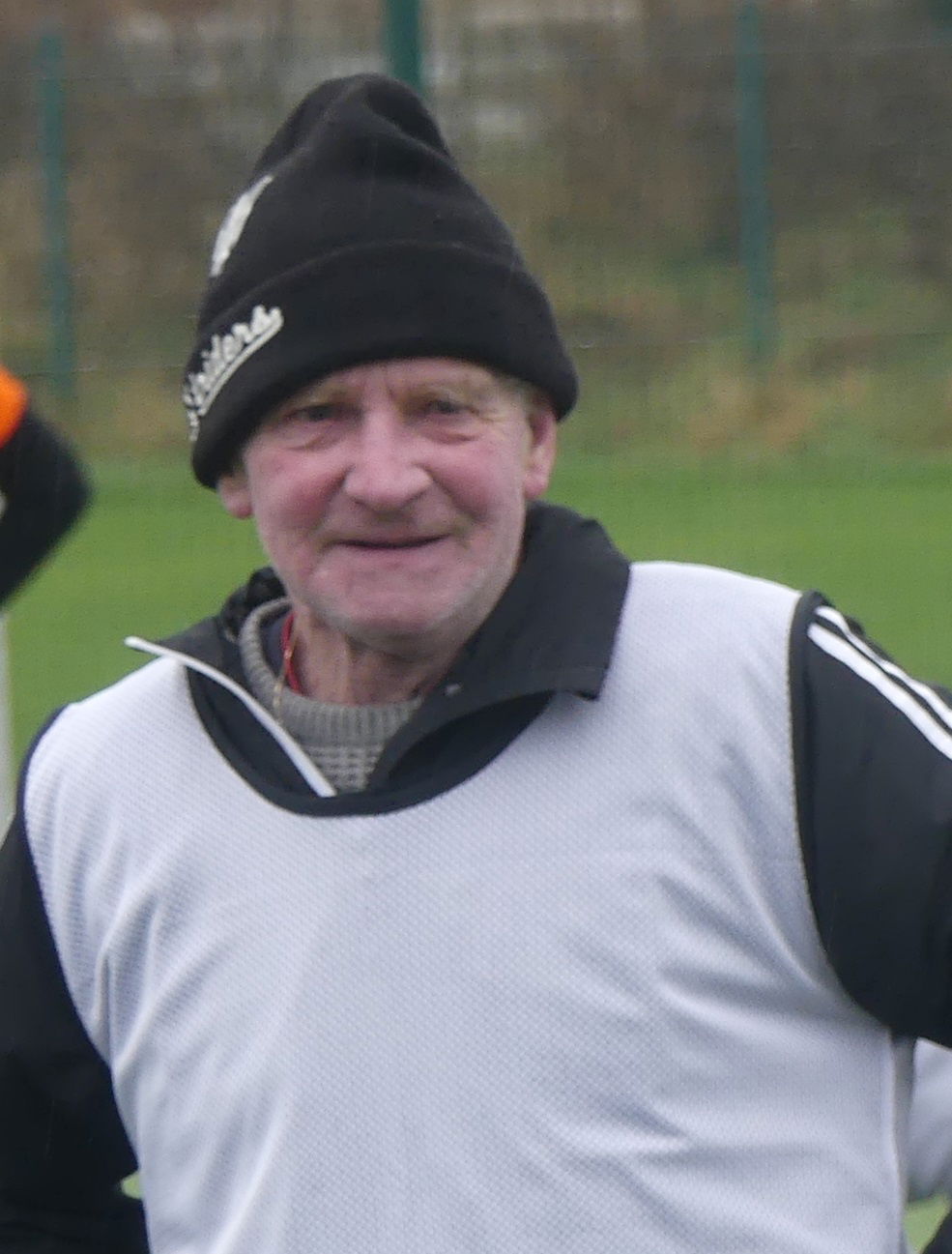 Jim Stewart
HT - Whites 4, Blacks 1
The second half mirrored the first with a Stewart special netting soon after the start. The Black's uphill task was encouraged with support from O'Brien and S/K Lancashire pushing up more enabling Amison to score his second goal. More pressure on the White's lead to an accumulation of three runs with Stafford B converting the awarded penalty. The Black's endeavours suffered a blow with a long distance shot from Smith R adding another for the White's. Undeterred the Black's fought back with Stafford B linking up with Amison allowing the latter to add another two goals.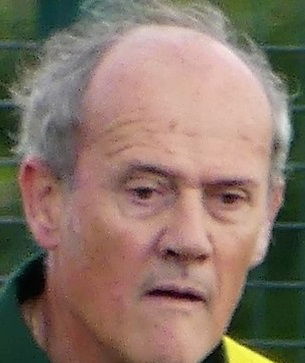 Steve Amison
The Black's now revitalised were however firmly dealt with thanks to Gibbons marshalling the White's and providing some excellent distribution which inevitably found Stewart in his usual right wing position to net his fifth goal. The Blacks never gave up and again Amison rode to the rescue with another goal but alas a little too late.
Full Time Score - Whites 7 ( Stewart 5, Gibbons, Smith R ) Blacks 6 ( Amison 5, Stafford B)
___________________________________________________________
Slow-mo Overs 3/11/20 click on this https://youtu.be/Vz1whCCyvUM
Early doors November 3rd. Set up - Warm up - Speed up https://www.youtube.com/watch?v=pRkWbfwBuYQ
Nov 3rd. UNDER'S Pitch 2 - Referee Tony Cravagan reports....
SLOW-MO Under's Pt. 1 https://youtu.be/jB5z3sCmF7s
Under's Pitch 2

5 White v 5 Blacks

A quick start for the White's with Kenyon scoring his first before the Black's had time to organise. The White's settled early which enabled Birtwistle to increase their lead. The Black's came more into the game with Conroy and Richards always a threat on the left but it was difficult to penetrate the White's strong defence with SK Cooper linking up well with Livesey. Despite the White's defensive wall Conroy managed to pull a goal back for the Black's but their formation was disrupted when Richards did not feel he could continue and was replaced by Bemrose. A very active Kenyon was on fire (even though it was raining by now) and completed his hat trick before half time.

HT - Whites 4 , Blacks 1

The second half saw the Black's strive to reduce the deficit with some fine touches from Breegan combining well with Gaskin on the right and Conroy on the opposite wing. The White's held firm with Leech working hard in midfield releasing Kenyon to add another goal. A change in strategy brought a change for the Black's with Gaskin taking up the SK position and Metcalfe moving to midfield giving more support to Bemrose. The White's were unperturbed and Birtwistle found the net with his second but with busy bee Kenyon buzzing around it wasn't long before his final sting secured number seven for the White's. The valiant Black's never gave up and Metcalfe was rewarded with a deserved consolation goal.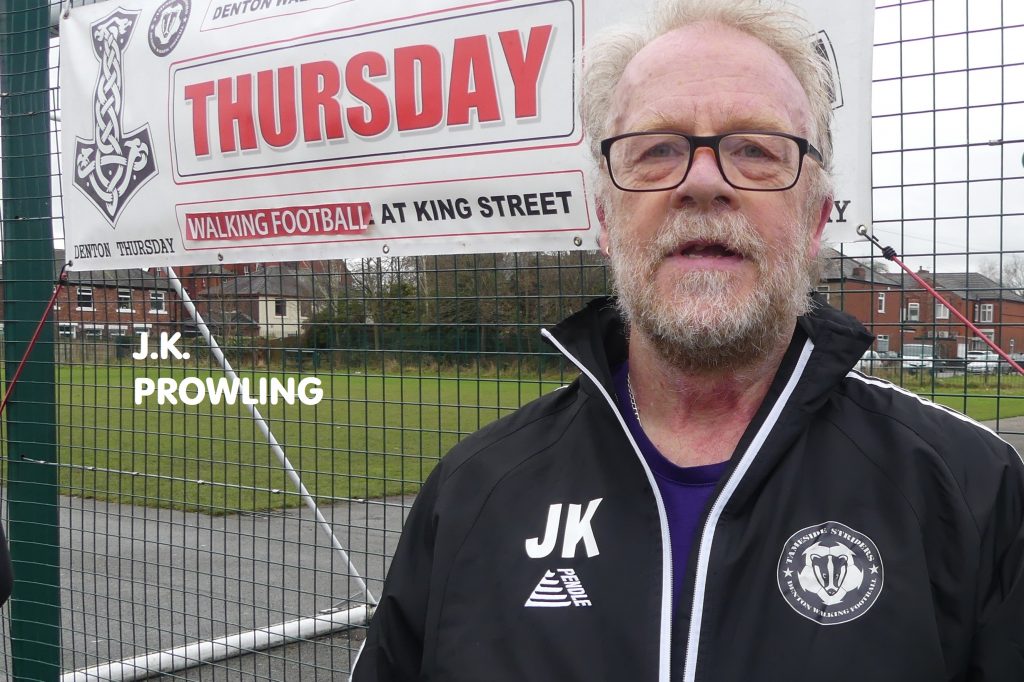 John Kenyon - pictured on a ThursdayFT - Whites 7 ( Kenyon 5, Birtwistle 2 ) , Blacks 2 ( Conroy, Metcalfe ).
Referee - Tony Cravagan
(thanks Tony - Ed.)

-----------------------------------------------------------------------------------------


______________________________
27th. October 2020 UNDERS (Game 4) 4 v. 4 Pitch Two ~~Referee Tony Cravagan who reports on the game...
4 Whites v 4 Blacks.
THE BOLD V. THE COLD !

Rain failed to dampen the spirits on Pitch 2 where the bold also fought the cold.

The Whites were quickly off the mark with an early Gaskin goal taking the Blacks by surprise. The lead was soon cancelled out with Kenyon opening the score for the Blacks. The Blacks SK Partington was supported well with Bemrose who's midfield movement brought about a second goal for the Blacks. Livesey performed his usual strong SK role always a rock at the back for the Whites but occasionally the rock has to crumble with Kenyon adding a second followed by Bemrose increasing the Blacks lead.. Stewart has a habit of scoring in every game and this was no exception with one of his trade mark shots from the right wing keeping the Whites in touch. Denis, always a menace, Cudahy scored a Beano of a goal for the Blacks but this was counteracted by a White's goal from hard working Thomas.


HT - Whites 3 , Blacks 4
All to play for in the second half and although Partington was the SK his venturing forward soon put him on the scoresheet quickly followed by a second goal. Ever industrious Kenyon eventually gave him his second goal after some near misses as the Blacks began to dominate. Bemrose always on the lookout for a long ranger found his target with his second goal and was unfortunate not to net another when the ball rebounded from the underside of the crossbar. The White's changed strategy with Gaskin taking over as Sweeper/Keeper giving Livesey more freedom to redress the balance however the Black's found more space with sharp shooter Bemrose getting his hat trick. All was not lost for the White's and deservingly Gaskin scored a fitting consolation goal just before the end.

Full Time - Whites 4, Blacks 9

An excellent game played in trying conditions with no runs recorded.

"Thank goodness for a hot drink after the game" ! - TC
_______________________________________________
27th. October 2020 UNDERS (allegedly) 4 v. 4 Pitch One ~~Referee Garry Pearce who reports on the game...
A hard fought four a side on pitch two in the second hour today. Following a very early running offence, Chris Turner opened the scoring for the Black's with a well struck shot. Chris then added his second before the ever-alert Pete Dixon pulled one back for the White's. Les Breegan then restored Black's two goal lead just before half-time.

Second half saw the Whites beginning to claw back the deficit. Pete Dixon got his second, quickly followed by an angled effort from the hitherto unlucky Keith Yardley. Steve Birtwistle then drew the White's level with a thumping shot , evading sweeper-keeper Alan Richards.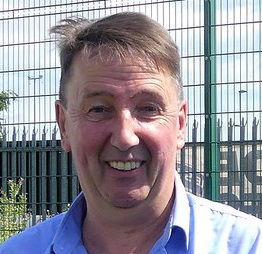 Pete Smith
Pete Smith then put Black's back in front, before they re-organised with Alan coming outfield and Pete dropping to sweeper-keeper. Alan, moving noticeably quicker now than previously, scored twice (with a run in-between), from decent angles, before the effervescent Chris added his third and rounded off the scoring, despite the attentions of White's 'keeper Colin Fielding.
A full on four a side in grotty conditions that certainly did not reflect the quality of some of the play.

Final score: Blacks 7 (Turner 3, Richards 2, Smith P, Breegan) v. Whites 4 (Dixon 2 , Yardley, Birtwistle )

- - - - - - - - - - - - - - - -
27th. October 2020 OVERS 4 v. 4 Pitch 2 ~~ Referee: Alan Richards: here is his report.....
Black's 8 ( Bemrose 4, Dean 2, Hayden, Partington) White's 7 (Harrison 4, Amison, O'Toole,Fielding)
BLACKS HOLD ON AT THE DEATH AS HARRISON PLAGUE NOT QUITE POTENT ENOUGH
What a game I Refereed on Pitch One today. 4 versus 4 with two collosal sweeper/keeper figures central to the action. Coling Fielding in white and Terry Hayden in black.
Although we kicked off in the dry it was soon raining goals , and quality goals many of them were too.

The confident Steve Amison gliding across the 3g was first on target for whites, but Blacks hit back with ever reliable Bemrose and then the industrious Ken Dean to get their noses in front. Terry Harrison enjoying his ten o'clock game and a thorn in the side of Black's pounced for another White strike and Colin Fielding striding majestically from the back put them ahead.
A Partington stunner from two metres outside HIS OWN 'D' found the mini-net and it was three apiece at half time. Only one run registered on the smaller pitch both teams were also avoiding contact aside from one or two minor instances. The restraint on show at the moment is commendable. We really are a common sense group.
Terry Hayden also struck brilliantly from deep to score, and Ken Dean finished very smartly too, but it was nip and tuck as Laurie O'Toole looking back to full fitness and wearing White found the back of the net.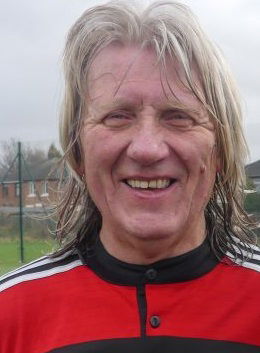 Joe Bemrose - four goals today.
Joe Bemrose made it six four - great precision from Joe today - and he added another glorious pot from some distance. to make it seven-five. ! but ten o'clock Terry struck again, and again in short order to equalise. At seven-seven the tension mounted and Joe Bemrose grabbed his fourth goal to put the Black's ahead and it looked all over. (The Ref hoped so because he was running out of paper ! )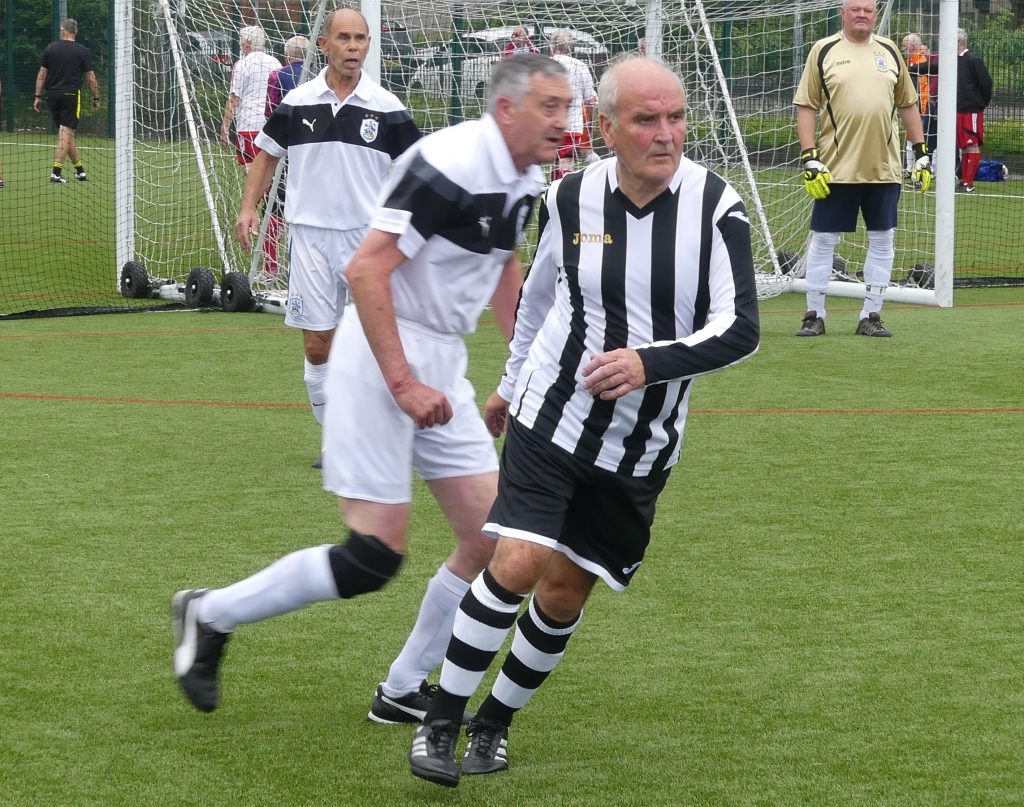 Terry Harrison in Striders stripes
There's 'Something' in the way Harrison moves these days though and he was a constant threat. I seemed justice has been served when a third Black run at the death saw the former taxi-man presented with a gilt edged opportunity to equalise from fourteen metres but he blew the chance of going nap with five !
Within a minute or two the whistle was sounded with a press of the thumb and a great game came to a close. Blacks edged it eight goals to seven but there was little more than a fag paper between two very well balanced teams. Good selection once again (he added) .
__________________________________________________________________________________________________________________________
20.10.20 Another good day at Denton. There may be some match reports from those in a position to do them later. There will also be a link to a few photo's and some video as it gets edited and uploaded - a time consuming process. I also have to film a two minute video for one of our benefactors so it's a busy time at the moment please be patient in waiting for links - thank you all.
First half pitch one - unedited. click on the link below...but first some words from Garry Pearce.
Four v Four on Pitch one, under pleasant October sun. Blacks were first to score with a neat finish from Barry. Roy Smith equalised for the Whites before Colin Fielding restored the Blacks lead. Alan Brodie made the scores level again, only for Pete Jarvis to restore Blacks lead once more. Gordon then equalised for the Whites yet again. The game was looking evenly matched but then another goal from Pete Jarvis and an angled drive from Barry took the Blacks in to half-time 5 - 3 ahead.
Blacks then set about consolidating their lead and although Whites battled manfully, they couldn't break through in the second half. Pete Jarvis added to his first half brace, giving him his hat-trick, the Black's scoring was rounded off by the persistent Terry Harrison with a good angled shot. A few runs, bits of accidental contact, a good game in a good spirit.
Final Score: Blacks 7 v 3 Whites
watch the games first half yourself at the link below...
https://www.youtube.com/watch?v=w1XEikjb2Kc
and here's the second half https://youtu.be/IA8JZFO5Lfo
Tony Cravagan played on pitch 2 - here are his thoughts...click below for video
4 Whites v 4 Blacks

Not surprising Lancashire Sweeper keeper for the Blacks and Cravagan for the Whites.
A rare goal from Cravagan soon put the Whites in the lead but this was counteracted by Stafford B in his usual snifter role.
Every time Stafford B receives the ball he seems to score and it wasn't long before he added a second for the Blacks.
Not to be outdone Stewart scored one of his hall marked goals for the Whites.
The Blacks mounted more attacks in retaliation with Moore and Amison combining well to feed potent Stafford. This left gaps at the back which was capitalised by a Cravagan converted a long shot to give the lead to the Whites.
Not deterred yes that man Stafford popped up again to equalise but birthday boy Partington celebrated with a solo effort to put the Whites back in front. Dean was struggling with a knee problem which began to disrupt the Whites play and sensing this yes Stafford B completed an excellent move from the Blacks to make it number four.

FT - Whites 4, Blacks 4

Thanks to Denis Cudahy for his excellent refereeing.
Great game from all.


-------------------------------------
13.10.20 Game video from the 'Overs' much music, and an alleged audio commentary. Contains references to socks and see through nighties !
13.10.20
Fifteen players in the first hour and we will have some links to video in due course.
What followed was a depleted Under's game with numbers well down due to circumstances we're all aware of by now....
The rain arrived as the Under's gathered for a quick warm up courtesy of fitness coach David Partington. One or two unlikely lingerers had agreed to stay on to boost the numbers and we managed to get up to 5 v. 5. Thanks to Brian Stafford for waiting so he could drop David Wilson off in Hyde after the match.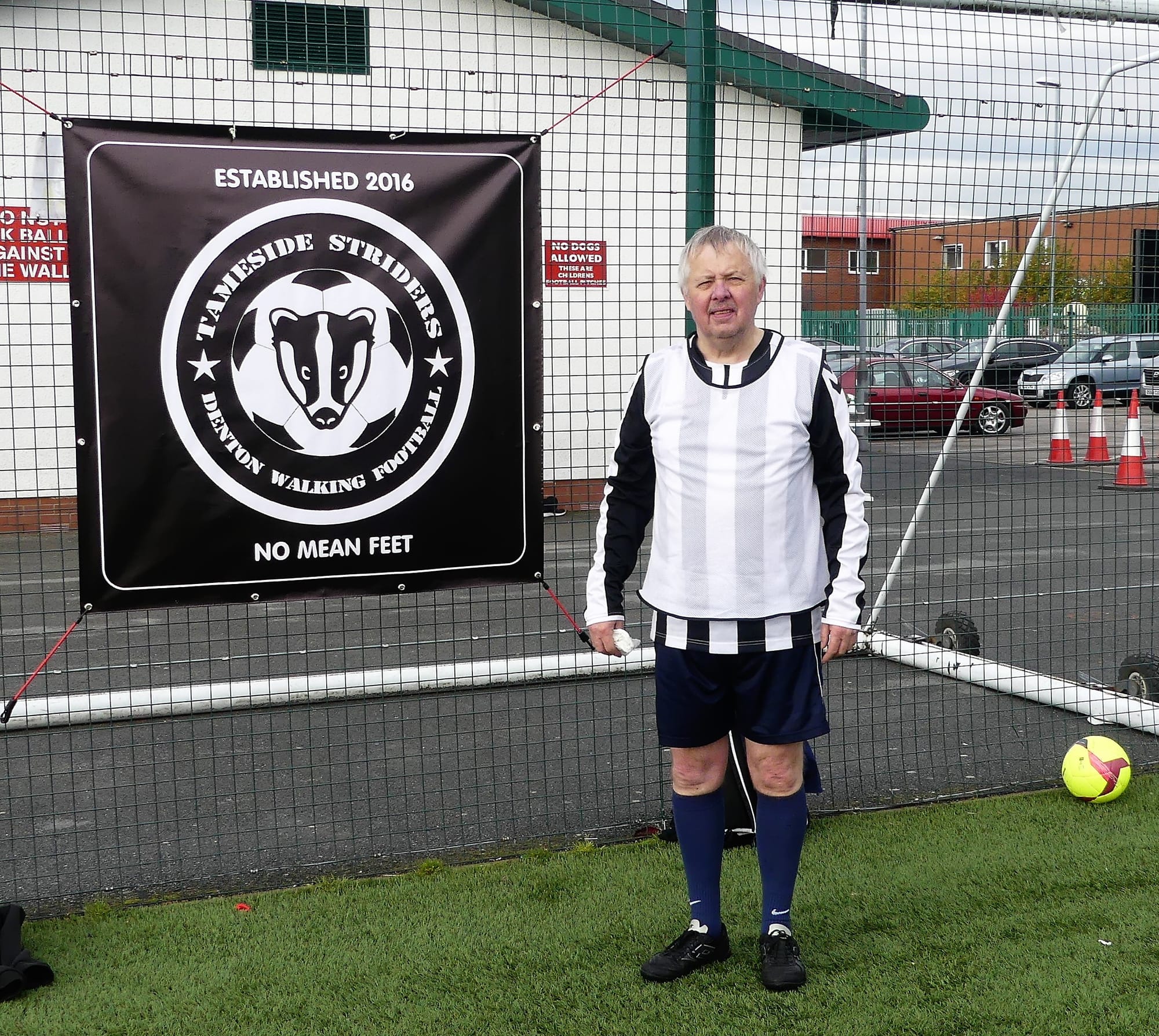 Brian Stafford - waited for Wilson
ALL HAIL TERRY 'the taxi' HARRISON as his HAT TRICK ranks among the best !
Black Bibs 4 (Harrison 3, Jones o.g.) : White Bibs 2 (Stewart, Dixon)
And a match it was...as Alan Richards reports...
Six or seven minutes in before we had a run! Then one for each team in quick succession.
Nimble footed ball artist Terry Harrison put the Black's into the lead with a deftly taken goal, then doubled it within a minute ! Harrison on a roll and White's on the rack. Denis Cudahy and Adrian Jones were the inspiration for White's and despite efforts to get Dixon in on goal they couldn't penetrate the Black's defences. Livesey dominant. Roy Smith, White's sweeper/keeper could do nothing about a third Black goal when a cruel deflection off Jones bounced into the net behind him !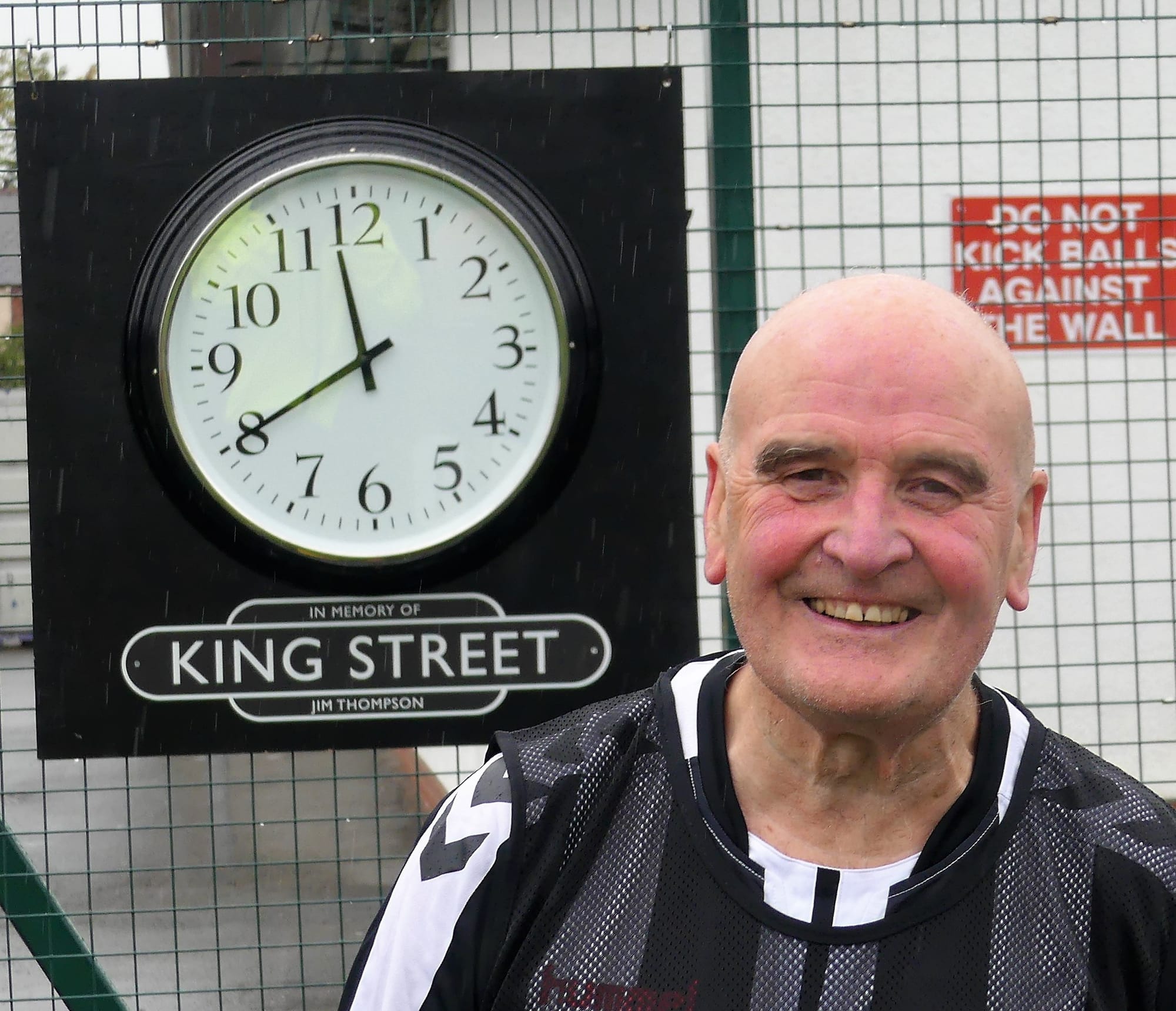 Ball artist Terry Harrison - soon to switch to ten o'clock
Three nil at the break and Blacks purring through Partington with Cravagan in a supporting role on the right. Phil Livesey was solid at the back all morning and had rarely been troubled but soon into the second half Jim Stewart slotted home one of his precision passes into the onion bag.
It looked like a comeback was on the cards when 'strider of the week' Peter Dixon reduced the deficit further with a well taken goal at the clock end. Blacks were stirred, but not shaken. David Wilson thanks to good service from those behind him had several chances to restore the cushion but could not quite get the end result he wanted. Cravagan too steered some shots just wide.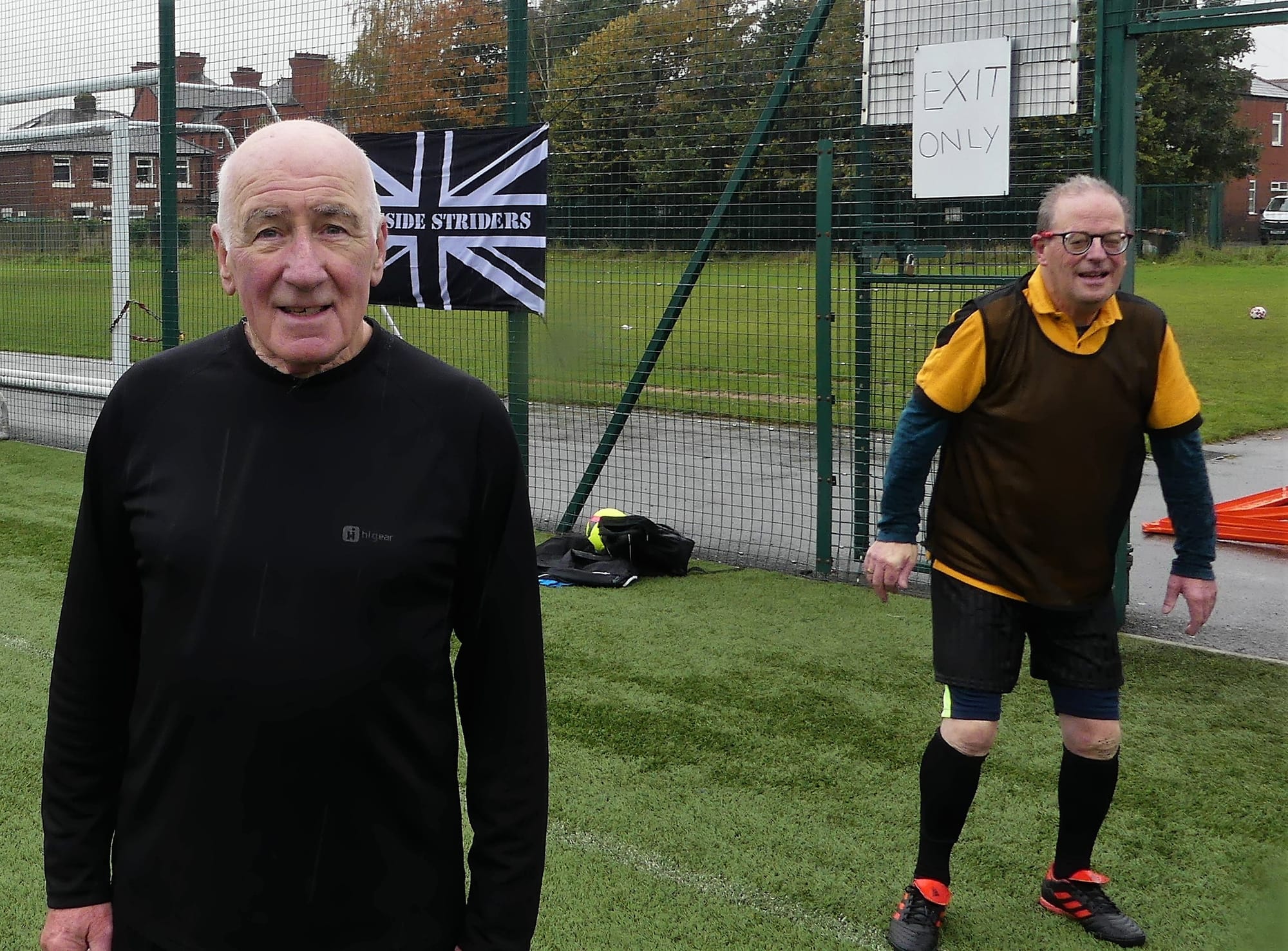 As the game speeded up the White's were penalised a third time and Terry Harrison put the game beyond doubt from the penalty spot.
With only one penalised run all morning the Black team were worthy winners.
_______________________________________________________________
Thirty four Striders were welcomed with an ever-so-slightly increased sense of trepidation this morning. Coincidentally, National Badger Day. This poor , noble creature from which we take our nickname is being slaughtered on an industrial scale due to economics. A vaccine to prevent TB in cattle is available but costly. If we ever get to that stage with Covid let's hope money doesn't play a part. Meanwhile the slaughter continues. Threatened species. Ring any bells ?
ON THE PITCH...
Garry Pearce reports from pitch one...
An excellent game on Pitch one to start the day's encounters, plenty of shots for both teams and it was Blacks that scored the only goal of the half with a tidy longish range finish from Party.
The second half saw the goals begin to flow and it wasn't long before the pressure that Blacks were applying paid off when a handball blocking a goal-bound effort resulted in a penalty, duly dispatched by Gordon. Alan Brodie, who had been in several good positions during the first half, then added to the Black's lead, with a well-placed, sweeping shot. The industrious Mike Kieron, who had been all over the pitch, pulled one back for the Whites. Not to be outdone, Party then somehow contrived to add another for the Blacks from the most impossible of angles, surprising everyone (except himself!).
Barry Smith, who had been getting his eye in for most of the game, then added a quick double for the whites. The second of which was a fine finish after a concise, swift move. Unfortunately, time had run out for the Whites and although finishing the strongest, Blacks held sway on the day.
Bits of contact and just the one run today, played in a good spirit as ever.

Final score: Blacks 4 v 3 Whites.
Yours truly played the majority of a 6 v. 6 'Overs' on pitch 2 where Denis Cudahy was a welcome visitor and Referee. Denis signed on today and also bought a group shirt - hope it fits, Denis.
I played a small part in setting up another classic Jimmy Stewart finish. What a sweeper/keeper exponent he has become. A David Wilson strike and a Tony Cravagan own goal I think tipped the balance in the first half towards the blacks . Roy Smith shoring things up at the back for them and Tony Cravagan, later Colin Fielding. David Fielding (no relation, despite the rumours) took Richards' place for the White's and there was an equaliser. A good game finished in a 'Desmond' (two-two) I understand a penalty was missed for Blacks.
Garry Pearce Refereed the game on pitch one - a 5 v. 5.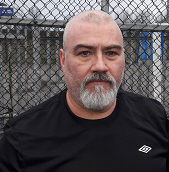 Denis Cudahy
He also stayed a while longer to take select the teams and take charge of the Under's game first- half . The teams were made up entirely of 'eleven o'clockers with the exception of Denis Cudahy who played in this one. (Thanks so much to prospective 'lingerer' Joe Bemrose for his patience and understanding). First half was even with two black runs on the board and deadlocked at 0 - 0. The teams very well balanced.
In the second half Alan Richards took over Refereeing and the Black's soon conceded a penalty for a third run. Mike Conroy hit the post. White's were speeding up a tad too and this time Mike Caldwell made no mistake from the spot at the St.Lawrence's end. Both teams were playing expansive walking football in the space provided (three quarter pitch) . Fielding D enjoying the space on the right. A mobile Conroy tracking left and right looking for the equaliser. Paul Theobald looking dangerous with several attempts on goal for Black's. Hadge Cooper S/k for the White team unruffled and steadfast. His counterpart in Black Andy Muir, perhaps a surprise choice for s/k did a fine job at the other end as White's pressed . The equaliser came when Steve Foster steered the ball home. Honours even at one-one and a good game. Thanks to all of the players for making it a fairly easy game to Referee - which is how it should be. (The thanks at the end were well received).
Peter Wright , Chairman of D.Y.F.C. was going to join us for a game today but unfortunately only the wrong footwear stopped him. He will be welcome to try the walking game any time. Maybe as soon as next week.
A photography free morning for a change.
By my reckoning half of one percent of the population in the Manchester area are now infected. We must do all we can to keep the virus at bay. If you are going to cough on the pitch you must cover your mouth or cough into the crook of your elbow. If you contract a cold or feel unwell please stay away for a while. - Ed.
__________________________________________________________________________________
29.9.20
With an unmanned camera (just can't get the volunteers) when I took to the pitch for I think the first time since February this clip is mostly of interest to those who played, and obviously coverage is limited. There's quite an entertaining and revealing soundtrack from the adjacent pitch as two sets of 'Overs' play a good game of A.S.K.A.N.C.E. SWEEPER/KEEPER with Referee Garry Pearce encouraging people to walk. I admit to some running myself - I put it down to excitement. Here's the link. I was going to call it 'Stick it up your Rickter' but went for 'hits and misses'
Photographs from today 29.9.20 'Thirsty work' https://www.flickr.com/photos/stridershots/albums/72157716186568972
Fresh from playing today Tony Cravagan volunteered to Referee the Under's game on pitch one. He takes up the story in his own words....
The sun shone on the White's today on the Under's game on pitch 1.
5 Whites v 5 Blacks.

Hadge Cooper started as SK for the Blacks and Keith Burrows at the opposite end for the Whites both employing the new Rules.
Mike Caldwell's early goal for the Blacks was quickly cancelled out by Joe Bemrose but the even score was not to last long as the Whites began to take advantage of gaps in the Blacks defence. Sterling work from Colin Fielding and a Martin Heath goal could not contain the increasingly confident Whites with which saw Joe Bemrose adding his second accompanied with goals from John Gaskin and Keith Yardley before half time.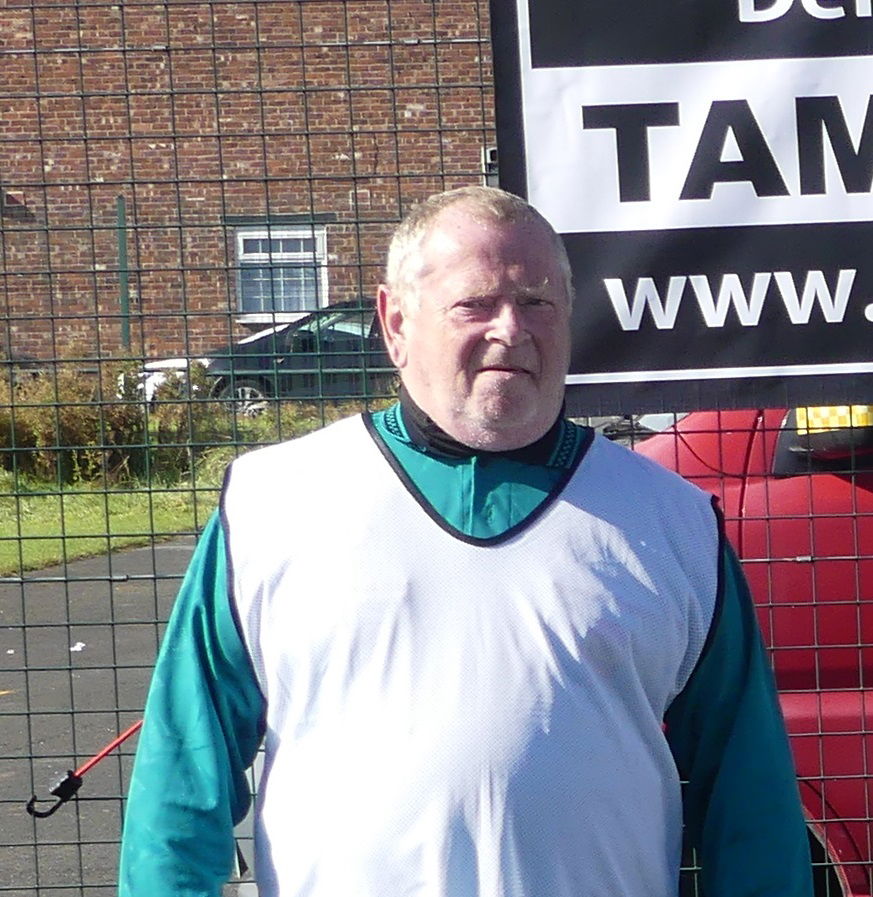 Keith Burrows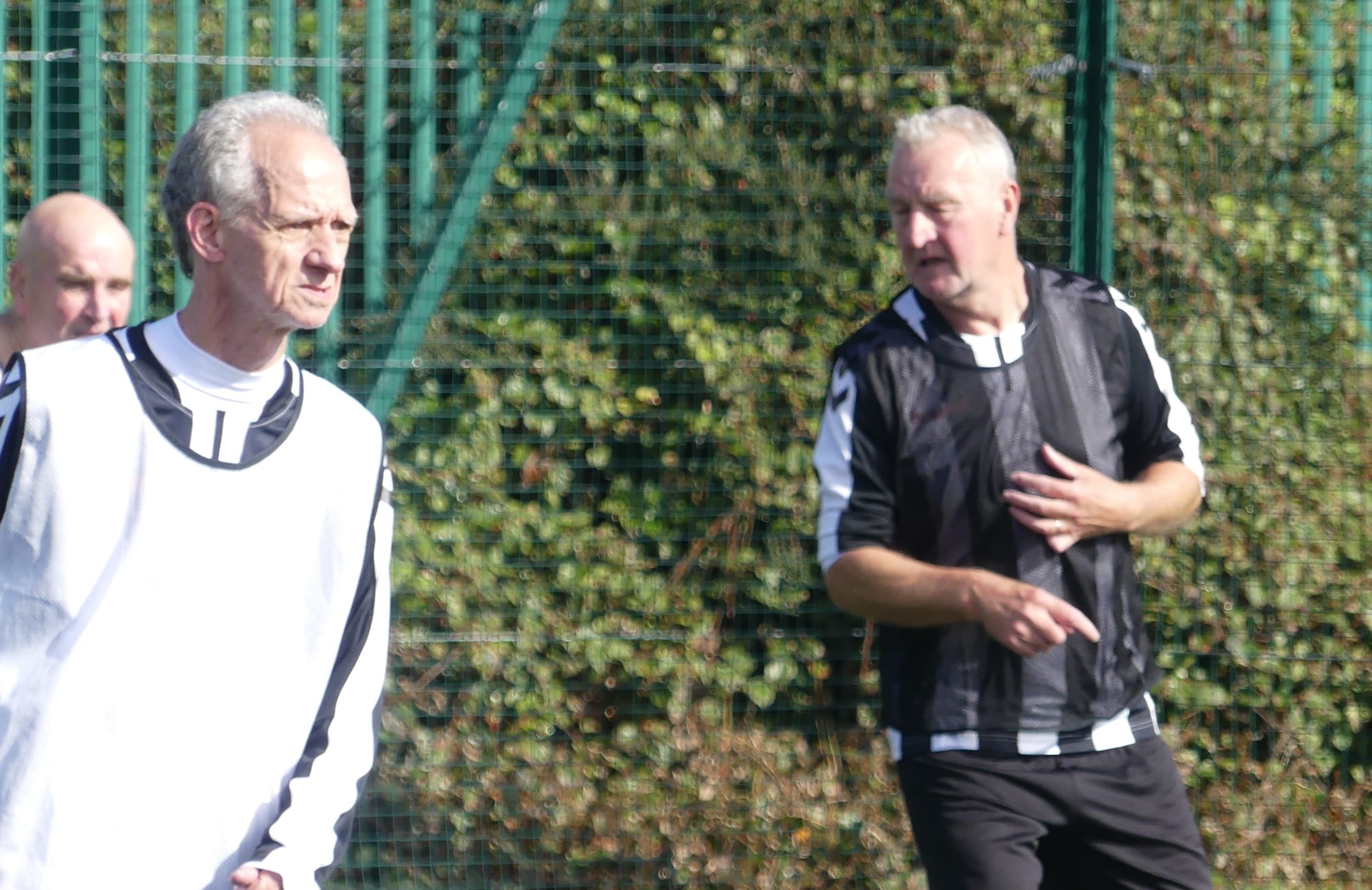 Solid endeavour on Pitch 1The second half started in a similar vein for the Whites and Terry Harrison was on hand to add a further two. The Blacks moved up to redress the balance with Pete Dixon , returning from an injury, slotting one home. The attacking positioning from the Blacks left openings at the back which lead to accumulating 3 runs trying to defend. Keith Burrows converted the resulting penalty from the new 7 metre spot and Keith scored a long range second goal after Keith Yardley also added to his initial goal.Final score - Whites 9, Blacks 3
Referee - Tony Cravagan

29.9.20 Tony Cravagan also played in 'Overs' hour earlier in a black bib and here are his thoughts on the game...
Overs pitch 2
5 whites v 5 Blacks. (Ed's note - photolink later from both pitches)

No room for gloom as 10 Overs chased away the early mist on Pitch 2.
With Bill Lancashire taking up the SK position for the Black.s Tony Cravagan had the rare opportunity of opening the score from up front. Dave Partington marshalled the Blacks midfield and broke through to add a second Blacks goal. Not deterred Joe Bemrose brought the Whites back into contention with his usual signature execution. Dave Cooper on the right and Jimmy Stewart on the left fed balls into the centre but the Whites played a little too deep to take advantage. Tony Cravagan scored his second to give the Blacks a comfortable lead at half time.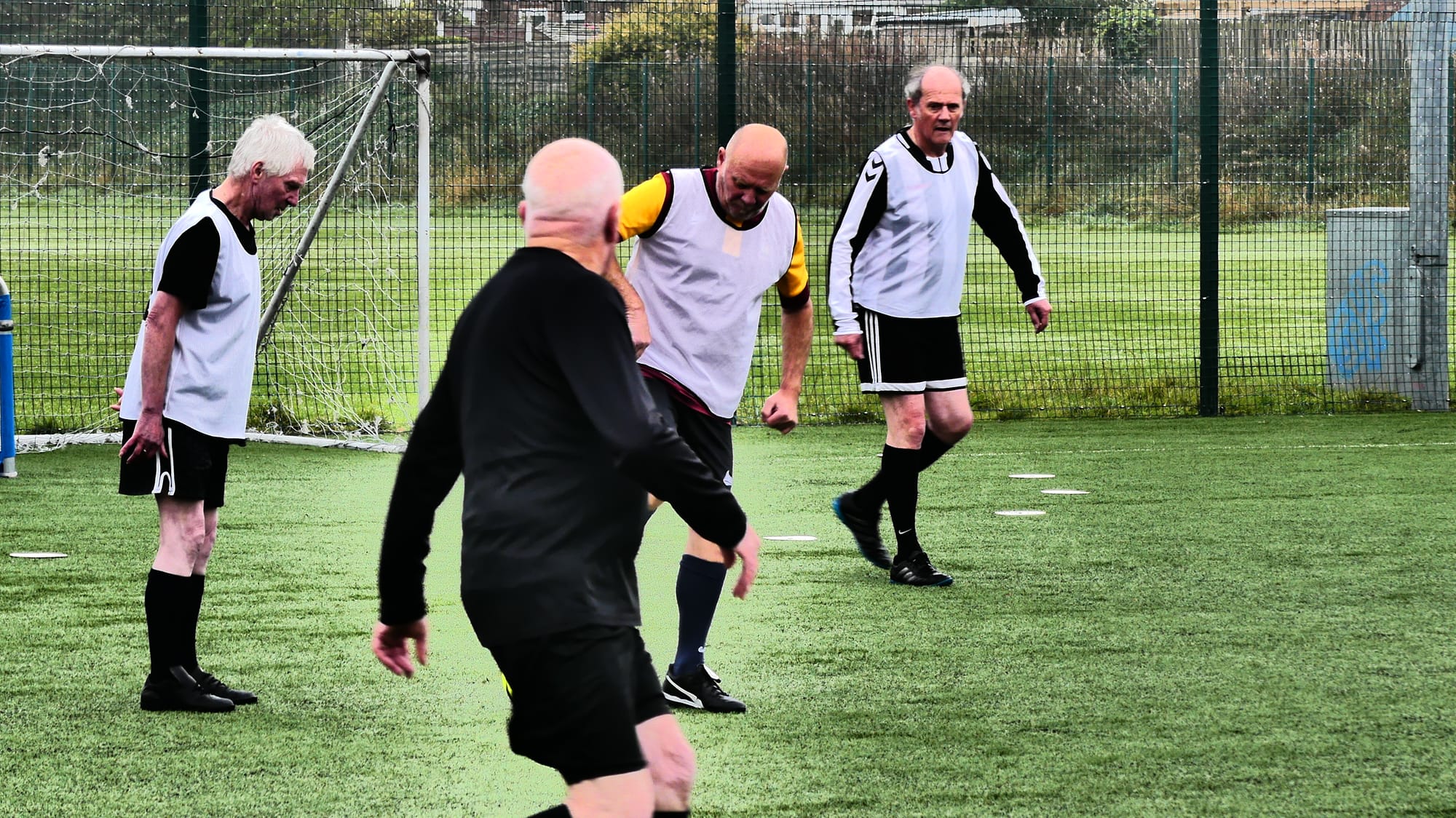 The Whites tightened their defence in the second half with Alan Brodie and Steve Amison taking control. Bernard Roddy was struggling on his return from injury with a knee problem and was replaced by Alan Richards for the Blacks. Always a threat Jimmy Stewart gave the Whites more hope with one of his accurate specials and again repeated this later in the game. The Blacks came back with two goals from unassuming John Williams and victory was sealed with a final Bill Lancashire goal for the Blacks after some near misses from Alan Richards.
Final score - Whites 3, Blacks 6
Big thanks to Keith Burrows for his excellent refereeing.
29th. September...Garry Pearce had a Referee's eye view on two games today and here are his thoughts on both ...
Blacks v Whites on Pitch one today. Blacks got away to a good start with an early sweet finish from Terry Hayden. The second score for Blacks came courtesy of an own goal of the unfortunate Brian Stafford, when the ball came back to him a bit too quickly and he couldn't really avoid putting into his own net.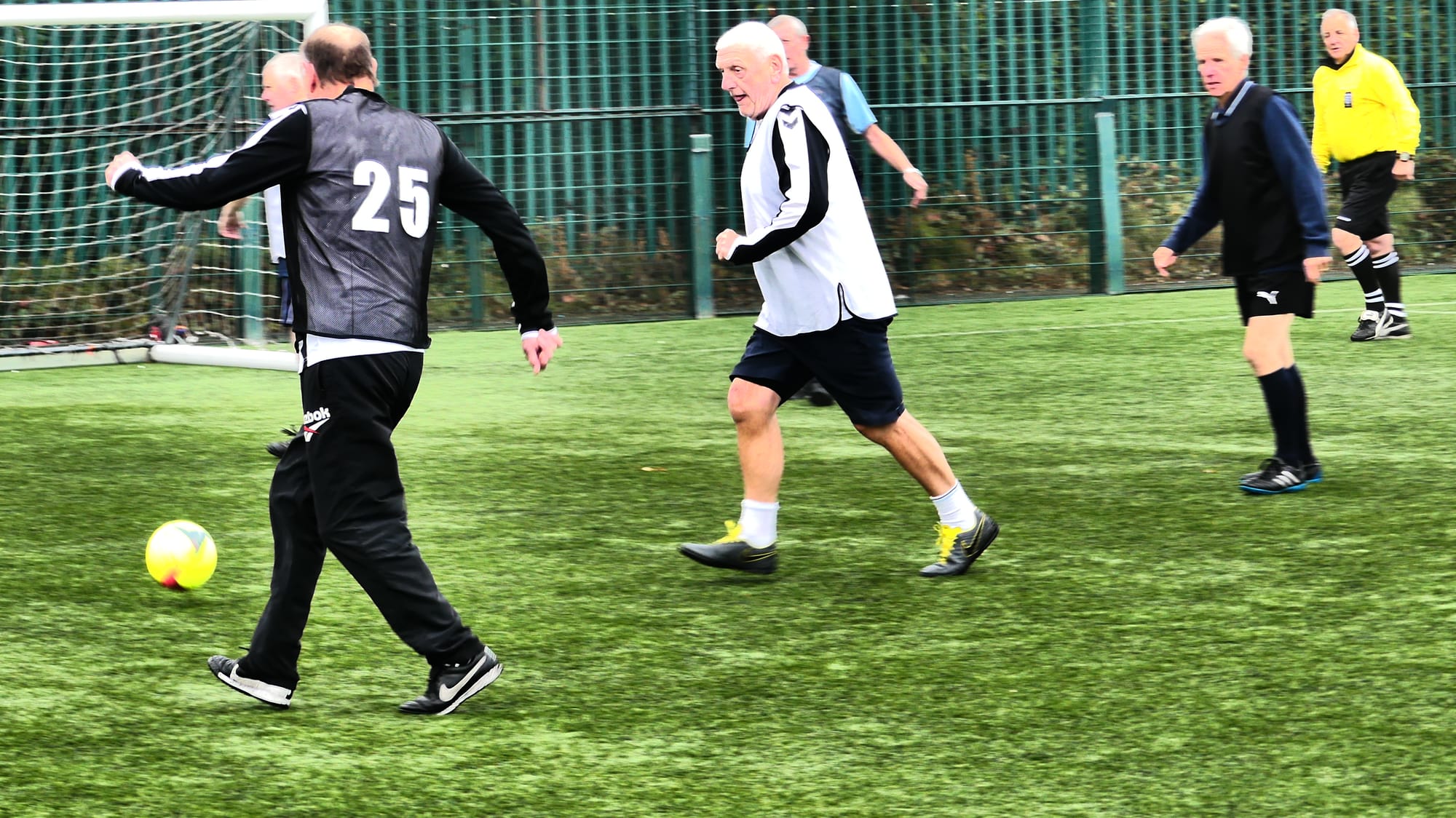 Colin Fielding reduced the deficit with a clever lifted effort but Pete Jarvis extended Blacks lead again just before half time. A penalty was then awarded to the Whites following ingress to the penalty area but this was missed. Second half was much more equal and a goal from Gordon helped the Whites cause. Pete Jarvis netted his second shortly afterwards and got his hat-trick from the penalty spot, following three runs by the Whites. Gordon added his second and White's third just before the end and that completed the scoring. Final score: Blacks 5 v 3 Whites.
On pitch two for the second hour, four a side. Pete Smith, a rare visitor to these parts, opened the scoring for the Whites with a trademark effort. Mike Conroy and Steve Wingrove then put excellent efforts away to put Blacks ahead. Pete Smith added his second just before half time to send the teams in level.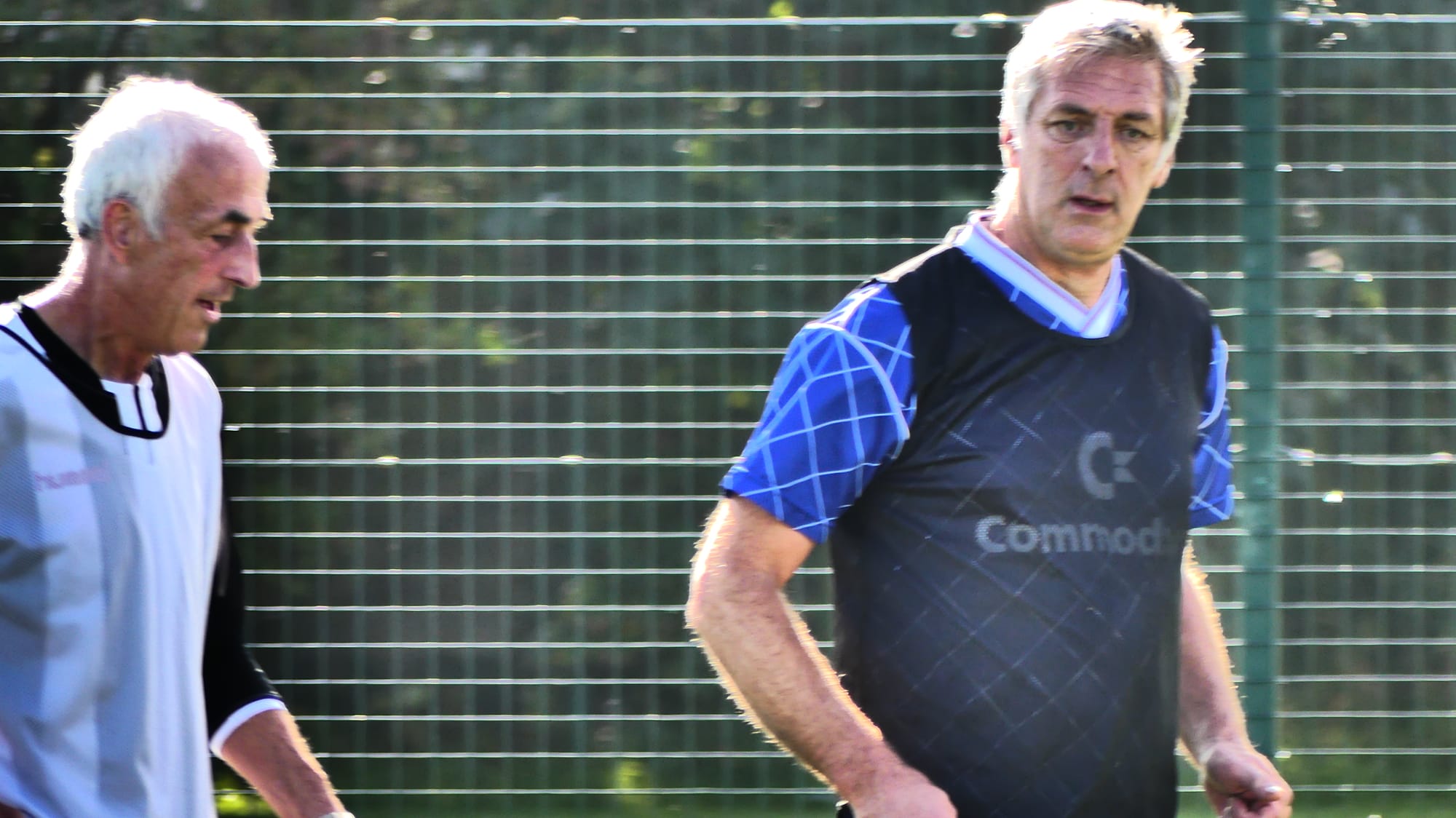 According to my records, (which may be disputed!) Mike Conroy then scored three more times before Paul Theobald pulled one back for the Whites. 'Theo' added another for the Whites before Steve Wingrove added an absolute unstoppable effort for the Blacks. Some concern was expressed by the lads at the end of the game, thinking it may have been a five all draw but the ref's notes said the final score was 6 v 5 in Blacks favour. Right or wrong, it was an tremendous match, played in the right spirit, with all eight players putting in a fantastic shift!
(Results matter but aren't important thanks for the recap Garry - Ed.)
22.9.20 GARRY PEARCE Refereed two games for us once again today and here are his thoughts on the proceedings.....
Match reports:
20 walkers for the first hour today, all checked in by Dave, Gordon and Tony. Soon split into ten of each colour, with two refs, Garry on pitch one and Tony and Gordon sharing the duties on pitch two.

On pitch one, Brian Stafford opened the scoring with a neat right foot finish for the Blacks, before an equaliser for the Whites from Pete Jarvis. Alan Brodie put the Whites back in front before half-time. Joe Bemrose levelled the scores early in the second half. With both sides trying for the winner, Black's sweeper-keeper Colin Fielding (who had an excellent game) pushed up, leaving a space at the back. The ball fell readily to Alan Brodie, who strode forward and made no mistake.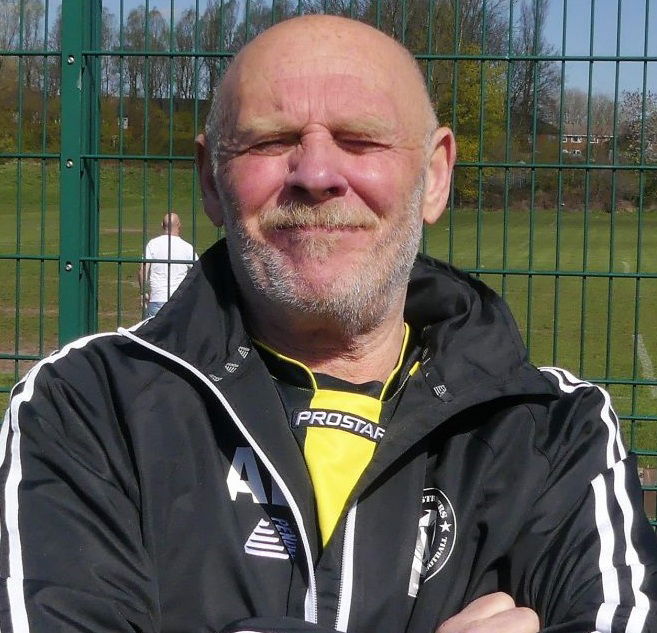 Alan Brodie - a brace today
Final score: Blacks 2 v 3 Whites
In the second hour 16 players showed up, once checked in, they were readily split into two groups of eight, and two, four-a-side games ensued. Referees were myself on pitch one and Colin Fielding on pitch two.

On pitch one the start of the game was extraordinary, Blacks went two up within 55 seconds, following two strikes from Paul Theobald. Mike Caldwell immediately pulled one back for the Whites before first Mike Conroy and then 'Theo' again added two more for the Blacks. Pete Collins then rolled in a reply for the Whites, half time Black's ahead 4-2. The second half started quickly and Adie Jones put Blacks further ahead. Pete Collins placed another one for the Whites but two more quick goals from Adie Jones saw him complete his hat-trick. Mike Caldwell sneaked one for the Whites but Theo added his fourth of the game shortly after. Mike Caldwell wasn't finished however and added a consolation for the Whites just before the final whistle. Game played in the proper spirit, bits of contact and running but a good game to play in and referee.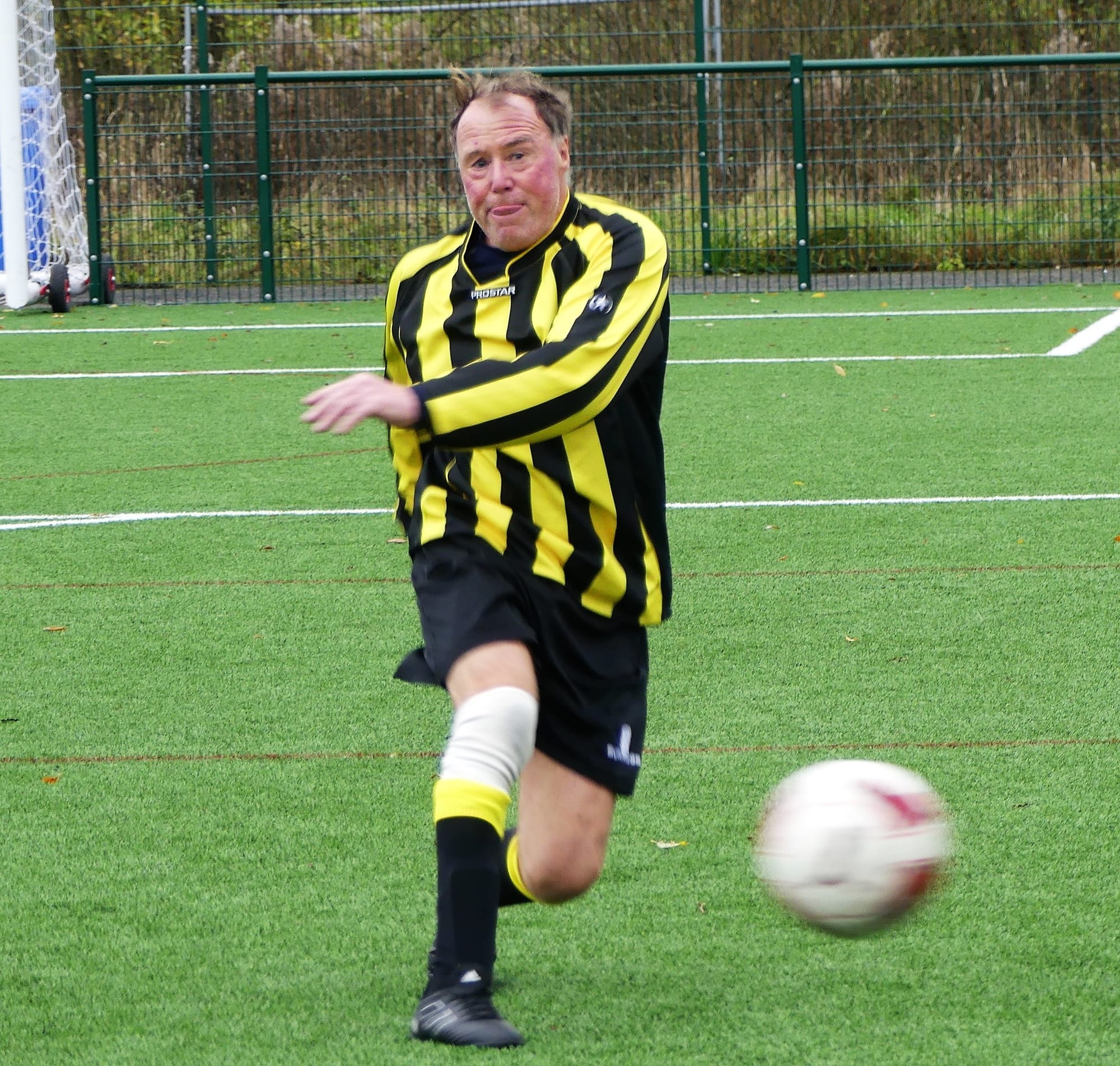 Adrian Jones - a hat trick today !
Final score: Blacks 9 v 5 Whites.
Team photo's below by David Partington (thanks) - surprised to see a couple of individuals there today. Whilst numbers continue to be manageable it's important that players stick to their designated days with the exception of those who played twice weekly regularly before lockdown. ie. If you started playing on a Thursday then stick to Thursday's please unless an arrangement has been made, especially if you're a relative newcomer to the group. Remember that if everyone turns up at the same time it would result in nothing but chaos. We have over EIGHTY members !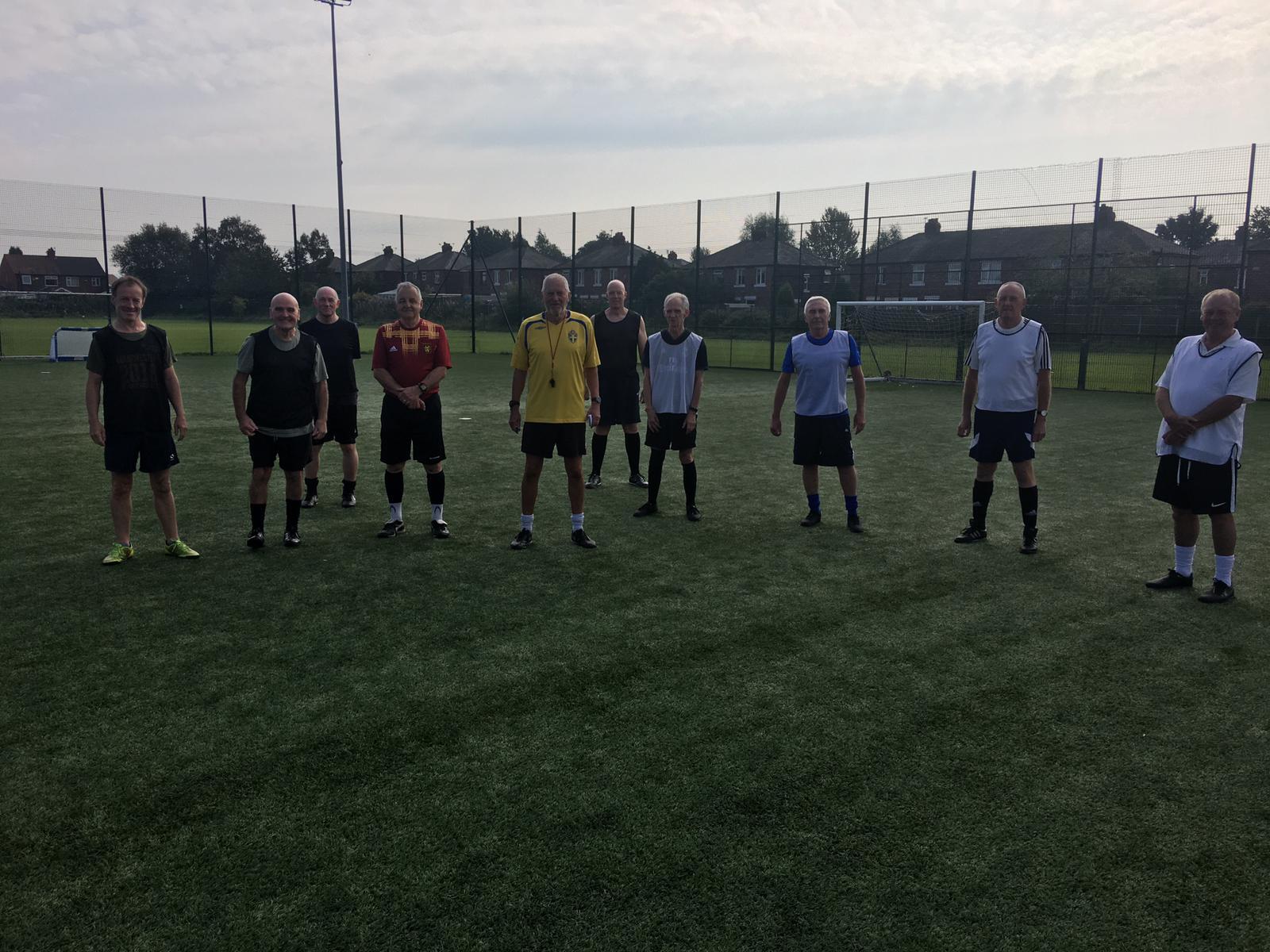 Photo's by David Partington
_____________________________________________________________
15.9.20 Keith Yardley's thoughts (from Facebook) about the 'Under's session' today
Grateful to Garry for refereeing today's unders game which featured no real contact, running or backchat to speak of, in his usual efficient style. A game which was a good example following Alan's description of the general attitude of players, on today's Tuesday news.
It actually ended up 2-1 to the white bibs with a late Steve Foster goal after a lay off from a free kick. Two fine goals previous to that from Martyn Heath (whites) and Paul Theobald (blacks) continuing his recent goal fest.
15th. Editor's eyes and ears in other hands to day as Gordon Nixon and David Partington report from King Street:
15th. September 2020 : Good turnout today at Denton 20 for the first hour saw 2 games of 5v5 three touch SWEEPER/KEEPER , Garry Pearce refereed one game, the other one was a game of 2 Ref's myself doing the honours for a very good first half which at the break was an even a well balanced 4 -4 with 3 of the black bibs goals coming from the in-form Pete Jarvis at the re start Dave P took up the whistle and Refereed the 2nd Half, not sure of the final score.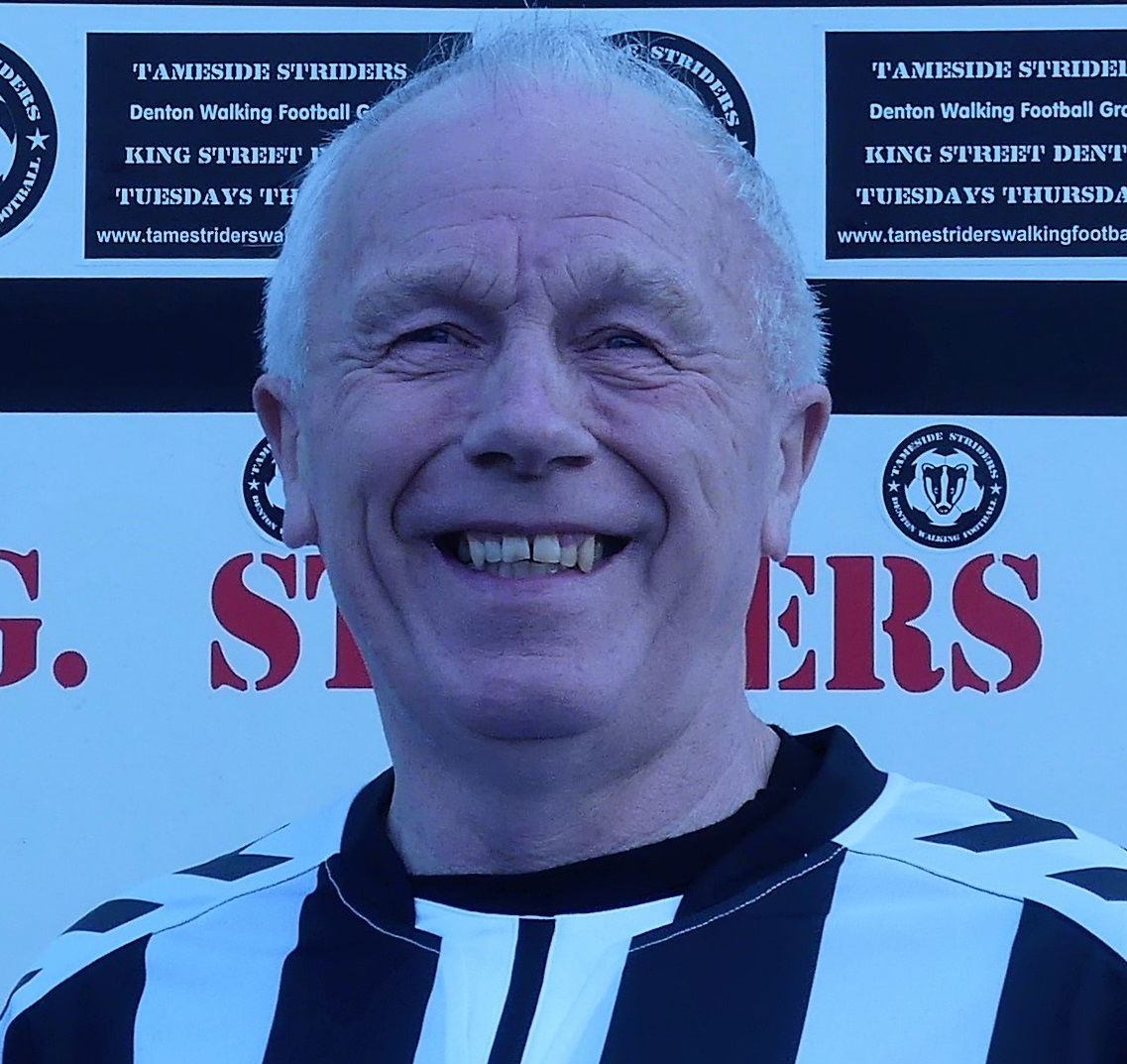 Peter Jarvis - in form
The Under's session saw a 7 v. 7 on one pitch still 3 touch and SWEEPER/KEEPER l think this game ended 1-1, great day only made better by the weather.
Over to David Partington " Yes the game I took over from Gordon ended 6 -4 a beauty from Little Jimmy Stewart out on the wing, and a Superb back heeled goal from Colin Fielding,it was enough to see the White bibs home for a good win, both teams played well and really enjoyed themselves in the sunshine"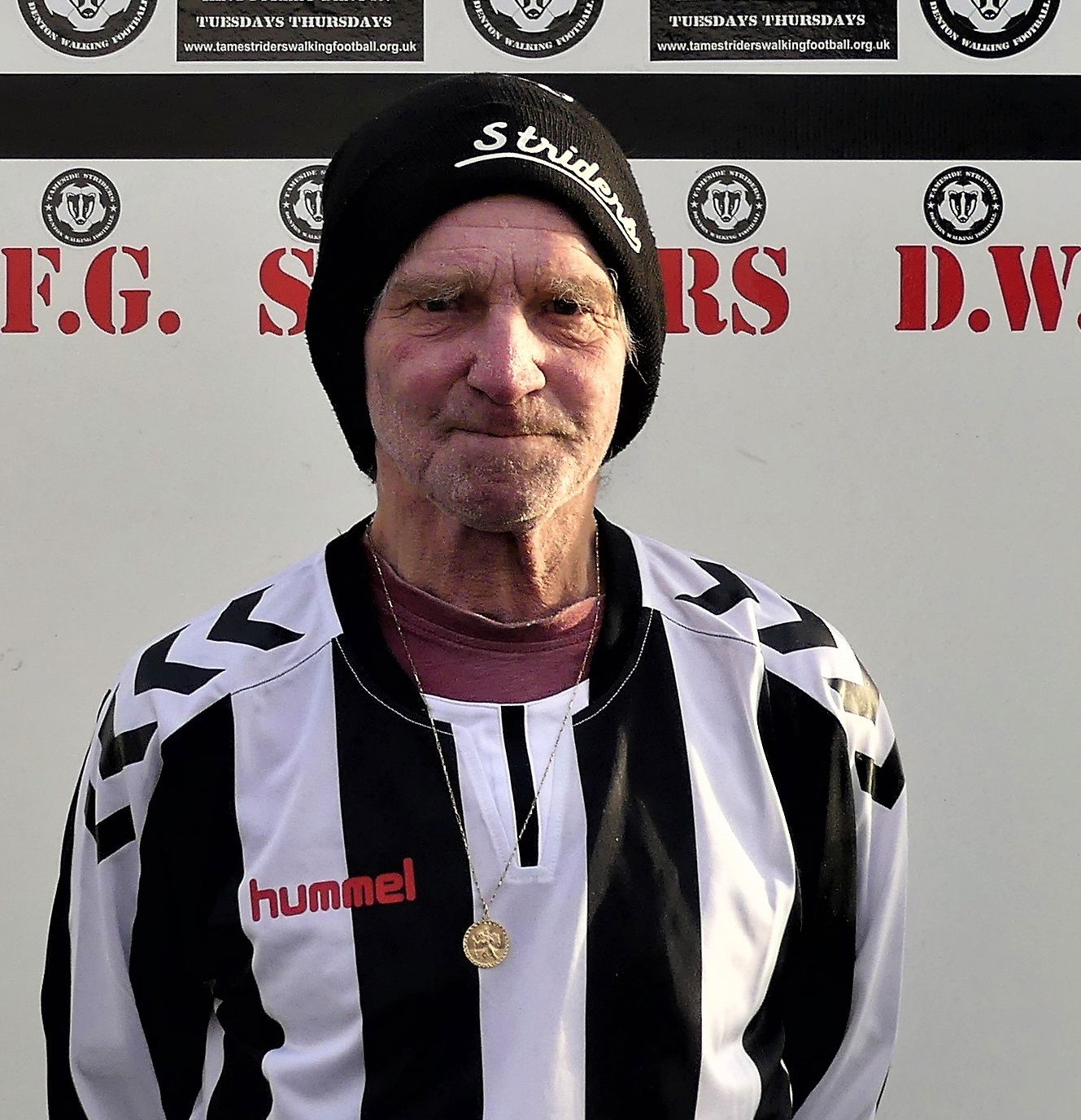 Jimmy Stewart - star of 'the man who shot'...his team ahead !
Editor's note: Never mind Liberty Valance that gravel voiced western bully-boy played by Lee Marvin... Jimmy Stewart scores some great goals in this format of the game. A precision striker. The 'John Wayne' of todays piece was Colin Fielding, who sensationally back heeled a winner
8th. September 2020
NEW HEIGHTS OF ENJOYMENT...
Group committee man Tony Cravagan described today as 'the best game I've played in at Denton, it was brilliant' Tony has been with us for mor than four years !
Referee Garry Pearce takeS up the story....
A plethora of goals on Pitch One today. The first game was one of the most memorable I've ever Refereed.
White's were quickest off the mark with a sharp goal from Dave Moore. Joe Bemrose quickly added a second before Gordon Nixon got himself on the score sheet to make it three without reply in the first half. All this and a missed penalty from the Black's as well.
The second half started in much the same vein when Jimmy Stewart slotted home for the White's from a tight angle. Black's began then to put some more telling moves together and Steve Rourke got his first (of FIVE!) This was quickly followed by another for Steve and things started to get interesting. Ken Dean was unlucky for the Blacks when his effort found both posts and came to rest on the line. No goal line technology unfortunately! (Trying to get a grant - Ed.) Rourke got his third when Nixon owned up to a handball. From the resulting free kick Rourke made no mistake.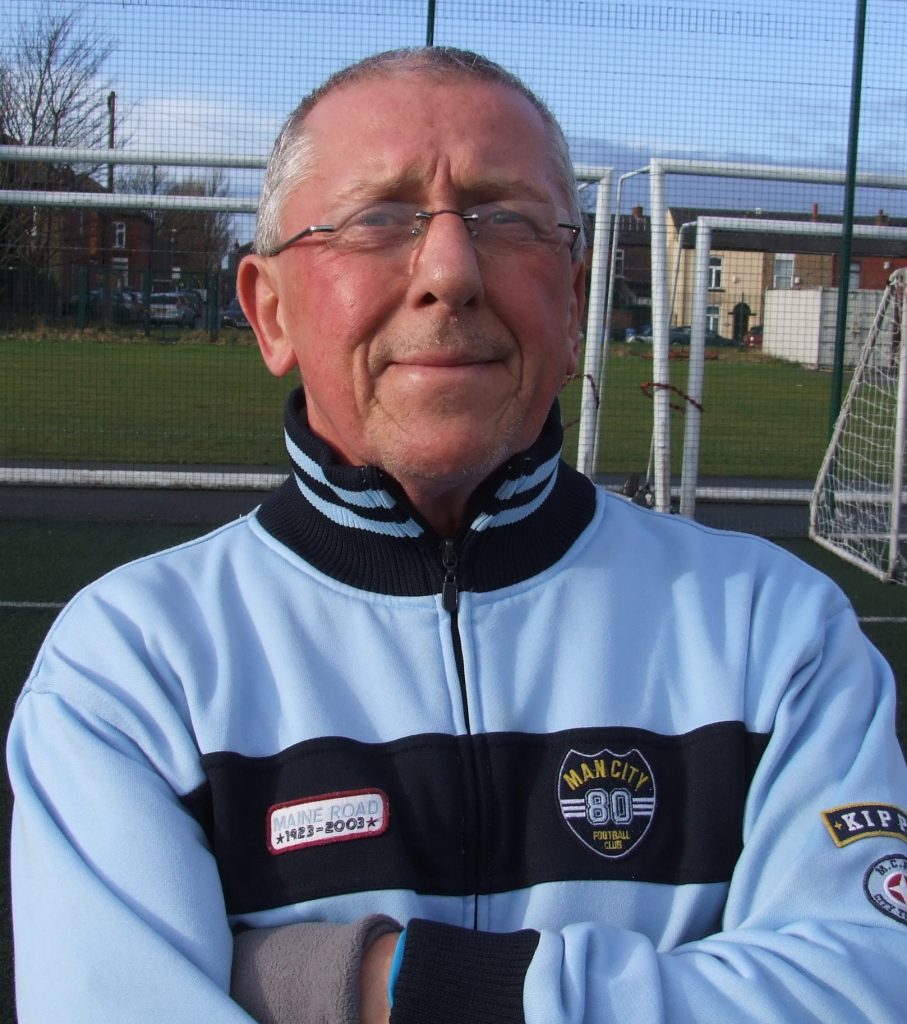 Recent Birthday Boy - Steve Rourke
Stewart then got another for the White's, again from a tight angle. A save made by Gordon in the penalty area resulted in a penalty for Black's, coolly despatched by Steve. A penalty area ingress and another penalty awarded, again Steve slotted home. Despite frantic efforts in the dying minutes, neither side could find a winner. A terrific game, played in the right spirit, a pleasure to referee.
Final Score: Blacks 5 v 5 Whites.
Second game on pitch one today and another high scoring match!
Paul Theobald opened the scoring for the Blacks before a quick response by Keith Yardley for the Whites. 'Theo' then added another and again Keith equalised. Steve Wingrove added a third before Mister 'T' got his hat-trick, just before half-time. With his his fourth coming early in the second half (sounds like it it was turning into a 'Theocracy'- Ed.) but the White's finished on a high with two goals from Terry Harrison, the first from an incredibly tight angle. Another belting game, not too many runs and very little contact.
Final score: Blacks 5 v 4 Whites.
We don't do hyperbole but it seems today at Denton, for some at least exceeded expectations and was something really special !
There will be some video.
David Partington reports from pitch two....
"Not to be left out on pitch 2, it was a six v five, and the the blacks with the the extra man played some very good one touch passing walking football. Peter Jarvis helped himself to a couple of goals and Steve Amison was also on the scoresheet, with a double and Mike Kieran scored a good goal from a tight angle.
Colin Fielding was outstanding in his role of Sweeper Keeper and Partington and John Williams were always there to help out,. 6-0 to the Blacks at Half Time! It was going to be an uphill task for the white bibs to get back in the game and goven the score Partington changed sides from black to whites for the second half. Reinforced with the extra man the Whites started their comeback with two quick goals from Alan Brodie. A busy David Wenham and Steve Johnson were all over the pitch for the white bibs and linked up well with David Cooper to score a third ! The comeback was well and truly on, with Ivan Taylor in the role of sweeper keeper was finding more room to play out from the back and was superb in this role. White's kept pressing but found Fielding and Jarvis holding firm as the Black's rear-guard, Partington did find a gap to slot home a fourth but with time running out it was the Black Bibbed team who held on for a fine win in a great game of walking football, thanks to Keith Burrows for doing a fine job of Refereeing.
Thanks for the report David - most welcome ~ Ed.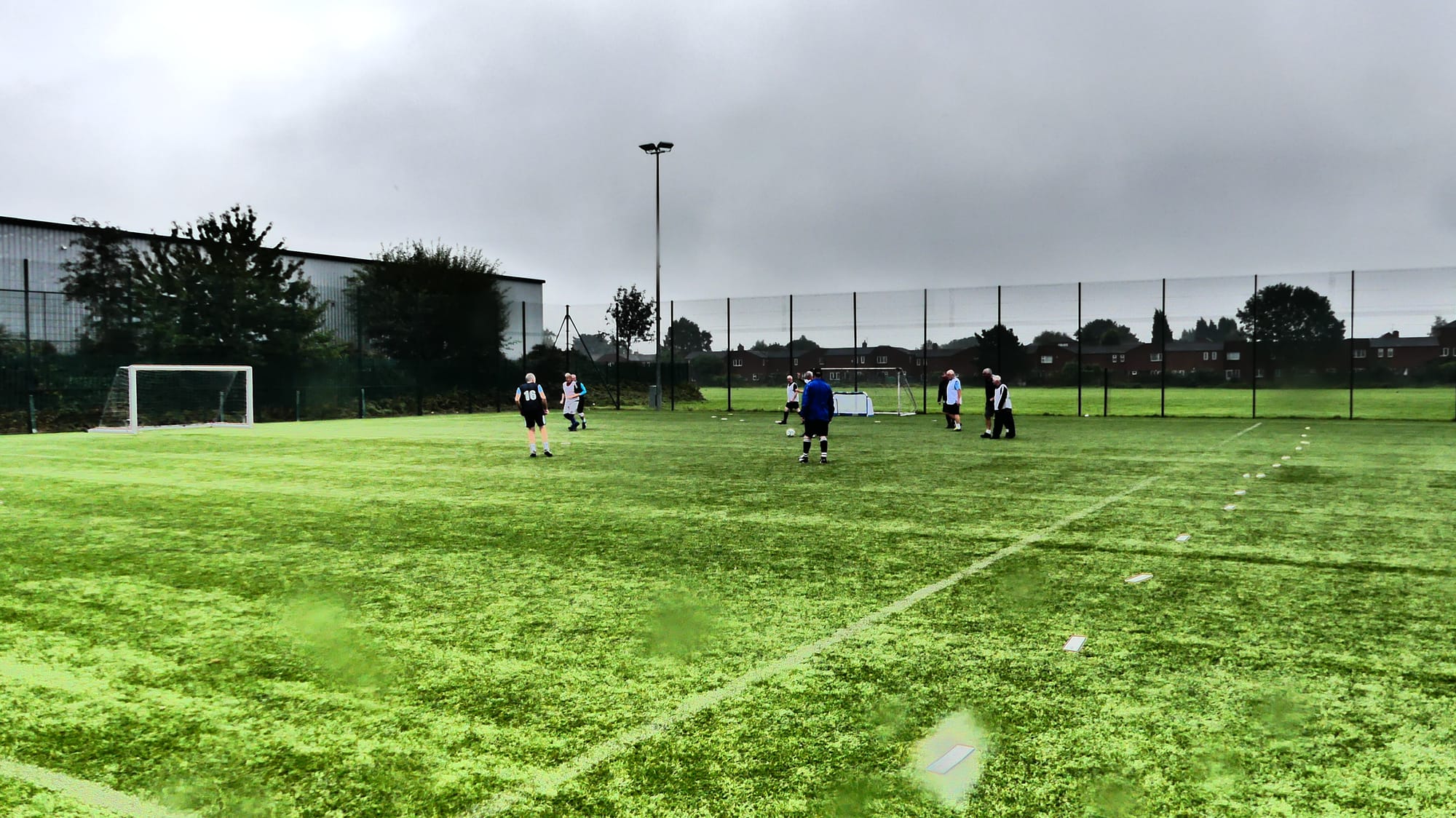 ________________________________________________________________
1st. September 2020
RECORD BREAKERS !
A record breaking attendance across the session today as forty players turned up to enJoy the good weather. The numbers were almost stretched to their viable limit, the second hour in particular would have had the 'house full' notices put up, if we had any.
That said the time was well spent on the pitch. I Refereed a game on pitch 2 Five versus four with three committee men in the whIte bibbed team. They edged victory by five goals to four despite a missed penalty. Black's rallied in the second half and it was a fairly even affair.
A TWELVE-three win on Pitch 1 I understand. Team selection may have gone a little awry here as it was six one at half time. Please players do not don your bibs until you have been told which teams you're on. If you are wearing both, be prepared to change the top one at very short notice.
A gaggle of Unders were waiting for temperature checks so I left the field a few minutes early, and Tony Cravagan took over the officiating.
Good to see some returners back in the fold. Ken Dean, looking tanned and well, collected his set of 'number 20's.
Alan Graham also paid a visit, not seen Mr.G in a long time. He is hoping to Referee a Thursday game soon , but said he is unlikely to return as a player - unless he dons the goalkeeping gloves if required when we get back to normal games again.
Second hour plus saw a Denton debut for Andy Truett , a regular at Curzon with the Nash Amblers. He enjoyed the hour 'I Love it' was his post match reaction. David Lees was also very appreciative of the session saying it's the best venue and the best hour of the week. Steve Foster was also supportive as he walked off the pitch today.
All in all a good atmosphere about the place. Some regulars were missing. We are going to have to be very careful managing numbers going forward from here "You've created a Monster" Garry Pearce said to me at the end. With about seventy paying players expected through the door this week that's not far from the truth. A good, happy non-flesh eating non-contact kind of Monster though it's true - most of the time.
A further nineteen players signed-on today for 2020-2021 with their five pounds accompanying their completed forms. There is all of September to complete this process. Check for your name in the website's "2020 signings page" later this evening. If you have returned your form and paid, and your name does not appear ring 07387 174934.
Thanks to Garry, and Tony for Refereeing today. A few photo's 'September Sun' www.flickr.com/photos/stridershots/albums
26.8.20 'Mike the K' - the movie. A goalkeeper adjust to a different game....
25.8.20 The sun shines on the righteous, right? 32 Walking footballers defied a miserable weather forecast only to find a window was open ! Album link https://www.flickr.com/photos/stridershots/albums/72157715633417508
18.8.20 Willie Donachie was with us ! A pleasure to have the friendly Scot visit us, so fondly remembered by the blue half of Manchester and respected by all of us. Watch his first half...Willie had not kicked a ball in four months ! Thanks to his friend David Gibbons for the part he played in the visit....
More video - including 'UNDERS' FROM 18.8.20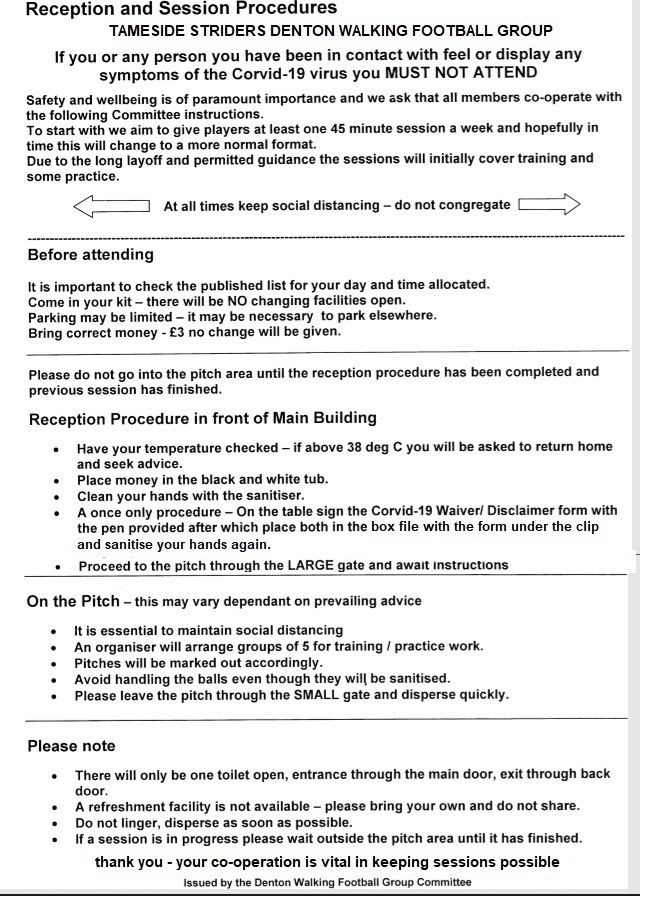 11.8.20
Second session post lockdown. Much to celebrate and the sun shone. Laurie O'Toole came back and we had two new enquiries in the shape of Nigel Metcalfe and Roger Place.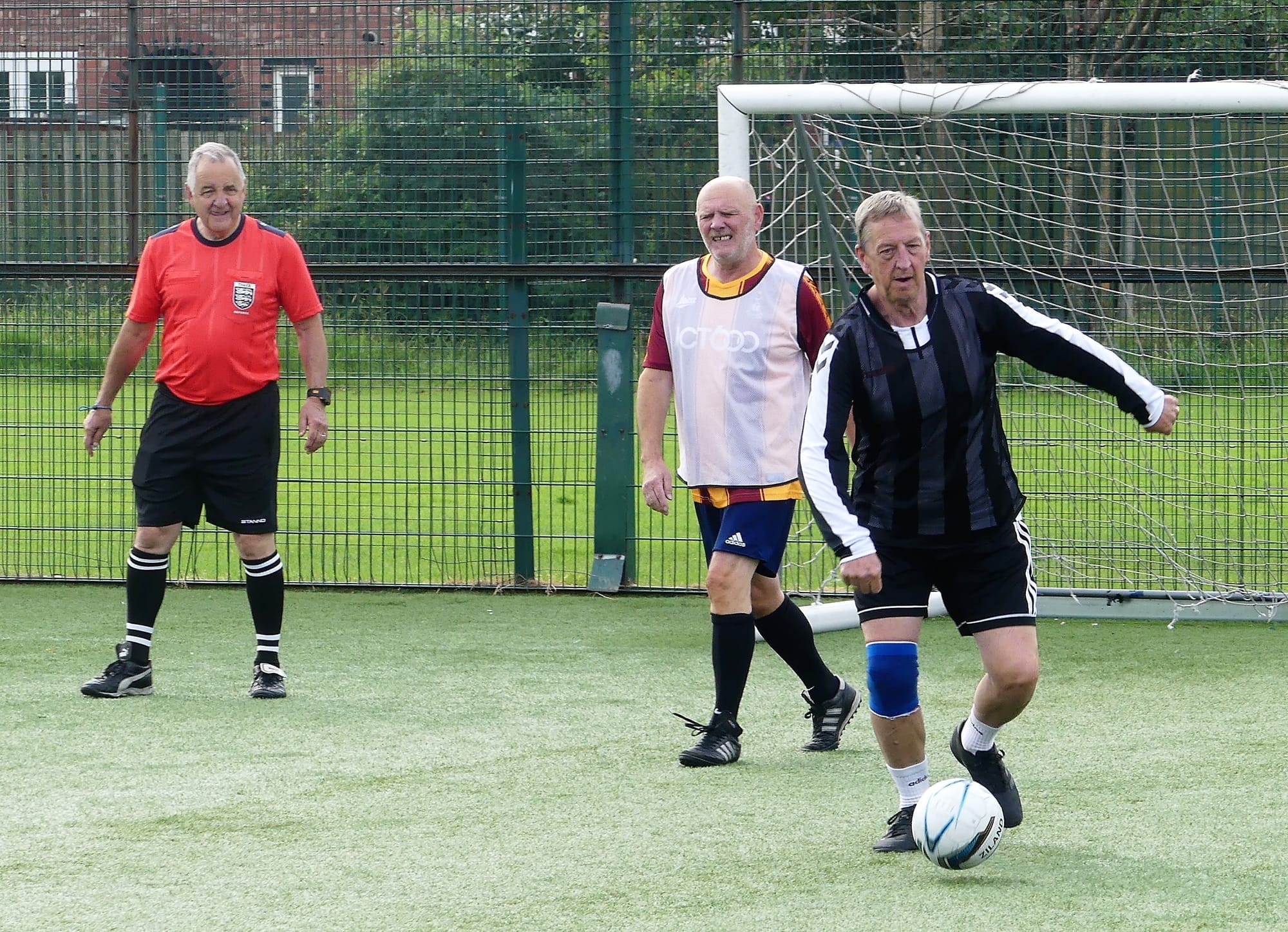 16 in the first hours 'Overs' made perfect sweeper keeper numbers of 4 x 4 on both pitches. Thanks to Garry and Tony for taking the whistle.
The heat was building and showing on some reddening , tiring faces. We're not used to it , after all.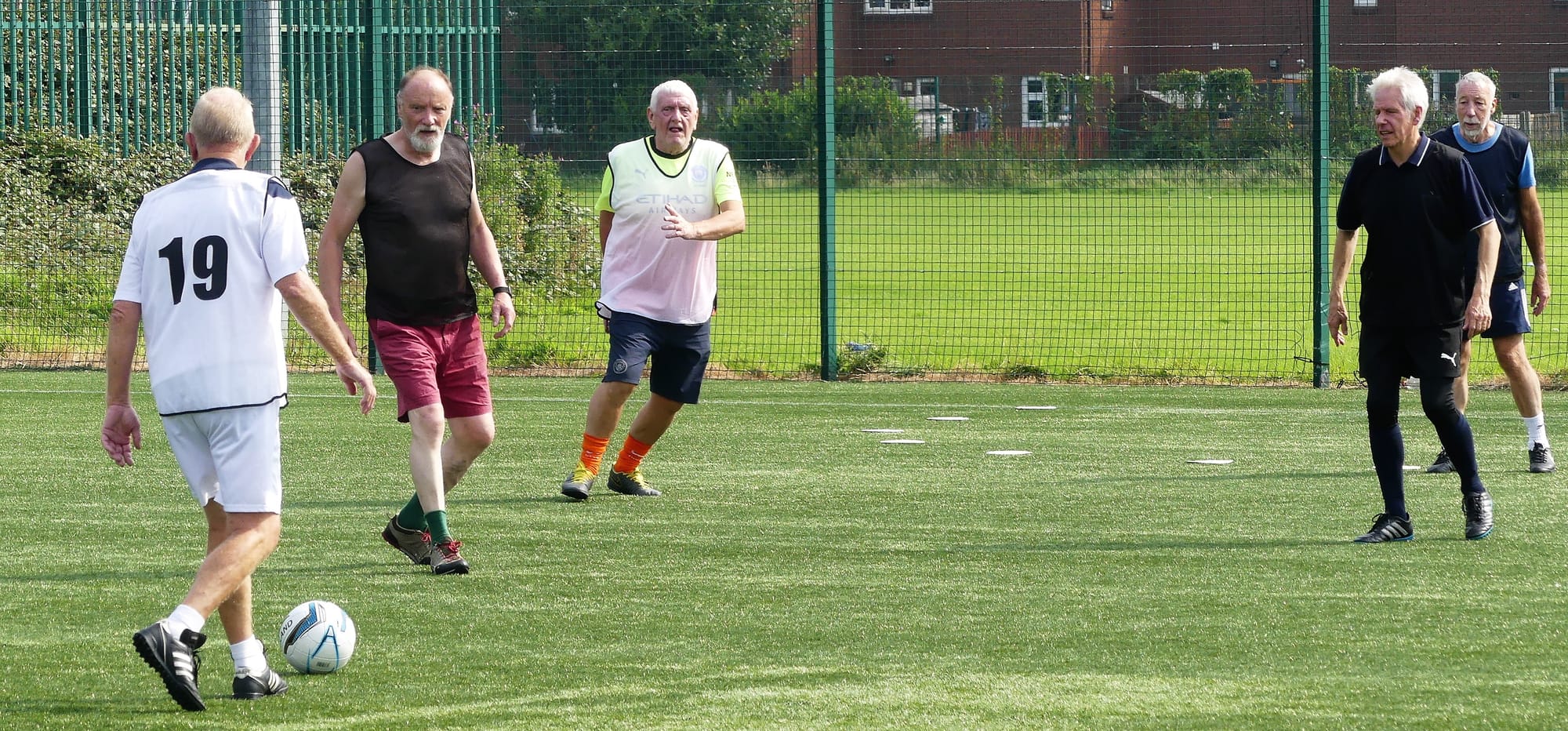 No idea of results or goal scorer but everyone seemed to enjoy it. Even those who have resisted the format in the past have embraced it in the current circumstances. Distancing of sorts was observed but some still need a measure of restraint. It's not easy to accomplish.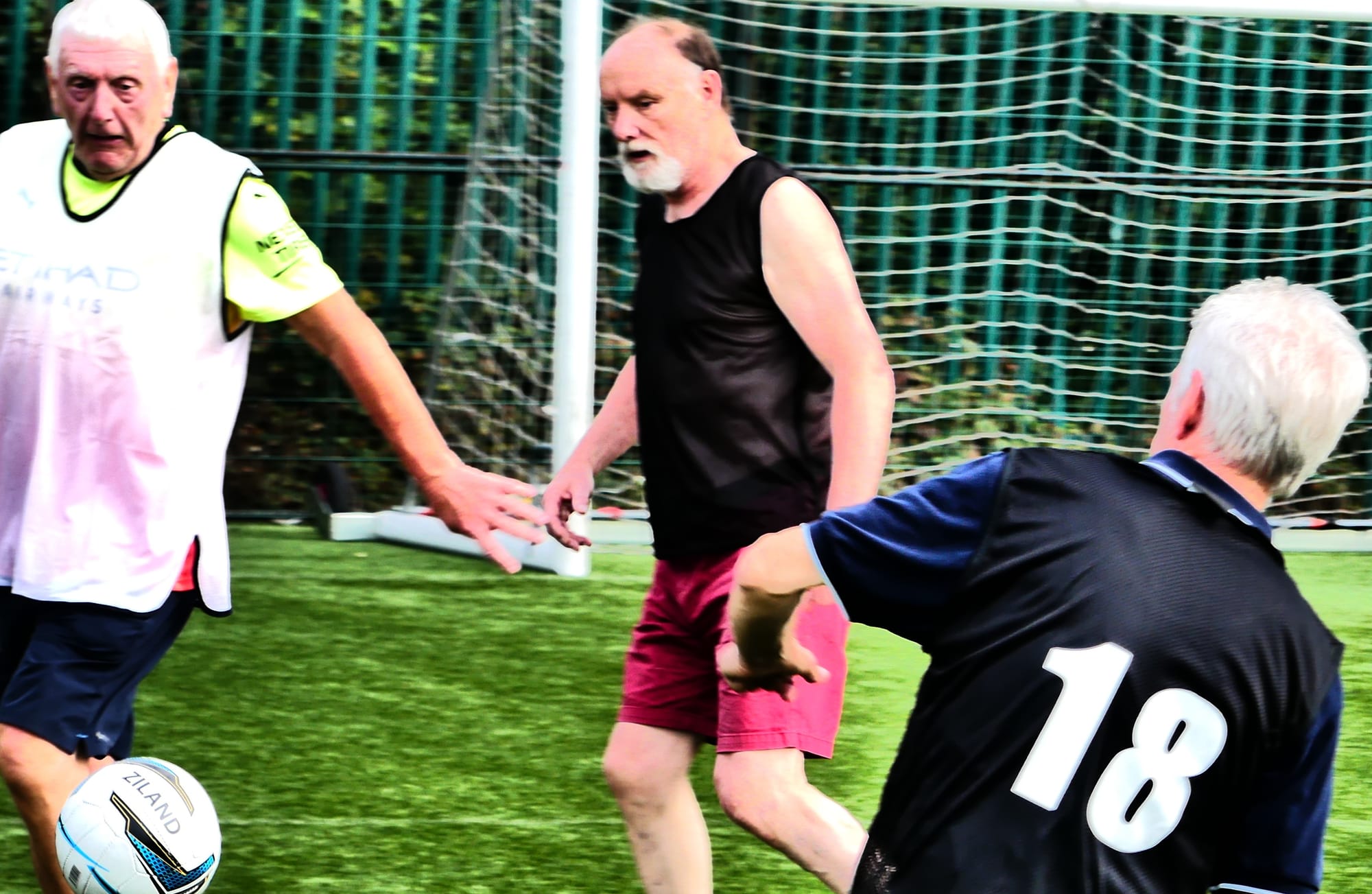 With the Overs heading for home to wash their sweat soaked bibs it was the turn of the 'Under's'. Eleven emerged, some earlier than others. It would have been twelve but the high temperatures were not only caused by the sunshine. One player set the alarm off on the infra-red device and graciously accepted he couldn't take part today. A recent illness (not Covid) may have had a lingering effect. The policy is prudent, and we err on the side of caution.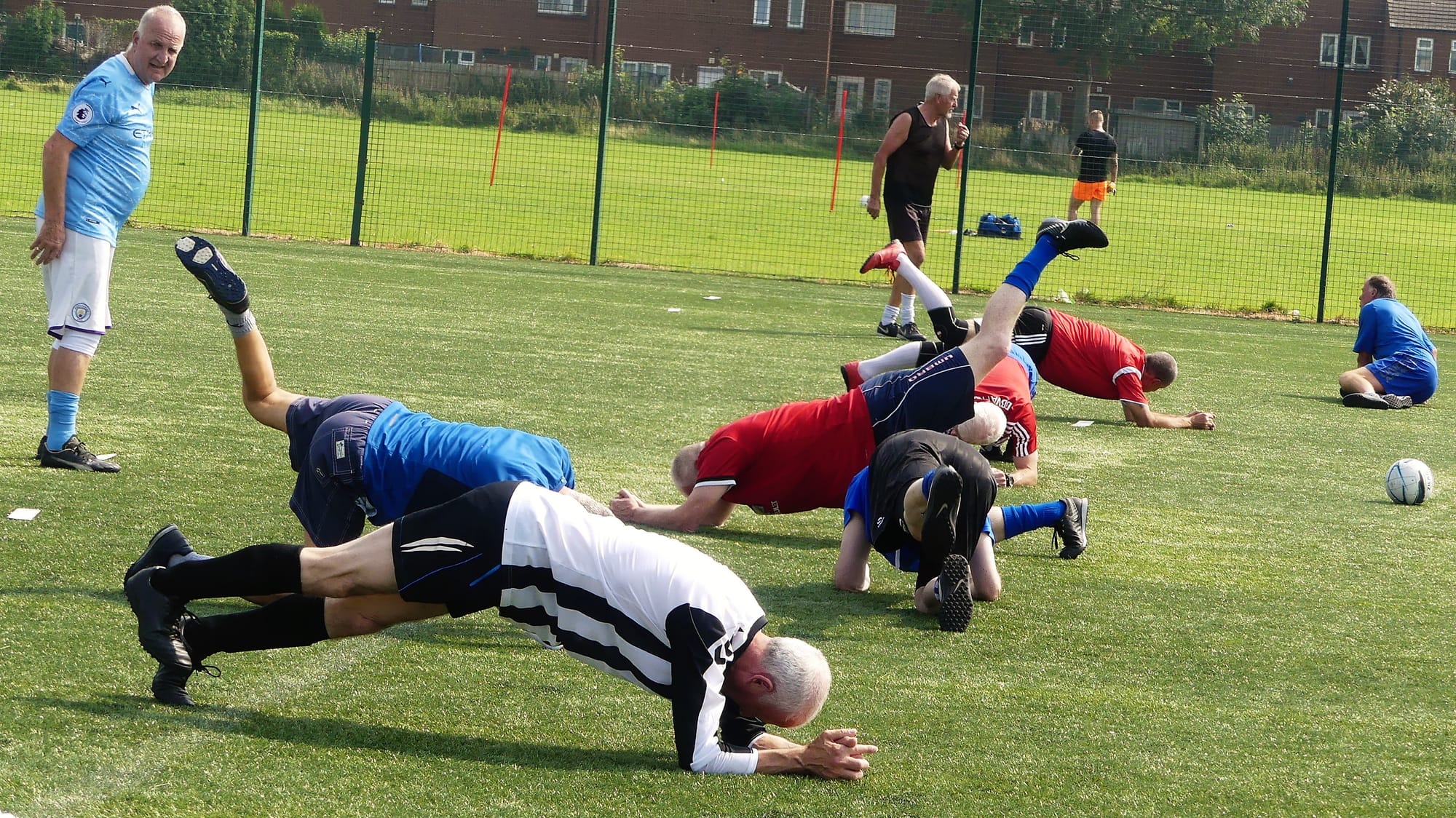 After a warm-up that looked demanding the 'Under's' played 6 v. 6 on a half of the pitch. Too many. The learning curve steepened as three committee men swung into action at half time to reconfigure the pitch, making it a little longer, and much wider.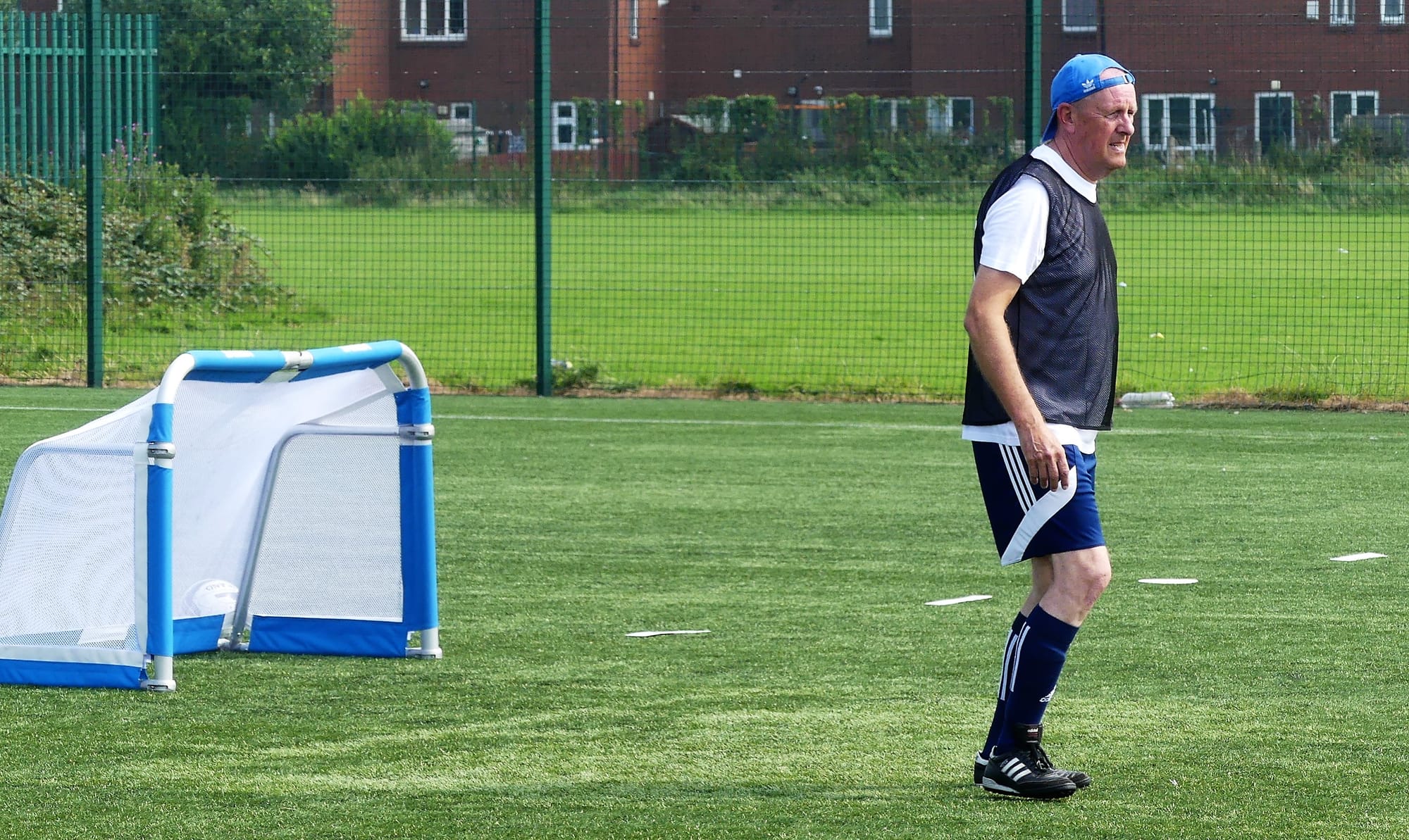 This seemed to improve matters. Still some players are trying to power home shots into the mini-goals. The general consensus is this format's all about making angles with movement, , drawing the sweeper/keeper out of position to slot the ball home via a vacant 'channel'. It works ! Furthermore it can be a joy to watch as well as play. Lessons to learn - we need bigger D's and bigger pitched when numbers are a dozen or more. At Sixteen we can play two 4 v. 4's. We are considering buying another set of Samba mini-goals, but these are expensive. It might just be possible to set up three pitches.
Video to come into in due course meanwhile.....
..37 still photo's here: https://www.flickr.com/photos/stridershots/albums/72157715449213891
__________________________________________
WE GOT THERE ! 4th. August.. resumption !
and of course we filmed it...check it out on youtube.